My most vivid memories of school lunch were back in elementary school. My mom had 5 kiddos she was wrangling, so we often bought lunch since putting a few bucks into our school lunch accounts each week was much easier (hello, no time) than packing our lunches. We packed sometimes, but I was mostly a buy-your-lunch kid. I remember Monday being the day I loathed because it was cheeseburger day and the patties tasted like spongy old mushrooms. The fries were soggy. Wednesday was the best day because it was pizza day. With particularity, I'd pick out that doughy, rectangle, opaque looking piece of cheese pizza, a carton of chocolate milk, a cup of corn and a push up (remember those fruity ice-y push pops?..just me?…) and make my way down the line.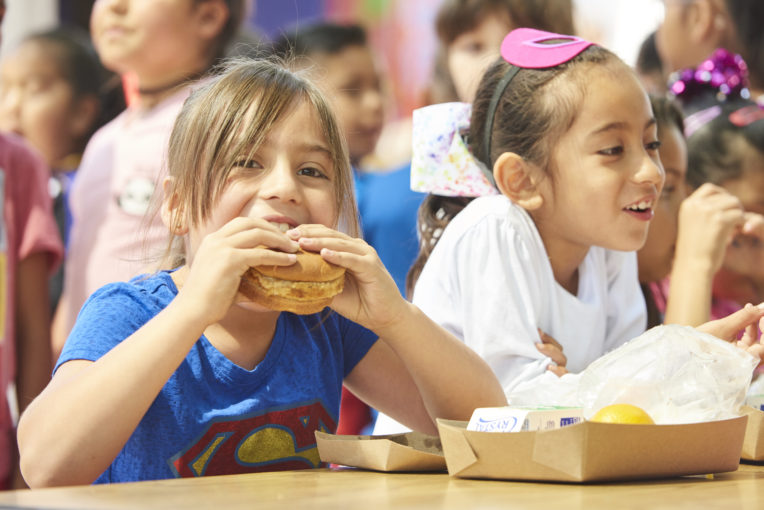 I also have pretty detailed memories of the school lunches served during my community rotations of my dietetic internship back in 2011. Some schools were serving better tasting and more nutritious food than others, but overall I remember thinking, "I'm 15 years out from elementary school and I don't think school lunches have improved much in terms of quality, nutrition or taste." And I so wished they had. I knew we had a long way to go.
But now, years later, here we are in 2019 and I'm learning there has been so much improvement in school lunches and nutrition education throughout the school systems and wider community, especially the Greater NY area! That makes me excited and happy for when I send my kiddos to public school in the future. Revolution Foods has been a key leader in this shift towards better nutrition in schools. They're committed to transforming citywide wellness by making kid-inspired, chef-crafted foods accessible in all schools and community sites throughout Greater New York. And as a result, they've created over 150 new jobs in this community.
During my dietetic internship, I remember noticing how the quality of food available to kids varied based on the socioeconomic status of the school. Given that experience, it's wonderful to see that Revolution Foods is working to ensure all kids have access to more nutritious, high quality foods. The company believes that everyone deserves real, high-quality food made with carefully considered ingredients – fresh local produce, high quality proteins, rBST-free dairy products and no artificial flavors or colors. Just good nourishing foods — I love that.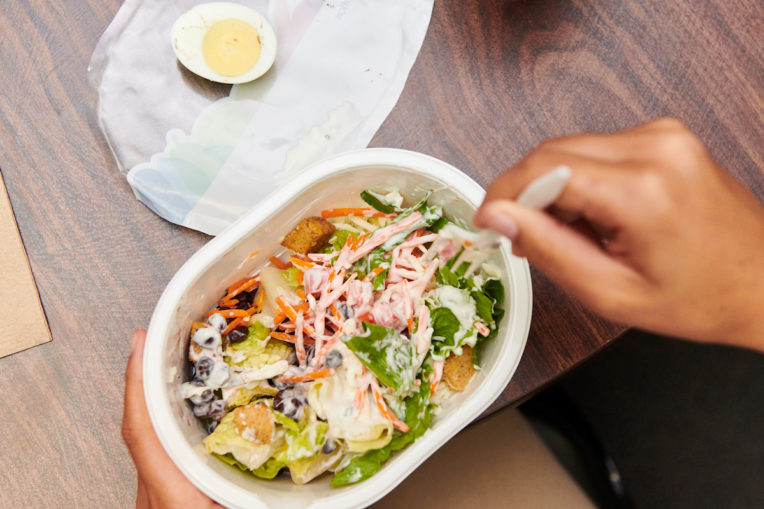 If you've been reading here for a while, you know I write a lot about intuitive eating and nourishing your body well – both with physically and mentally satisfying foods – so you can feel your best and live the life you were created to live. Kids are born intuitive eaters by nature, but at some point that innate ability gets disrupted depending on when we were exposed to diet culture. If you've struggled with your relationship with food, you might be able to remember a point in time when things went awry. When food shifted from something you ate without second thought into something used to manage your body size. For many of us, that was some time during our formative years of childhood and adolescence.
And because we are so impressionable during these years, it's so so so important for kids to have positive exposures to food. Through nutrition education in schools, Revolution Foods teaches kids about healthy eating in a positive way that focuses on how foods can grow them strong, make them feel energized, and help their brains think. In fact, good nutrition and healthy, nourishing foods can drive positive academic outcomes. There was a paper recently published by UC Berkeley that found students who went to schools with more nutritious school lunches had better test performance. Think about how much better you can focus on tasks, engage in relationships, and perform at work when you've eaten a nutritious and satisfying lunch. Same for the kids.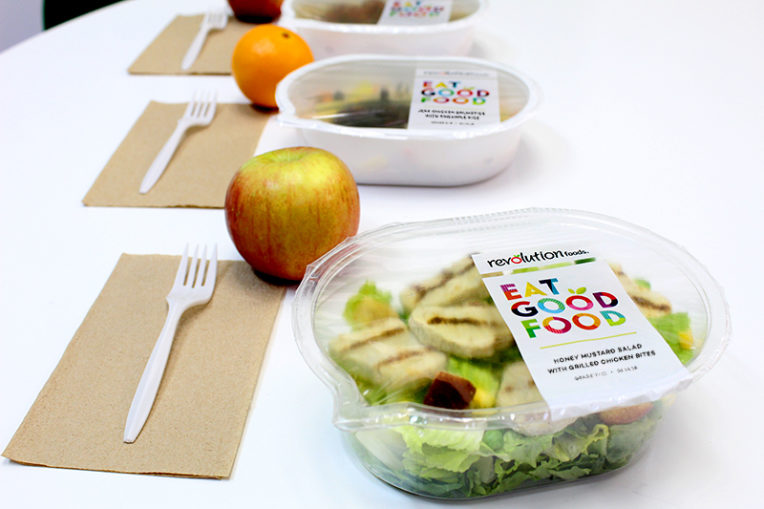 In addition to educating kiddos and teens about healthy eating in a positive, nuanced way, Revolution Foods engages with students at every step of the development process to ensure a menu they'll love. They survey over 2,000 students every month to gauge satisfaction level with meals. Student favorites in the New York area include the chili citrus drumstick and rice, class spaghetti and meatballs, chicken teriyaki with brown rice and more.
I remember learning about Ellyn Satter's Division of Responsibility in feeding back during my undergrad years at Indiana University. I'm not an expert on childhood feeding + nutrition so whenever I get questions in my inbox from parents who want to raise their kids up to be intuitive eaters, I often direct them to her Division of Responsibility among other resources. The DOR emphasizes the caretakers role in choosing what, when and where a child eats and a child chooses how much he/she will eat.
When we think about the what, when and where, the what part is huge. It's our responsibility to provide nourishing, satisfying foods to our kids and they will eat however much they want. I do think nourishing applies to both the physical and mental aspects of eating so kids are both full and satisfied. If a kid is told foods such as cookies, candy, and chips are off limits, that kids is almost guaranteed to develop a negative relationship with those foods and lose his/her own ability to eat those foods intuitively. Nutrition isn't black and white, food should be both nourishing and satisfying, and ALL foods are part of a healthy diet. Revolution Foods is playing its part by providing kids with nourishing and tasty food options when they are at school. Then, the kids get to decide how much they will eat of the foods offered.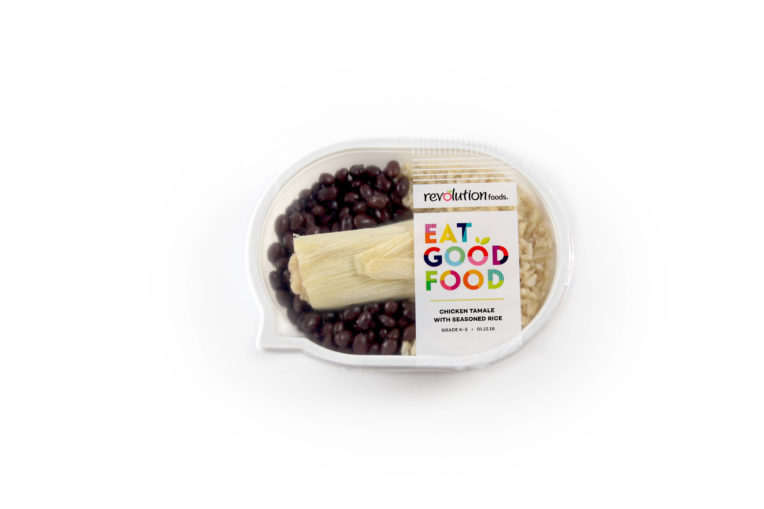 As I've gotten older, I've thought a lot about how I hope to feed my kids and teach them about nutrition + food. My hope is that they see food as something to enjoy, to celebrate and also as a tool to help them feel good and care for themselves. I hope they are exposed to a wide variety of foods (and they enjoy a wide variety, hopefully!), that they see food as morally neutral, and that they get to participate in the process – picking out recipes, shopping, cooking, eating, heck maybe even gardening if I get that ambitious one day. And when they go off to school and I don't have control over how they're taught about food and what foods they are offered, I hope Revolution Foods is there to feed my kids a wide variety of high quality, nutritious foods in a positive way.
Although I really loved pizza Wednesdays back in elementary school with that opaque, doughy cheesy pizza and grape flavored push pop, I'm glad we've come a long way when it comes to school lunch.
I'd love to hear your school lunch memories and thoughts on school lunch improvements in the comments!
This post was sponsored by Revolution Foods – I love sharing brands with you that I 100% stand behind and support!