I am not fashionable or trendy. I'm your basic gal who likes basic, simple clothes that I don't have to put a lot of thought into. Sound boring? It might be. But what I've learned over the years is that I don't enjoy shopping and putting together outfits isn't necessarily fun for me. I want to spend as little time as humanly possible getting ready and don't want to think about what I'm going to wear.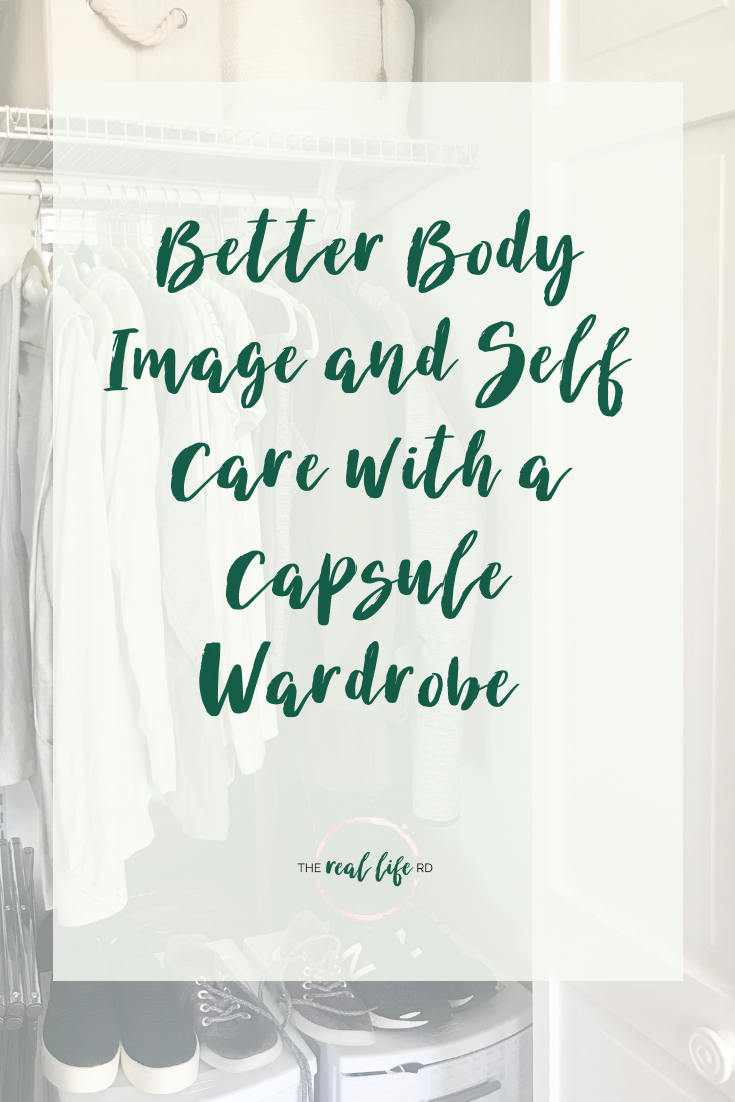 I also really, really value comfort above all else. Especially these days. I feel best in my body when I'm wearing clothes that don't cling or restrict and when I'm not wearing a lot of make up. Unless I'm doing something where I need to look a bit more presentable or want to put on make up, a few swipes of mascara and some chapstick are my go to. A huge part of self care for me is all the above. And I feel my best mentally, physically and body image wise when:
I spend less than 30 seconds picking out what to wear.
I don't spend a lot of time/money shopping.
I really like or love everything in my closet.
My closet and drawers feels uncluttered and organized.
Everything in my closet feels good on my body and fits my body well.
I spend little time looking in the mirror getting ready.
That's me. You might be totally different and that's okay! One of my best friends is 100% the opposite of me. She's very fashionable. Loves to be creative with what she wears. And she feels her best when she wakes up, puts on make up that includes lip stick and an outfit that doesn't include leggings – more like jeans, a nice top, maybe even some type of heel. That's what makes her feel best, what allows her to have her best body image days and what she finds a lot of joy in. What matters isn't the details, but rather learning what works best for you. What allows you to best care for yourself. What allows you to think about your body and appearance less so you can spend your time and energy doing things that matter to you most. That's the point of this post.
All the things mentioned above that work for me are made possible with a capsule wardrobe. I haven't done a capsule in a little over a year due to pregnancy + postpartum, but if you're interested I wrote this post back in the October 2017 recapping how I go about this process. Pinch of Yum also has an awesome post on how to get started with a capsule wardrobe – and you don't need to go out and buy anything! Like I said, I'm not fashionable and I don't like to think about clothing so what I've discovered is a handy gal over at Classy Yet Trendy and her fantastic e-books that fit a variety of lifestyles. I bought the athleisure e-book from Spring 2018 instead of 2019 because I liked the color palette better (bonus is it was half the price) and let me tell you…these books are so so so worth the 10 or 20 bucks. For me, they make shopping + getting dressed + packing for travel a no brainer. And yes, I use an e-book to clothe myself. If that's what it takes to think less about shopping + getting ready I'm here for it.
We live in 740 square feet. Nick and I share a closet that's about 8 feel wide at best. In addition to being our clothing closet, it also stores our suitcases, vacuum cleaner + brooms, and Nick's golf clubs…so we've got minimal space. Between living in New York and here in Boston I've been forced to pair down my stuff and live with less and while sometimes that's frustrating, it has also been incredibly freeing for my mind. So here's our closet with my capsule.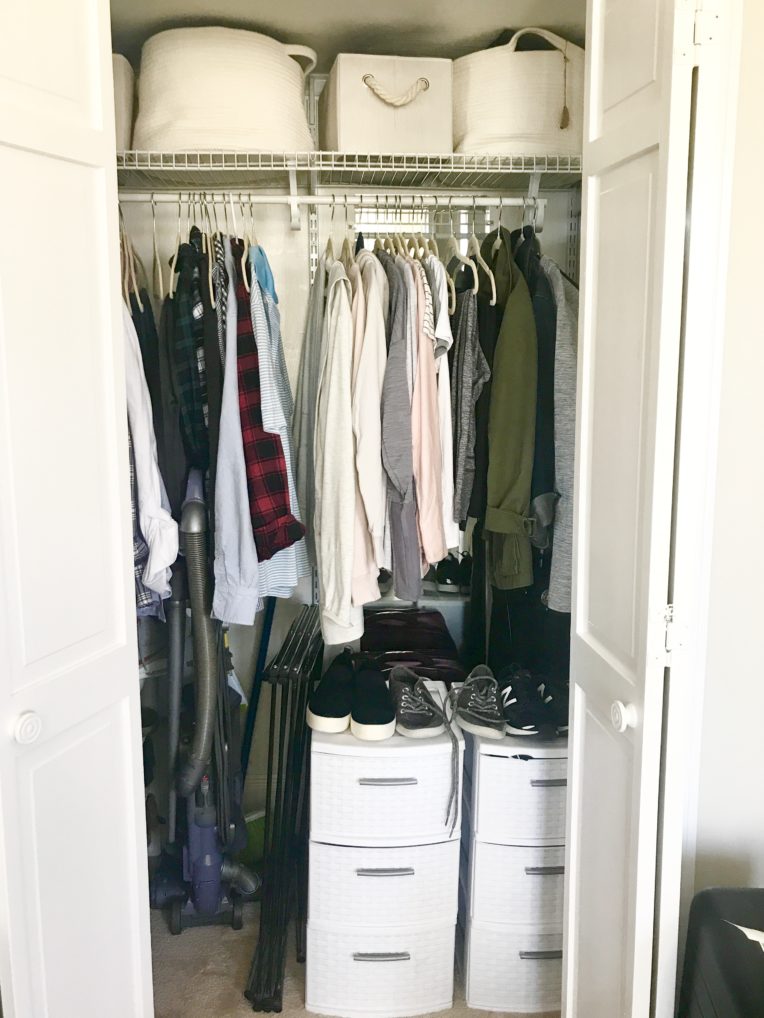 Up top in the right two bins are fleece pullovers and vests. Basic layering stuff. I have three of the bottom white drawers which house all my pants in one, running/workout jackets in one and office supplies in the other one. To the left next two the vacuum is a shoe rack where we keep shoes we don't wear every day. Hiking shoes, dressier shoes etc. We have a shoe rack in our hallway for everyday shoes. Under our bed I have two bins where off-season clothes go. And then we have one dresser where I have half the drawers. In those three drawers are the basics – bras, underwear socks – plus a few layering pieces like t-shirts, tank tops, long sleeves and a couple sweatshirts. And a few pairs of PJs and soft lounge pants. These drawers aren't all the way filled which feels nice.
I wear scrubs at my NP job, so I don't need corporate clothes which helps pair things down a bit. And I do hang about 10 to 15ish items next to my capsule to wear on the weekends out to dinner, church, and other social things. I put the three pair of shoes in the above photo to show you the whole capsule, but usually there are two bins that sit on top of the drawers for workout tops + leggings that you see below.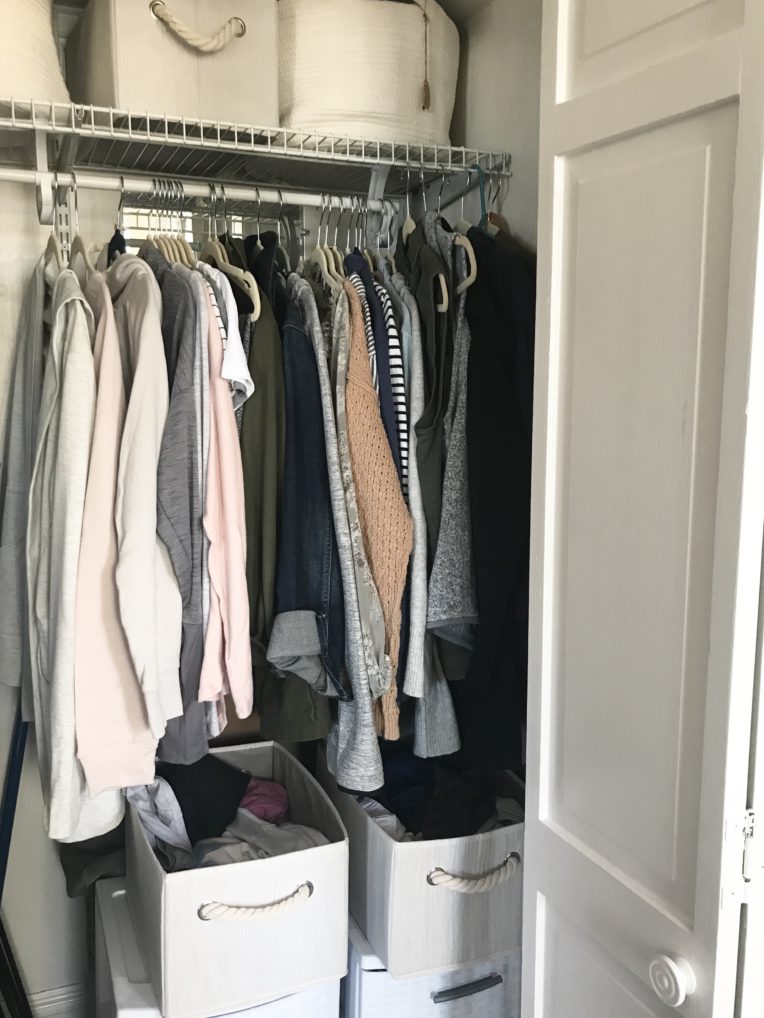 All in all, it's about 20 pieces that I can mix and match to make over 100 outfits. I'll switch this out for a summer capsule around June since it doesn't start getting warmer until then here in Boston, ha. I had a lot of the items (or at least similar ones) that were in the capsule e-book I bought, so last week I bought a handful of pieces from Athleta, Nordstrom, Gap and Target to round it out.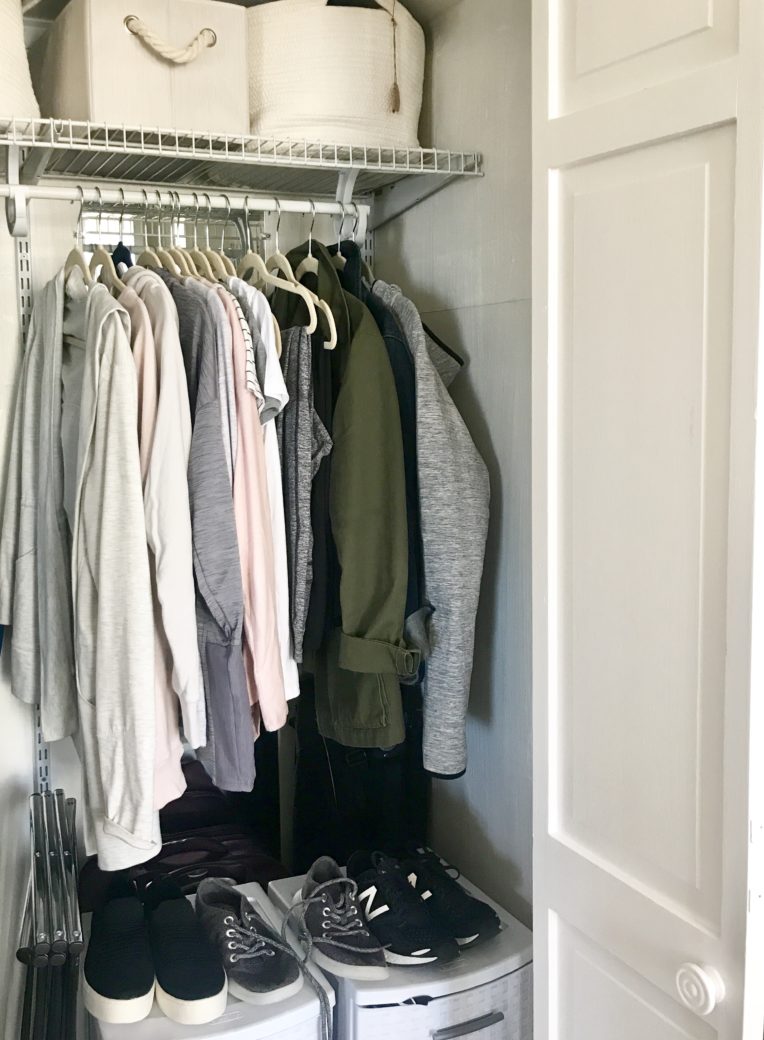 In other seasons of life, my capsule might look like more jeans/pants and nicer tops. But right now what works best for me is leggings + tennis shoes most days. It feels good to have a clothing I love and that feels good on my body fill my closet. This capsule is helping me care for my body + mind.
Have you tried a capsule wardrobe? I'd love to hear your thoughts!