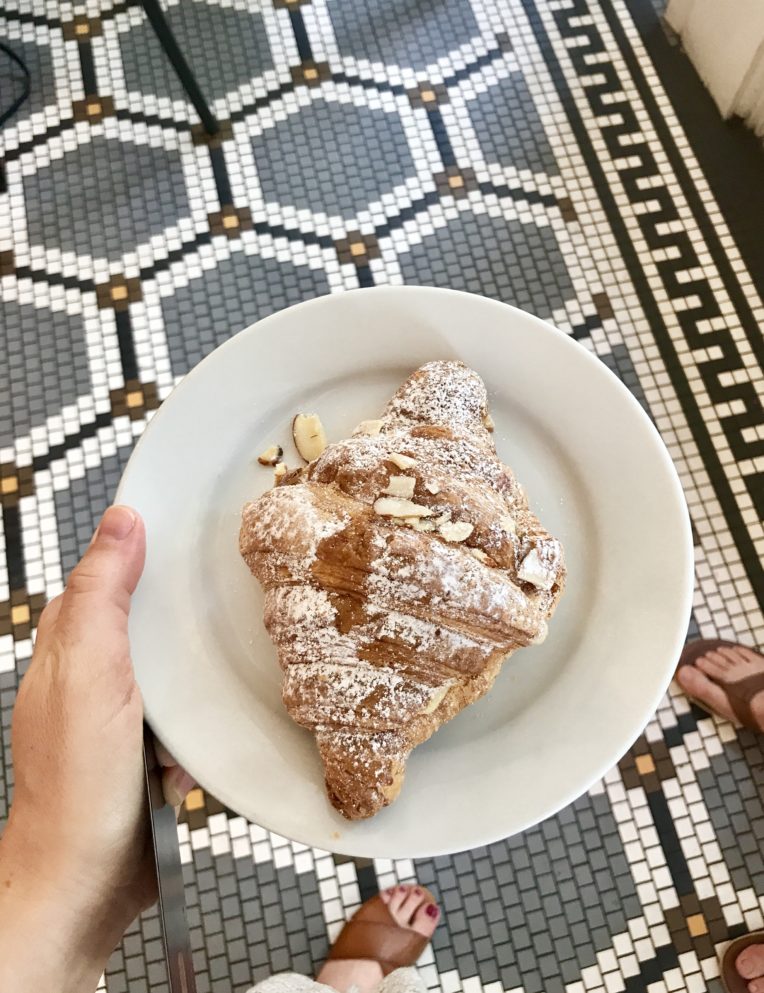 Good morning! It's April! As it goes up here, we are oscillating between winter and spring weather which feels like a turbulent early twenties relationship. This feels like a really busy month, so I'm strapping in. All good things but I'd be lying straight through my teeth if I wasn't a little excited for May to roll around. I've also had a lot of thoughts running through my mind. I need to settle in and mull over them for a bit sometime here soon. But until then, what about a little external processing? Don't love a good brain dump? See you back here next week!
If you're into this sort of thing, welcome. Pretend we just plopped down on the couch with some coffee…or wine…
This book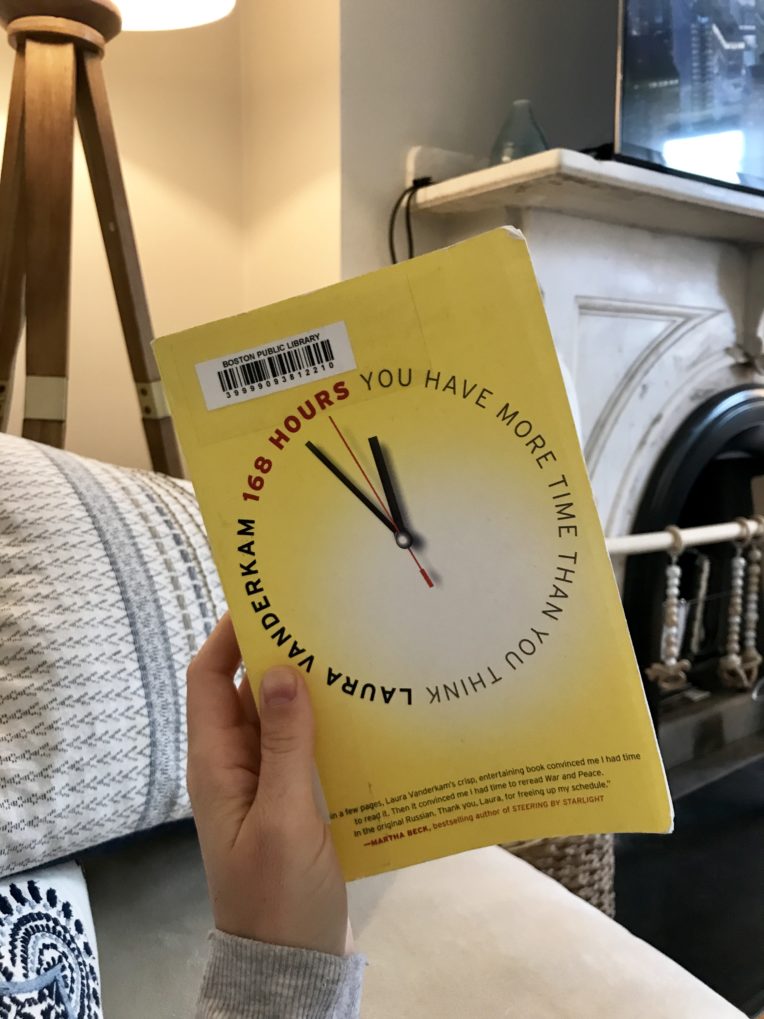 I realize I'm 17 years late to the game with knowing Laura Vanderkam's work, but better late than never because THIS BOOK IS CHANGING MY WORLD. I tracked my time a few weeks ago for a whole week (aka wrote down how I spent each 30 minute interval of my week) and yes it is as annoying and tedious as it sounds, but so WORTH IT because it was incredibly sobering. And enlightening. And the act of tracking my time in and of itself shifted how I spent my days. And since tracking + analyzing how I spend my time I came up with a few conclusions.
Overall, I'm pretty pleased with how much time I'm spending in each area of my life – a good amount of mom time, career time and not a lot of "fluff" time where I'm surfing the internet, scrolling social media, etc. Although maybe I spend more time doing fluffy stuff when I'm not actually having to write down what I'm doing? That could definitely be the case…
I'm working less than half the time I was before Cal came, but I want to be working on the blog/private practice less….I just need to outsource (more on that in a sec) and minimize/ignore other seemingly important, yet actually not important at all, stuff.
I'm pretty happy with how far I'm come with email/social media – I spend about an hour to 90 minutes total per day on both of these which I feel like its pretty minimal all things considered…but it has taken me YEARS to get disciplined with closing my inbox and staying off IG for long amounts of time.
I want to get better at confidently saying no to opportunities instead of the "no" accompanied with a side of "but should I have…"
There are many things I do in the business that I don't actually need to be doing…somebody else can do them, and probably better than I can.
Reading List
I talked about reading > social media a bit in our last coffee date. I just finished Anonymous at the end of March which I really, really enjoyed. The next books on my list are Dare to Lead by Brené Brown, Bread and Wine by Shauna Niequist and The Coaching Habit by Michael Stanier. I use to think I had no time to read anything other than research articles lol but then I realized I wasted a lot of time scrolling the internet, online shopping, and other things that didn't actually give me rest. And while I by no means use all my time super well and sometimes I find myself slipping back into unhelpful habits (as in, I found myself scrolling IG in bed last night for twenty minutes before I was like WHAT AM I DOING? Go to sleep, Robyn) I am *trying* to just pick up a book instead of my phone in those spare moments when I'm nursing Cal, standing in line, etc. I actually prefer e-books to paper for this reason – I'm not going to whip out an actual book while standing in line somewhere because that would mean I would have to remember to throw the book in my bag and then dig it out, which will never happen. But I can just pop open the Kindle app on my phone and read from there. A lot of the books I want to read are available through the library as e-books. I love my library card.
On mom/career "balance"
I'm currently lol'ing at my "plan" that sounded so smooth and nice in this post I wrote right before Cal was born.  I did write in that post, "But who knows what will be best – this is all new! I could end up laughing at this plan come spring because it could all be different than expected."
And while much of what I wrote about is coming to fruition, it looks really messy. And I'm learning to be okay with that when really, I want it all to fit in a nice little box. Life is laughing at me. And coffee is magical. I've had a lot of freeing, yet terrifying thoughts about work with Nick and other close people over the past month of so. I plan on sharing a lot of those thoughts with you all in the near future, but I'm going to externally process those with my close people and then share when I make sense of it all. I'm learning sometimes the hard, scary thing is the right thing. Whhyyyyy.
Want to be our intern?
Speaking of outsourcing and what I'm learning in 168 hours, I don't enjoy admin/social media/blog projects as much as I enjoy teaching and mentoring. So it makes sense for me to trade in hours I would spend doing those and in exchange I get to teach and mentor and provide a learning opportunity. Hannah and Connie were the intern loves of my life and were a positive addition at RLWH. But they moved on to bigger and better things at the end of 2018 – Connie is about to become a rock star RD and Hannah is about to begin nursing school – the same track I took to become an RN and then NP. Between the two of them, they did admin work and other social media/blog related projects they were interested in so now we need another wonderful intern. This time we'll just be taking one vs two. So, if you're ambitious, eager to learn and have a passion for intuitive eating and Health At Every Size, we want you on our team. You'll gain lots of experience in private practice, social media, writing, communications, eating disorders, women's health, hormones and much more. It's about 3-4  hours a week and in exchange you'd be building your resume and have a 1 hour one on one mentoring call with me every month. If you're interested, email me at [email protected] with a few paragraphs of why you're a good fit for the internship along with your resume. Proximity doesn't matter so if you're not in the Boston area, that's okay!
Alrighty, that's what's on my mind this month. What about you??