I haven't posted a daily food recap in a really long time. This is my current version of intuitive eating: eating faster than normal to make sure I get the nutrition I need and making swift food decisions. Does it sound remotely good? Yes. Will this fill me up for the time being so I can get on with my day? Yes. Can I eat this with one hand? Yes. I am very grateful for a flexible relationship with food in this season of life where eating is rarely mindful + calm and instead, more practical and efficient.
If you're in eating disorder recovery or struggling with your relationship with food, I hope this post encourages you to continue on your journey towards an uncomplicated relationship with food. I haven't always had a flexible, stress free relationship with food so know you can get there one day too. Now, more than ever, I am thankful for intuitive eating and body acceptance.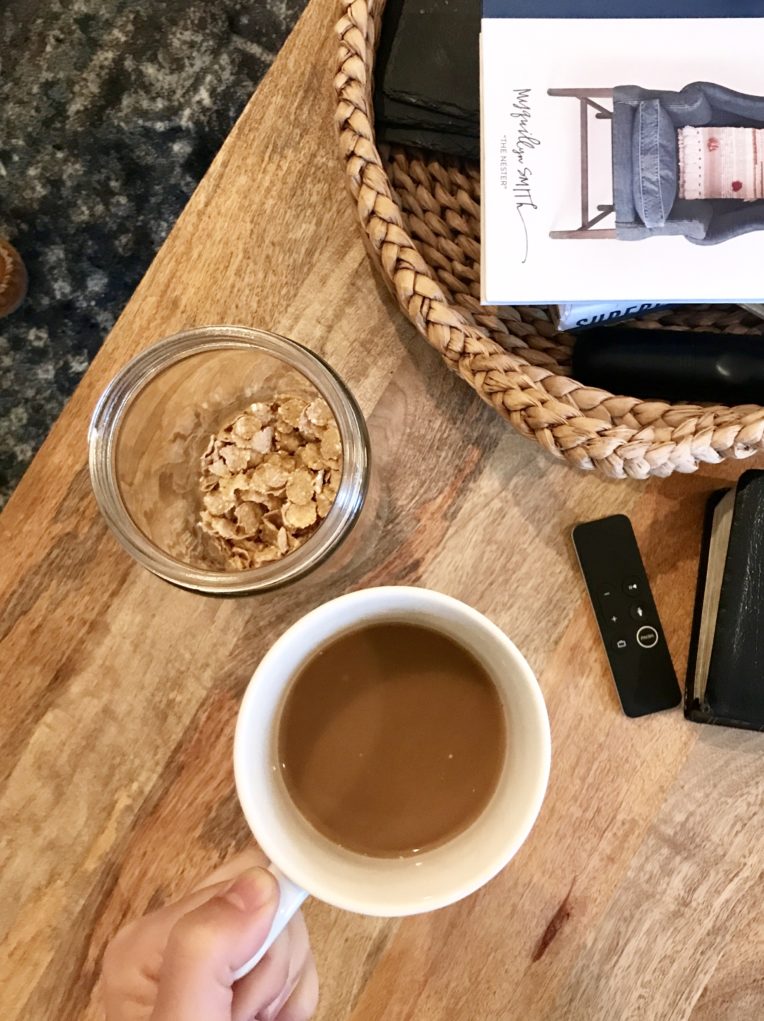 Snack | 5:30 or 6am until 8:45am when Nick leaves for work is when I work – see clients, write, etc – so taking time to sit down for a leisurely breakfast is not the priority. I usually don't get around to breakfast until an hour or two after waking up. But I get hungry within 30 minutes of waking, so I snack on handfuls or cereal or granola while I drink a cup (or two) of coffee and get my work for the day done.
Breakfast | I've been on an oatmeal kick for A LONG TIME. Months. The thought of hot oatmeal made me gag in pregnancy and I rarely craved it pre-pregnancy. But now being postpartum and breastfeeding, all I crave is oatmeal in the morning. I've found that interesting considering oatmeal is recommended as a food to support a healthy milk supply. Although there is zero literature on oatmeal boosting milk supply, there is a lot of anecdotal evidence. Eating oatmeal has minimal, if any, "risk" which is why it's recommended by a lot of lactation consultants even though there's no evidence to support the claim that oatmeal boosts milk supply.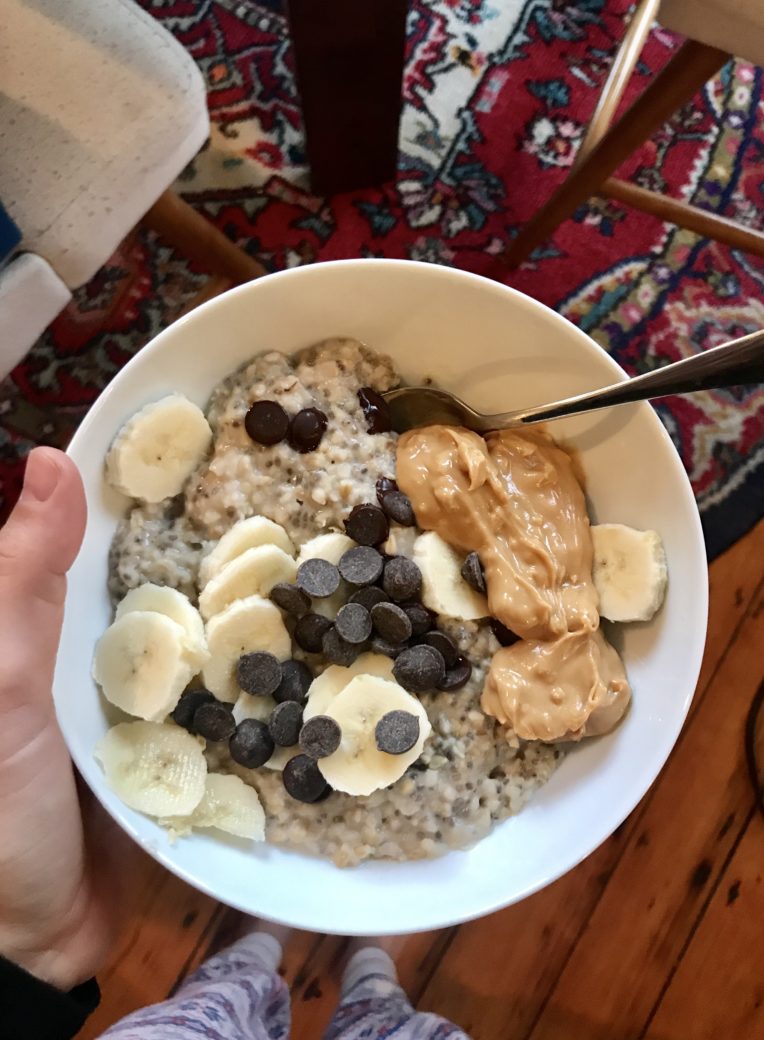 So about this oatmeal. I've eaten it probably 5x a week for the past five months and I'm nowhere sick of it yet. To make mornings really easy on us, I make a batch of overnight steel cut oats. I like my oats thicker so I've found this recipe to make a thicker batch than other versions I've tried. Put 1 cup of steel cut oats in a sauce pan along with 3 cups of non dairy milk, 2 tbsp chia seeds and a pinch of salt. Bring the pot to a boil, then turn off the heat and let it sit there overnight. I use a non diary milk because the thought of dairy milk unrefrigerated overnight makes me nervous. Also, I'm dealing with an infant dairy allergy so non dairy milk it is. Then in the morning I just microwave a bowl of the oats and top with a few big spoonfuls of peanut butter and a handful of chocolate chips. A lot of pb seems to be the key to keeping me full for a few hours vs just 1 or 2 hours.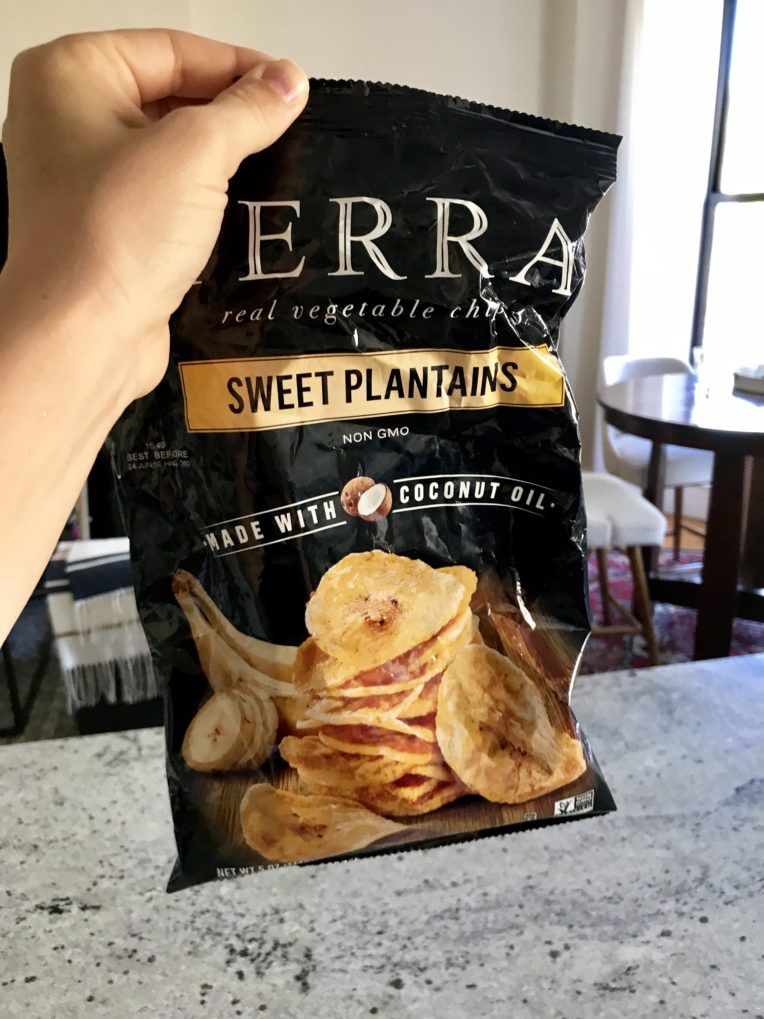 Snack | Mid morning I ate a few handfuls of plantain chips that I bought on sale lasts week. They are sweet and salty and very good.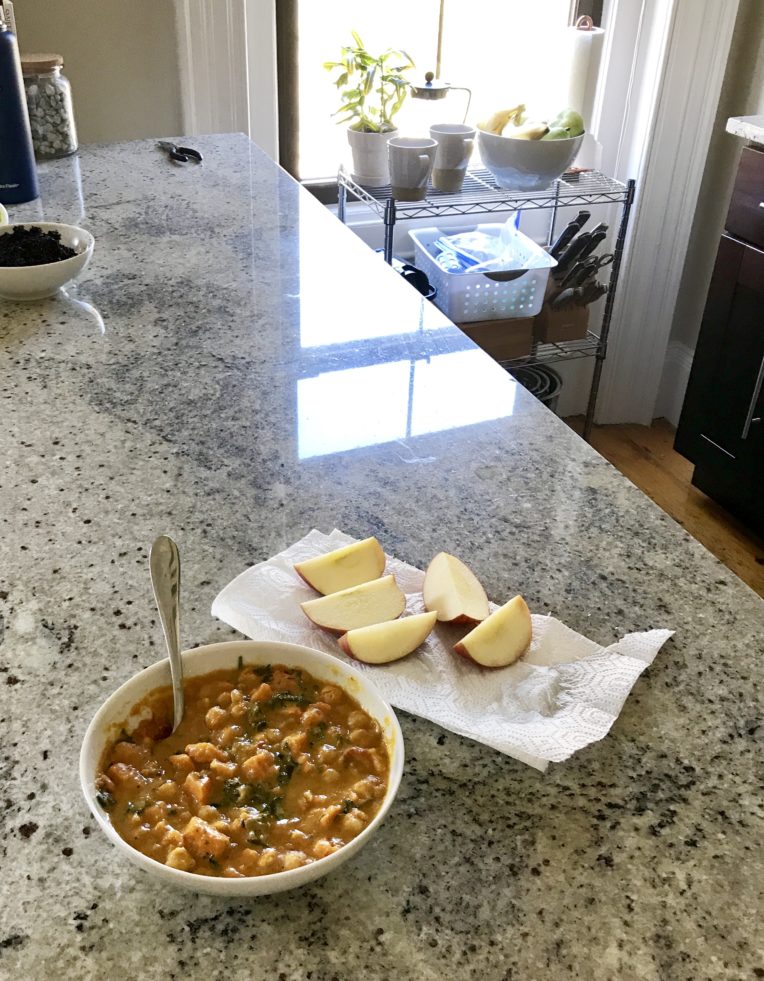 Lunch | Most Sundays, but not all, I spend about an hour cooking lunch and dinner and baking some sort of snack for the week. We eat the same thing for 3-4 days in a row. That isn't exciting, but it's practical. This week, since it's cold and rainy in Boston, I made Pinch of Yum's spicy peanut soup and added 2 cans of chickpeas for a cheap source of protein and used full fat coconut milk instead of light because I'll take all the fat and energy I can get. Plus, I like the richer taste of full fat vs light coconut milk.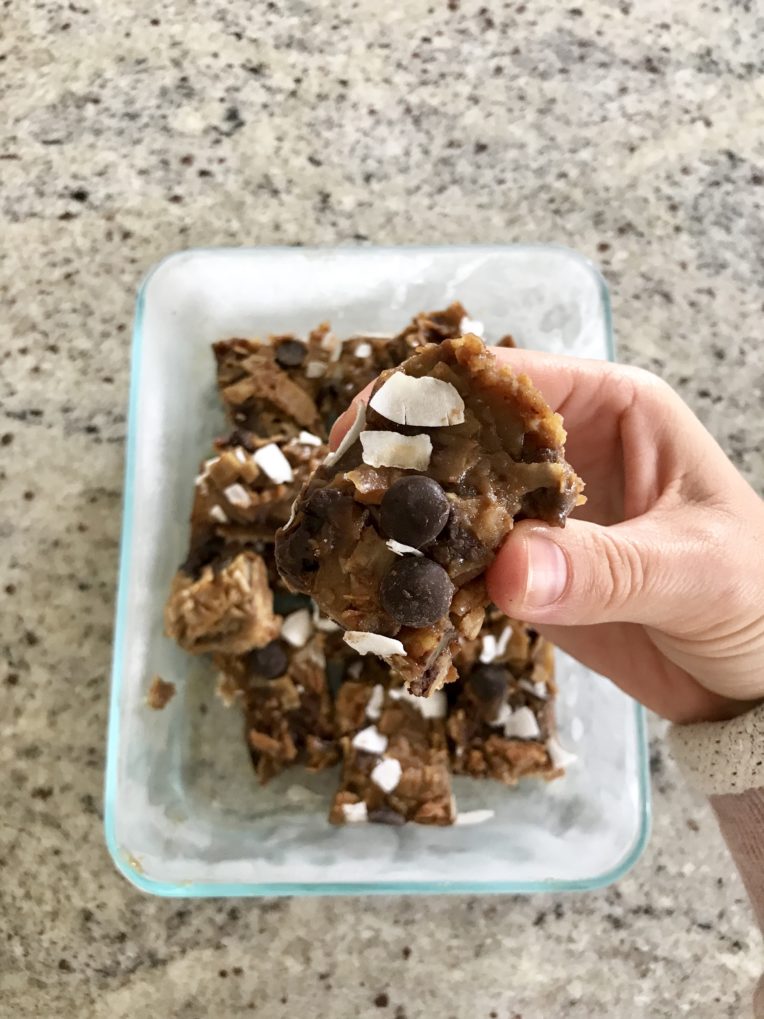 I was still hungry after the soup + apple so ate a couple of these magic bars I made on Sunday. Again, I used full fat coconut milk vs light, do whatever you prefer, and for the graham cracker crust I pulsed a box of Annie's graham bunnies in my blender. Previously, I had been buying a magic bar that was dairy free at a bakery around the corner from us once or twice a week, but that was adding up to be an expensive habit so I searched for a non diary recipe. Ever since Cal was diagnosed with a diary allergy a few months ago, having baked goods a few times a day has allowed me to feel satisfied with food. I posted about this experience on Instagram here if you're interested in my thoughts on intuitive eating + food allergies.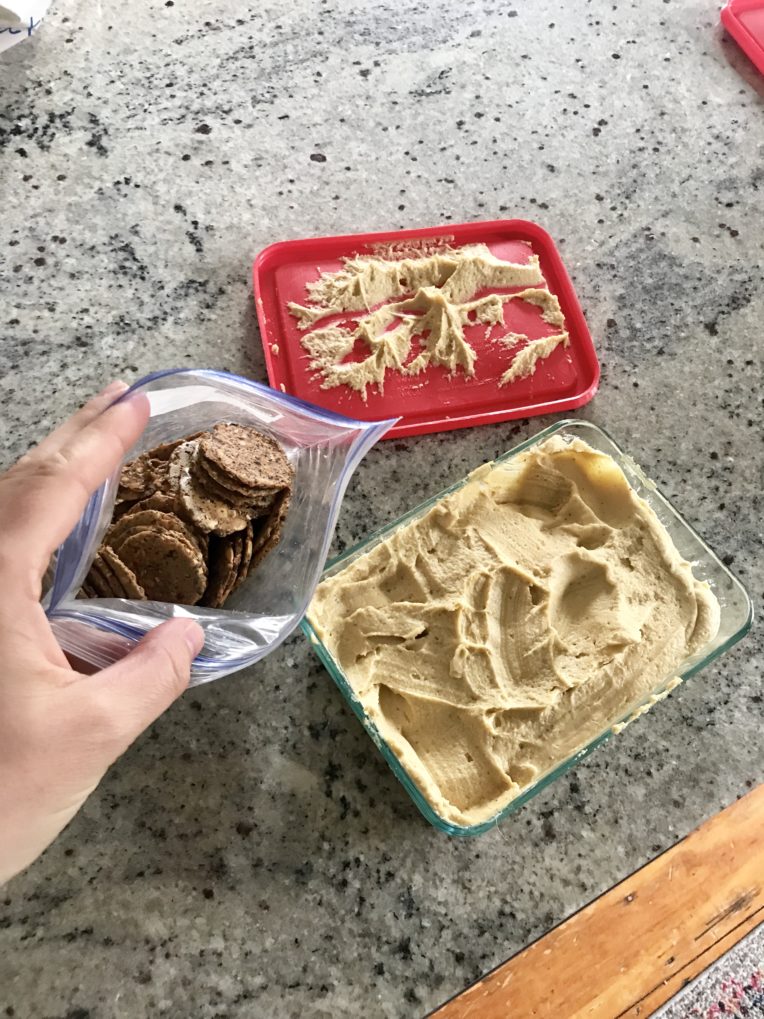 Snack | I shoveled several handfuls of Mary's Gone crackers + hummus into my mouth late afternoon. I made a hugeeee batch of hummus on Sunday when cooking dinner + lunch. And I probably should have just used 1 can of chickpeas, because now we're eating hummus as often as possible so this batch doesn't go bad before we eat it all.
Dinner | This week we're eating unstuffed cabbage rolls over brown rice using this simple recipe. This has been in our meal rotation for months and months because it's so easy and comforting.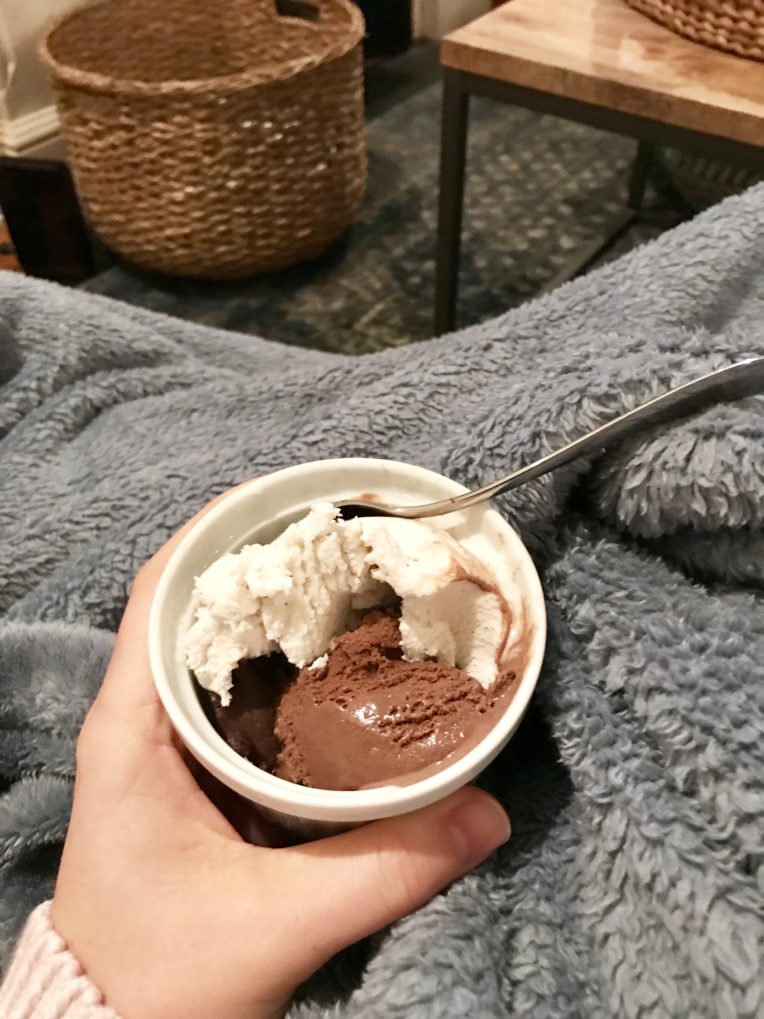 Snack | Annddd dessert before bed of coconut milk ice cream + boxed brownies. I ate this + another small scoop of ice cream and brownie. Brownies have been my saving grace with a diary allergy because they use oil vs butter and most boxed mixes are dairy free. Cheers to that!
I hope you're having a great week – share your favorite eats and thoughts in the comments!