I know I'm not the first person to say to you, "How is it May??" But really, what in the world, TIME.  When I was back home last fall in Indiana my childhood next door neighbor was over chatting with me and my mom on our back deck. I love her. She was gardening and had meandered over to our deck for a chat. Her youngest kid has just gone off to college and we were talking about that and she said, "Yep, time keeps going… and it's doesn't stop for nobody." Soak up that time!
Onto our coffee date….grab you're favorite drink and settle in.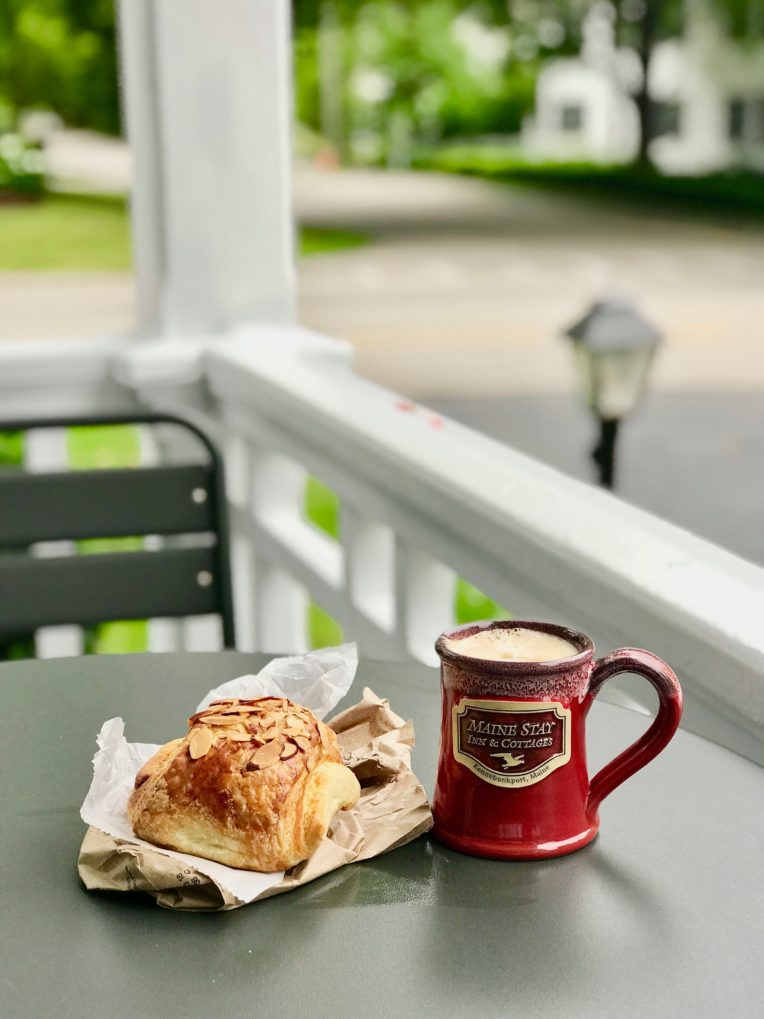 Summertime
I am really excited for warmer weather. For a lot of reasons, but one of the main ones being outdoor bike rides. I had planned on getting a road bike last summer, but then I got pregnant and decided to wait until this year. Road biking and pregnancy don't mix well on the safety or comfort front for me. I've been anticipating this for a long time, so when I finally took my bike home from the shop about a month ago I couldn't wait for the weather to warm up a bit and a get outside. We took a quick weekend trip to Maine a couple weekends ago and got to go on a couple bike rides around the coast. Wow, what a fun way to get in some physical activity. Although it takes a bit more planning and time than say going on a walk or jog or hike, I have loved having a road bike. I'm hoping to get out once a week on it and we hope to explore a lot of the Northeast on our bikes this summer. And hopefully I won't skin my knees or break a bone in the process. I'm not a fan of spin class, but biking outside? YES.
Bread & Wine
I started reading Bread & Wine by Shauna Niequist and….THIS WOMAN SPEAKS MY LANGUAGE. I'm a food person. I've got an appetite. And in a society that tells women their appetite should be contained, I'm finding this book very refreshing. It's a celebration of food and people and gathering and what God can do in that. It's funny and heartwarming and vulnerable and I love that you can read it in chunks. You could read a few of the stories and then not return to it for a few weeks. It's more of a series of short stories versus an ongoing narrative. I downloaded it on my iPad for freeee with my library card. So if you're into free books, highly suggest a library card. Ever since I got a library card last fall I've been reading so much more. If I buy a book, I want to really enjoy it, so I think about what to buy for way too long. But with a library card I can check stuff out and if I don't like the book…return it. So simple, yet so life changing. Yes, life changing.
Brené Brown on Netflix
Speaking of life changing things…hello, Brené. I think that everyone knows about Brené, but I think I make false assumptions. So if you don't know her, I'd encourage you to get to know her because she's fantastic. There's a Netflix show out now called Brené Brown: A Call to Courage. How's that for a bold title? I haven't watched it yet, but my plan on Friday night is to drink a glass a wine or an IPA, make and eat homemade pizza, and then watch this show with a bowl of ice cream. Does that sound like the lamest Friday night ever or the best Friday night ever? I feel like we could really get to know each other based on your answer here…
Body Image E-Course
Who loves body image?? Usually, body image work isn't what everyone is raising their hand for…but sometimes the hard stuff is the right stuff. It's painful and hard, yet liberating and worthwhile. While I do have a body image mini online course, we'll be creating and releasing a more thorough course to help you stop battling your body and instead appreciate your body so you can move on and put your energy towards things that mean more to you in life. We hope to make it as affordable as possible and offer it by winter of this year. We'd also love to hear things you want included in the course! Crystal is going to be doing a lot of the content creation because she's does amazing work with clients around body image (when you've trained under Marci Evans, you soak up a lot of good knowledge) and we want to serve you best with this course!
Also, if you're new here and want to dip your toes into body image work…we have lots of blog posts to help you get started.
Growing Pains
Lastly, a lesson I'm learning this month is to get honest with myself when it comes to work priorities. I get stuck in the trap of thinking something HAS TO GET DONE TODAY when really…it could get done within the next week (or two) and doesn't need to get done today…I just want to check it off my to do list today. So I'm reluctantly learning to accept the obvious truth that the to-do list never ends. I'll never have it all checked off. And actually, realizing the to-do list never ends has been incredibly freeing…because if I want to check everything off I'll always be chasing down productivity. And I don't want to do that.
That's a wrap. See you next month for some big life and work updates! In the meantime, enjoy May and margaritas and sunshine and life! "Time doesn't stop for nobody…"