Exercise was the hardest hurdle for me in developing a peaceful relationship with food, movement and my body. It was easier for me to eat intuitively when I was still exercising x amount of days per week or for x amount of time. If I didn't exercise, eating intuitively was almost impossible. It wasn't until I really dug in and did the work to recover from hypothalamic amenorrhea that I faced the reality of my relationship with exercise head on.
Physical activity, for a very long time, was a coping mechanism for me. I enjoy movement. I love being active and being outside and moving my body and getting sweaty. I love all of those things. But it was really easy for me to let those healthy reasons to exercise get tangled up in using exercise to micromanage my body size and justify my food choices. Exercise was also the primary way I managed anxiety, dealt with difficult emotions and felt "safe."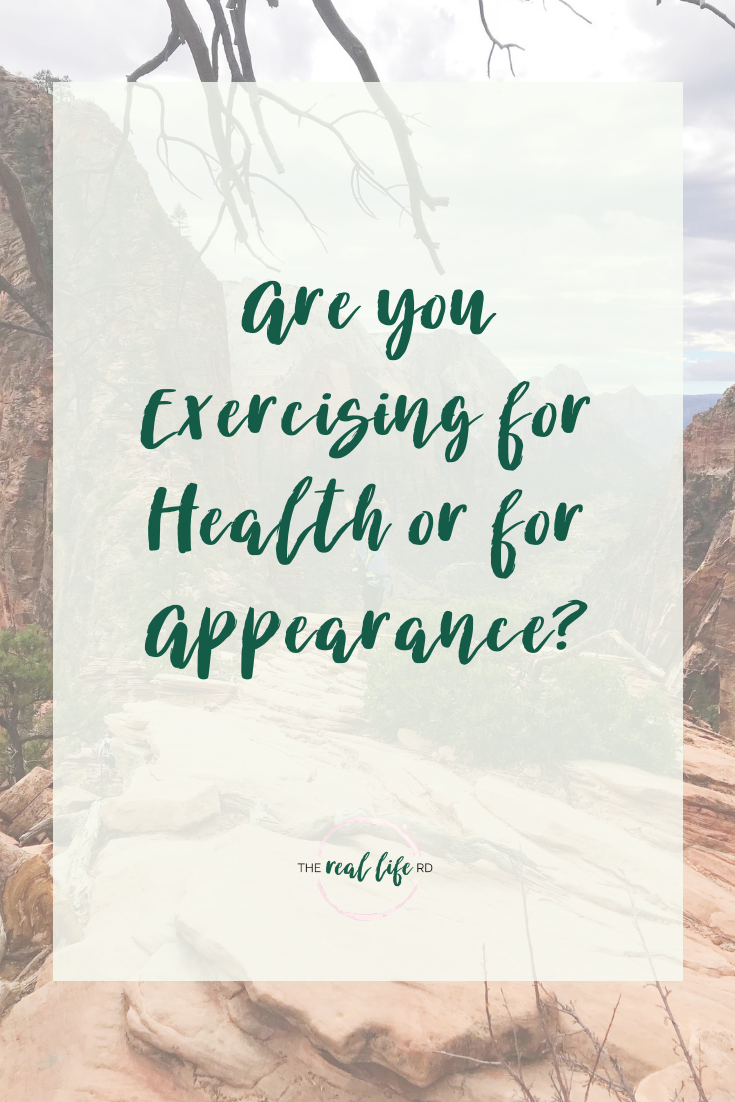 Six years later and I'm thankfully in a much different place. Not being able to work out can sometimes leave me feeling disappointed if I was looking forward to going on a run or going to a barre class, but it doesn't leave me anxious anymore. Moving my body feels like a privilege, not a requirement. What I eat isn't contingent on my exercise for that day. What I learned is that feeling disappointed and feeling anxious are two different things. Disappointment is an appropriate emotion to not being able to exercise. Anxiousness, not so much. I was anxious about so much more than the exercise itself.
There's a difference between exercising for health and exercising for appearance. With one of my clients, we've been working on moving towards a more flexible relationship with exercise for a few months now. Last week we were talking about beliefs she holds surrounding her current exercise routine. One of them she shared was that she wants to be healthy and not end up with a chronic disease. We dialogued back and forth for a bit about exercising for health vs exercising to maintain a certain body size/shape. If you are currently in a place where you feel rigid about your current exercise routine…meaning if you don't exercise x amount of days per week for x amount of minutes you feel uneasy…you're probably not exercising for health reasons. It might be helpful to take a step back and get really honest with yourself so you can get to the root of your motivations to exercise.
I don't think we need hour long spin classes or bootcamps to be healthy. I'm not saying people shouldn't do them. If you enjoy those classes and they help you live a better, more fulfilling life – do them! I really enjoy long distance running. I like to do that. I'm not saying do or don't do certain movement. What I am saying is that 6+ hours of structured physical activity a week where you're breathing hard and breaking a good sweat…that is not a requirement to be healthy. Aside from training for a race or competition, the underlying motivators for that amount of exercise are usually appearance or wanting to numb out from painful and uncomfortable stuff.
Health is far more flexible than a rigid exercise routine. "If calories didn't exist, what type of movement would you do?" — that's a question I ask my clients sometimes. The answers are always different than what they are currently doing. Sometimes just a little different and sometimes vastly different, but always different.
I attended the Female Athlete Conference last week here in Boston. It was fantastic. So many incredible, brilliant speakers and attendees. I don't work with athletes much, but I still learned a lot and took home information and tips to integrate into my practice right away. Exercise was obviously talked about a lot. On the first day of the conference, I was visiting the exhibition tables and came across this handout. I thought it was an awesome resource so I'm sharing a photo of it below.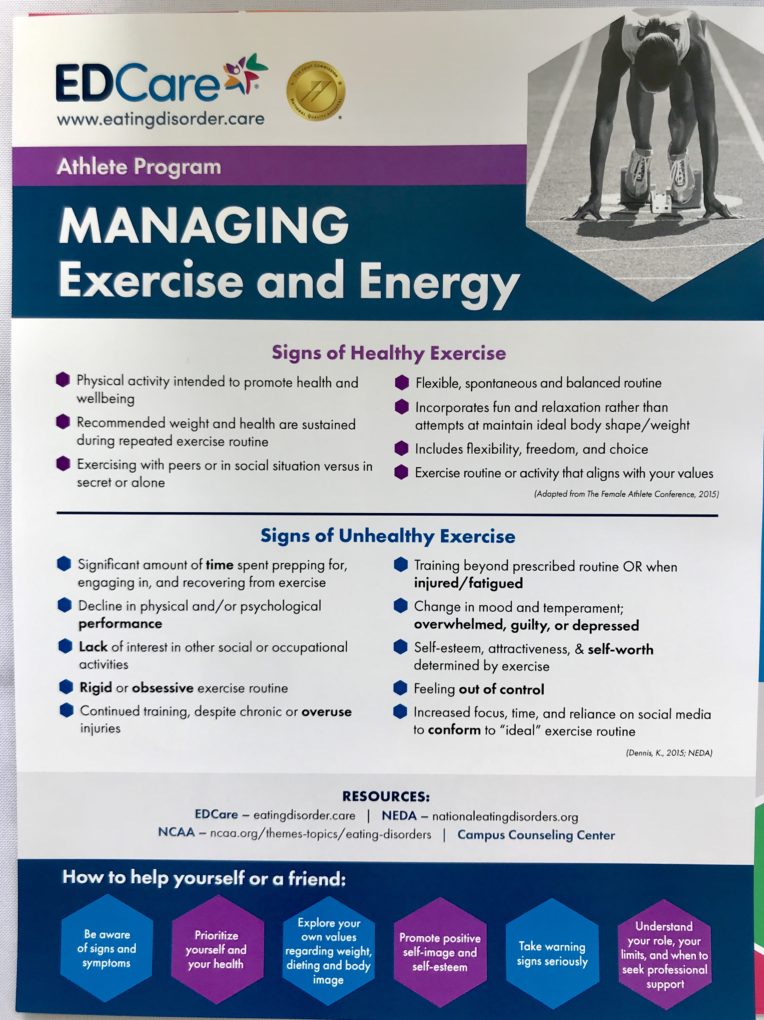 It's geared towards the athlete, but I think the principles apply to everyone. The only changes I'd make under the "healthy exercise" portion would be:
Set point weight and health are sustained during repeated exercise routine.
Exercising with others or in social situations versus in secret or always alone.
If you're reading this wondering how the heck to move away from a rigid relationship with exercise to one which is flexible and healthy, you're in good company. I've written a lot of posts about exercise which I hope are helpful. Sometimes you need one-on-one support with a therapist and/or dietitian – that's okay too. But also know having new, positive lived experiences and realizing nothing crazy happened and you're okay….that's imperative to this journey. Those experiences build body trust and new belief systems for you. That might mean you need to take a break from exercise all together to shift the belief that you have to exercise in order to eat xyz. By not exercising and still eating xyz and seeing that you are still here, nothing catastrophic happened, and you feel more free than before….that shift your belief system. It's the lived experiences that really create change.
I'd love to hear your thoughts on this. Share your own exercise journey in the comments!