Wow, I am so excited to be here introducing myself! I love everything about this blog, the Nutshell/Real-Life RD community, and Robyn's mission as a whole. So of course, I'm thrilled to be joining this amazing community.
If you watched Robyn's recent video post on how Nutshell is changing, you've heard about me. Yes, I'm the RD who randomly reached out to Robyn and said I'd be happy to help her if she ever decided to expand her team. I had just turned down a job opportunity in the Emory Hospital system here in Atlanta when I reached out to her.   Despite it being a great opportunity, I just knew the hospital wasn't the right fit for me. I was searching for opportunities that allowed my passions to be fed.  I had been doing nutrition counseling and felt it was the type of environment I could thrive in. I love relationships and taking the time to get to know people. I was confident Robyn and I had a lot in common and simply thought I'd be letting myself down if I did not reach out to her. So I did! And because she's amazing, she responded. We became fast friends and a few months later, I have the joy of working with her and her clients. God works in unexpected ways.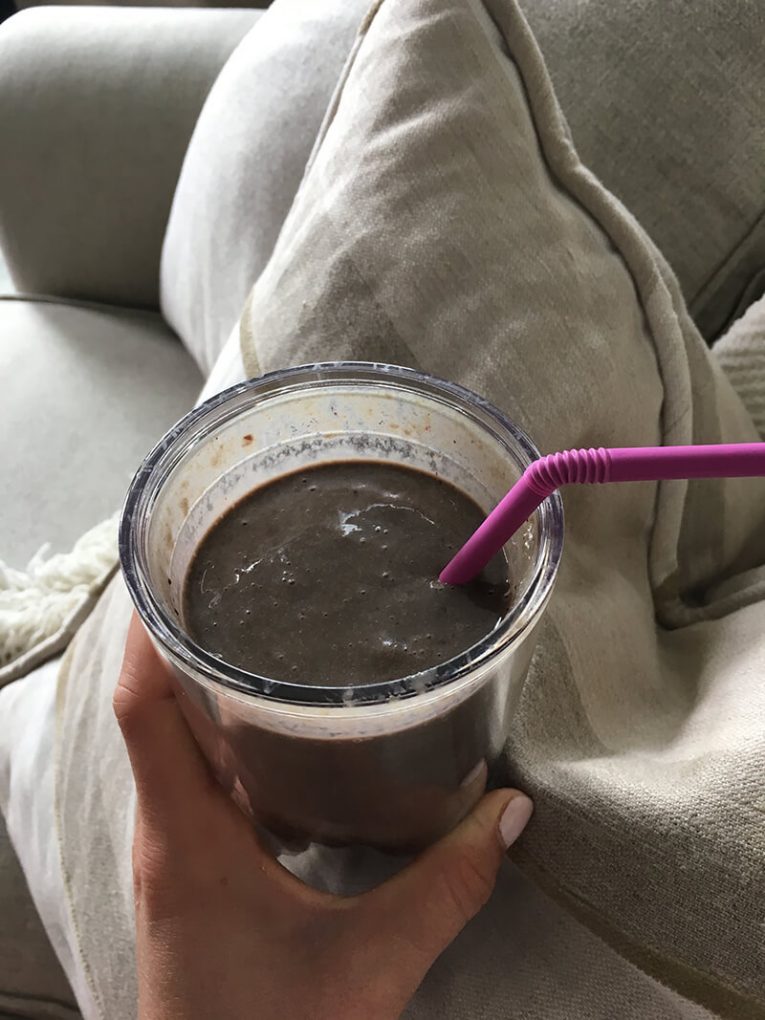 breakfast//is usually a Vega smoothie (1 scoop Vega One + frozen banana + a few frozen cherries + almond milk + nutbutter + frozen spinach)
On Saturday it was banana flaxseed oat pancakes topped with cashew butter and frozen raspberries that I melted in the microwave
Looking back, I had written to Robyn, "I simply want to encourage others to live healthy, passionate lives." In a nutshell (ha), that's my philosophy. Like Robyn, I believe in food freedom, balance, and authenticity. Like many of you, before I met Robyn, I felt like she was my friend and that I could easily reach out to her. Therefore as a Nutshell Nutrition RD, I want all of my current and future clients to know I'm here, walking right alongside them. I am the world's least intimidating person, or at least that's what my friends say 🙂
Like I said, I love relationships. I find that if we do a little digging, we can all relate to each other in some form or fashion. I love doing just that! I believe in the power of relationships and vulnerability and I really love getting to know people through hearing their stories. Personally, I love being known and understood — it's the ultimate comfort!  I feel so at peace when my husband or my best friend make me think to myself, "they totally get me." At the heart of the matter, I believe we all have a degree of that desire for connection within us. We all just want to be known in this big, unknown world. I love getting to know people, no matter what their situation, and simply meeting them right where they're are in that moment. There's a place that settles within us when we're connected, supported and understood.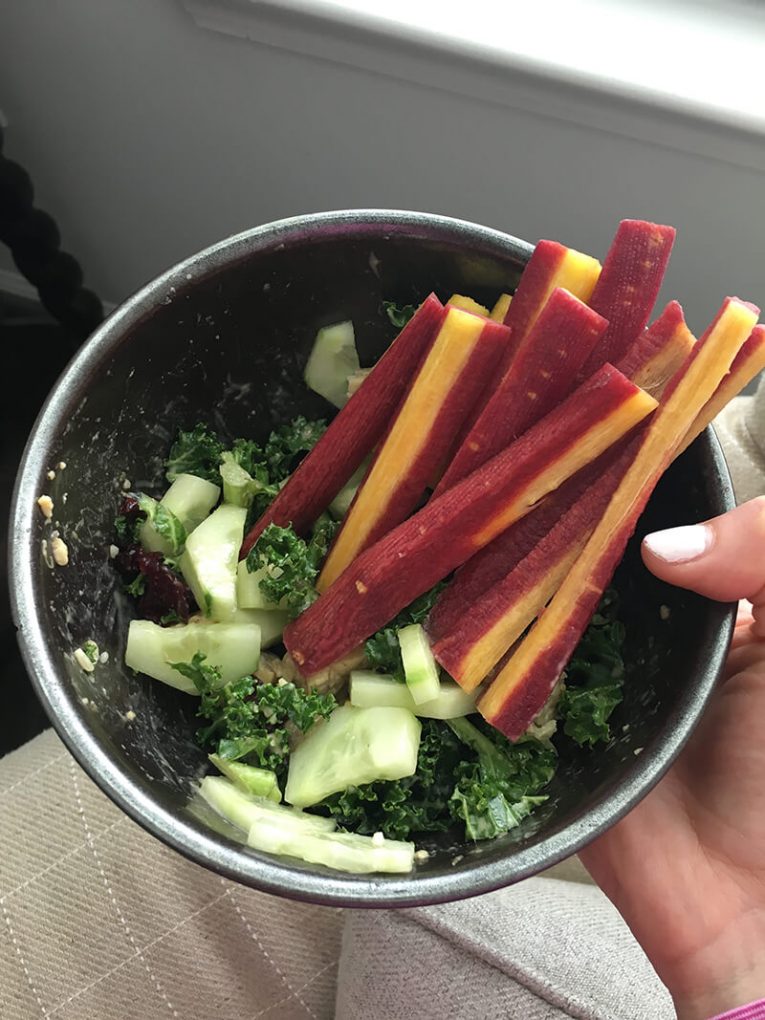 (disclaimer: this is ½ of my salad) lunch// kale salad with tempeh, cucumbers, craisins, and carrots with TJ's goddess dressing + not pictured hummus for the carrots [This picture was taken halfway through lunch]
spoonful (or 2) of ice cream after lunch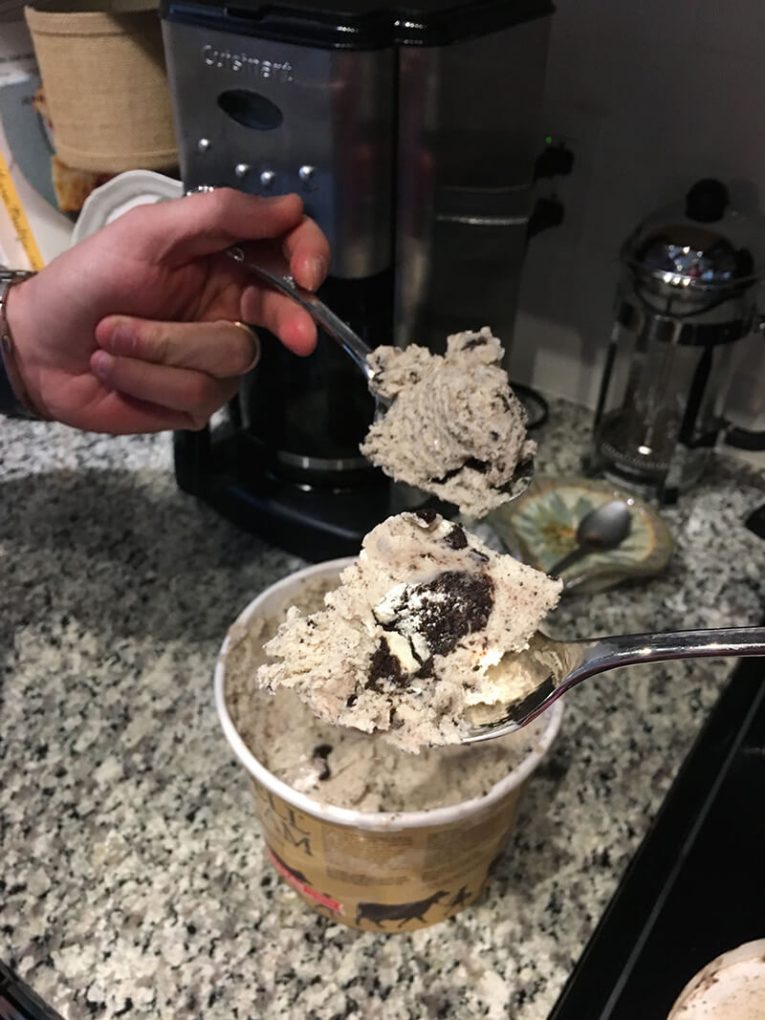 I also love food. Cooking and gathering around a table was very much a part of my childhood. Community is so rich around a table and I truly felt that as a child. My love of food fostered my love for nutrition and also my love of human sciences. Although I am not Type-A, I am a detail-oriented person. My mind is curious and discovering the intricate details that make up our bodies and ultimately make up who we are and how we function fire me up.
I believe our bodies are created by God, therefore they are good and are meant for good. How can they be good if we don't take care of them? In our diet-obsessed, technologically driven culture, it is all too easy to become trapped, to be rude to our bodies and to ultimately learn to hate ourselves. I love helping others find freedom, but especially food freedom. I love food and I believe it is meant to be a delight, to be celebrated and to be shared with others. I also believe food is just food. It is not to be idolized the way the world we live in so often teaches us to do. There is goodness waiting to be poured out from you onto those around you and that can't happen when we can't walk free.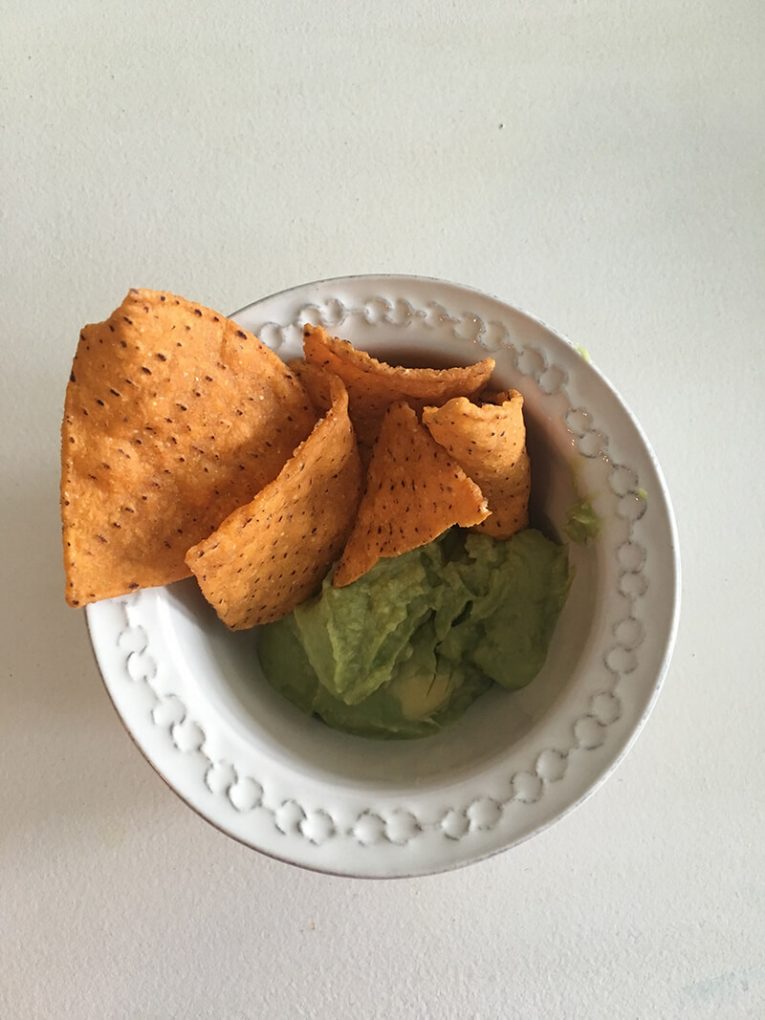 snacks// sweet potato tortilla chips with guacamole
TJ's inner peas with hummus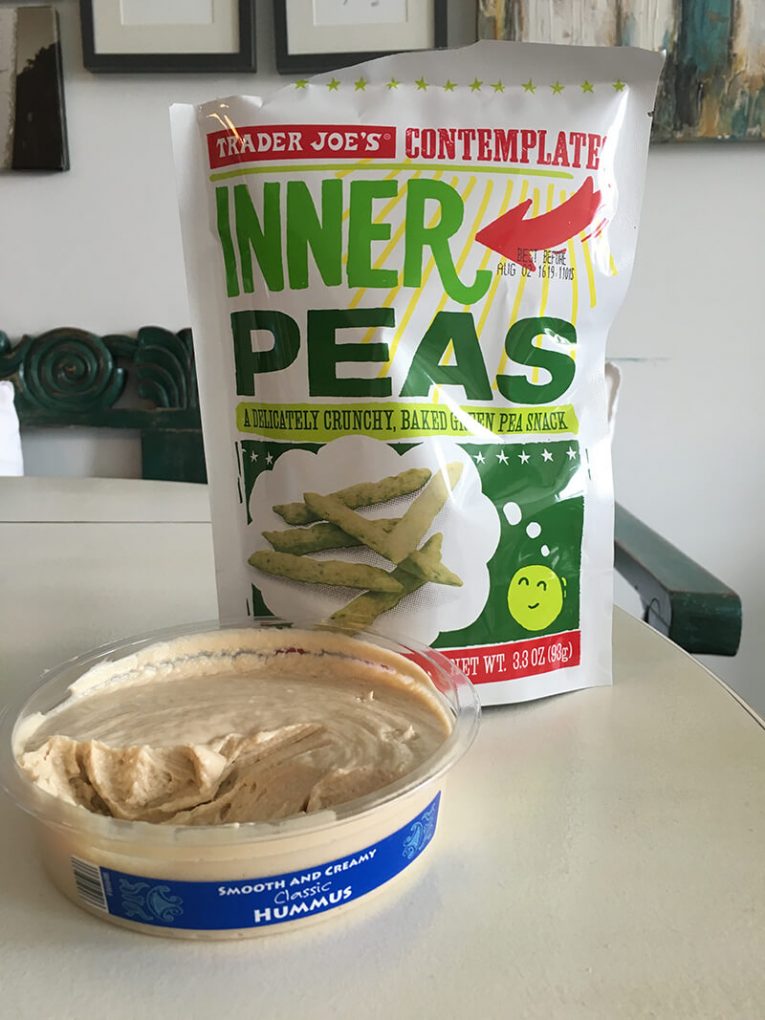 vegan pumpkin banana blueberry white chocolate muffin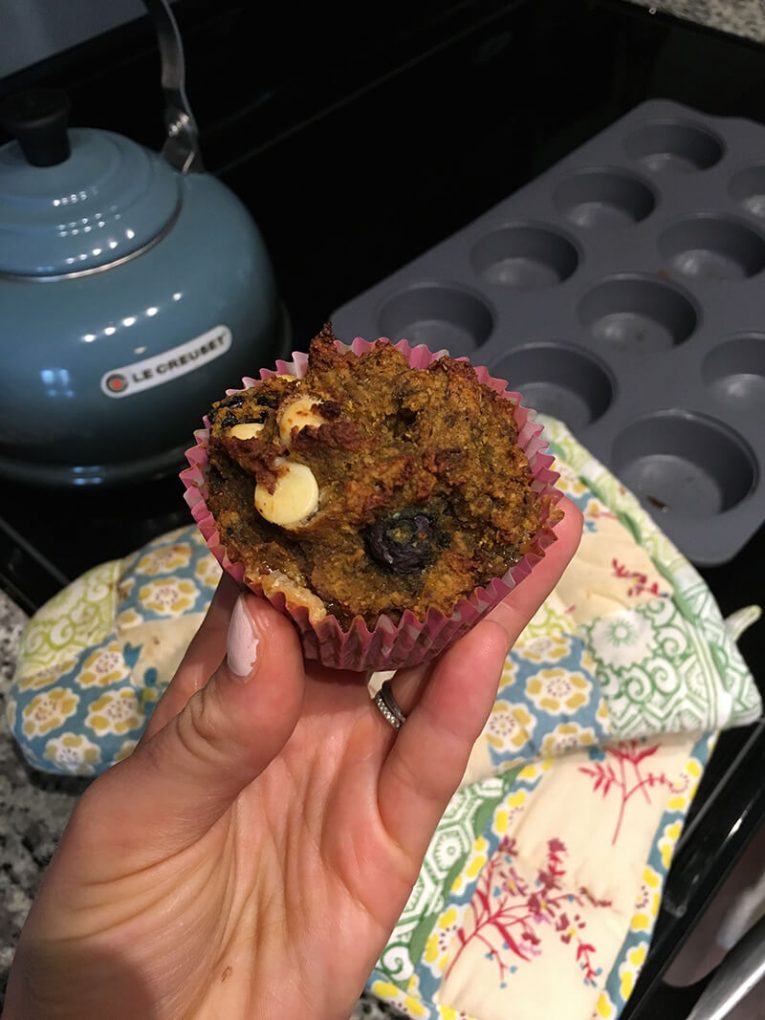 The same goes for exercise.  I absolutely love to get a good sweat in and there is nothing like the peace, joy, and stress-relief I feel when going on a long run or attending an awesome Barre3 class.  But, the last thing I want is for exercise to get in the way of my friendships or for it to become my ultimate lifeline. In other words, I never want to feel imprisoned by my exercise regimen or it to be where I find safety and security. We should move because it feels good, not because we think we have to.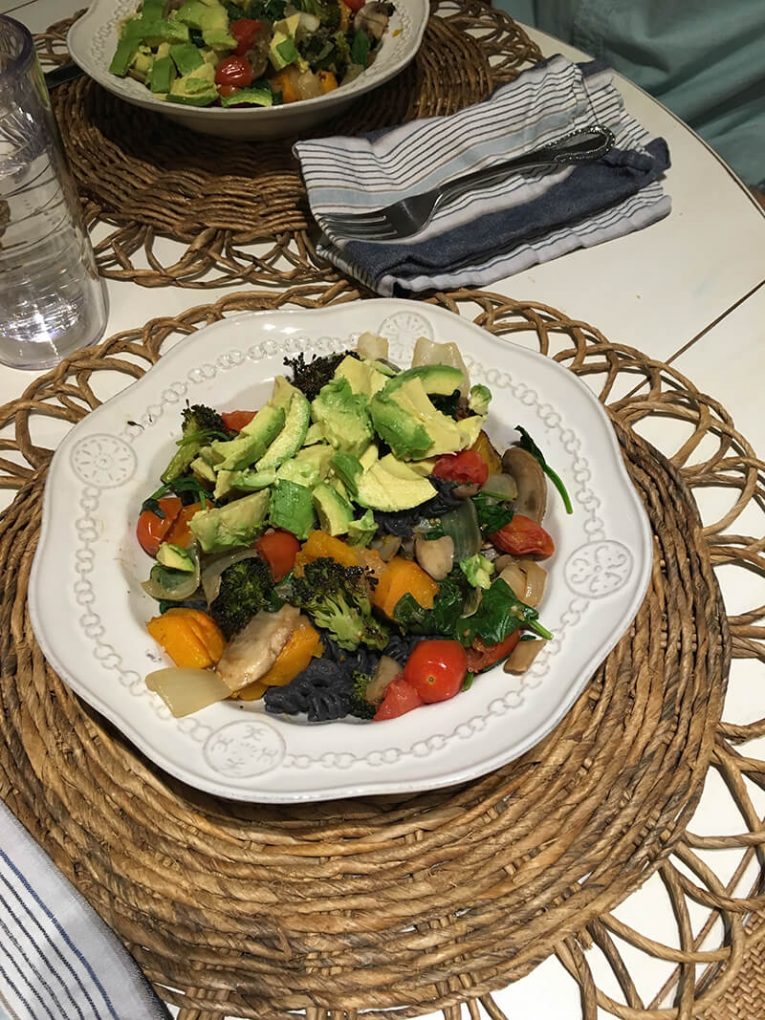 dinner// TJ's black bean pasta + roasted butternut squash and broccoli+ sautéed mushrooms, onions, grape tomatoes, and spinach + ½ avocado)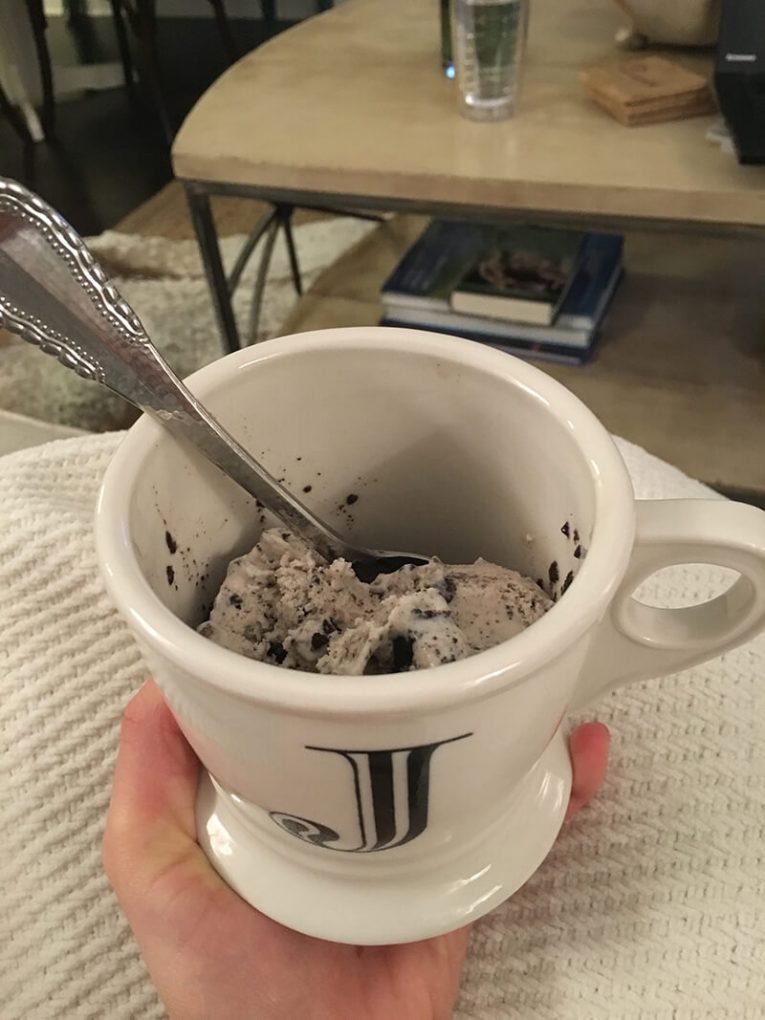 anddd more ice cream of course with a chocolate covered frozen banana bite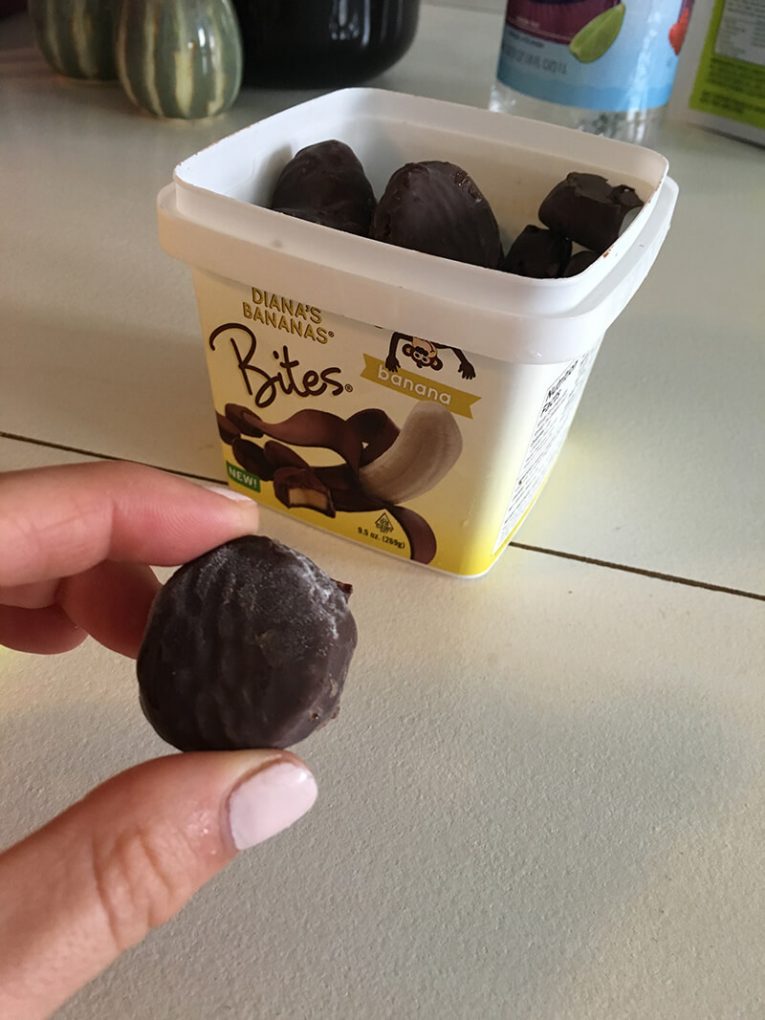 As for my educational background, I was born and raised in Knoxville, Tennessee where I later attended the University of Tennessee, earning my Bachelors Degree in Nutrition. After getting married in June of 2014, I moved to Atlanta, Georgia where I completed my Dietetic Internship at Emory Hospitals. Today, my husband and I still live in Atlanta and have learned to love this crazy city.
All in all, thank you for this opportunity and I so look forward to what's ahead. Wishing you guys the best this week!