I had a dream two nights ago that I was visiting one of my client's houses for a party and there were tons of people there. I can't really remember all the details, but I remember my family was at the party too (weird, yes) and then all of a sudden I was standing in the middle of the room filled with people raising my voice to get a point across. It was almost like a mini speech where I began ranting on about body image and how we have to actively work to cultivate it because we live in a diet obsessed world.
I was not backing down, my voice grew louder and louder and I was passionate about it.
As I was journaling yesterday morning, everything came full circle. I'm human just like you. And last week was a rough week with body image. I felt like I was being bombarded with lies that I needed to get fit for my wedding. Ew, I hate even typing that. So when I was journaling, it felt like my desperate prayers for freedom from all the annoying body image noise were slowing being answered.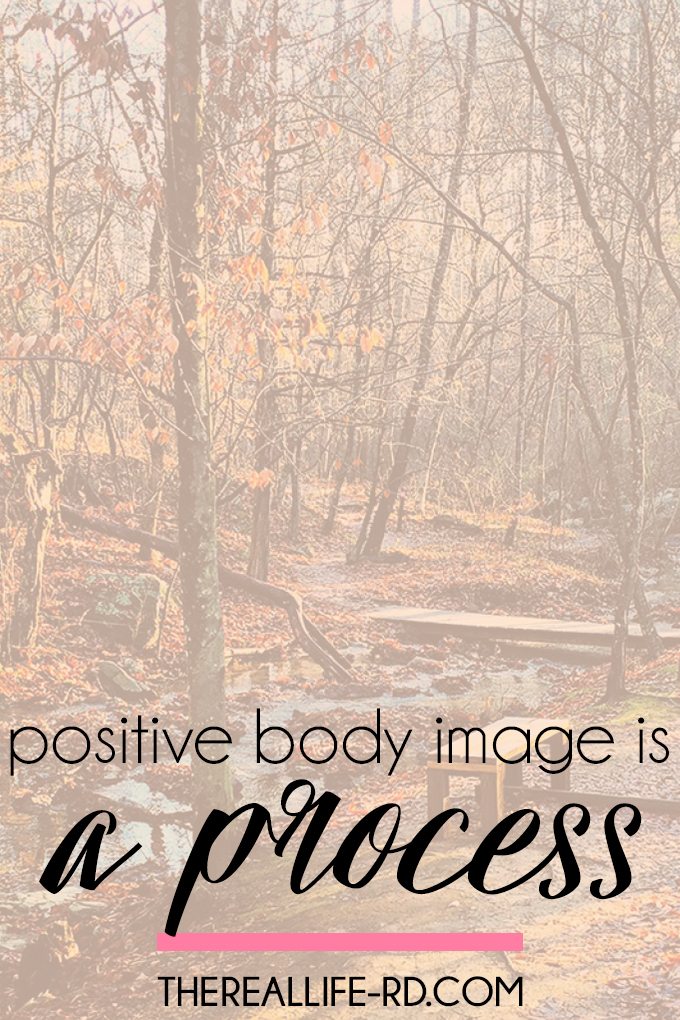 And then I felt compelled to write, so here I am typing away at 11:40pm on the subway during my commute home from clinical.
Because we live in a world that is not going to make positive body image easy. When I walk around New York City or read magazines or go online, I see that we are constantly told ways to make ourselves look better because we are not enough. I tell clients and I'm telling myself and telling you, that making peace with your body, accepting it and then loving it is a lot of work. It's an active pursuit, it doesn't just passively come to you.
And I think that's where I, and maybe you, can become frustrated. Because why is tolerating and then accepting and then loving your body so damn hard?
You can take a deep breath and step into a whole lot of grace because I know why. Our environment cultivates the exact opposite: dissatisfaction with our bodies and a desire to change it. We are told there is always work to do.
I know two things. That that message is a bunch of bs. And that worrying about my body is a total waste of life and purpose and time. I was created for more than that.
So as I'm ranting on and on to these unidentifiable people at this party in my dream, I began telling them how to develop positive body image – and it was a very active process. I don't remember exactly what I said, but in real life, when I'm living my day to day life, I know what works for me and what I encourage with my clients too.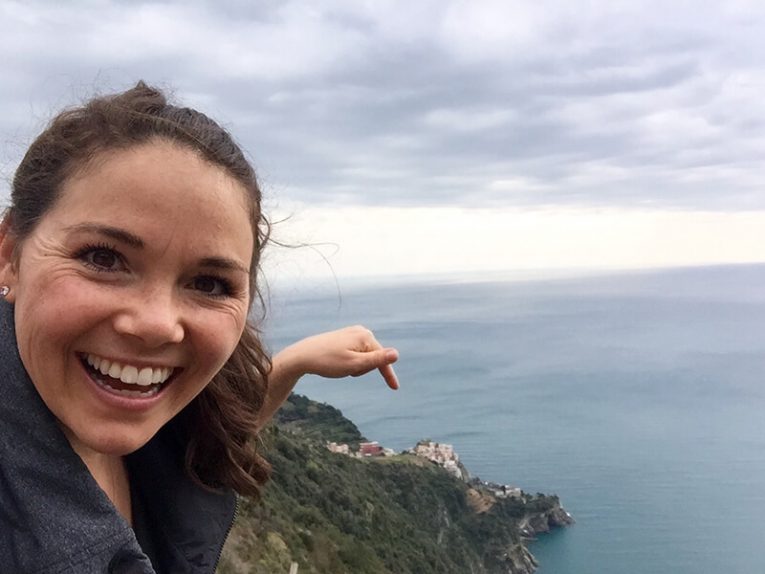 Positive affirmations. Write them down. Put them on your lock screen. Say them out loud a trillion times. Repeat, repeat, repeat. When I'm exercising mine is, "I am strong, I am beautiful, I am made in His image." Others I love include, "You were made for more." and "It's about your heart, not about your body."
Stop body checking. This is hard because mirrors are everywhere. But we body check all the time. Start with becoming aware of when you do body check and then make changes so you can consciously stop doing it. Cover mirrors, don't work out around mirrors, walk with your head turned away from windows. Whatever you need to do, do it.
Burn your scale and never get on one again. Let your doctor weigh you blindly. I get on the scale backwards and ask for the nurse and doctor not to tell me my weight. I don't care to know and it means nothing to me. I am not a number. End of story.
Buy clothes that feel good. I know low waisted jeans don't make me feel good, nor are they flattering for my shape. There are different shapes of clothes because there are different shapes of bodies – all clothes are not supposed to fit all bodies. So buy things that feel and look good and don't buy things that don't look and feel good. There's nothing wrong with your body, you weren't supposed to wear every shape and size of clothing.
Breathe deeply and feel your stomach rise and fall. Visualize your lungs filling with air, your heart filling with and pumping blood, and your entire body being oxygenated. The body is incredible, take a moment to pause and appreciate it.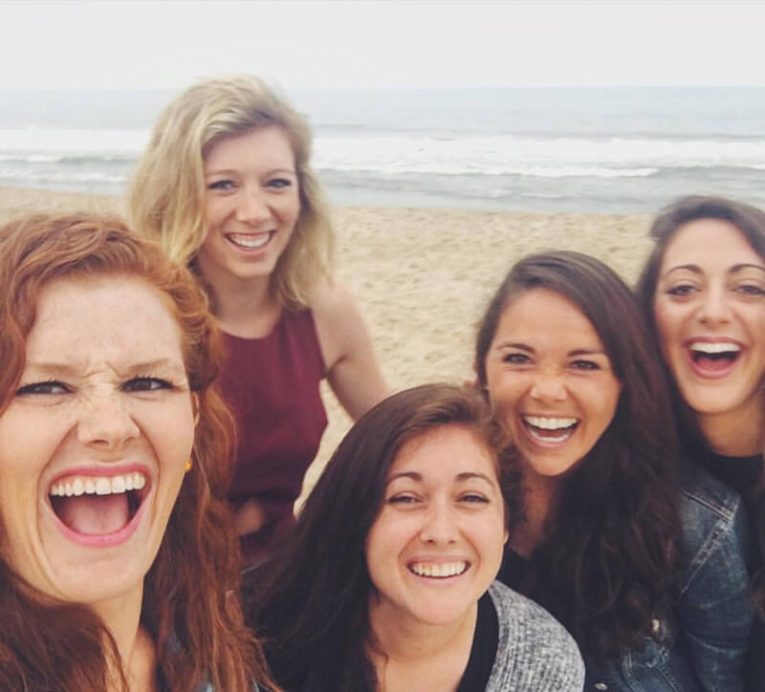 Going along with the above, taking 5 minutes to stretch. Moving your body slowly not only fosters mindfulness, but it allows you to practice gentleness. Your body needs to be taken care of, not punished or abused.
If there are moments where I notice a spot of cellulite or curve that I don't necessarily love or whatever negative thought pops in, I circle back to the positive affirmations and also say out loud, "You are a real woman. This is what your real woman body looks like."
Having positive body image doesn't happen in a day, it's a process with ups and downs. But it does get easier and more second nature and the noise gets quieter.
Because like my gf + boss lady Kylie says, "If you feel like your weight is the most interesting thing about you, you need a freaking hobby."