I had a reader comment on a post a while back (I forget the post now, but wrote down her question) and she was wondering how to redirect diet talk when she's around friends. I loved how she referenced Mean Girls in explaining the way she feels.
She explained how she finds herself contributing to diet/body shaming conversations even though her thoughts/beliefs go against diet culture because she doesn't want to feel left out and wants to create a sense of connection with people. She equated it to Lindsay Lohan in Mean Girls when all the girls are standing in front of the mirror calling out all their flaws and Lindsay, in order to relate and connect, chimes in with, "uhh…I have bad breath in the morning."
It can be hard to stand out and resist cultural norms. In the same way it's difficult to redirect conversation and not partake in gossip, it's also really hard to separate yourself, not contribute to diet conversation and even redirect diet conversation.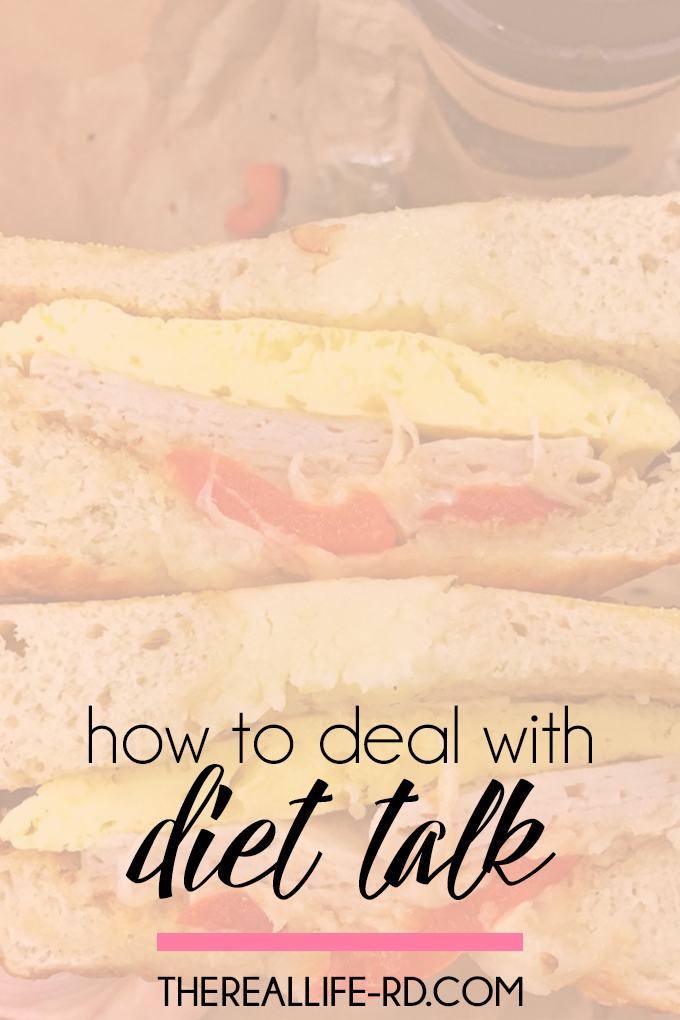 I can certainly relate to this reader's question. In the beginning stages of my anti-diet/intuitive eating journey I wasn't confident enough to reject diet talk in conversations with others. There were times when I responded with, "uh huh…yea…I get that." when somebody was talking about their body, what they ate, weight loss or whatever.
But over time, what I've learned professionally and personally is that if I remain passive to diet culture and don't boldly reject diet talk…diet culture will persist. And it will affect me. It's like getting on a kayak going downstream and hoping to make it upstream without paddling. It just doesn't happen.
So how do we directly or indirectly refuse to participate in conversations centered around diet culture? And how do we positively contribute to conversations/relationships in a way that moves people away from diet culture?
1. CREATE AN ANTI DIET BUBBLE FOR YOURSELF
Just like an alcoholic needs a community + support in order to protect against relapse, the same goes from escaping diet culture. When I embraced the HAES/IE philosophy and rejected diet culture for myself…I actually became more aware of all the diet messages around me. They are EVERYWHERE. Stop following social media accounts that make you feel bad about yourself. Maybe it's time to take a break from a relationship that involves a lot of diet talk. If it's difficult to find friendships/relationships that support anti-diet culture, there are online communities and podcasts/blogs to read that can help create that bubble for you right away. The more your mind is engaged with anti-diet culture and not with diet culture…the less vulnerable you become when diet talk does come up.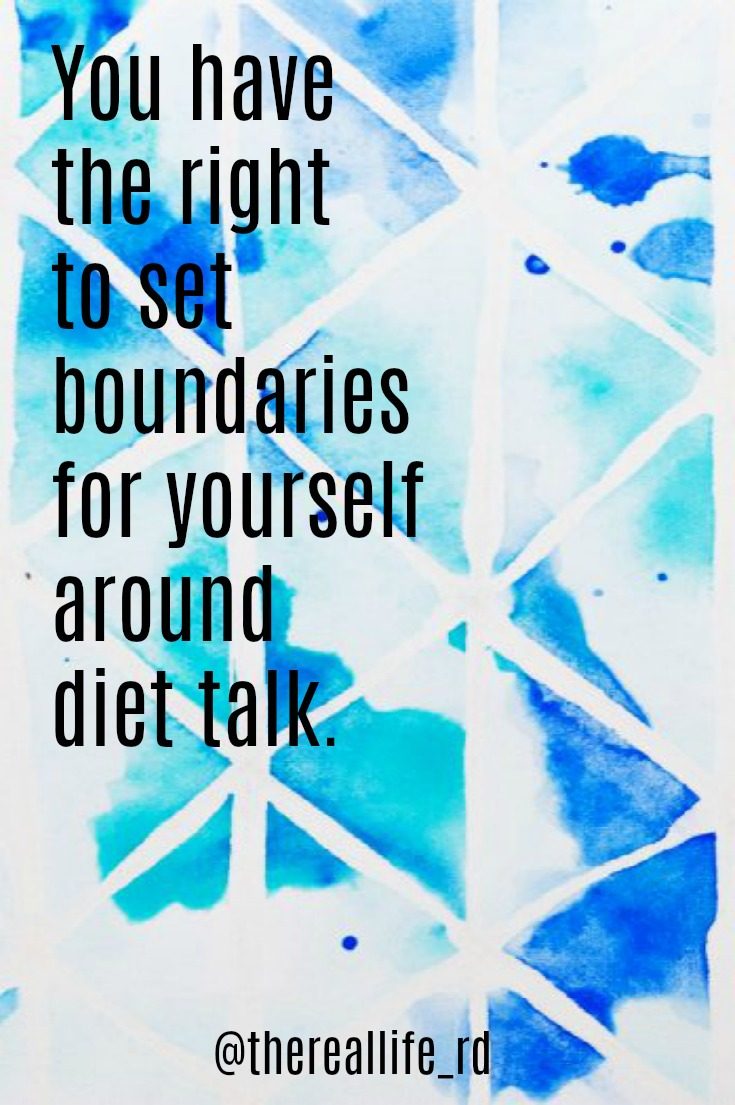 2. SET FIRM BOUNDARIES 
You have the right to set boundaries on your relationships. Boundaries make for good and healthy relationships. You are also allowed to change these boundaries whenever you see fit. Just because you use to participate in diet talk or body shaming doesn't mean you have to today or in the future.
What does setting boundaries look like?
Maybe when the topic arises, you gently tell the person/people that you're not interested in talking about food or exercise or bodies. Maybe you redirect the conversation. Saying, "Hey, let's talk about something different. How was your weekend?" is a simple and less direct way to change topics. If you want to be more direct…"I don't really want to talk about that stuff anymore." can communicate your feelings pretty clearly.
Remember that you may have to remind people in your life more than once. Diet talk is mainstream, it's expected. Sometimes we don't even realize we're doing it. Try to be understanding if you know they really are trying to change.
3. YOU ARE NOT A SPONGE
You don't have to absorb everything around you. This can be hard in the beginning of your journey….really hard. But visualize being a brick vs a sponge. A brick absorbs very little. A sponge absorbs a whole lot. You have the choice to decide what you going to engage in and absorb and what you are going to let roll off you. Thoughts and opinions are just what people are offering up. They are not facts or truth.
4. DECIDE IF YOU WANT TO EDUCATE PEOPLE ON NON DIET CULTURE
After creating boundaries to protect you from triggering diet talk, you now have the freedom to decide how much you want to explain yourself or educate others. You don't have to say anything if you don't want to. Or even if you want to, it might not be the right time or place to do so. People will be open to the conversation at different points in time, and that's important to remember.
If you do want to share with others, think about how much pushback you can handle. Know when too much resistance is too much so you can leave or redirect the conversation when needed. Sometimes, engaging in a "debate" like conversation can do more harm than good.
5. KNOW THAT JUST BY LIVING YOUR LIFE, OTHERS WILL BE AFFECTED
It's not your job to convince anyone. You are not responsible for others lives or choices. It's probably only a good idea to share your opinion on anti-diet culture, intuitive eating, and HAES when you feel steady in your beliefs and choices. It's okay to not be there yet, this is a journey and you have your whole life to spread the message 🙂
When you start living your life in a way that rejects diet culture and embraces IE and HAES your demeanor will change in positive ways. People will see this in the way you live your life and interact with others. When you start to believe in yourself, accept your natural body size, and trust in your body it will be very apparent to others around you. In turn, you will be sending all sorts of subtle messages even when you're not overtly advocating for this way of living. You will be living your life in a way that indirectly shares the message without you even realizing it.
Remember you have a right to set boundaries. Remember you are not a sponge. Remember that people don't change overnight. They aren't going to give up diet and body talk right away. We have all been living in this diet culture for years. And remember that you will continually encounter diet messages, but you are in control of what you let bounce off you and what you let absorb and take root.
I'd love to hear your thoughts on this…
What are ways you have been able to reject diet culture in your life? How have you set boundaries in conversations and relationships? How have you created your own non-diet bubble?