Many of you enjoyed the Q&A style post I did a couple weeks ago and left many questions in the comments. So here is round 2!
I recently had my thyroid levels tested and all are within "normal" range, but just barely. They are all on the lower end. Is there such thing as suboptimal thyroid function that's "normal" but not necessarily healthy?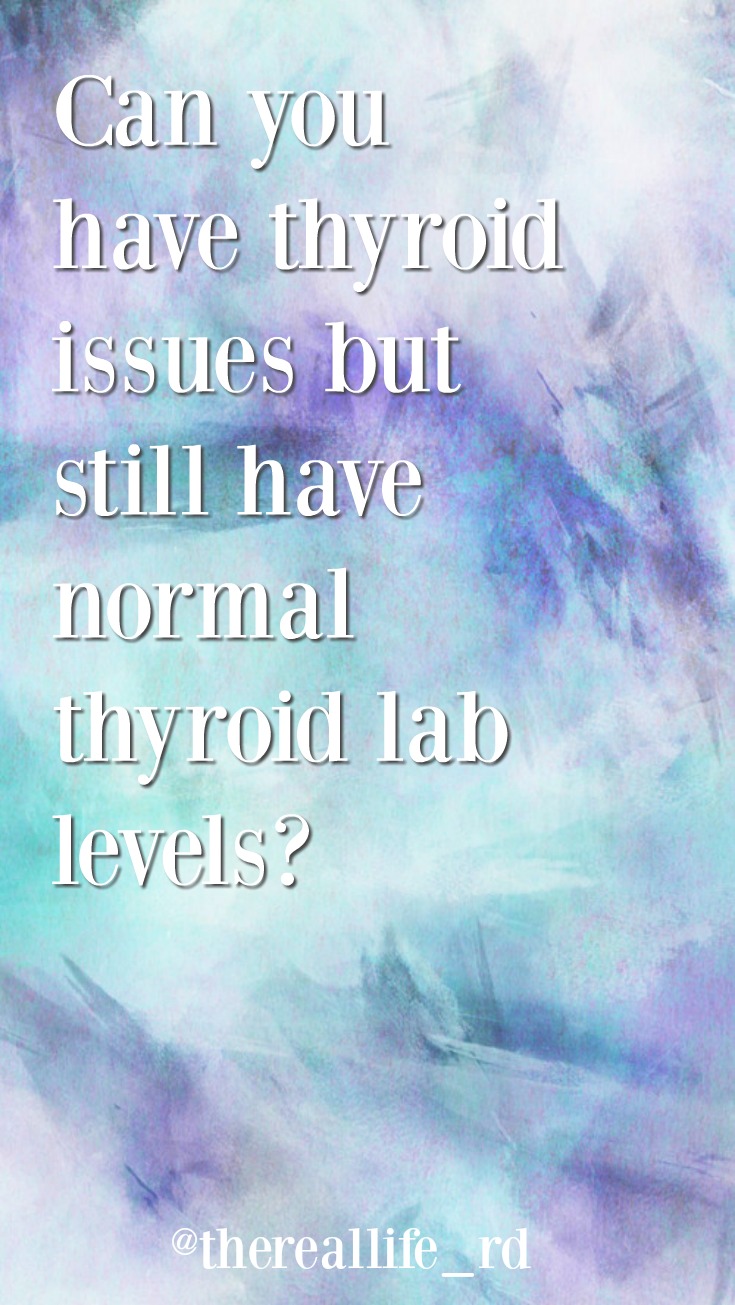 This is a great question! The gold standard in traditional practice is to initially test for TSH…sometimes doctors test for total or free T4 in addition to TSH. By testing only these two markers, we are assuming that you body can properly convert T4 to T3 (the metabolically active form of thyroid hormone) When I see patients at my full time NP job with symptoms that could be related to thyroid I do the full panel including TSH, free T4, free T3, reverse T3, thyroid peroxidase antibodies (aka TPO Ab) and thyroglobulin antibodies (TgAb). I've never had a problem with insurance covering the entire panel so I see no reason not to draw it — you need the full picture to know what's going on! So I would make sure you have all these labs drawn before having your health care provider conclude that your thyroid function is "normal."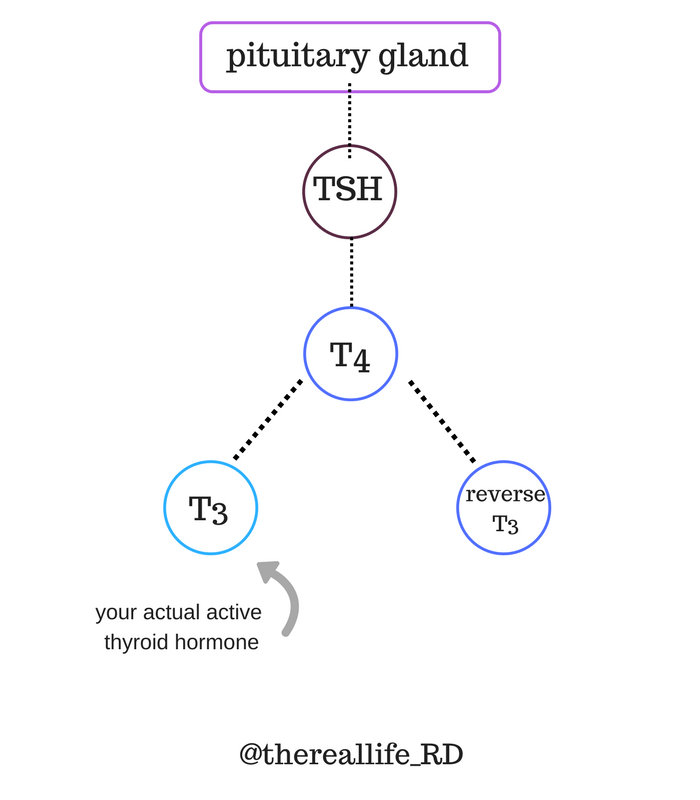 To read more about the function of each of these thyroid hormones and how everything works together read this post I wrote last month. The TPO Ab and TgAb are also important labs to get in order to rule out autoimmune thyroid conditions where your body turns on itself and begins attacking and destroying it's own thyroid gland. I actually just had a patient come in last week with hypothyroidism symptoms. I drew the entire thyroid panel and when her lab results came back on Monday, all her thyroid hormone levels were normal but her antibody levels were elevated. If I hadn't ran the entire panel I would have missed that. So my point here is — make sure you have all the labs drawn.
If everything is still in normal range, that doesn't mean you have optimal thyroid function. No test is going to tell you how thyroid hormone functions once it enters the cell and how well your cells are utilizing thyroid hormone. So it's possible for all the labs to be "normal" but to have symptoms due to issues arising in individual cells. Even more so, everyone is unique and has different ranges that are ideal for them, so even if your levels are "normal" that might not be optimal for YOU. I truly believe in not slapping a prescription on abnormal thyroid levels, so I'm way more concerned with treating the patient through lifestyle/short term supplements vs managing a medication based on lab values.
Many times these "normal ranges" are misinterpreted. The American College of Endocrinology considers a TSH level over 3.0 abnormal. That's less than the upper limit range given on your lab results. And this is true with many of the ranges — just because you are in range (which actually varies from lab to lab) doesn't mean that range is optimal. And the labs all need to be interpreted together.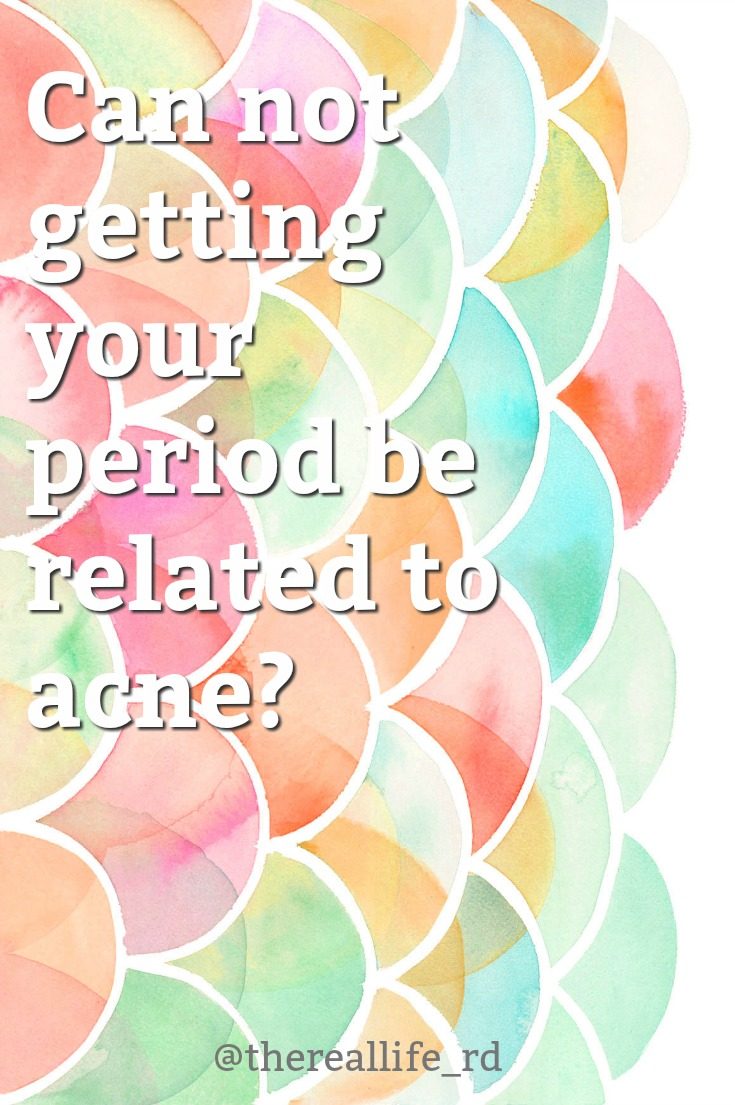 Can not getting your period be related to very bad acne? The first thing I hear from dermatologists is to cut out *insert any food group here* to clear acne…but I'm hesitant with my ED history. I just want to know if there could be a hormonal link between both my acne and amenorrhea?
It's a delicate dance with eating foods that nourish and heal your body while also practicing intuitive eating and cultivating peace with food and your body. Gut health, inflammation and hormones are all underlying causes of acne. There are so many reasons that someone could be experiencing acne, I do know that a topical or oral medication is not fixing the problem, it's temporarily controlling the symptoms. With co-existing diagnoses such as amenorrhea, PCOS etc…acne is almost always a symptom of the hormonal imbalance at play. Taking a look at lifestyle (nutrition, sleep, stress and exercise) usually can identify an underlying cause so you can work towards healing and as a result, the acne resolves. Acne is simply inflammation that manifests itself on your skin, the key is to figure out what is causing that inflammation! Remember that stress is inflammatory too and a huge reason for acne. It doesn't matter what you put on your plate or how many amazing creams you use if you're stressed.
I know this is a personal question, but what do you do for birth control to prevent pregnancy?
This is so individual. I have friends who use birth control pills, IUDs, rings, condoms and natural family planning. You do what feels right to YOU. I always want women to feel supported and never judged by what they do that feels right for them. With my history of hypothalamic amenorrhea I knew that I didn't want to take anything that would interfere with my natural cycle. I always wanted to know what my cycle was doing – not only for an indicator of my health, but so when we did decide to start a family, I would be in a healthy and fertile place to do so. I looked into Paraguard (a non hormonal IUD) but decided against it since we weren't looking to prevent pregnancy long term and I didn't want to deal with the possible side affects of cramping, heavy bleeding, etc after insertion.
So, we do a mix of natural family planning and condoms (yes, condoms. I know. such a buzzkill, but not so bad :)) I monitor my cervical mucus and know when my fertile days are so we use condoms during that time. To much TMI for a Wednesday? Hope not! I can write a post on cervical mucus monitoring if you guys are interested. I think it's fascinating no matter if you're married, single, never planning on having kids or whatever. I think knowing when you're ovulating and where you're at in your cycle based on your body is so awesome and empowering. Again, what I do is not what is right for everyone. Do what's right for you.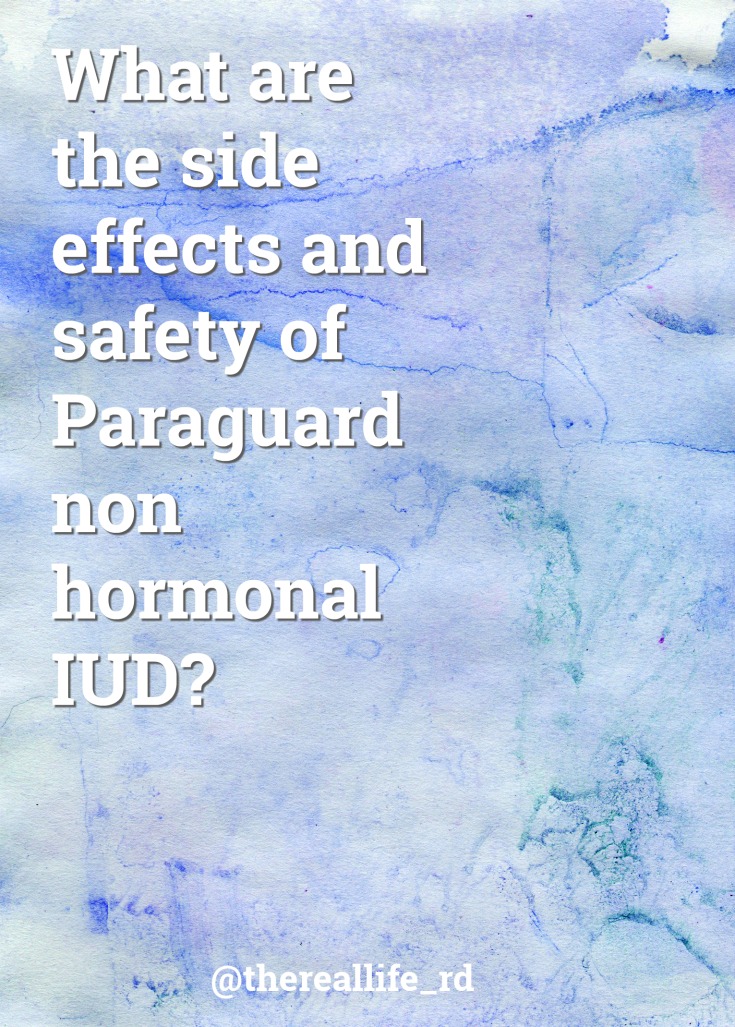 Can you share your thoughts on Paraguard?
I thought about getting Paraguard placed for several months. It's the only non hormonal birth control out and studies show great long term safety. The main drawback is women can experience heavy bleeding and painful periods while on the IUD. So while it doesn't affect your natural hormones, it does cause increased bleeding and pain during your period which isn't characteristic of a healthy, normal period so it would be difficult to monitor your hormone health based on your cycle. But to have a long term option for highly effective contraception that almost guarantees not getting pregnant…I think this is a great option!
I hope this has been helpful, leave your questions in the comments section and I'll do my best to turn them into a post 🙂