Honoring your hunger and respecting your fullness are two components of Intuitive Eating. But I often feel like these two principles can carry way too much weight and in turn, actually cause more anxiety and stress around food. Intuitive Eating can quickly become another diet if you're only eating when hungry.
It's important to note that if you're recovering from an eating disorder or disordered thoughts and behaviors around food, even your physical hunger/fullness cues aren't reliable and intuitive eating isn't appropriate. You may never truly feel hungry throughout the day or feel physically full quickly. This is when working with a dietitian you trust to learn how to adequately nourish yourself can be helpful.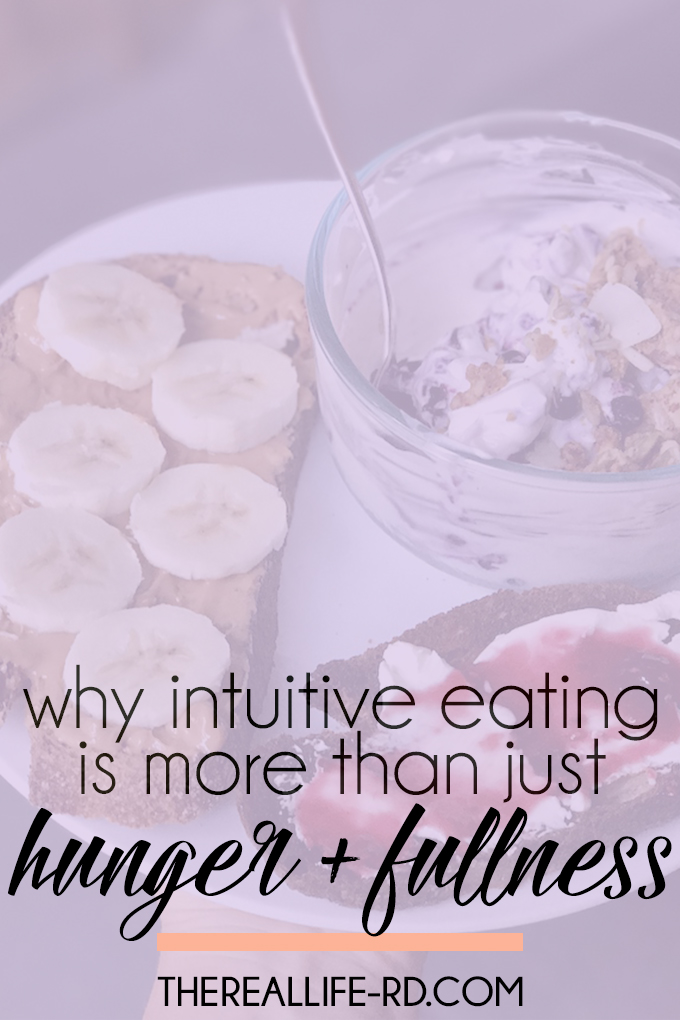 It's an uncomfortable place to shift from listening to external cues like calorie counting, macro counting, no sugar/grain free/paleo/vegan dogma as a way to guide food choices and instead tune into your body's own internal cues. Eating is a complex, emotional experience that goes beyond satisfying physical hunger. Food is intimately intertwined into our cultural and social behaviors – and we also eat for sheer pleasure, experience and for emotional reasons.
Listening to your body does not equate to not listening to your brain.
Your body can tell you physical needs, while your brain can tell you emotional needs. Your body may communicate physical hunger and fullness but your brain helps you determine cravings and satisfaction.
When we switch from diet culture and external cues telling us how to eat and let go of the zillion food rules that dictate what goes in our mouths and simply let our selves eat….that can be a scary process. Suddenly, we are eating foods we would have never eaten before (typically foods like chips, bagels, pasta…or maybe things like granola or cheese) The goal is to stop feeling neurotic and crazy around food. To let food just be food. But it takes a while to get to that place.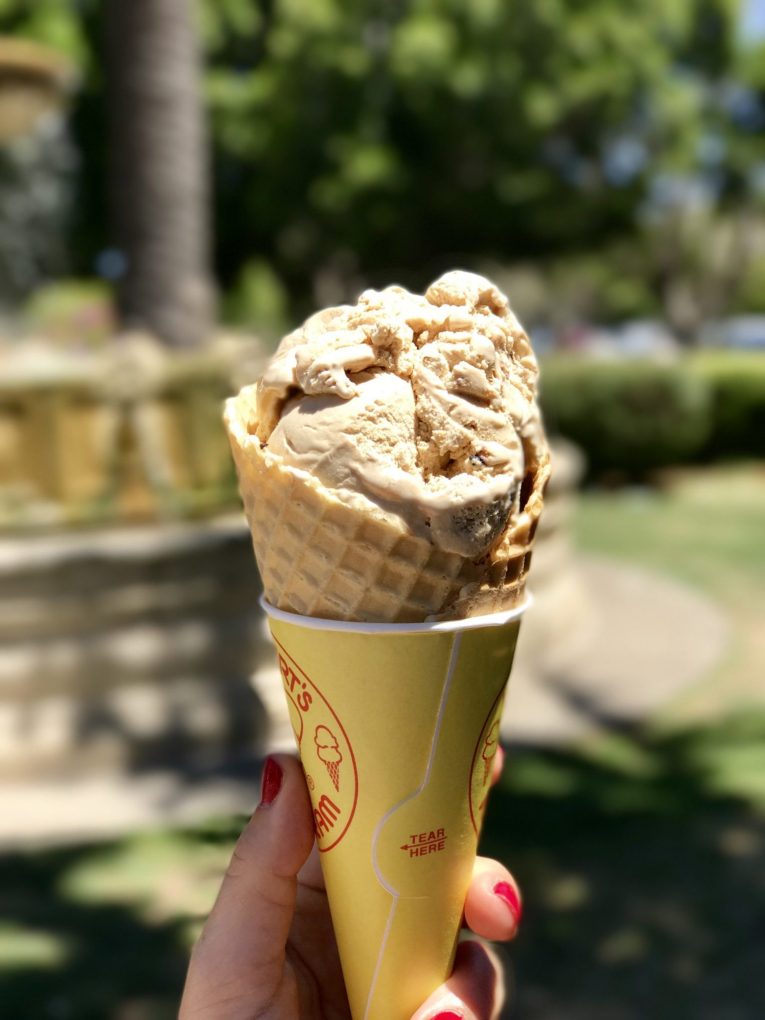 I've heard people say, "if I let myself eat whatever I want, I'll end up eating brownies and pizza and cookies all day." You might in the beginning when you first shake off all the restrictions you've had around food. But with time, you learn that intuitive eating enables you to move away from standing in front of the pantry eating an entire bag chips or cookies and instead be around these highly palatable foods and not feel out of control. In the beginning, you might eat 4 brownies, and that's okay. You most likely will feel a little ill afterward and then you'll remember that feeling. And with time, that food experience will shape your next encounter with brownies. And next time maybe you eat one brownie and learn that, "oh yea, that's my sweet spot where I feel satisfied mentally and I feel good physically."
Restricting your food in any way does not make you feel more competent around these highly palatable foods. It makes you feel more crazy and sets you up to binge later on. You won't always crave these highly palatable food for every meal or snack (because most of the time, these don't make you feel physically awesome) but until you give yourself full permission to eat them any time you want in whatever quantity you want….you will crave them all the time because there's still a part of you that is restricting these foods. Both physical and mental restriction leads to "emotional eating" and binging (it likely isn't emotional at all, but rather resistance against food rules) Remember this is a process and a journey and that can take a lot of time. That's okay.
Even when you become confident as an intuitive eater, there will be times when you eat past fullness because the food tastes THAT good. You might feel mild discomfort (I wouldn't recommend eating past fullness to where you feel nauseous, ill or stomach pains) but if it's a food experience that is worth the short term discomfort, you can consciously make that decision and fully enjoy that experience. If you find that you are frequently justifying eating past fullness, that might be something to explore.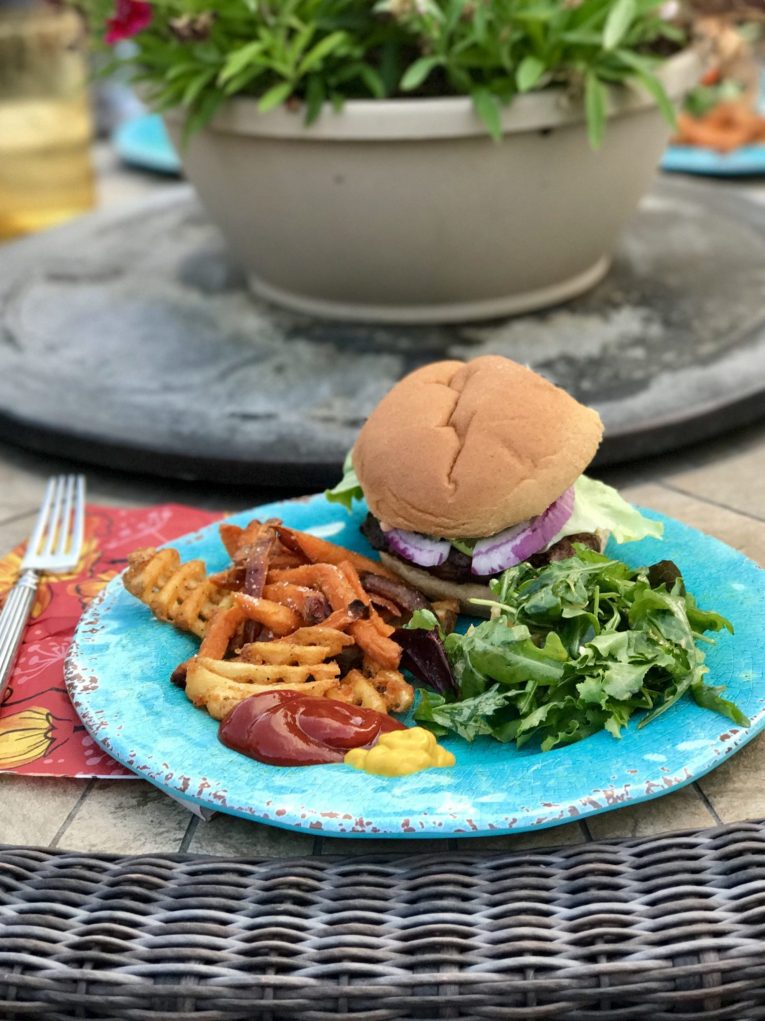 This journey can be unknown and grey and uncertain because it requires moving through these feelings of being too full or feeling not so great because too much of xyz food or sitting with the anxiety of eating an "unhealthy" food. But within that discomfort is where we learn to eat for more than sheer physical hunger – it's where we learn the satisfaction factor of food. It's where we learn what we really need. Sometimes what we need is food….but sometimes what we need is something other than food.
Beyond eating for satisfaction in addition to physical hunger, intuitive eating often involves listening to your brain to navigate circumstances where you don't have the flexibility to eat whenever you feel hungry.
If you're going somewhere and you might not have access to food or you might not be able to eat for a while (maybe you're working and don't get a snack/lunch break) you might purposefully overeat beforehand. When I was in nursing school and had to wait 5-6 hours between breakfast and lunch I would purposefully overeat past fullness. Was I a little uncomfortable for an hour after eating…yes. But I was able to stay fuller, longer and not be ravenous 2 hours before lunch with zero opportunity for a snack.
If you know that you're going to an event where there will be lots of delicious food you might eat a lighter snack where you don't feel completely satisfied mentally or physically. This might allow you to not show up to the event ravenous, but to also have an appetite to fully enjoy all the different foods.
When you've had a stressful day, you might not be physically hungry. The "fight or flight" response activates your sympathetic nervous system which pulls blood away from your GI system. Stress can kill our appetite and even make us feel nauseous. But not eating only intensifies the body's stress response. In this case, eating even when you're not physically hungry is a part of self care.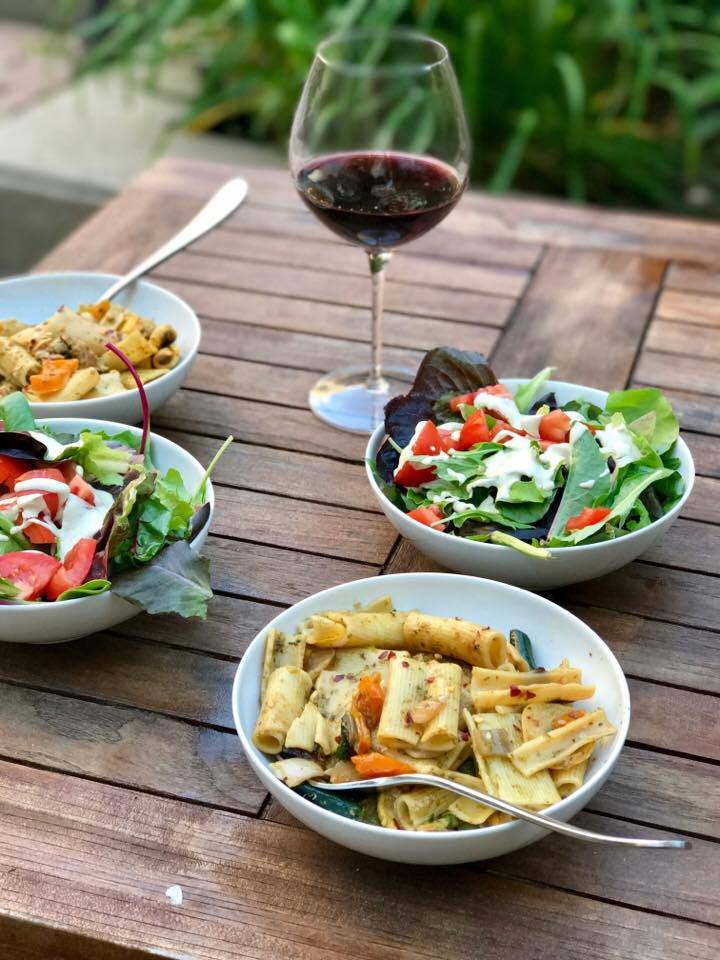 Exercise can also suppress appetite. You might find you're rarely hungry after you exercise. And the greater the intensity, often the less hungry you are. But that doesn't mean you shouldn't eat because you don't feel physical hunger. Learning your body and what it needs will allow you to know how to feed and care for yourself even when you're not physically hungry.
And there also might be times when you're not physically hungry, but in fact you eat for emotional reasons. Restriction and diet rules aside (like mentioned above), a bowl of ice cream at the end of a stressful day or a a few slices of pizza after you hear bad news….might be just what you need. You can make a conscious choice to emotionally eat. The problem is when eating becomes the only way to deal with emotions. Food can be one tool to soothe yourself, but it won't be a healthy tool if it's the only tool. Having multiple ways to deal with your emotions and learning to apply those ways appropriately is howe you can learn to best care for yourself.
The take home here I hope is that intuitive eating is not about perfection, it's not another form of restriction or rules. But instead intuitive eating is about rejecting diet culture and tuning into your body's own internal wisdom on how to best nourish and care for yourself. There will be times of overeating those "off limits" foods, overeating any foods, and going days without vegetables (among other experiences) before you settle into what balance looks like for you. I think a good question to always ask yourself is "how do I feel?" which directs you from external to internal cues. And remember, no matter how full or icky or anxious you feel….that feeling will pass.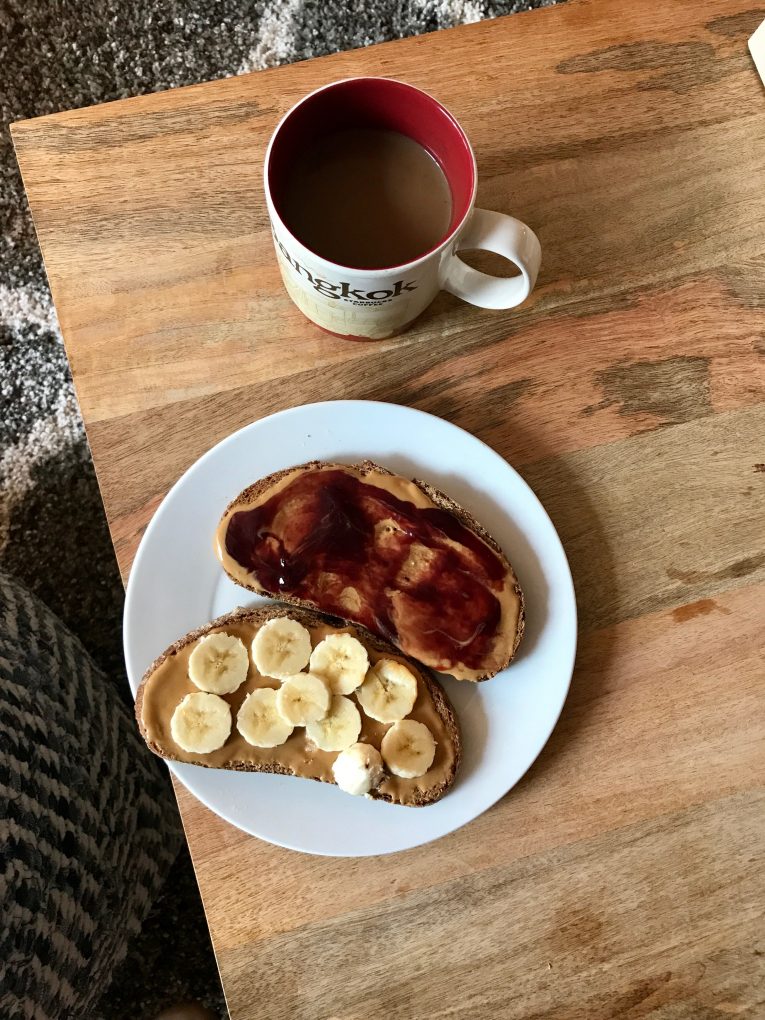 I'd love to hear your thoughts in the comments on this and your intuitive eating journey!