Intuitive eating (IE) is not just for those recovering from a restrictive eating disorder or disordered eating. Although intuitive eating can sometimes be interpreted as something for those with restrictive eating patterns….that is far from the truth. Intuitive eating is also very much the way to freedom from binge eating disorder (or any degree of binge eating) and establishing peace with food and your body.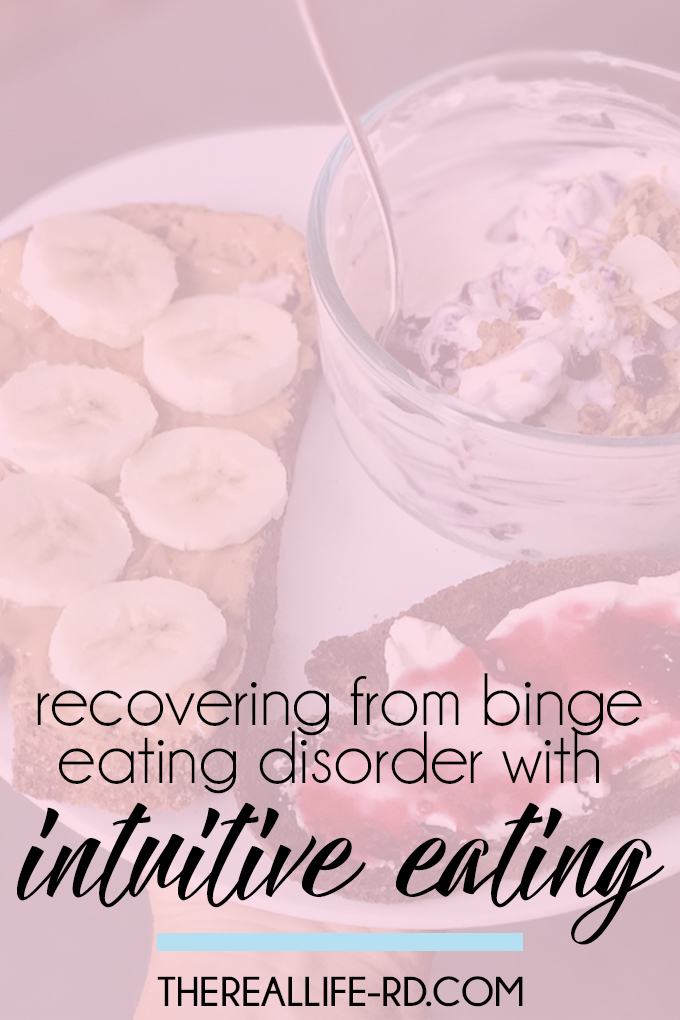 Often, people tend to start with the the emotional work of binge eating disorder (BED) and while that is important, it's not the first priority. First you have to build a foundation. And that foundation comes by working through the first few key principles of intuitive eating.
1) Reject the Diet Mentality
2) Honor Your Hunger
3) Make Peace With Food
This probably feels terrifying and anxiety provoking if you've been experiencing food in a chaotic way for some time. You might be thinking…"If I give myself permission to eat any and all foods, I'll eat everything!" Maybe that makes you think you're going to feel even more out of control around food.
The reason this first piece is so important is because you cannot recover and heal from BED if you are physically, mentally or emotionally restricting your food. If there is any form (any form) of restriction happening, the body's evolutionary survival mechanisms in your brain start firing which drives you to eat.
When your brain receives messages of restriction (physically or mentally/emotionally) your body is desensitized to leptin. And leptin is your satiety hormone. It tells your body, "Hey, we're full…no need to continue eating for now."  It makes sense that restriction in any form would cause your body to stop listening to leptin. Your body things it's survival is threatened and therefore, you are driven to eat. It makes perfect biological sense!
Conscious reasoning (aka the diet mentality) will not override the rational, automatic part of your brain. And to fight the rational, automatic part of your brain 24/7 when you are restricting in any way, shape or form is totally exhausting! You might be able to overdrive this survival mechanism in the short term, but over time…your body's primal drive to eat will win out.
Typically what results when that primal drive takes over is guilt and shame and judgment…and the cycle continues. It is only when all the restrictions are lifted and you give yourself full permission to give up dieting, pursue health over weight loss, honor your hunger and eat any and all foods that you begin to experience freedom from binging and feeling crazy around food.
I've certainly experienced a binge eating episode as a result of my body's primal drive to eat. If you have to, you're not alone. I think there's an important thing to remember…you're not a failure or destined for a life where you feel out of control around food if you've being doing a lot of the "emotional work" without experiencing any freedom. Maybe working through unfulfilled voids or a set of limiting beliefs is not the sole reason you're experiencing binge eating. Maybe instead, it's your body's physiological needs that are not being met and that is where you need to begin.
The physiological piece has to be addressed first. And you don't have to heal everything about yourself emotionally or fill every emotional void before you can begin to experience freedom from the constant noise.
SOME QUESTIONS TO ASK…
Am I thinking about food all the time?
Do I ask myself what I should or shouldn't be eating on a daily basis?
Do I worry about food before, during or after a meal? 
Am I hyper focused on your body?
If you said yes to any of that…then you are experiencing some element of restriction on a daily basis. I would feel crazy around food too with all that restriction. I remember in college I would drunk eat pizza all. the. time. And then be pissed off the next morning about it. Looking back, of course I ate pizza late night because I had restricted my calories during the day in preparation for all the alcohol calories I planned on consuming. This would also happen when I vowed to eat clean or eat vegan or whenever I subjected myself to any other set of arbitrary food rules.
At the same thing though, just eliminating restriction alone doesn't lead to healing and recovery from BED, that's not the message I want to send. But it's the starting point. And the first three principles of intuitive eating are imperative in doing that first phase of work. Therefore, intuitive eating is indeed for those with restrictive eating patterns, but also very much so for those of you that struggle with binge eating and feeling out of control around food.
This is really hard work. It's okay to be where you're at. If you can recognize that judgment, hate, and negative self talk are not sustainable…that's a good starting point. If you can focus on nourishing and honoring your body and see that doing that is sustainable…that's a good starting point.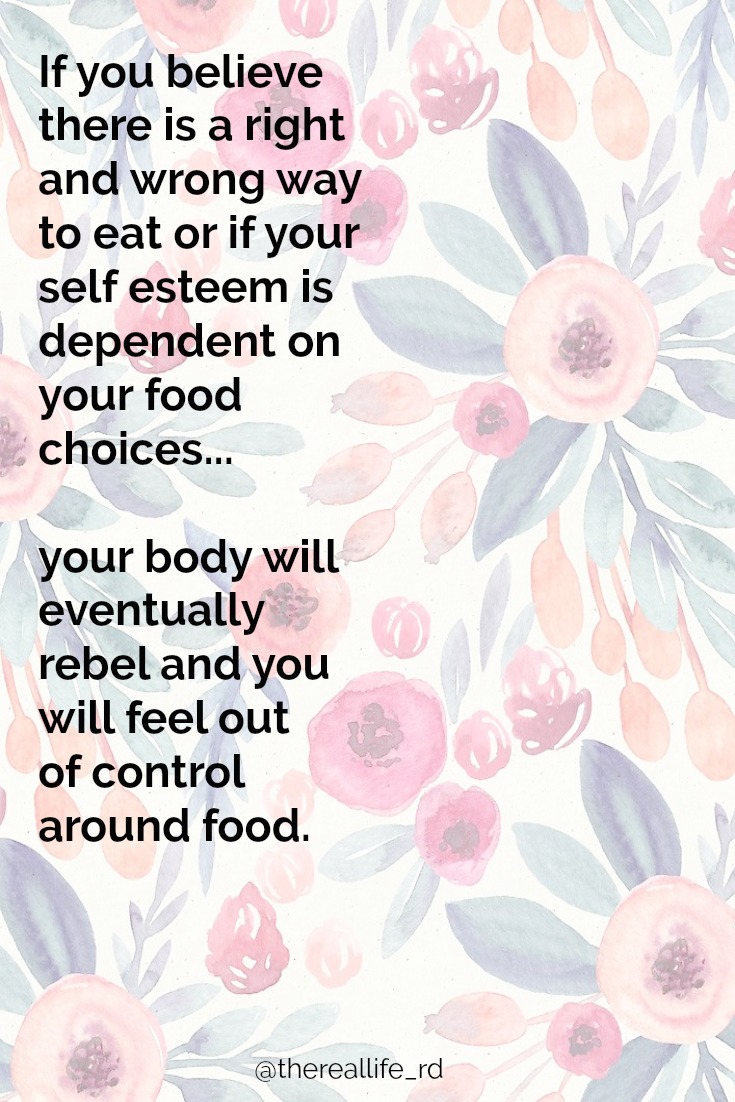 If there is any set of rules that govern your eating (either consciously or subconsciously) you will eventually rebel against them. It's our biological makeup. And we can't find biology. Just like you can't overcome your genetic set point, your can't override your primal drive to eat. Intuitive eating is not a hunger-and-fullness diet, or a don't-emotionally-eat diet. If you believe there is a right and wrong way to eat or if your self esteem is dependent on your food choices…your body will eventually rebel against that.
So while the path to recovery looks different with restrictive vs binge eating patterns…intuitive eating is always the goal with any of the clients I work with. Because your body knows exactly what it needs to maintain a healthy weight. Your body is the master of it's size, not you. And intuitive eating is the way to finding peace with food, your body and your mind.
I'd love to hear you thoughts on this…have you experienced freedom from binge eating and feeling crazy around food by implementing the intuitive eating principles? Or maybe you've wanted to venture into intuitive eating, but don't know where to start. Share in the comments and we can get a conversation going <3