I left off with a recap on Friday of the first few days of this Florida trip. I worked at a coffee shop for a bit on Friday morning and then had a nutrition client call before we headed out to brunch at Grits and Grind which was right below the condo where we stayed.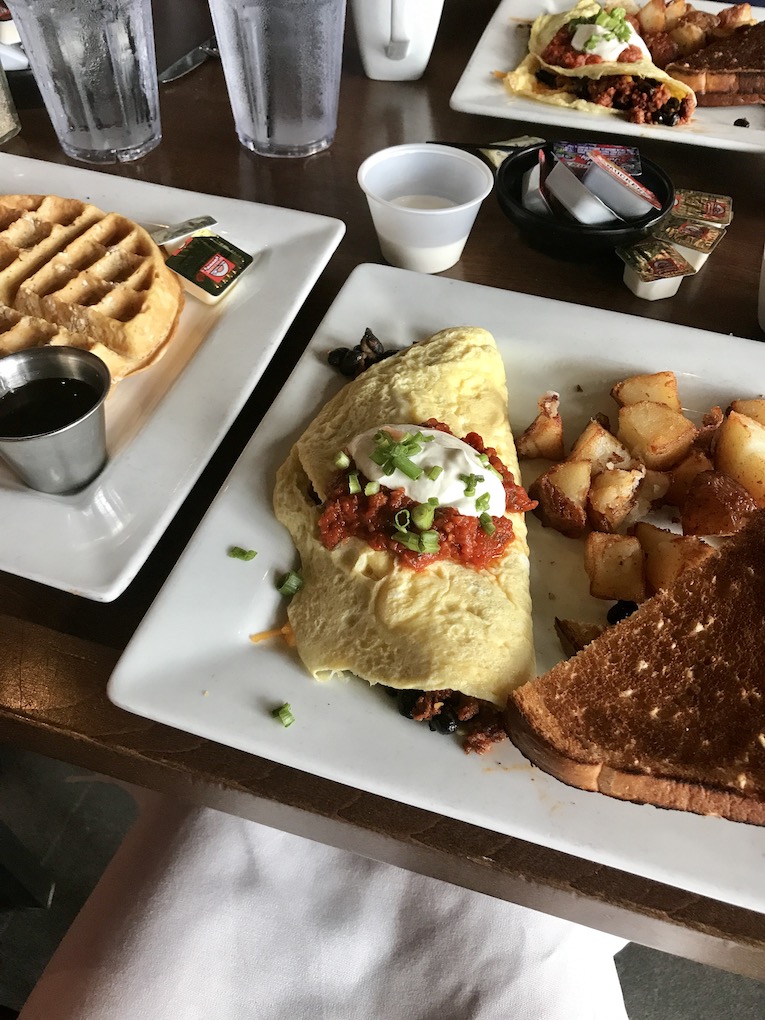 I went with the chorizo omelet that also had black beans, cheddar, salsa and sour cream. Along with an oat waffle because I was craving it and hadn't had a waffle in sooo long. I need to buy a waffle maker because this was fab! I shared what I was too full to eat with the rest of the table. The omelet was good, but had way too much chorizo. But that waffle…great choice.
We spent the rest of the day at the beach! It was hot and super humid all week, so the beach was the best place to be.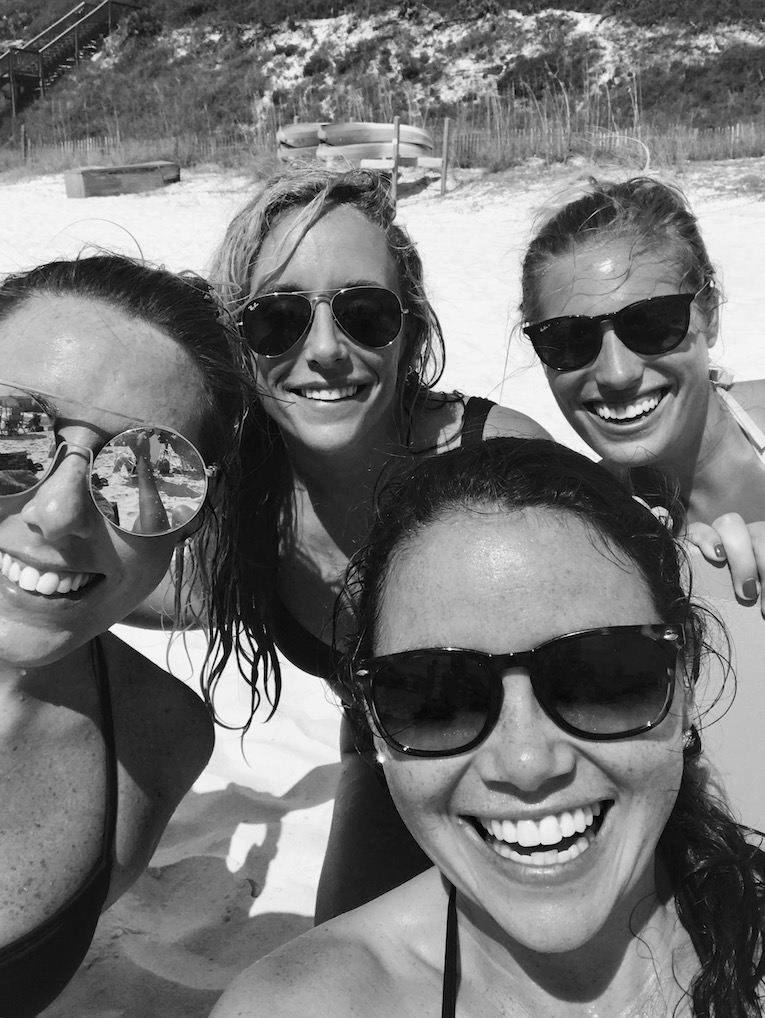 I sipped on this throughout the afternoon, which actually tasted a lot like La Croix.
And then we got ready for the wedding! I grew up going to Pensacola every summer but have never been to 30A. It is so beautiful and so clean. The beaches are incredibly white, the houses are what a girl can only dream of and there's lots of adorable restaurants. It's definitely a place I would love to go back to for a longer vacation. I didn't expect so many beaches to be in such close proximity. We stayed in Seacrest beach but a 5 minute walk in one direction was Rosemary beach and a 5 minute walk in the other direction was Alys Beach, where the wedding venue was.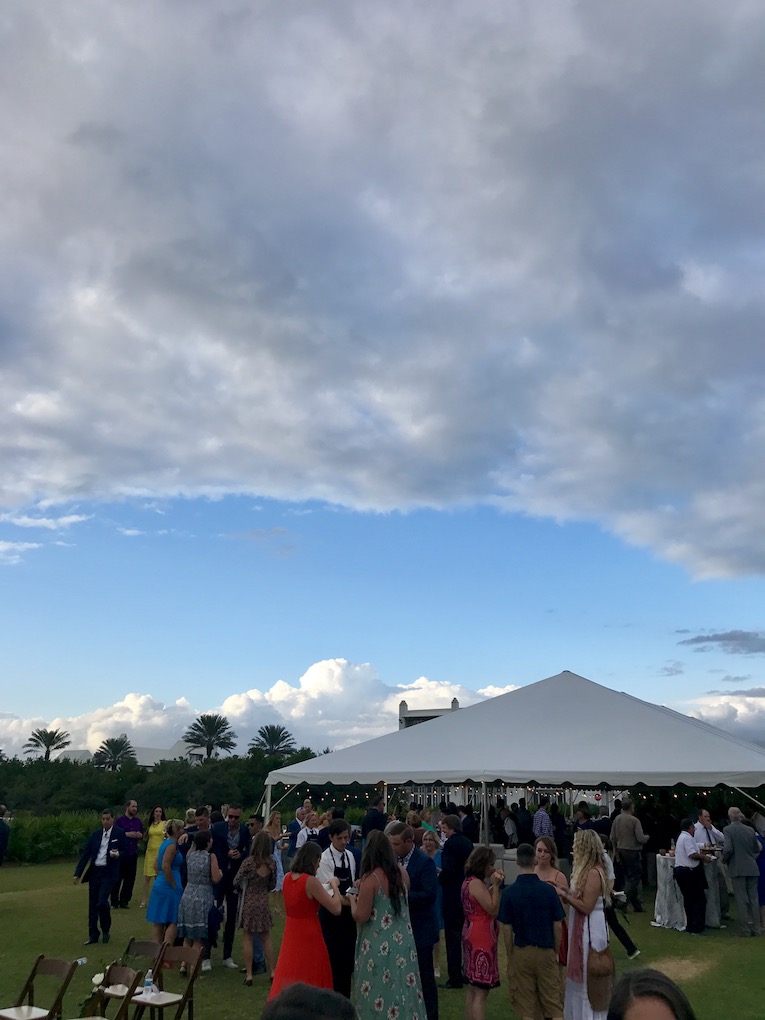 Even though they had to change the wedding from Saturday to Friday on Thursday morning, you would have never known. Everything went off seamlessly and it was a beautiful night. (I got a lot of requests, so the dress I'm wearing below is here for $30) But more importantly, Kat looked absolutely stunning and the clouds helped cool the heat. Even though a tropical storm hit the next day, you would have never known.
Dinner was AMAZING. Wedding food is always pretty good, but the beef tenderloin was all kinds of tasty. The chimichurri sauce was perfect paired with the steak. They also had grouper which was really good and lots of roasted veggies.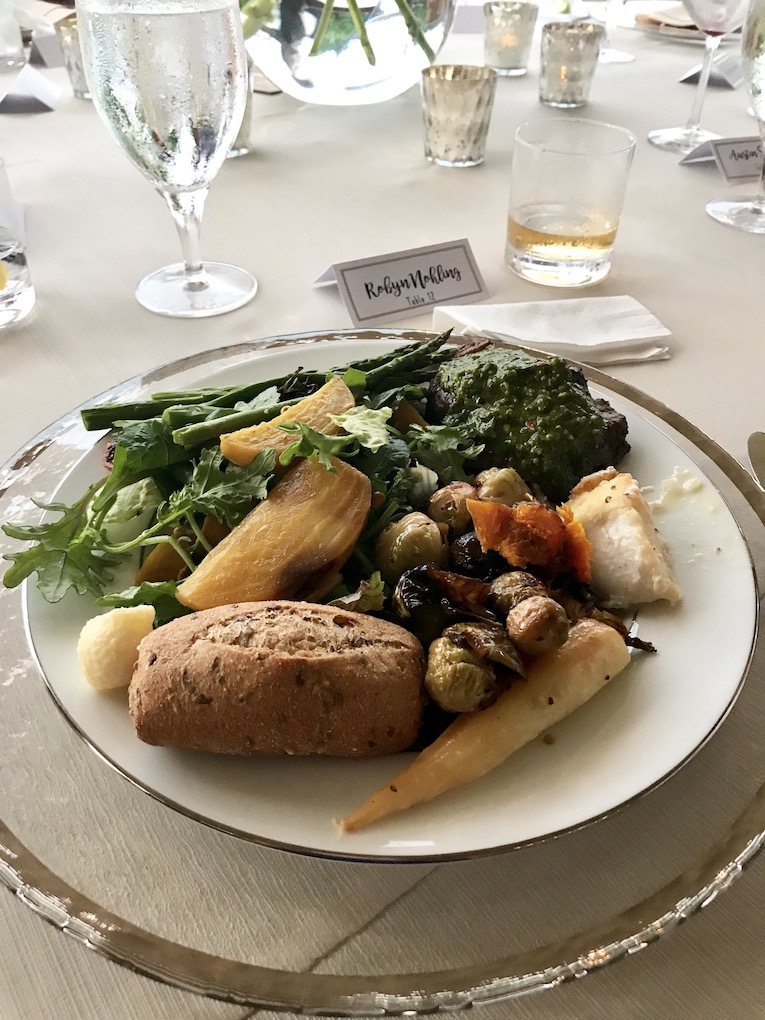 The rest of the night was spent dancing and catching up with friends I haven't seen in ten years. It was so good to see lots of familiar faces and hear what everyone is up to. WHERE has time gone?
Saturday was a rainy day because the storm started to blow through. So we spent most of the day inside hanging out and lounging around. Around 3pm we headed to the store to grab food and things to make drinks since we weren't sure if places would stay open.
I forgot about my phone so have zero pictures from that night except this group picture. We made some drinks, played cards and ordered pizza for dinner before heading over to the other house for a bit. By 11pm I was exhausted and could barely keep my eyes open so I tapped out early and headed back for bed.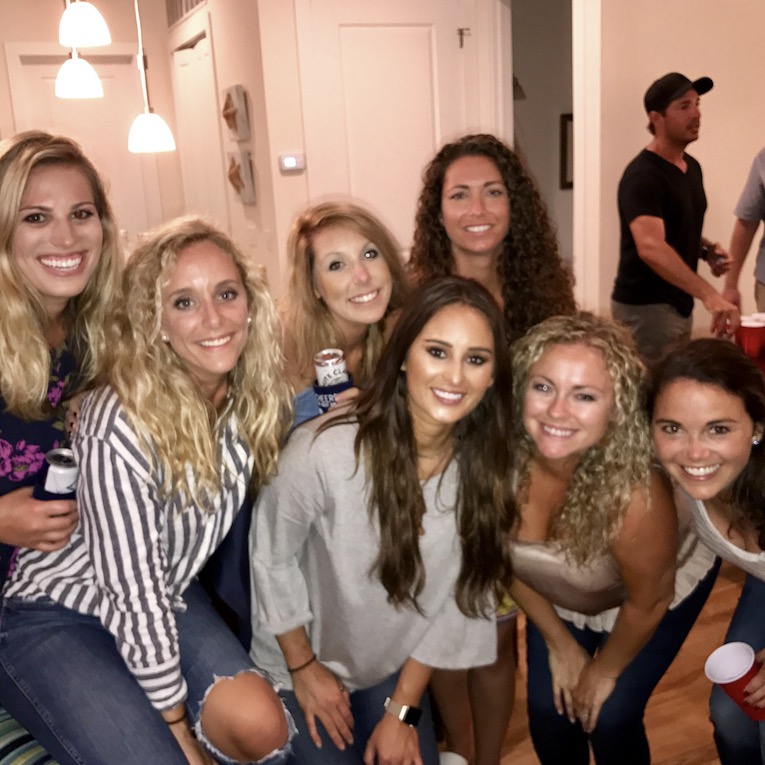 Sunday morning we went to a goodbye brunch for Kat + Anthony. We snacked on bagels + fruit and then later on in the afternoon headed to brunch at BBB –> which stands for Big Bad Breakfast. We had it recommended to us after the first two places we went to finished serving breakfast at 10:30am.
I was indecisive with my order but eventually went with the veggie omelet (mushroom, spinach and tomato) with goat cheese and chicken sausage and ordered a pancake on the side. New York restaurants need to get on board with having 1 pancake to order on the side because that would fix all the sweet vs savory dilemmas I have at breakfast. I made it through 75% of this meal before getting full + satisfied. Highly recommend BBB if you you're staying in the area and want breakfast until 3pm 🙂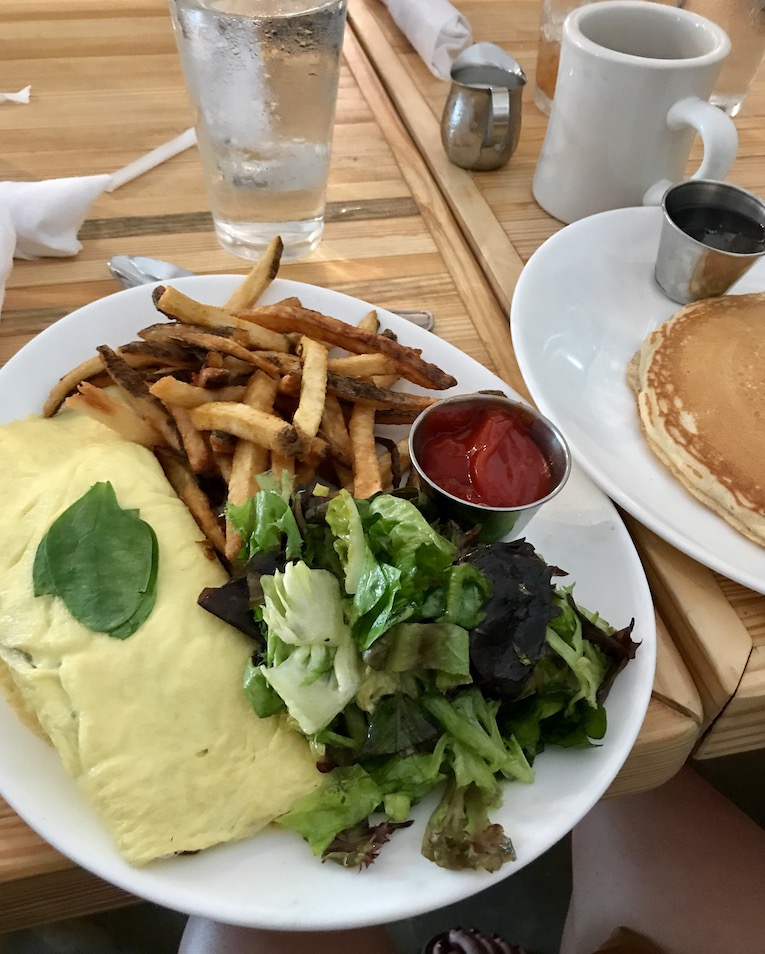 Everyone left yesterday evening and I headed to an AirBnb in Panama City for the night before I head to Camilla, GA today. I took a walk/run yesterday evening with the sunset and it was so restful.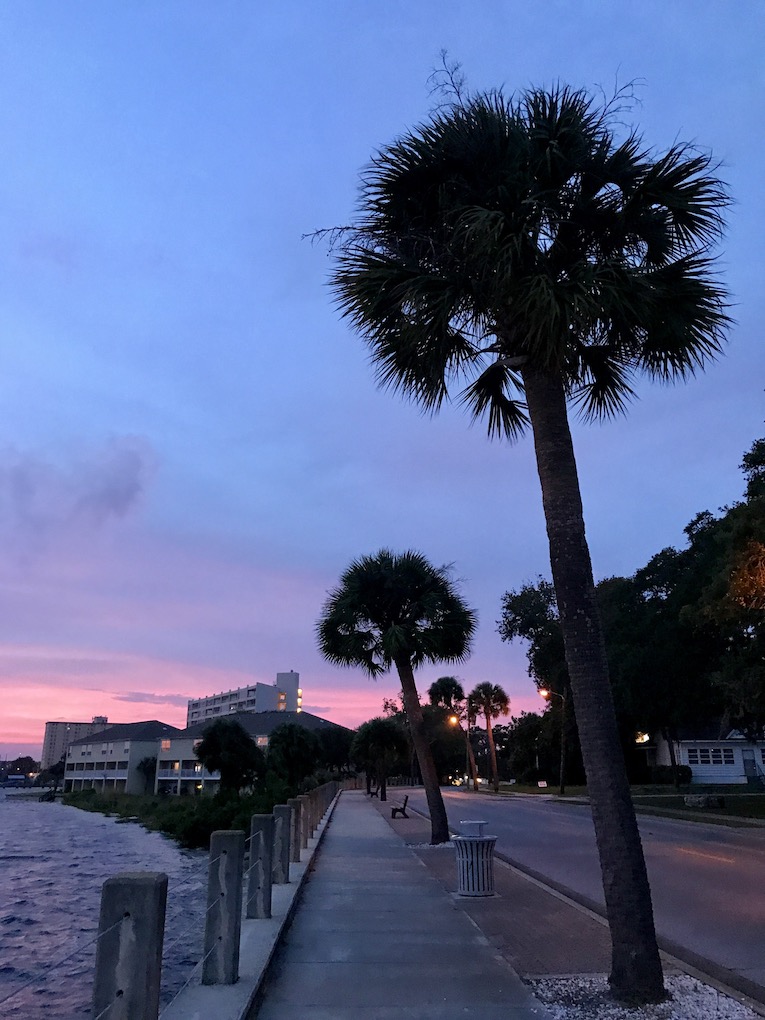 For dinner, I grabbed a veggie pizza from Newks to go, talked to my mom + Nick and then headed to bed early.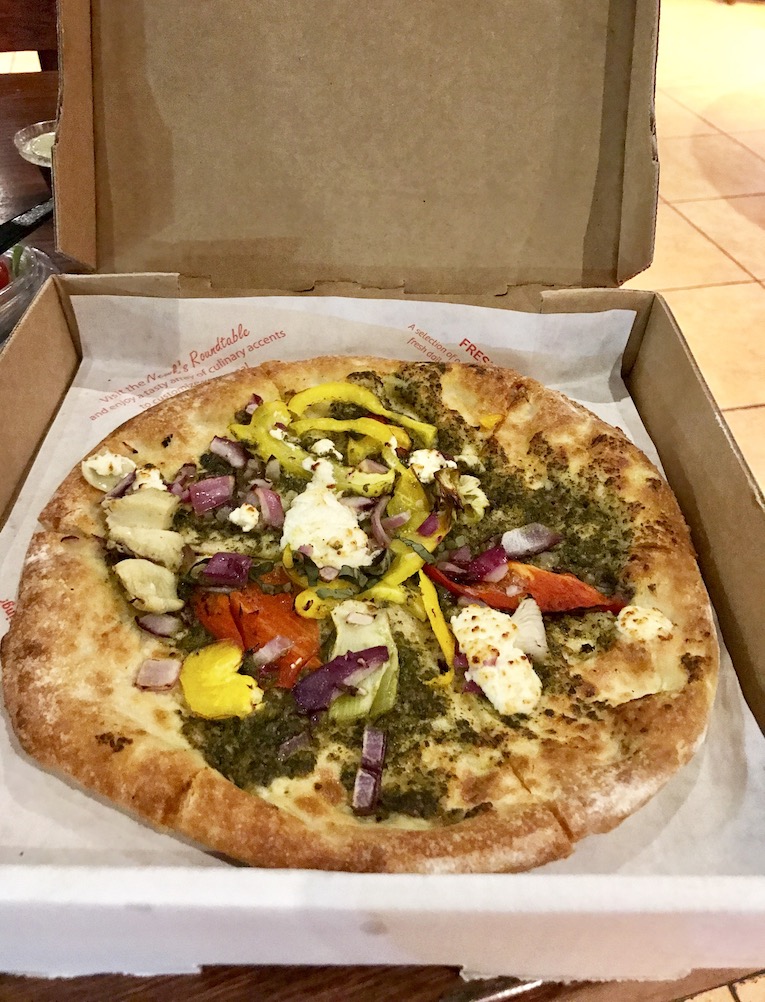 Today I'm going to find a coffee shop to cozy into since I have a ton of work to do, take a walk on the beach and then head to Georgia later this afternoon.
Have a great Monday!