We spent the weekend in New Hampshire at our friend's parent's condo. A huge perk with moving to Boston is that our friend's parents have homes where we can enjoy skiing, hiking and the beach – Nick and I both feel really grateful for that. Having an escape from the city on an given weekend is a treat and makes me so happy and my mental and emotional health soar.
Friday evening we drove up with Emily (it's her parents condo) from Boston and got there around 9pm after hitting only a little bit of traffic getting out of the city. We ate pizza – I had these two veggie slices plus another slice of cheese – with a glass of red wine. We watched some of the Olympics and got into bed soon after for a good night's sleep.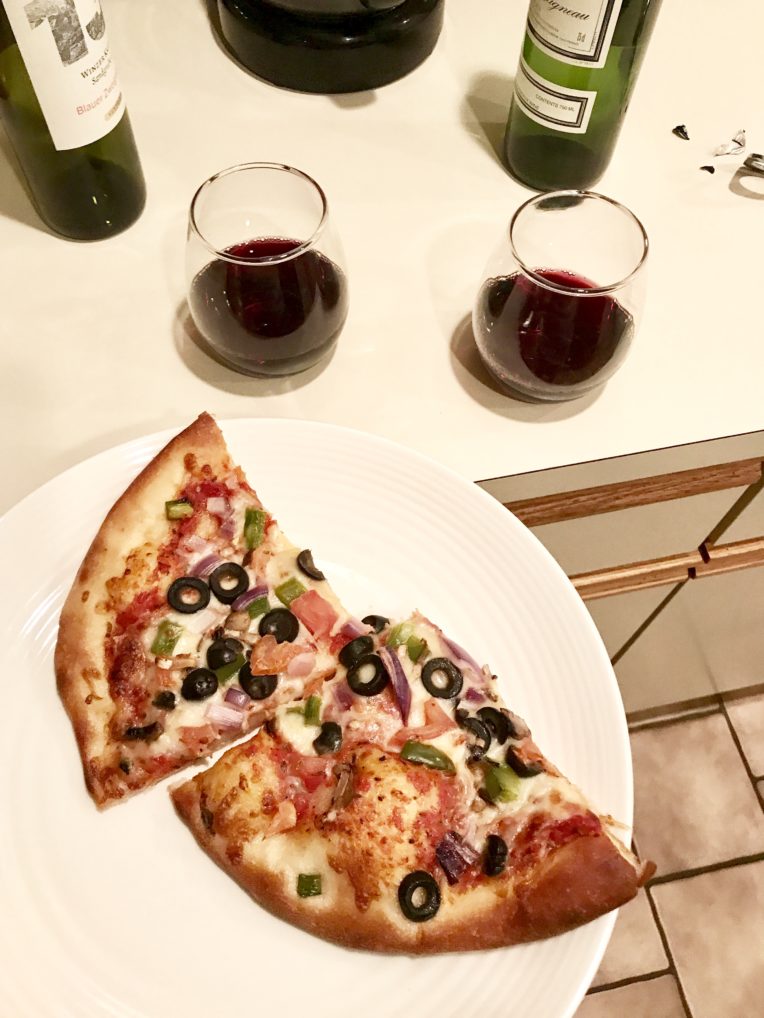 The next morning started with coffee. And then breakfast – cinnamon raisin toast, 1/2 with cream cheese and 1/2 with butter – plus vanilla greek yogurt + granola and blueberries.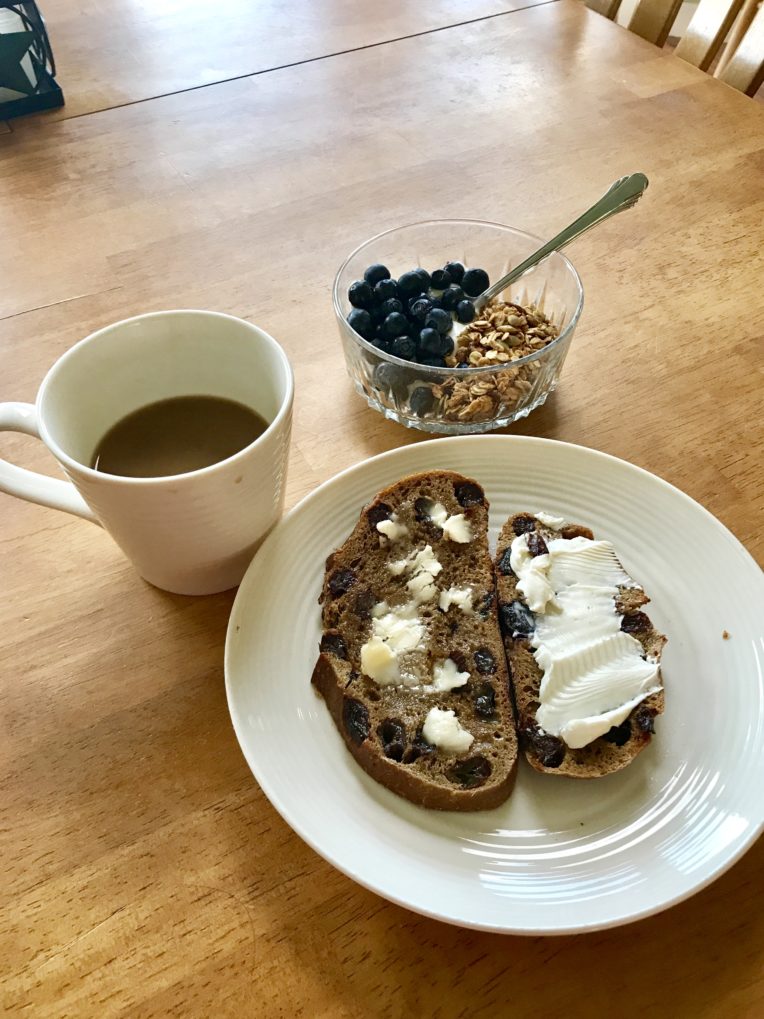 We actually weren't sure we'd be able to ski since the wind shut down the chairlift on one of the mountains. But we decided to give it a go and it turned out to be such a nice day – in the 40s and sunny! We started at Bear Peak.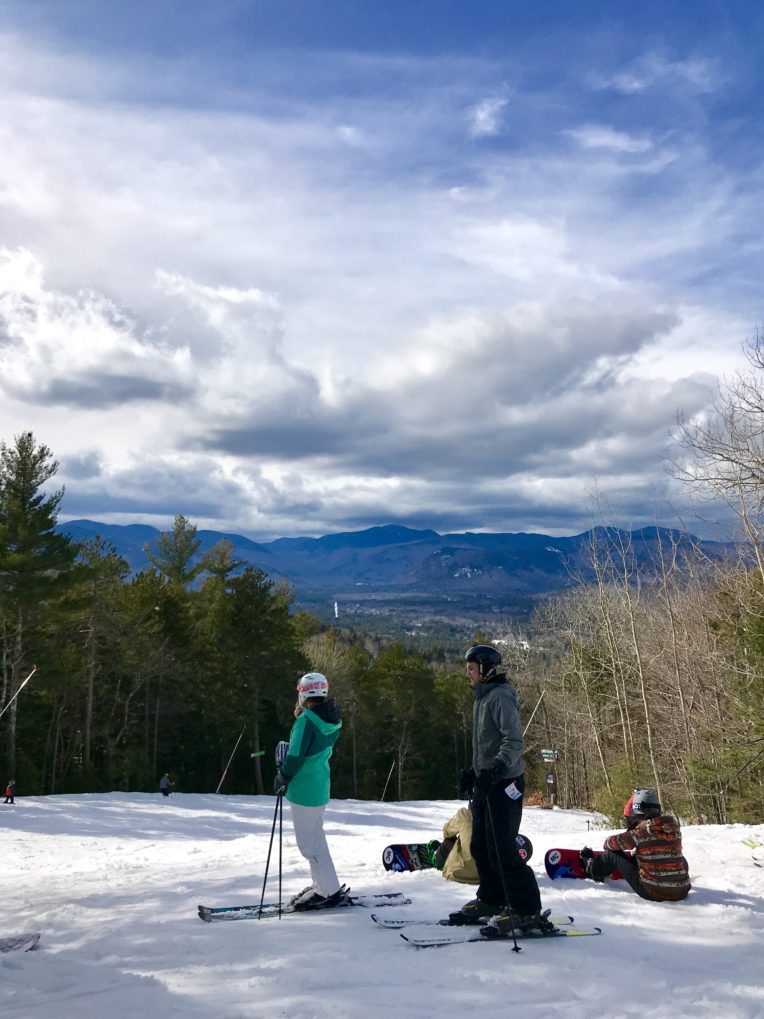 Also let me make it very clear I haven't skied in like 10 years and Emily and her family have been skiing their whole life. But they were the best teachers and after a lot of initial falling I felt like I caught a groove and was able to do the beginner hills. Nick hasn't skied a lot either, but he has more than me so it was good to have him there as a semi-newbie too.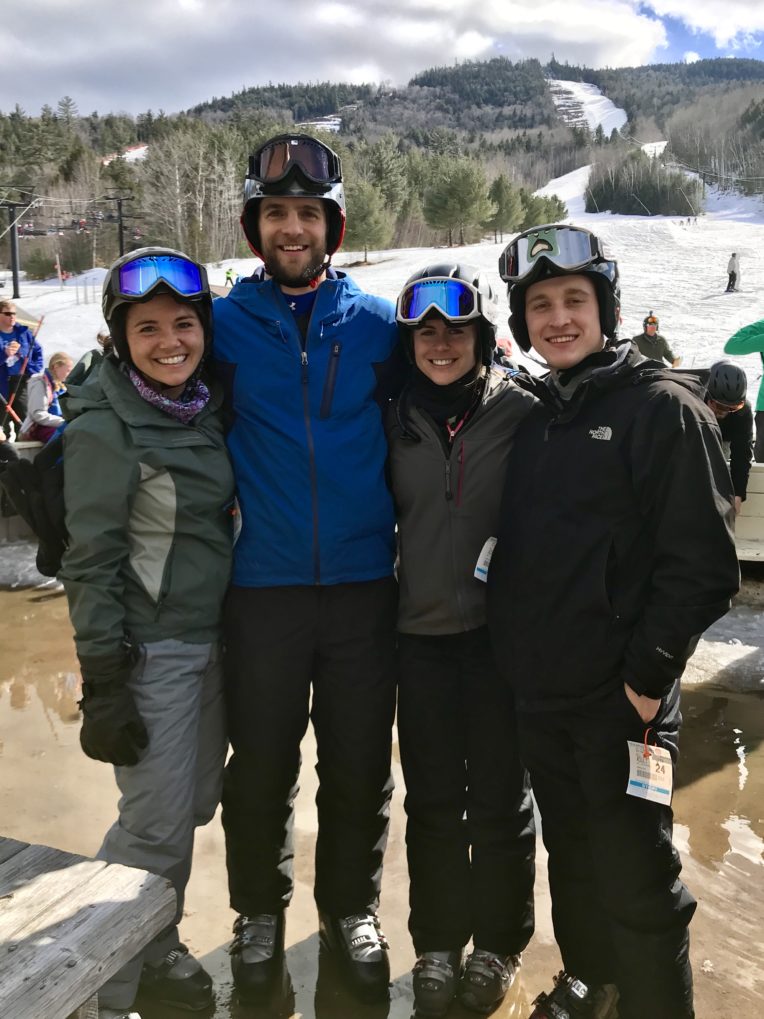 After a few hours we took a break from lunch + beers.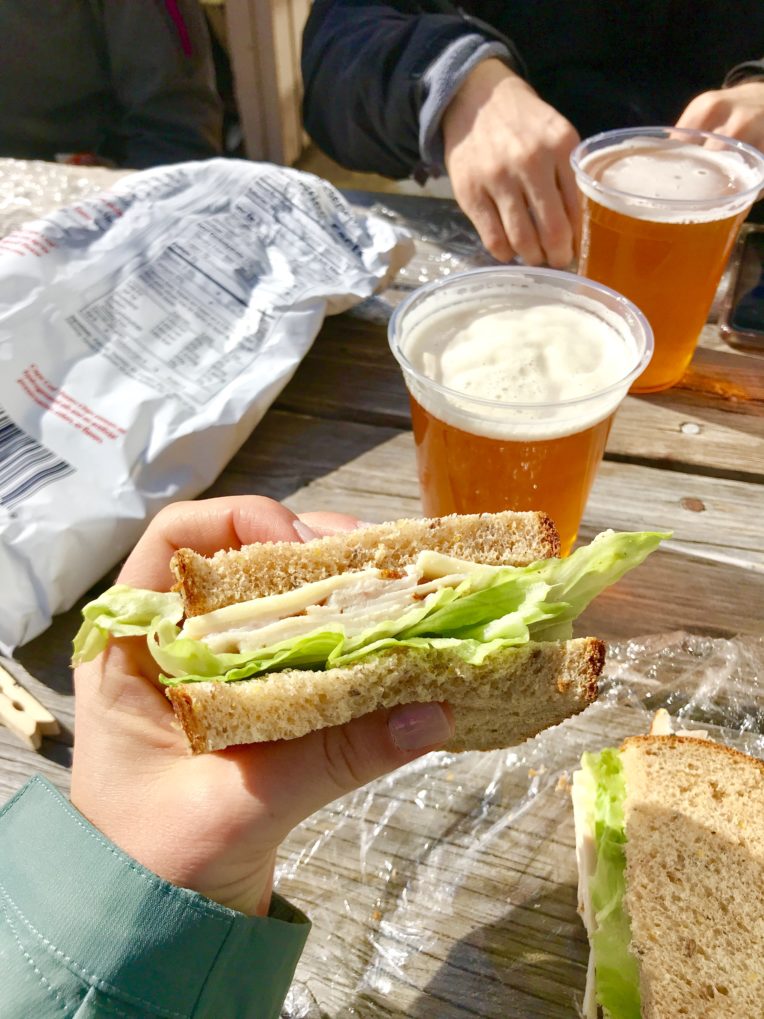 Emily's mom packed us turkey + cheese sandwiches, chips, oranges and cookies. I haven't had a classic packed lunch in so long and it was perfect.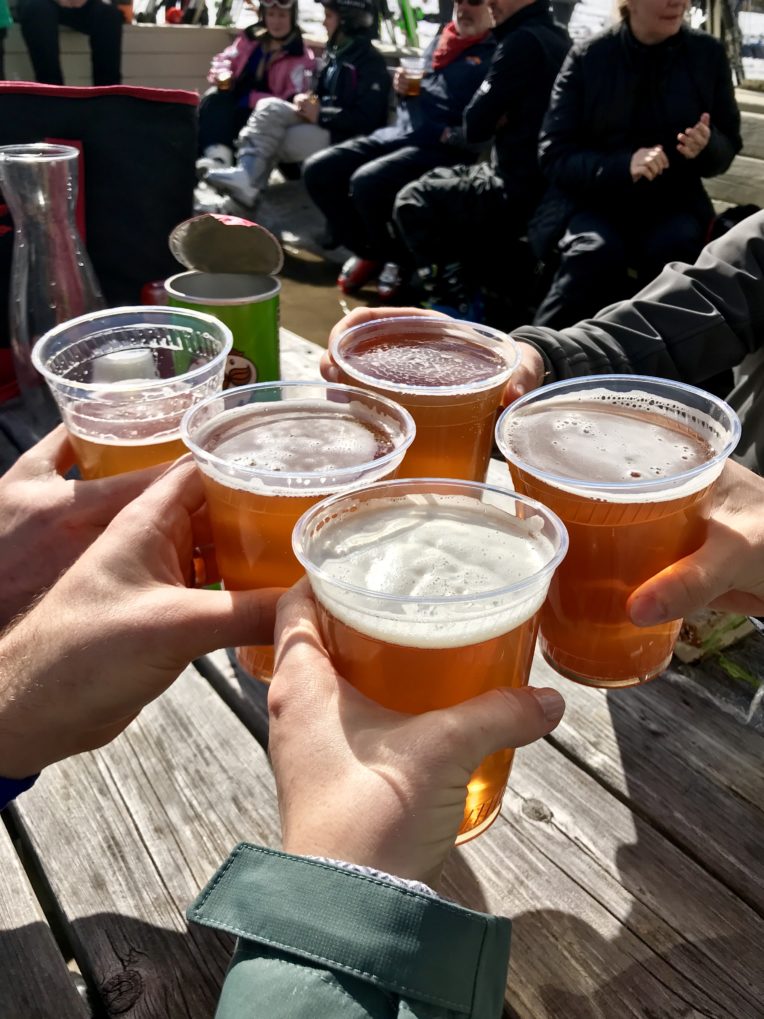 We sat outside in the sunshine for a while and soaked it up. You could have skied in long sleeve it was that warm.
After lunch we headed over to Attitash to ski there for a while. I fell some more but mustered some confidence with feeling like I could control the skis at a faster speed. If I started going too fast, I literally threw myself on the ground because I felt out of control lol…hence, bruises. I haven't been a super beginner at a new skill when everyone else is experienced in a really long time, so it was a reallly good lesson in being okay with where I'm at and not comparing myself. Like you are here Robyn, and this is new, and you don't really know what you're doing and have a lot to learn and that is okay girlfriend. Even if everyone else has been doing it their whole life. I was definitely exhausted by the end and bruised, but loved it. Overall it was such a fun day!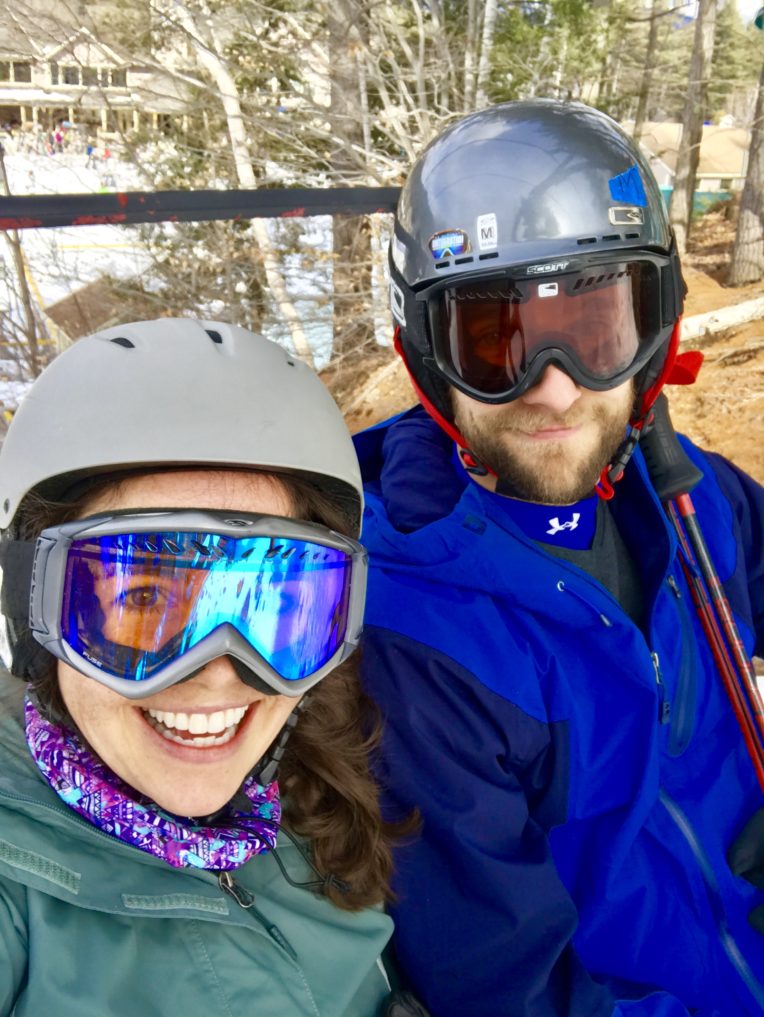 We got home, showered, I took a cat nap and then ate chips + guac while playing bananagrams. Emily made hot toddy's.  And we got to see this sunset – how incredible!!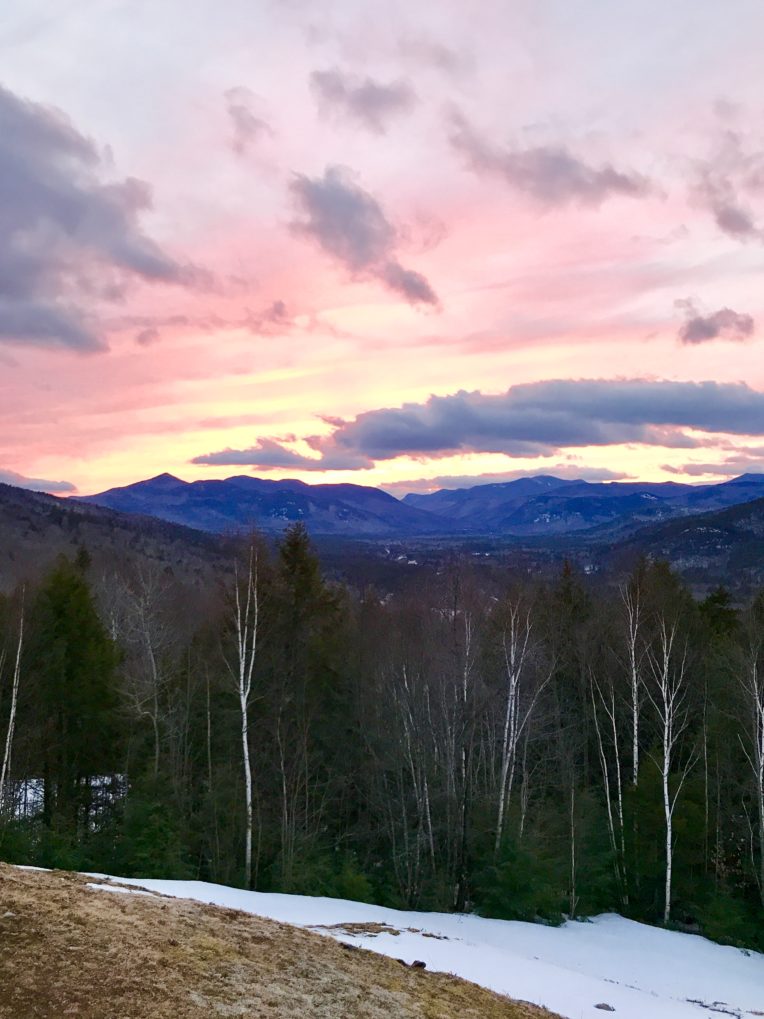 Mrs. Lanois made an incredible dinner. Baked penne with tomatoes, spinach, parmesean and sausage along with salad and bread. And a bottle of red to go with dinner.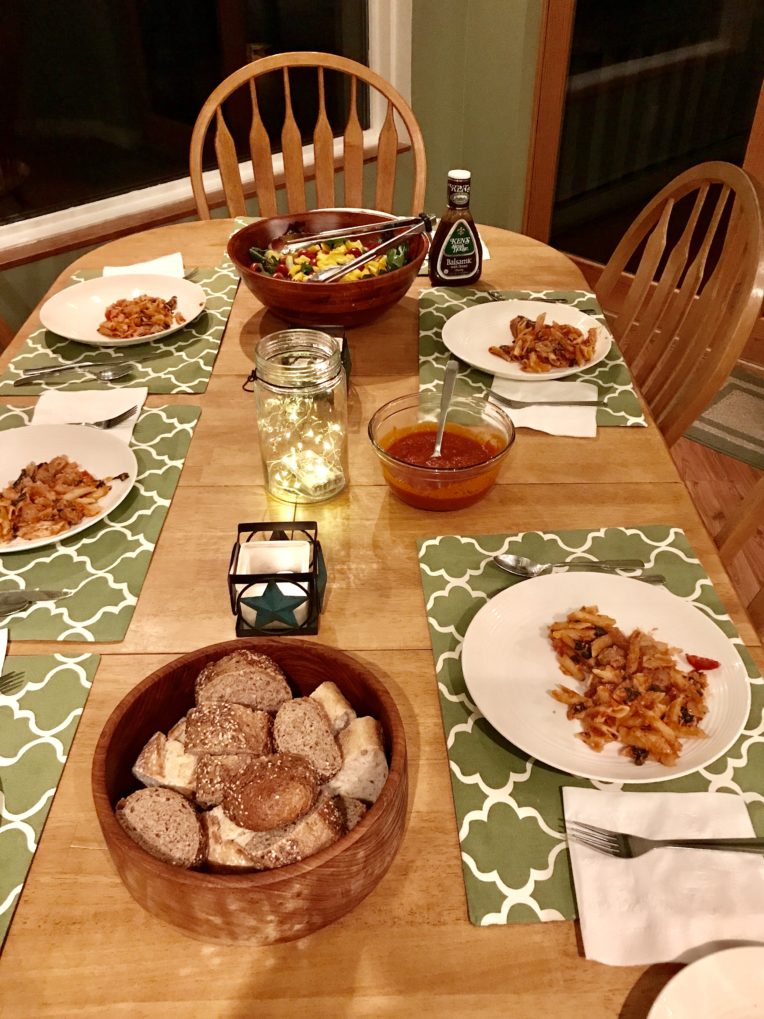 We sat around the table for a couple hours next to the fire. It was cozy and the food was delicious.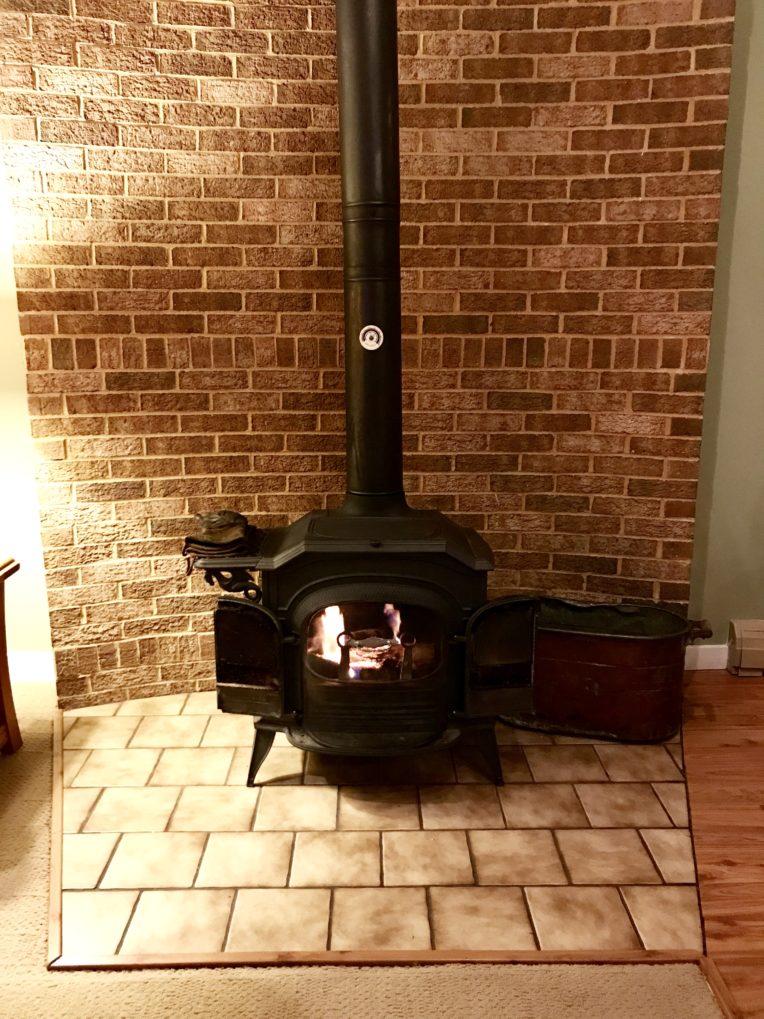 By 9:30 everyone was falling asleep.
Sunday morning it started snowing. We ate breakfast while we made a game plan for the day. Eggs with ham and cheese plus some bagel and English muffin with cream cheese and another orange – these were so sweet and perfectly in season.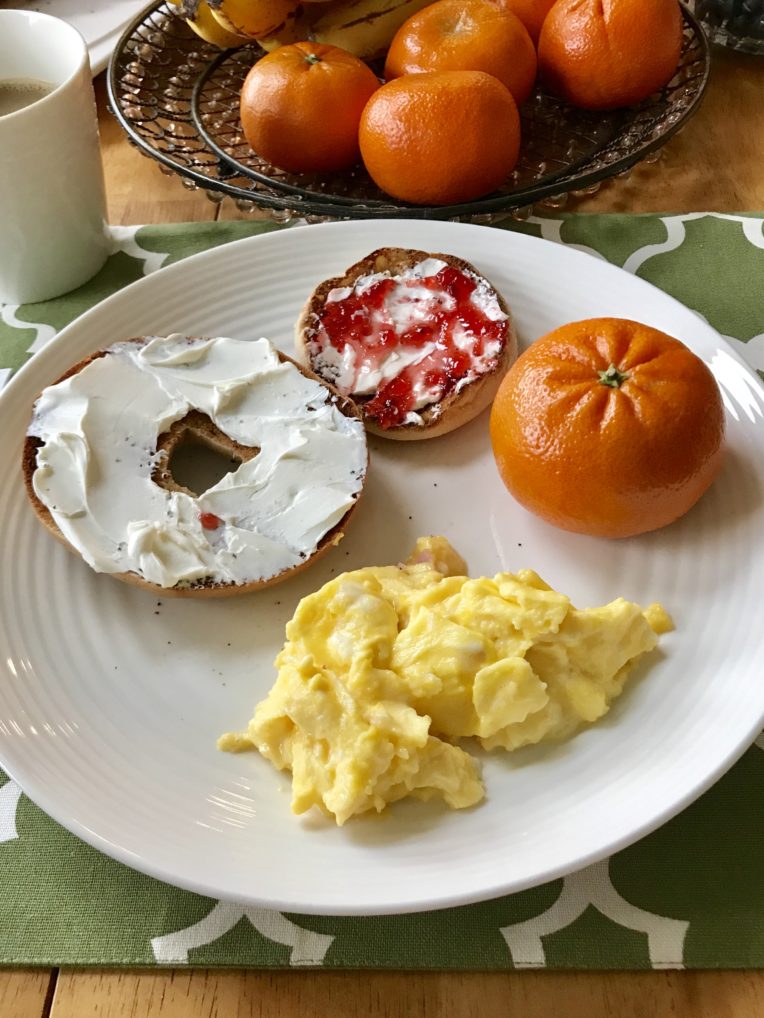 We decided to go cross country skiing for the morning before driving back to the city. I had never been and have wanted to try it for a while.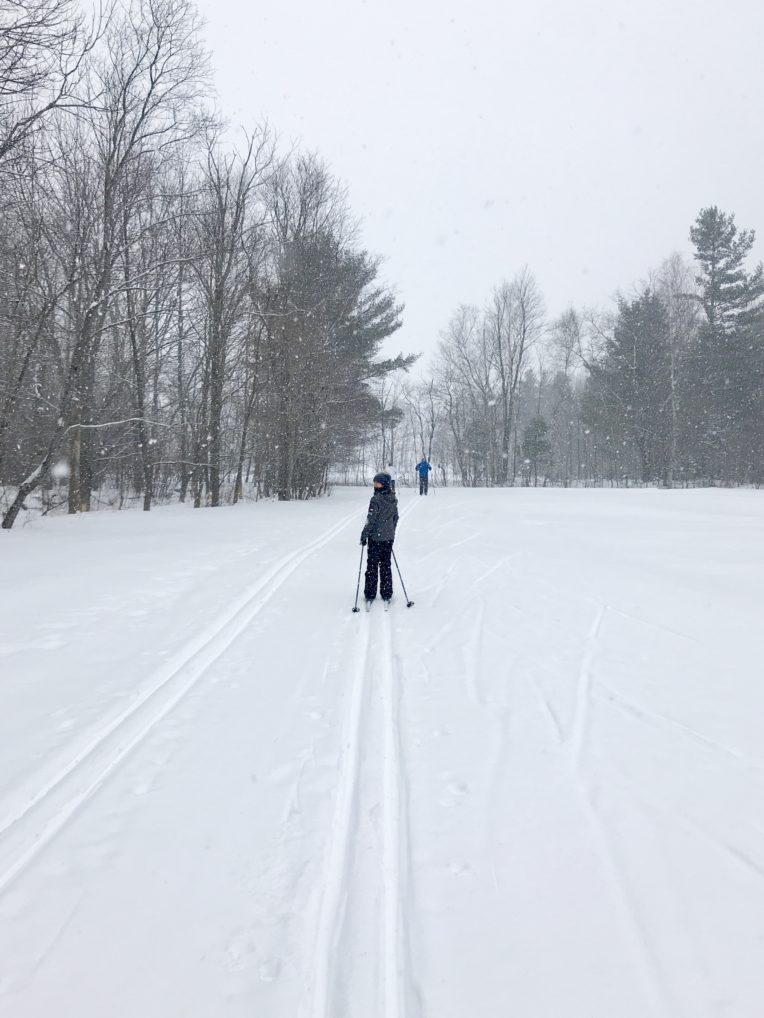 Well it did not disappoint. It took a little while to get use to the skis and how to go up hills and stuff …I still fell a few times, naturally…but it was beautiful out!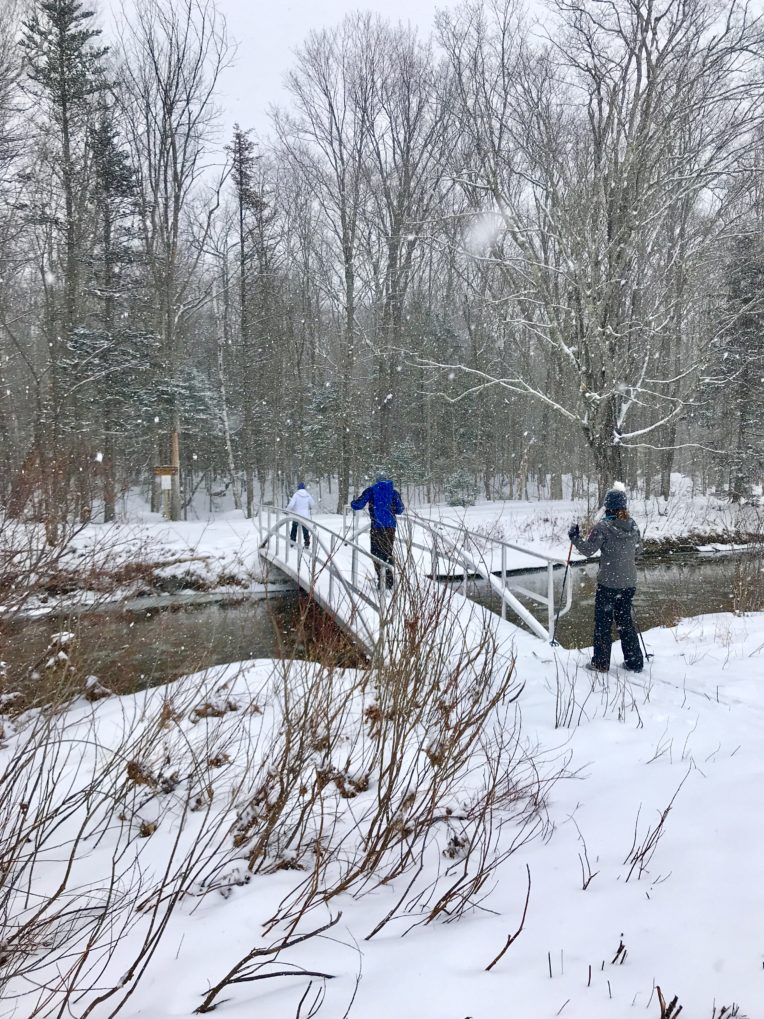 I couldn't get over how peaceful and stunningly beautiful being on the trail was that morning.
Around noon we headed back to get ready to leave. After a shower we ate leftovers for lunch. I had a sandwich similar to yesterday with an apple plus a peanut butter chocolate chip Larabar. And then forgot to snap any pictures. Then we said goodbye and headed back. Thank you so much to the Lanois for being so welcoming and hospitable!
It was snowy, but thankfully the roads were clear. We stopped at a liquor outlet since Nick has been wanting to stock up our bar cart, but we've waited until we went to New Hampshire since they have these outlets and zero sales tax…win! This picture makes us look like we need an intervention, but dont worry, this is for a very long time…we just like to make any cocktail imaginable and host often 🙂
Stopped by TJs for groceries on the way in and made it back to the city by 5:30pm. We ate red lentil dal over brown rice with roasted brussels, broccoli and sweet potatoes.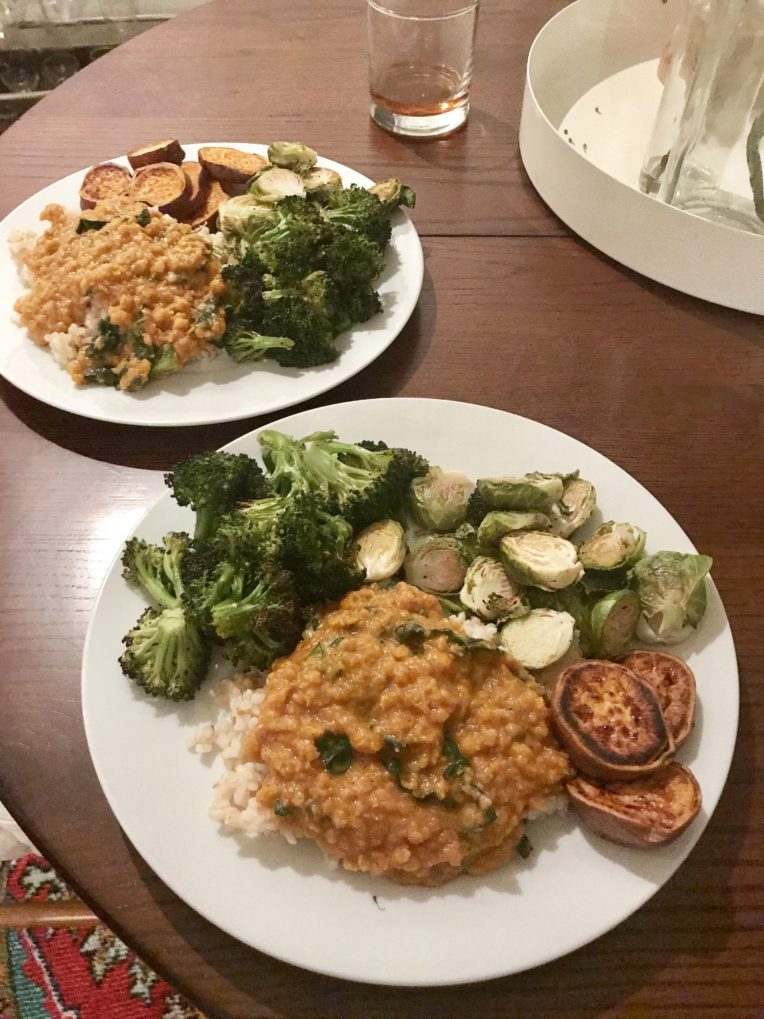 And ate some chocolate chips cookies and watched a couple episodes of This is Us before heading to bed early.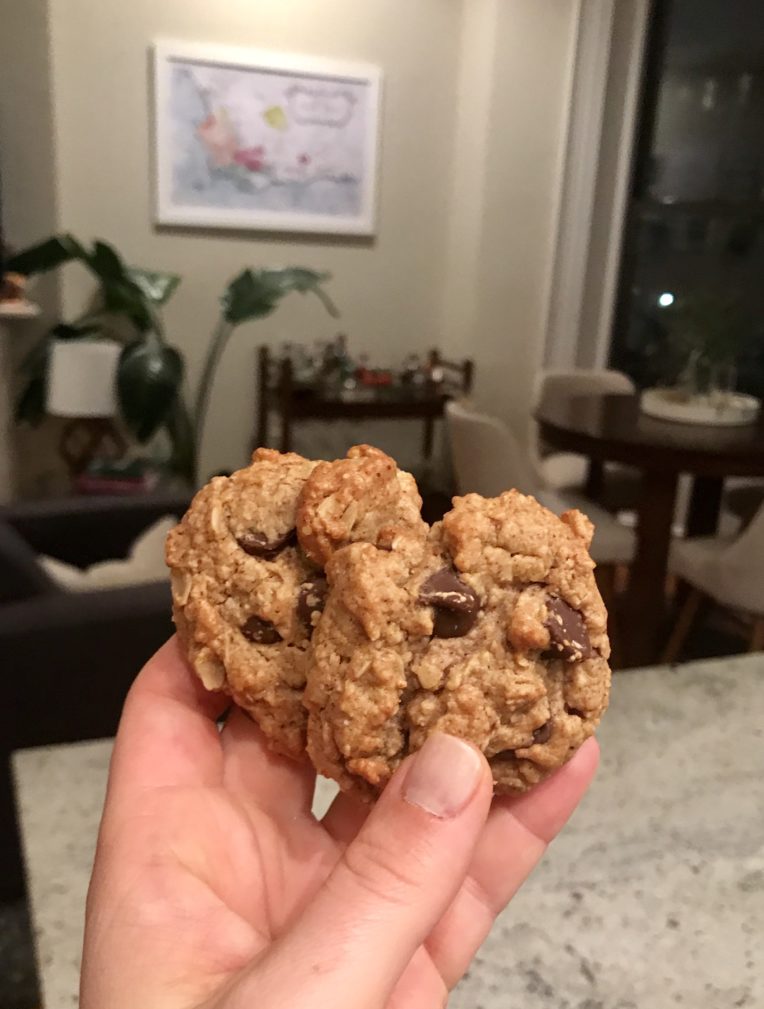 We have some wedding travel coming up so I'm glad we got to make it up to NH this weekend before spring comes. And I'm excited to sharpen my skills on the slopes … butttt I've got work to do.
Hope you guys had an awesome weekend! As always, share your highlights in the comments.