I've thought about the idea of doing a capsule wardrobe for a couple years now for a few reasons. I hate clutter. I'm not the most organized person, but having stuff that I don't use taking up space clogs up my mind….if that makes sense? Whether it's a healthy way to make my life feel more in control, I'm not sure yet.., but being semi-organized gives me a sense of calm when life feels otherwise crazy.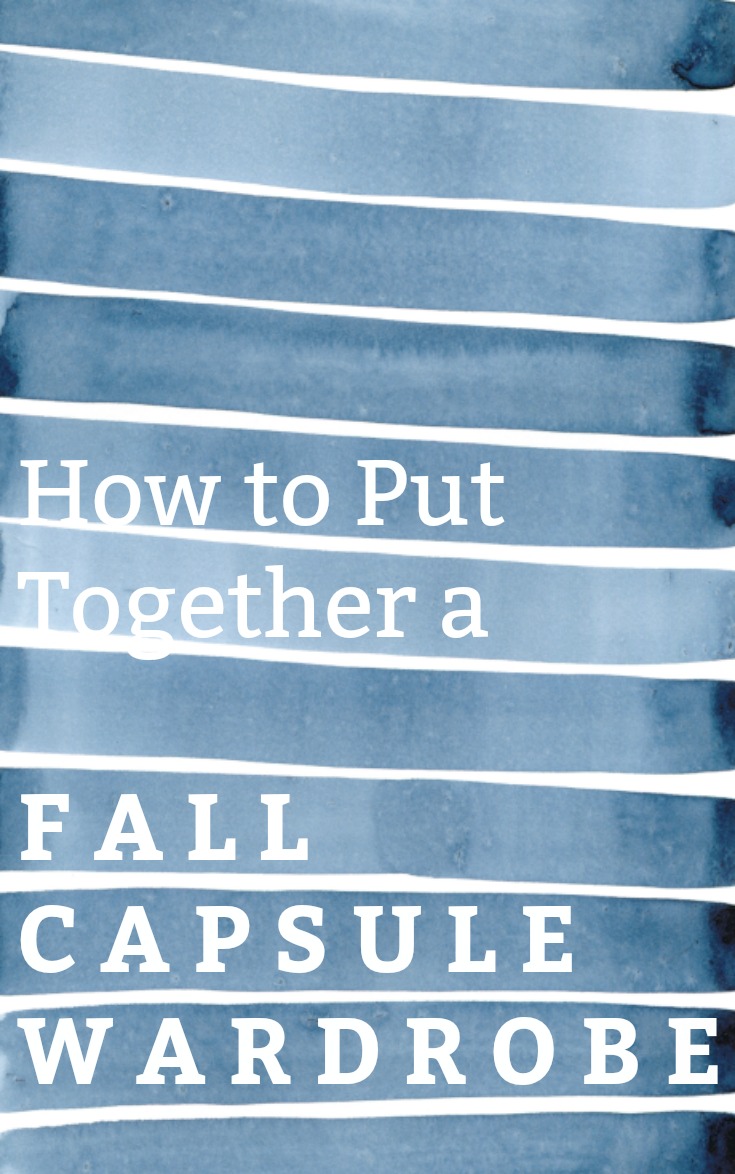 New York City closets are also pretty small. I have more closet space now than I ever have before here, but this is at big as it likely gets since walk in closets don't really exist in the city. So there's not a lot of space. And lastly, I'm not a fashionista. I don't really keep up with trends. I like simple clothes that I can mix and match and where over and over without much thought as to whether or not I look like a disheveled human trying to look put together. So this past spring, I decided it was time for my first capsule!
And after that first go around, I loved it so much. I found it affordable because I didn't do any shopping after my capsule was put together (except for a dress to a wedding or something like that) and I also found it so freeing to have a closet that actually had extra room instead of being crammed for space. In a weird way, my soul felt lighter because I had less clothes.
It's also caused me to donate TONS of clothes. Since this is my first year doing capsule wardrobes, I typically keep the next seasons clothes until I make the next seaon's capsule so I can sift through those clothes and hopefully use many pieces I already own. Then I give away the rest. If there's a shirt I really love that I think there's a good chance I might wear out on date night, to an event or something like that I keep it. But if I haven't worn that piece by the end of the season….it gets donated.
I don't have a dressy job so my capsule can easily translate into work and life. For work I throw on a pair of pants that aren't jeans, a top that isn't a t-shirt and my lab coat goes over it. If you have a corporate job that requires dressier attire you could totally make a mini work capsule with maybe 10-15 pieces.
My capsules usually consist of 25-30 pieces. What I love about this idea is you can make it whatever works for YOU.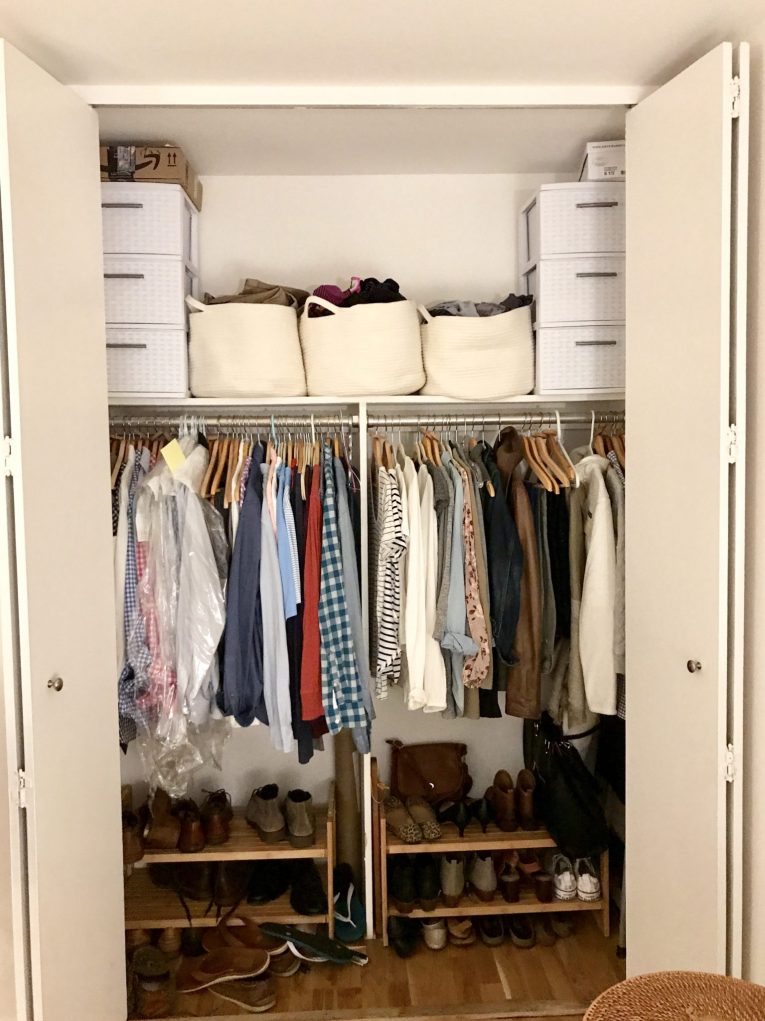 This is my fall capsule all put together in our closet. I'm the right side 🙂
I don't throw away all my shoes that aren't included in the capsule since I like having more than 1 pair of flats and I have a couple other pairs of booties that I will wear into winter. My summer shoes also stay in my closet since there's room. So the top shoe rack is my fall capsule shoes + purses. And then about 3/4 of the hanging rack is my capsule clothing. The clothes hanging on the far right include a few fleeces and sweatshirts.
This capsule includes 24 pieces minus jewelry. I don't wear a lot of jewelry besides my wedding bands, a simple necklace and some earrings. A rough guide that helps in putting together a capsule is to think about picking clothes that layer well, are neutral tons, and have minimal patterns.
For the fall, I chose a few basic tops, a few blouses/tops, a couple cardigans, a few pants, one skirt (since I don't wear many skirts/dresses in the cooler months) and a few jackets/vests. I typically only include a few pairs of shoes and two purses (one big and one small) and I try to minimize patterns. I usually only have 1 patterned top. Some pieces in my capsule are old basic tops or pants I've had for years. If I'm buying something new I will sometimes invest if it's a piece I'll have forever – like a chambray shirt or a pair of jeans for example. But if it's a white shirt that's bound to get a stain…I go the cheap route.
Since I'll have most of these pieces for many seasons, I try to balance affordability with quality  so they last many years. I set a budget and try to stick with that. For my summer capsule I spent $180 on new clothing. I probably could have spent $140. For the fall I spent a little more since I bought a new pair of booties so it was closer to $250. I say those numbers to give you an idea of affordability. You could totally spend more if you'd like, or less for sure. I love shopping at Thred Up (online consignment) for great, quality clothing that has barely been worn.
Ok so here's my fall capsule!
BASIC TOPS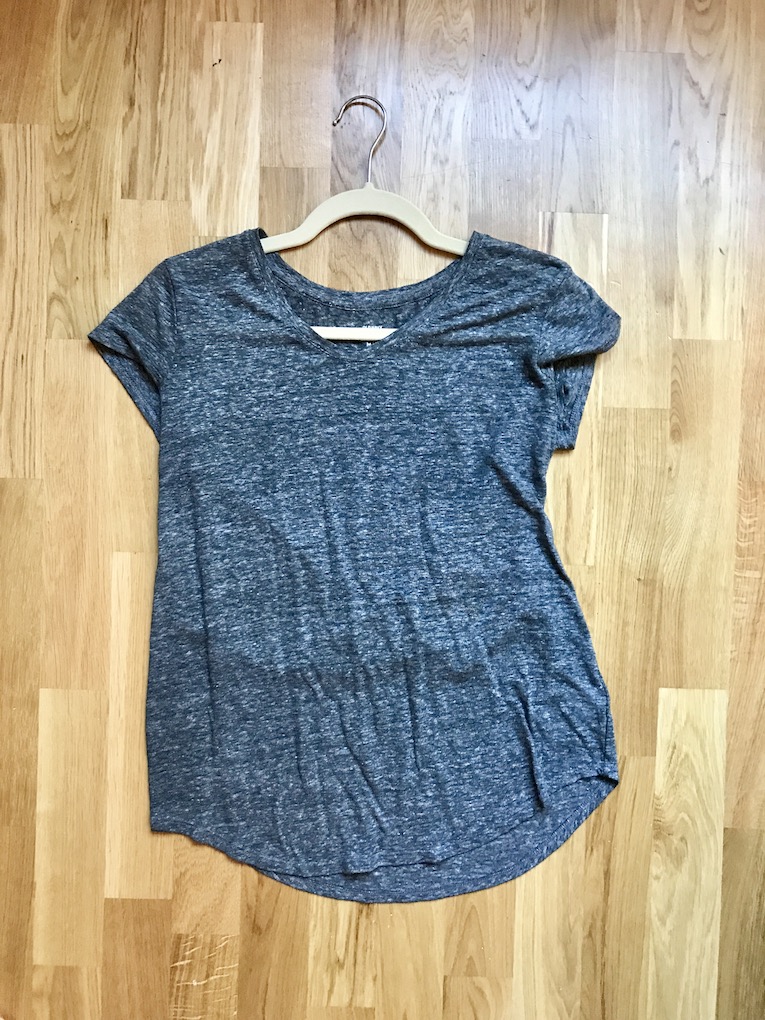 This basic grey tee from Old Navy (which is $6 now) is from my summer capsule that I carried into fall.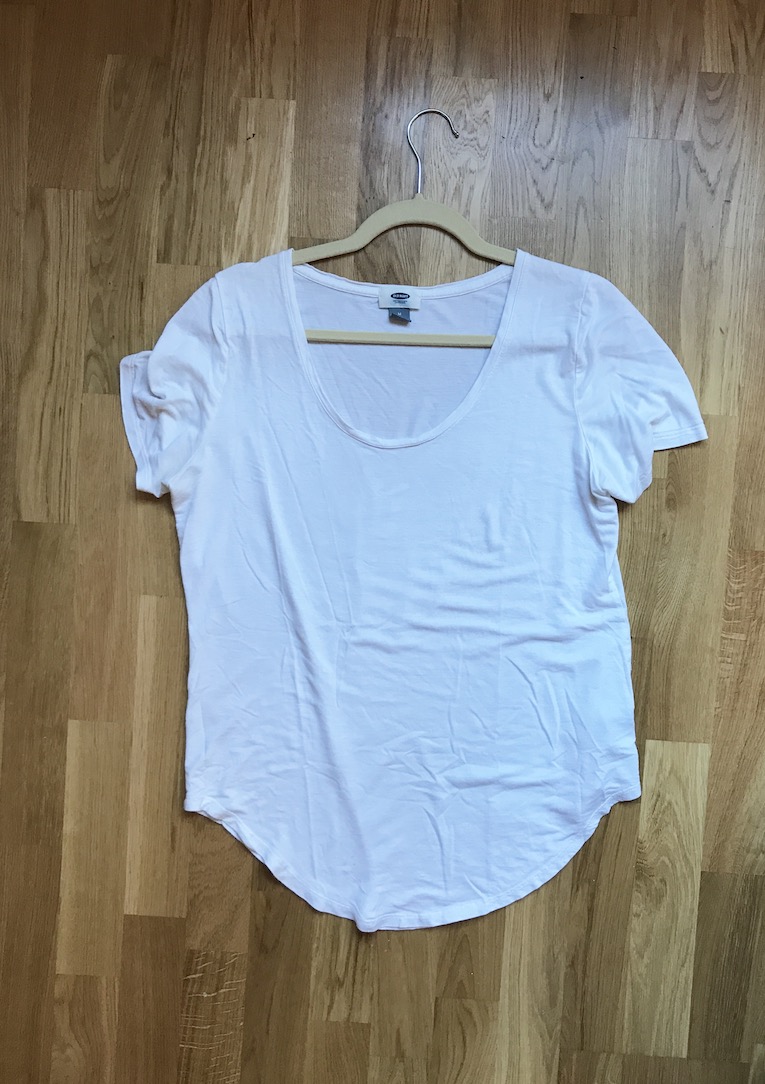 This Old Navy white tee I've had since my spring capsule. Any white tee will do. I like this one from Gap too.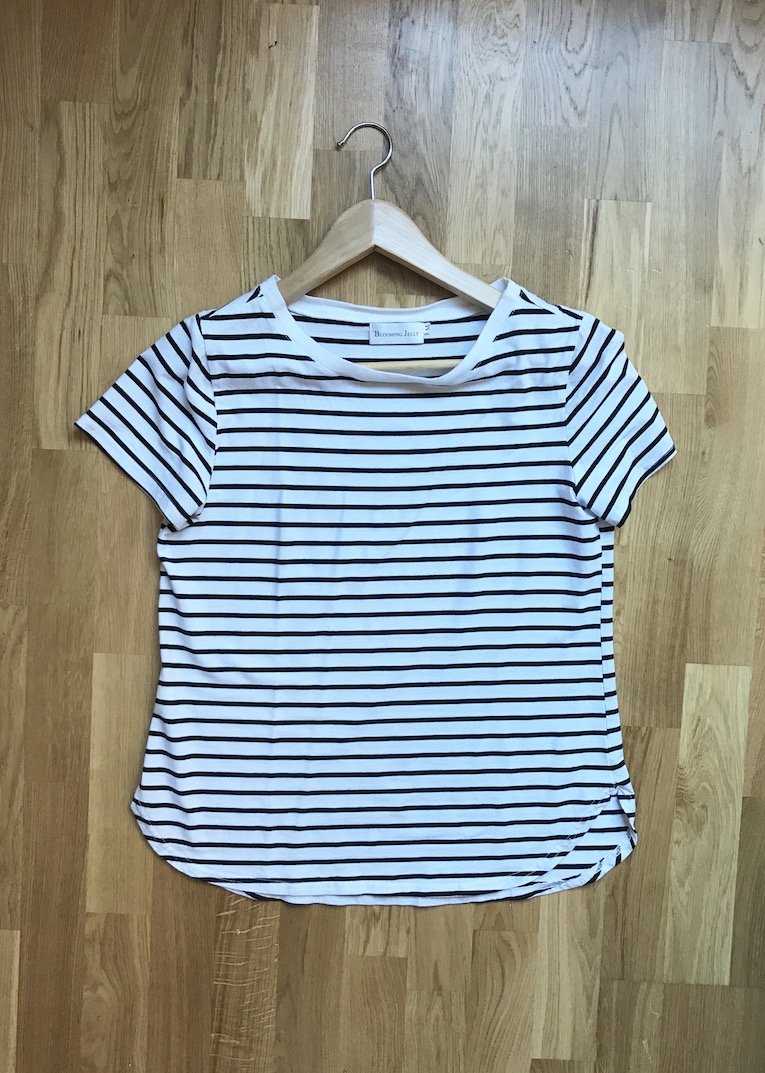 I've had this striped t-shirt since spring and might pitch it and buy this Target version to replace it for under $10.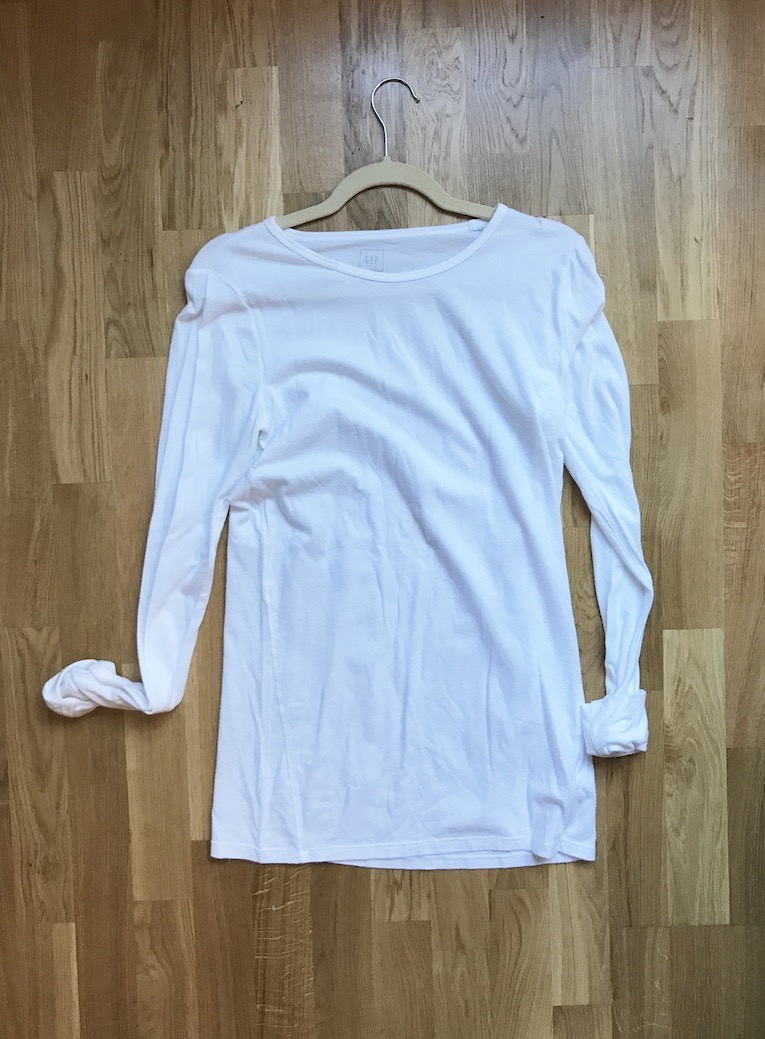 This white long sleeve from Gap is from my spring capsule and it is so soft. Right now it's under $11.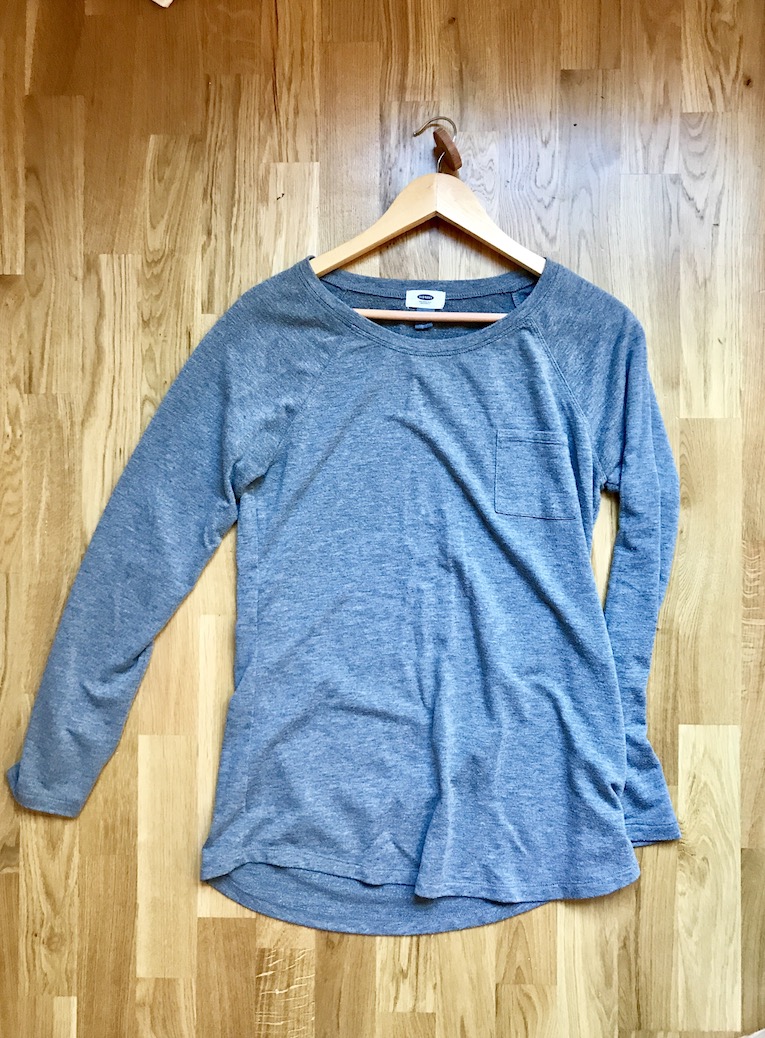 I've had this Old Navy grey long sleeve for years. Here's an option from Gap similar to the white long sleeve above.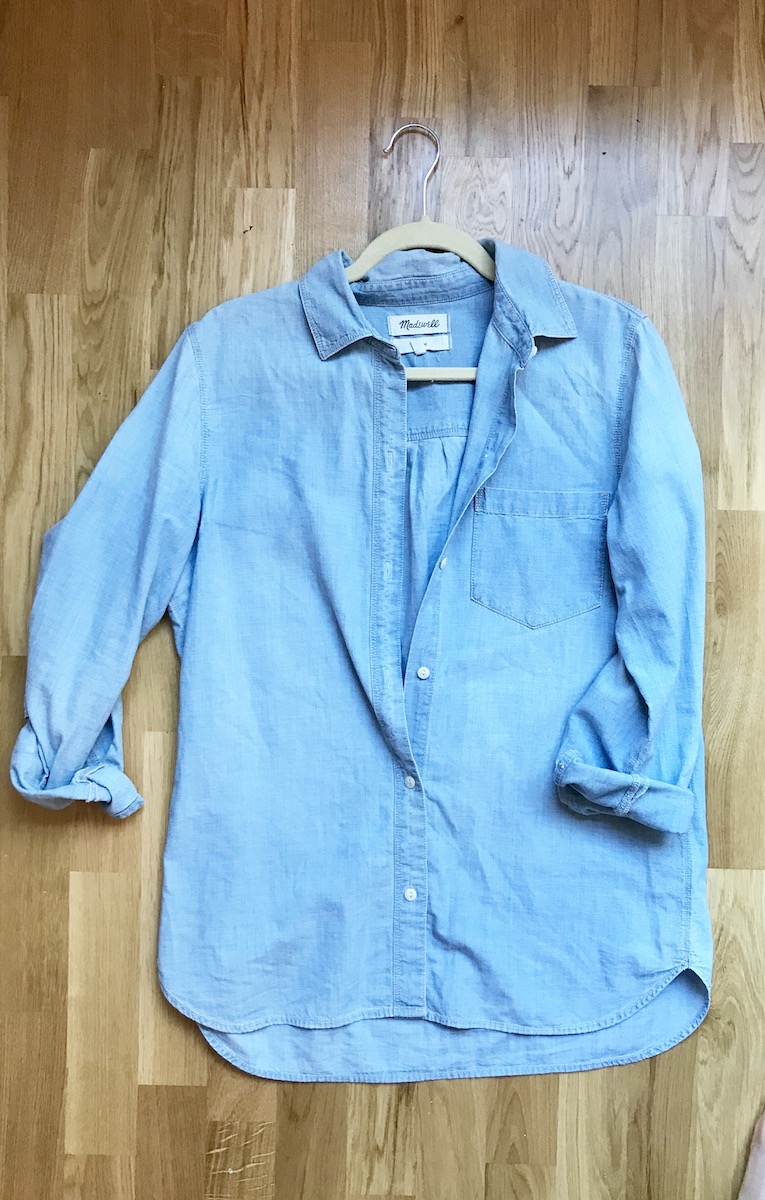 This chambray long sleeve from Madewell is an investment piece I bought in the spring and I love it. I will wear this for years and years and it's included in every capsule I've made.
DRESSIER TOPS/BLOUSES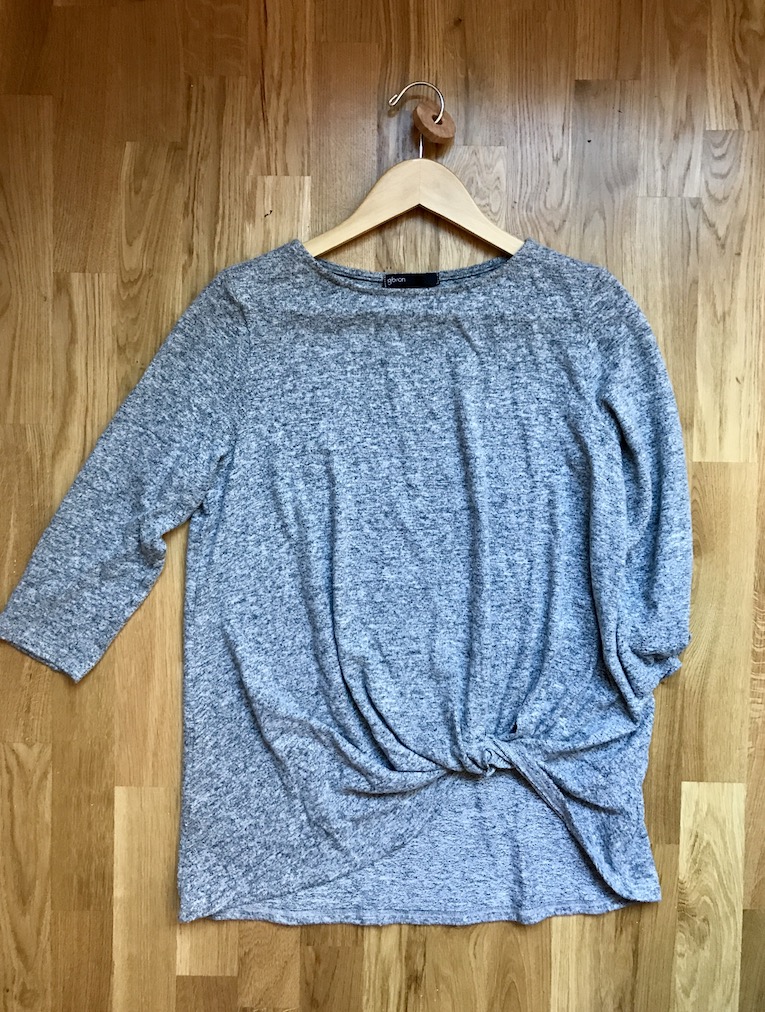 This grey tie front fleece pullover from Nordstrom is the coziest, softest top I've every owned. One of my favorite pieces from this capsule.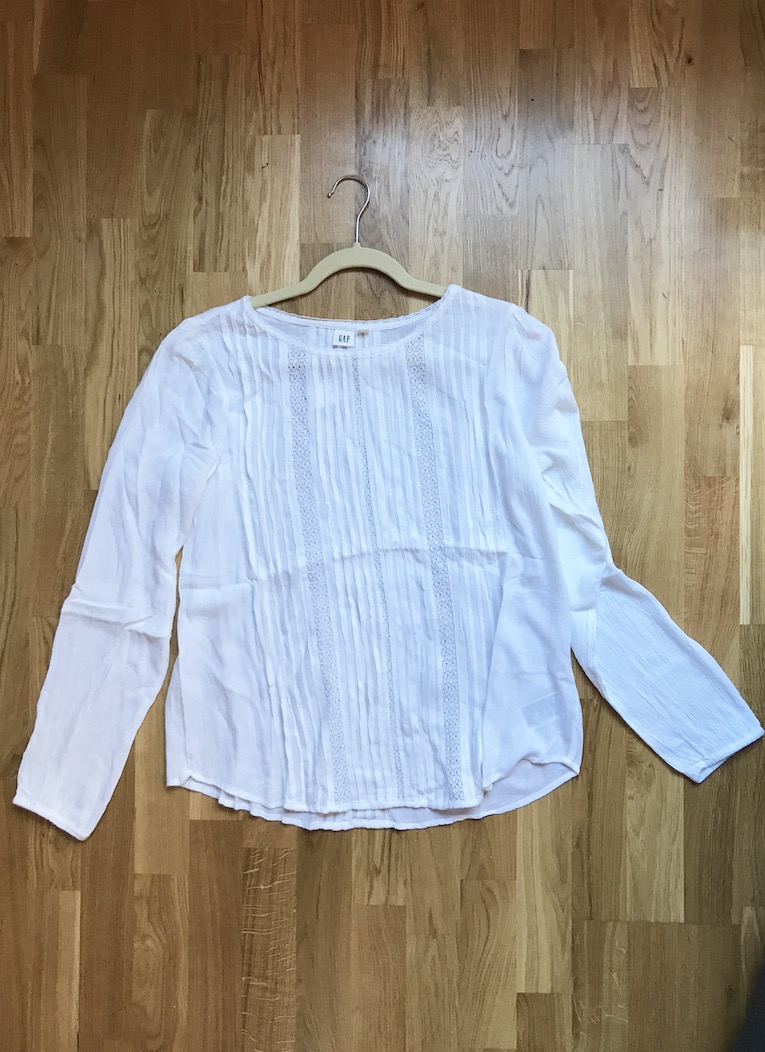 I included this pinktuck top from Gap since it can be dressed up or down and will layer with well with all the jackets/vests in my capsule. When I bought this a few weeks ago it was 40% off and it's still on sale. For almost all clothing except maybe a great pair of jeans or shoes…I almost always only buy stuff on sale because the prices almost always drop.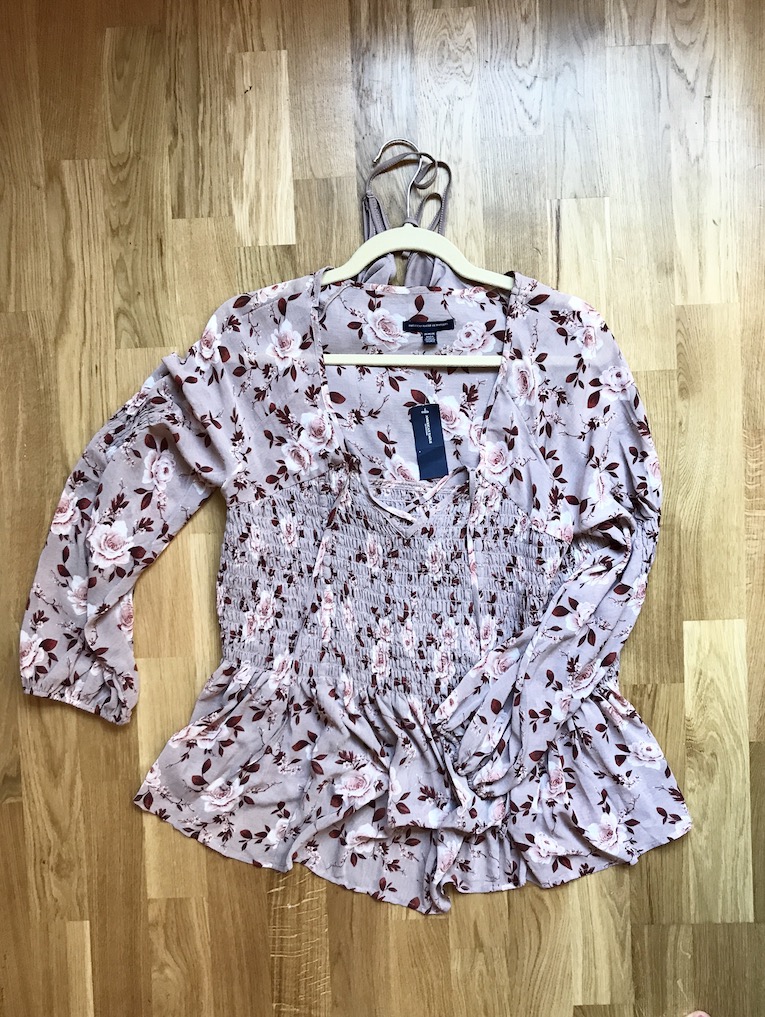 This is my one patterned piece for this capsule, a smocked flowy blush top from American Eagle.
CARDIGANS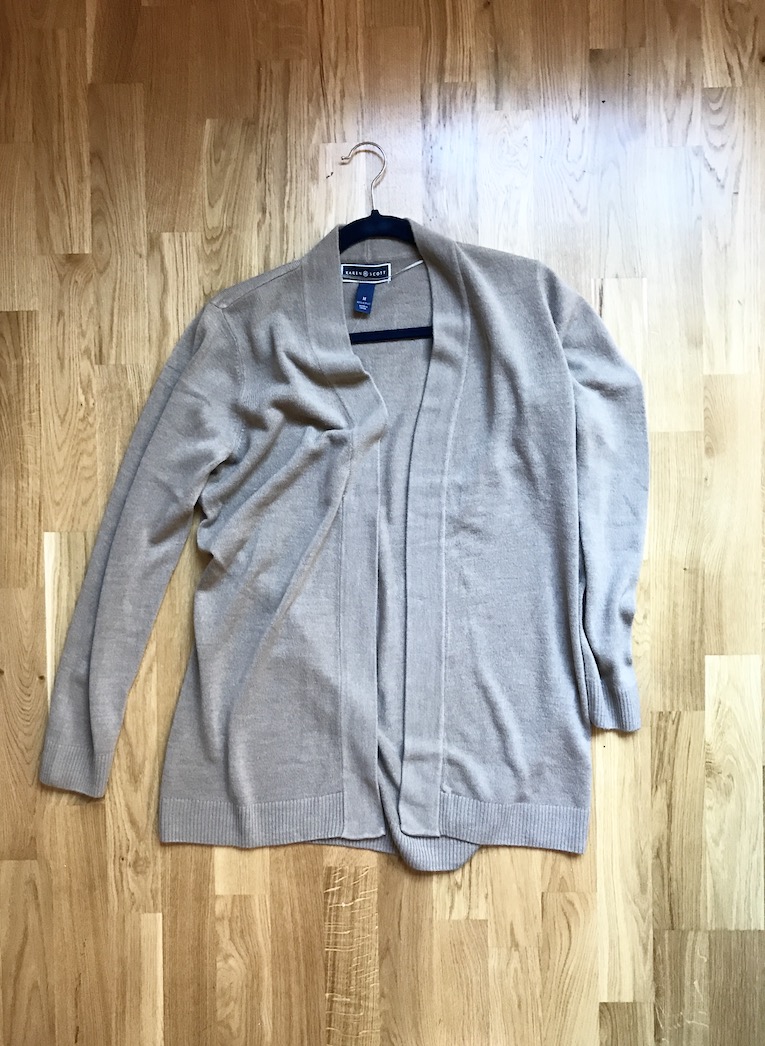 I chose two super versatile cardigans to layer over any of the above tops or blouses. This beige open front cardigan is from Macy's that's under $30.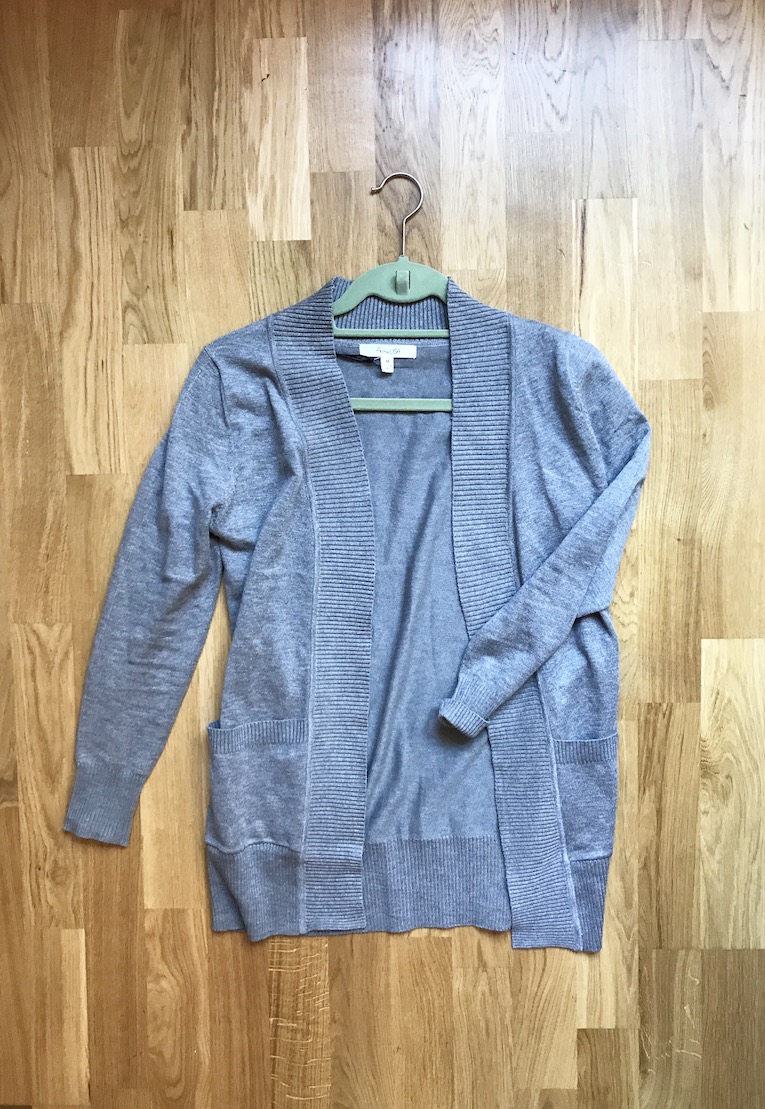 And this grey cardigan is old and I forget where it's from but here is a similar open front cardigan from Gap that looks super comfy and also one from Target.
VESTS AND JACKETS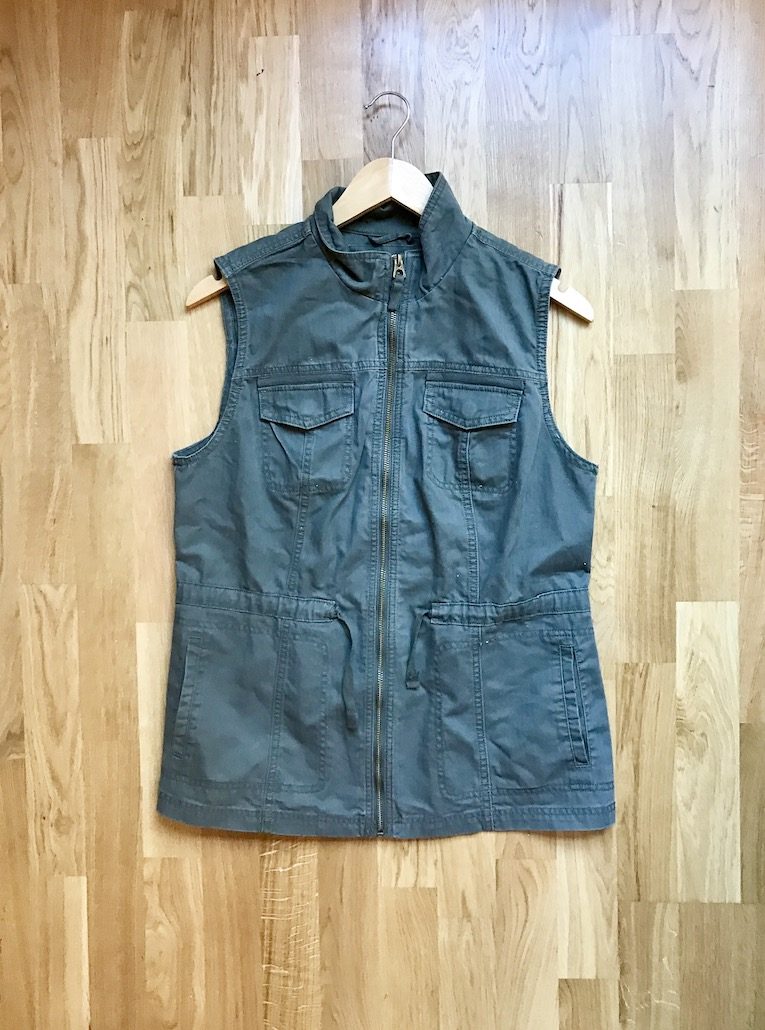 I included a military jacket in my spring capsule, and loved it so much that I included a vest in this fall's capsule. I found this vest at Target that's great quality with a flattering fit for under $30.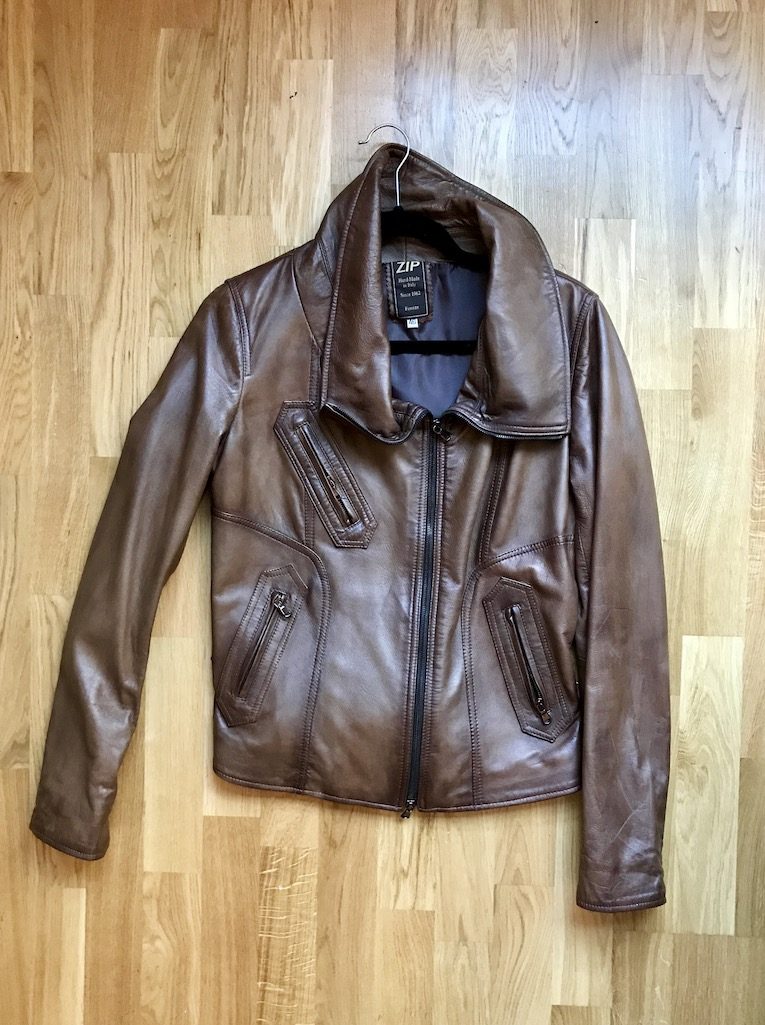 I bought this leather jacket when I was in Florence a couple years ago and it's probably my favorite piece of clothing because it reminds me of that awesome trip with my best friend and it's also the most expensive jacket (besides my winter coat) that I've ever bought. You don't need to buy a jacket from Italy (obviously :)…) because here are a couple other great options. I found this suede jacket from Nordstrom if you want to invest in a piece you'll have forever, or a more affordable jacket under $50 from New York and Co.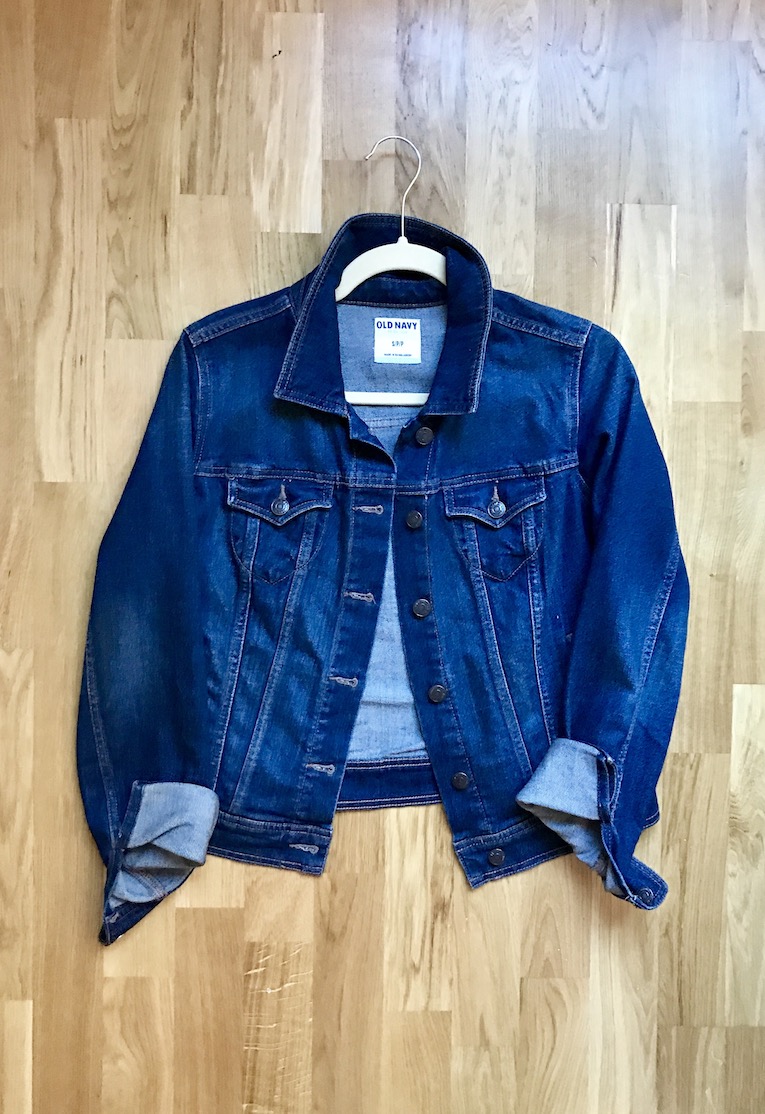 I've had this jean jacket for YEARS. I think (maybe?) jean jackets went out of style for a while, but I kept this and I'm so glad I did. Here is one very similar from Old Navy and also another option from Madewell if you want to invest in one.
BOTTOMS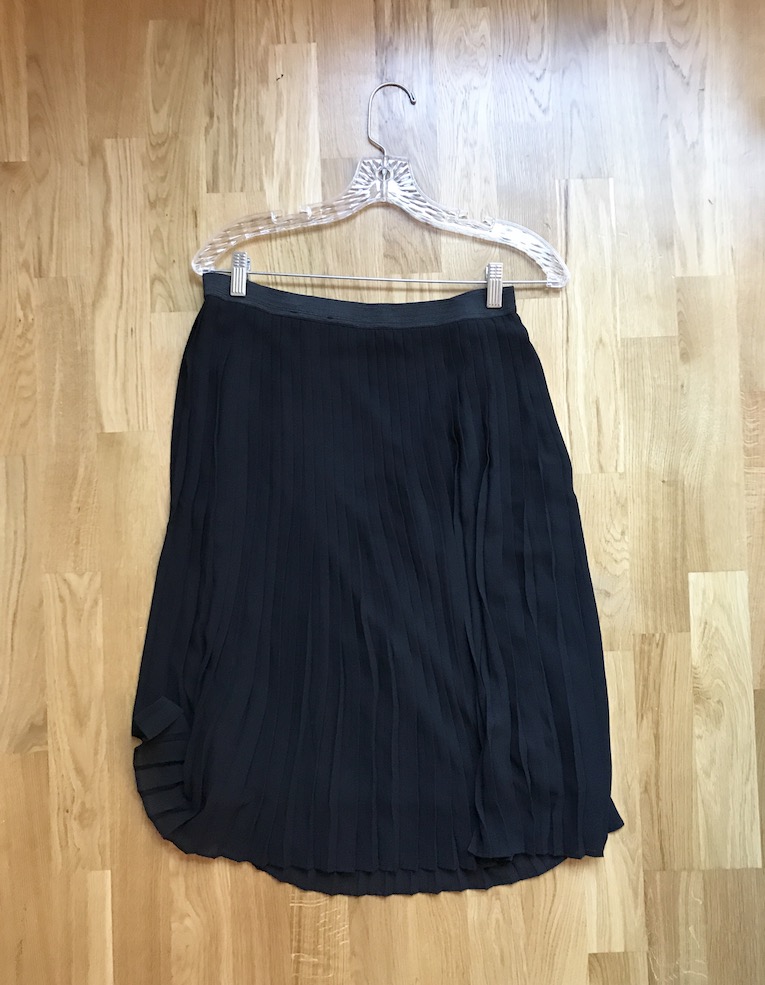 This skirt from Macy's was a little out of my comfort zone but I love it! Paired with the striped tee and denim jacket it can be dressed down or dressed up with the pintuck top and leather jacket.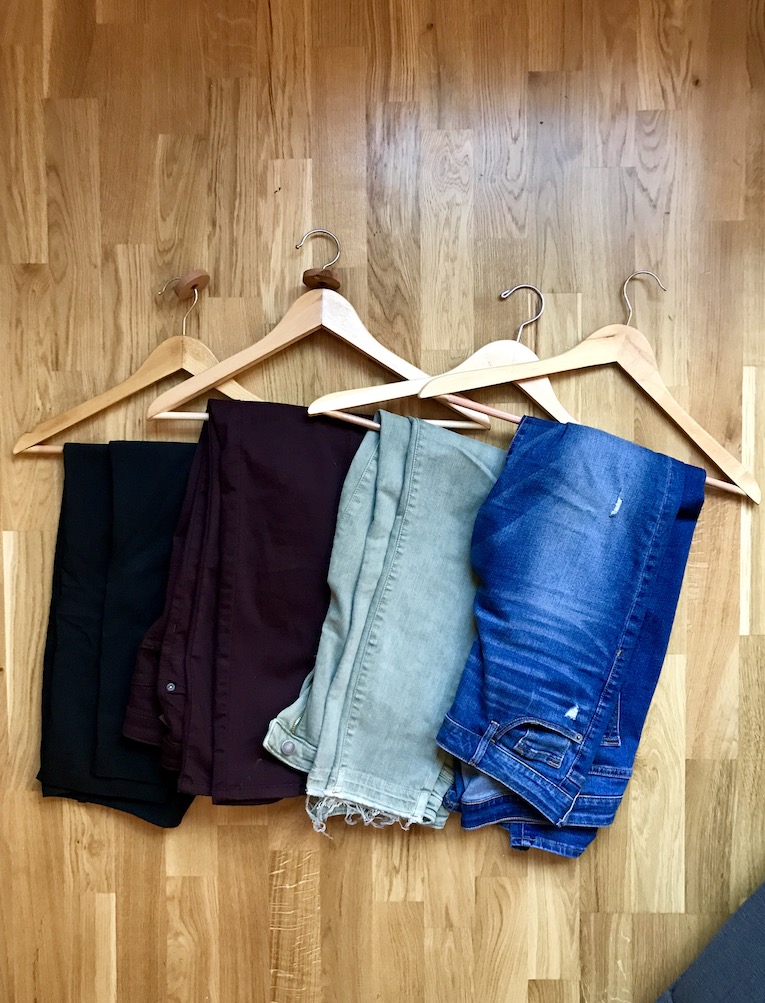 And pants! These denim jeans are from Gap from a few years ago (include any jeans you have) and the olive jeans and wine colored jeans I bought for fall. Both are from Target for under $30. With colored jeans, I usually don't invest since they aren't something I'm going to wear year round. The black pants are from Gap and these are something I'll wear to work or I could dress down with the military vest, flats and a tee.
ACCESSORIES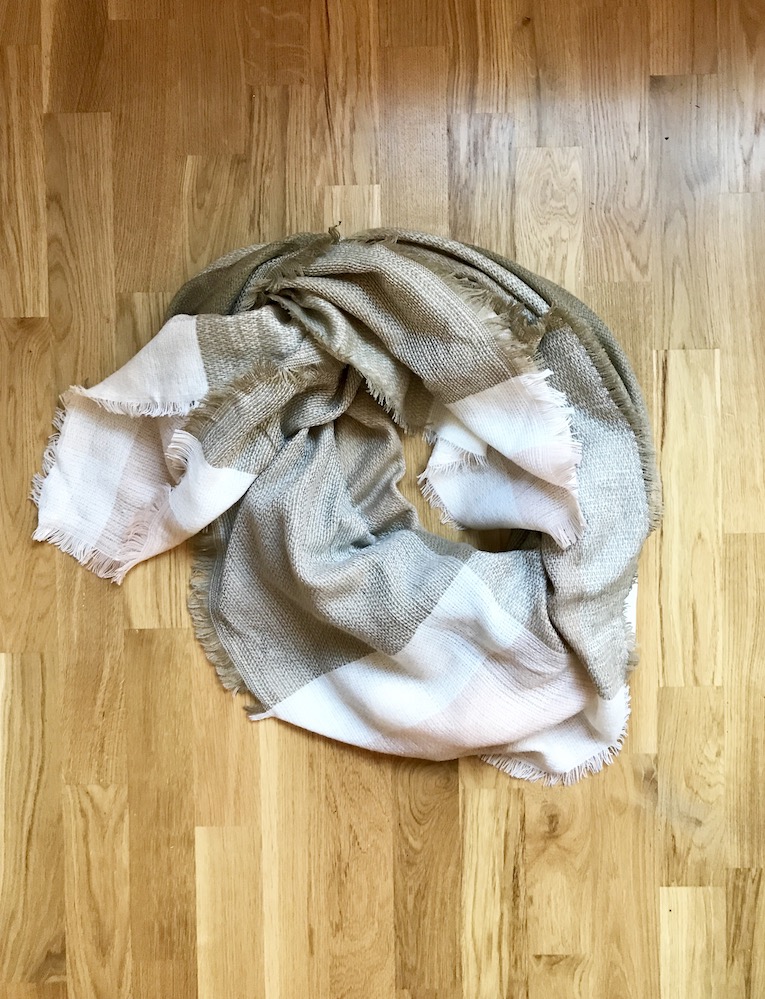 This blanket scarf with soft colors from Target is so incredibly warm. Love scarves. This scarf makes any chilly fall day feel super cozy.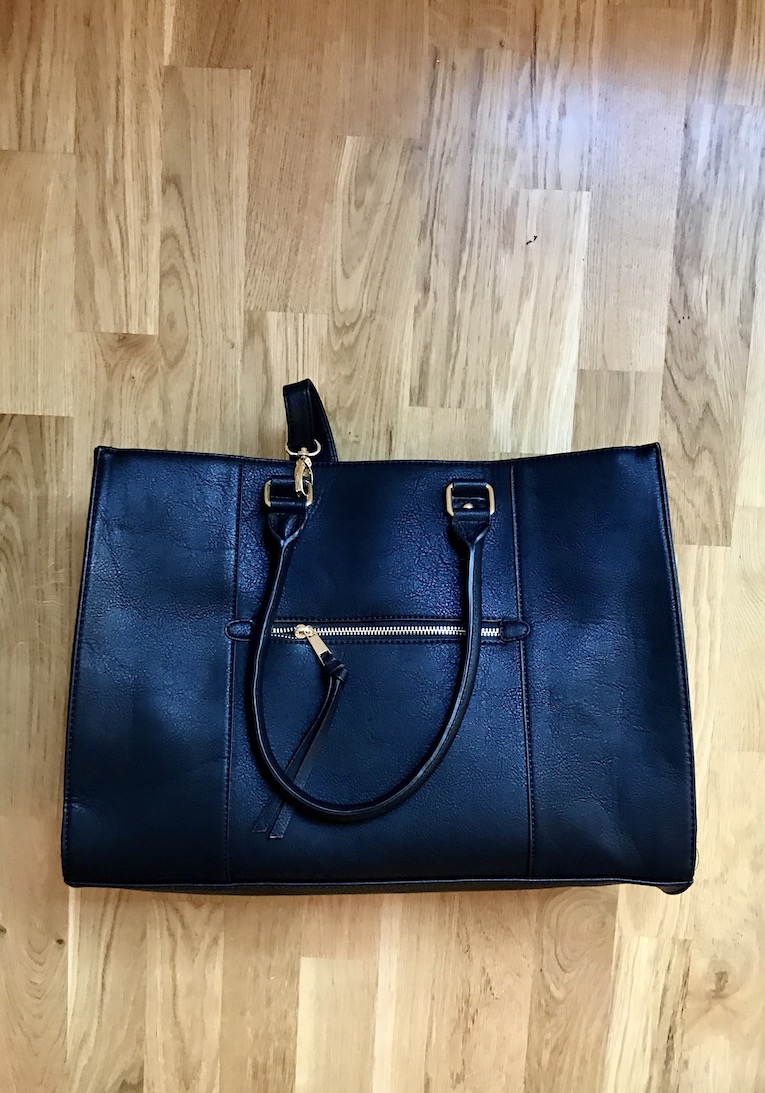 This black bag I also bought this season from Target. I can't find it online anymore so here is a similar tote from Target. I don't have a bigger black tote, but I also tend to not keep bags totally nice since I throw them in the basket on my bike, they endure the subway etc etc so I don't really invest in nice bags. If it doesn't look cheap and it's versatile, I'll buy it.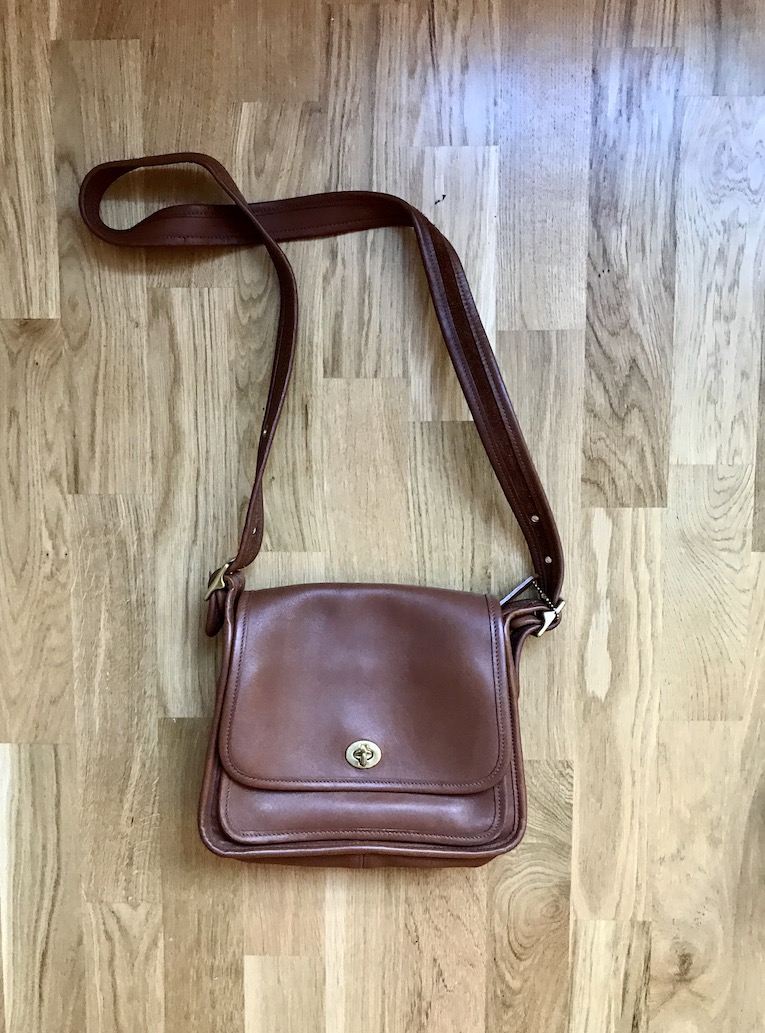 This brown bag is Coach which I found on Thred Up for $60 brand new a few years ago. I never ever buy designer bags but I couldn't pass up that deal! Here is a similar bag from Target and Nordstrom.
SHOES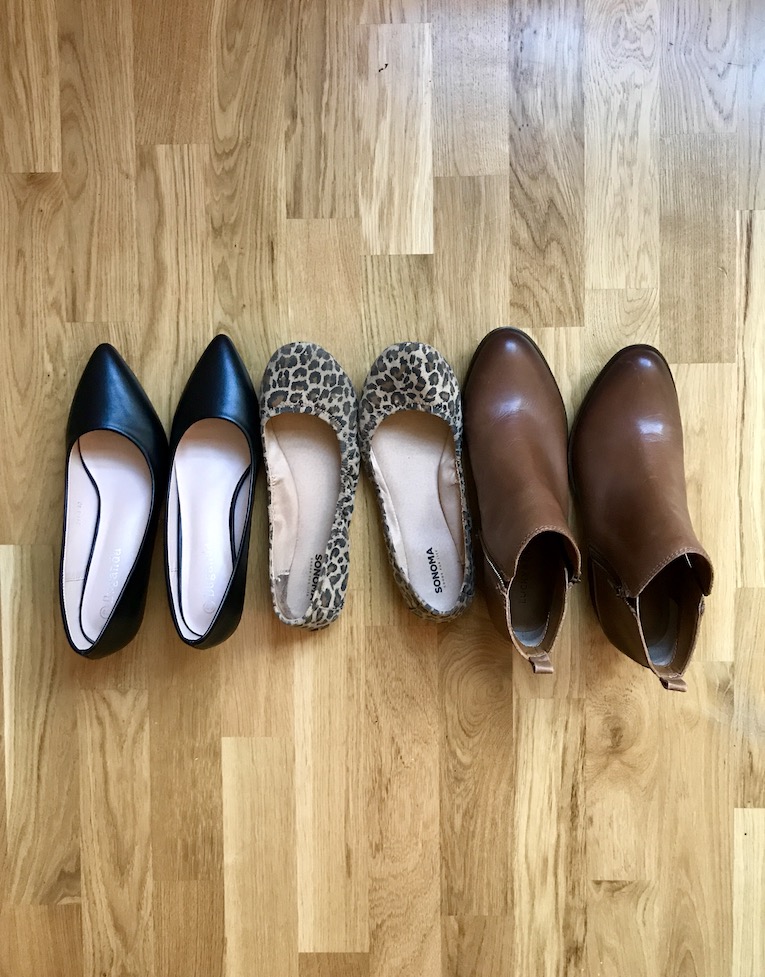 Shoes are something I usually don't skimp on since my feet are like my car living in the city. Comfortability is key!
These leopard flats are a couple years old from Kohls. But I have a brown pair that are Lucky and I highly recommend purchasing those is you need super comfy flats. I'm still debating if I should buy a new pair of the leopard print ones from Lucky because they are like pillows on my feet.
The black pumps and brown booties are new for this season. I don't wear high heels unless I'm at a wedding, so these are a 1 1/2 inch kitten heels which is way better for my lifestyle. I bought the pumps on Amazon for under $30 because the reviews said they were comfortable and they are! The booties are Lucky brand and more of an investment but so comfortable and I'll have them for several years. I found them cheapest on Amazon here. If you really want to splurge, buy some Frye boots. I have a couple tall pairs in brown and black I bought 3 years ago and they have been my most worthwhile purchase. I hear they last over 10 years!
PUTTING IT ALL TOGETHER | OUTFITS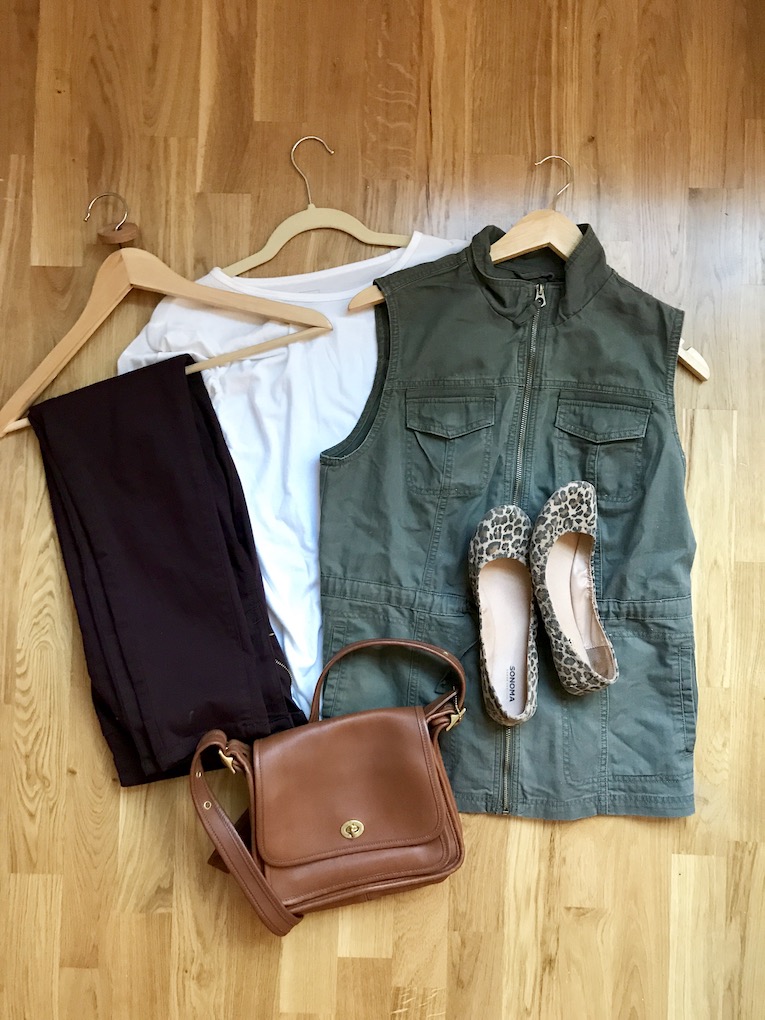 I've put a few outfits together so you can see how just a few pieces can be mixed and matched to make several different outfits. This is key when packing for a trip because you can bring SO MUCH less clothing and still have 7-10 outfits.
The above outfit is the wine jeans, white long sleeve, military vest, leopard shoes and brown purse.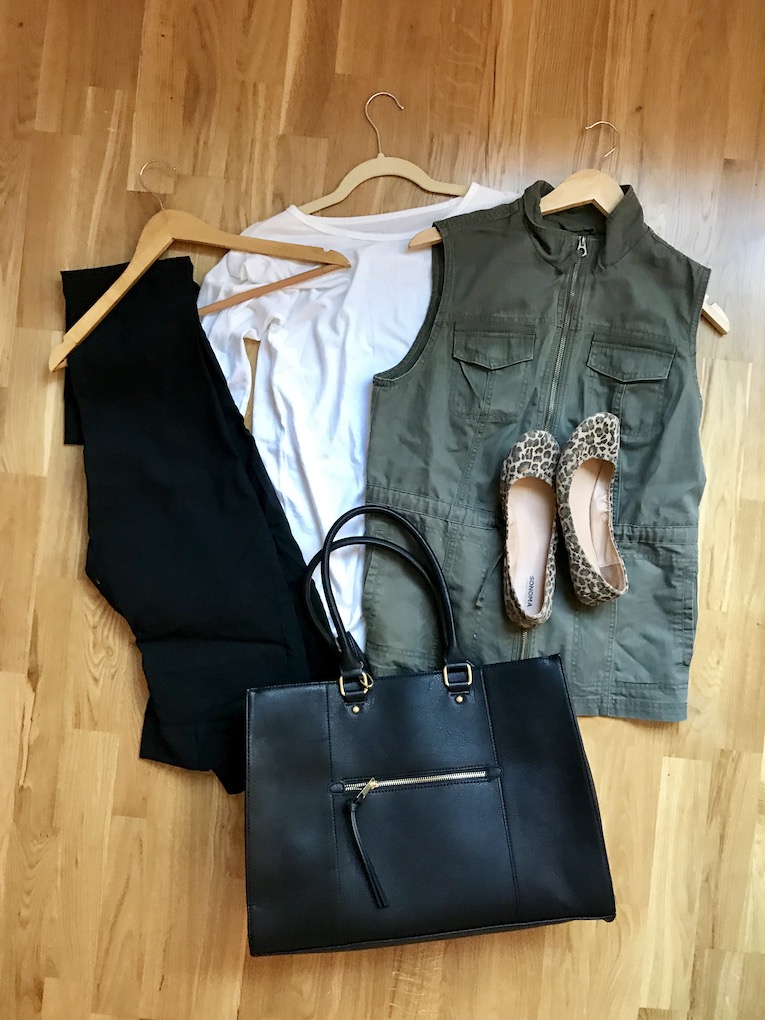 Switch out the wine jeans with black pants and black bag and you have a dressier look that's good for work, a dinner out, a party etc. If you wore the pumps with this outfit, you could dress it up even more.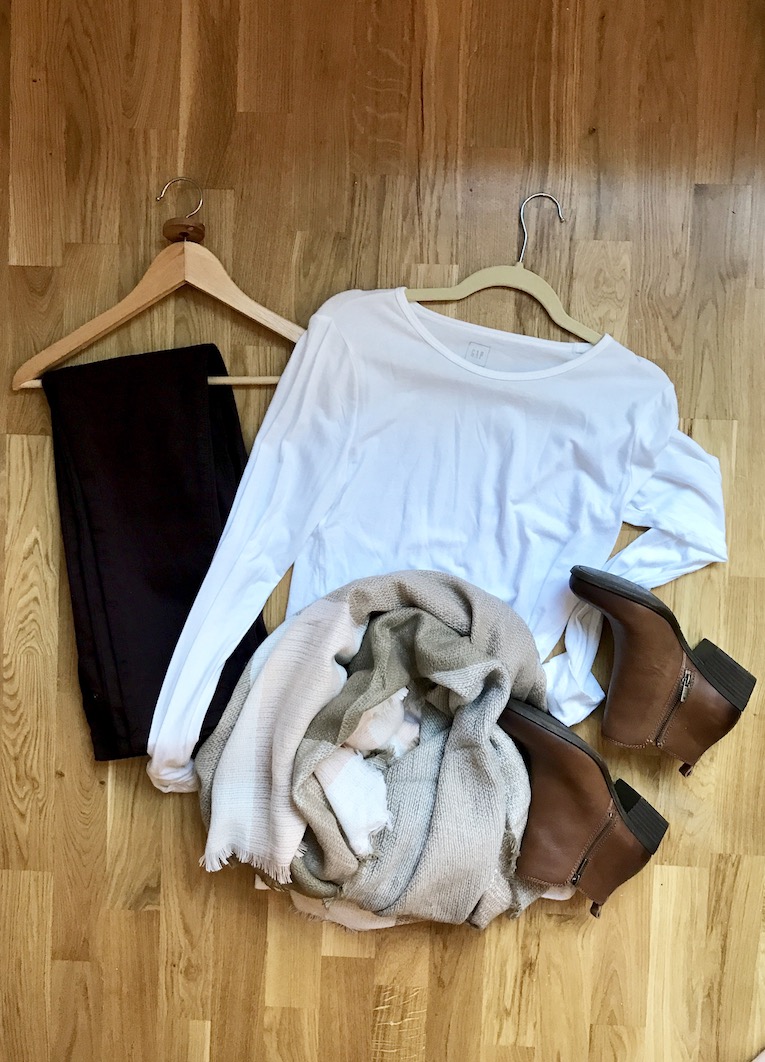 You can't tell in this photo but those are the wine jeans (not black pants) and all I did was nix the vest, swap the shoes and add a scarf and you have a totally different look than the first outfit.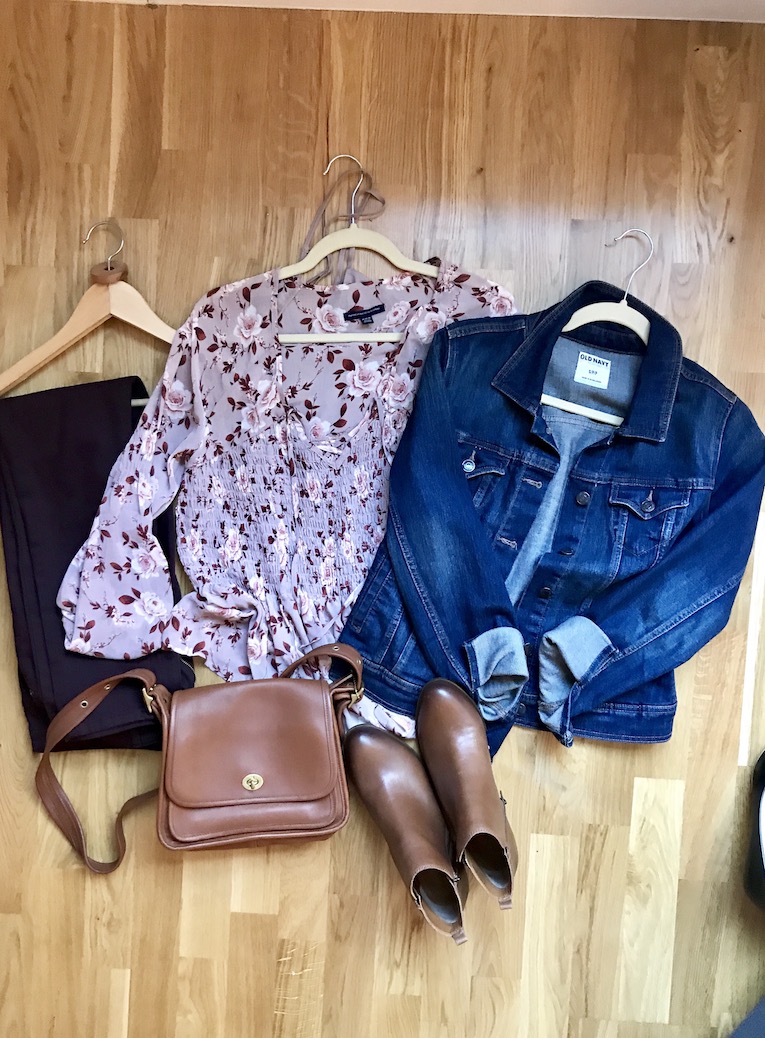 Take the same jeans and shoes, switch the top and add a jean jacket and again…totally different outfit.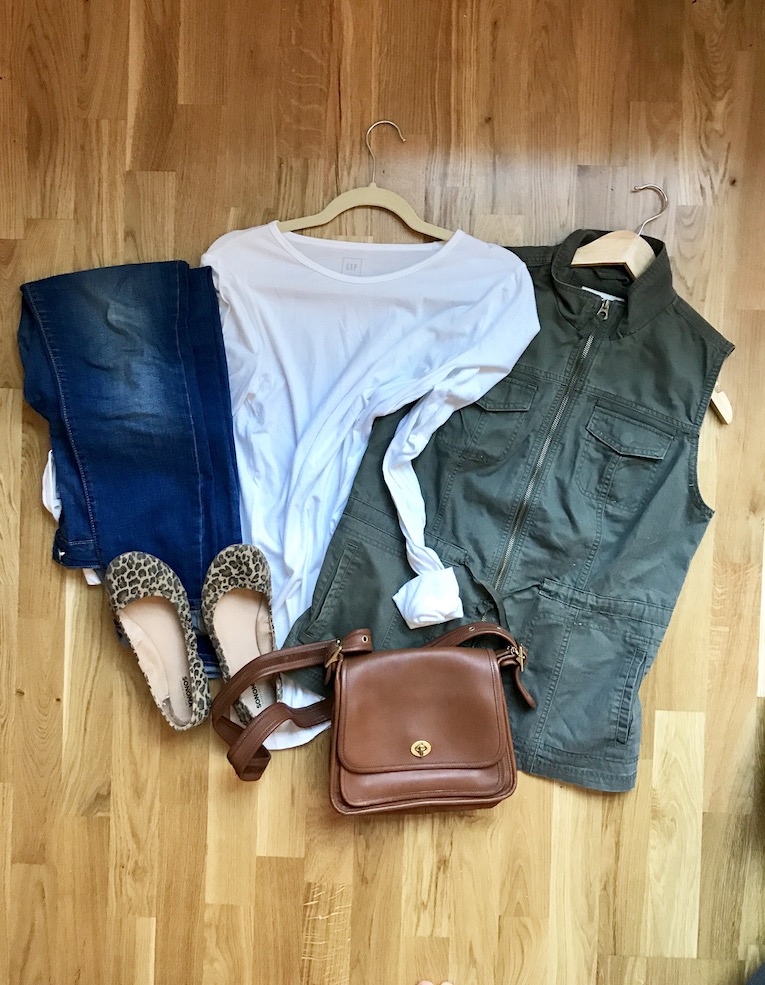 This is basically the same outfit as the first one too, but I switched the wine jeans for denim jeans and you can see it still looks pretty different even with one swap.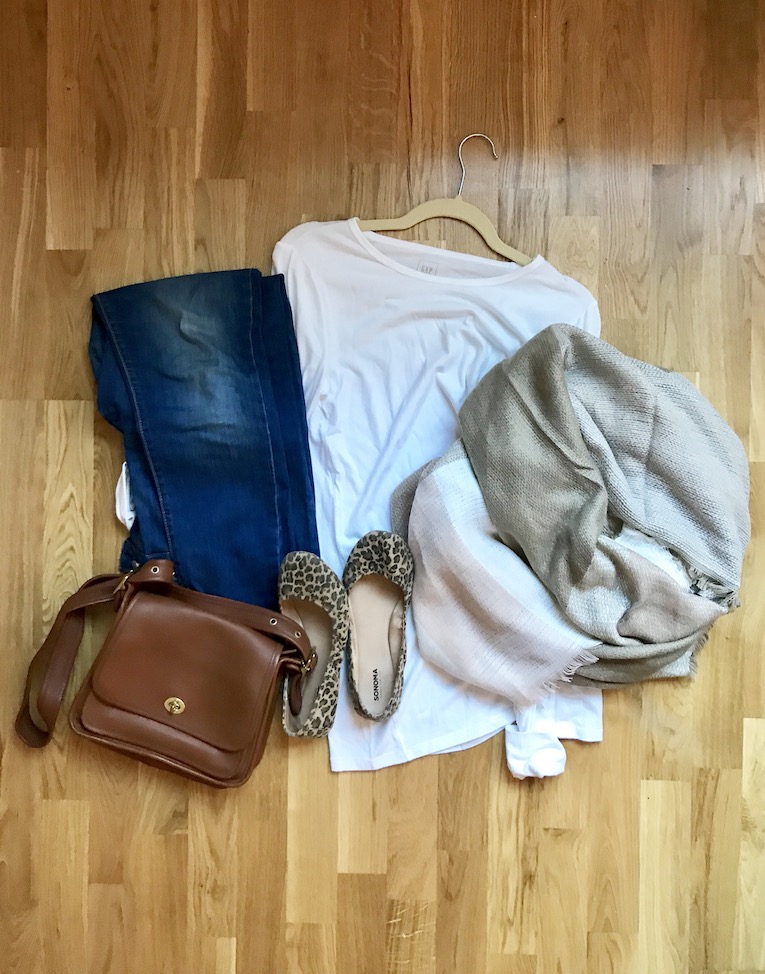 Again, take away the vest and add a scarf and you've got a totally different outfit that's perfect for a casual weekend.
Those are just a few different looks using a handful of the 24 pieces. Have fun with it!
I hope you guys found this post helpful. I'm certainly no fashion expert and don't want to spend a lot of money on clothes so I've found an everyday capsule wardrobe an easy and simple way to get away from yoga pants and a t-shirt every day and dress myself like a real human 🙂