After traveling the past 3 out of 4 weekends this weekend was nothing exciting, but exactly what I needed.
Friday evening I came home after work more than ready for the couch and some Netflix. You couldn't have paid me to socialize. Nick had picked up a pepperoni frozen pizza from Whole Foods so we jazzed it up with some mushrooms, onion and kale. While the pizza cooked, we cracked a bottle of red wine and snacked on a cheese board.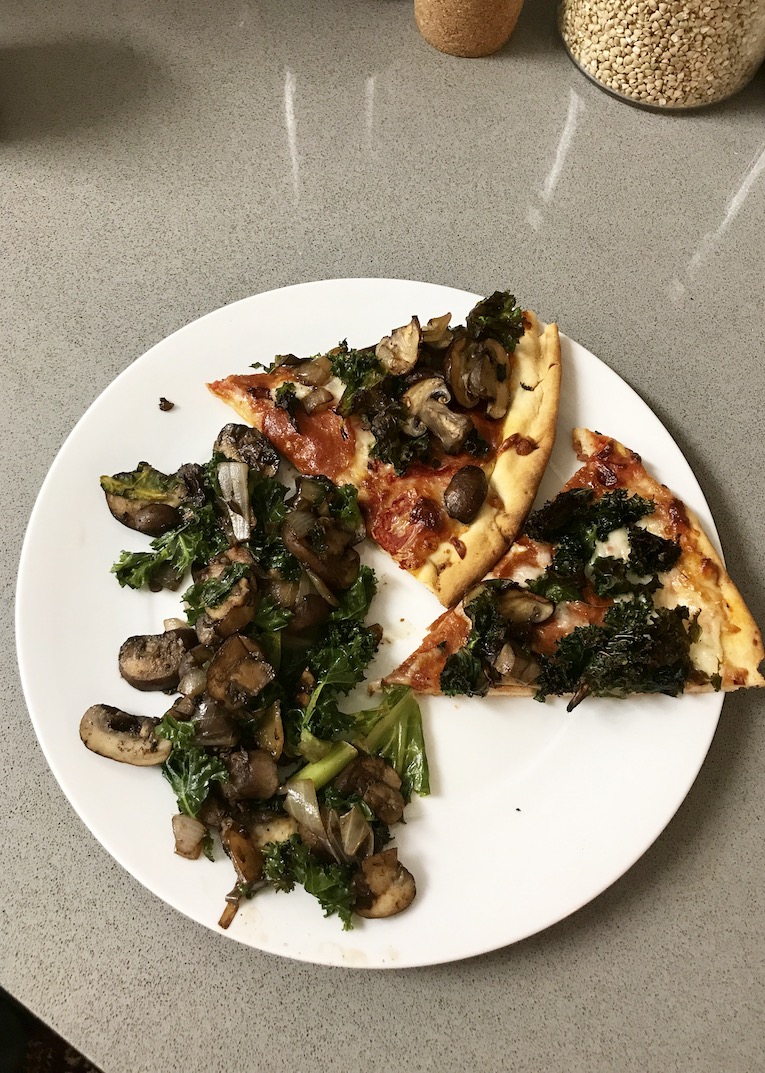 We spent the rest of the night catching up on This is Us and eating pizza and some extra sautéed veggies. I ate these two slices + 1 more and then had some ice cream before I started to fall asleep on the couch at 10pm…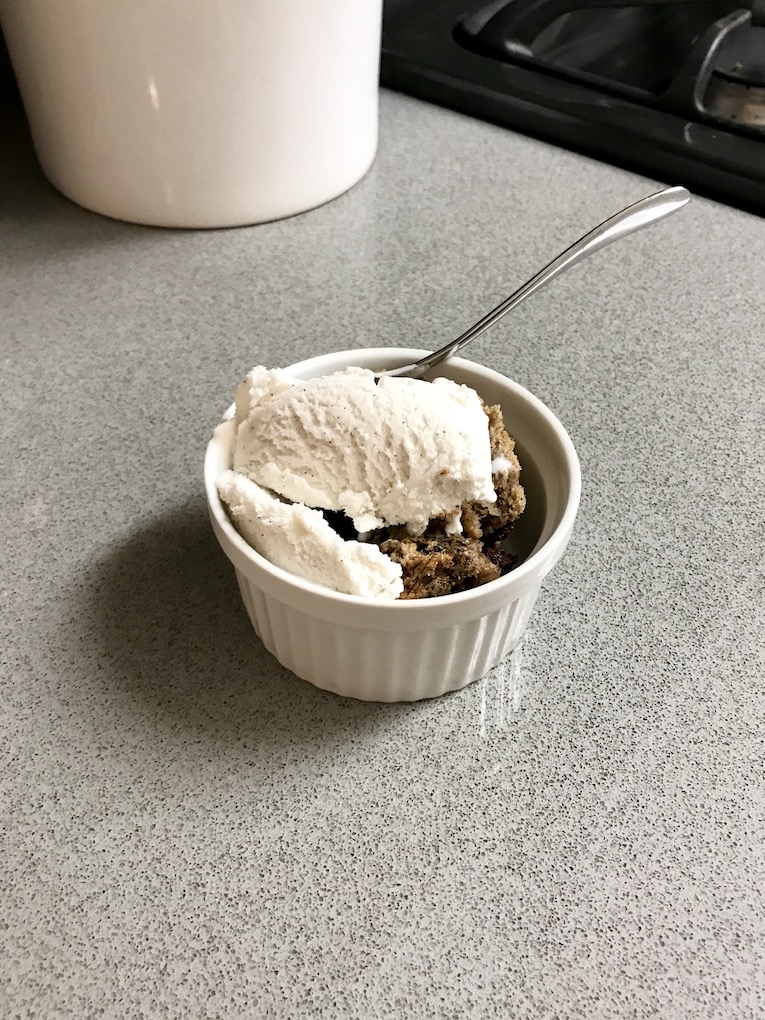 Saturday morning I was up a little before 7am to have a quiet morning readings and drinking coffee before getting on back to back calls. I had a branding call (yay for blog changes in the upcoming months) and then a couple Nutshell client sessions. In between calls I toasted up a bagel and scrambled some eggs. I think I've figured out how to have the best of both worlds with it comes to the sweet or savory bagel dilemma. I spread cream cheese on both halves but sprinkled TJs everything seasoning on one (so it tasted exactly like an everything bagel) and spread jam on the other. Like two bagels in one. Anyone else think this is something to get excited about?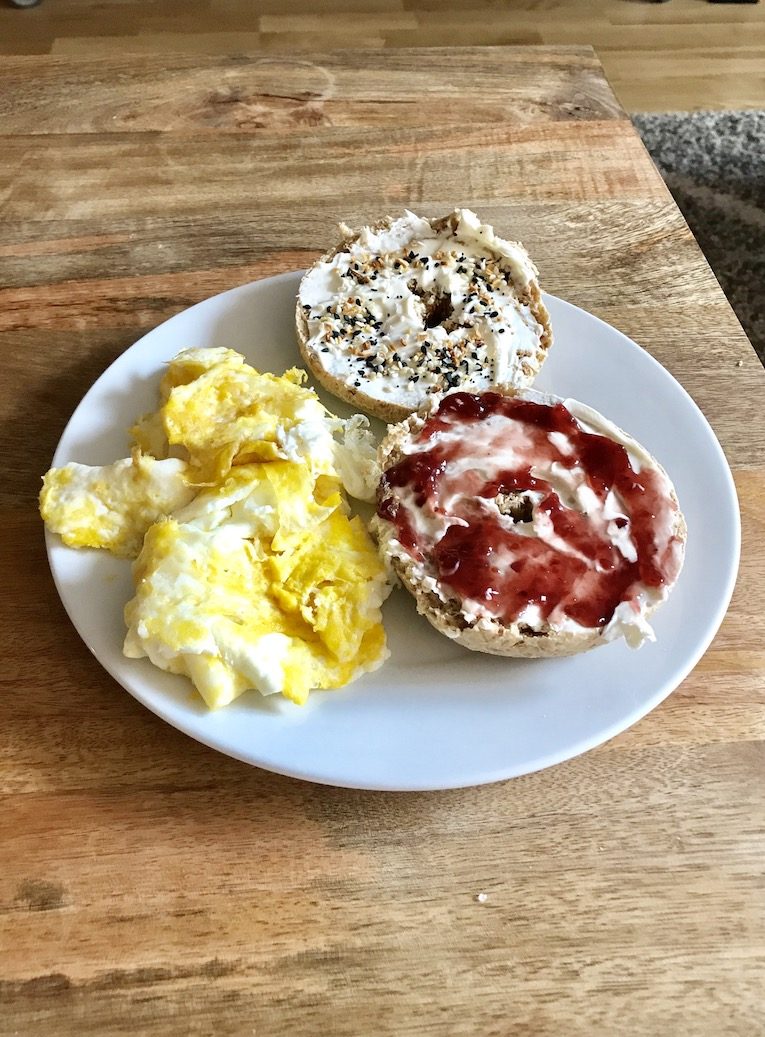 By the time I was finished with calls and sending out follow up emails it was noon and I was more than ready to get outside and move my body. I ate a banana + pb and then headed out on run along the river. Nick went grocery shopping to get stuff for dinner since we were hosting friends so I asked him to surprise me with something good for lunch.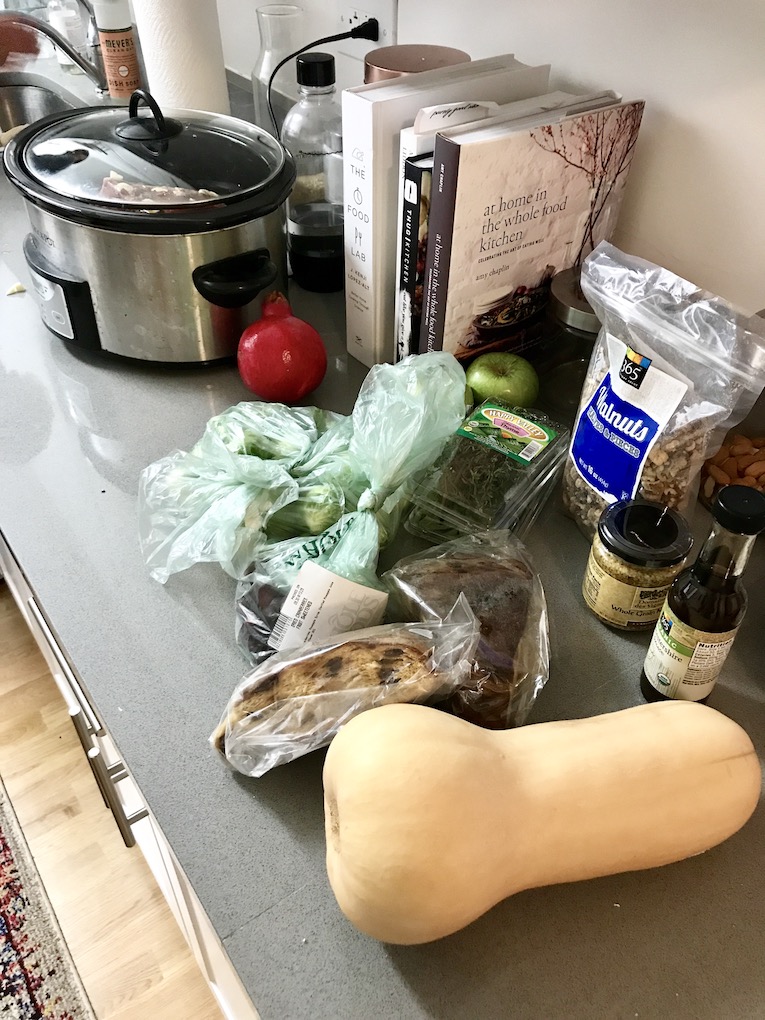 He delivered.
Apparently Whole Foods has a fast food burger bar that I had no idea about?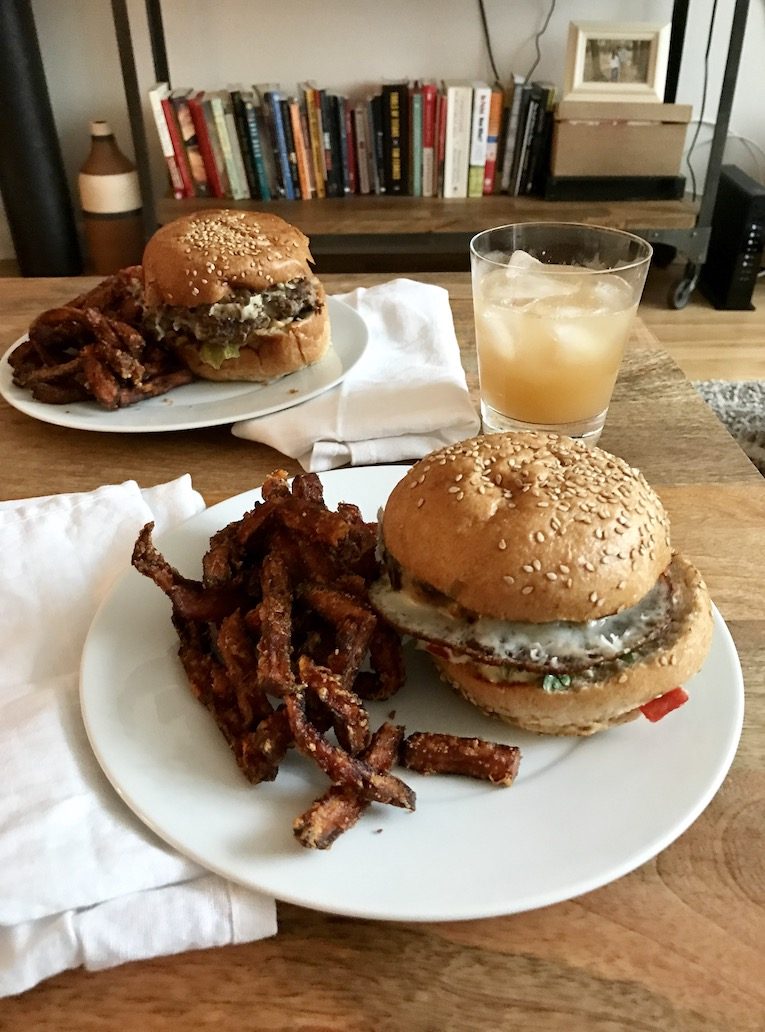 The burgers were fab….except I wish the bun would have been softer but other than that they hit the spot. It was the sp fries though that stole the show. They tasted almost double fried and were perfection.
Saturday afternoon was spent around the apartment. I wanted to clean out my closet and transition my fall capsule into the closet and pack away all my summer clothes. I think summer is finally over (I hope…I much prefer colder weather) and pulling out cozier clothes made me so excited. I'm going to do a post on this season's capsule this week if anyone is interested – I've gotten some requests so look out for that!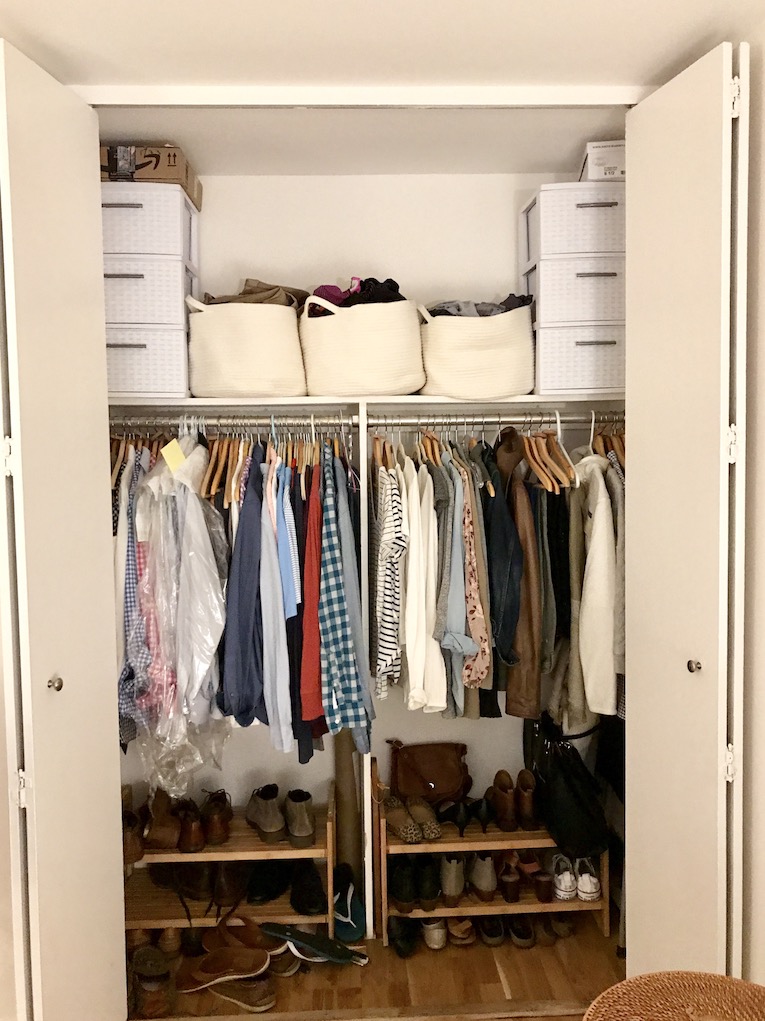 While I cleaned + organized Nick cooked. Anyone else just want to hang around home and do really mundane things like clean and cook when you've been traveling a lot? I feel like whenever I'm gone for back to back weekends all I want to do is be as low key and boring as possible.
We took a walk along the water in the evening. It was chilly and windy, but so pretty. The sunsets lately have been gorgeous.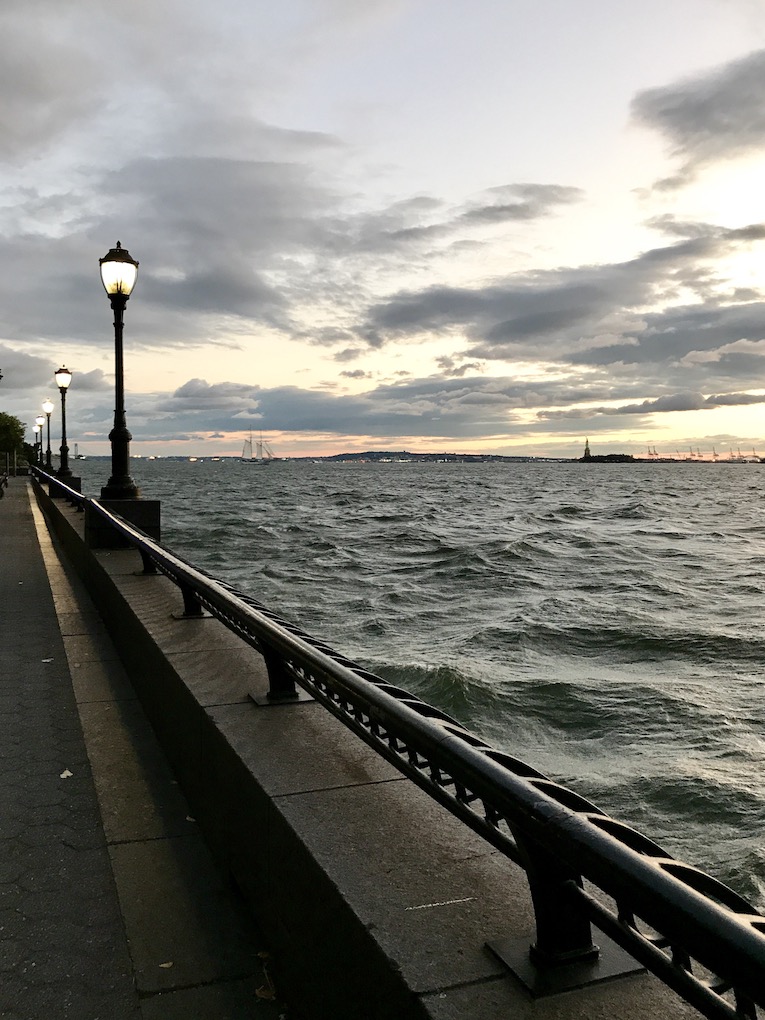 And then we had two couple friends of ours over for dinner. We try to get together with them every week but we've all been traveling so this was long overdue. We made Manhattans and snacked on meat + cheese.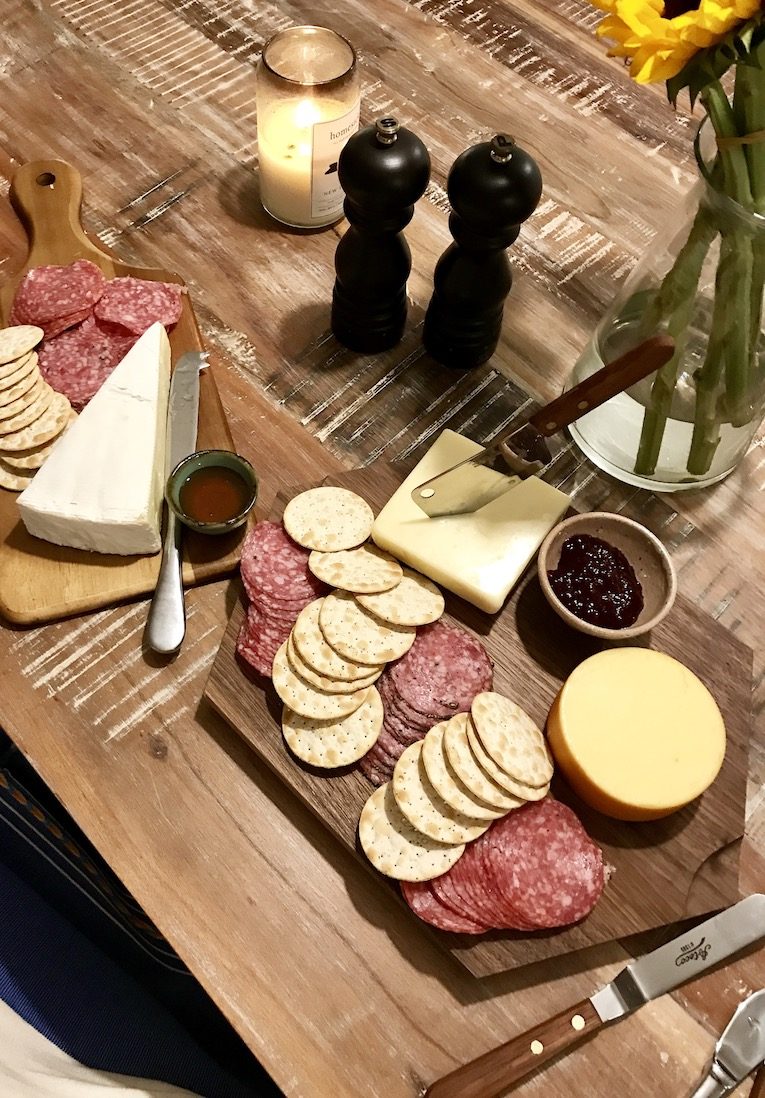 And then dinner! Nick cooked a beef roast in the crock pot with a balsamic glaze. We made a butternut squash, candied walnut and feta salad that was so good (I went back for thirds of that..) and also had a roasted brussel sprout salad with radicchio, bacon and these insanely delicious croutons. Basically, we cut up a raisin cake that was almost like a large raisin crescent roll (you could probably use raisin bread I'm guessing?) then coated that in butter and parmesan cheese and roasted the bread in the oven. The apartment smelled amazing.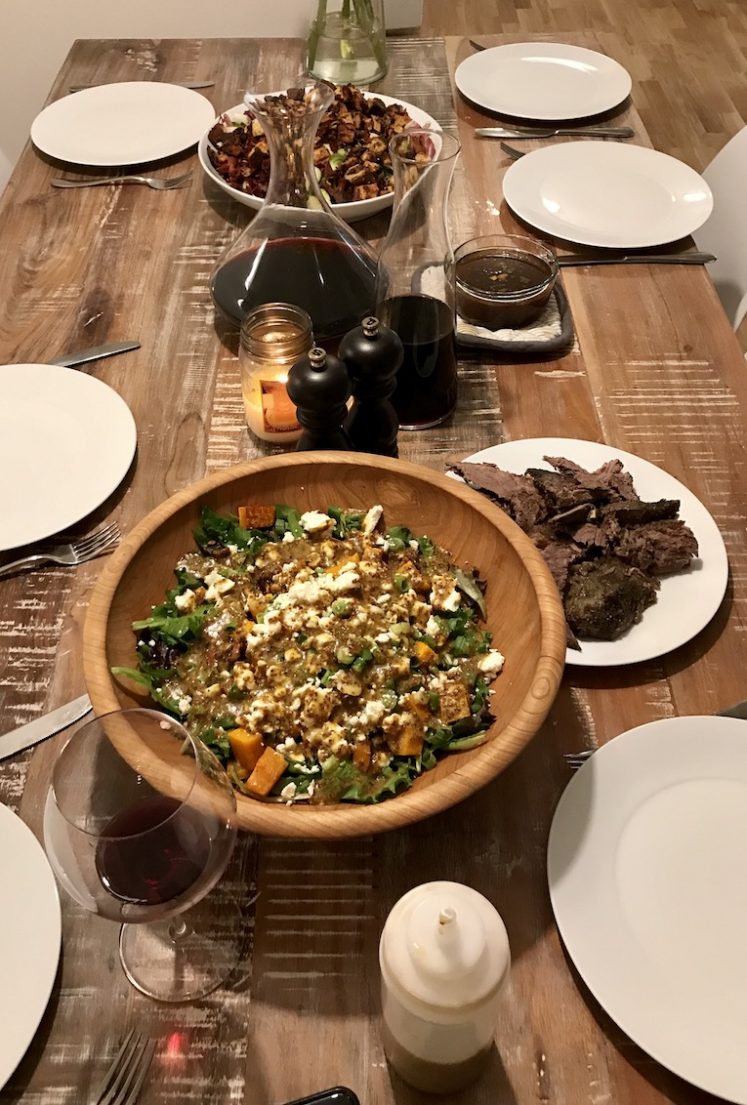 We ate, drank wine and talked until well after 1am. Great great night.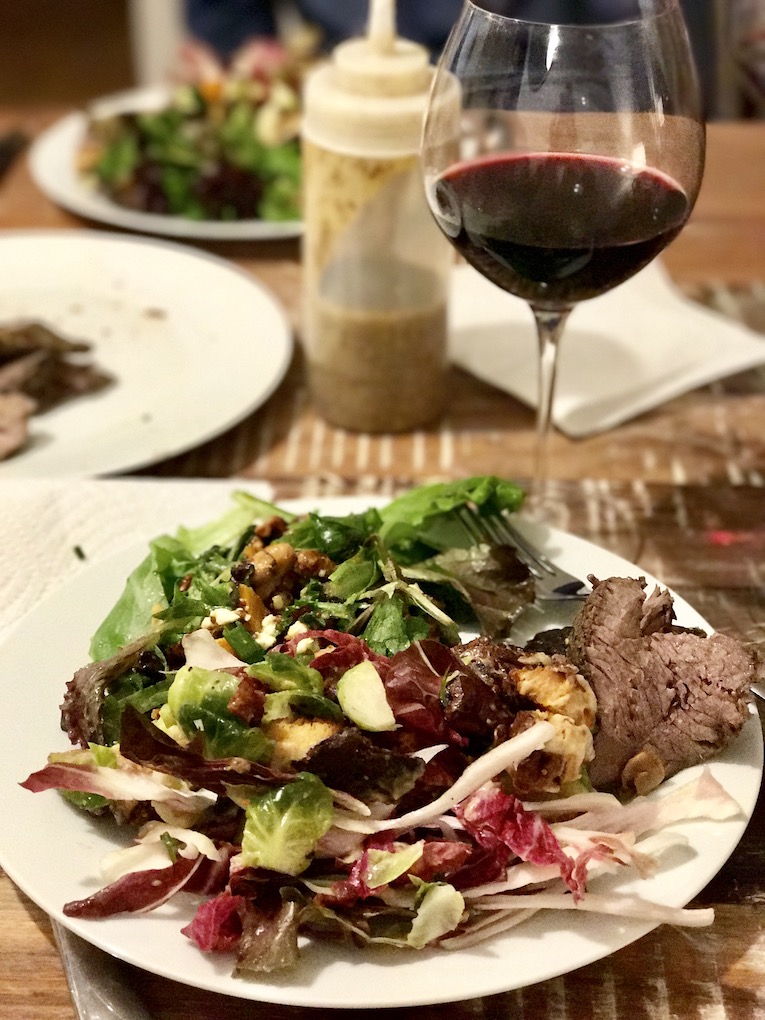 Sunday was a slow morning. We slept in till 9am and I spent the morning flipping through this cookbook looking for some meal inspiration. Also, this cookbook is beautiful and reading through it always gets me excited to cook.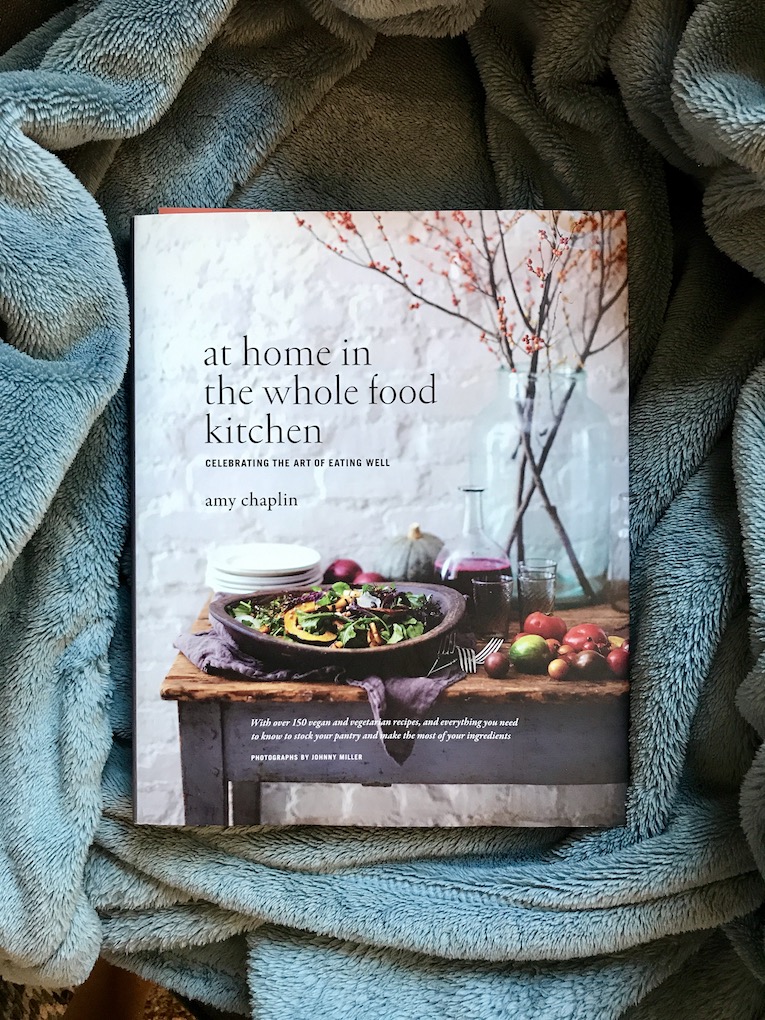 I made pumpkin pancakes for breakfast following this recipe which is one of my favorites because it's so easy and makes minimal mess.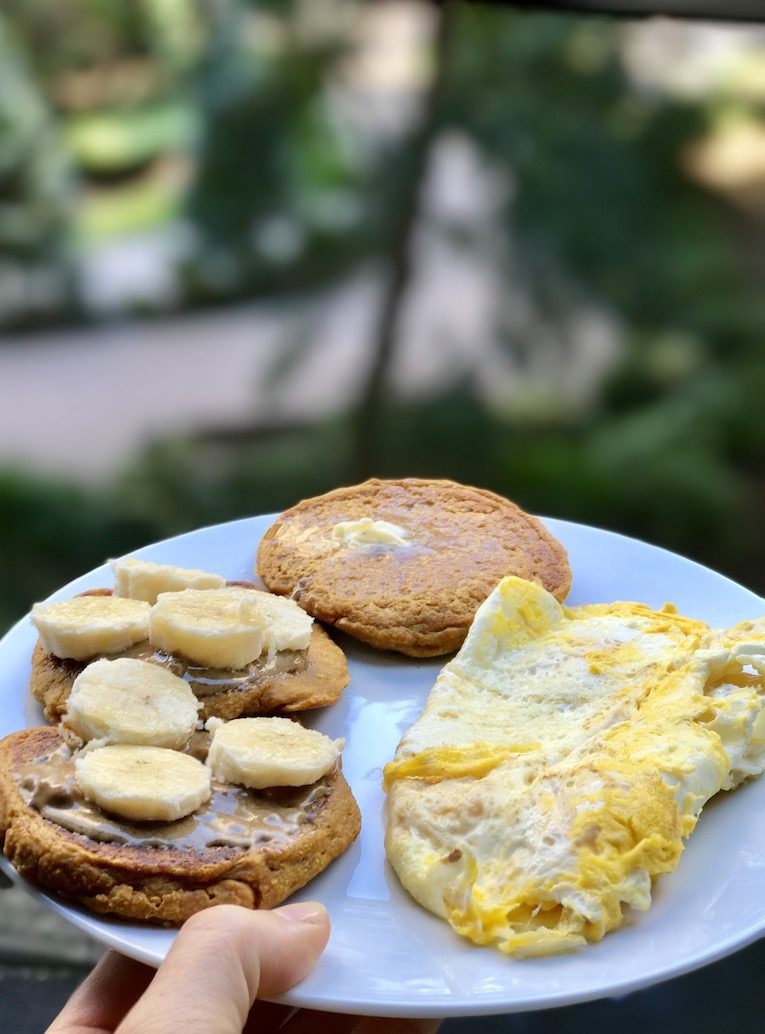 Sunday afternoon we prepped some lunch veggies and made these enchiladas for dinners this week. After going through the cookbook a craving hit and all I wanted was enchiladas. I also made some pumpkin bread because tis the season.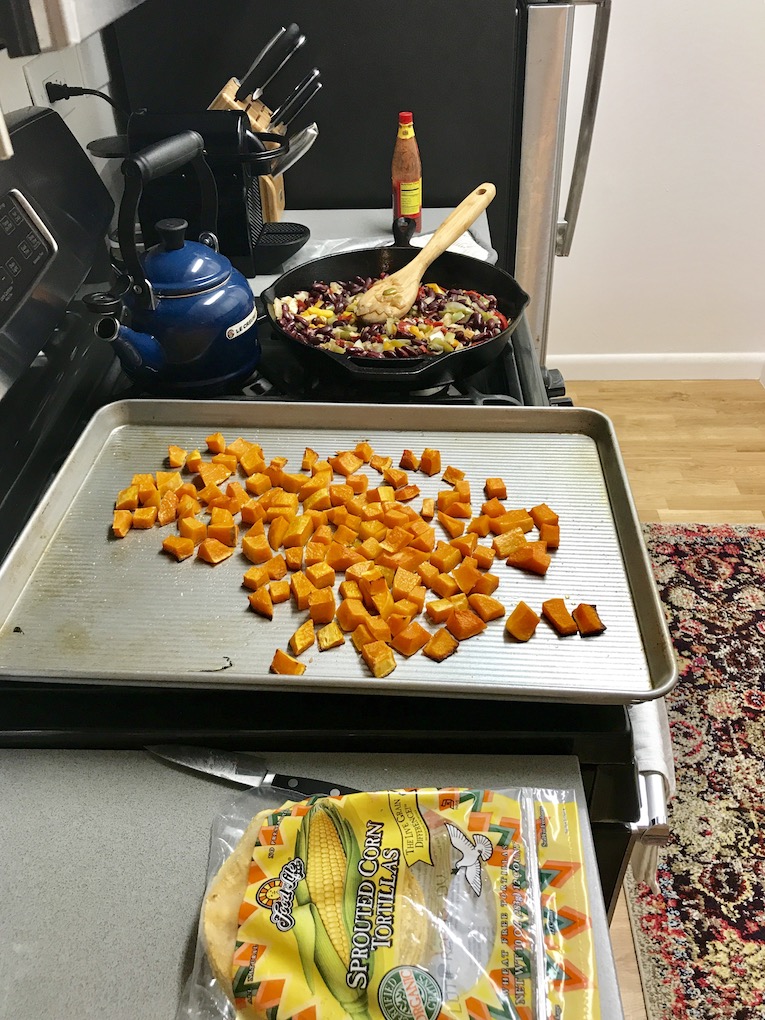 Lunch consisted of a green smoothie + cheese and crackers while writing this post.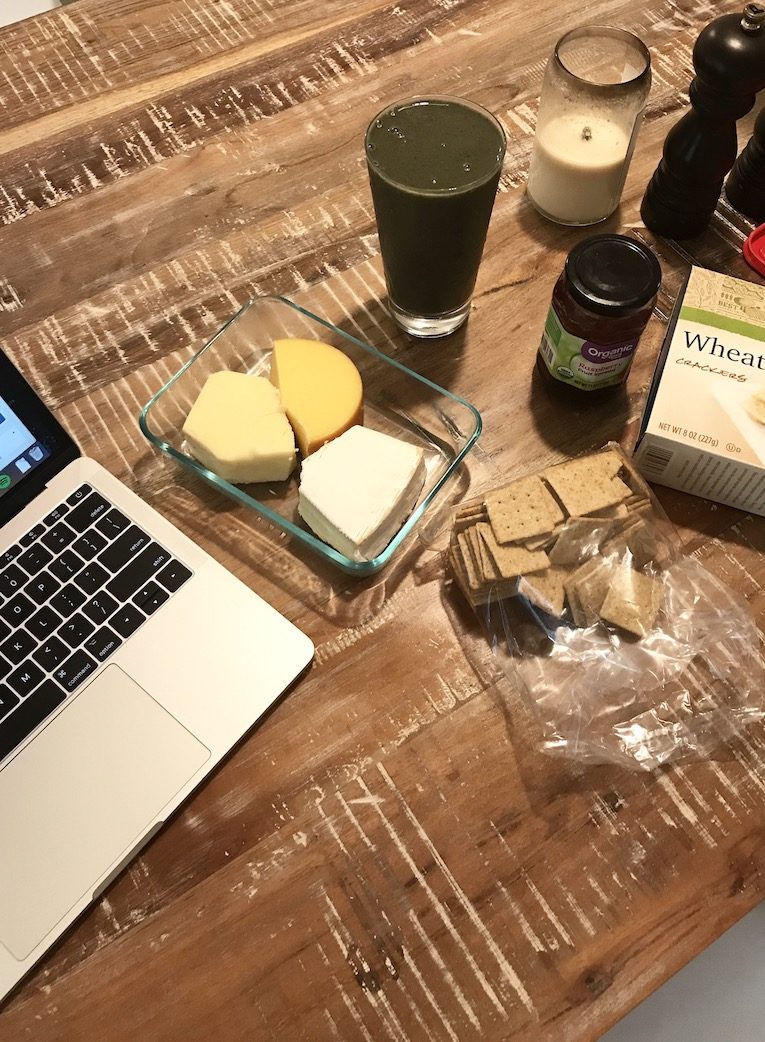 I went on a walk with my friend Hannah Jane in the afternoon. She's moving next week and I'm really sad about that. It's been a hard year with several of my really close friends moving from the city. But that's how the city is – people come and people go and the hardest thing is realizing…"okay, there are good things to come, but this season is over." But for all you Atlanta people, you're getting a gem 🙂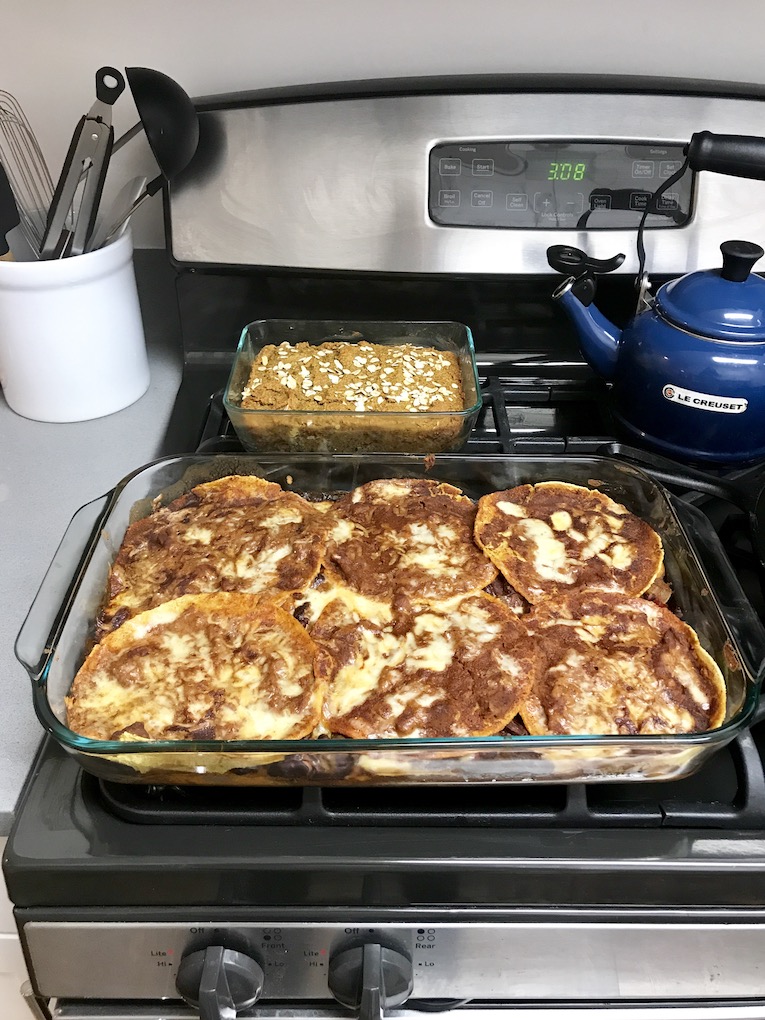 We wrapped up Sunday with evening church and then came home to chill, eat some enchiladas for dinner and watch some more This is Us. We're only on episode 10 of season 1 and I want to eventually be able to watch the show when it airs during the week so I'm making us watch as many episodes as possible.
And that was the weekend. Low key and slow paced but exactly what I needed I think.
How was your weekend? Share in the comments!