The more I immerse myself in the anti-diet world the less vulnerable I feel to diet messages. Diet culture still surrounds me, but my mind feels wrapped in anti diet bubble wrap so it's protected from diet messaging. But when I find myself in new situations or spending time with new people, I more often than not (which is a sad reality that I hope changes in our generation) overhear so much diet talk. It's a stark reminder of the prevalent diet culture and language unless we take an active role in disengaging from it.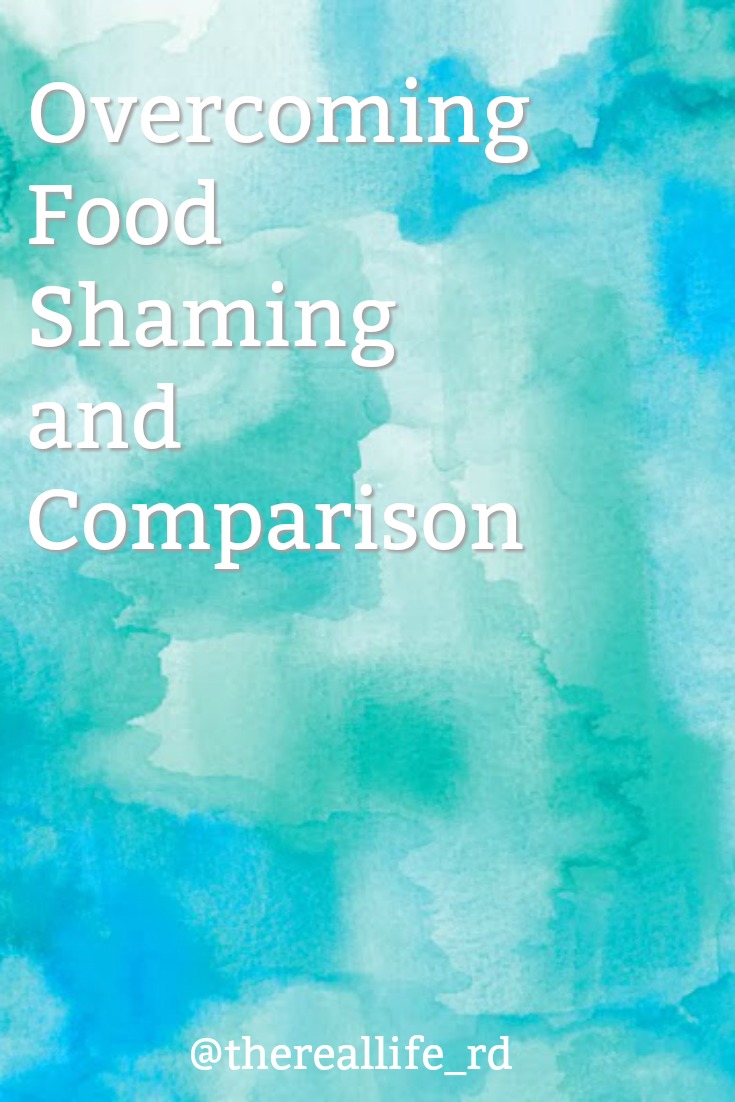 Some things I've heard that have stuck out lately are…
"I read that _____ causes your body to _____."
"I feel so full. Ughhh. I'm eating all the vegetables next week."
"My friend has such an awesome body and she says that she eats _____ ."
And then you wonder, "Wait, should I have eaten that?"
And most frequently…. "Ugh. I shouldn't have eaten that."
Maybe you've found yourself at dinner with your friend and she isn't that hungry so she orders a couple appetizers for her meal. You had your mind set on the hamburger and fries. You were looking forward to that burger until she ordered appetizers and now you're second guessing yourself.
Maybe you eat a cookie without hesitation, until your friend starts talking about how she is going to workout extra hard the next day to burn off that cookie. And now you're wondering if maybe you should too?
Should you drink that second glass of wine? Why is she ordering a salad? If I finish this entire plate does that make me gluttonous? Or was my body simply hungry for that amount of food?
I've been there. Justifying my food decisions based on another person or some other arbitrary food belief. Maybe you have too?
Food comparison and food shaming sucks the pleasure and joy right out of food.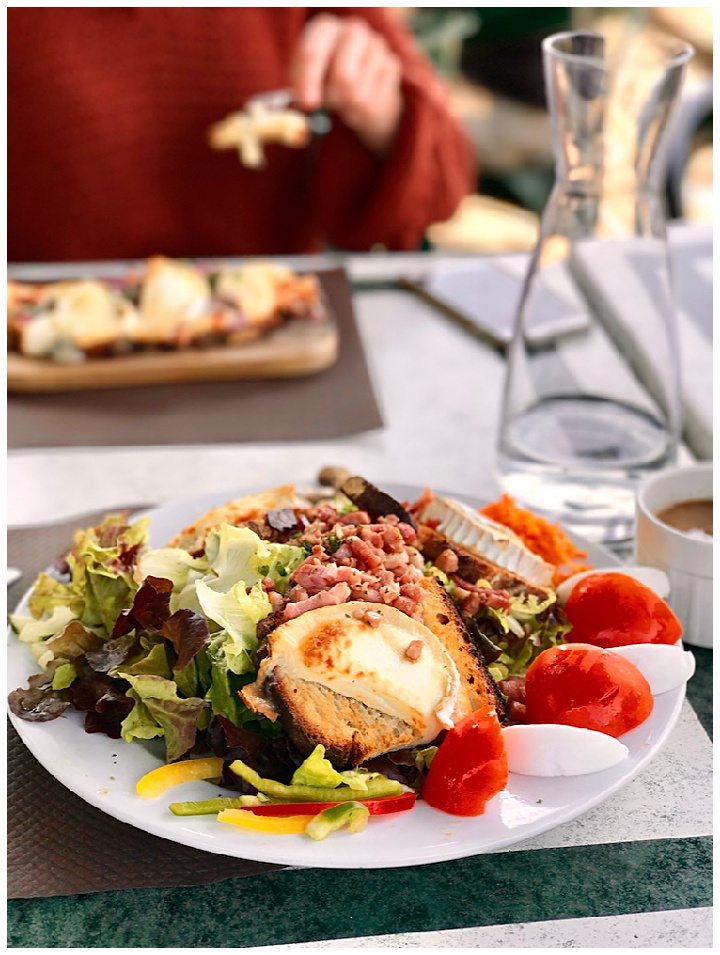 How can we overcome this? How do you quiet the noise, tune into your own body's wisdom and in turn…build confidence in how you nourish and care for yourself?
When other parts of our lives feel chaotic or messy….we often look to food as something to control and manipulate. And when we start to feel a feeling that we don't want to feel because it's painful and uncomfortable….we often use food to avoid experiencing that emotion or feeling. Either way, food is used to satisfy an unmet need.
In both my own experience and in practice I've observed a common awkward and uncomfortable, yet freeing and relieving transition that occurs when we give ourselves permission to eat according to hunger + satisfaction instead of diet rules. It feels liberating to not be under arbitrary food and exercise expectations…but it's also an uphill battle to stop comparing what we eat to other people. We live in a culture where pride and accomplishment are associated with eating less, suppressing hunger and controlling the food that goes into our mouths. There's pride in working against our own physiologic needs. Doesn't that sound odd?
Given our culture, it's almost natural and expected to feel guilt or shame when eating more than those around you. We have attached so much morality to food.
How do we get to place where food is completely neutral? Because food is just food. Yes, it's meant for nourishment. But also for pleasure and satisfaction and enjoyment and experience. It has nothing to do with self-discipline, willpower, identity and worth.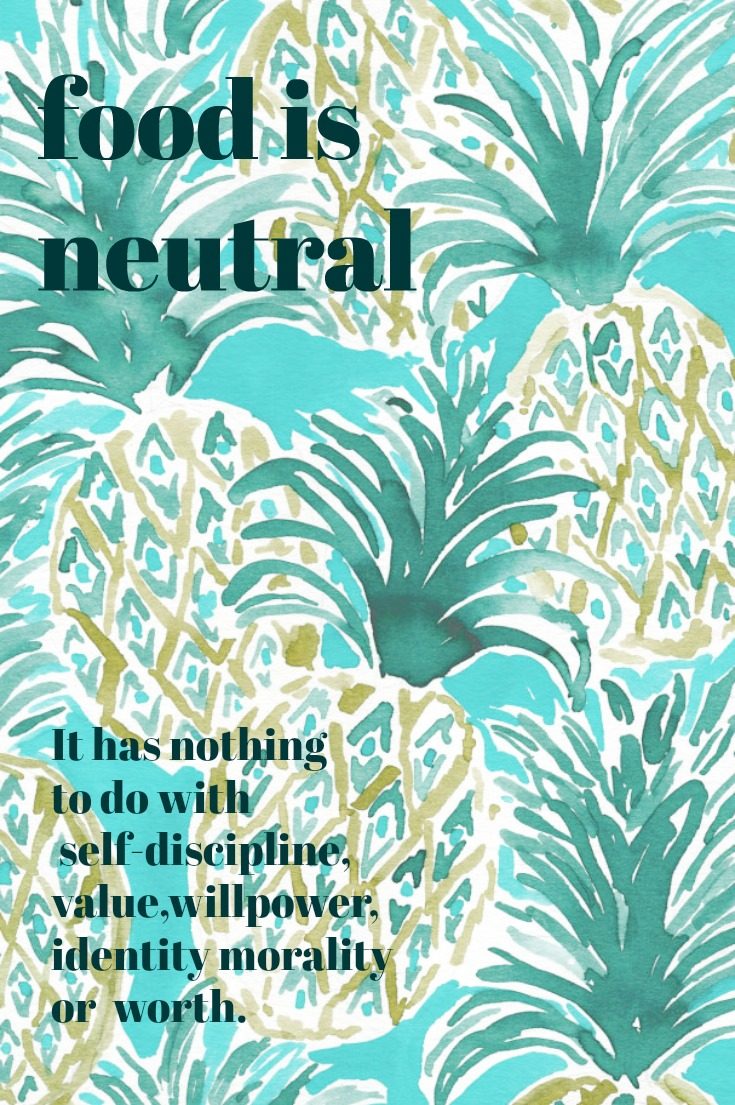 When I was in the beginning of this intuitive eating journey and embracing my natural body size, I would often think about what I wanted to come to mind when people thought about me. I didn't want others to associate dieting, a "perfect" body, clean eater, avid runner, vegan or anything else like that with me. When people thought of me I didn't want the first thing that came to mind to be about food rules or my body. How uninteresting!
I wanted people to think of SO many other things when they thought of me. Hobbies or passions or personality traits or other interesting things. Anything but my food and exercise habits or my body size. If you're struggling with identity, food comparison or morality maybe that's helpful for you too.
It's easy to get wrapped in up in ourselves and our body image. And that makes it hard to focus on anything or anyone else. Thinking about other people – whether that's focusing on the conversation at dinner or thinking of others needs or being there for a friend – helps to take the focus off ourselves and the minutia of food.
Yes food is nourishing, but it's also suppose to bring pleasure and joy. In fact, with intuitive eating—which has been shown to lead to better health outcomes than dieting and restrictive eating—pleasure is one of the 10 central principles. And in order to find pleasure in food, we have to stop looking outward at what other's are doing and instead hone into our own body's wisdom.
As always, if you have thoughts please share them in the comments. I love hearing what you guys have to say too 🙂