We spent the long weekend in Vermont and it was beyond restful. The friends we stayed with when we first moved to Boston, Peter and Phil, grew up in North Pomfret, Vermont and their parents have a beautiful home and property about 20 minutes outside of Woodstock. Every year Deb and Roger host everyone for a long weekend. I missed last year because I was traveling with my mom, which was well worth the miss, but I was excited to make it this year.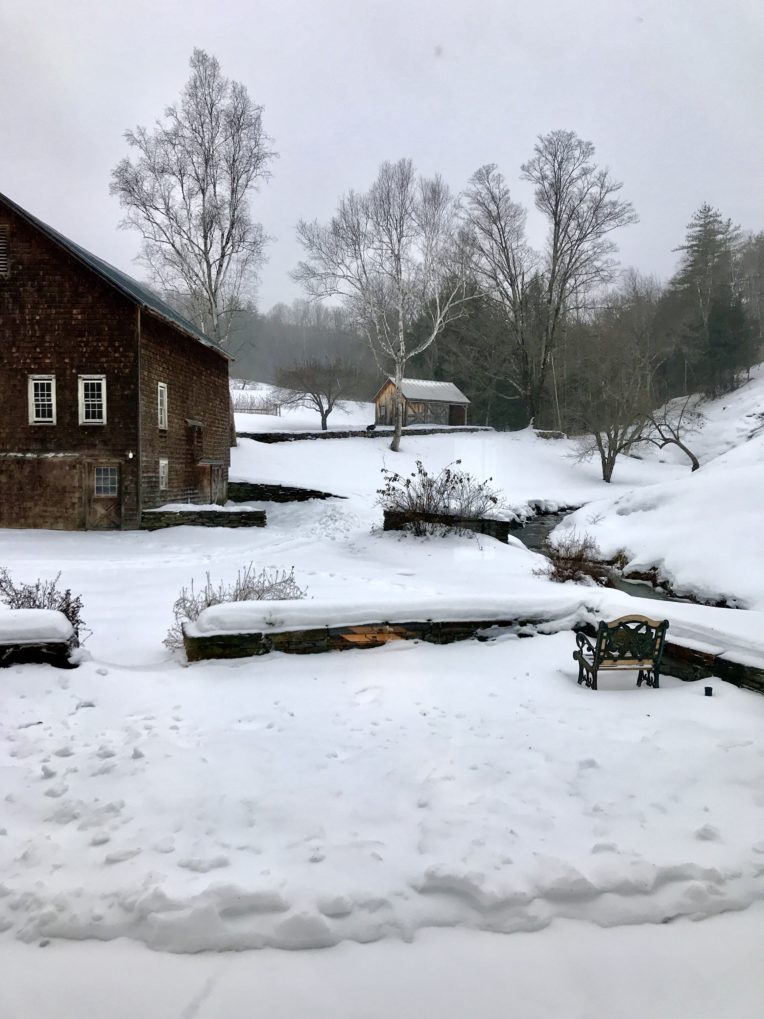 And I was excited because some of our New York friends were driving up for the weekend as well! It ended up being a group of 11 of us. Friday night the 2 hour drive turned into 4 hours due to Boston Friday evening traffic and then there was insane fog. Because it was almost 60 degrees, the snow melting and warm heat was causing the roads to be so foggy you couldn't see past five feet. But we eventually made it around 10pm, ate takeout from Tuckerbox, drank some wine and stayed up until midnight when everyone else from New York arrived. By 1am I crashed into bed.
The next morning we sat around the fire drinking coffee. And then ate breakfast – blueberry pancakes, bacon and eggs. Plus more coffee.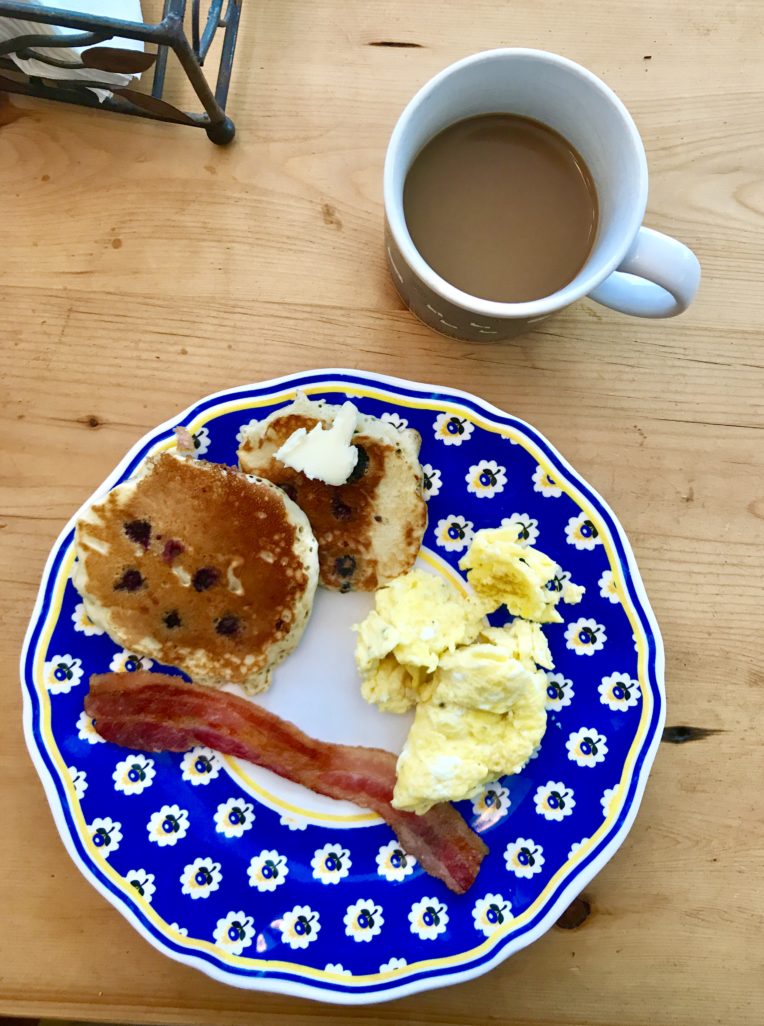 Then we got on the conversation of barre classes and some of the girls had never done barre3 so we decided to do a 30 minute video. The bedroom was turned into a mini barre studio while some of the boys took the snowmobiles outside.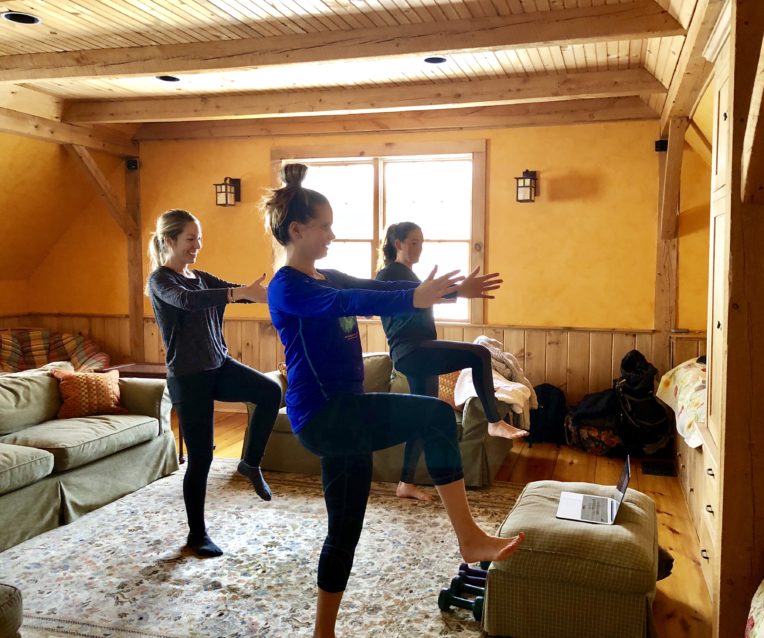 Afterward we ate some snacks, hung out for a bit and then headed outside to snowshoe.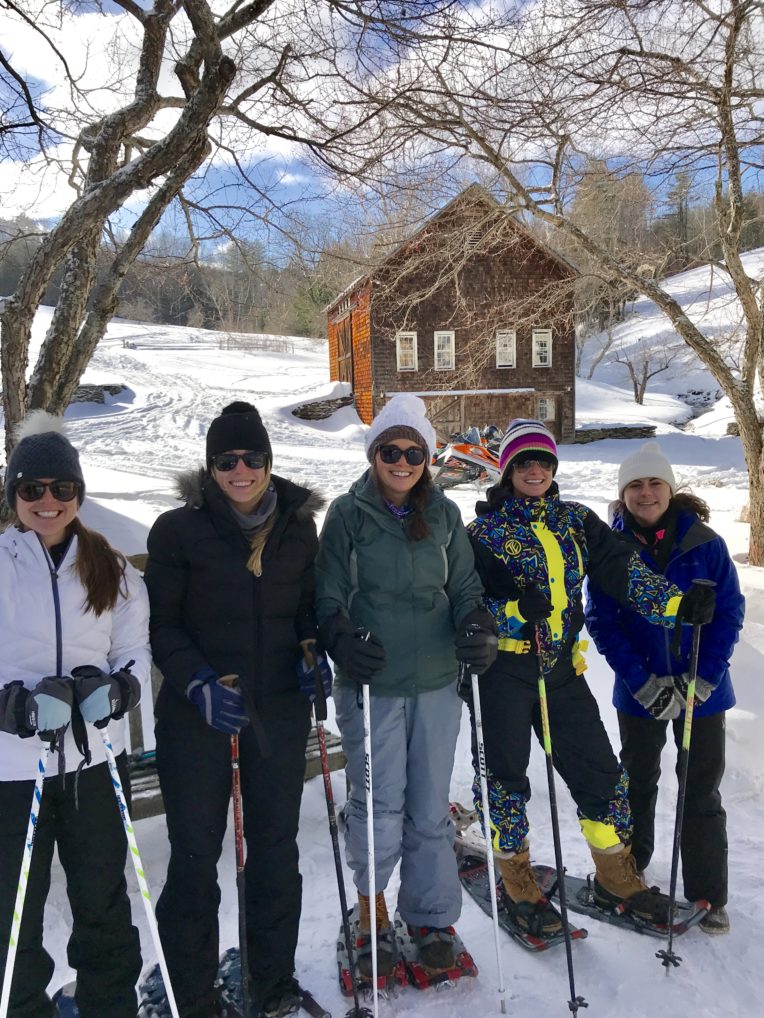 It was cold but not too cold and so quiet and peaceful outside on the trail. I could have been out there forever. The views were gorgeous from the top of the hill.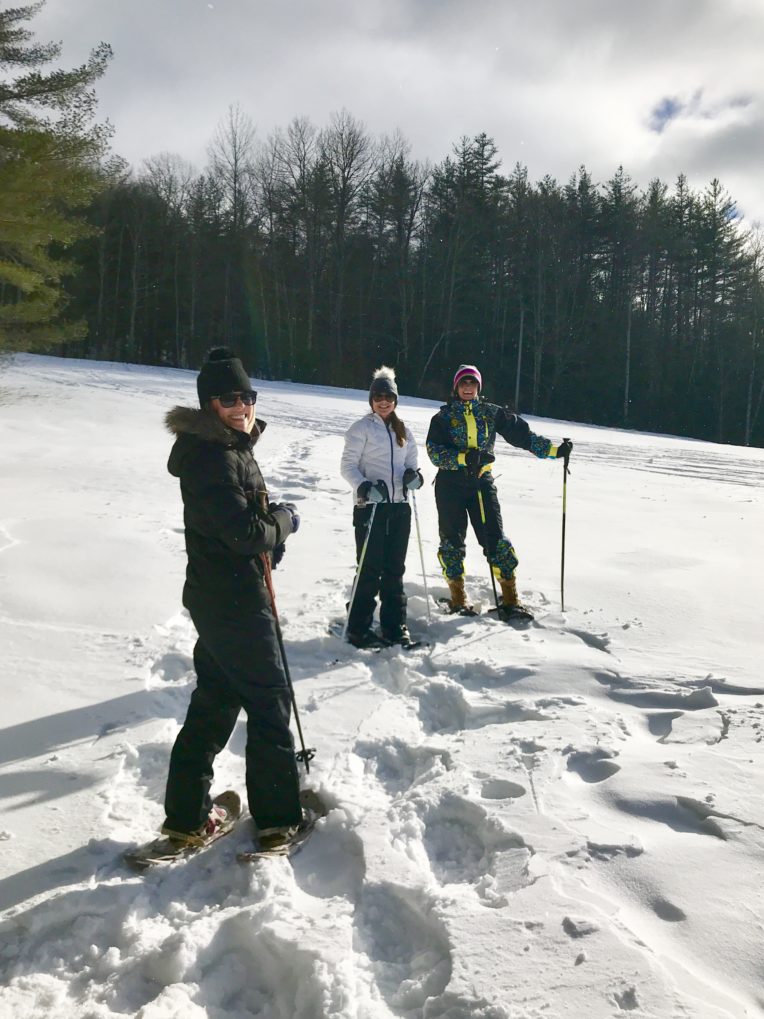 We took a break at the top and then came back down.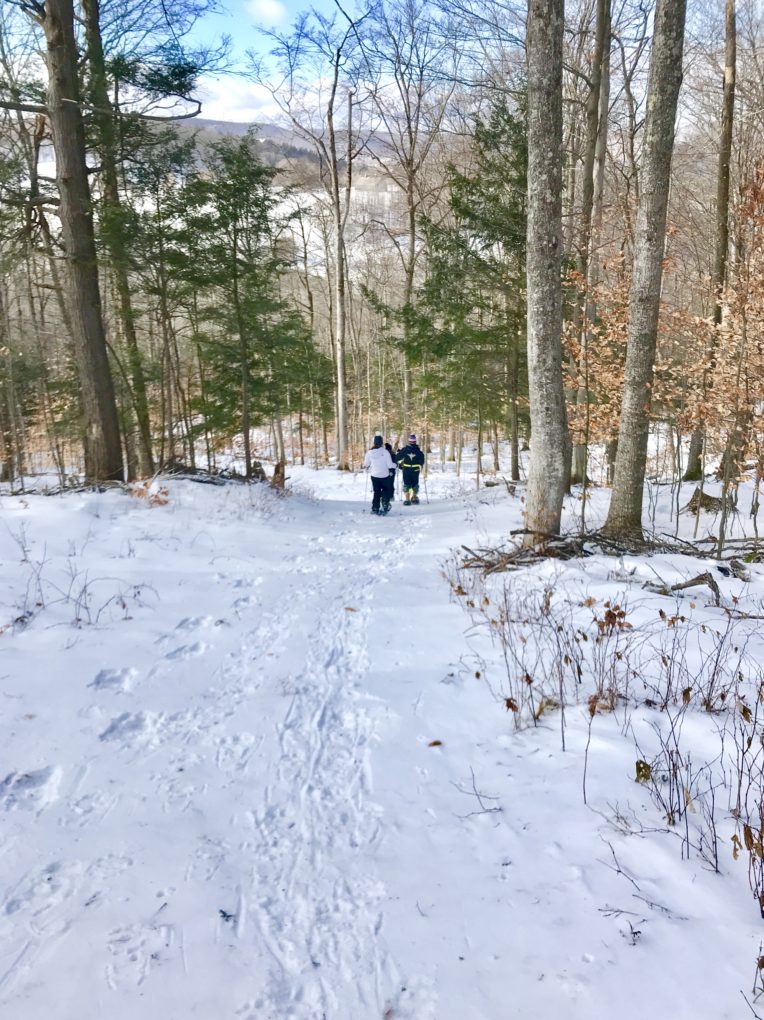 When we got back down, Nicole and I decided we wanted to sled down the hill behind the house. I haven't been sledding in years – probably since I was 14 – and this hill was huge so we had to go. We got the sleds out of the shed…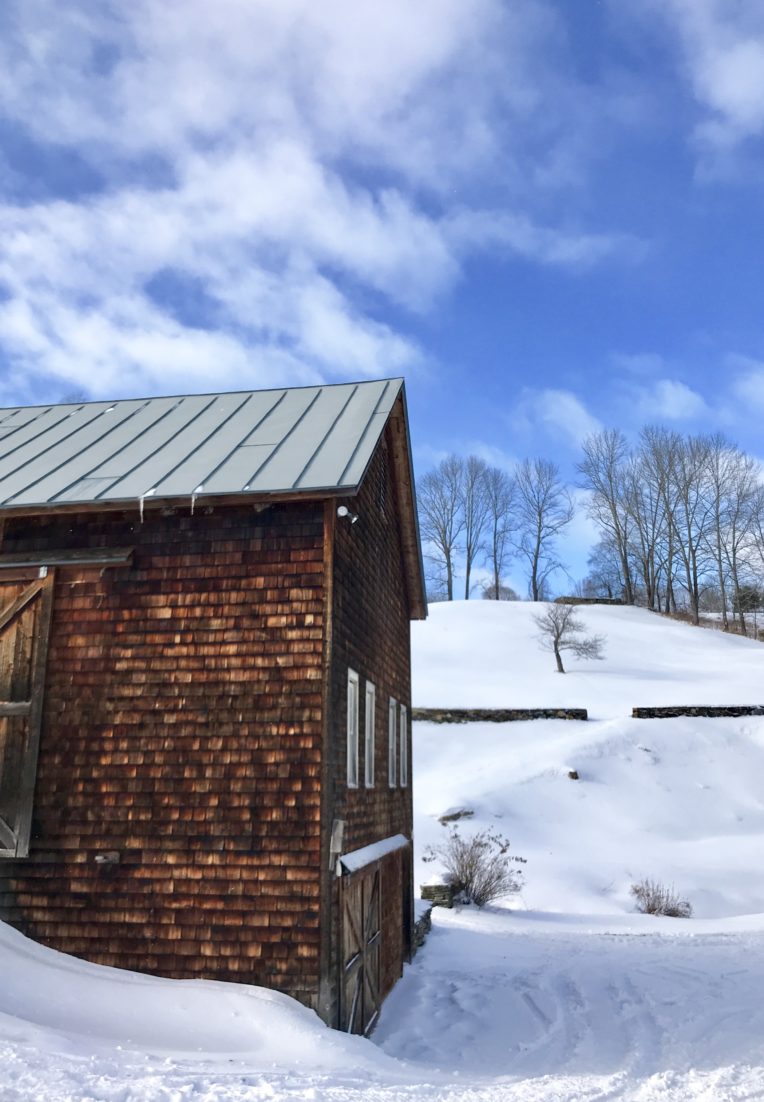 And then we made our way to the top of the hill. The views of the house from the top were stunning too. I kept thinking about how cool it is that there are so many different ways to live. That sounds kind of silly, but the way the boys grew up in remote, small town Vermont is so different than my childhood in the Indianapolis suburbs. And then so different from the kids you see walking around the Upper West Side of New York. Everything is so different and unique in its own way. I think that's cool.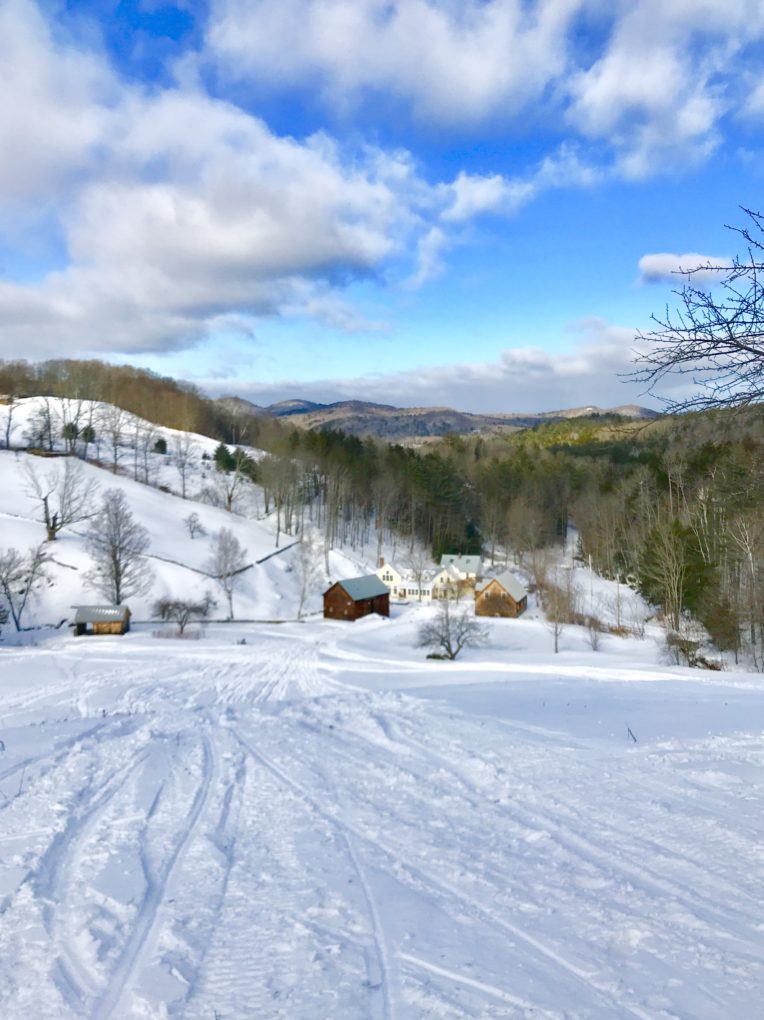 After sledding we came back in for a late lunch. Deb is an incredible cook and made a huge pot of southwest soup for lunch with bread she picked up from the farmer's market. We were well fed all weekend. I topped my soup with tortilla chips, cheese and avocado and paired it with a beer. I'm not a huge beer fan, but after being outside all morning this tasted so good.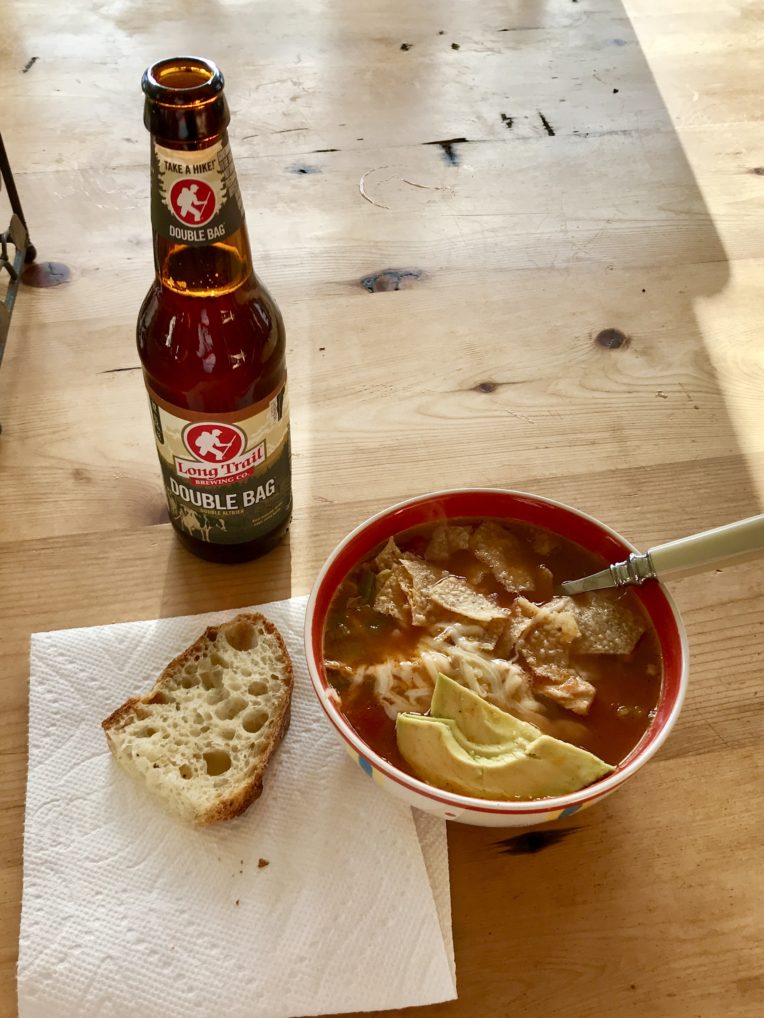 We sat inside for a little after lunch, but before sunset we took the snowmobiles out for a little bit. I get nervous being in control of things like this. Same thing with jet skis …I love being the passenger but being the driver makes me nervous. But I figured I needed to hop on and give it a try. There is a first time for everything.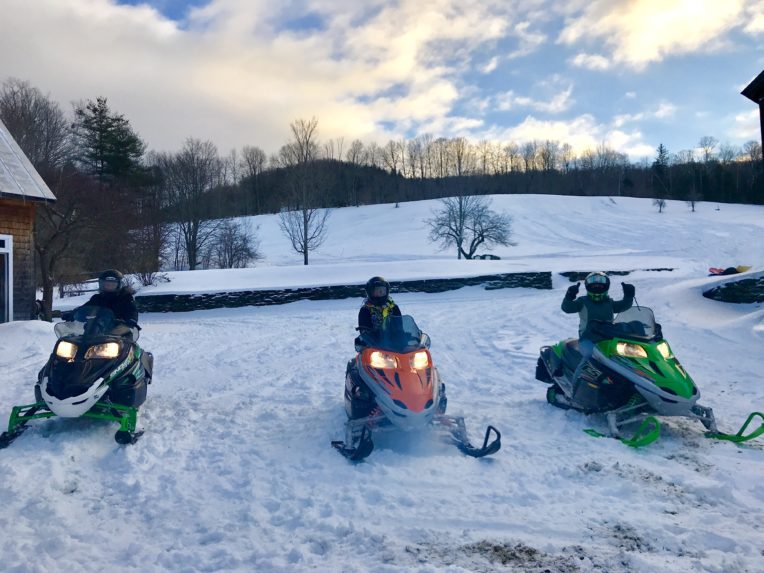 After two loops up and down the hill (we didn't go on the trails since it was getting dark) I was like "I'm done!" But Phil gave me a pep talk and was like, "One more loop!" so I kept going and did end up getting a lot more confident after a few more loops. Thanks Phil. But I still think I prefer being the passenger 🙂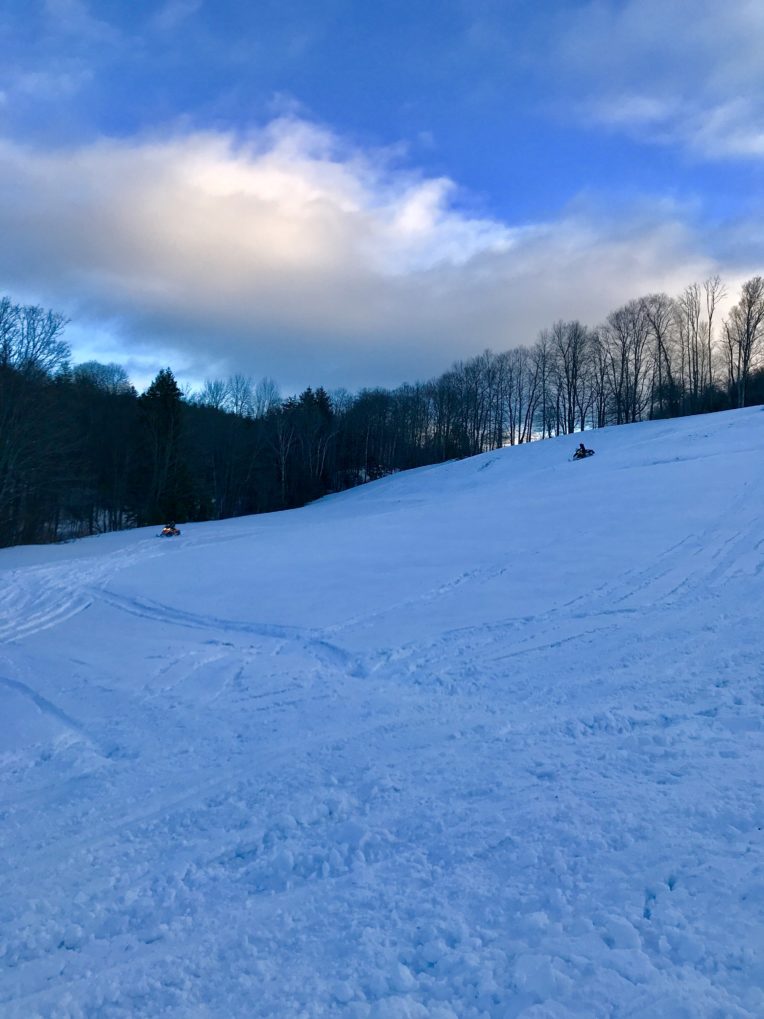 We spent the evening in the hot tub. This photo below is the view from the hot tub that's built into the ground and I thought is was so pretty with the creek running through the snow.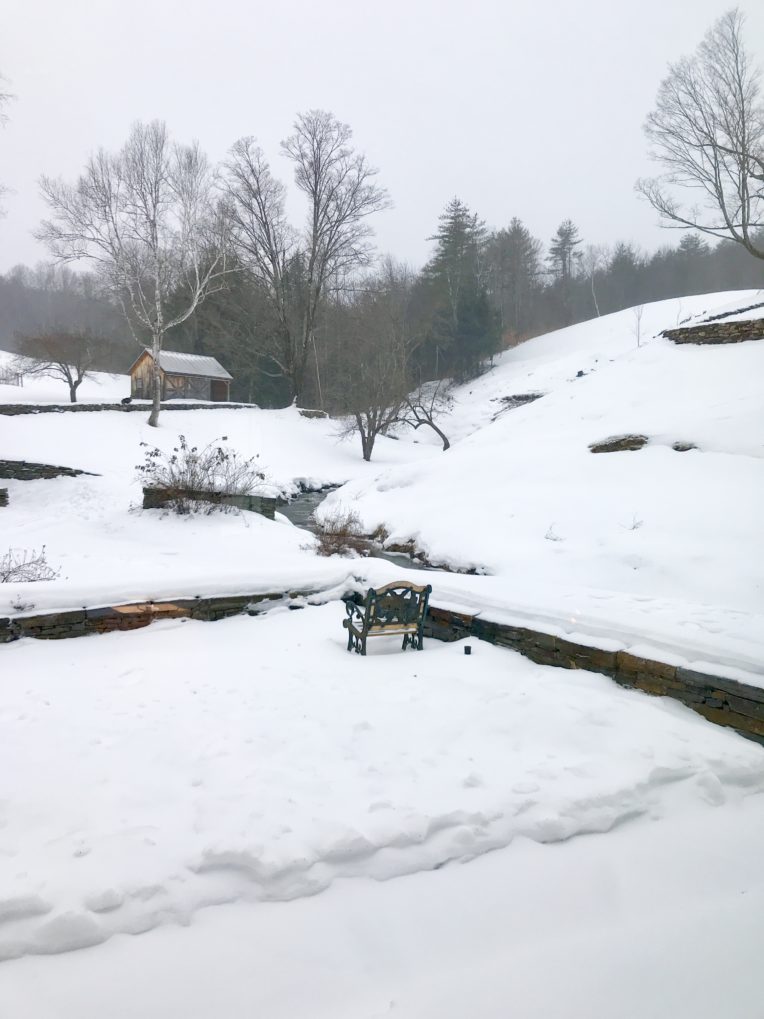 Then I showered. And before dinner we all hung around the fire. I read this book while others worked on the puzzle. I cannot wait to keep reading this book. I'm only a handful of pages in but highly recommend it already.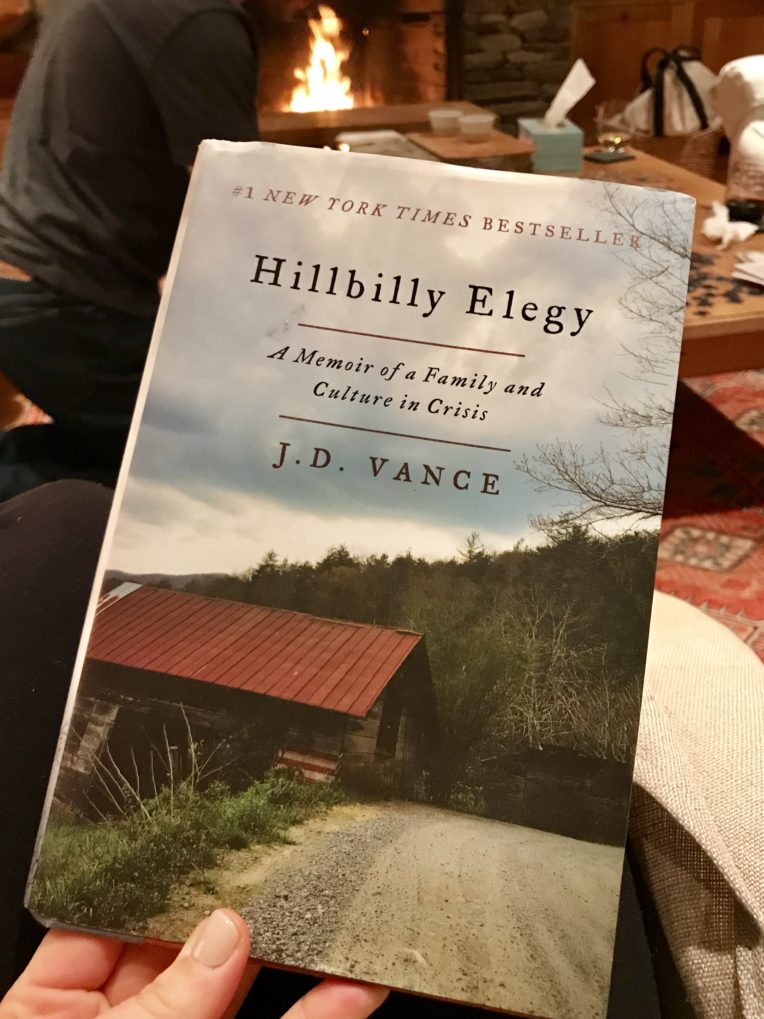 Deb put together a fab charcuterie board with some local Vermont cheese – the goat cheese with ash on the right was my favorite. SO GOOD. I could eat charcuterie for every meal.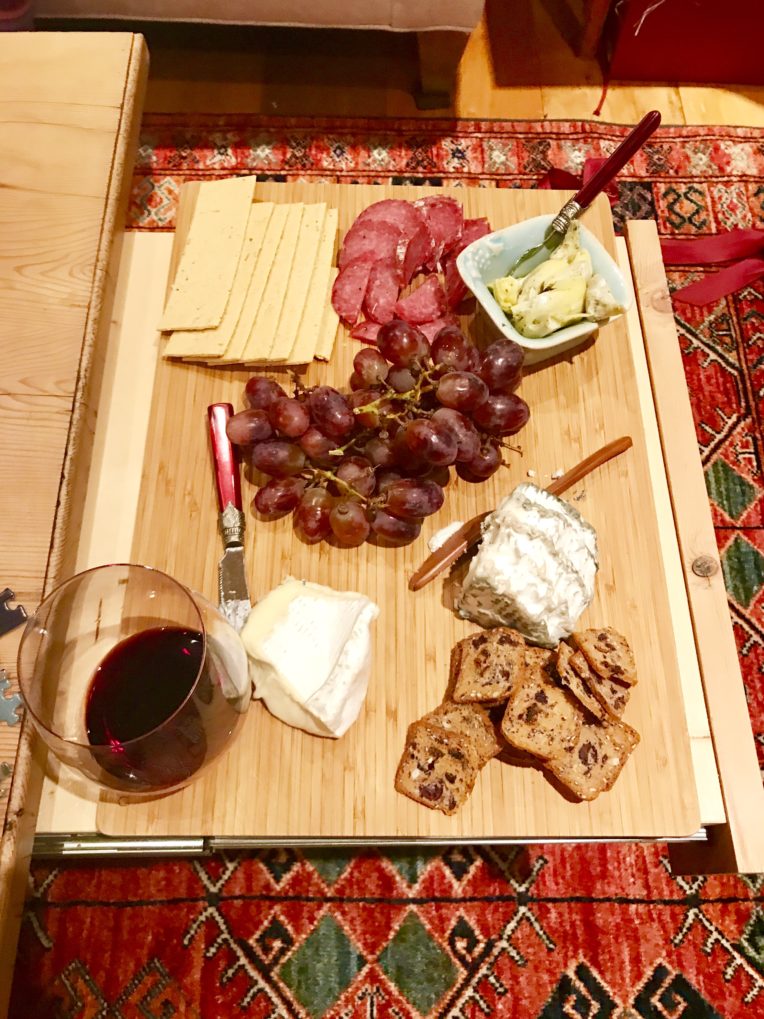 And then we sat down to an Italian feast. The Amatos are half Italian and do not mess around in the kitchen. Deb and Roger taught us how to make traditional red sauce and what I now know….it's all about the olive oil.
Salad + pasta with the red sauce + Vermont sausage + fresh olive bread with butter and red wine. So good. Happy belly.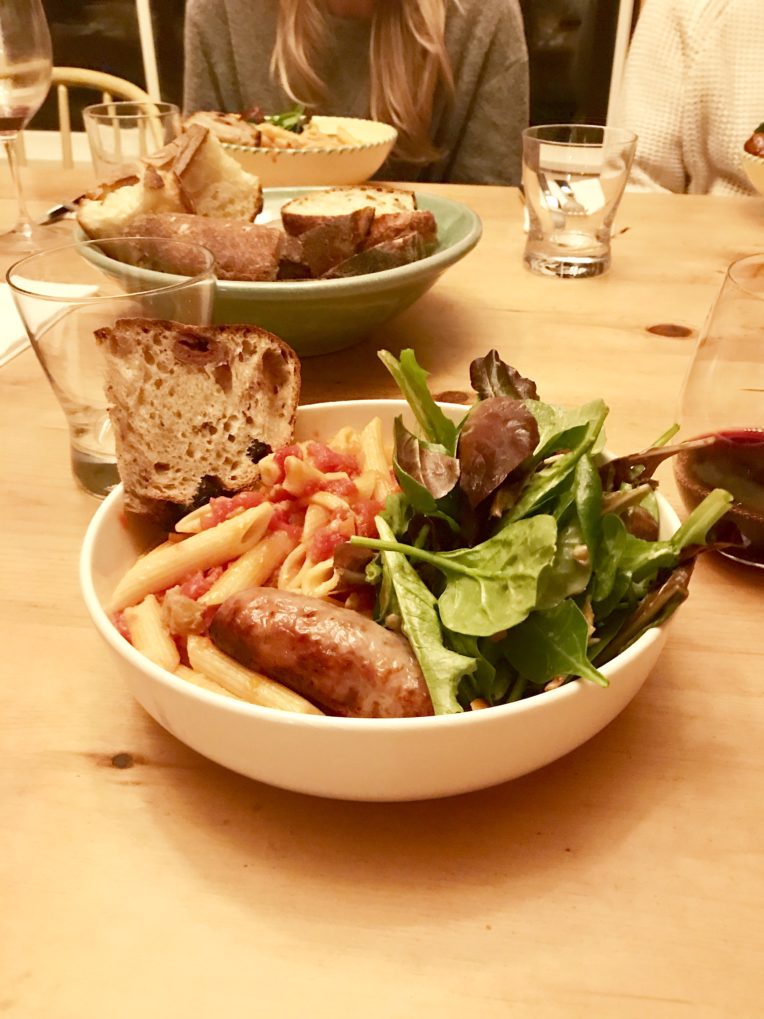 We watched the NE vs TN football game after dinner and by 11pm I was fading fast and put myself into bed. It was such a fun day but also exhausting. Bed felt so good. I slept a solid 9 hours which felt amazing.
Sunday morning started with some reading and lots of coffee. And then I started on this blog post. Deb made a big batch of oatmeal for breakfast with all kinds of add ins. I think I'm going to try this at home – making a big batch with flax, chia, dried fruit and vanilla and then reheat throughout the week. I topped my bowl with almond butter, banana and raspberries (that they grew —> dream to grow my own raspberries)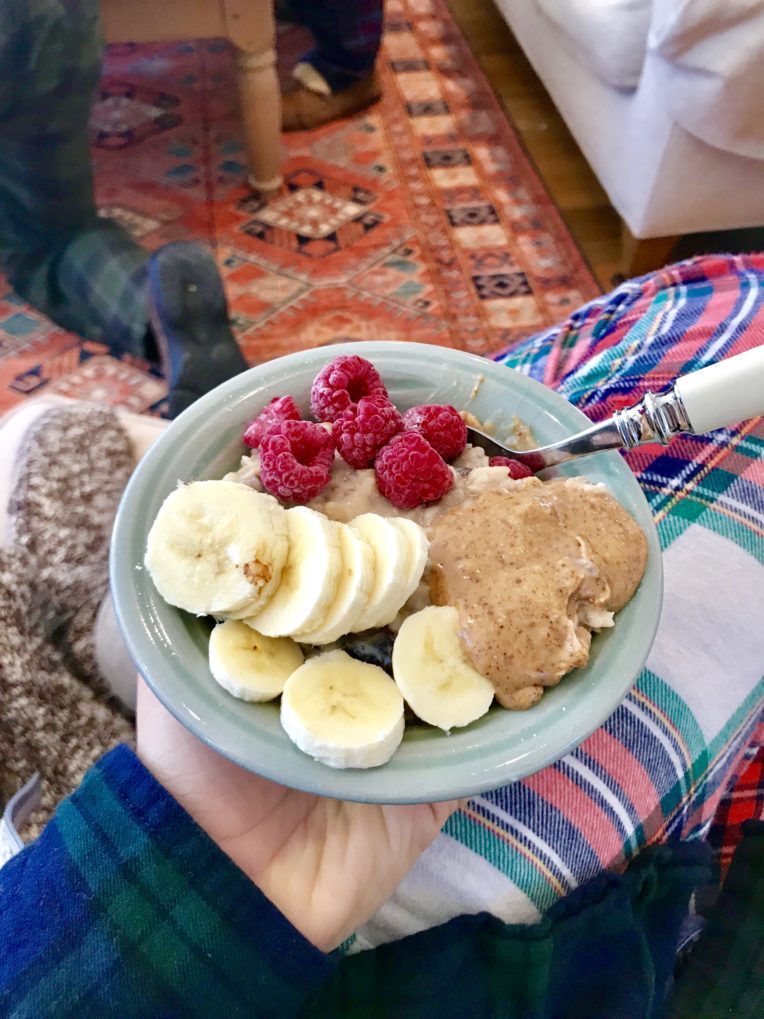 Our original plan for the day was to ski, but unfortunately the top of Killington Mountain had a windchill of -17… so we nixed the skiing and instead decided to spend the day in Woodstock.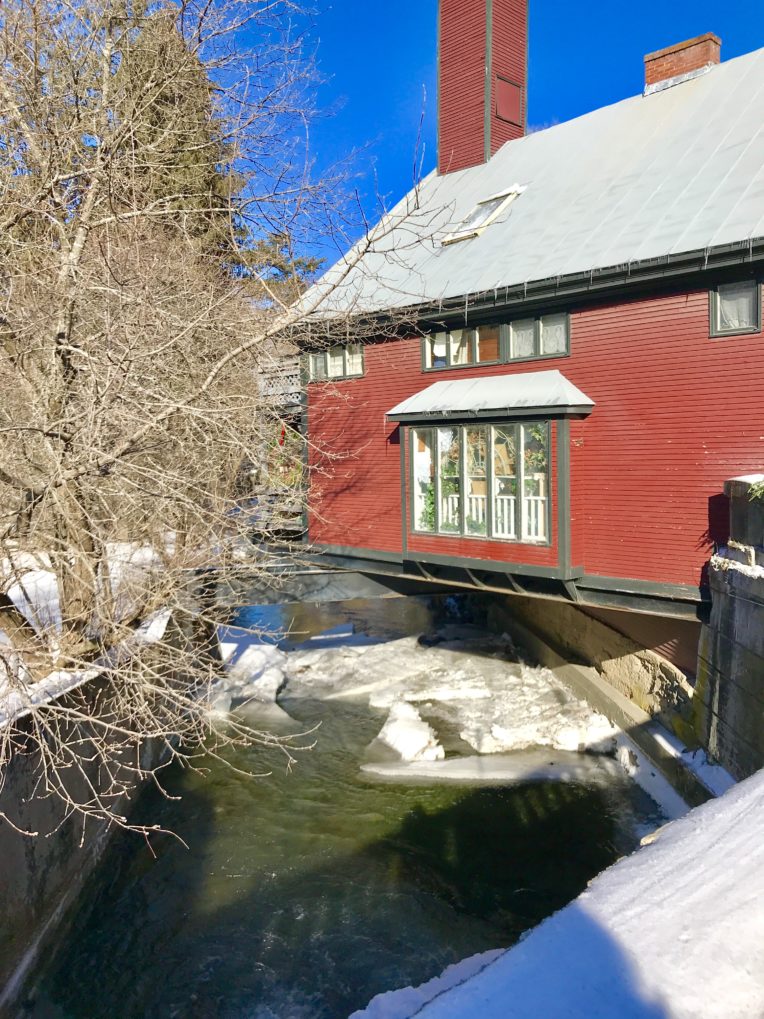 I have never been to Woodstock and fell in love with this dreamy, quaint New England town. Cue all the cozy vibes. I could have strolled around ALL DAY.
Our first stop was the Vermont Flannel Company. This store was the coolest. The story behind the brand was cool, the people working there were cool, and everything was so well made. We bought some flannels and I now I want to buy several more because they are so comfortable.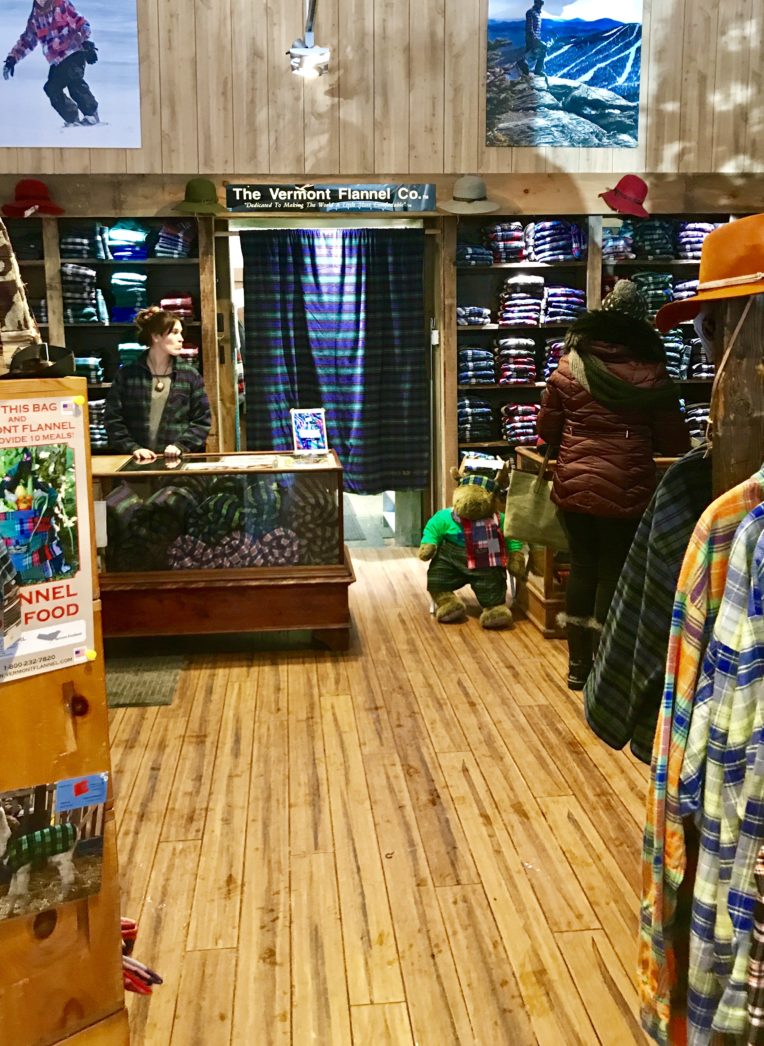 Then we strolled some more.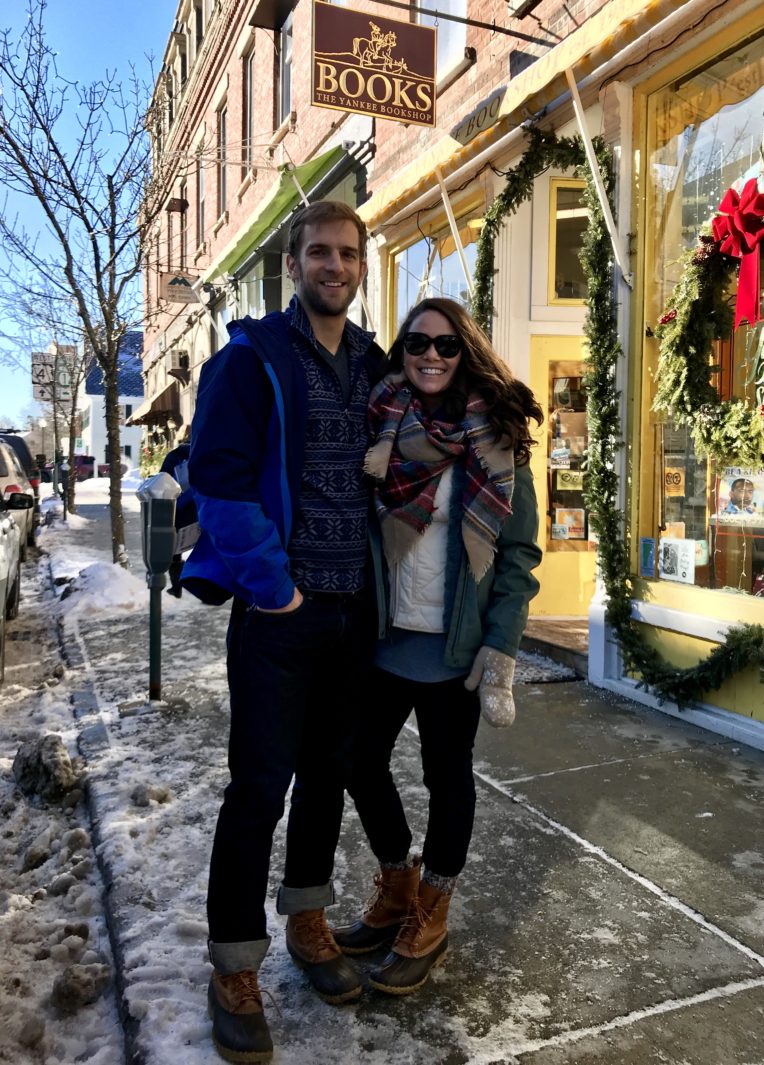 And stopped in a coffee shop for some warm drinks + snacks at Mon Vert Cafe. Also could have stayed here all day…upstairs had the best work environment with old wooden furniture, cozy chairs and lots of natural sunlight.
I ordered a chai tea with foamed milk on top and Nick and I split a cranberry orange muffin to hold us over.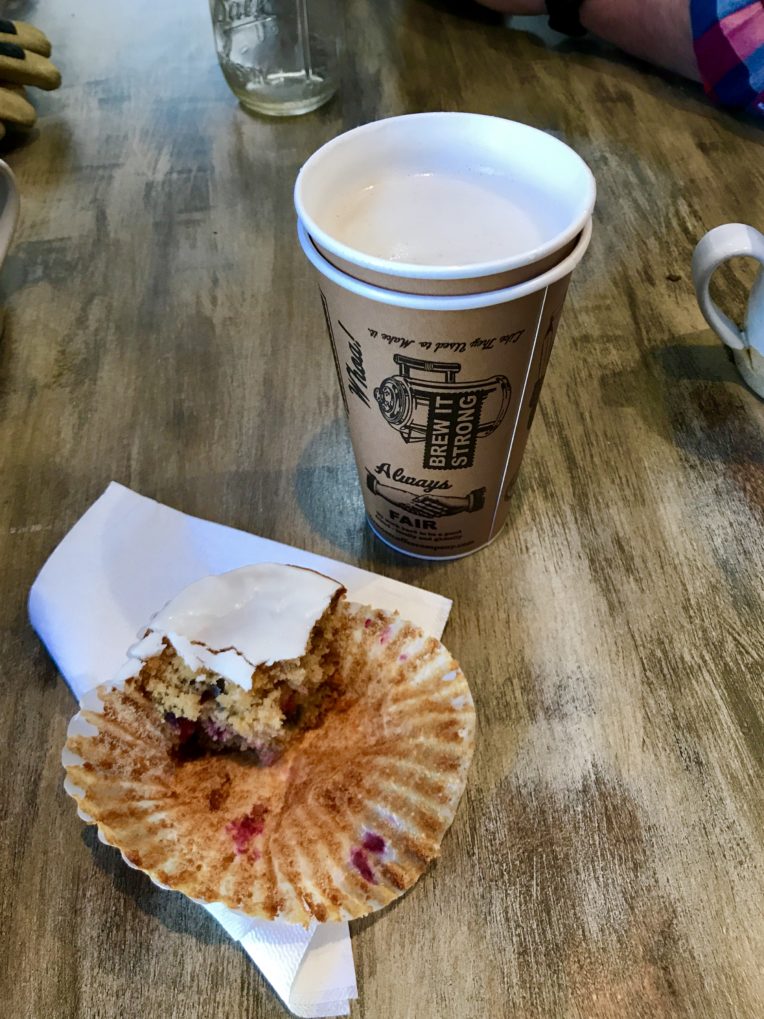 We walked around some more, visited the boys aunt – Jeanne Amato – who is very talented printmaker, and then decided to head over to Worthy Kitchen for a late lunch.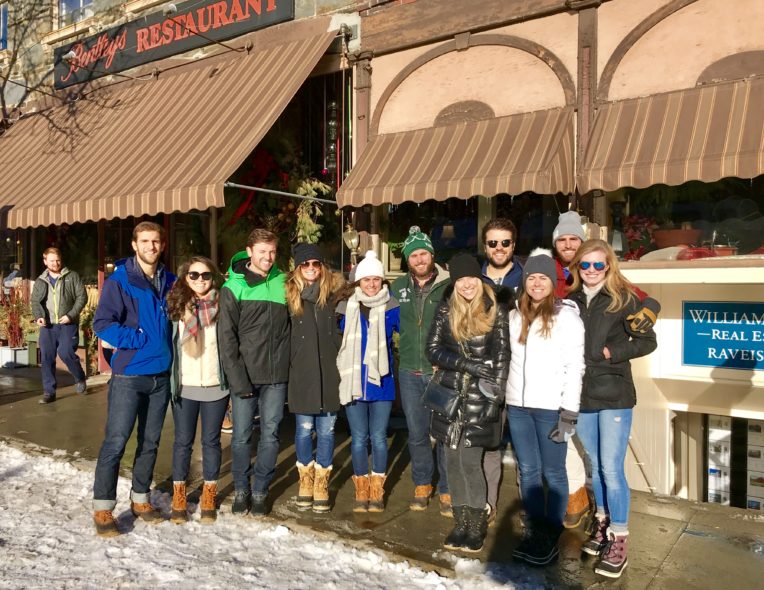 It's a farm to table diner and this place did. not. disappoint. I am the worst at describing food when I love it….so all I can say was it was amazing. I did speak for a good portion of lunch.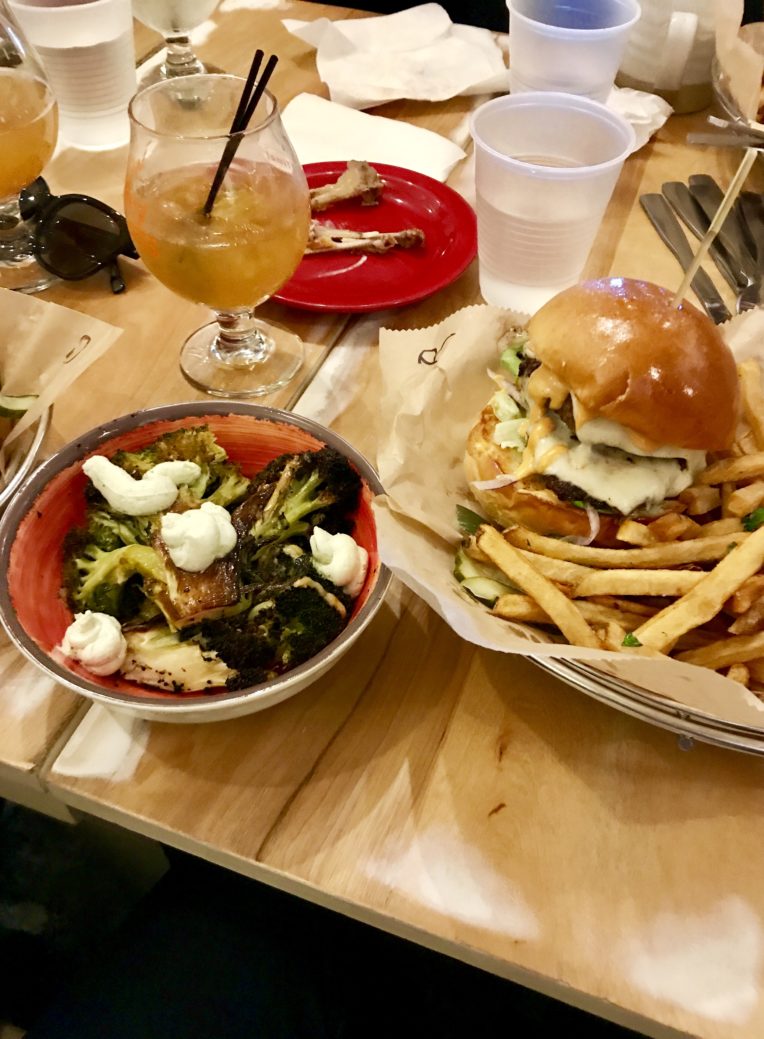 I went with a dark and stormy to drink since I wasn't feeling beer. And decided on the burger after going back and forth between the burger and the fried chicken sandwich. Per the menu, "Worthy bun with smashed Almanack farm waygu beef patties, cheese, lettuce, red onion, fancy sauce, bread and butter pickles. Plus a side of the broccoli that I shared with Nick since I was craving some veg that was topped with goat cheese and sesame oil. DEAD. It was an experience for my tastebuds.
We came home and spent the evening in the hot tub. Showered and put on the flannels.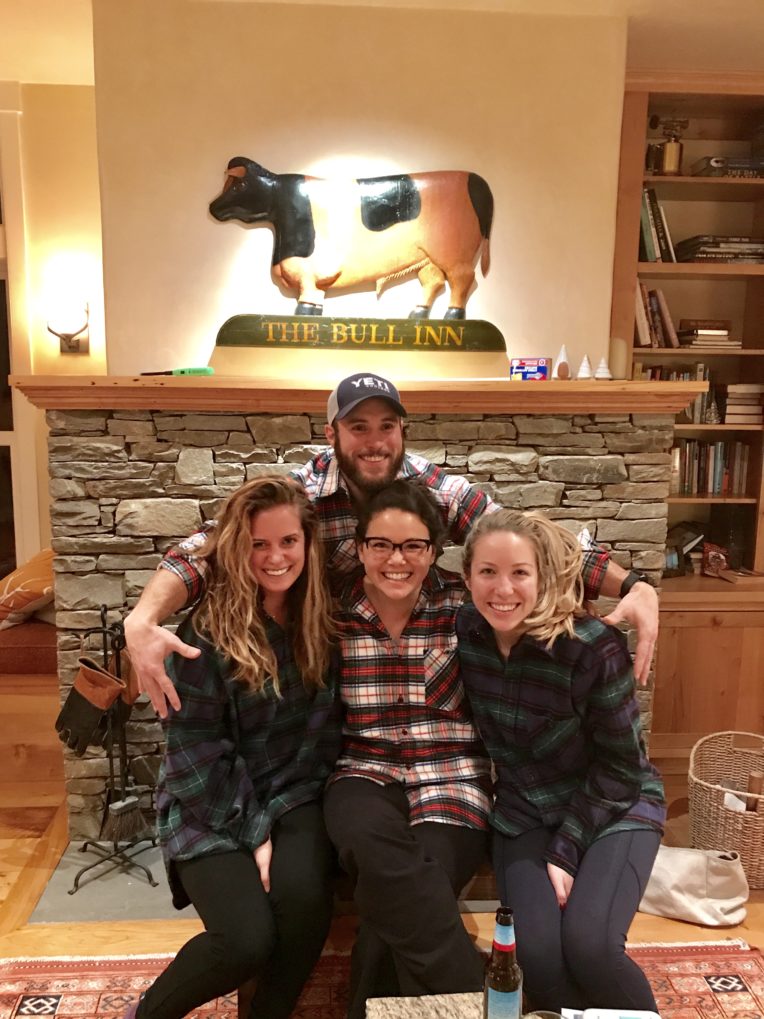 Then ordered pizza and the boys picked it up, watch re-runs of This is Us and sat in front of the fire soaking up this last night.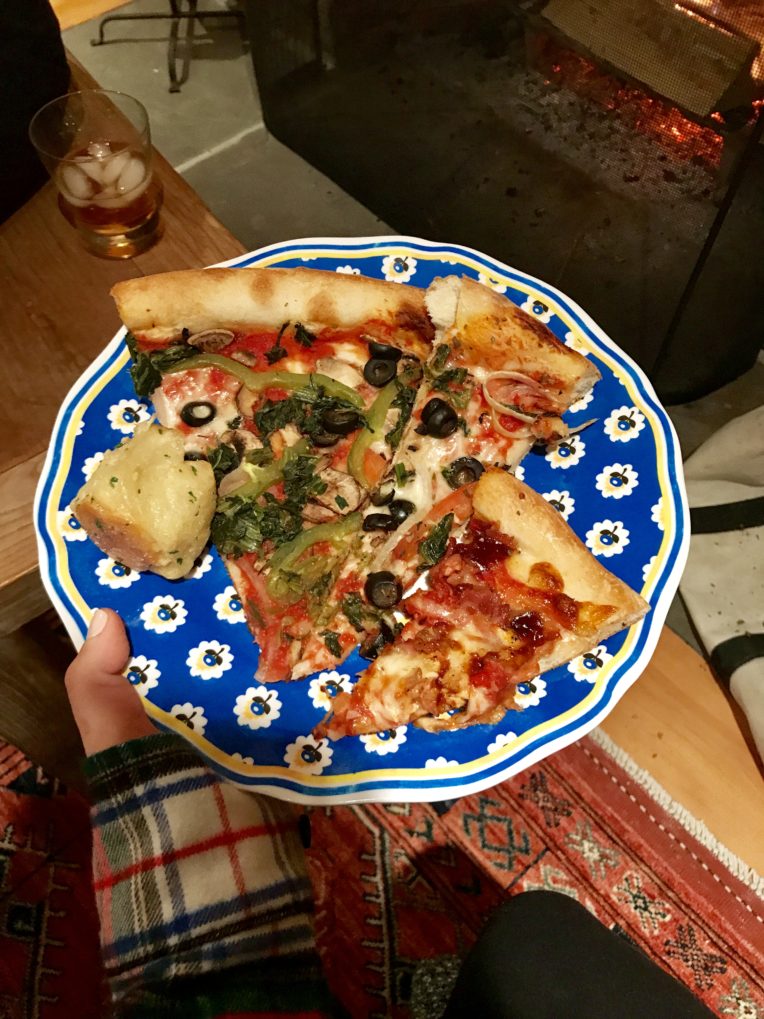 This morning we're actually going to try to get out to the mountain at 8am to ski for a few hours before heading back to Boston. I'm leaving here feeling so rested and refreshed. And really thankful for the Amatos and their generous hospitality this weekend. Thank you SO MUCH!
I hope you had a wonderful weekend! Share your recap or the best thing you ate in the comments!