Over the years, I've surprised myself in becoming someone who hates clutter. I find myself throwing out clothes all the time and I probably have like two t-shirts simply because I get overwhelmed by stuff easily and my solution is to throw it away. Which sometimes works out well…sometimes not so well. Impulsivity has it's pros and cons.
Our car having stuff it in or things being everywhere gets me flustered and stressed. Whether that's worth stressing over is questionable. And the thing is, I'm not an organized/type a/have it together person. I actually wish I had more of those traits…I think I'd make life less difficult on myself. But here we are.
So. I always find it helpful slash interesting to see what things people use daily. Things that they actually find helpful and not clutterful. That's not a word. Here are six things that I use nearly every single day and will be keeping around for a while.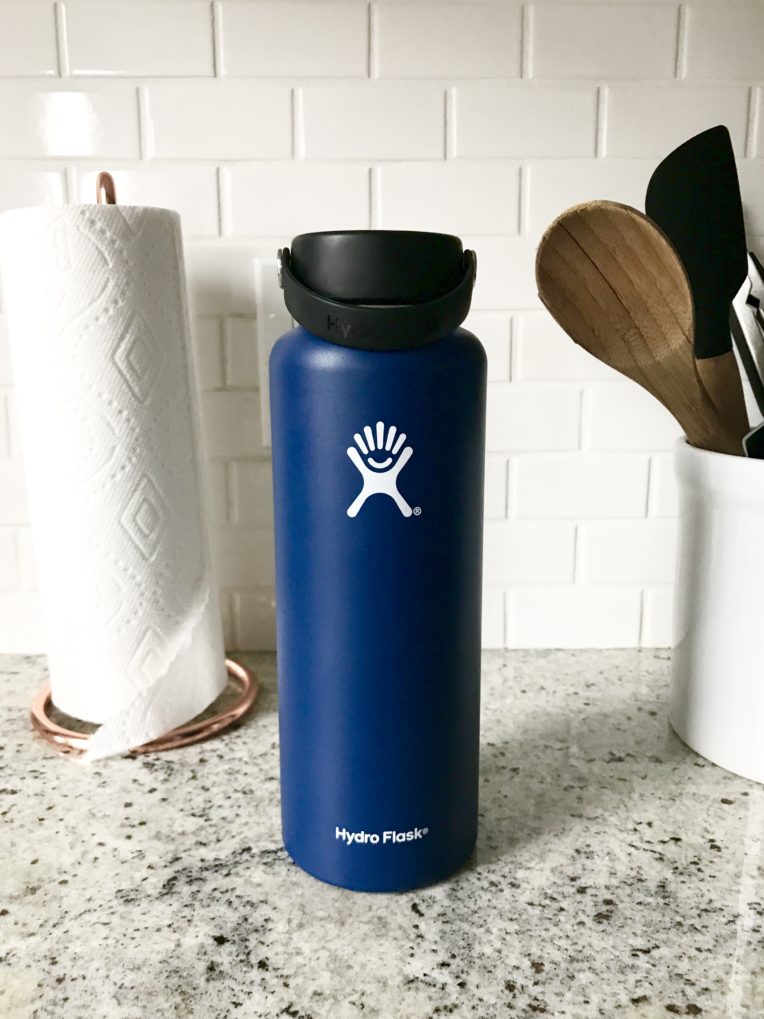 My Hydro Flask. Nick hates this thing because it's big and doesn't fit in cup holders. But me, I love it. The one I have is 42 ounces, but they also come in 18 and 32 ounce sizes and if you're really thirsty, you can get one that's 64 ounces. Swell water bottles don't work for me because they're small and I'll drink 17 ounces of liquid in 5 minutes. Sure you can get them bigger, but the 25 ounce ones are the same price as the 42 ounce Hydro Flask. Either way though, these water bottles are an investment which some people think is worth it, but some don't. I like this big Hydro Flask because I throw it in the car and the ice doesn't melt for over 24 hours. We took it to the beach this past weekend and it was great for that too. Also really great for housing chilly wine during the summer. Putting that out there.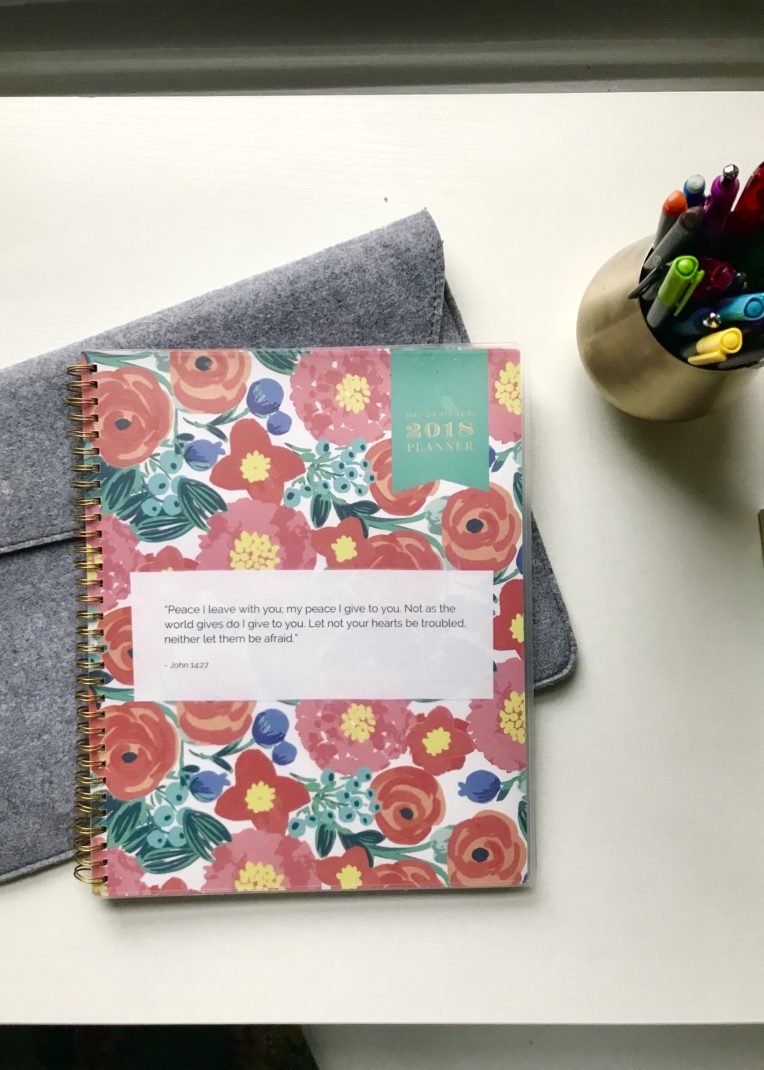 The Day Designer Planner. I found this planner at the beginning of this year and I've found it to be the best planner I've ever had. I love how it's the size of a regular notebook – thin and not bulky, but still with plenty of room to write. I have the one with a monthly and weekly view. I tried the daily one that has room for you to write in what's going on hour by hour, but I found that to be too much detail and then I couldn't see my whole week laid out. And the best part, it cost me less than $20. So many planners I've seen are so expensive! $20 isn't cheap, but for a decent yearly planner, I've found it to be reasonable. It has a plastic cover too so I'll tape positive stuff on the inside. Right now, I've got a bible verse because I've had some irrational fear going wild in my brain for the past few weeks and I needed that constant reminder. You can stick whatever resonates with you in the front cover.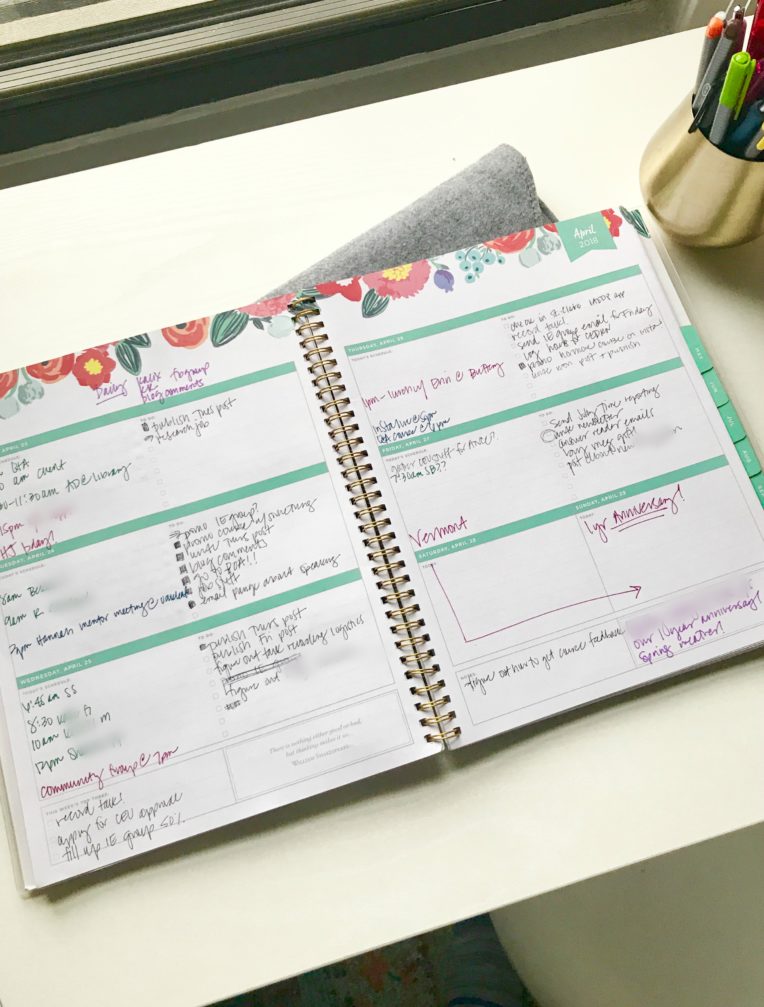 I'm a messy "planner" from what I've seen other people do, but it works for me. On Monday mornings I look at my Google calendar and copy appointments and all that stuff into the left column and then write down to-dos on the right throughout the week. It's Wednesday when I'm writing this so you'll see lots of unchecked boxes. In the bottom left you can also write down "your top 3" for the week and then on the bottom right there's a place for notes and gratitudes which I like. It's simple, not overwhelming. And now that I'm looking at this, I've applied for CEU approval for a webinar I'm offering and our IE support group is over 50% full! Checking stuff off feels good.
Basic Notebook + Micro-Line Pens. I try to journal each morning, even if it's just a few sentences. By no means am I cozied up on the couch wide awake, sipping coffee and poetically writing my deepest thoughts. It more like….eyes half open, coffee just dripped down my shirt and I'm telling myself that this is healthier for me than mindlessly scrolling through Instagram. I like the AmazonBasics ruled notebooks. They are very similar to Moleskins, but cheaper. And these pens are my favorite! I use them in my planner and journaling because they don't bleed. Also, I don't have fun/creative handwriting or doodling skills so I need some color to spice up my life.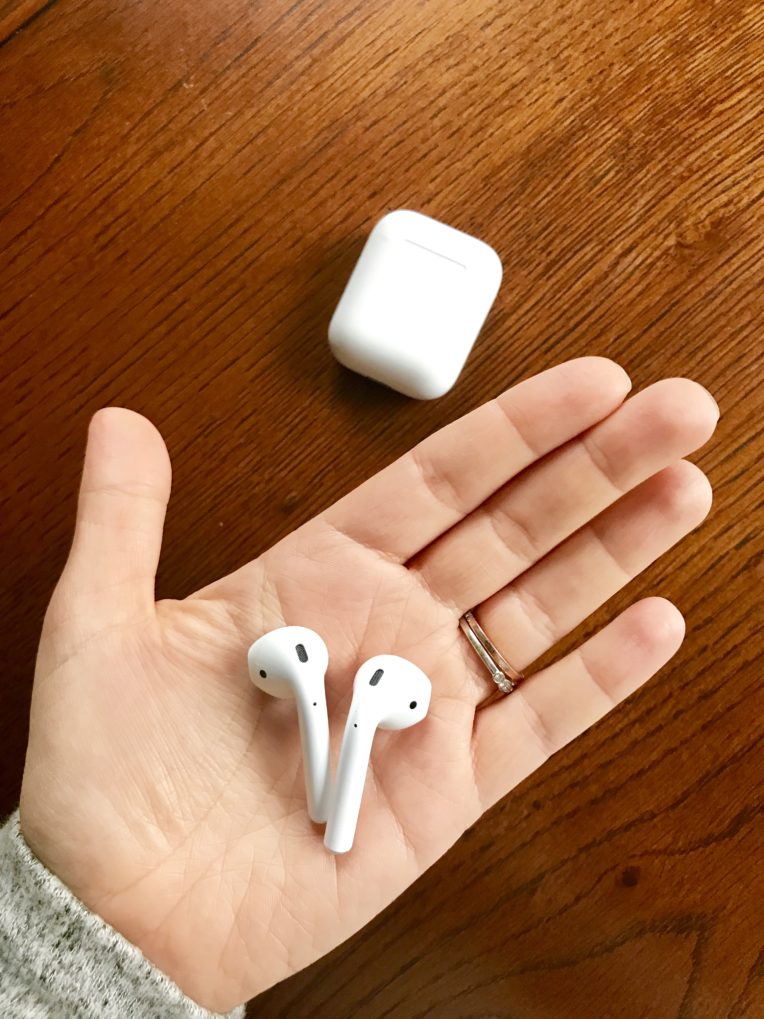 Apple AirPods. So I can't believe I bought these. Because I'm not a tech person at all and don't really care to spend $$ on tech things that will make my life easier. I bought them for business stuff vs personal use. I don't think I'd find them worth it if I didn't spend so much of my day on the phone/computer with clients, talking to therapists, listening to talks/webinars etc. I can place my phone anywhere in our (small) apt and walk around without having headphone cords hanging, getting caught on kitchen cabinets and honestly dropping my phone because I have my phone tucked into my legging waistband…not wise, I realize. This is 100% a first world luxury. I would be just fine without Apple AirPods, but I do love how they've made my days feel more free because I'm not wrapped up in cords. So if you're on the fence like I was and think you'll get a lot of use out of them, I totally recommend. Also, you have to be super mindful of always putting these little guys back in the charging case or I can see how you'd lose them in like 2 days.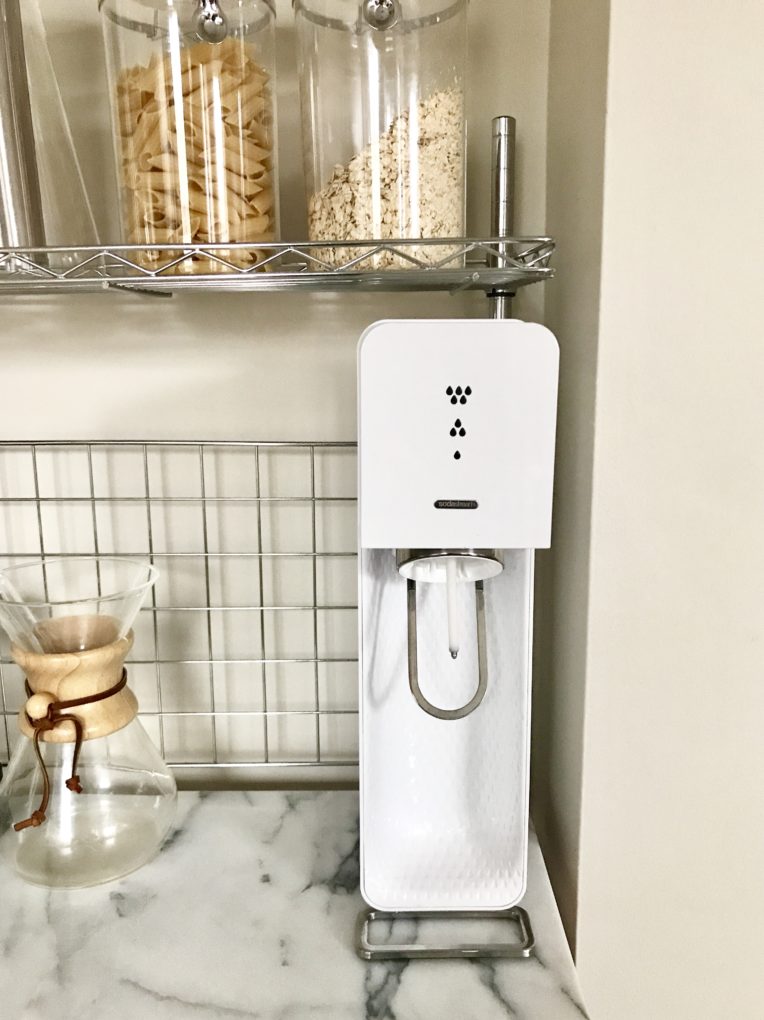 Sodastream! I use to not care for seltzer at all. And that's because I was drinking it plain. I'll drink La Croix, but don't really love the flavors. They're just mehhhh. And making seltzer vs buying is way cheaper. What I like most is adding juice to seltzer – lemonade or pomegranate juice or tart cherry juice. That's tasty. Or I mix in a True grapefruit or orange packet and that's pretty good too. I sometimes add seltzer to kombucha to make this expensive fermented tea that I spend too much money on last longer. Another sodastream use –> making homemade gin and tonics.
Ok those are my daily favorites – share yours in the comments!
And have a fabulous weekend! Nick and I are celebrating 1 year of marriage (HOW did time go that fast? and amen amen amen we made it through the steep learning curve of year 1) by retreating to the back woods of Vermont for the weekend. I'll be back Monday!