This past weekend was a mini vacation and gosh, now I'm having a really hard time adjusting back to reality. We ate lots of good food, drank lots of good wine, went on hikes/walks, sat in the sunshine, and just relaxed all weekend long.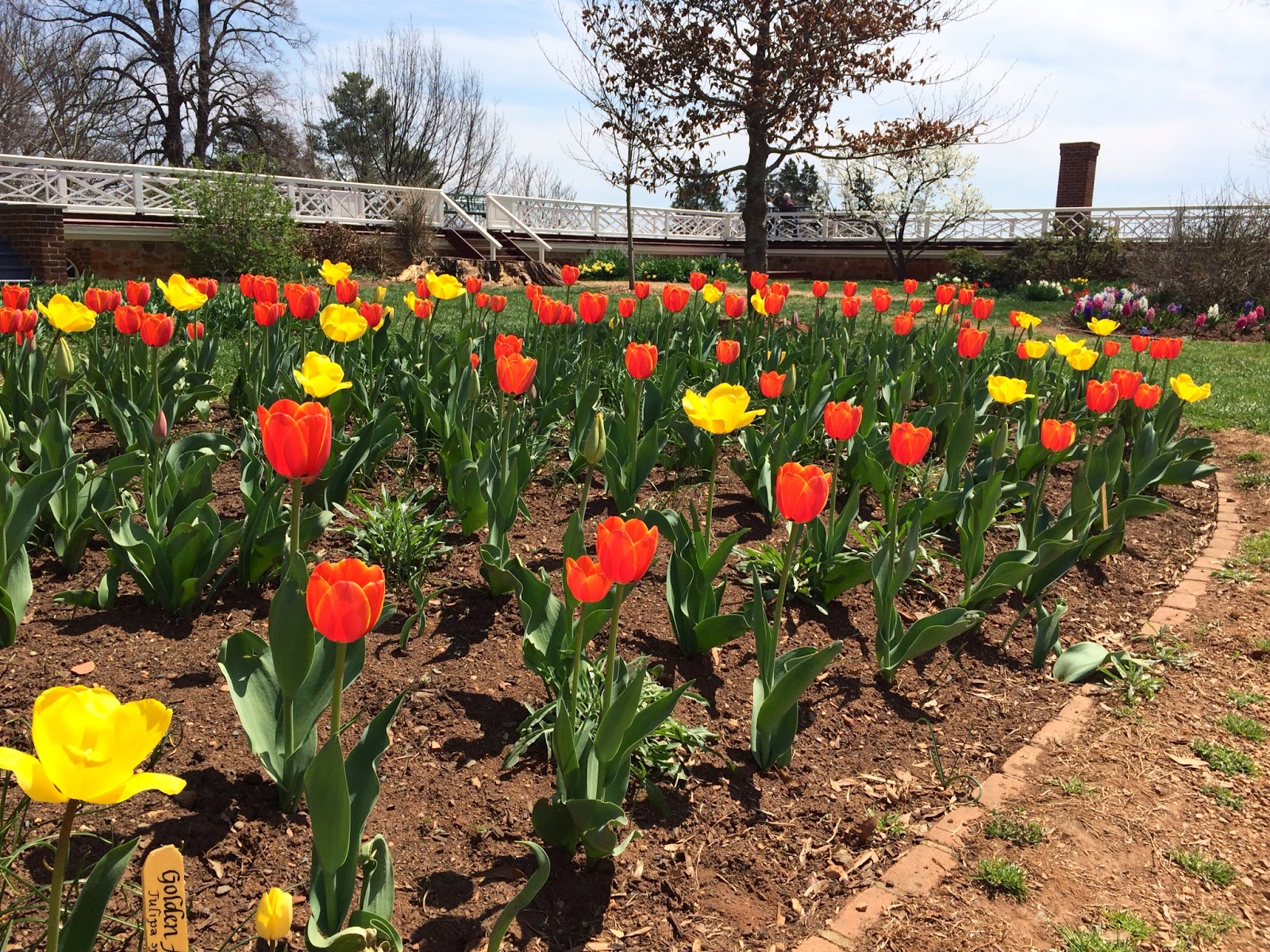 And I still can't get over the weather we had. It was in the 70s and 80s [!!] with sunny skies all weekend long and people were out and about everywhere.
Then we went to the Monticello trail to hike/walk. It's about a 6 mile trail round trip that leads up to Thomas Jefferson's house, his gardens, and graveyard. We walked all the way up and then went on a tour of the house and basked in the sunshine before coming back down.
I ordered the veggie plate with the Greek salad, cole slaw, collards and a sweet potato- so much veg!
This is my favorite restaurant ever in Charlottesville. Bold statement, but a very true bold statement. It's all Spanish tapas so we ordered the ham and cheese sandwich, patatas bravas [spanish potatoes], carne asada, asparagus, bacon wrapped dates and probably some other things that I don't remember. After dinner Marcy and I meandered over the Skybar for a glass of wine and we ran into my guy friends that we hung out with for a bit before walking home and crashing into bed.
Saturday morning began with an athletic conditioning class at ACAC and then we had a slower morning at my apartment. We had tickets to the Taste of Monticello wine festival downtown which basically means all the vineyards around Virginia are in one spot and for 5 hours you taste lots of wine. There were tons of people there, picnics on the lawn, live music, dancing, and all the wine your little heart desired.
And then we tasted! And tasted and tasted and tasted. People were everywhere, the weather was gorgeous and we couldn't have been happier.
I drank a lot of wine on Saturday but it was so spread out throughout the day that by the time we walked home and went to bed we were both feeling pretty good. Saturday was one of the best days I've had in Charlottesville and I'm so grateful I got to spend it with this lovely lady. Having one of my best friends from college in town this weekend was such a fun way to soak up these final weeks in this town I love so much.
Sometimes you just need a weekend where you completely unplug.
Where you don't cook one meal at home.
Where you don't worry about your to-do list.
Where you give yourself permission to do whatever you want.
And sometimes you sip wine in the sunshine all day because it's awesome.