The weekend started out great and ended with me nursing a massive cold from my bed all day Sunday.
Nick and I fly to Chicago Thursday for his sisters wedding that we are both in, so I need to get well asap. I woke up Saturday not feeling great, but felt okay later in the day, but then Saturday night I could barely sleep due to congestion and woke up feeling like crap. I'm hoping it's on the mend – green smoothies, the netti pot, elderberry extract and lots of sleep.
But before that all went down, it was great!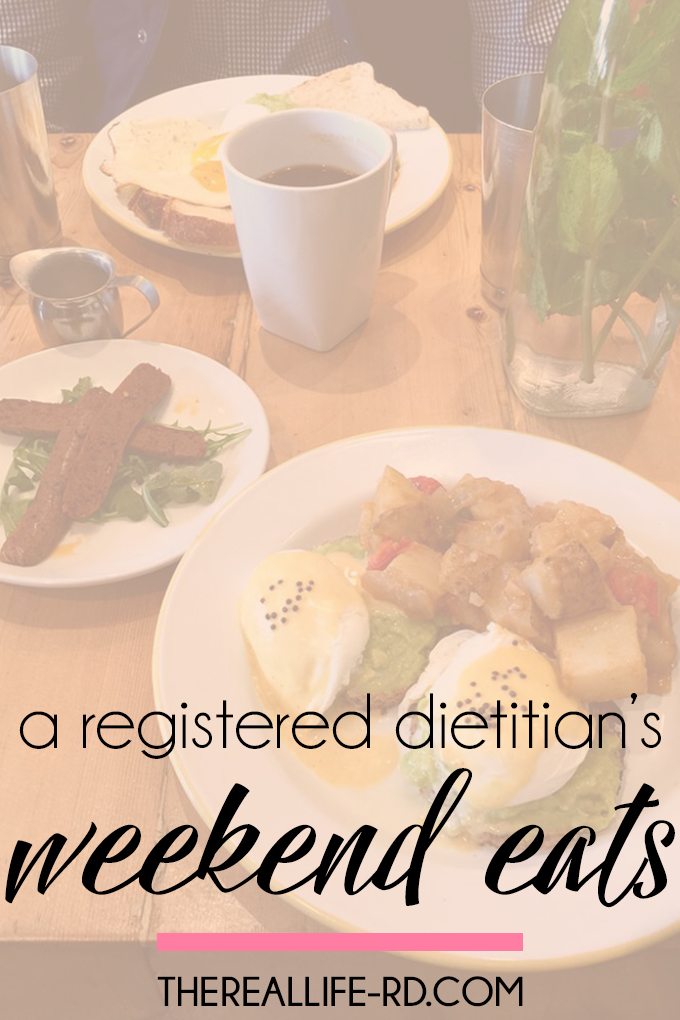 Friday evening I went over to my friend Nicole's apartment in the Financial District for a happy hour and then we met up with our friend Jordan at Santina in Meatpacking for a girl's night. This place was so awesome! The decor was funky, the vibes were fun and the food was incredible.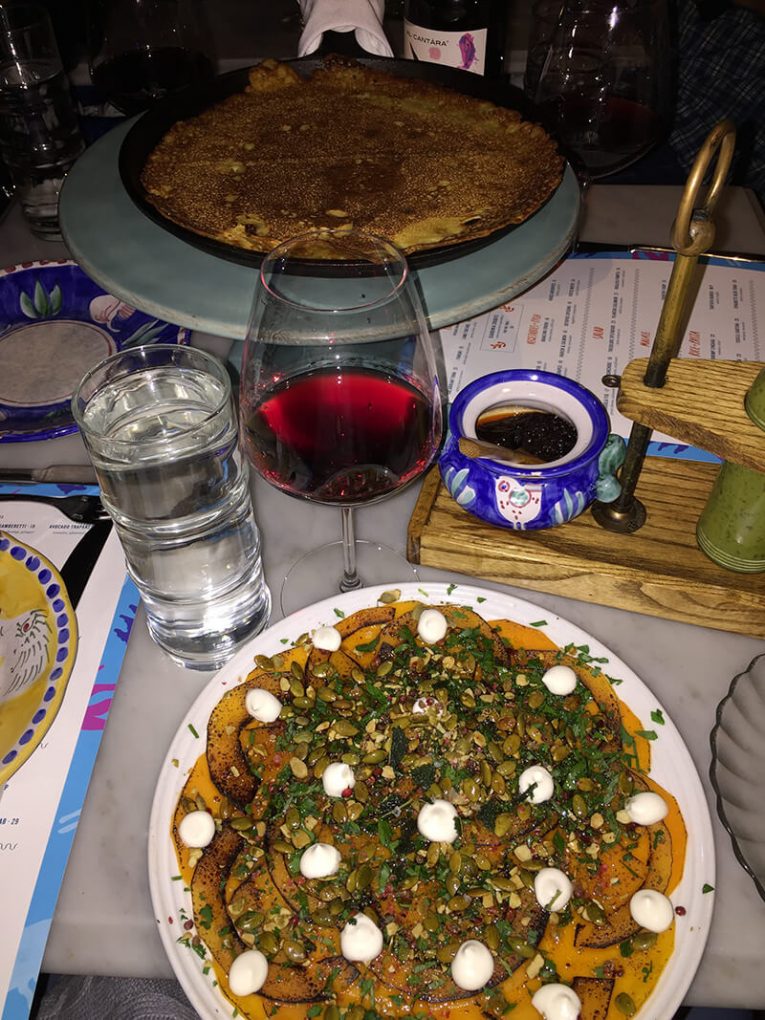 We ordered a bottle of red to start (I forget what kind..) along with their squash carpaccio that was topped with pumpkin seeds, cumin, cinnamon, olive oil and other things I don't know and it was one of the best things I've had in New York. We also ordered the chickpea pancake topped with tuna tartare that was really good, but not as good as the squash.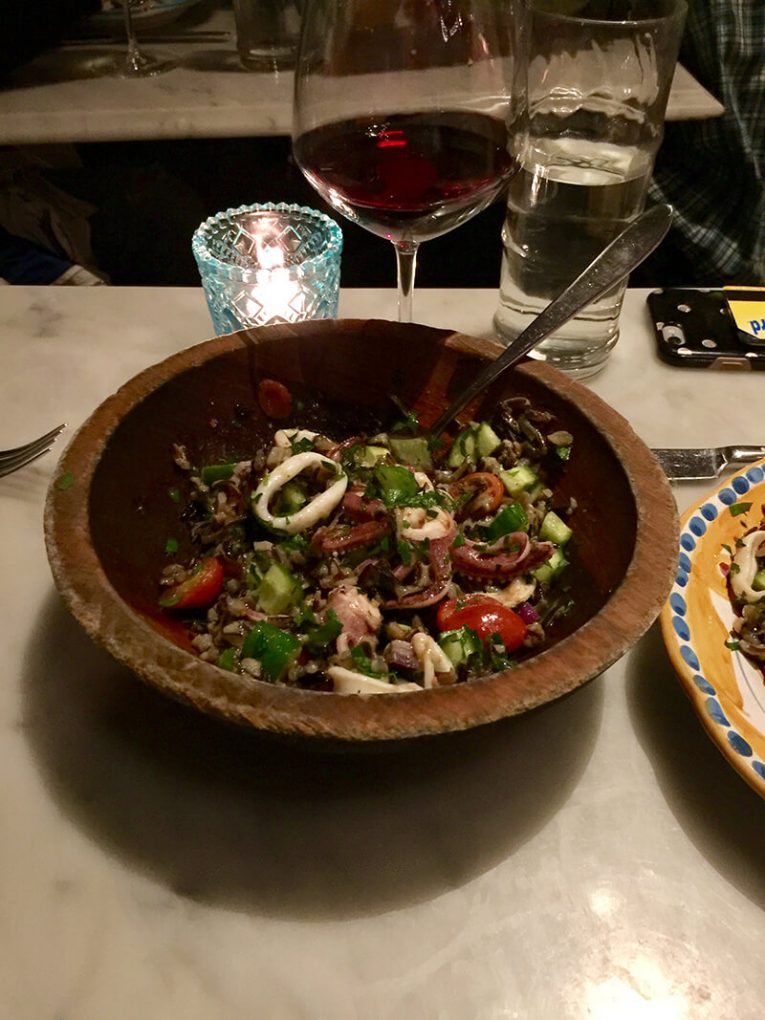 We split two entrees, the grilled calamari and wild rice salad which was super fresh — good but not omg amazing. And then unpictured handmade tortellini stuffed with sheep's milk cheese and pesto that melted in your mouth and was insane. I'd order that and the squash again and again and again.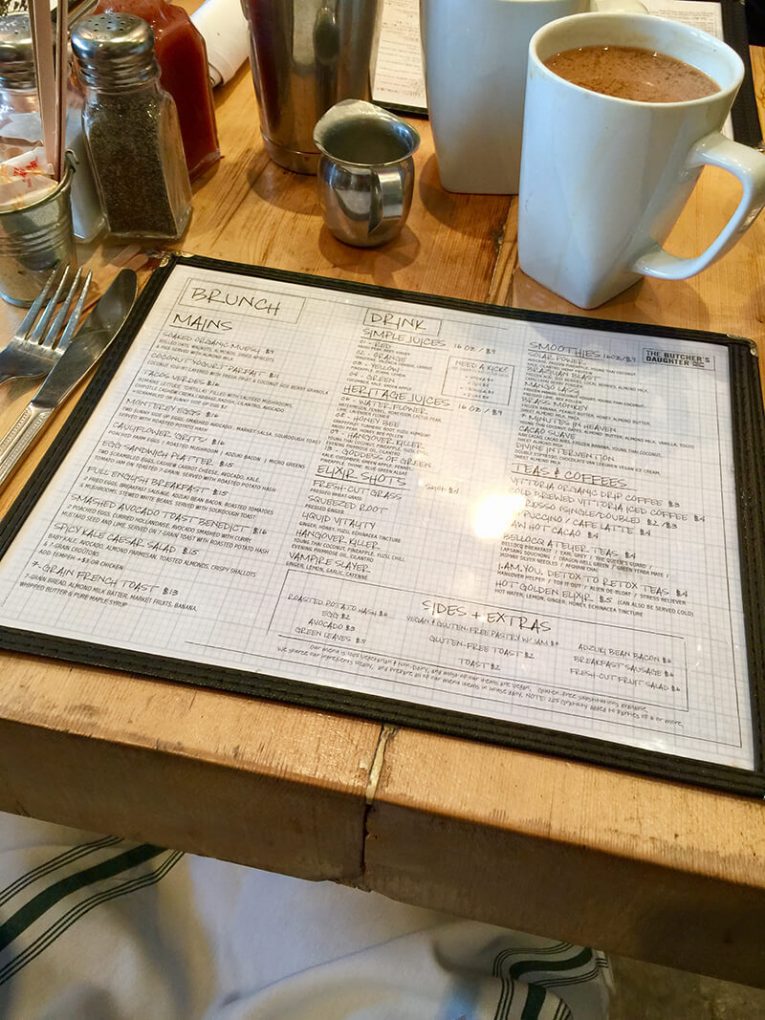 Saturday morning I went on a walk in Central Park, ate pancakes for breakfast, had a Nutshell client, went to a leadership development group meeting with Cru, and then met Nick and our friends Steph and Andrew. They got married in Laguna Beach back in April and moved back to California in June. Nick and I love them so much so it was so great to see them. That's the down side to New York City though, it's very transient, so in the almost 3 years I've been here, I've seen lots of friends come and go.
While we were waiting for our table at Butcher's Daughter in the West Village, Steph handed us a card to tell us they were pregnant. We were shocked and so excited for them. So that was super fun! Then we brunched.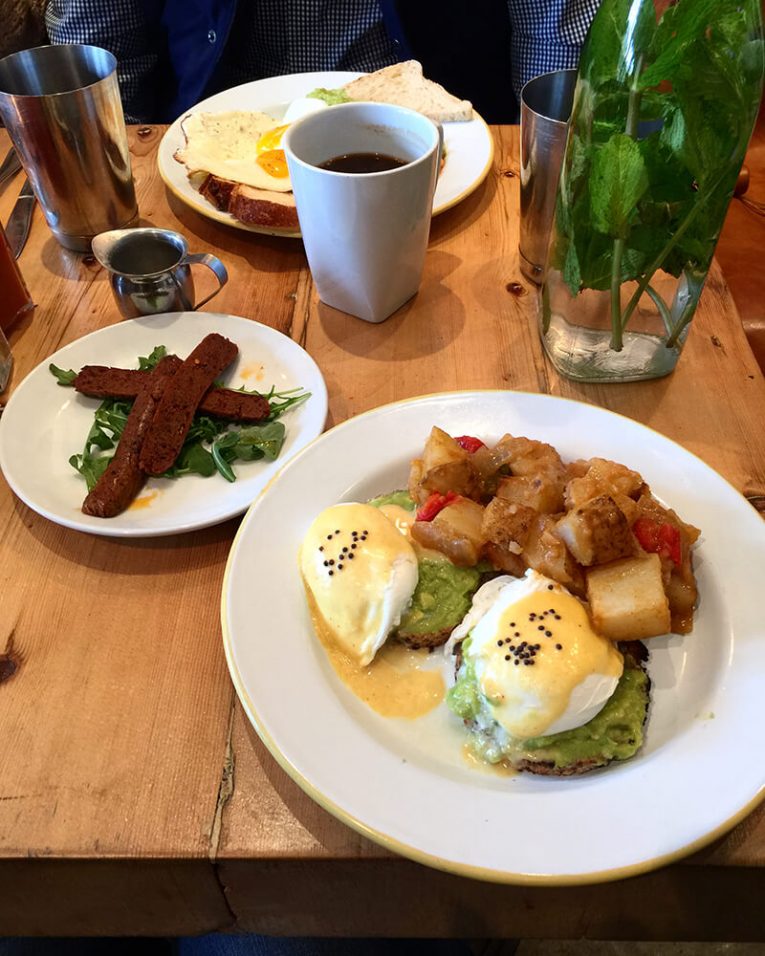 We started with coffees and then three out of four of us ordered the avocado toast hollandaise — seriously SO good and one of my favorites on their menu. Steph and I also split a side of the fennel "sausage" that's made with almond meal, not soy, which was surprisingly good. The restaurant is vegan + eggs and the menu is exploding with all sorts of fresh + delicious options so you'll want to order them all. If you're in the city, I highly recommend this place for brunch or lunch. They also have a location in SoHo. I just love the airy decor too.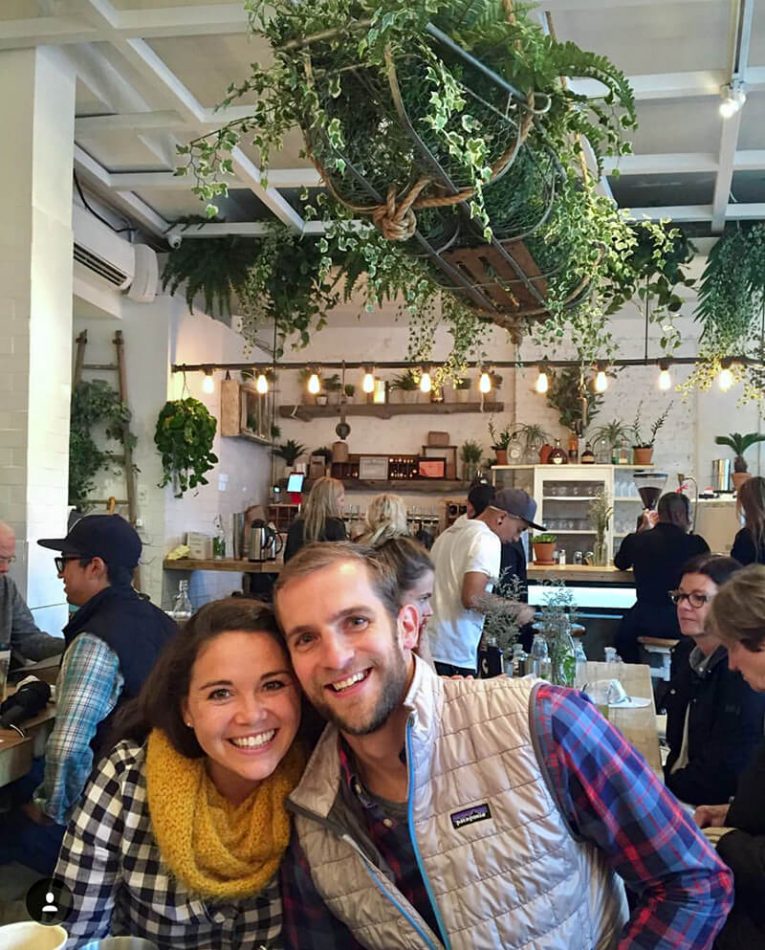 Then we strolled through Chelsea Market and over to Doughnut Plant since it was drizzly and cold and the afternoon called for sweets and hot drinks.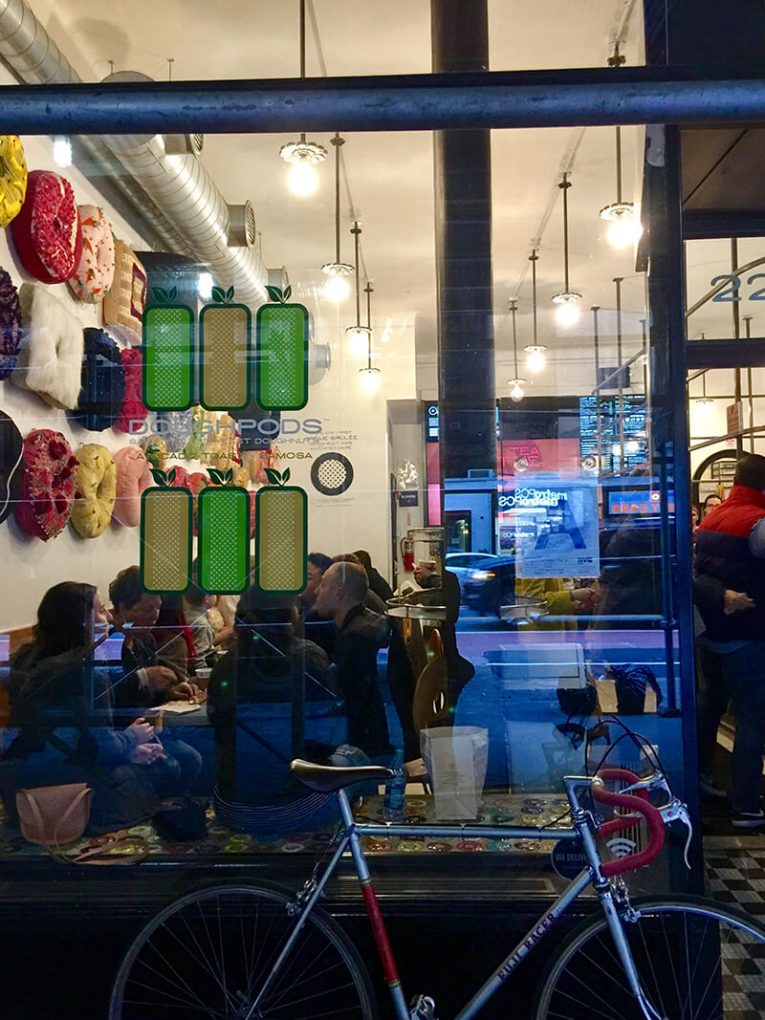 Dough is probably my favorite doughnut place in the city, but Doughnut Plant is pretty stellar too. Plus I feel like a kid when I walk in. We went with a Brooklyn blackout cake doughnut, coconut stuffed with coconut cream, apple cinnamon and their seasonal pumpkin.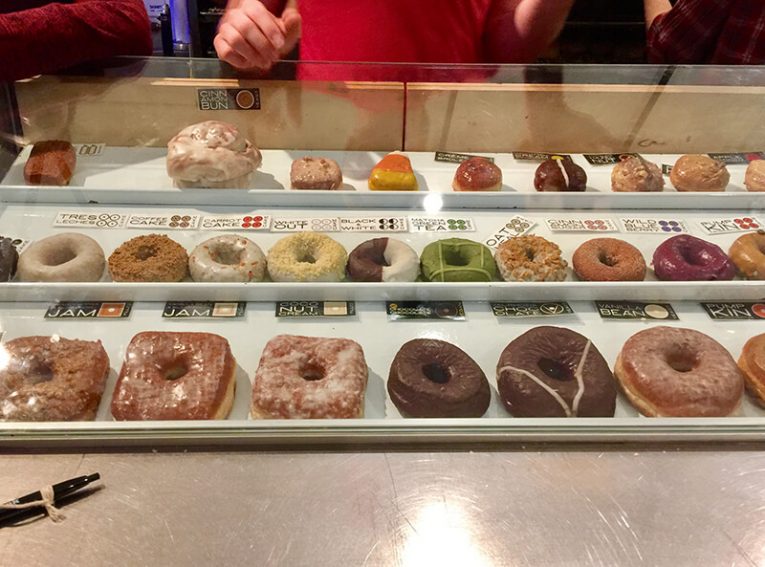 We took them back to Nick's apartment where he made us hot toddy's and we sat around watching sports and eating donuts for an hour or so. I'm not really into chocolate doughnuts or cake (give me a brownie and game over) so the apple cinnamon and pumpkin were my fav. So chewy and fluffy and awesome.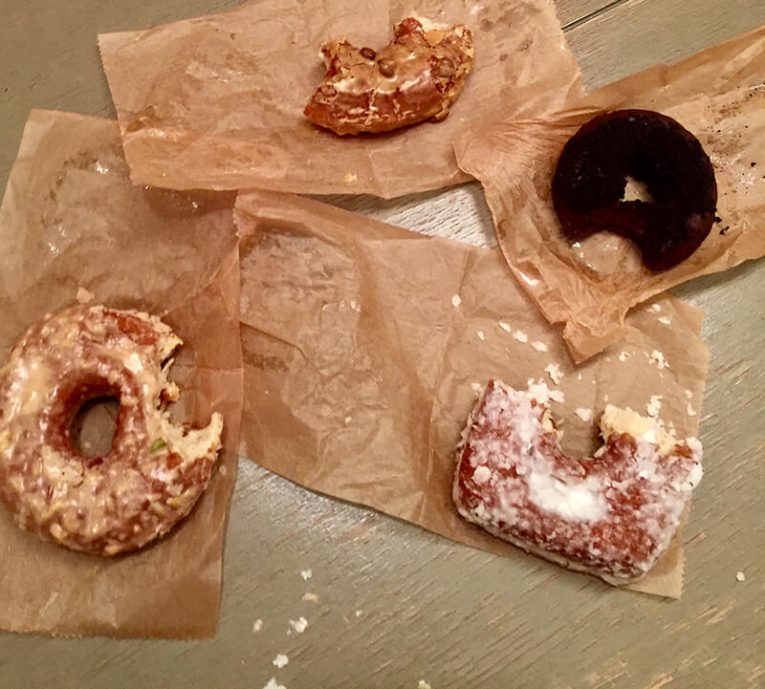 Around 7 we headed to the Upper East Side for pizza at San Matteo per Steph's recommendation to watch the Cub's game and eat dinner. Exposed brick is my soft spot, so along with the huge fire burning stove and the fact that this place is 4 blocks from my apartment, I was in love. So cozy!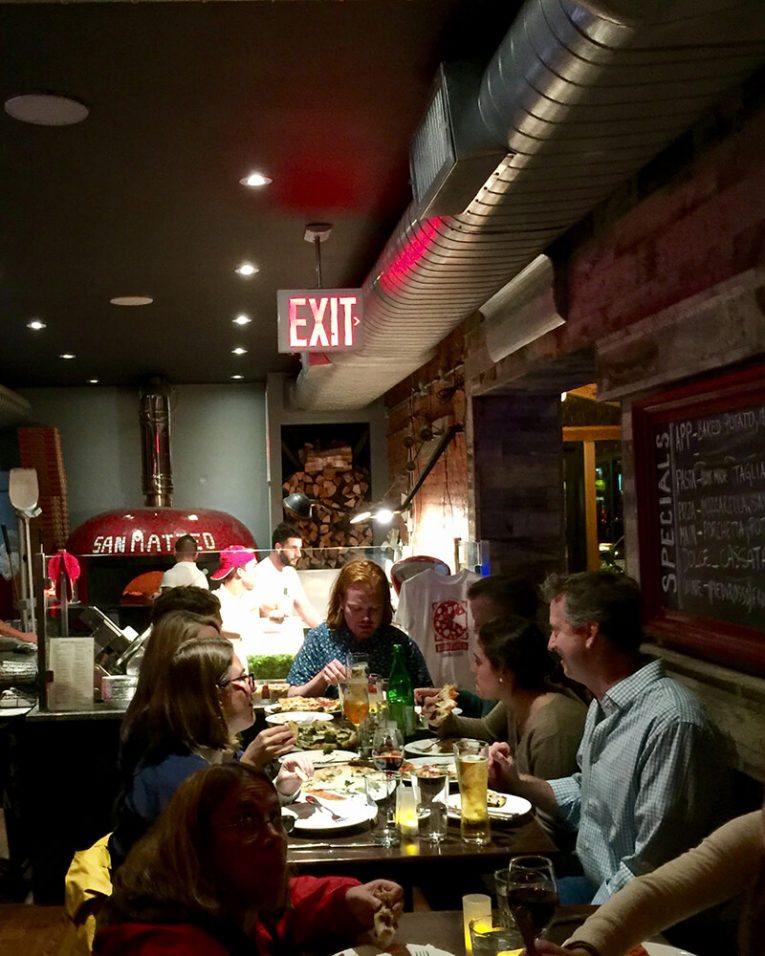 We ordered a bottle of chianti and the sweet bartender was feeding Steph these fun mocktails all night when he asked who wasn't drinking and she told him she was pregnant.
We started with this arugula salad that was everything I was craving. Fresh, light and perfectly dressed with tomatoes, goat cheese and pine nuts.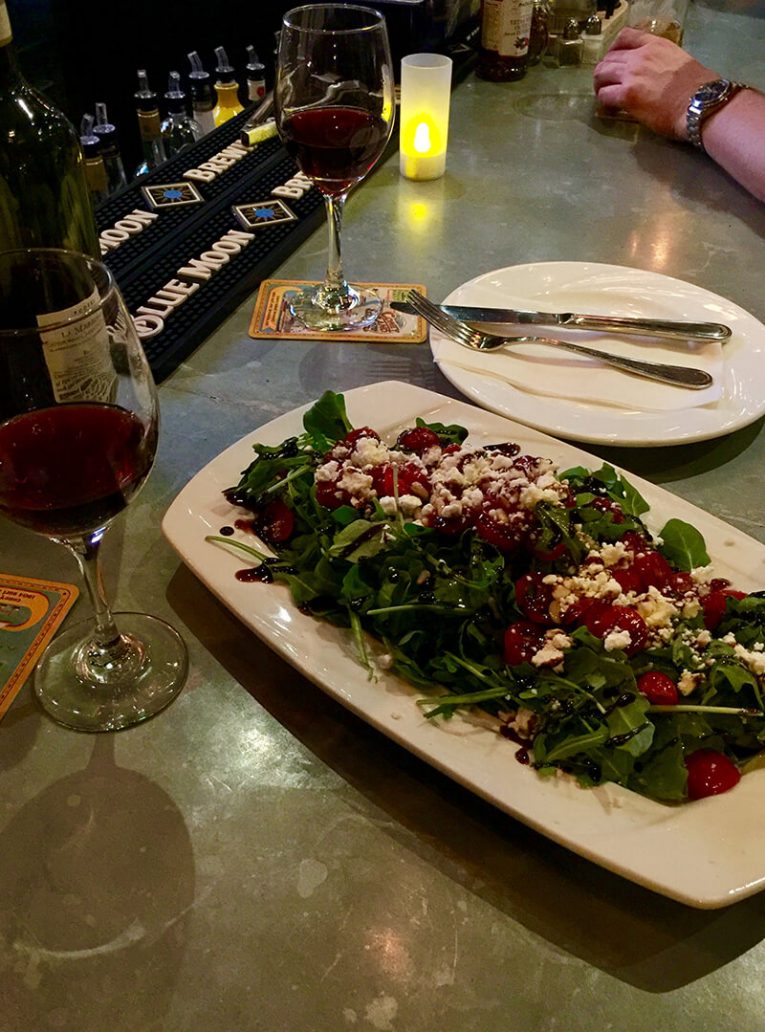 And then we ordered four pizzas to split thinking we'd have leftovers and we had zero. I went with the proscutto + parmesean and ate all but a sliver. After going to Italy in March, my expectation for pizza I feel like is higher and this place met the mark. I will be back regularly. The crust was thin and airy and chewy and the cheese ratio was perfect.
Our friend Zach met us later, the boys drank beers while Steph and I chatted. Then the cubs won, Nick went insane running up and down 2nd Avenue chanting (I love that kid) and we all slept happily.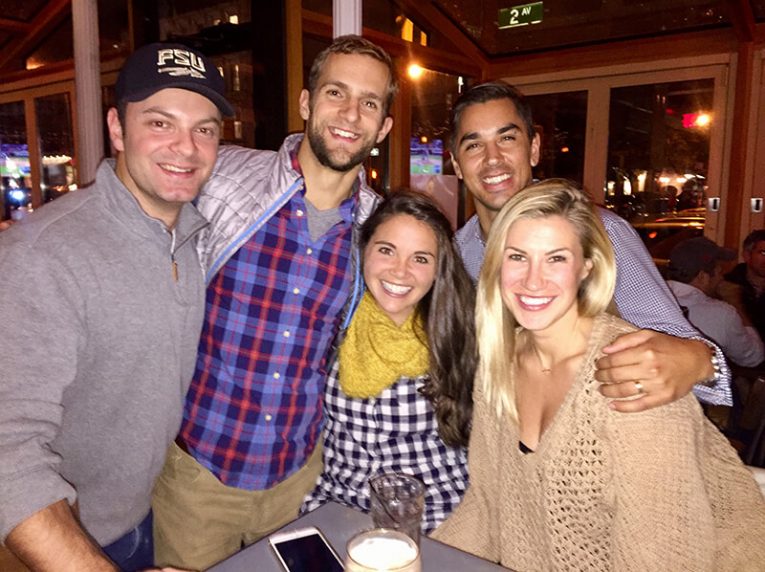 Sunday wasn't as happy, but I did rest a lot, watched like a whole season of Parenthood, and baked almond coconut granola and chocolate chip banana bread that I ate for like three meals in a row.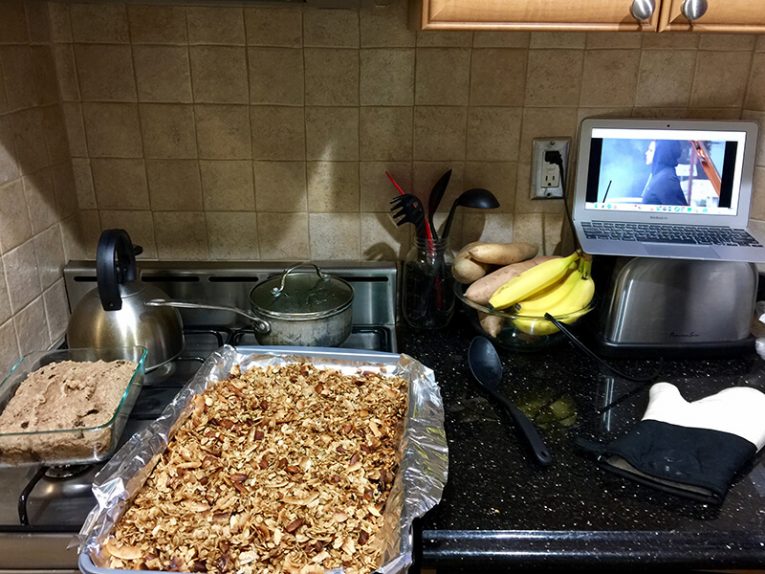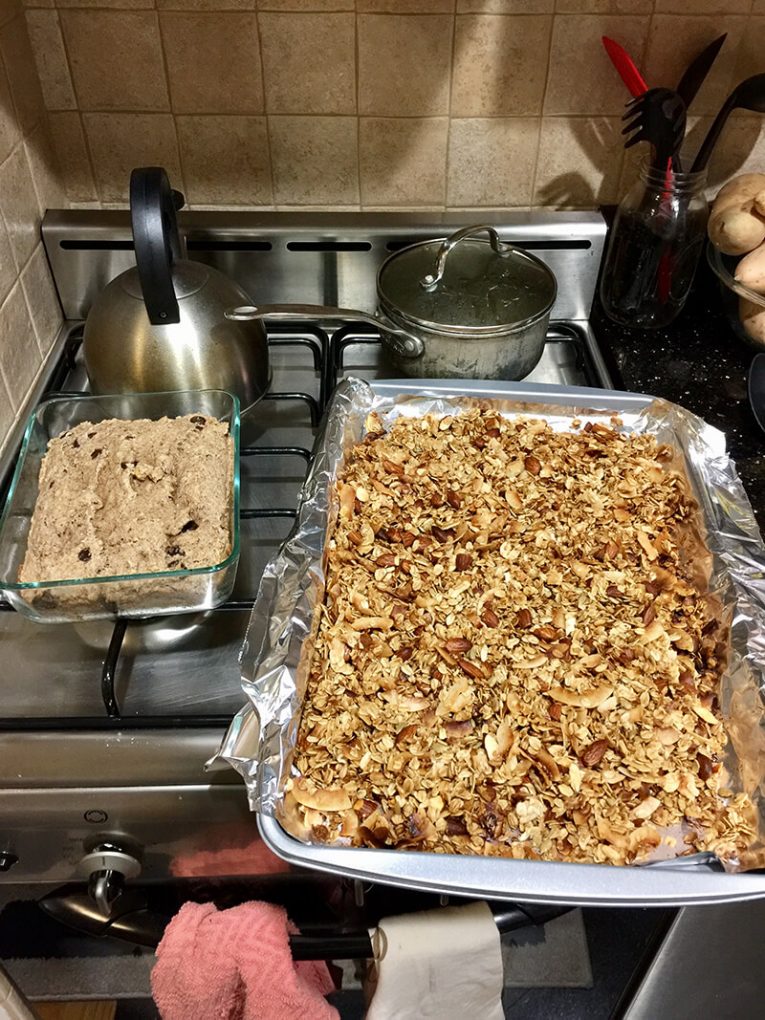 Today I'm staying home from clinical (because sickness and pediatrics don't mix) trying to lay low and get some studying done. I think I might go sit in the steam room with eucalyptus at the gym later.
Have the best Monday!
SaveSave