I had been looking forward to this weekend all week. Nick was out of town in Portland, OR for work and not that I was glad he was gone  (not at all) but I had pre planned in my head on Thursday that I was saying no to all social plans Saturday no matter what came up, because I knew I needed a day to be by myself and not have anywhere to be or anyone to see.
I've always thought of myself as an extrovert, and I think at the core I am, but living in New York has definitely made me crave more alone time. You're constantly surrounded by people. And in my day to day job I talk to people all day long. The annoying "you should" noise in my head was like "you're lame. stop isolating yourself. it's summer and everyone is having fun." But my inner self was like…you need this. this is good.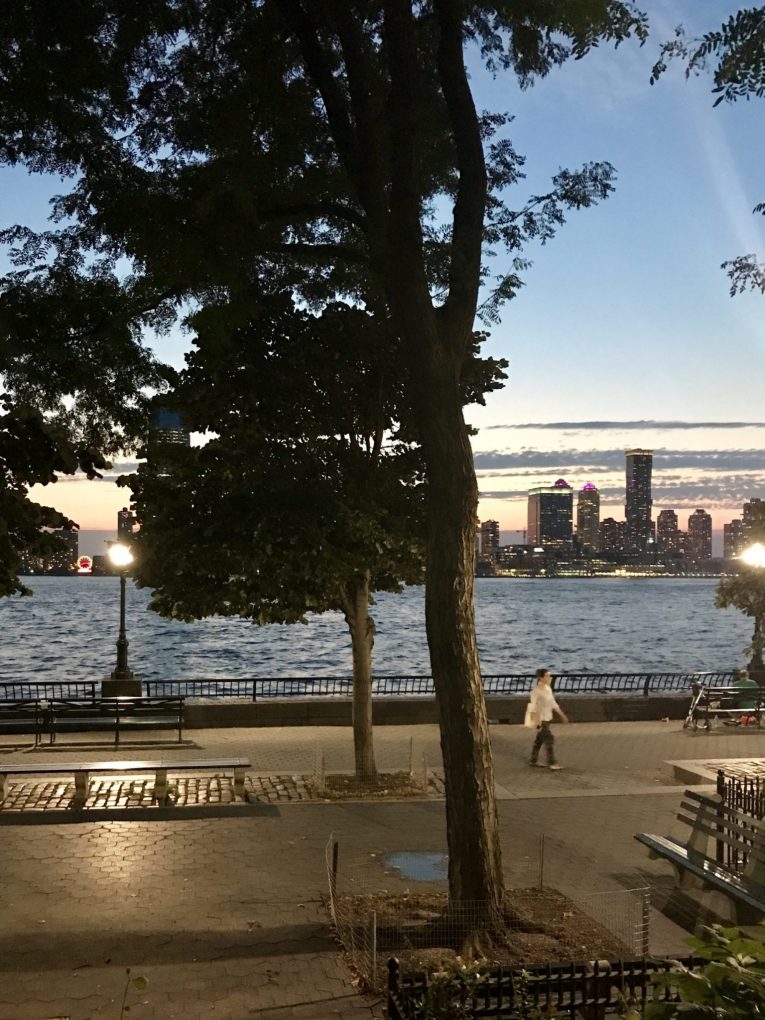 Backing up to Friday. I left work around 6, grabbed cheese and crackers and headed to my friend Nicole's apartment for a cozy night in of drinking wine and talking for hours about all the things. And all the feelings. It was so refreshing after a long week. I left there around 10pm, biked home and feel into bed.
Saturday morning I had two new clients. I haven't taken new clients in a really long time since life was at max capacity, so Cody has been taking almost every new client for the past 18 months.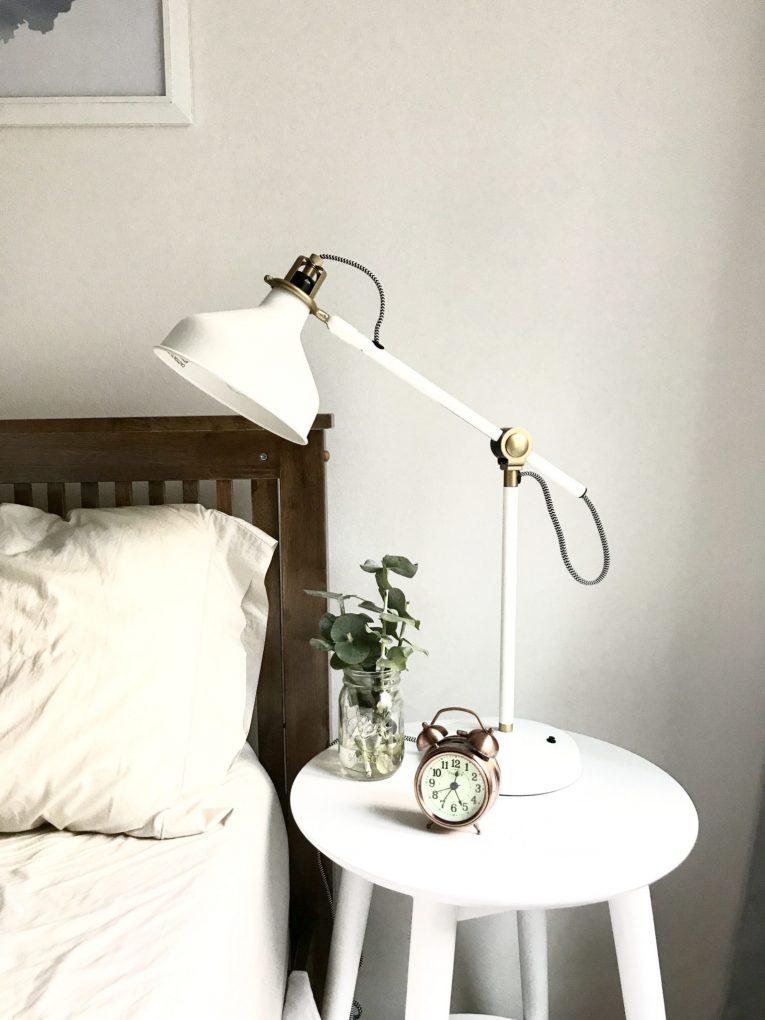 I've restructured Nutshell a bit but still have some structural kinks to work out so I'll talk more about that down the road — but the website has gotten a little revamp which is exciting!
It felt so good to be seeing new clients again. Honestly, when I started nursing school back in May of 2014 I didn't know what the business and blog would become. To see it still thriving over 3 years later and to feel more passionate than ever about helping women had me feeling all kinds of grateful by 11am Saturday morning.
After the session wrapped up, I laced up my shoes and went running. Every Saturday in August is summer streets — meaning there's a 7 mile stretch from the Brooklyn Bridge (near our apt) all the way up to Central Park where no cars are allowed, only pedestrians. It's so awesome to run up and down the city streets with only bikers or walkers/runners around and there is all kinds of music and fun things going on.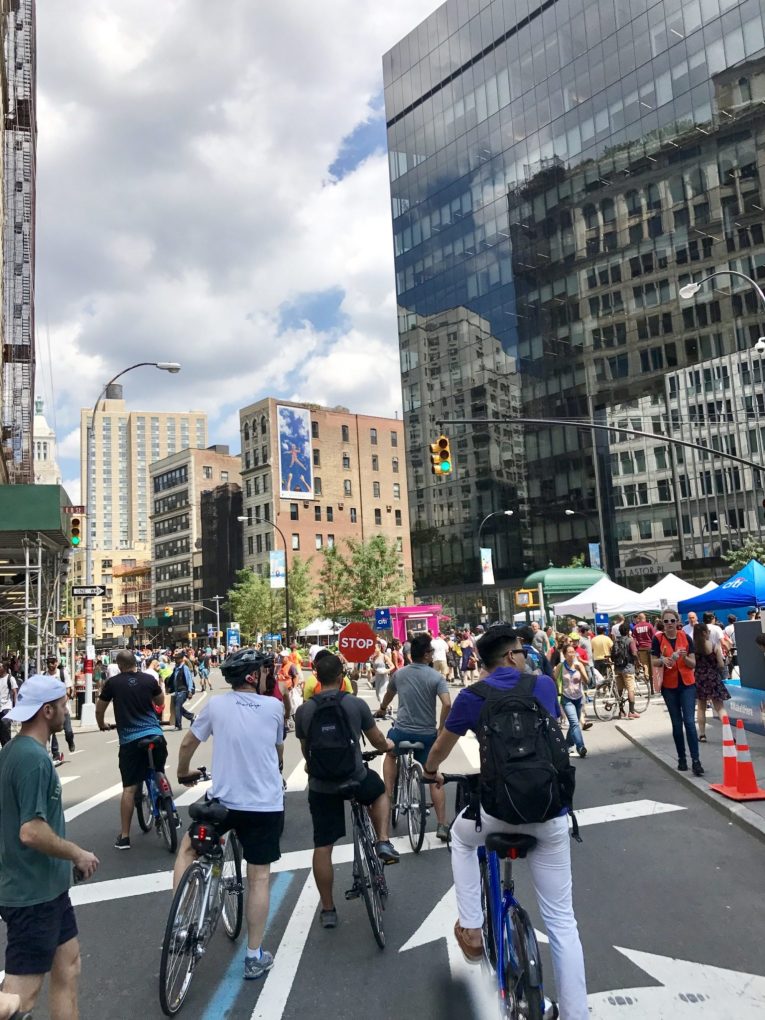 It was SO HOT though. I walked near the end and talked to my friend Jess on the phone. Then swung by Whole Foods for a few bulk bins items and then walked home while catching up with my friend Kelli on the phone for a while.
Came home and immediately made a smoothie. 1 cup almond milk, 1 scoop protein powder (that's 1/2 off right now), 1 frozen banana, frozen spinach and 1 tsp maca powder.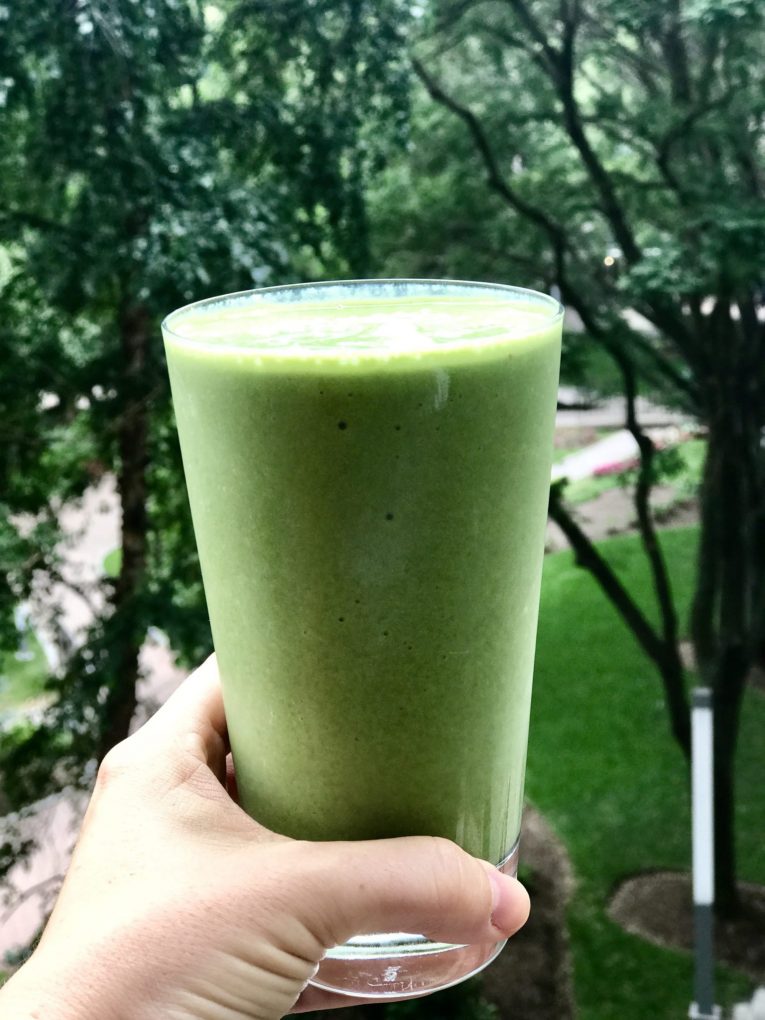 And then snacked on a bowl of popcorn.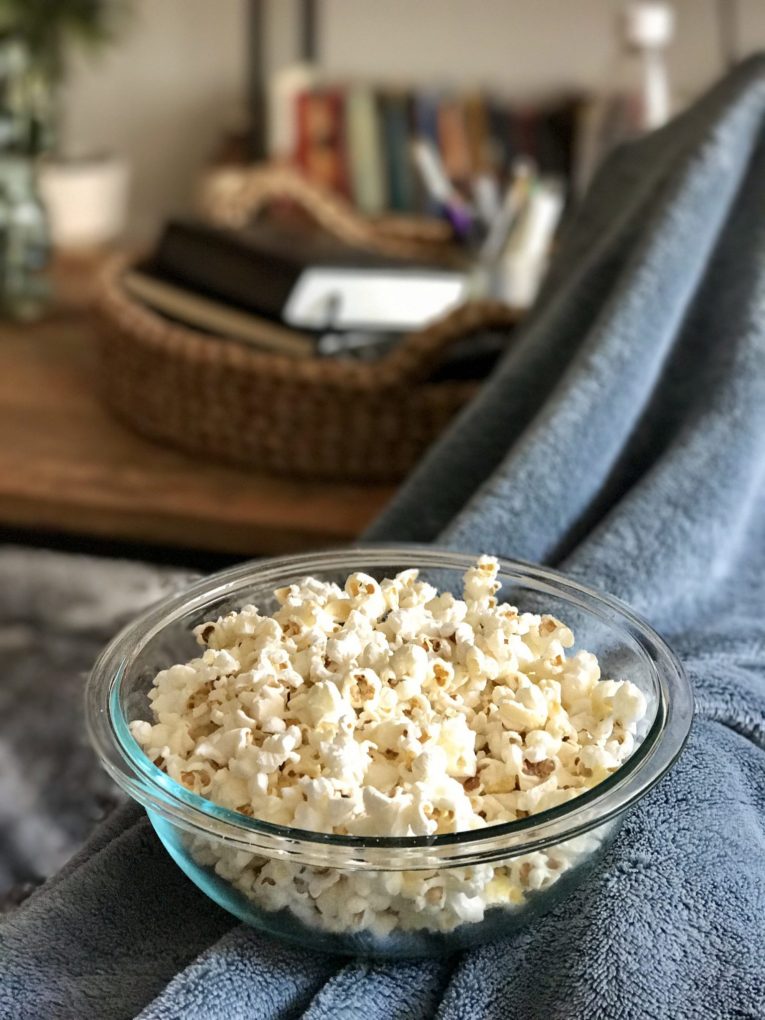 And was still hungry so made a plate of goat cheese + jam and crackers later in the afternoon while reading.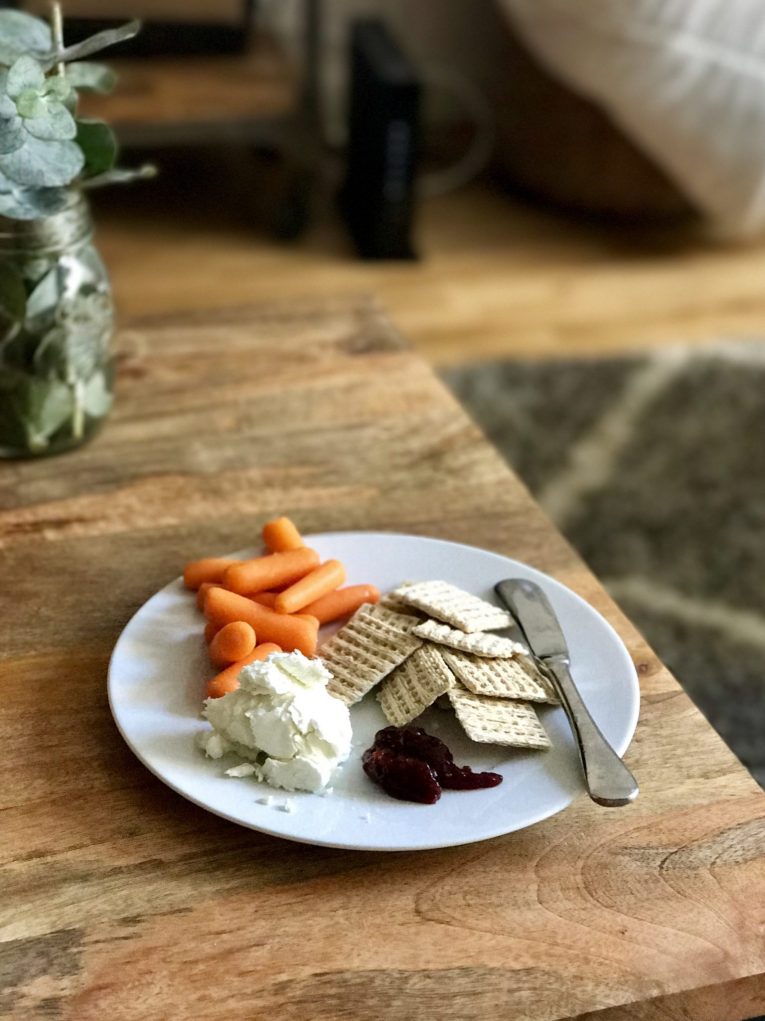 If I'm honest, it was hard to not busy myself. As much as I want to be better at resting by myself and say that I know how to do that….I'm still working on it. So I turned off my phone and walked over to get dinner…mediterranean chicken salad from Chopt. I poured a glass of white wine, cozied up on the couch with dinner, ate some ice cream from the pint and watched multiple episodes of Grey's Anatomy. It was wonderful.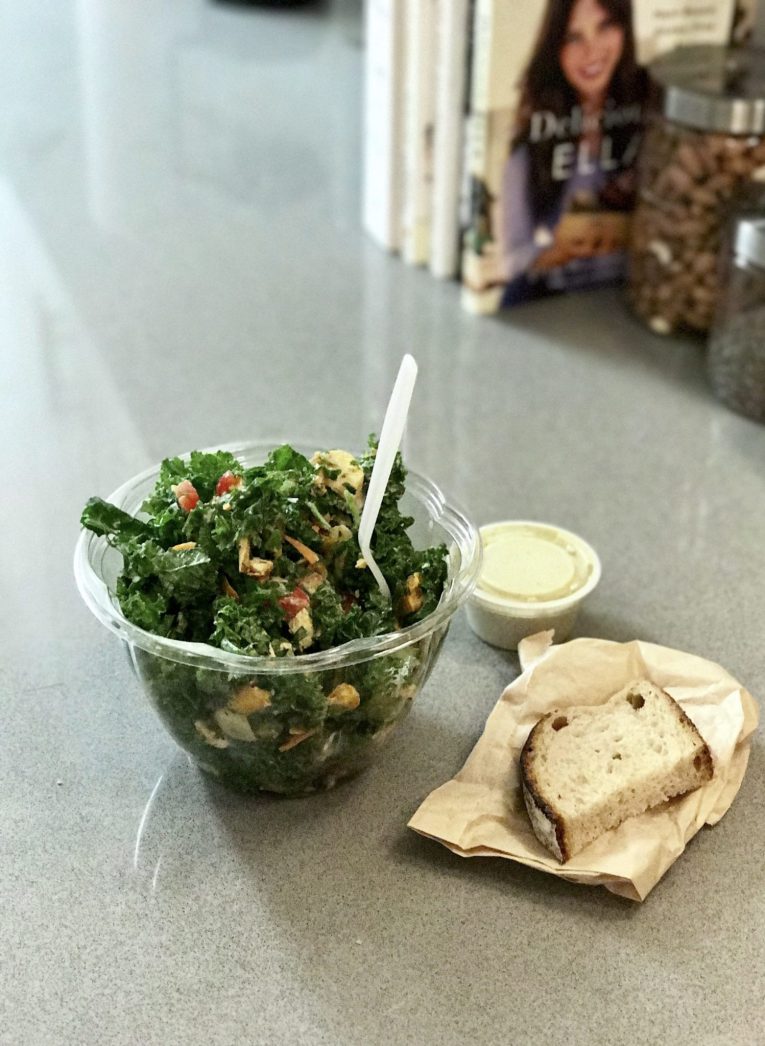 Sunday morning was slowwww. I flipped through some cookbooks for meal inspiration but then nothing sounded good so I went to Pinterest. I decided on these insanely simply veggie burgers for lunch and thai turkey meatballs for dinner.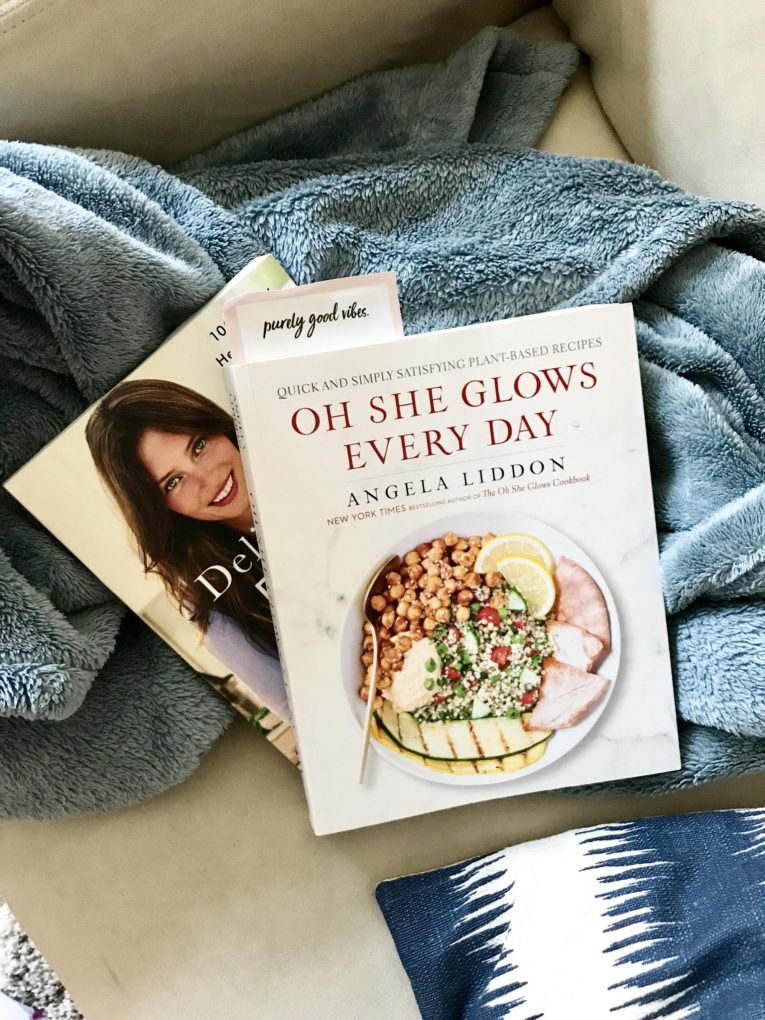 Then I ate the same breakfast that I had on Saturday morning…toast and yogurt. One slice slathered with butter and cinnamon sugar, the other with pb and banana and whole milk yogurt with granola and blueberries.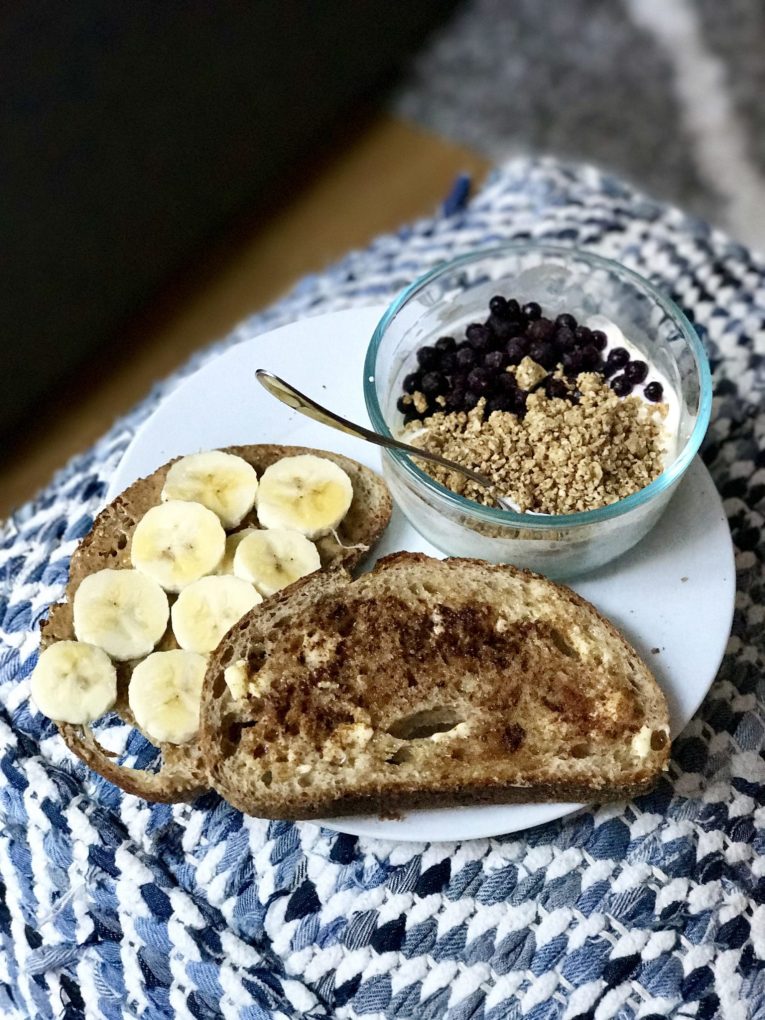 I answered a ton of email since my inbox was literally exploding. Ordered groceries online through Instacart (life is much easier with grocery delivery) and then went on a walk/jog along the river.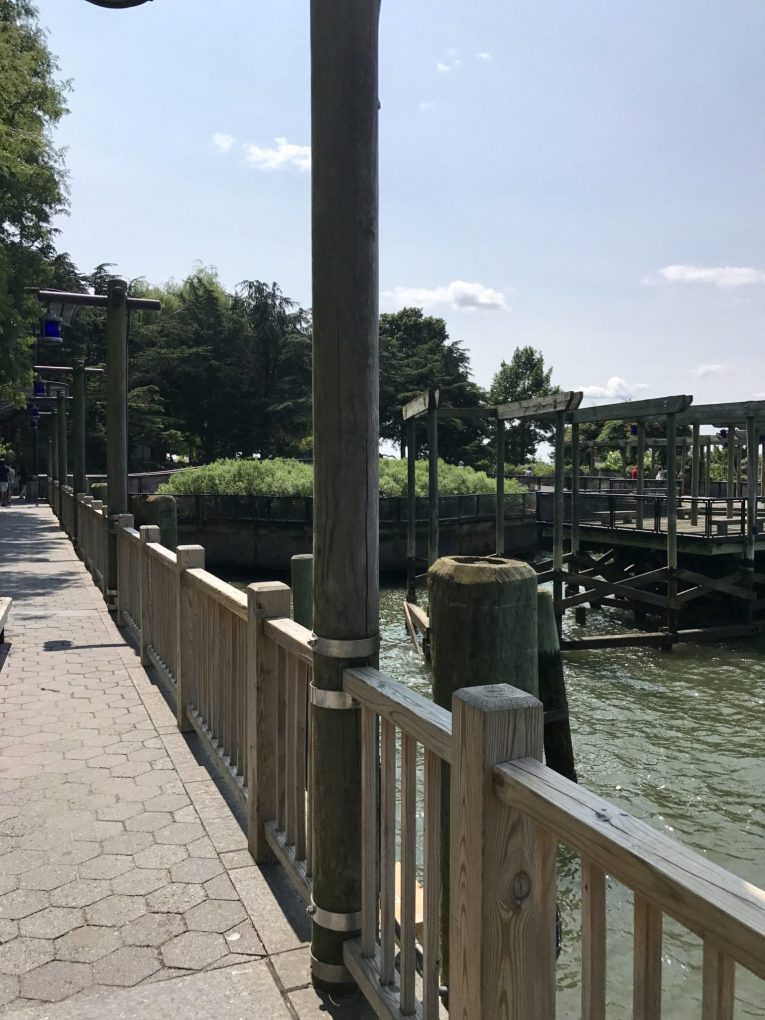 By the time I came home the groceries had arrived and I turned on some music and spent 90 minutes cooking up everything. Nick and I share the cooking duties based on whoever is less busy, but no matter what we never really spend more than 60-90 minutes meal prepping on Sundays. I get frustrated if it goes on longer because it starts feeling like "work."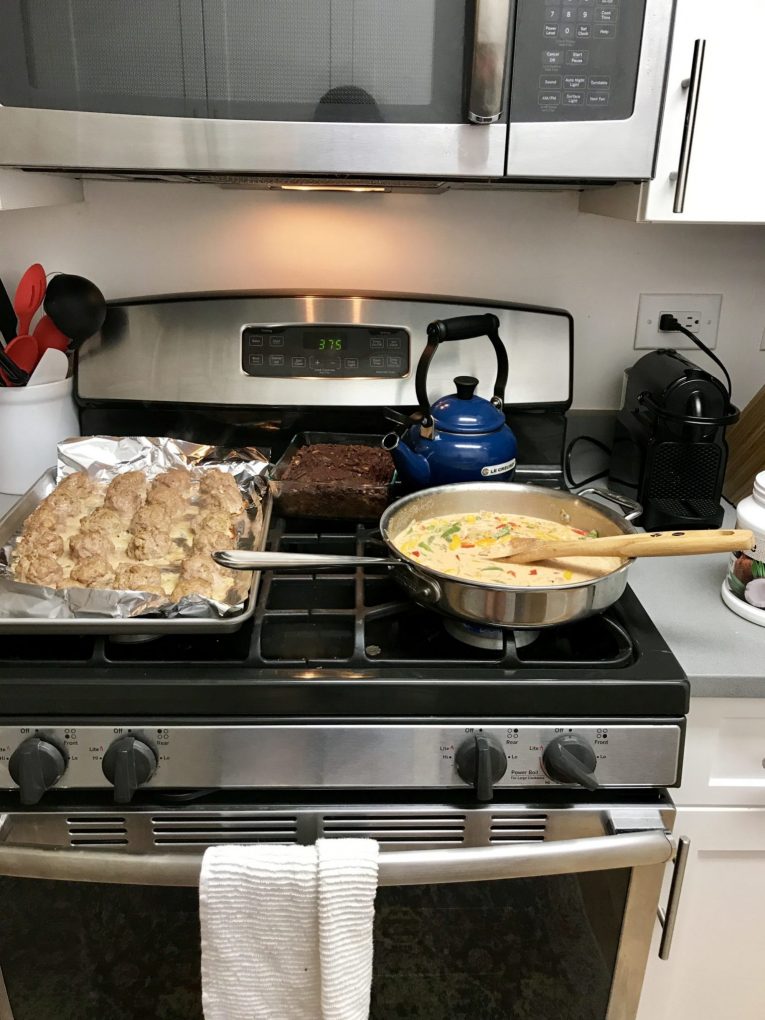 I made the meatballs, veggie burgers, a batch of cookie dough protein bars, roasted a bag of broccoli and threw together this chocolate banana bread with the rotten bananas leftover from last week.
Lunch consisted of another smoothie after I showered along with a cheese plate similar to yesterday (triscuits + goat cheese + jam)
I snacked on an apple and KIND bar on my up to hang out with my friend Anne before church. I lived with Anne (and Brittany) two apartments ago and that will forever be the best roommate situation ever. I love both of them.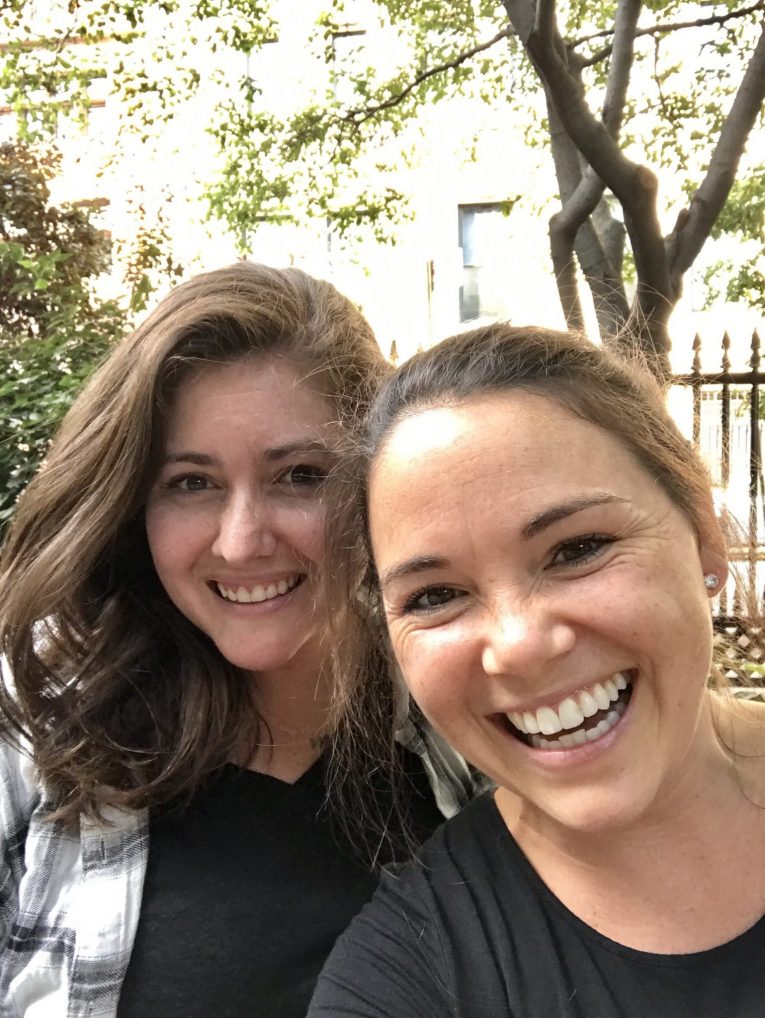 Spent the evening at church, chatted with friends afterward and then biked home.
You'd think that after cooking for the week I'd just eat some turkey meatballs that I already made. But all I was craving was cheesy eggs and popcorn. So that's what I ate for dinner. And forgot to snap a picture…
I'm wrapping up this post on Sunday evening while snacking on graham crackers with pb and chocolate.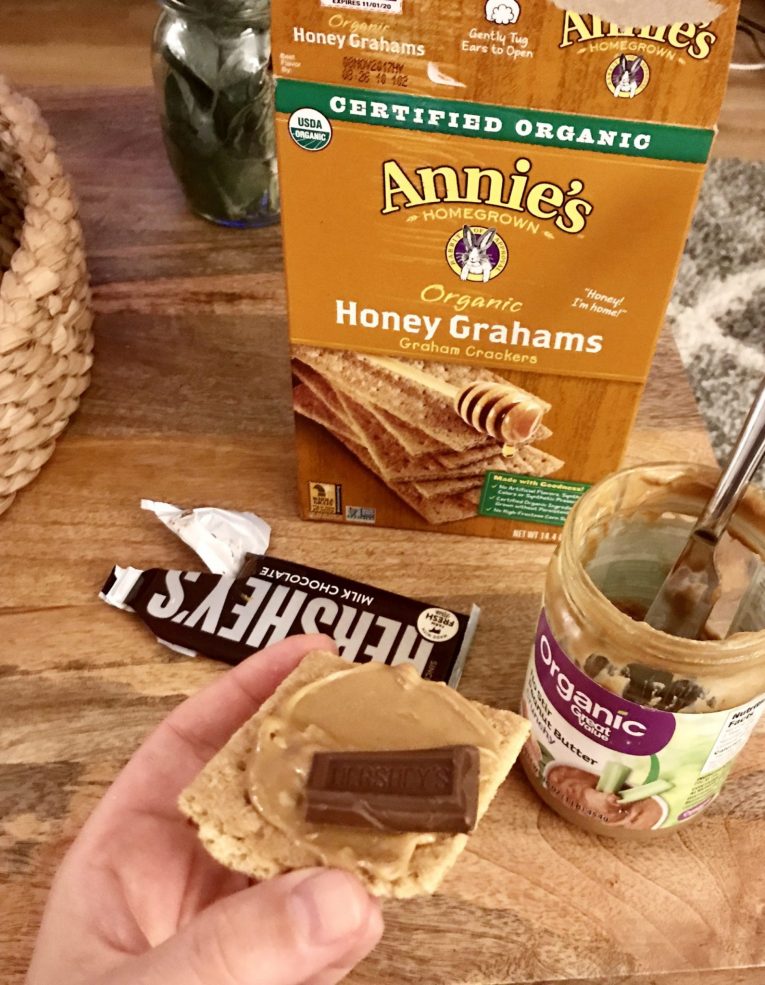 And then I'm about to stretch on the floor, foam roll for a bit, watch an episode or two of Grey's Anatomy (yes, I'm having a moment with this show currently) and then heading to bed early.
Nick flies home tomorrow morning and I'm very happy about that. Hope you had a restful weekend!