It was a really good, long weekend in northern California. One of those where you don't want Monday to come because you don't want it to be over.
We left Wednesday evening after work and took a direct flight into San Francisco. Major props to Delta and their transcontinental food choices.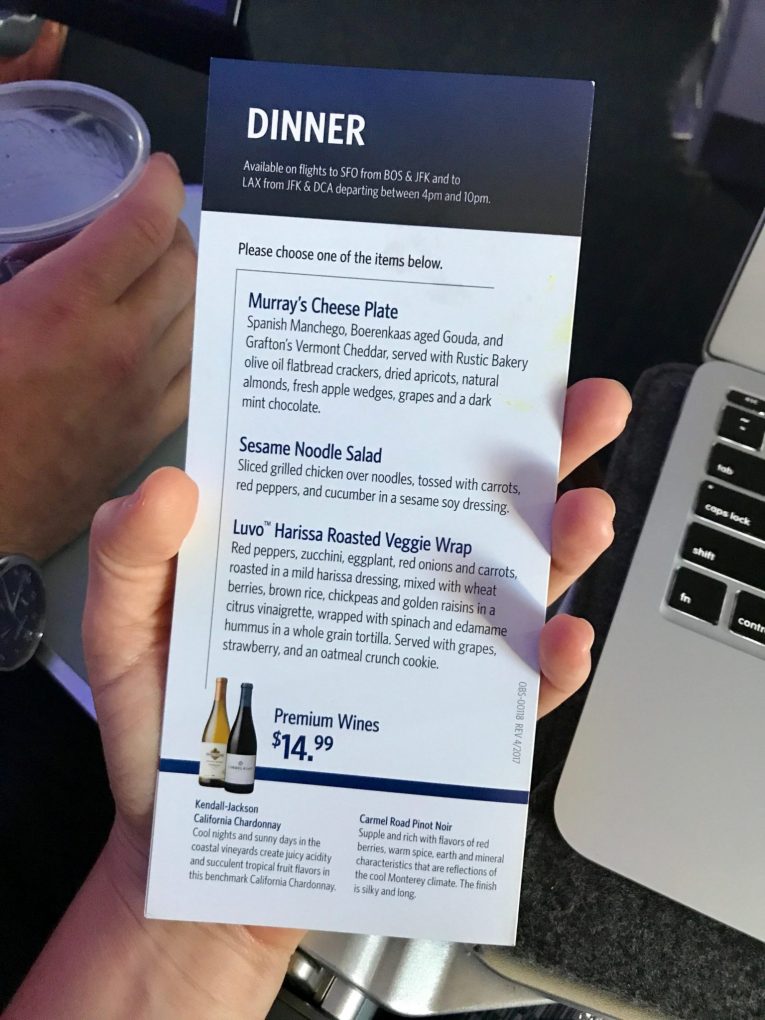 We drank some wine (yep, self medicating with alcohol majorly helps my flight anxiety) and split this cheese plate and wrap.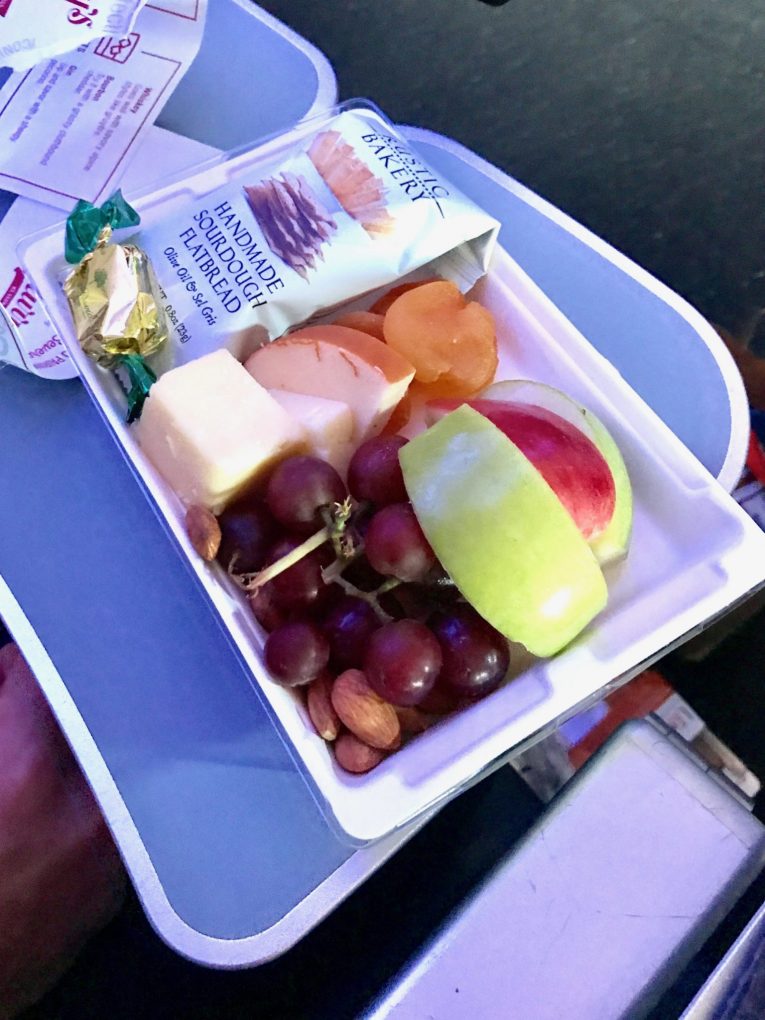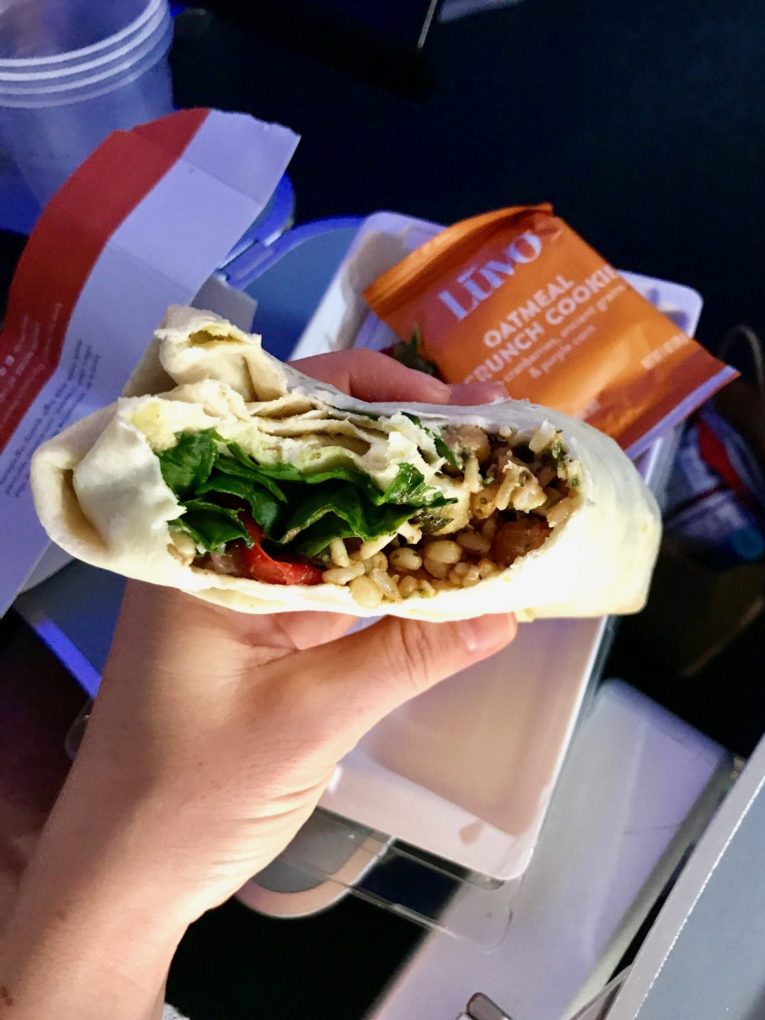 It seemed like such a long flight, mainly because we landed at midnight east coast time. But I had zero complaints. We took off on time, we sat next to the flight attendant on take off and landing (who was so amazing) and six hours later we were in California. We stayed with a friend that night who was so gracious with her space and took us to Reveille Coffee in the morning for breakfast.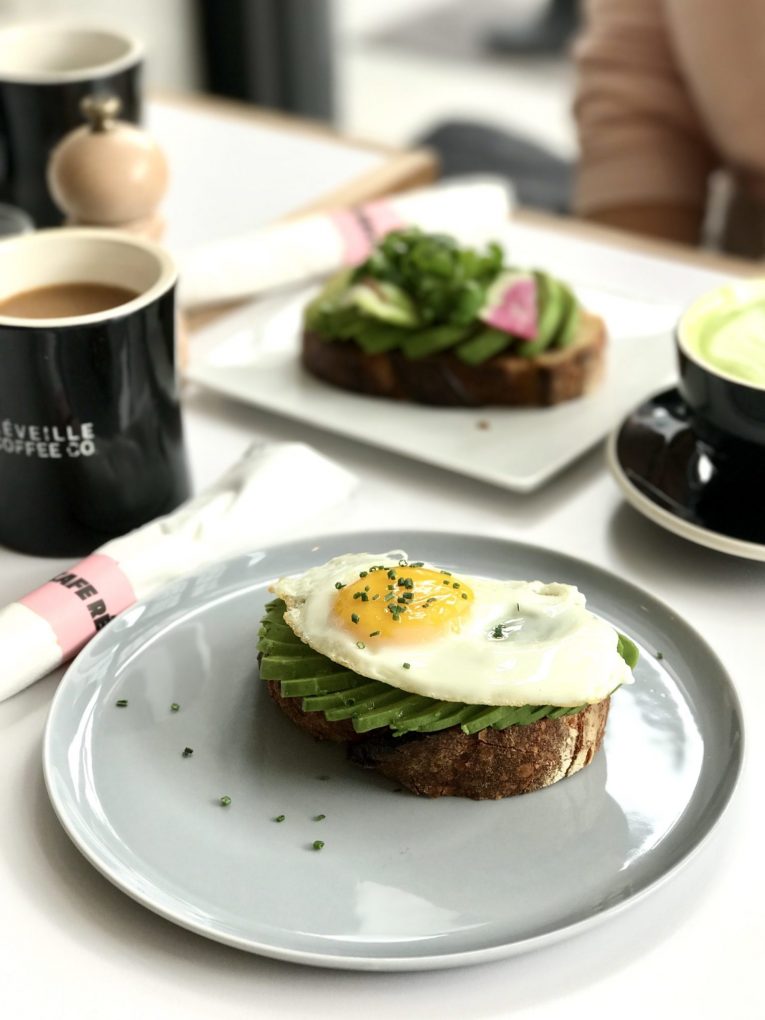 I went with the avocado and fried egg toast + coffee with cream. At first I thought this wouldn't fill me up but the thick bread and generous avocado surprisingly held me for a few hours.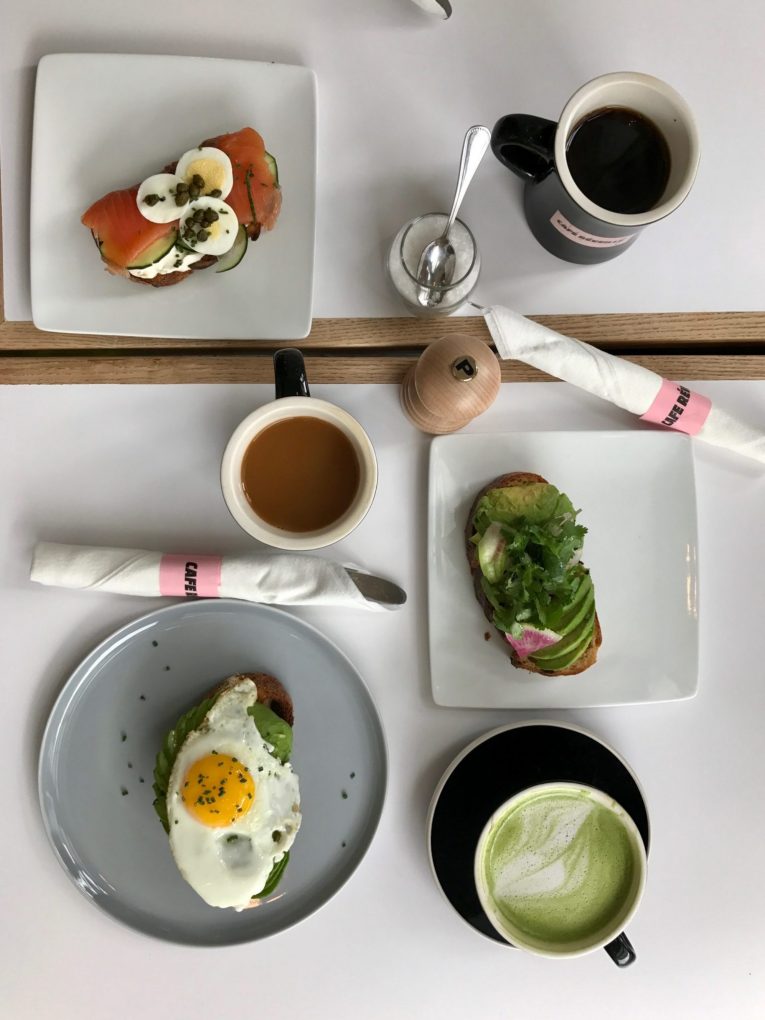 We walked around the city after breakfast, popped into a few shops and then did a quick circuit in the apartment gym (which was so nice!) to move our bodies a bit before grabbing lunch. There was this really cool food truck park nearby so we grabbed Korean bbq bowls — I have no idea what was in this besides veggies, chicken and fried egg but it was really good.
Our friends Steph and Andrew along with their new baby girl, Sloane, flew into SFO that afternoon so they picked up the car and grabbed us and we all drove into Napa for the wedding weekend. Trey and Nicole are good friends of ours in New York and they tied the knot this weekend – it was absolutely gorgeous.
The rehearsal dinner was Thursday night at Farmstead at Long Meadow Ranch. Even though it was in the 90s, there was no humidity so it felt much cooler compared to 90 degrees on the east coast. Even more reason to love California.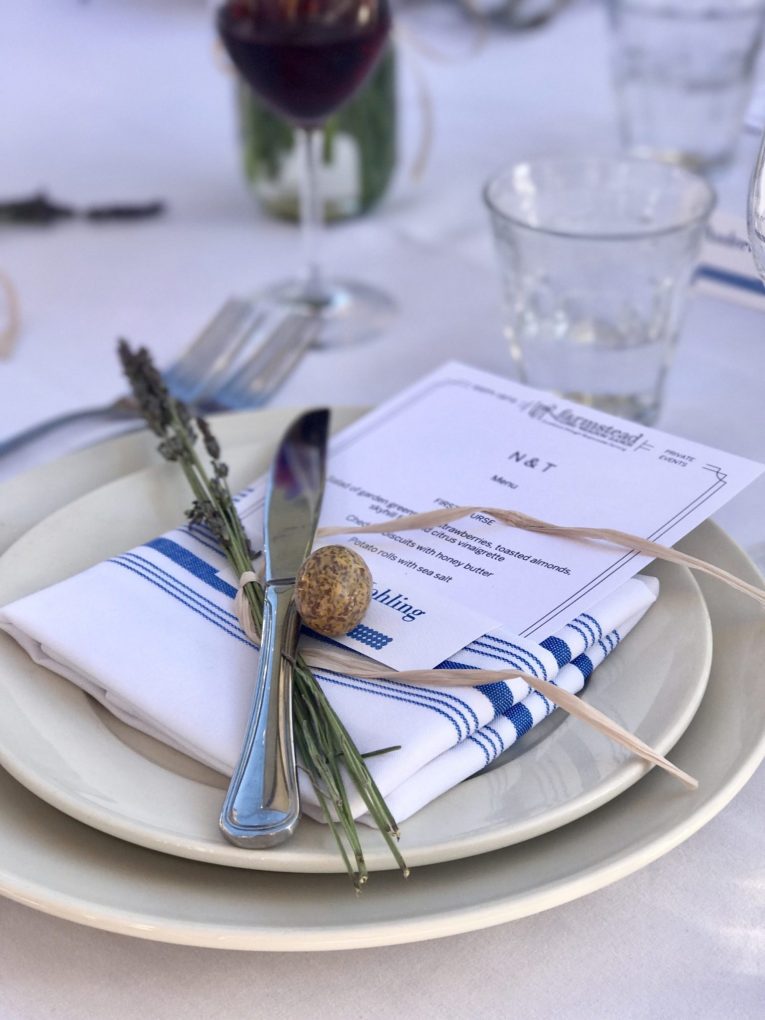 The food was AMAZING. I ate a lamb slider during cocktail hour along with a glass of of sauvignon blanc + chardonnay. Dinner started with an arugula salad and these insane cheddar biscuits and salted potato rolls with whipped butter.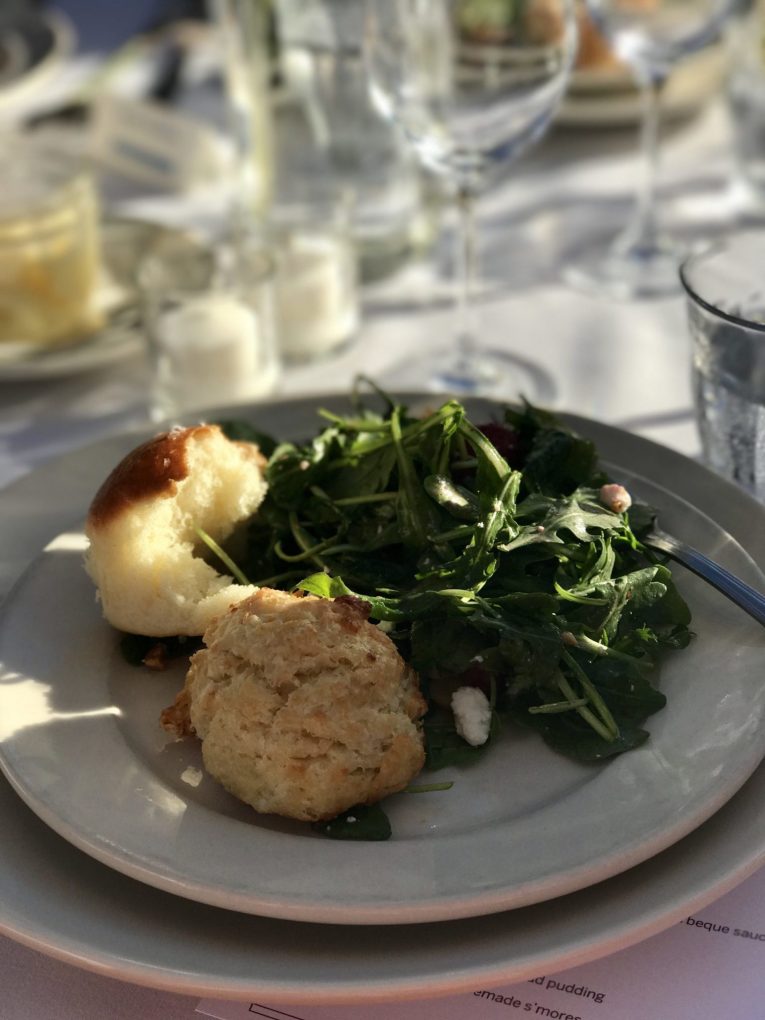 And for dinner they had roasted a whole pig and chicken along with roasted potatoes that I had with a glass of pinot noir. By the time I ate the pork and half the potatoes I was full so I left the rest to save room for dessert!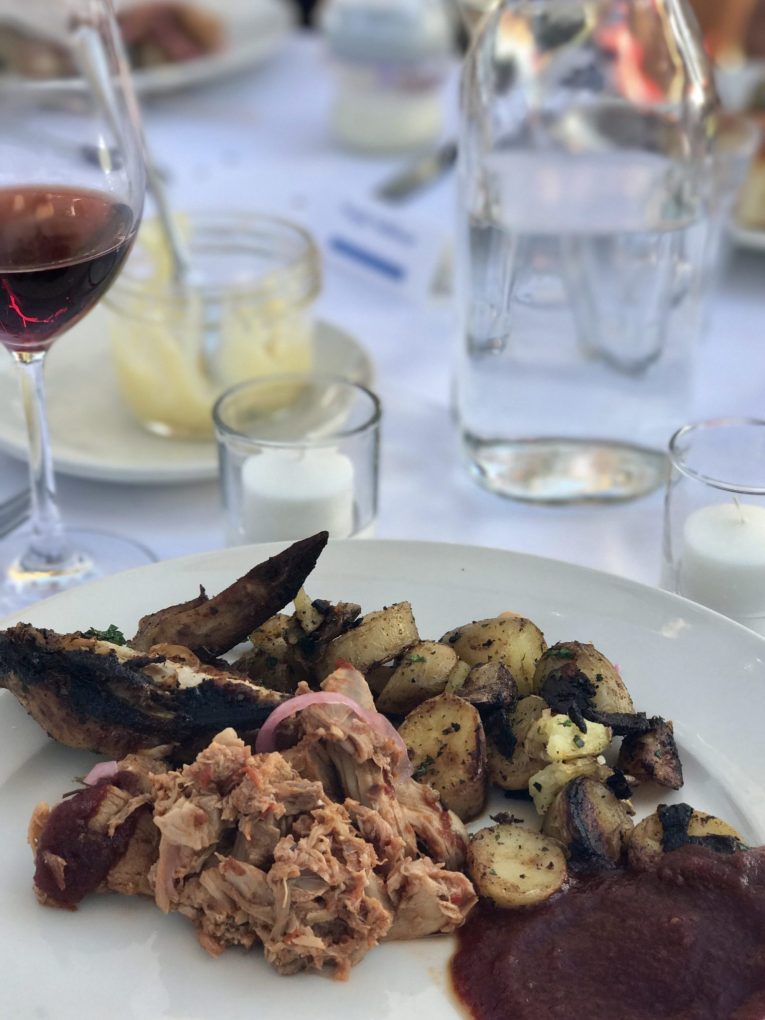 The weather was just perfect by the time the sun started to go down.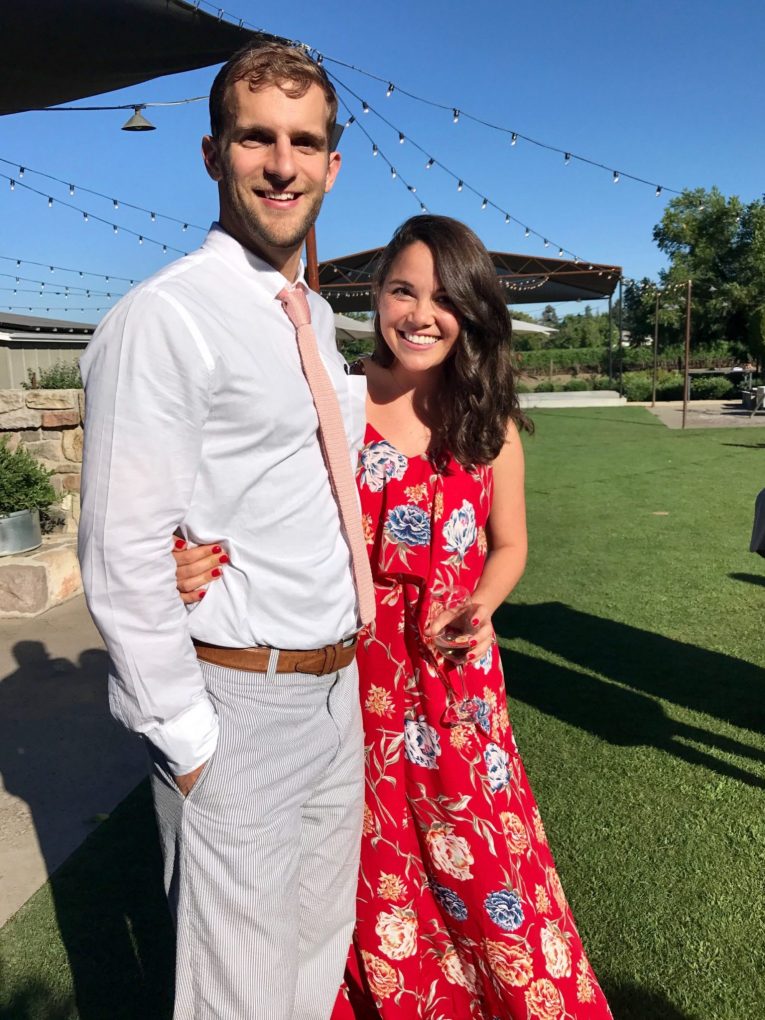 Dessert was these adorable strawberry shortcakes + smores over the fire and these huge, melty and delicious cookies. I had a shortcake and some of Nick's cookie plus a homemade marshmallow.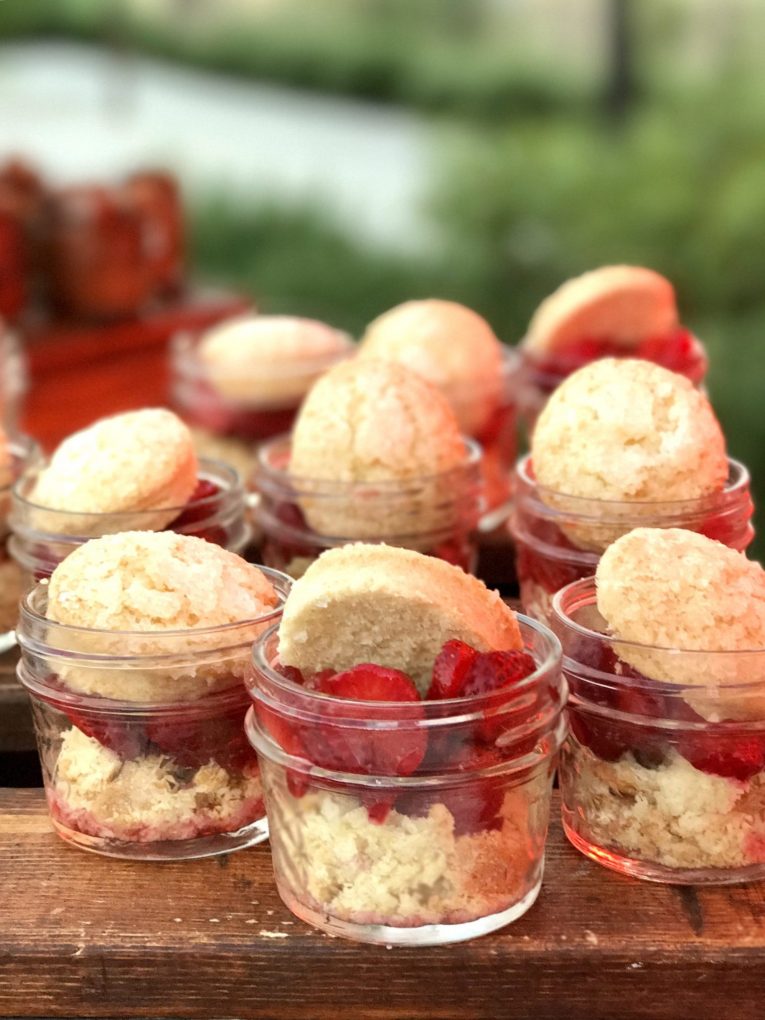 After the rehearsal dinner we sat around the fire at our hotel (we stayed at the River Terrace Inn with a the wedding block price which was great —  it's not in our every day budget but if it fits, I highly recommend if you're in Napa!) and then headed to bed. The next morning we woke up early thanks to still being on east coast time and drank coffee on the terrace before walking over the Oxbow Market for breakfast.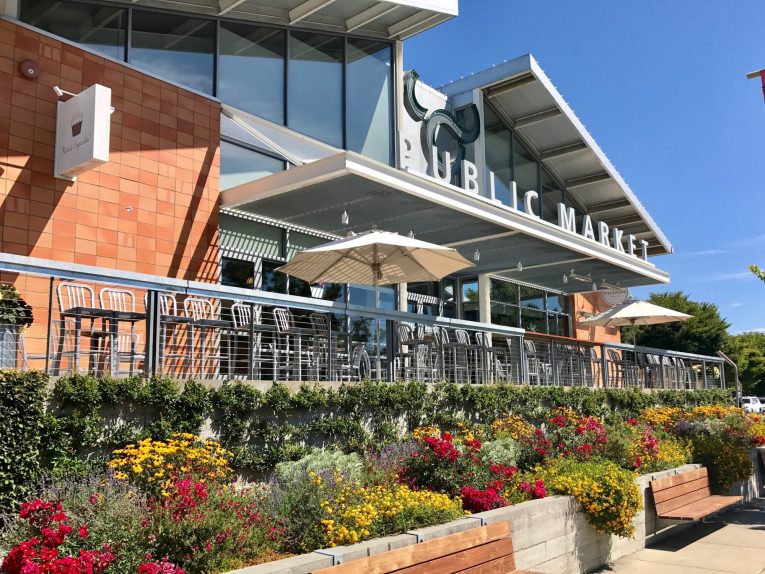 I had been before to this market when my momma and I took a trip to Sonoma and Napa last year, but it has changed since we last went so that was fun. I went with a goat cheese scramble from Casa which came with homemade tortillas you could see them making in that back that were so doughy and awesome.  Along with a latte.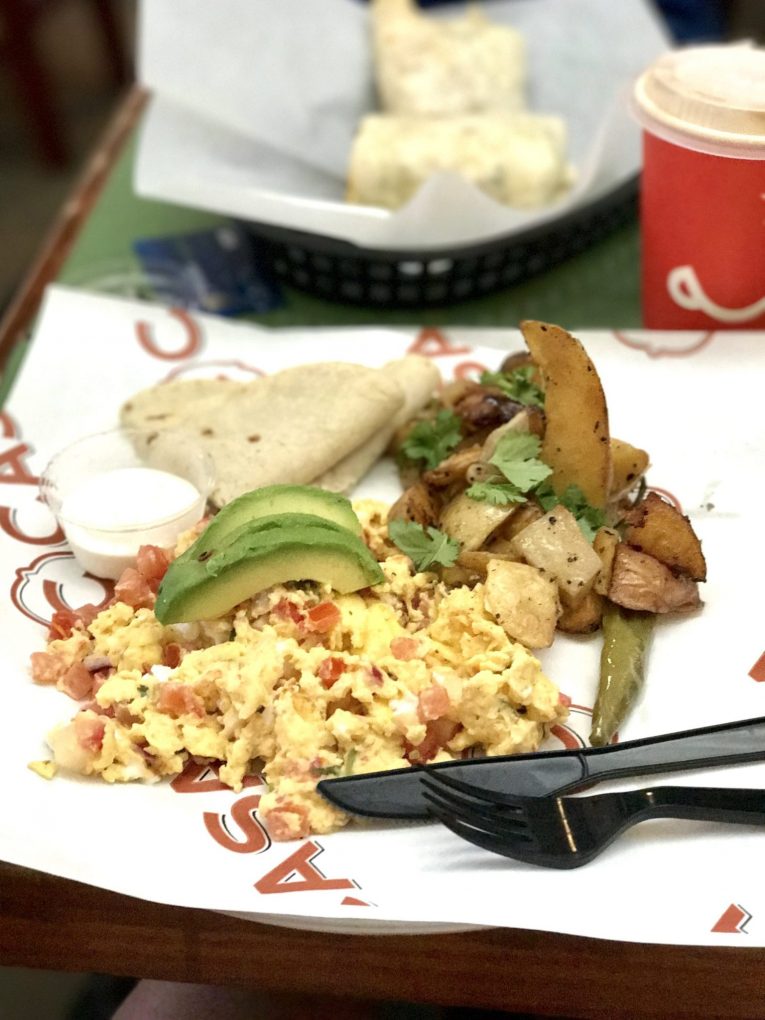 Afterward, we walked around downtown Napa and then I was craving a sweat so we moved our bodies for a bit in the hotel gym. I whirled around on the elliptical while listening to a podcast while Steph did a circuit and then we met the boys down at the pool. I was starving and needed to shower so we walked over to grab lunch at Grott's and brought it back to the hotel. The salads were just what I was craving and super fresh. This was blackened chicken with oranges, black beans, quinoa, avocado, and some other veggies – Nick and I split the fries.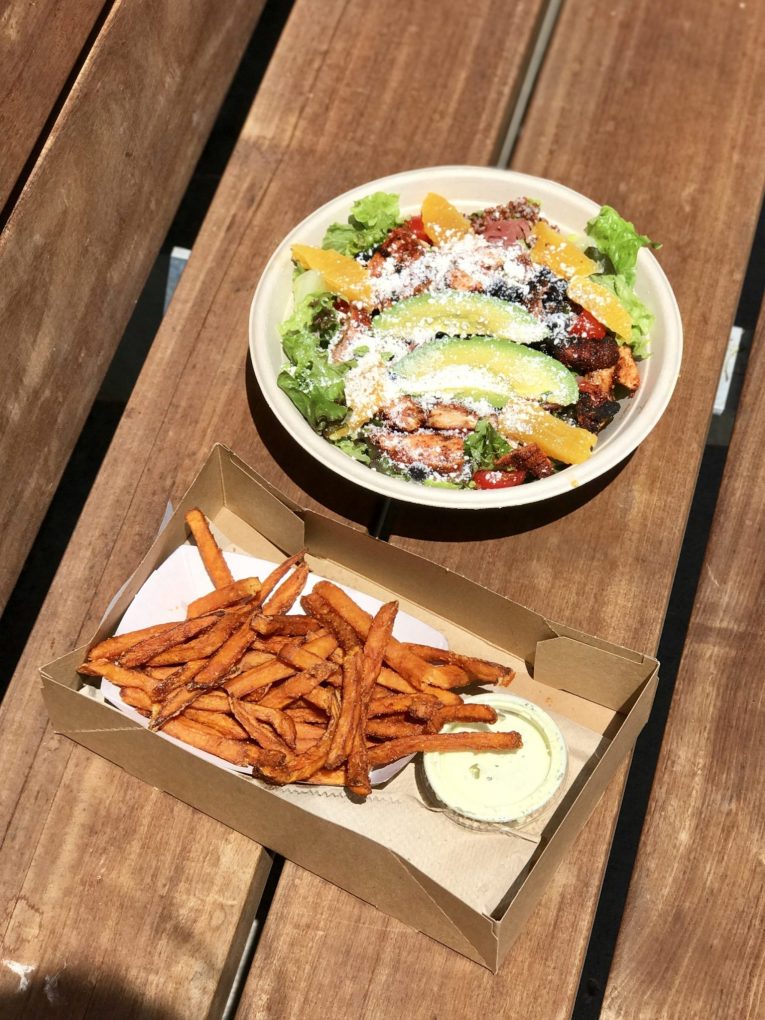 Nick was a groomsmen so he left to go do wedding party things and I answered some emails, napped and finished getting ready before heading to a winery for a tasting with some other girls before the wedding started. We went to Alpha Omega since it was near the venue. The views were stunning!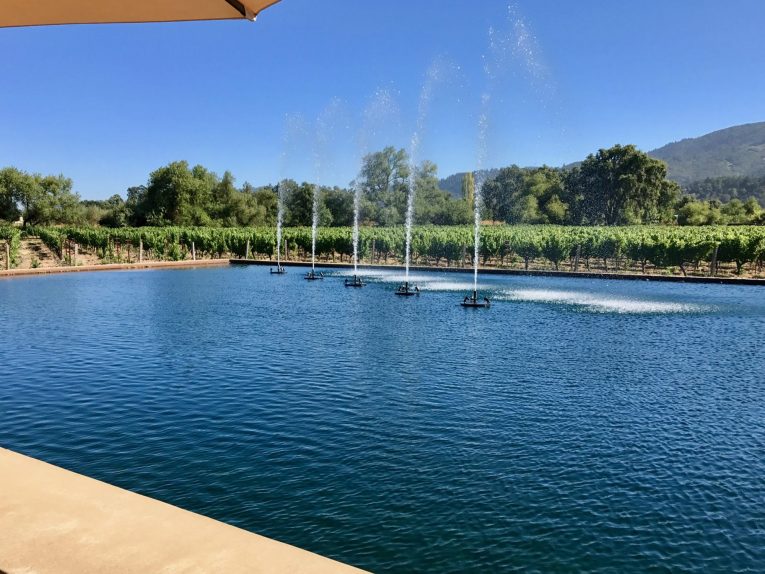 We tasted a couple whites and two reds — I don't remember the names of any of them since I didn't snap any pictures but there was a $200 bottle of a cab we tasted that was so smooth. I sipped slowly and savored because I would never buy a $200 bottle…but I can dream.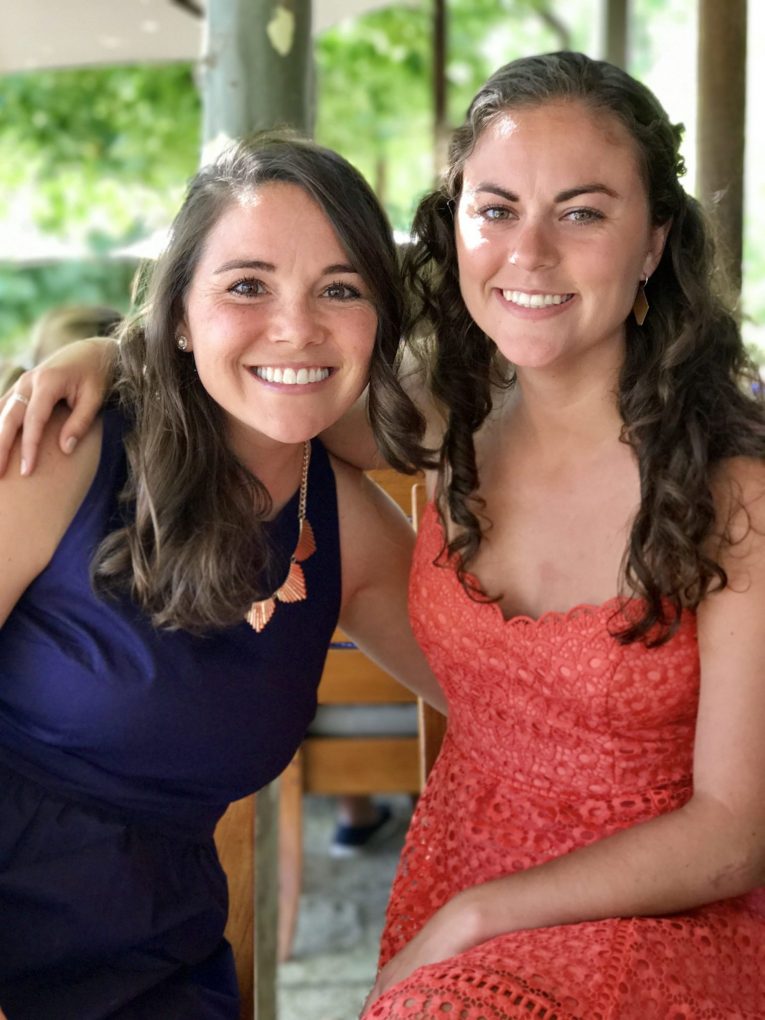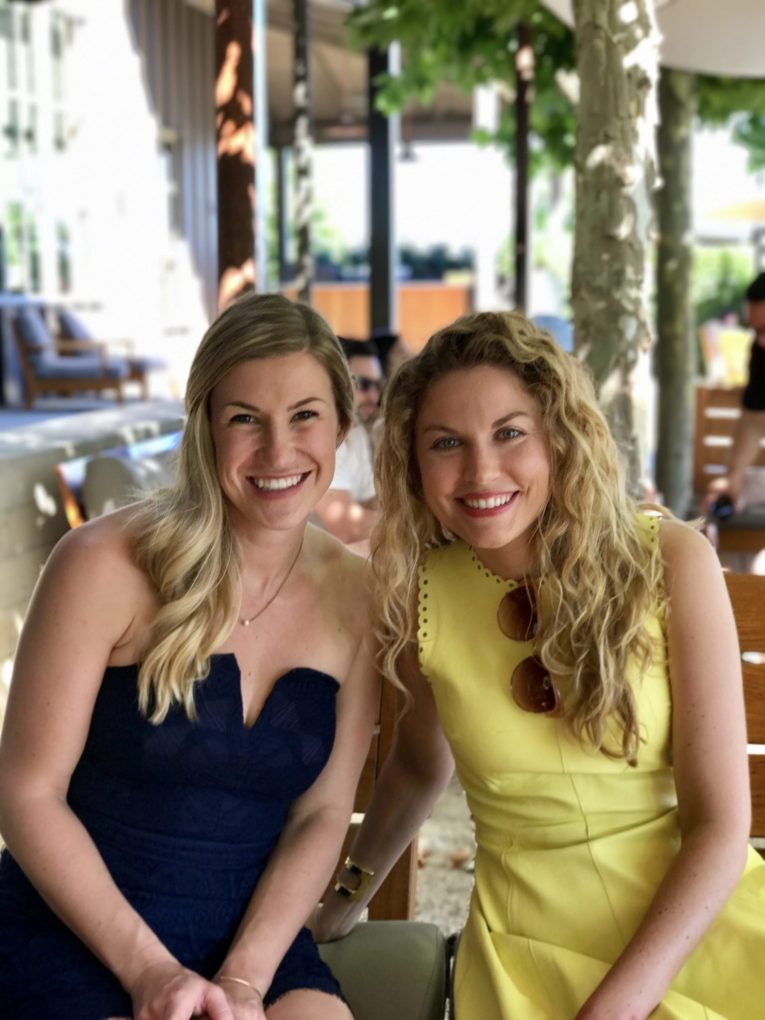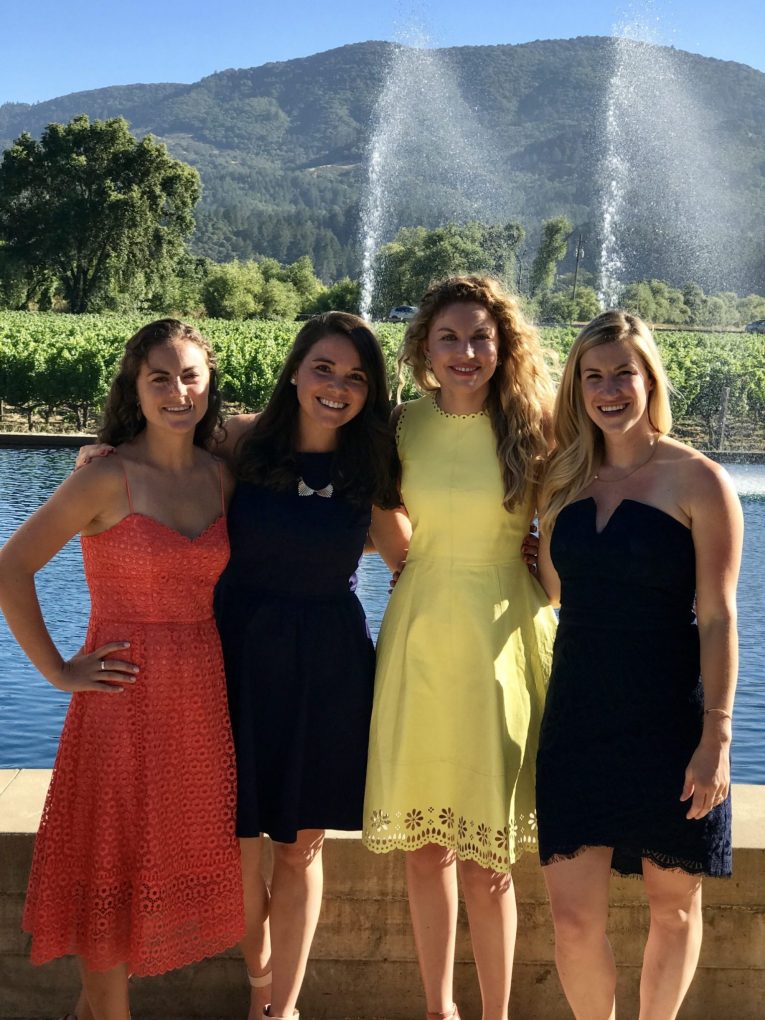 And then we headed to the wedding! The venue was right across the street at V. Sattui and it was complete magic. I just keep looking around thinking "this is sooo dreamy!"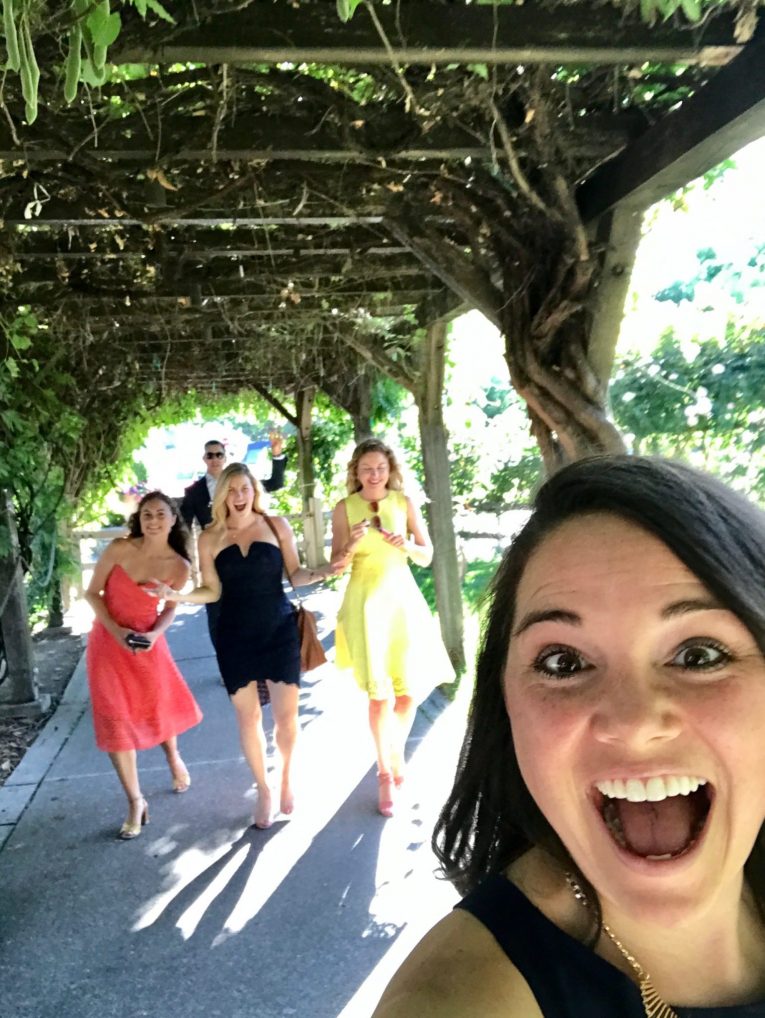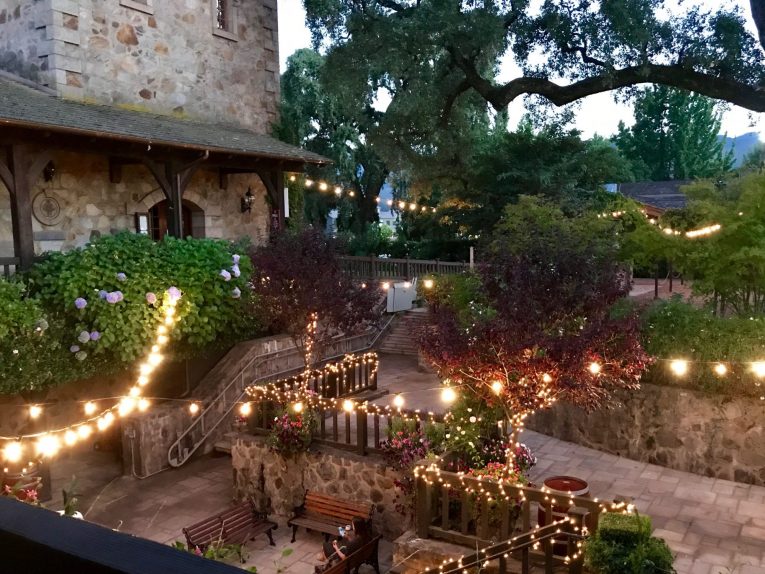 It was a smaller wedding and the ceremony was tucked into this courtyard which felt so intimate and sacred. Nicole was a vision and looked absolutely stunning. Seeing her walk down those steps still gives me chills. It was really special too because David Robbins, the same pastor that married us, married them.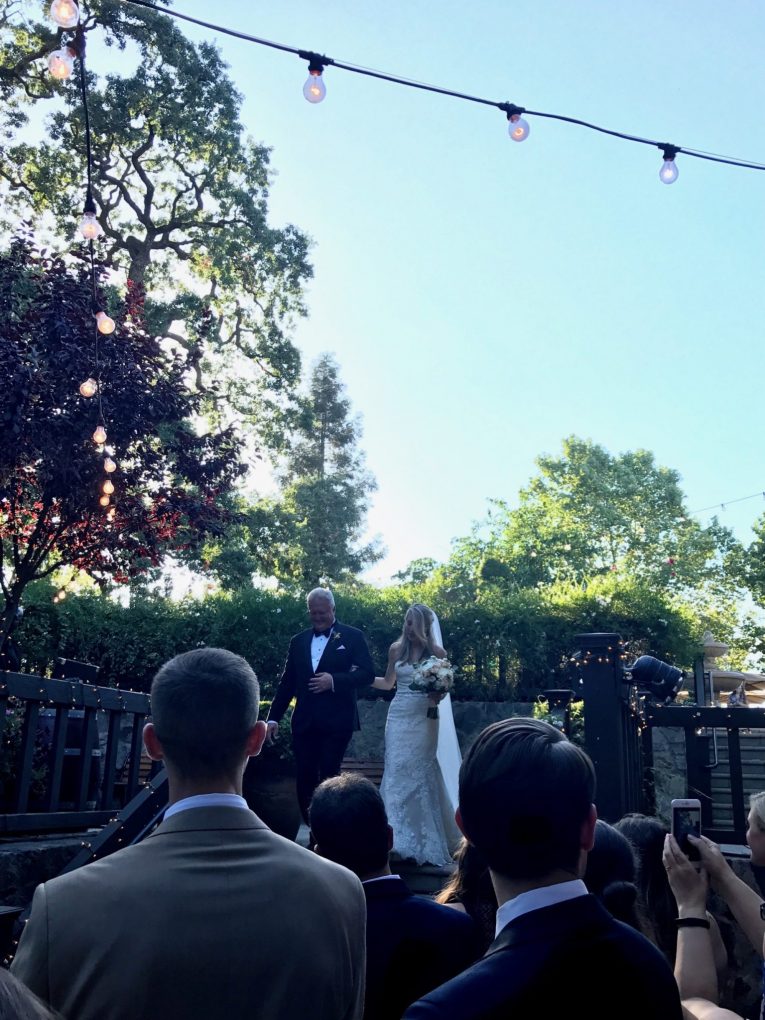 And just like that they were Mr. and Mrs. Rallis! Cocktail hour was around the corner in this beautiful garden. The sun was setting and the 100 degree heat had turned into a crisp summer breeze.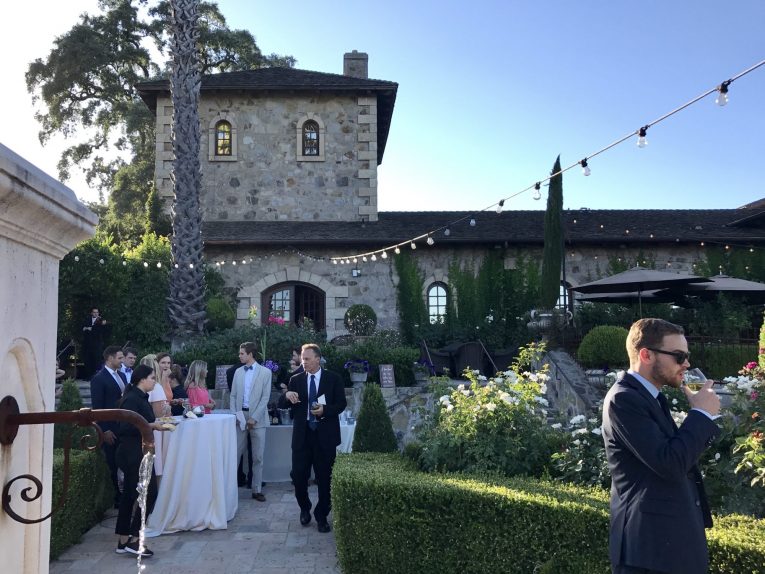 Besides seeing two of our favorite people get married, one of the best parts about the weekend was getting to spend time with our good friends Steph and Andrew who moved from the city last summer and now live in southern CA. And we got to meet their new baby, Sloane!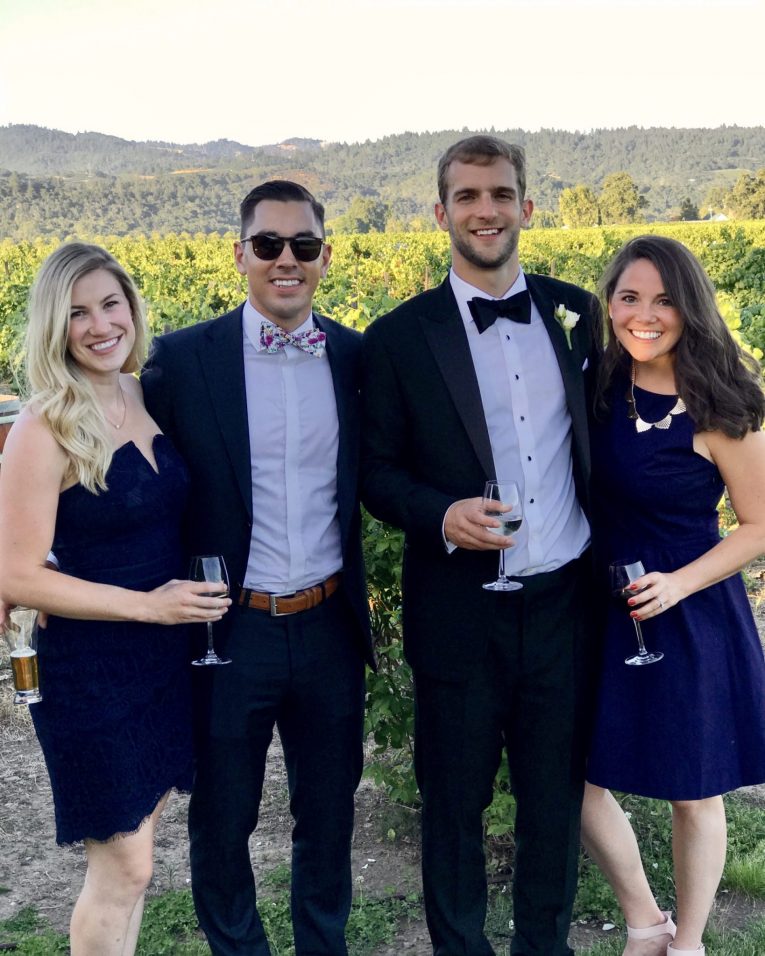 I ate a couple of these arugula and prosciutto apps which were tasty.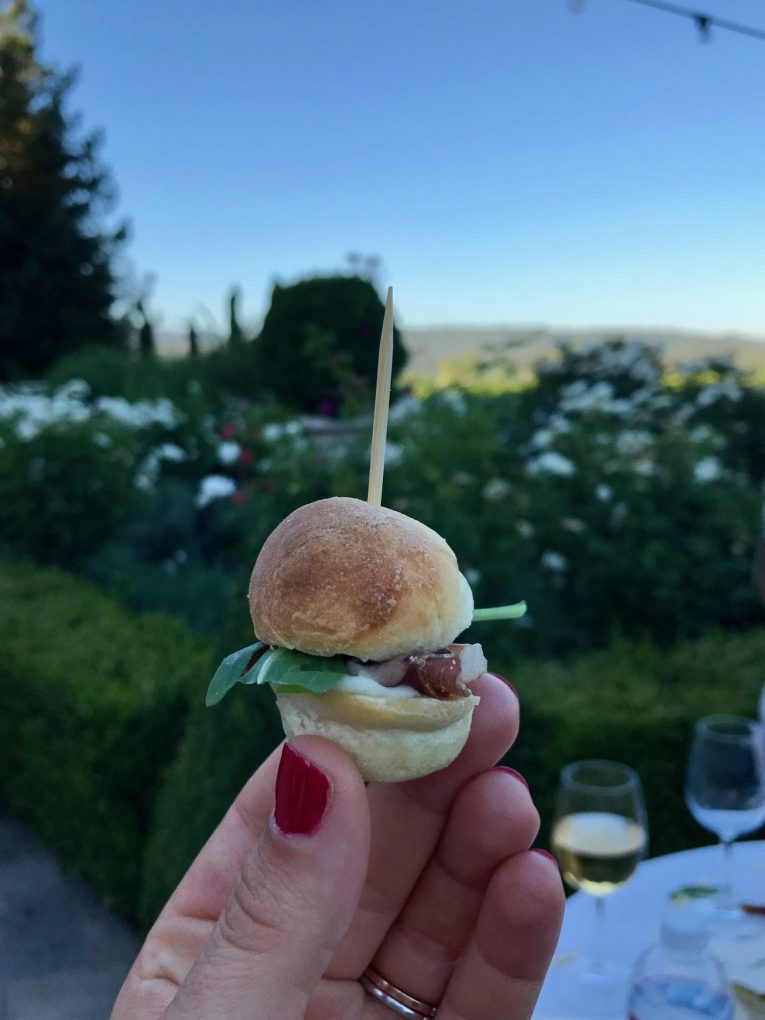 And we snapped some photos because the landscape was breath taking. Side comment: my mom rolls her eyes when we take these photos because we always do it and she really likes to have photos of us when we aren't doing it 🙂 So if you roll your eyes too….you're not alone. But I hope you'll still read the blog….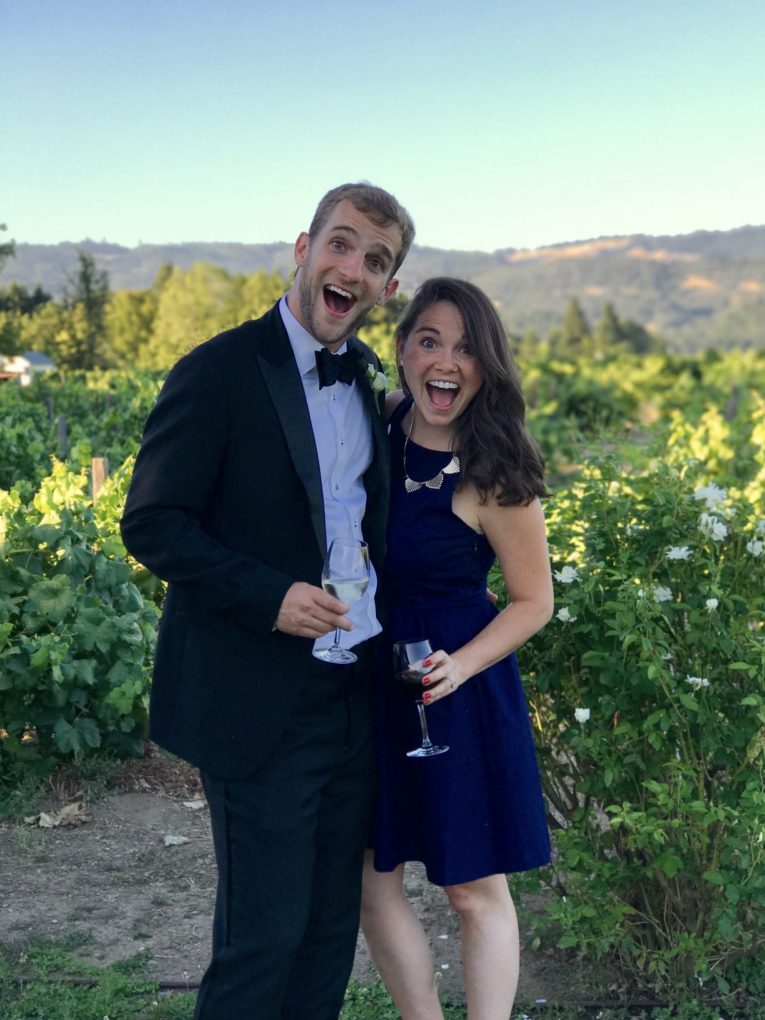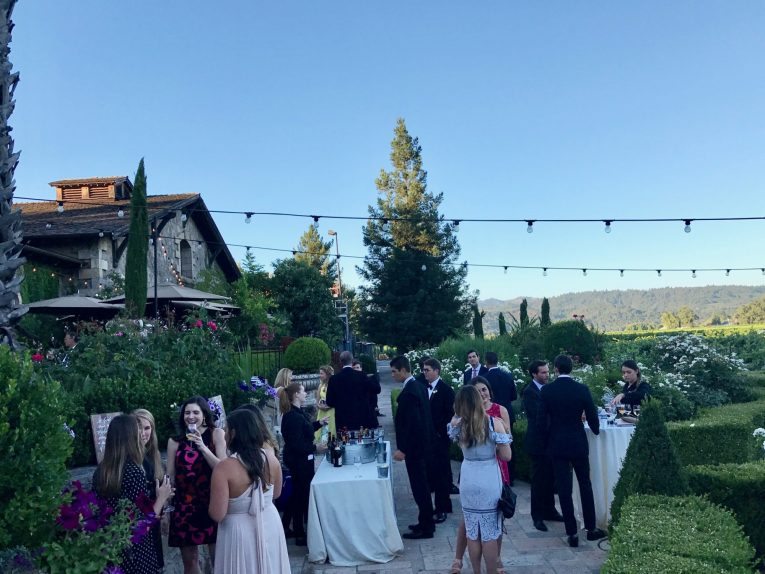 Dinner was in the wine cellar which was so cool. I was expecting it to be outside so when we went down into this cozy space surrounded with barrels I was pumped.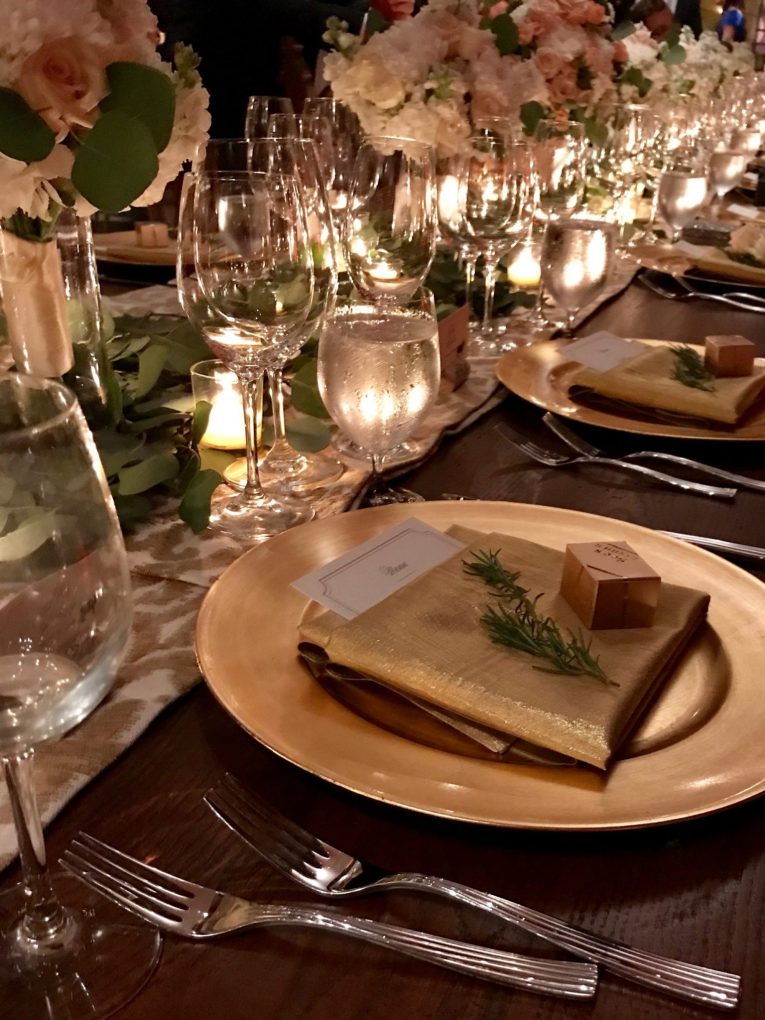 The lighting was super dark so sorry for the crappy photos…but the food was fab! What Nick and I do at weddings is order one of each dish so we can taste both. I went with the fish and he went with the steak.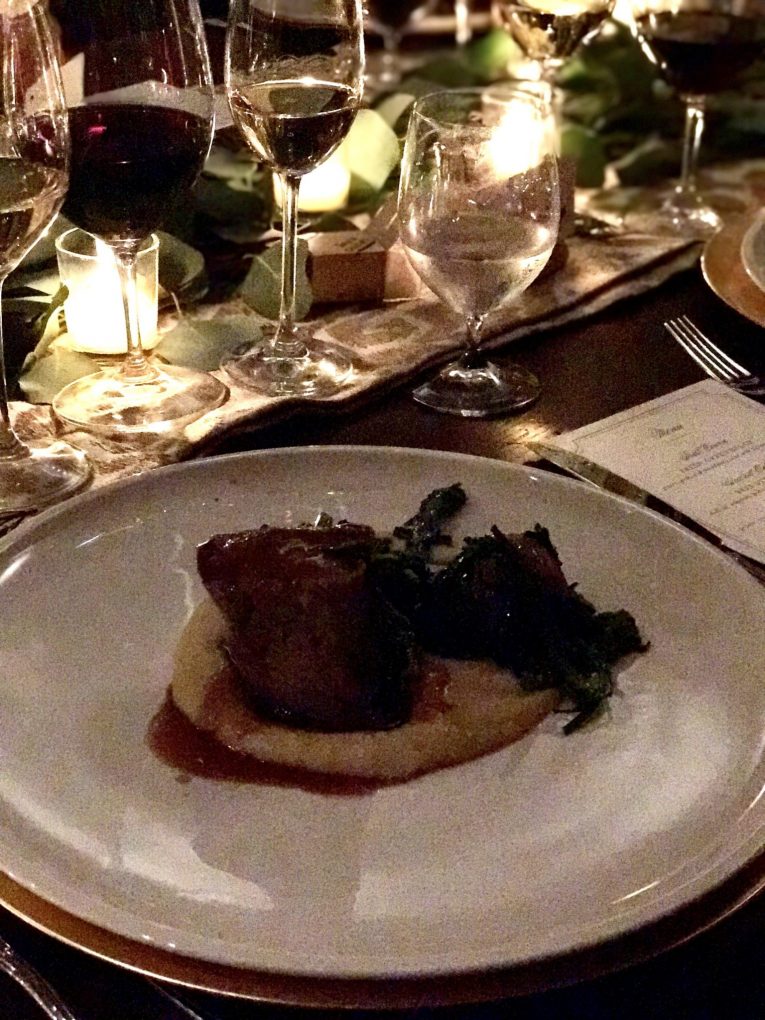 We danced, drank wine, hit up the photo booth and then it was time for their send off. I hate how wedding go so fast!
When we got back to the hotel we were all hungry so we ordered Dominos pizza, I ate a couple slices and we crashed into bed since we had a big day the next day.
Steph's parent's friends live in Sonoma (#goals) and graciously offered their house for the weekend. Steph's parents stayed there for the weekend to watch the baby on the wedding night and offered our friend Jordan, Nick and I to come stay Saturday night which was very generous. We got there around 9am and they had made us breakfast. We filled our bellies because we had a full day of wine tasting ahead.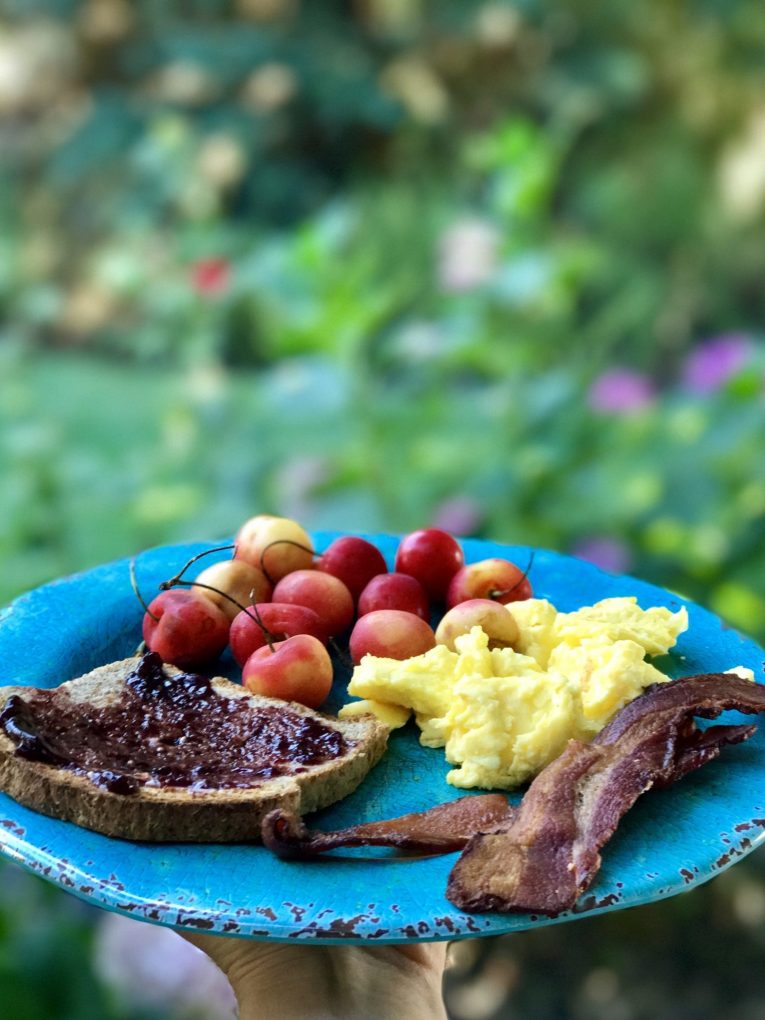 Steph's parent's friends hooked us up with tastings since they know a lot of people in the industry. It was so kind of them and made for an amazing day so thank you to George and Jan! Our first stop was Snug. Our guy Dax lead us through a great tasting down in the wine library.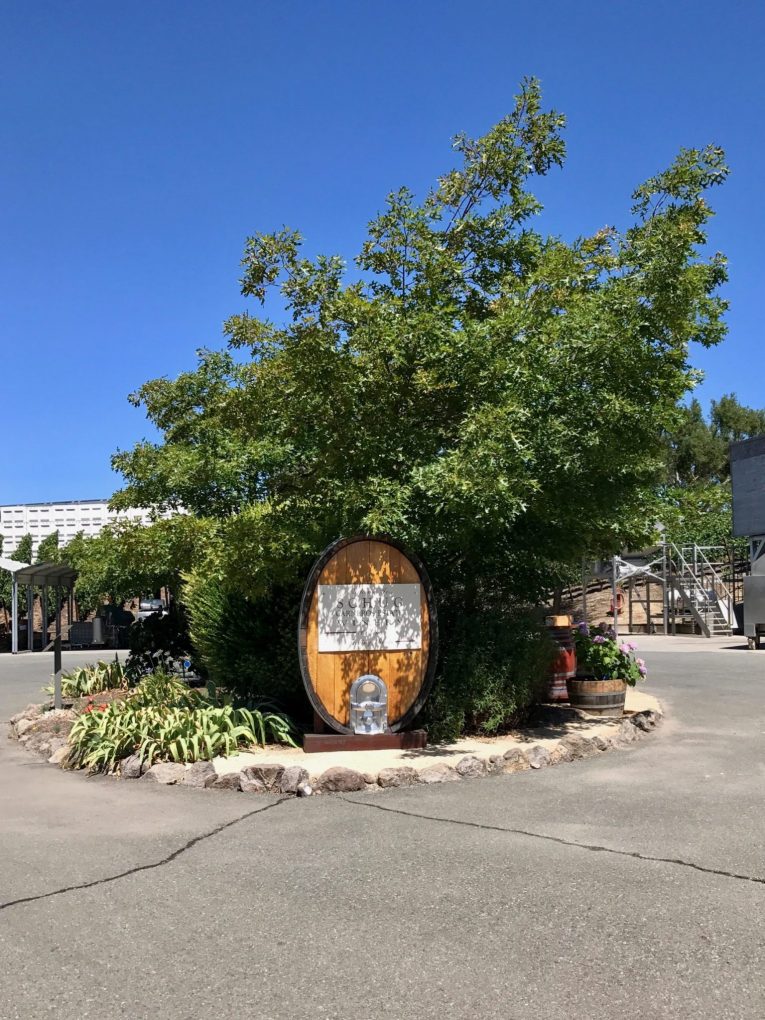 My favorite was the Pinot Noir Reserve. If we weren't flying we would have bought a bottle.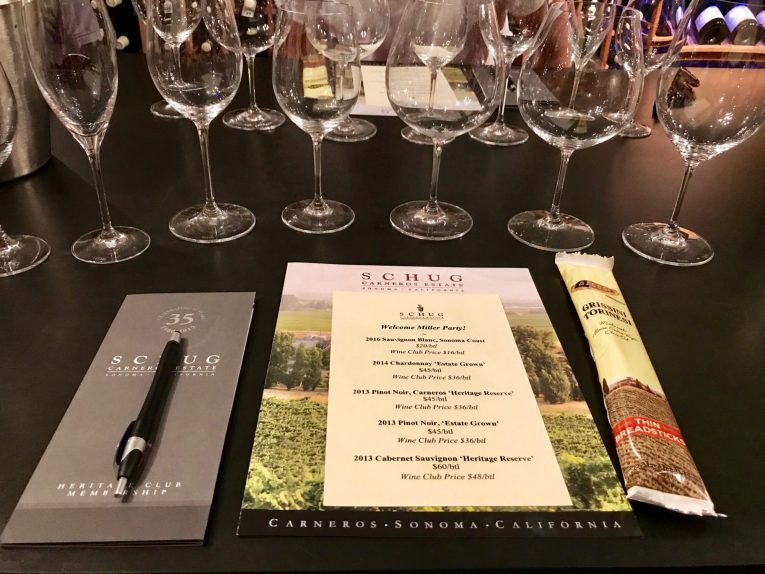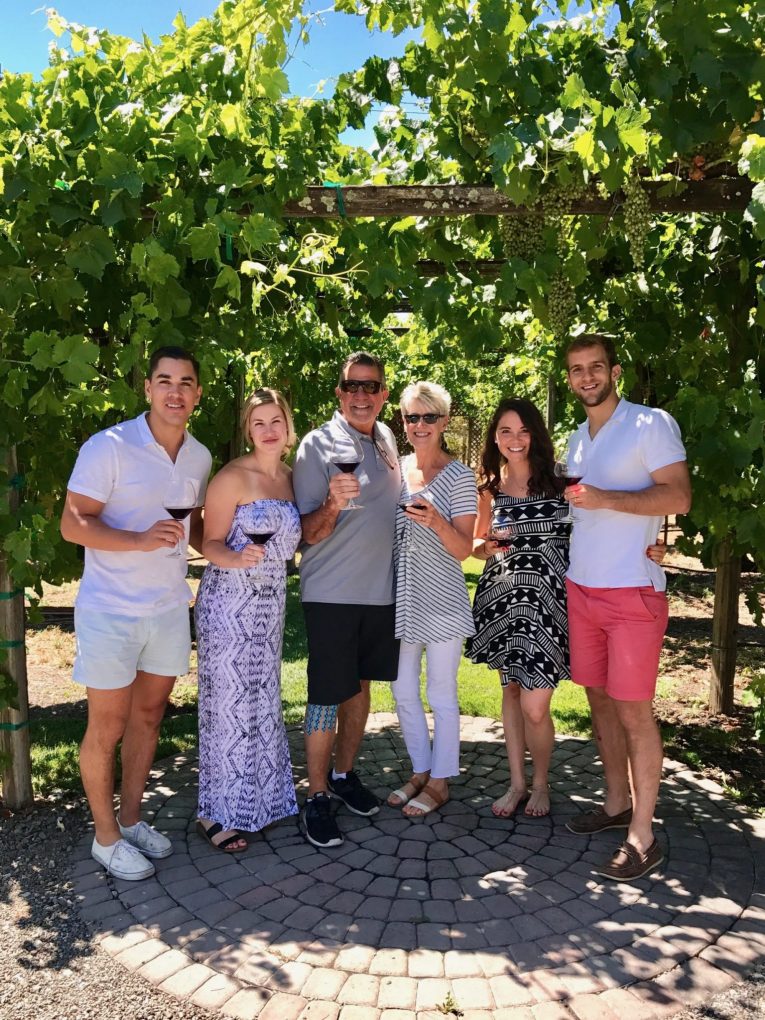 Next up was Texture. We visited their tasting room in the Sonoma Square which included a food pairing and you guys…it was quite the experience. Texture gets its name because the wine maker, Eric, is very focused on the mouthfeel of each wine. When paired with the food the wine completely changes and I think I said, "oh my goodness this tastes so good" 300 times.  It was fun to learn how to pair wine with food well. Take home point: fat pairs well with the acid in wine.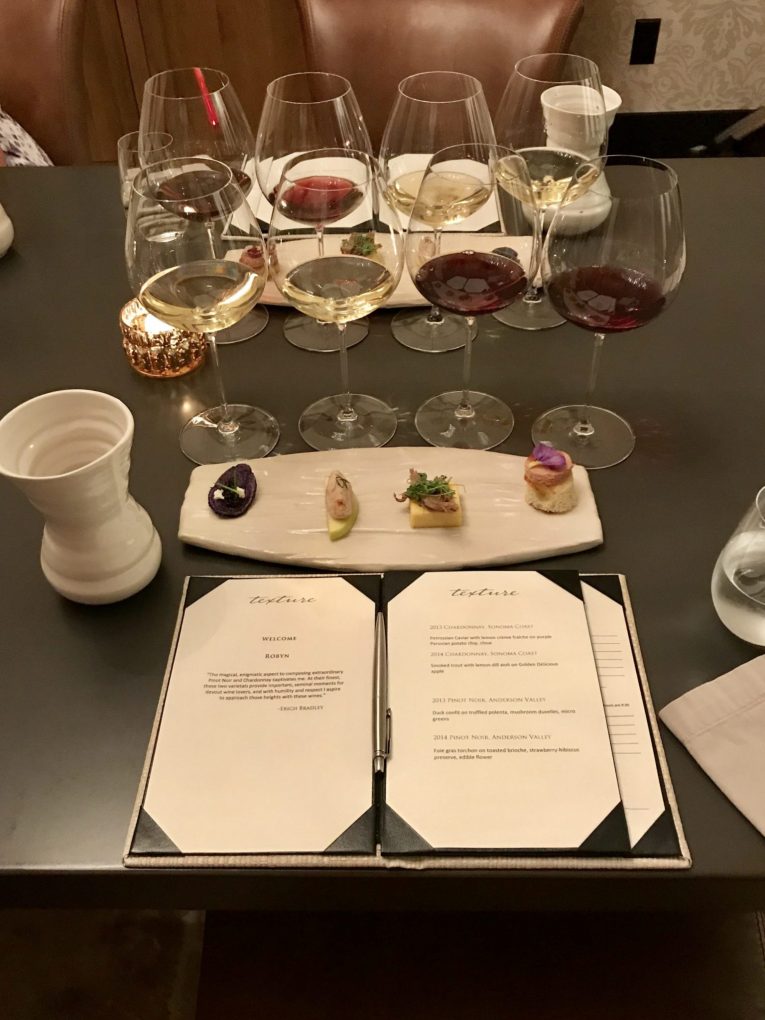 Sloane was a total trooper the whole day. When we have a baby, I can only hope she's as happy and calm as Sloane.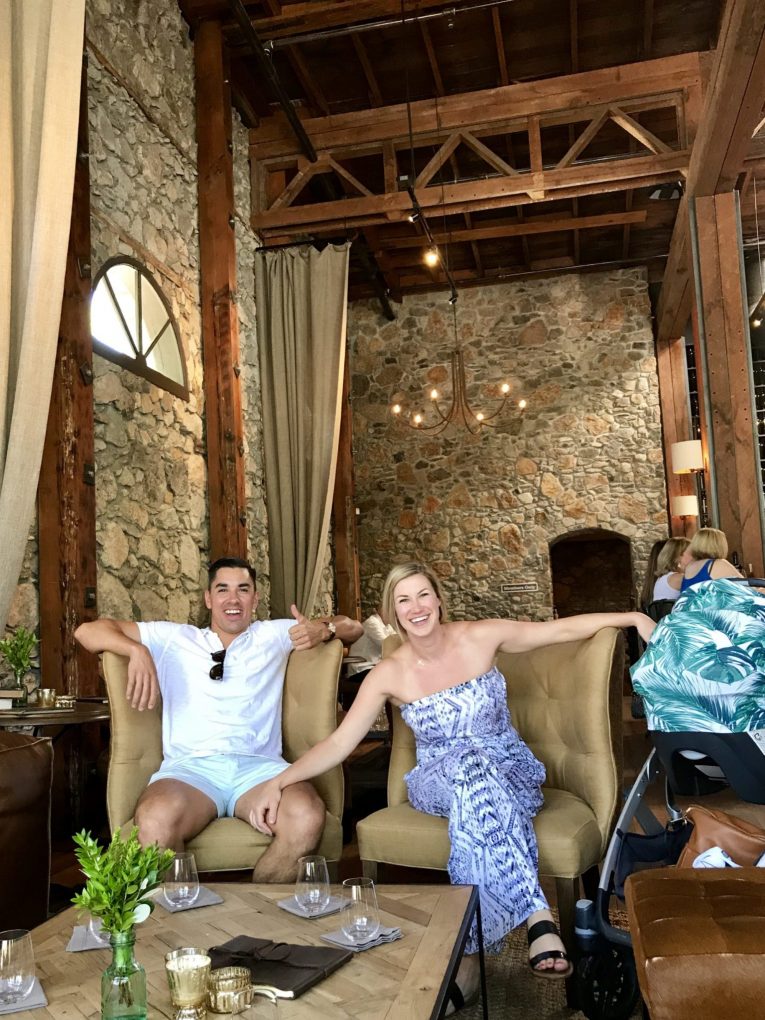 After Texture, we stopped at Sunflower Cafe for lunch (and to soak up some wine). I went with the avocado goat cheese sandwich and ate a few potatoes. HOW does California always have the best sandwiches every time I visit?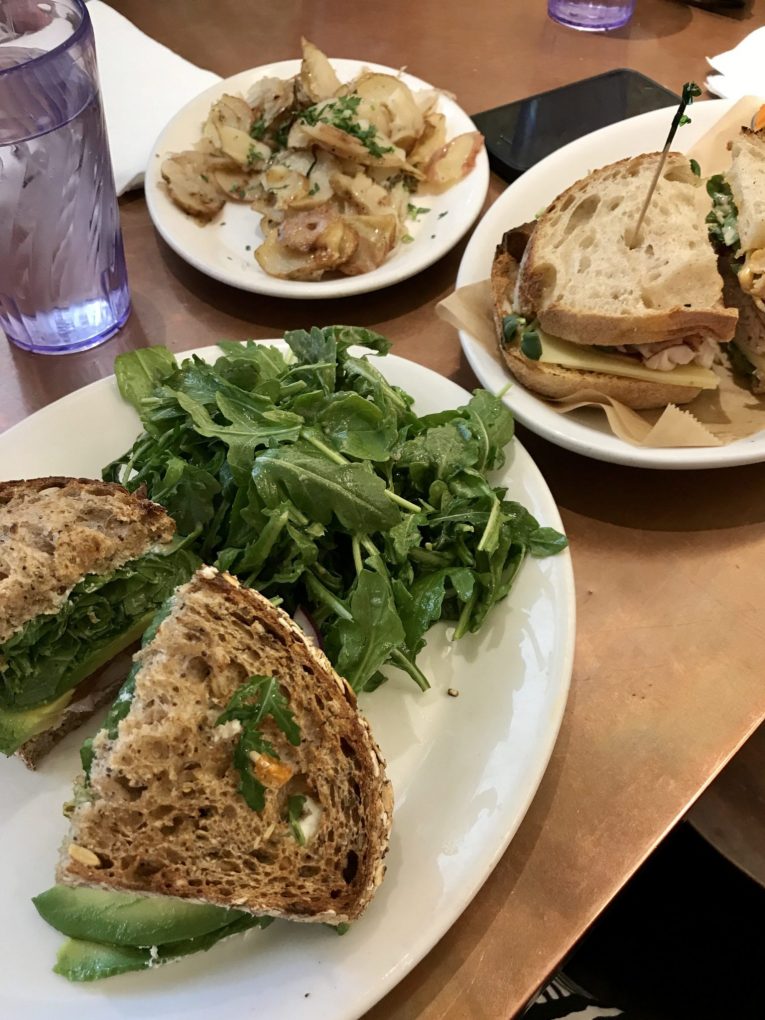 Our last stop was Adobe – a tasting room also on the square but it's in a old house with a gorgeous property! The Chardonnay we tasted here was unbelievable. When eaten with a marcona almond it was even better. I asked for a second tasting of that one because it was so good.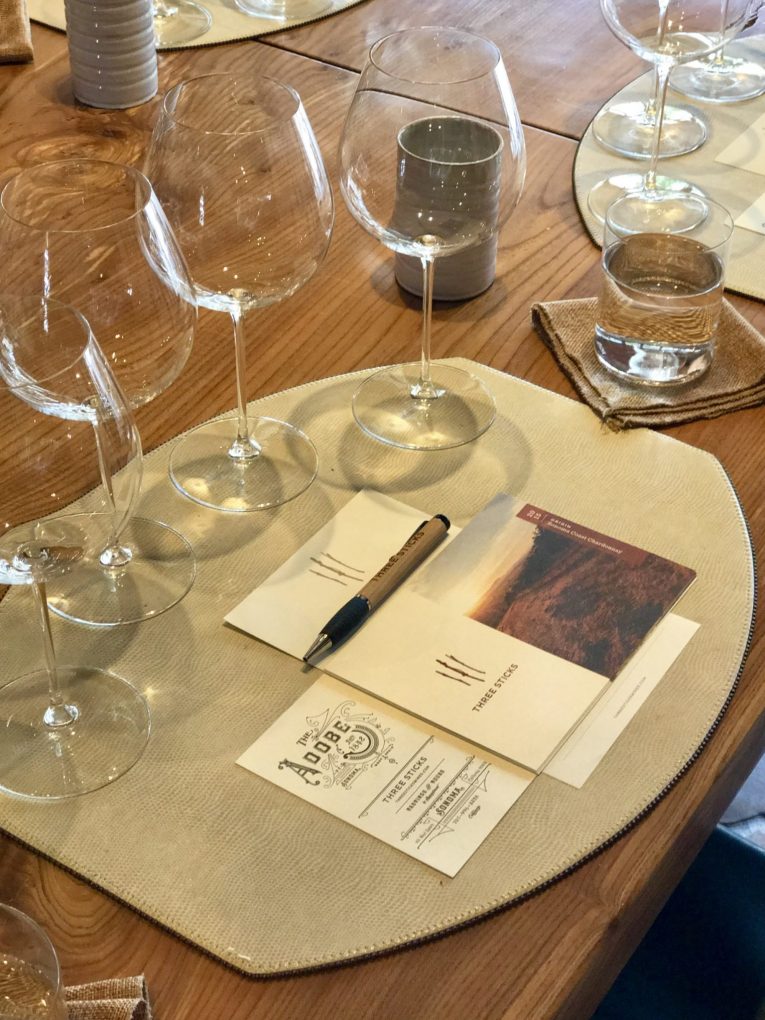 By that time we were fully wined up so we headed back to the house to grill out and relax. The friends that own the house also have a 1/2 acre vineyard of merlot grapes and they make their own wine. Again…GOALS.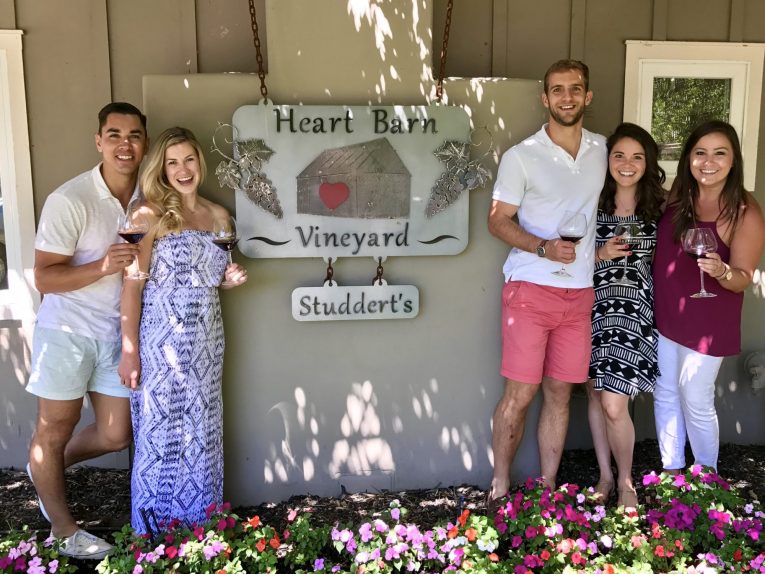 We originally had dinner reservations but cancelled them because grilling out at the house sounded wayyyy better after the past couple days out and about. Steph's mom put together a snack spread and we snacked on cheese and crackers and hummus while the boys grilled.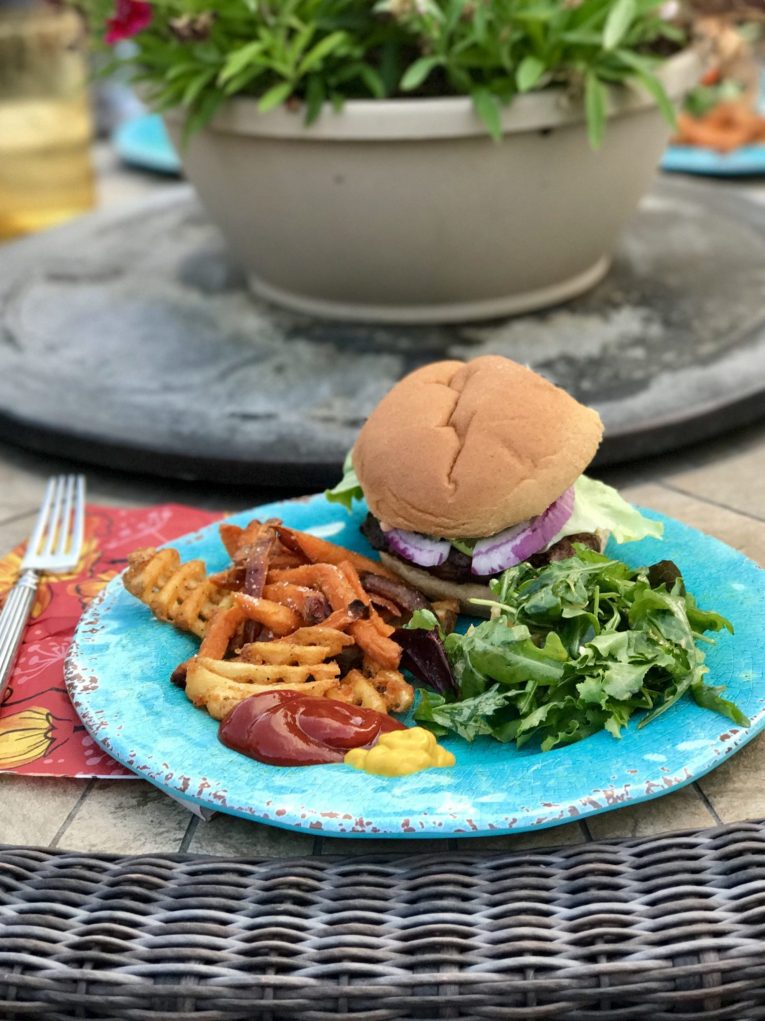 We ate burgers, chatted out on the patio and were asleep by 9:45pm. What a great day!
The next morning we ate breakfast and then Nick and I took a walk around the Sonoma neighborhoods and dreamed about the houses we would never buy.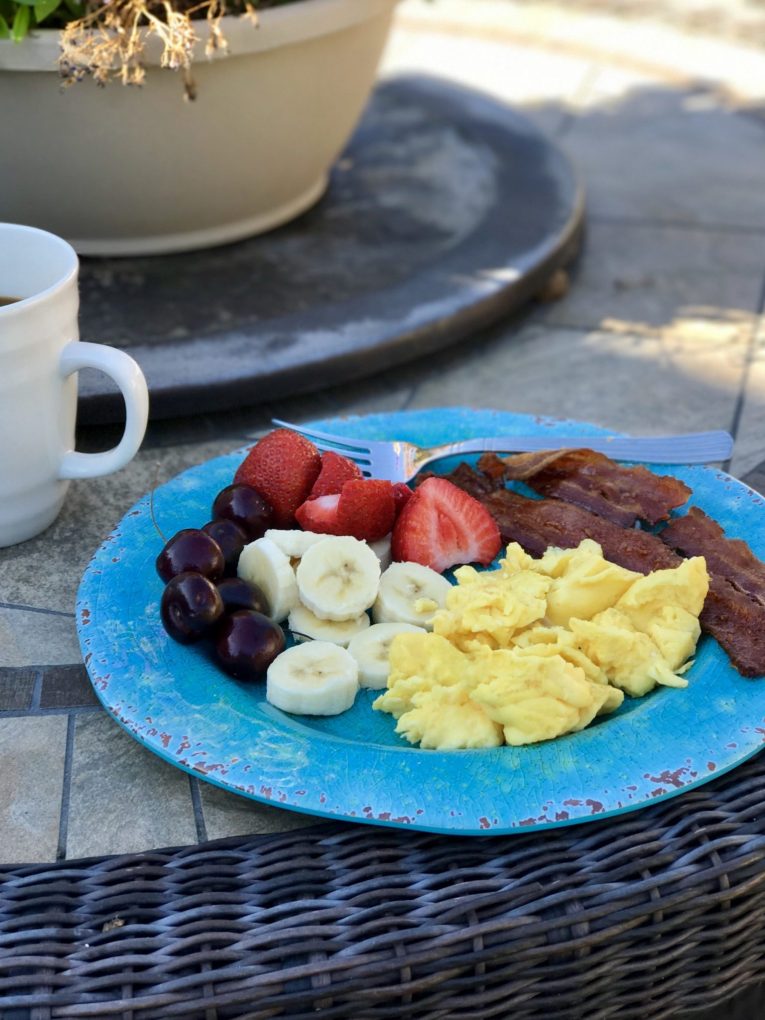 Then it was time to pack up and head back to San Francisco for our flight. We left early enough though that we had time to stop in Sausalito for lunch!
The VIEWS. And this town. I could have stayed for months.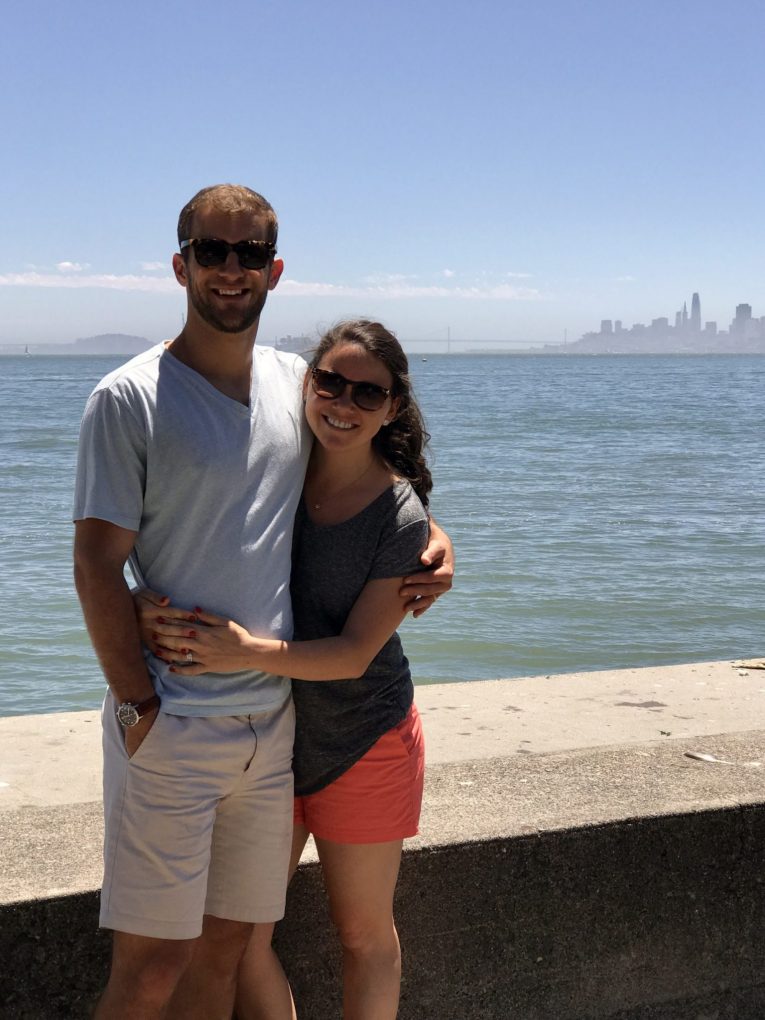 We ate sandwiches, strolled the town and grabbed ice cream from Lapperts on our way out.
Again, the sandwiches in CA! I have to recreate this avocado, brie, tomato, green apple, lettuce, red onion and sprouts sandwich when I get home. I ate half and then the other half when we got to the airport later so I could have room for ice cream.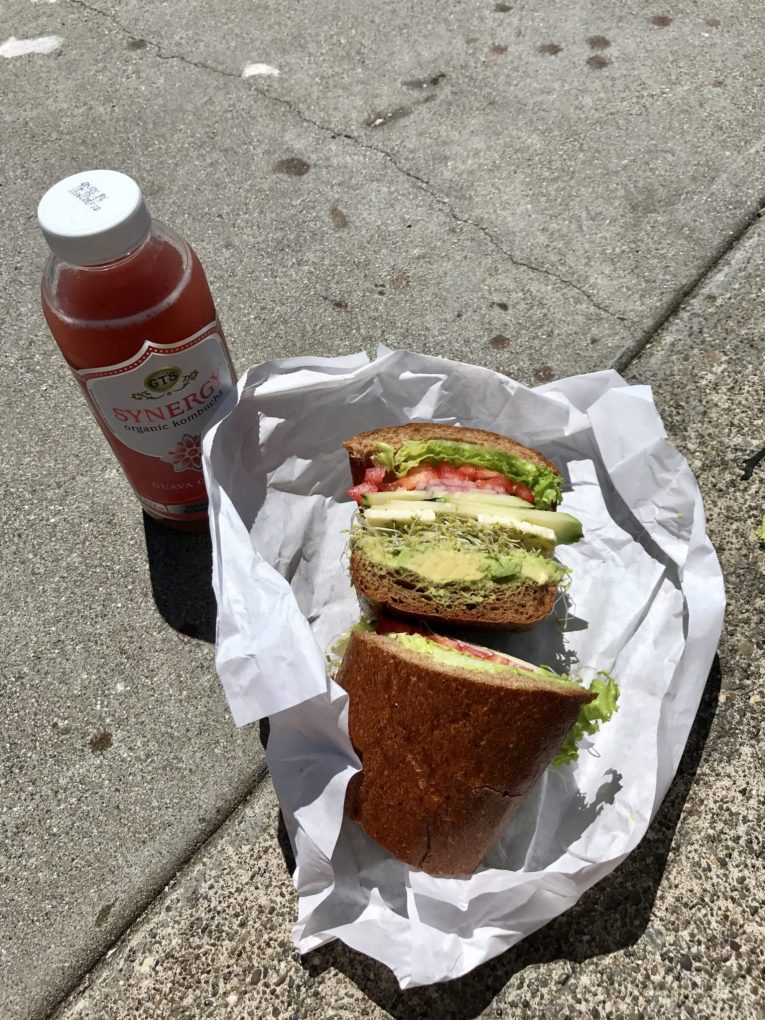 I went with coffee with caramel and fudge chunks in a waffle cone. We ate them outside in the sun and it was the epitome of a summer day.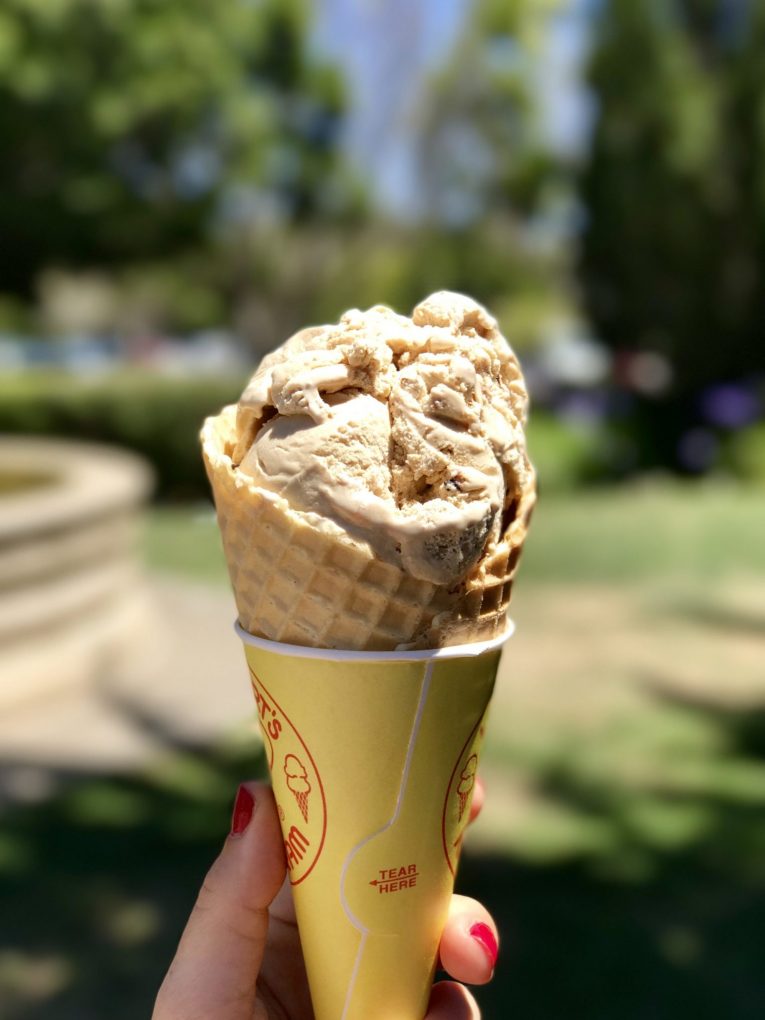 What a weekend! I'm writing this post on the flight back in complete denial that I have to go to work tomorrow. But if we must…we must.
Happy Monday!