I had some mild anxiety driving back to the city yesterday anticipating a busy week after such a restful weekend in Charlottesville. I think I've said this 2346 times, but really….I love this place so much. Every time I come back here it's a weird mixture of sadness, nostalgia,  gratefulness and….pure happiness. The familiarity, coziness and slower pace makes my soul feel so freeeeeee.
We got into town late Thursday night to a friend's house where we were staying and passed out right away.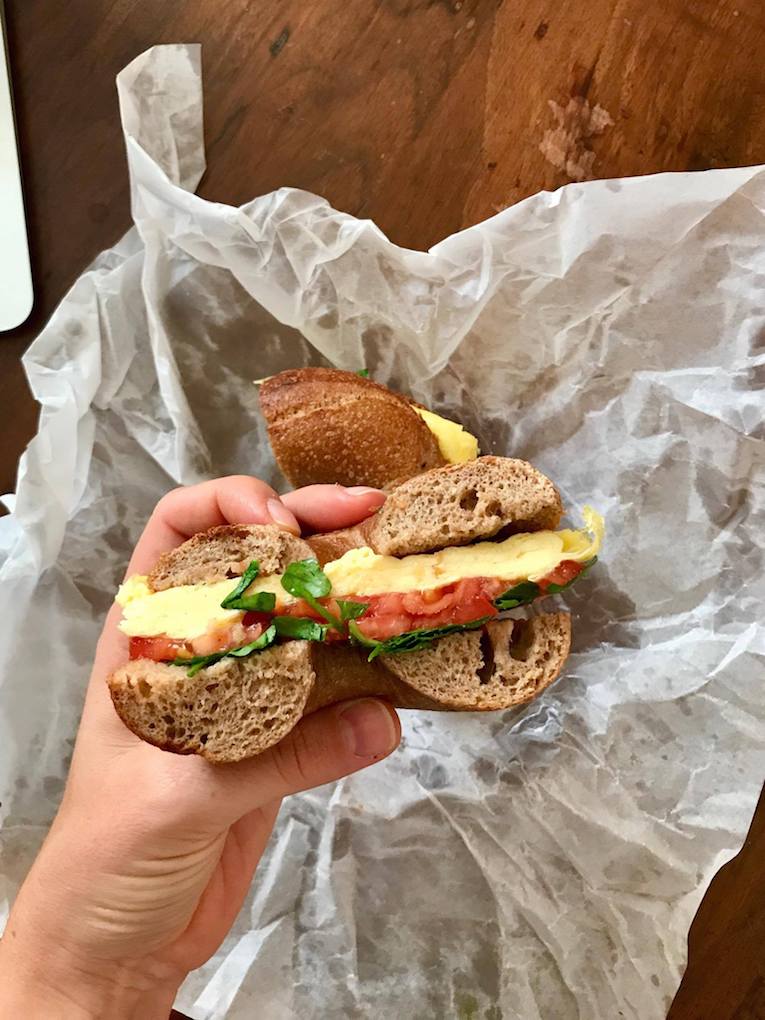 Friday I woke up a little before 8am and had a few Nutshell client calls. Nick ran out to pick up breakfast bagels from Bodos. My go to –> egg + tomato + spinach + veggie cream cheese on whole wheat. Call me insane, but after eating a lot of New York bagels, I still think Bodos is better.
After wrapping up calls and follow up emails, I went on a run. It's always fun to see how many things have changed and what is being built. So much always changes! It was also really beautiful and encouraging to see the signs around town promoting unity following the sad events of last month.
After running, I showered and we headed to the downtown mall for lunch and to find a coffee shop to work out of the rest of the day.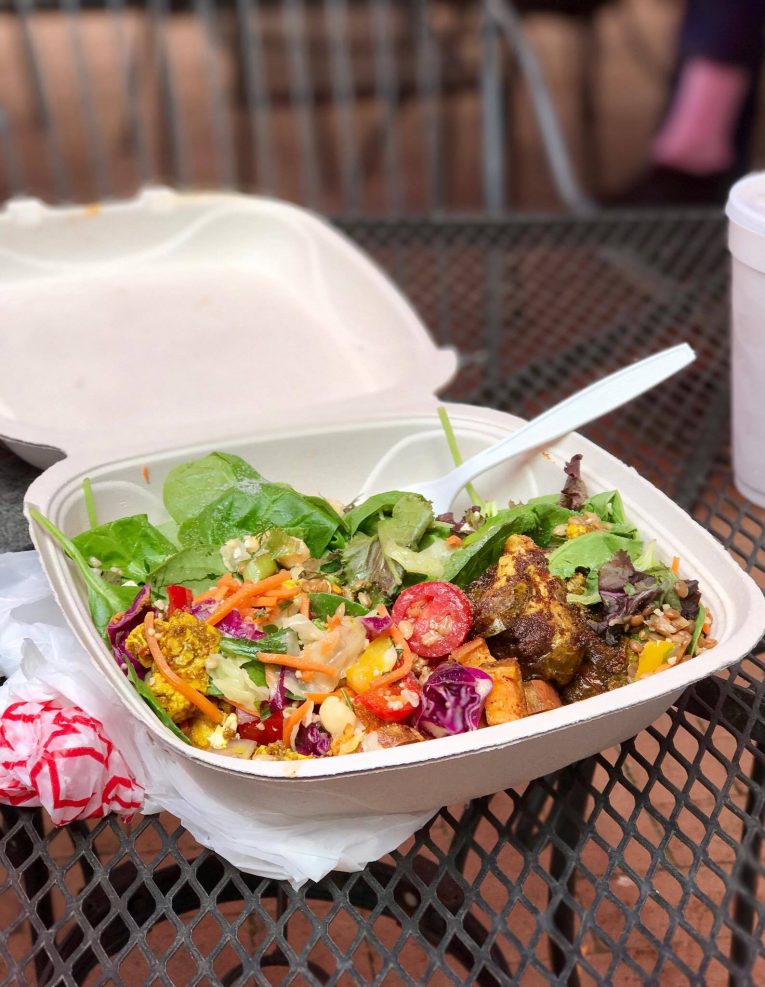 Lunch was a salad from the Blue Ridge Country store filled with all kinds of goods. The best part –> the fried brussel sprouts. I sat outside in the sun to eat lunch before I had a 2pm client call.
Then I decided I wanted to get a manicure before settling into Mudhouse to do a bit more blog/business work.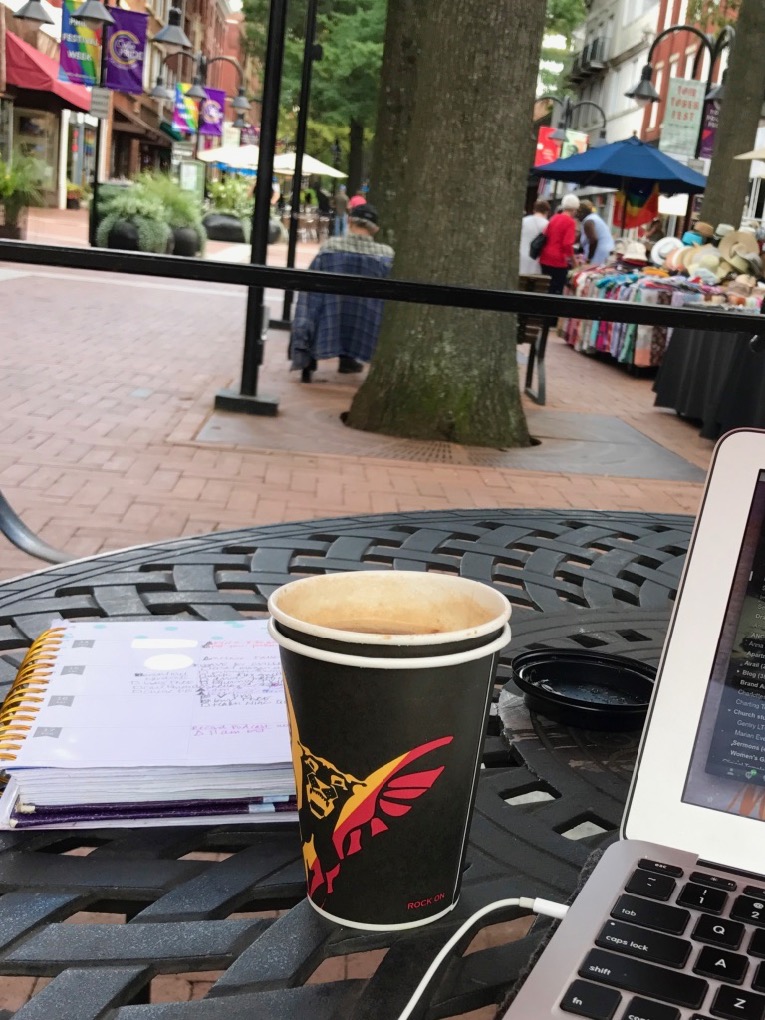 Nick was hanging with a friend in the afternoon – around 4:30 he picked me up and we went back home to change before heading out to happy hour + dinner.
We started in Belmont at the Local for wine + cheese.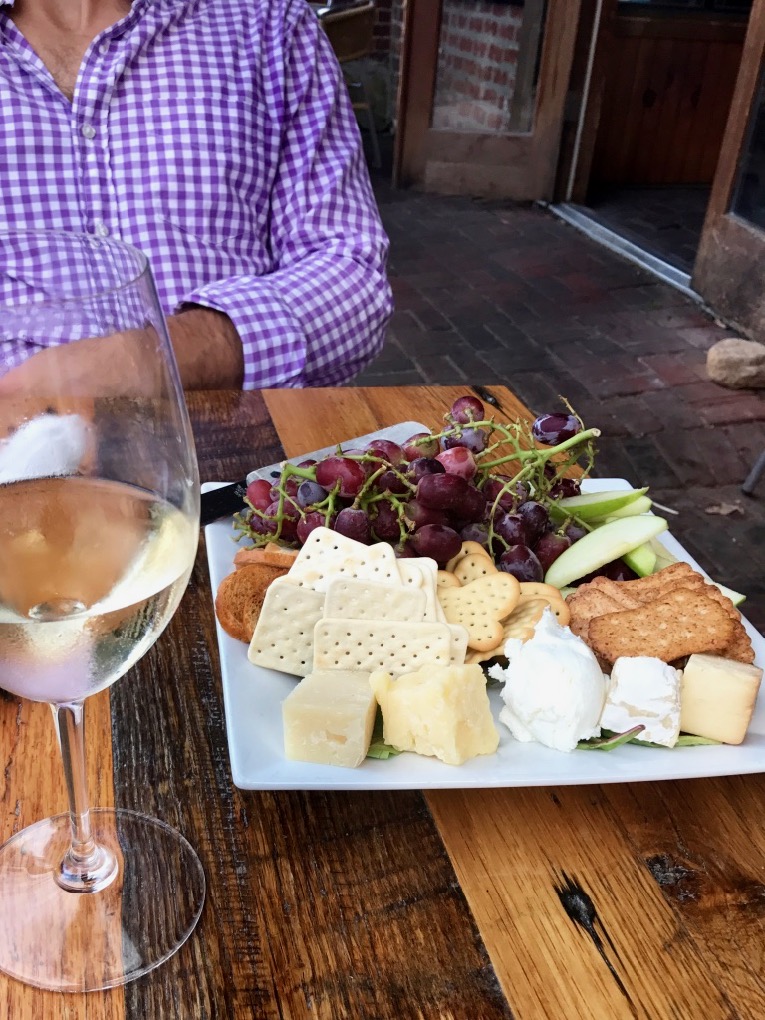 And then headed across the street for dinner at Mas (one of my favorites restaurants – tons of delicious tapas using local ingredients.)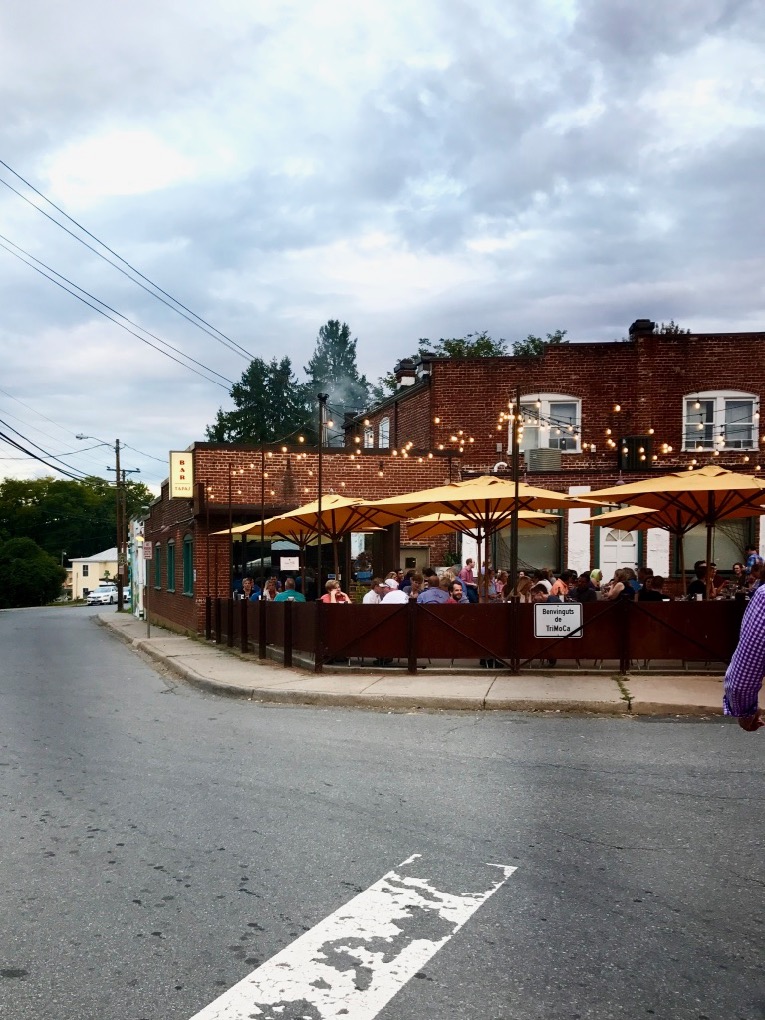 We ordered a glass of red and then split seven tapas. We started with babaganoush with bread and an arugula salad. The salad was nothing special but the babaganoush was garlicky and fantastic. Anything on chewy bread is a win.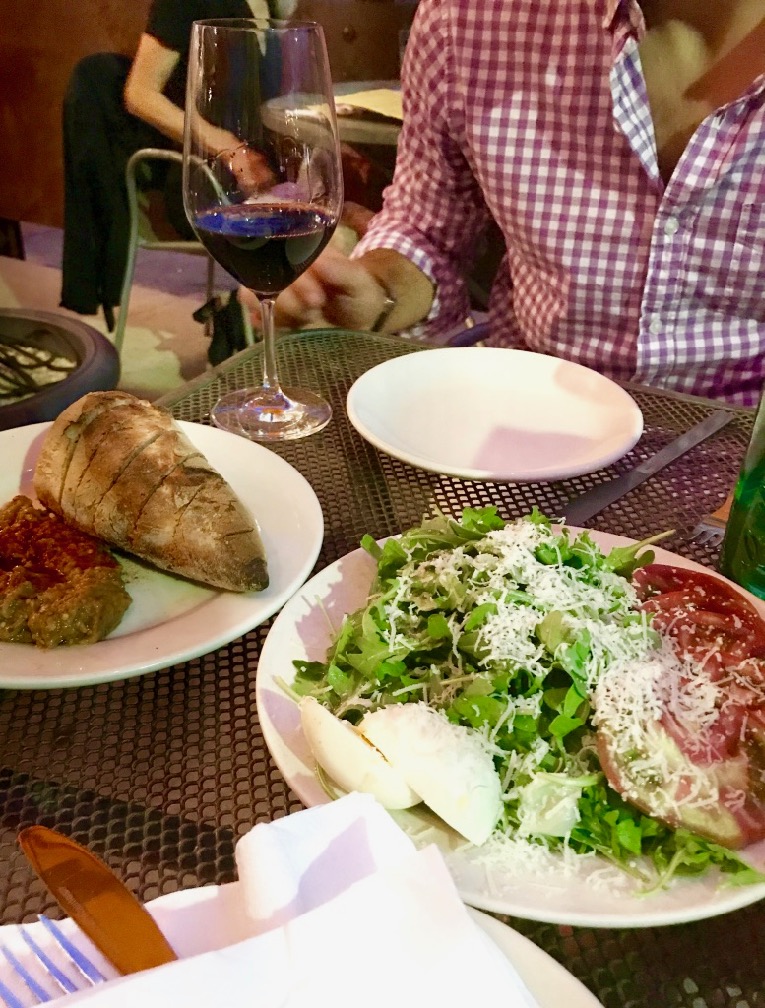 We also shared a halibut which was clean and simple – tasty but not out of this world. But the papa bravas were  insanely good. And so were the bacon wrapped dates (swoooooon, my favorite appetizer ever), roasted artichokes with garlic aioli, and carne asada (also one of my favorites) which is one of the most tender and juicy pieces of steak I've ever had.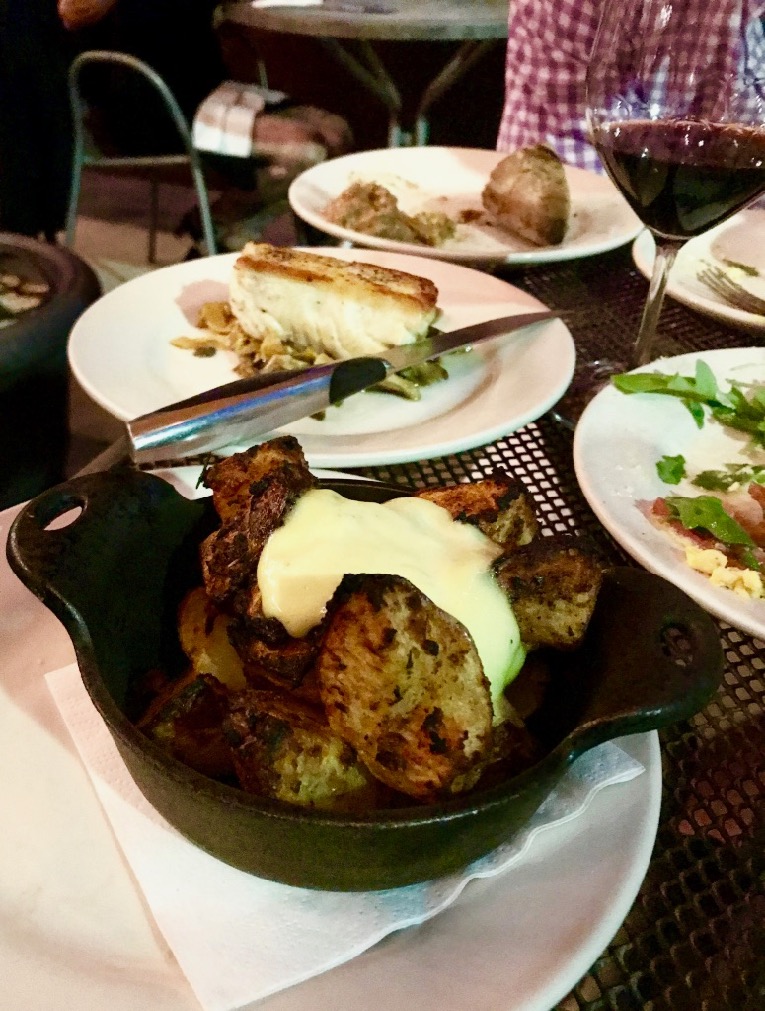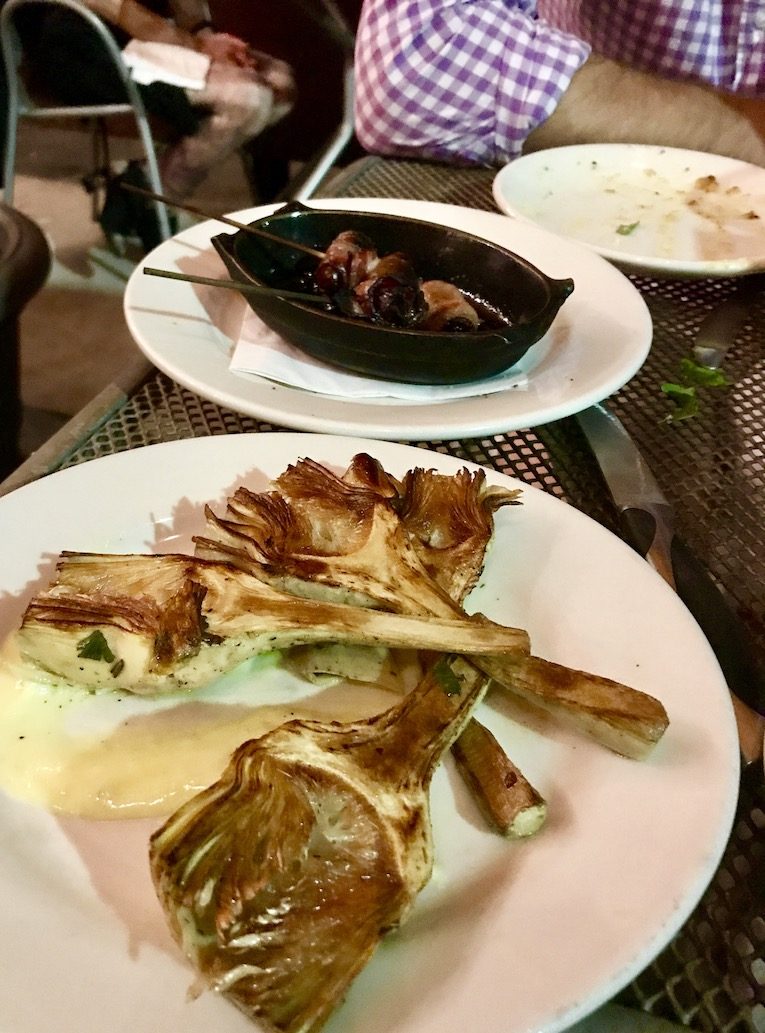 After dinner we meandered downtown to Whiskey Jar, a fun lively bar, for a cocktail. We ran into a couple friends and by 10:30pm we were exhausted and headed home.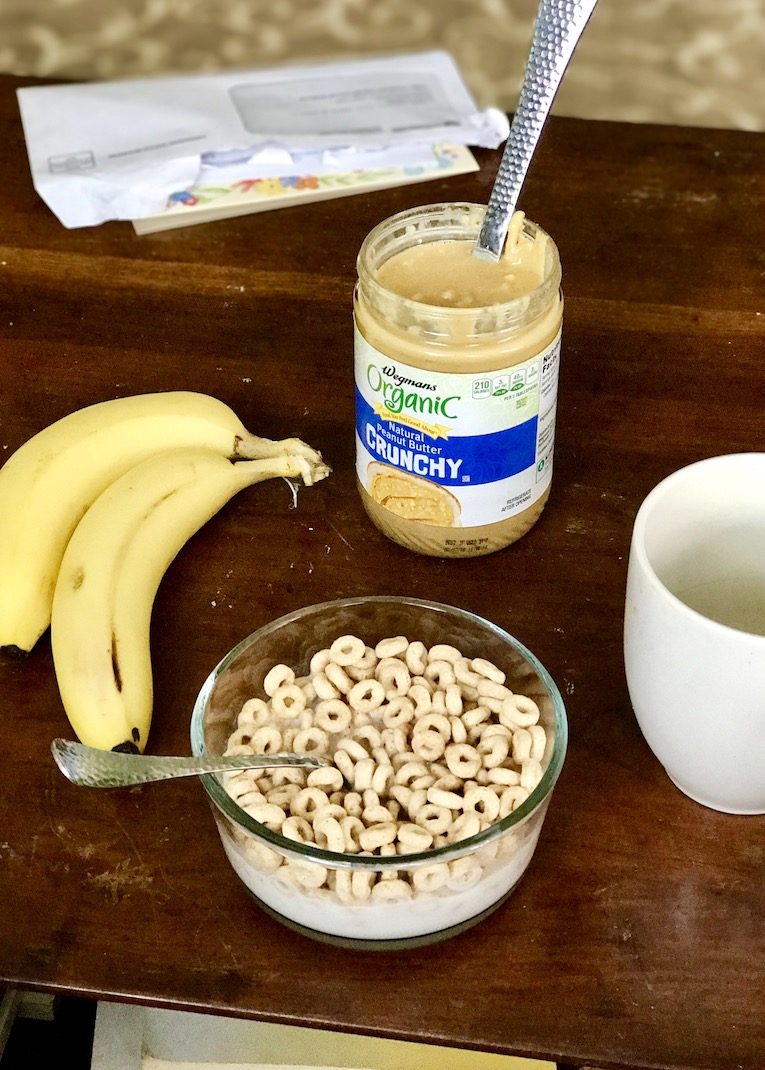 Saturday morning started with coffee + cereal and banana + pb before heading out on a run around grounds. Oh my my my, I forgot how mother loving hilly this place is – SO HILLY. So we ran and walked some of the hills.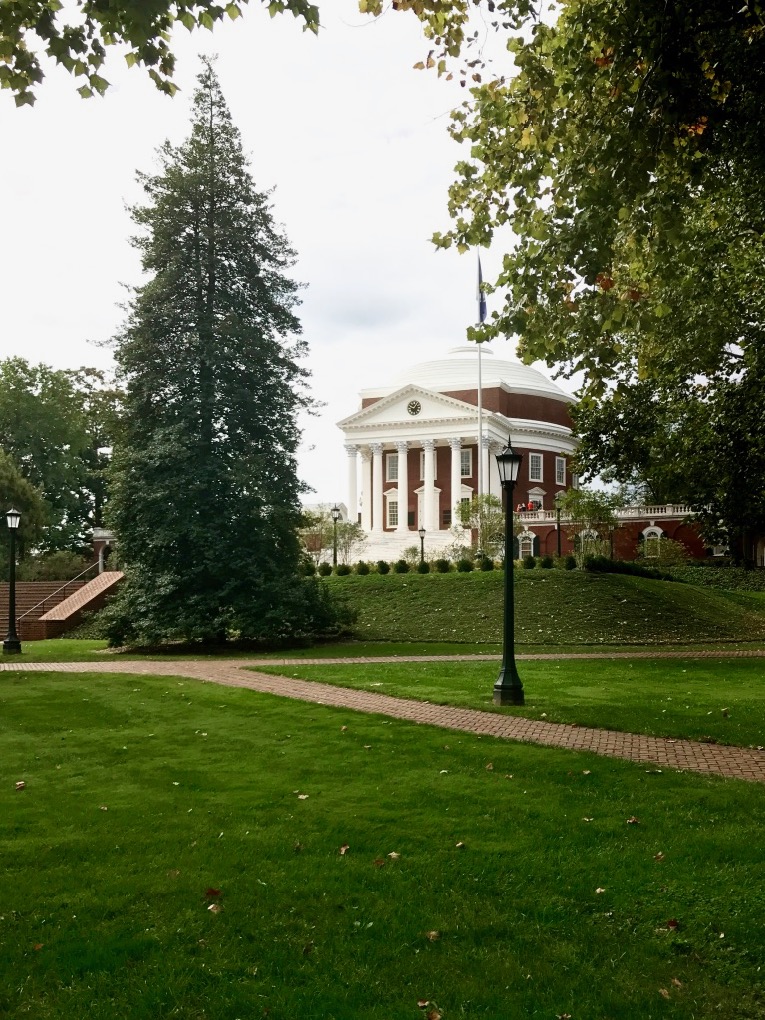 Drank this smoothie before hopping in the shower.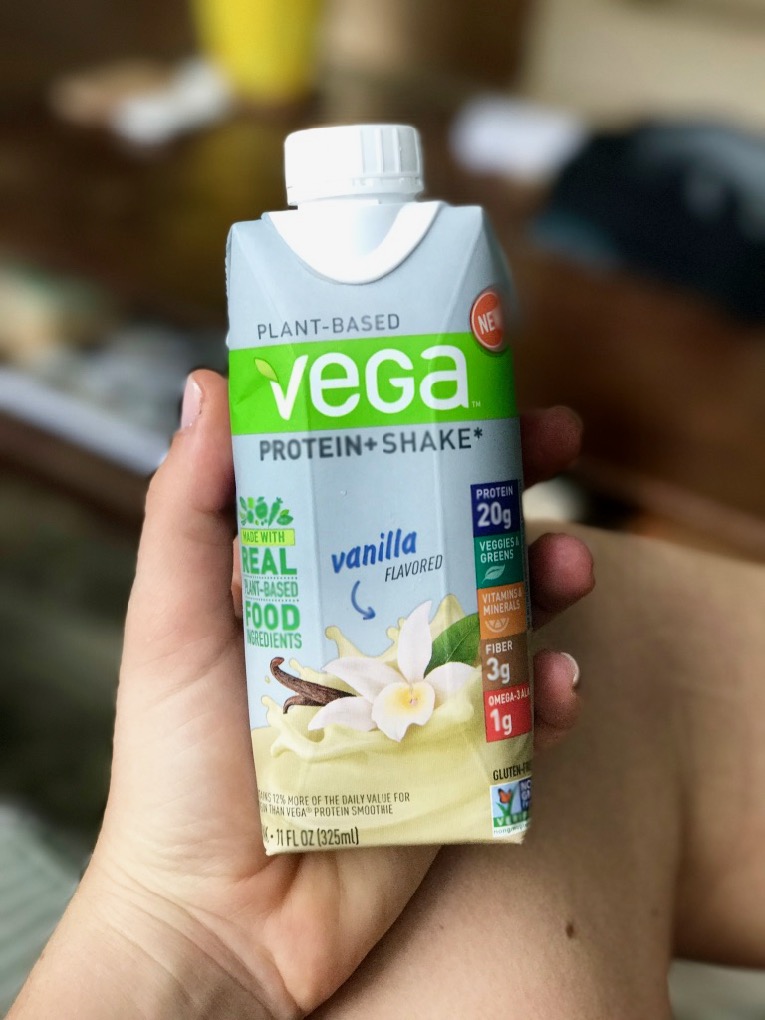 And then met my friend Kelli for lunch at Mezah, which is like a mediterranean Chipotle. Really good! I ordered the chicken shawarma bowl with all kinds of veggie toppings, feta, quinoa salad, hummus and this fluffy, yet chewy pita that was fab.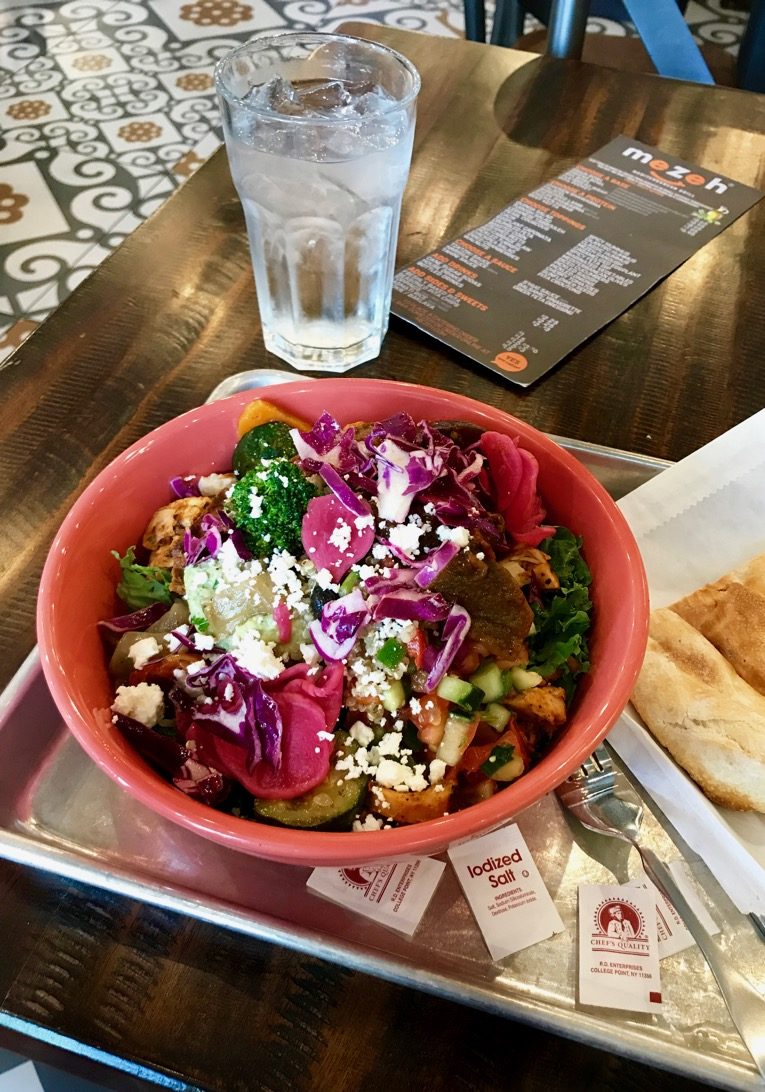 And then we spent the afternoon at Barboursville Vineyards.
We first took the wine tour. I don't know a lot about wine making, but I find the detailed craft of it so interesting.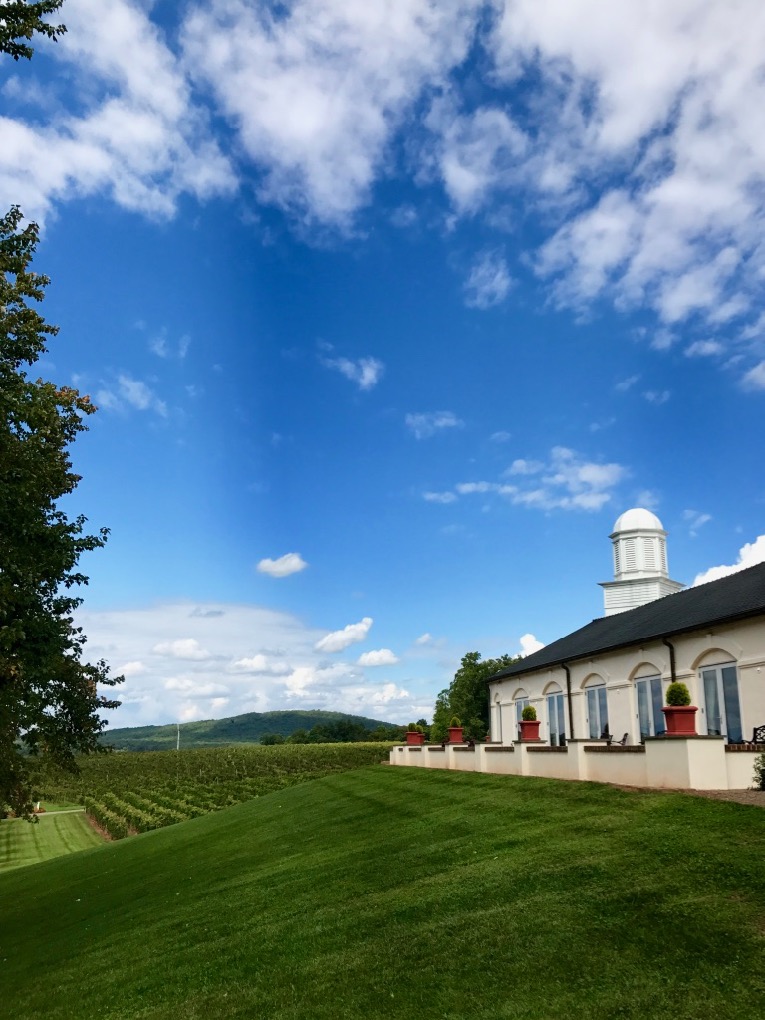 Afterward we did a wine tasting on the back patio along with a cheese board. Anything with wine in my mind always involves a cheese board. The Chardonnay was  light, crispy, not oaky at all and I loved it. Paired with the goat cheese with olive oil and cracked pepper was creamy, dreamy awesomeness.
Saturday night we spent at a friend's engagement party. It was so fun to have a casual night catching up with old friends, meeting new friends and celebrating Carolyn and Will.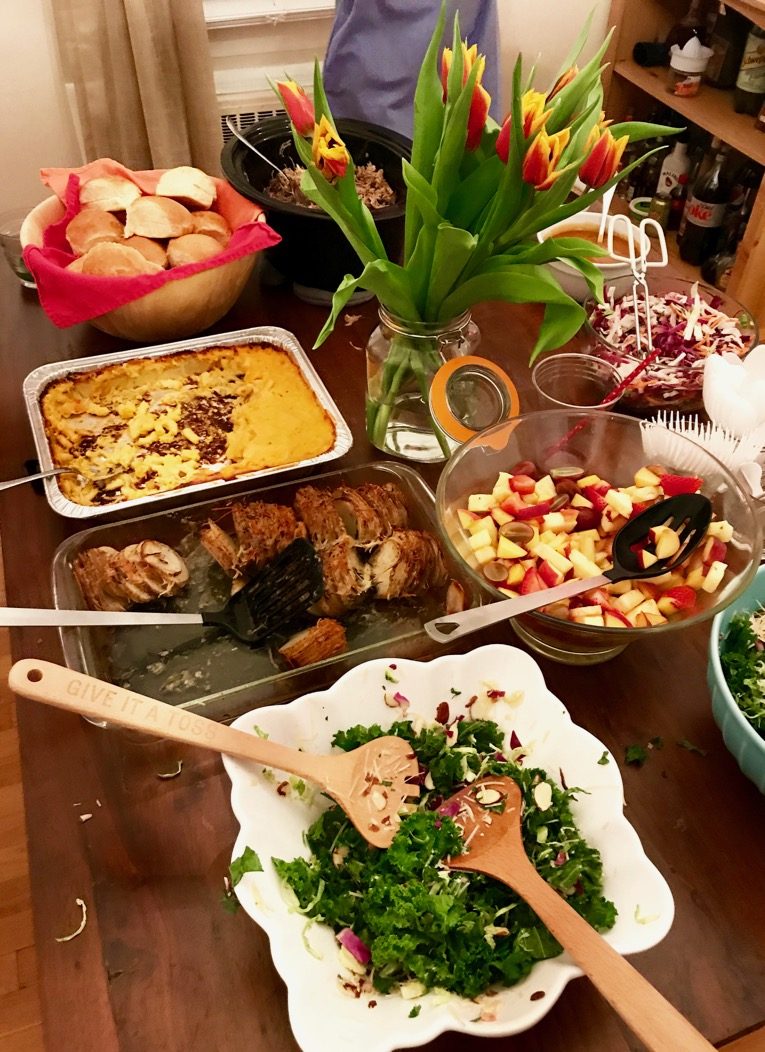 The bbq + mac were plain dynamite. I had a few glasses of sangria throughout the night + this plate and then went back for more bbq and mac plus a brownie to end the night.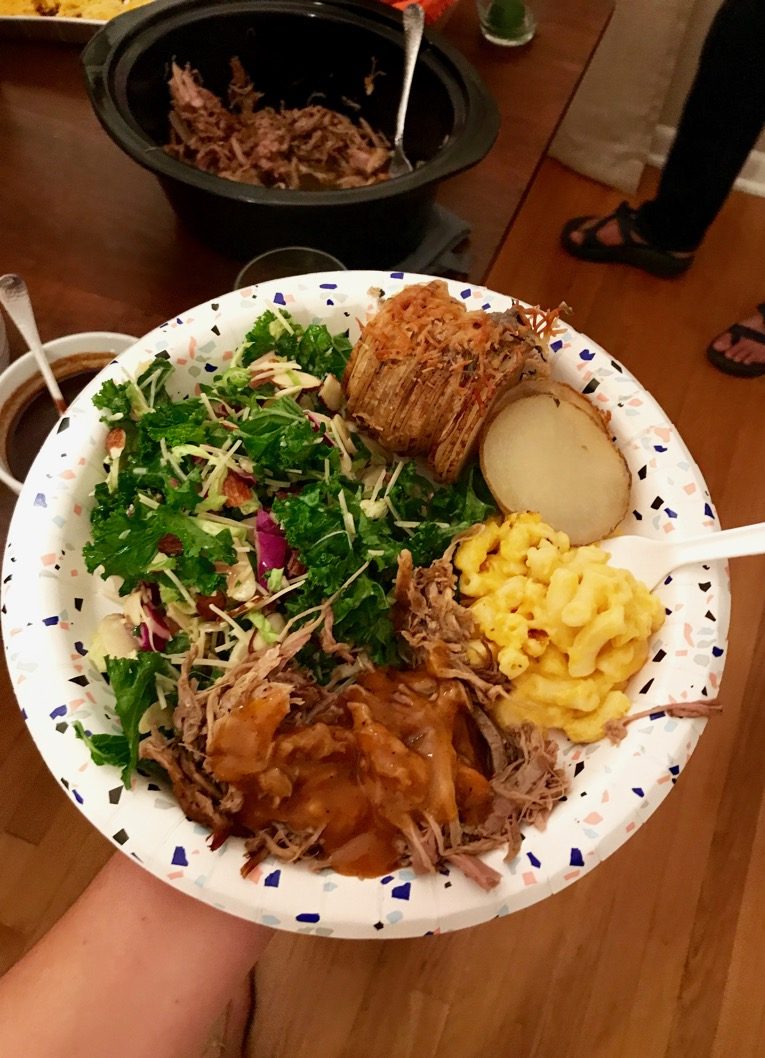 Sunday morning we woke up and got out the door pretty quickly so we could snag a table at the Bluegrass Grill & Bakery before it got insanely busy. Surprisingly, I have never been to Bluegrass before because it's so busy, but I knew we had to go before we left.
And I was so glad we went! I was hesitant on our waiter's suggestion of the Normans benedict, but trusted him and quickly realized it was a solid decision. Goat cheese + blueberry jam on an English muffin with chicken sausage and two poached eggs. Plus hash browns with bacon and onion. And we split one of their honey wheat biscuits.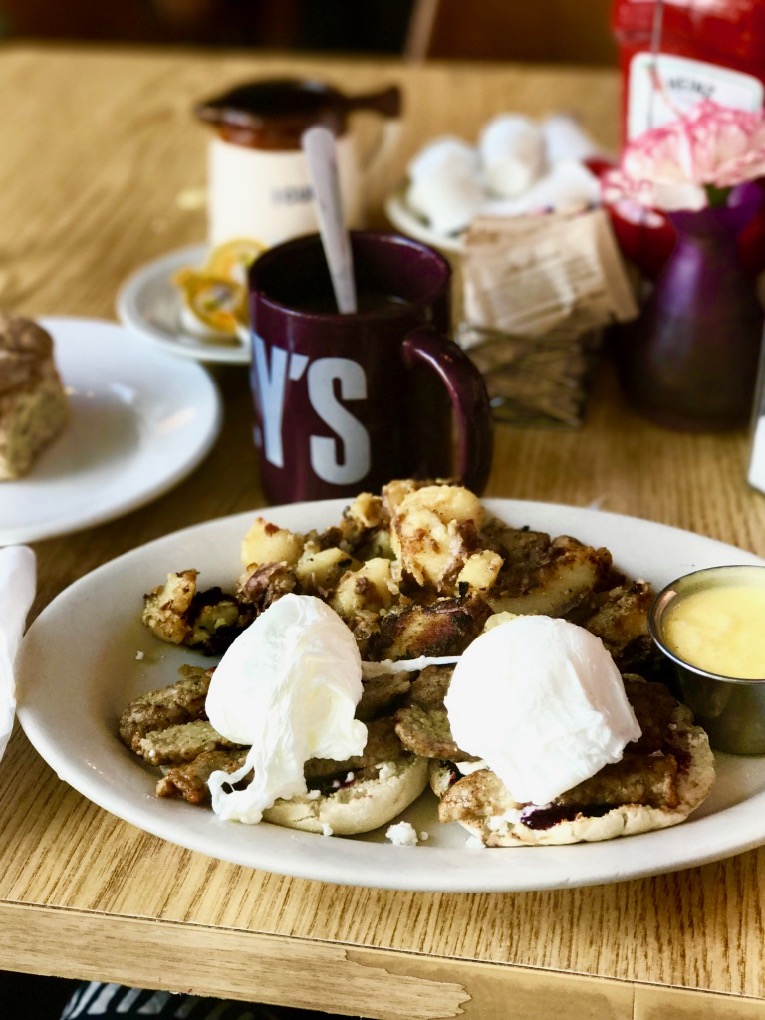 I've heard a ton of hype about their biscuits, but I didn't think they were that awesome. But the egg benedict was AMAZING (I suck at finding adjectives to describe food..). I would have never thought of this combo but will definitely be trying to recreate this at home. I completely overshot my hunger (because hello, the food was so good) and left breakfast overly full. It happens. An hour later my food had digested, I felt better and life moved on. I've learned and now know intuitive eating isn't always about physical hunger and fullness, it's also about pleasure and experience. This was a meal where I intentionally knew, "yep, totally worth feeling a little overly full to keep tasting this."
After breakfast we headed to church and then hopped in the car for the six hour drive home.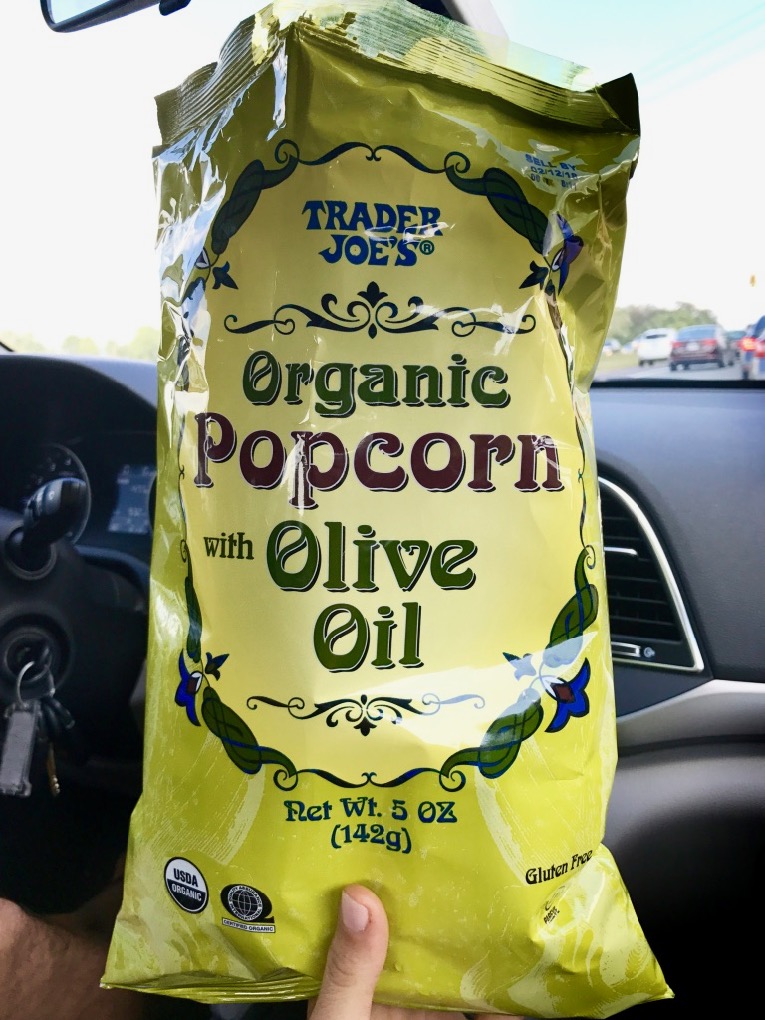 Snacked on some popcorn, an apple and chocolate (proof that yes, our bodies will digest even if they get a little overly full and it will use that energy, then hunger will strike again :))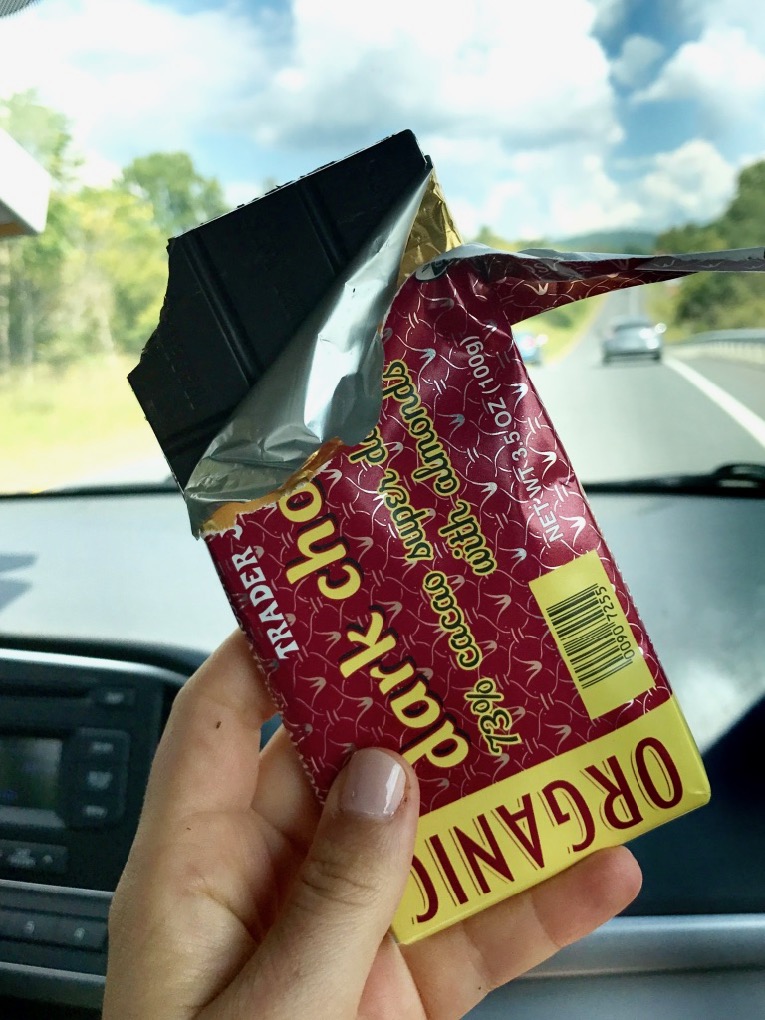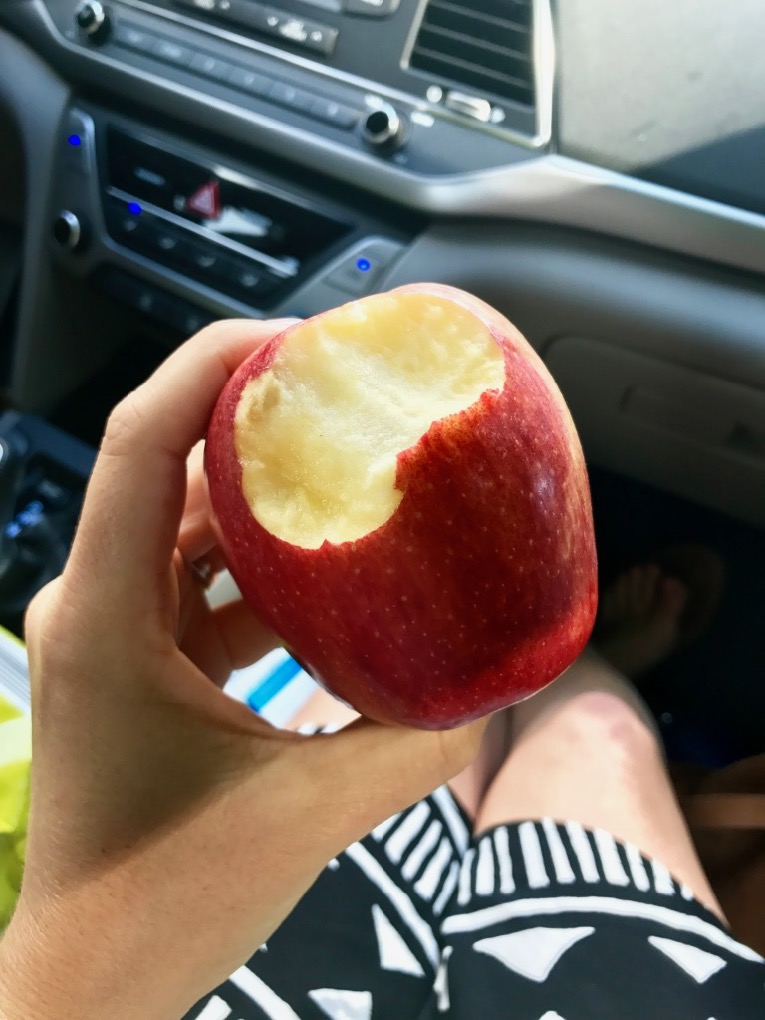 We got home around 8pm, ate dinner and got ready for the week before heading to bed early. A great great weekend!
How was yours? Share in the comments or link back to a blog post if you wrote one 🙂