How does alcohol consumption relate to intuitive eating? Is there such thing as intuitive drinking?
This is a topic I've gotten a few reader requests on and one that I can certainly relate to. I'm not quite sure I have all the answers, but my relationship with alcohol and my journey with intuitive eating has changed significantly over the past five years and I've learned a lot. My hope in this post is to combine my personal experience with my clinical experience to shed some light on this touchy topic.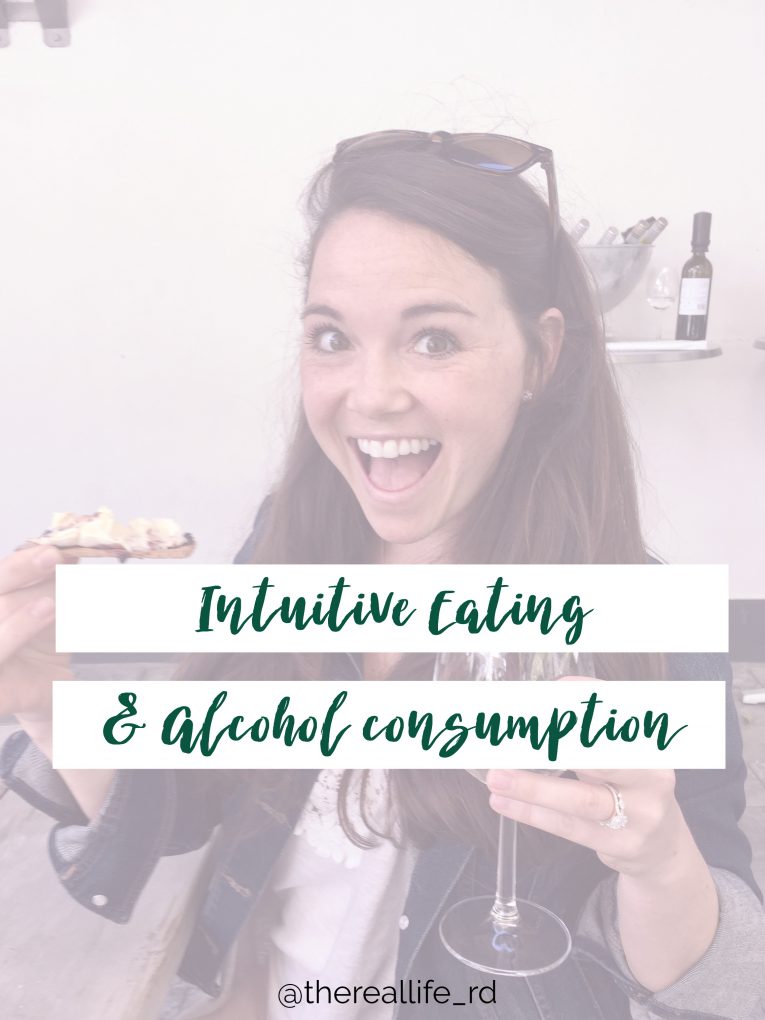 First I think it's important to recognize that everyone's relationship with alcohol is different. It's a sensitive topic. Alcoholism runs in my family. I also have family members who barely drink at all. I've personally seen the devastating affects of alcohol and I know this is not a topic to be taken lightly and want to be very sensitive. If you think you might have a problem with alcohol, first know you're not alone. And second, please know there are many resources available to you.
While I've lived around unhealthy and dangerous drinking habits, that didn't stop me from going through seasons of unhealthy and excessive drinking. I was your typical sorority girl at Indiana University where I spent a lot of my weekends at the frat house taking shots or at the bar until 2am, followed up by late night pizza and a nasty hangover the next day. Only to do it all over again the next weekend. In college I would restrict my calories on days I planned on drinking. If I didn't plan on drinking and a spontaneous event came up where there would be alcohol, I wouldn't go. I had to plan ahead of time if I was drinking so I could compensate for the alcohol calories consumed by not eating as much during the day. And then because I hadn't eaten that much, alcohol hit me a lot faster and I almost always ended up feeling way looser than I intended. Looking back, it was as stressful as it sounds. And now my 28 year old brain is like, yes DUH ROBYN. If you don't eat and then take shots you won't feel good.
Throughout my early twenties when I moved to Charlottesville, I continued to drink in social settings. I would drink with the intention of getting at least tipsy, if not drunk. My drinking was less frequent, but the when I did drink…I drank in excess.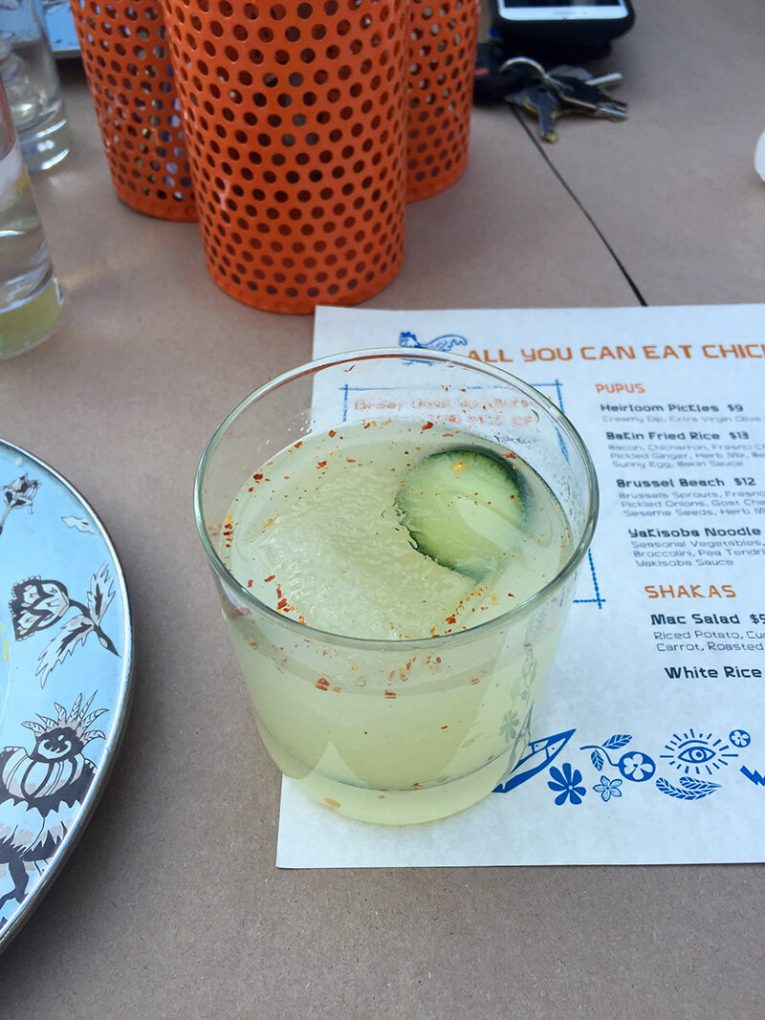 Throughout my years in Charlottesville over time I began drinking less (since shots at the bar or frat were replaced with glasses or wine or a cocktail..I couldn't fathom the idea or the purpose of a shot) and had given up on restricting calories during the day because the stress was no longer worth it. Because of those two things, I didn't find myself face deep into a large pizza at midnight and I was better able to gauge how much alcohol I could drink and still feel okay the next day. But I still struggled with a healthy and peaceful relationship with alcohol and with food when alcohol was around. I was still mentally restricting foods, telling myself for example, "cupcakes are bad, you shouldn't eat them." So when I was at a party drinking alcohol and cupcakes were around…I felt out of control and would eat past fullness.
I share all that to say, I can certainly relate to binge drinking, restricting my food intake to compensate for alcohol calories and "drunk eating" at night. Some of you might have no idea what I'm talking about, and I'm so thankful for that. Some of you might know exactly what I'm talking about, and I want you to know that you're not alone. I get it.
I'm now at a much healthier place with alcohol. Rarely, rarely rarely do I end up drunk. Thankfully. Sometimes at an occasional wedding where I get swept up in the occassion and end up having my glass of wine refilled too many times. Then I realize I need to start chugging water because I'm feeling the alcohol way too much. And I don't worry about alcohol calories at all now, what I eat on days I drink alcohol is the same as on days I don't. And I'm thankful for that too.
For the purpose of this post and this space, I want to focus the conversation on alcohol and how that integrates with intuitive eating. The rest of this post if for those who don't struggle with addiction or an unhealthy relationship with alcohol. If you do, I'd encourage you to seek out help from someone you trust or the resources linked above. If you don't care for the taste of alcohol or abstain from it for many other very valid reasons, that is 100% OKAY. I would never want this post to make anyone feel like they should be drinking alcohol. Rather, I hope it sheds some light on how to bridge alcohol consumption with intuitive eating.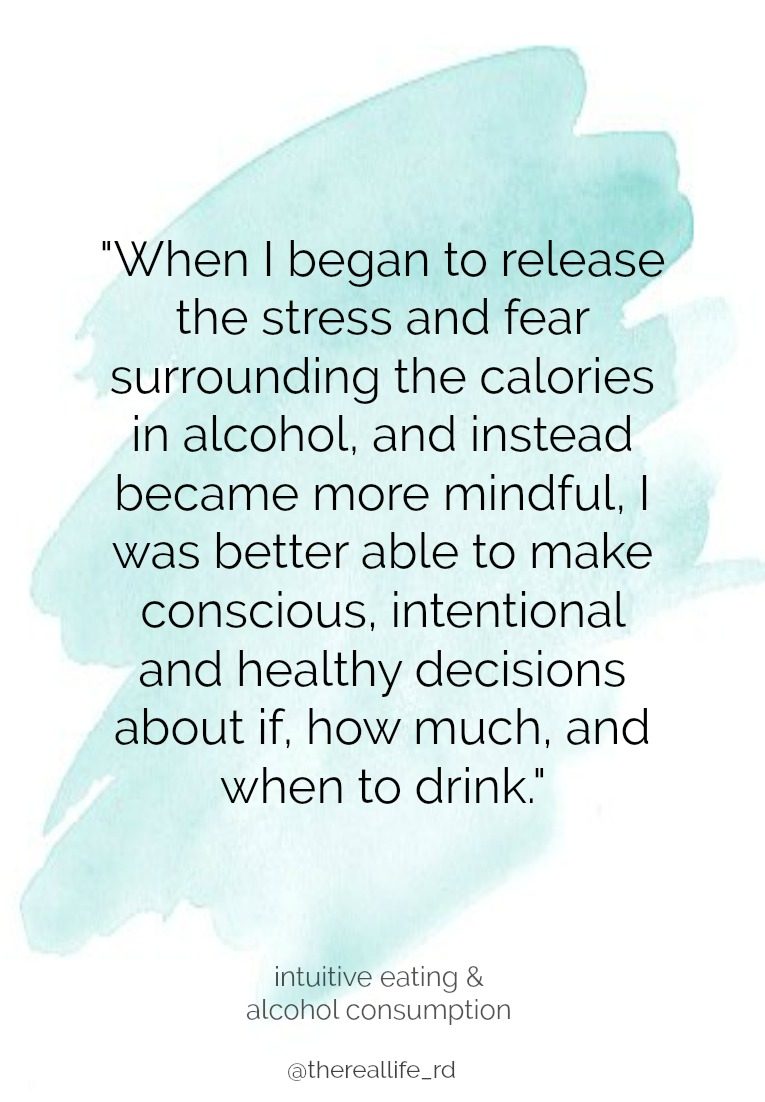 It's the holiday season. So now more than ever you will hear about the calories in such and such food just as much as you hear about the calories in spiked egg nog or mulled wine. "A glass of egg nog has just as many calories as three slices of pizza!" Ugh. Way to totally kill the holiday mood and experience. Every holiday party or social gathering somehow becomes a cocktail shaker filled with our calorie fears, social nerves and the pressure to be merry as ever. It's a lot. And I think our experiences can most often go one of two ways.
We feel distracted from the social experience because we're riddled with fear, avoiding the food and drinks and thinking about calories the entire time.
We grab another drink, then another cookie, then we freak out and think, "well screw it" and then grab another drink and cookie. Perhaps this cycle happens a few more times.
Which makes me think, perhaps it's not the social event or festivities itself, but the fear, morality and mental/emotional restriction that leads to us to over doing it?
IS INTUITIVE DRINKING POSSIBLE?
Whether that's with drinking one too many drinks, eating one too many cookies or slices of pizza, or restricting calories during the day to compensate for the alcohol we plan on drinking tonight or the alcohol we drank the night before. It all circles back to rules and regulations and disconnecting from how we feel in the moment and how we want to feel the next day.
Food and alcohol are not the same thing at all. Equating a drinking problem with disordered eating is a false and harmful misunderstanding. But, I do think there are some similarities between the two. If we think about it, both food and alcohol are coping mechanisms used for emotional soothing/numbing and also self-harm. Both can have the potential to negatively impact your mental and physical health. And both food and alcohol are treated as something to avoid and control rather than enjoy and appreciate.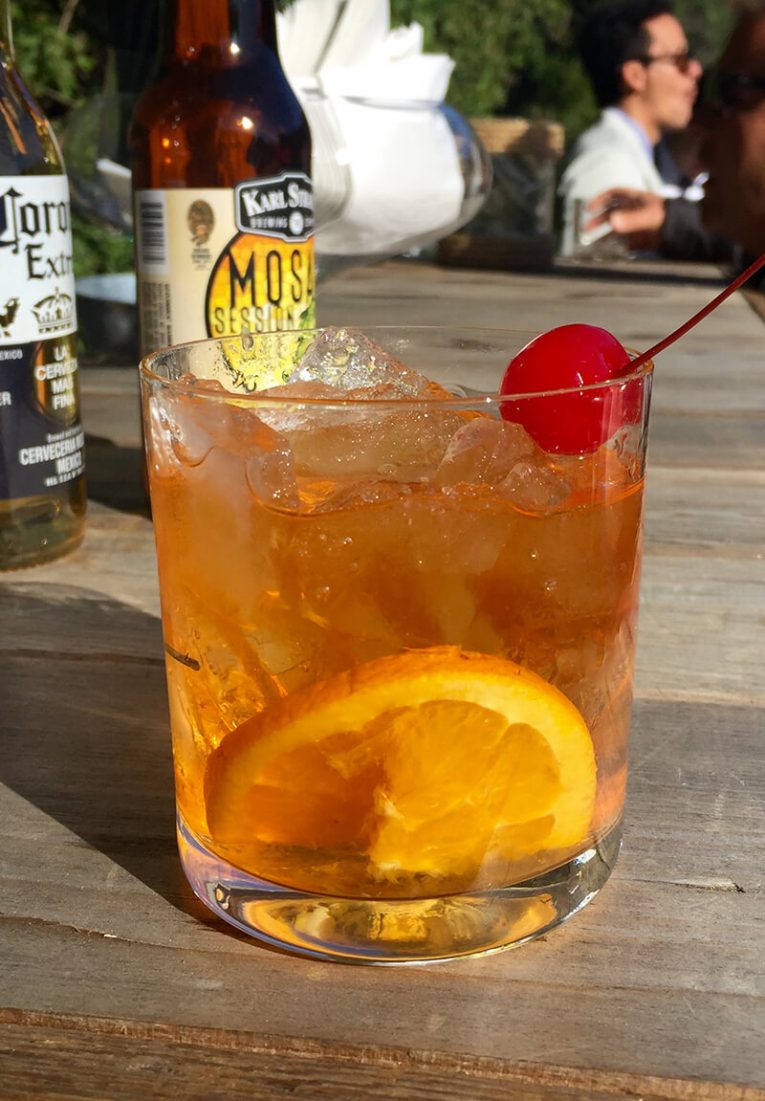 Intuitive eating allows us to come to peace with food. It allows us to dismantle morality from food and see food in a neutral way –  where we can eat out of self care and desire rather than self harm and distress. It allows us the freedom to stop fearing food and instead appreciate, respect and enjoy food. And then move on and fill our days with other more meaningful things. Through intuitive eating we learn to cue into our body's internal wisdom vs external rules.
So although alcohol is different than food, what if we approached booze with the same intuitive mindset? In the same way that intuitive allows us to eat pizza for dinner and not compensate by eating a salad for lunch or a smoothie for breakfast the next day, what if we allowed ourselves the freedom to drink alcohol in a mindful way without judgment and without restricting calories before, during or after drinking?
Through my own personal experiences I've realized that when I took an intuitive approach to alcohol and placed it on neutral ground I began to enjoy it more, not drink more of it. For me, feeling stressed around food and using food as my default to emotionally cope (which can be one tool to self soothe, but we need other tools) was never helpful. In the same way, telling myself I shouldn't drink because of the calories or using alcohol to self soothe and cope was always stressful and never helpful. When I began to release the stress and fear around calories, and instead be more mindful around alcohol I was better able to make conscious and intentional decisions about how much and when to drink. And that allowed me to better care for my body and my mind.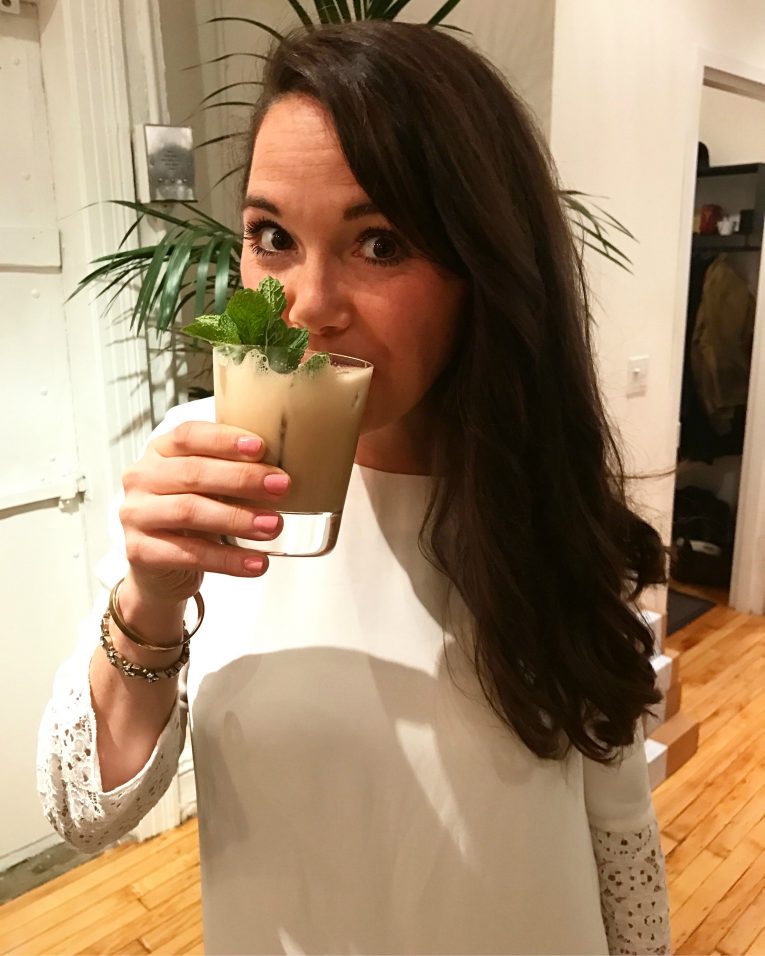 While I'm never going to tell you how much or when to drink, I hope these tips and tools help you decide what is best for your body and for your mind when it come to drinking alcohol.
ASK YOURSELF WHY YOU'RE DRINKING BEFORE YOU TAKE YOUR FIRST SIP
This is the first thing. Why are you craving alcohol or choosing to drink? Is it to numb out, relieve stress, cope, fit in..? If the answer is yes, ask yourself if this is how you want to deal with how you're feeling. Are there other healthier and more fitting ways you can deal with your feelings? If you're drinking for the taste or experience I think those could be healthy reasons to consume alcohol.
LET GO OF THE RULES AROUND ALCOHOL 
Just like intuitive eating teaches us to let go of the morality, restriction and compensatory mechanisms around food, do the same with alcohol. If you want a glass of wine on a Tuesday and it feels mindful, drink it. Think about how you feel during and after. Is that how you want to feel? Does that help you be your best version of yourself? When I started drinking a small glass of wine during the week at home with dinner, I felt way less vulnerable to drinking 3 or 4 on a Friday night as I collapsed into the weekend. Just like pleasurable and less nutrient dense foods such as a cookie or cupcake are part of healthy eating, alcohol can be too. Remember that intuitive eating means listening to your hunger and cravings vs outside food rules… and that applies on days you do and don't drink alcohol. Compensating for calories is dieting, not intuitive eating.
CHECK IN WITH YOUR APPETITE BEFORE YOU DRINK
Alcohol inhibits ghrelin – your hunger hormone – which makes food sound less appetizing and your hunger cues less reliable. And what we know is that alcohol is absorbed more quickly on an empty stomach. Say hello to feeling more buzzed than you intended and maybe even hungover. Blah. So be mindful about having a drink before you eat knowing it might affect your appetite. And if that happy hour drink does kill you dinner appetite, part of intuitive eating is eating out of self care. This would be a time where you eat out of self care and eat something anyway to make sure your stomach isn't empty. You'll avoid a hangover and the intense hunger that comes with it. Too much alcohol and not enough food causes you blood sugar to be all over the place. Couple that with the dehydrating affect of alcohol and your body is programmed to wake up in survival mode. Which means you'll be craving starchy comfort foods in the morning. This isn't necessarily a "bad" thing, but pair it with a hangover and it doesn't lead to the most intuitive and stress free eating experience.
RECOGNIZE THE TRUTH BEHIND THE DRUNK EATING 
The same blood sugar drop that causes a hangover can also lead to you feeling "munchy" the night before – hence the stereotype of late night pizza after a night of drinking. (I'm raising my hand here..) Since we're talking about intuitive eating, more importantly is to recognize alcohol lowers your inhibitions, therefore you're more likely to eat foods that you have restricted in your every day life. Then you wake up the next morning in a tornado of self shaming and guilt for eating those foods. If you allow yourself to eat foods sober, you won't feel the urge to eat certain foods only when tipsy. When I stopped restricting certain foods from my life, I found the late night eating stopped too. Would I eat something if I was hungry after being out with friends and having some drinks? Sure. But it felt calm and intentional, not chaotic and cloaked in judgment.
TAKE A DEEP BREATH AND WITHHOLD JUDGEMENT
As with any habit or behavior, can you without judgment and instead get curious? There's nothing wrong with enjoying alcohol in a healthy way. But do a periodic self check to ensure it stays healthy. Is it becoming habit forming or addictive? Is it becoming an unhealthy coping mechanism? Is it adding to or taking away from you living your best life? If you feel your alcohol consumption might be negatively impacting your life take a break and see how you feel – physically and mentally. Go to a social event and drink soda + lime vs alcohol and check in with how you socialize. But remember, abstaining from alcohol can be another form of a diet and any form of restriction never ends in a healthy place. Have an open, curious mind as you learn what amount and frequency of alcohol feels best in your body and mind.
Taking a break from alcohol doesn't mean you're an alcoholic. (If you feel your alcohol consumption could be problematic, remember, there are
lots of
resources available.
) But a break can help you see more clearly the motivation behind your behaviors become more self aware, decide if those behaviors are serving you, and grow more confident in how you care for yourself.
I'd love to hear your thoughts in the comments section!