I did a post a few months ago on reframing unhealthy thoughts that come from your diet/disordered mind. When I work with clients, I talk a lot about the "unhealthy vs healthy self" and the "disordered vs wise mind." I think we all have these two separate sides of our brain. Cultivating a healthy + peaceful relationship with food, your body and yourself happens when we can strengthen our healthy, wise mind. The stronger our healthy self and our wise mind, the quieter and less influential that unhealthy side of our brain becomes.
Your healthy, wise self lives in line with your values and allows you to live a fulfilling, meaningful life. Your unwise, unhealthy self distracts from that and convinces you to live your life striving to meet unrealistic expectations and gain the approval and acceptance of others instead of living out your values.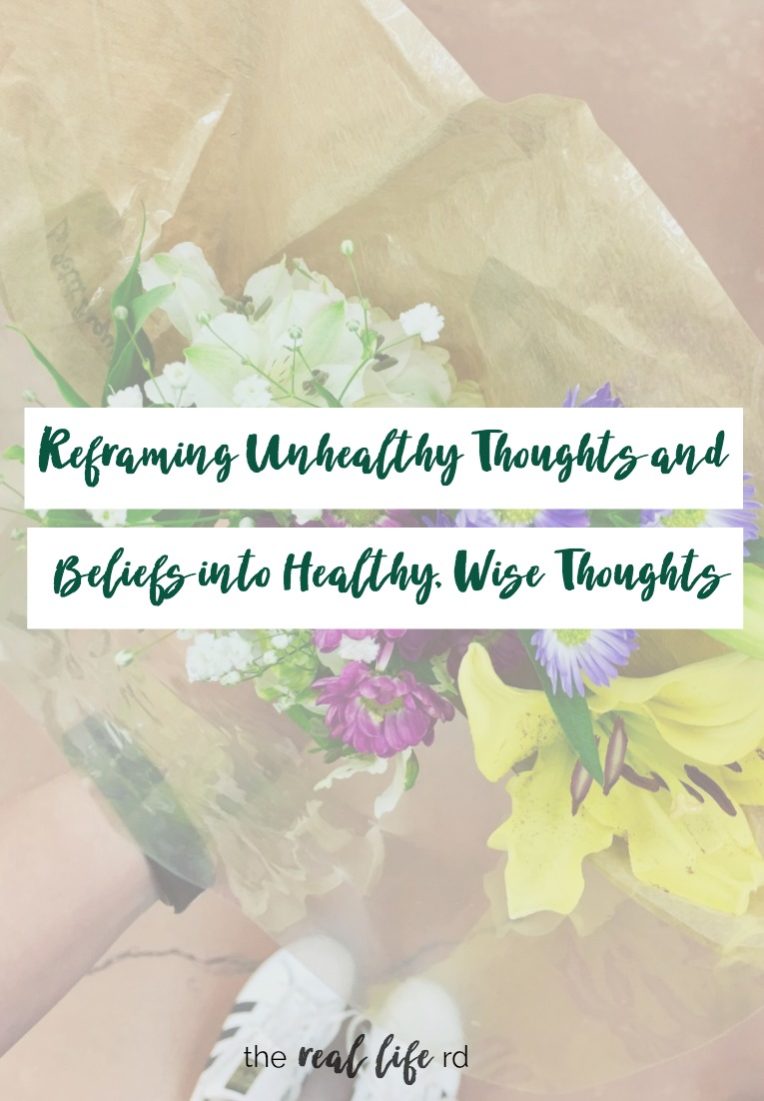 This process of becoming rooted in your values and strengthening your healthy self can take a long time. So it's okay if you feel frustrated with continued thoughts that tell you to eat this and not that or to exercise this way and not that or that tell you your body isn't enough or you as a person are not enough. It's okay if you hate your body right now or if the that comes with eating outside your safe foods or safe times or safe places feels overwhelming. This isn't about fixing it all in a day. This about about the journey – because that's where you're going to learn and grow. That's where I've been able to, and continue to, learn and grow.
So when this whole journey towards self acceptance and kindness and compassion and freedom with food and your body feels like too much…think about taking it one decision at a time. Can you ask yourself, how can I live in line with my values right now?
Learning to reframe some of those unhealthy, disordered thoughts into healthy self, wise thoughts is vital in this process. So let's continue from my last post and reframe some more thoughts I hear from clients or I've experienced myself. We're all this together, fighting diet culture and the lies we're led to believe about our worth and our value.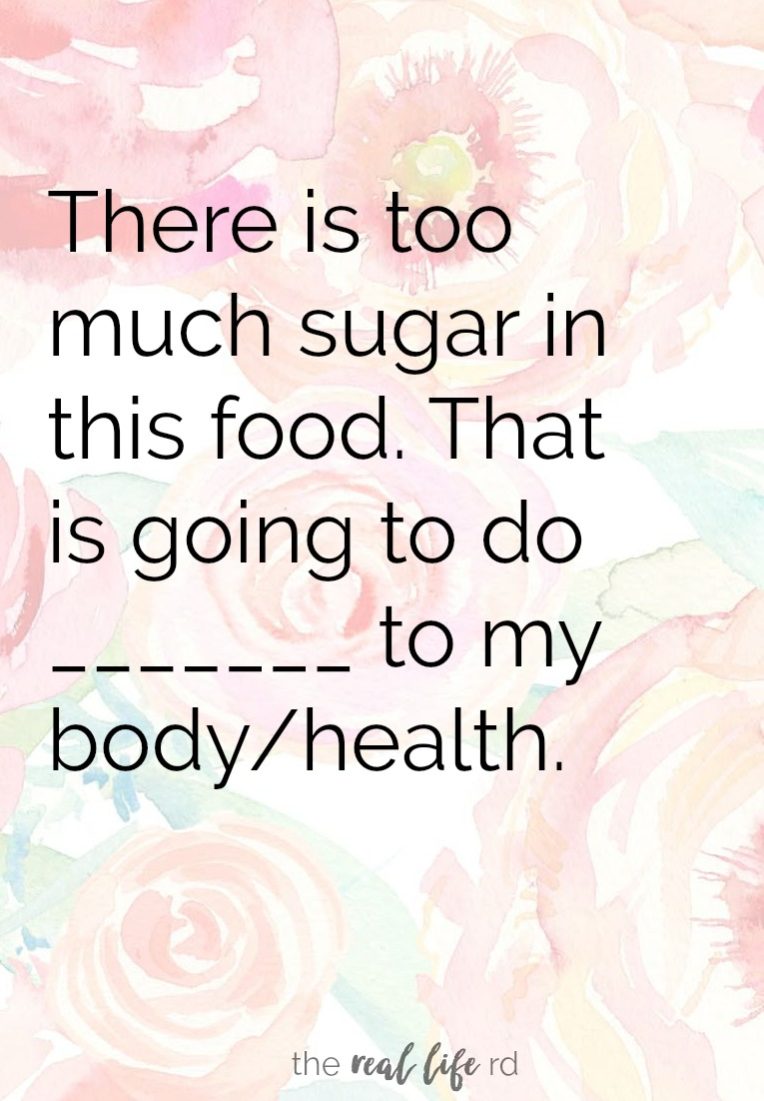 First sugar is not addicting, the research illustrates that. Here is an easy to read, fantastic article on why sugar is not heroin. Marci Evans, a fellow eating disorder RD here in Cambridge has spent years digging through the literature…and this blog post she wrote in addition to a podcast she was on will hopefully quiet the lies and fear mongering for you. No one food is going to do collateral damage to your body…we can get into a place of catastrophic thinking when it comes to food, exercise and our body. Deep breath.
Take a step back and give your brain space to decide if a thought is true or not. Remember not everything you hear, see or watch is true. You are not a sponge. Demonizing sugar and keeping it "off limits" in your brain actually makes you more vulnerable to a chaotic food experience with sugar and prevents you from being able to make mindful decisions around sugar. That's how our biology works. I truly believe everyone can get to a place with sugar where they can freely say, "I really want a cupcake, that sounds good!" or "I don't really care for a cupcake." Reframing that thought might look like, "No one food is going to destroy my body or health, but stressing over food actually might negatively impact my health."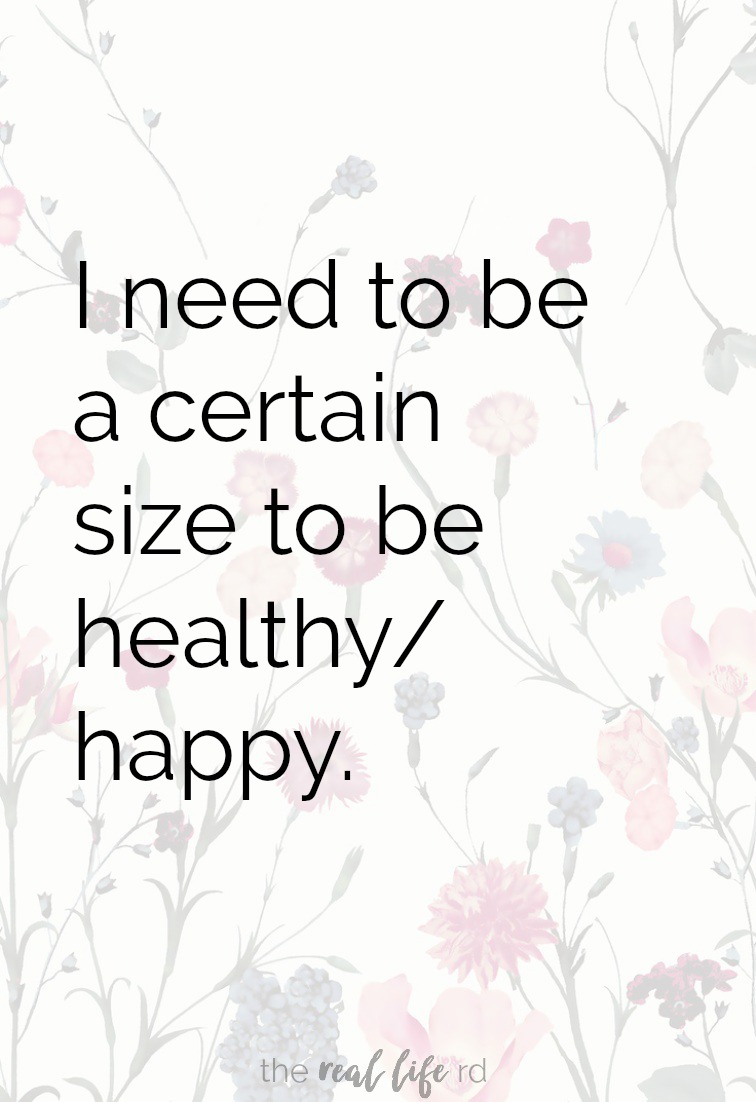 Your body is the master at controlling its size. Your mind is not. A causation relationship between weight and health simply does not exist. Health is so so so so so so so so much more than weight/size. Taking some time to allow yourself to get really clear on what healthy means can be a powerful first step in body image work. I spent multiple sessions with clients dialoguing through and getting crystal clear on what healthy actually is. Because you are xyz size does not mean you are xyz degree of healthy. And from my own experience and working with a lot of women, micromanaging body size never made anyone happier. Instead it usually ends up in food and body preoccupation, self-hatred, disordered eating and eating disorders, isolation and poorer health outcomes.
I too was there. Very few women are at peace with their bodies, either because we think we're fat or because we fear becoming fat. Remember that body image has nothing to do with your body, it has everything to do with your mind and relationship with yourself. Your happiness being contingent on your body size will always end up disappointing. What happens when your body changes? Is it wise to root your happiness is something that isn't static? Because we are all aging so are bodies will change. Reframing that might look like, "I can choose to be a caregiver of my body, I do not have to love my body."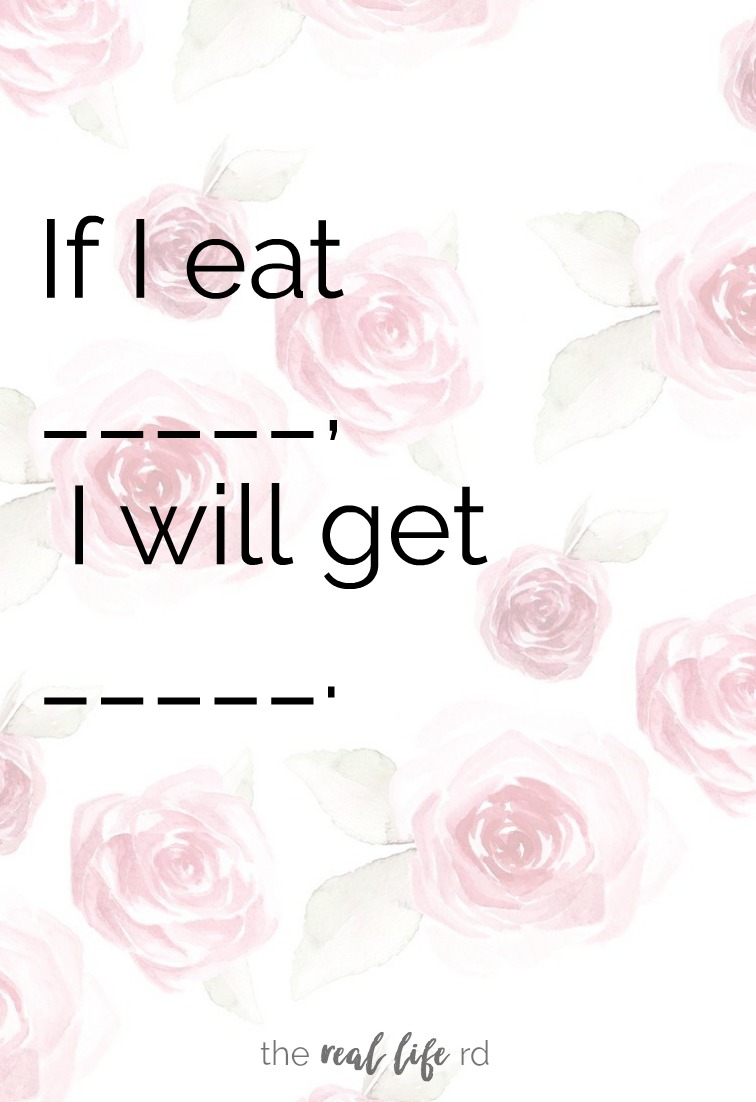 I use to think if I ate preservatives or food additives I would get cancer. Sounds a little (or a lot) dramatic now. And this dialogue underlies the majority of our food fears. We are bombarded by so much health information on a day to day basis that it's really easy to sip…or chug…the kool aid. I totally get it. I was there too. At one point I use to have anxiety when I saw other people eating dairy because I was scared for their health….did they know they were essentially eating their way to cancer?! Being 100% transparent here.
Can you take a step back, take some deep breaths and see health from a much larger lens. There is a lot of conflicting nutrition info and opinions out there, but researchers and clinicians can pretty much agree that getting back to basics with food is good for our health. The stuff you learned years ago…fruits, vegetables, whole grains, healthy fats and quality protein. And eventually, after moving your way through the steps on intuitive eating and letting go of diet rules, giving yourself full permission to eat and coming to a neutral place with all foods…your body will crave foods that embody those nutrition basics. We also know intuitive eating improves physical and psychological health so we can begin to reframe this thought and silence that unhealthy side of our mind. "There is no direct relationship between one food and one health outcome, my job is to care for my whole self – body, mind and soul."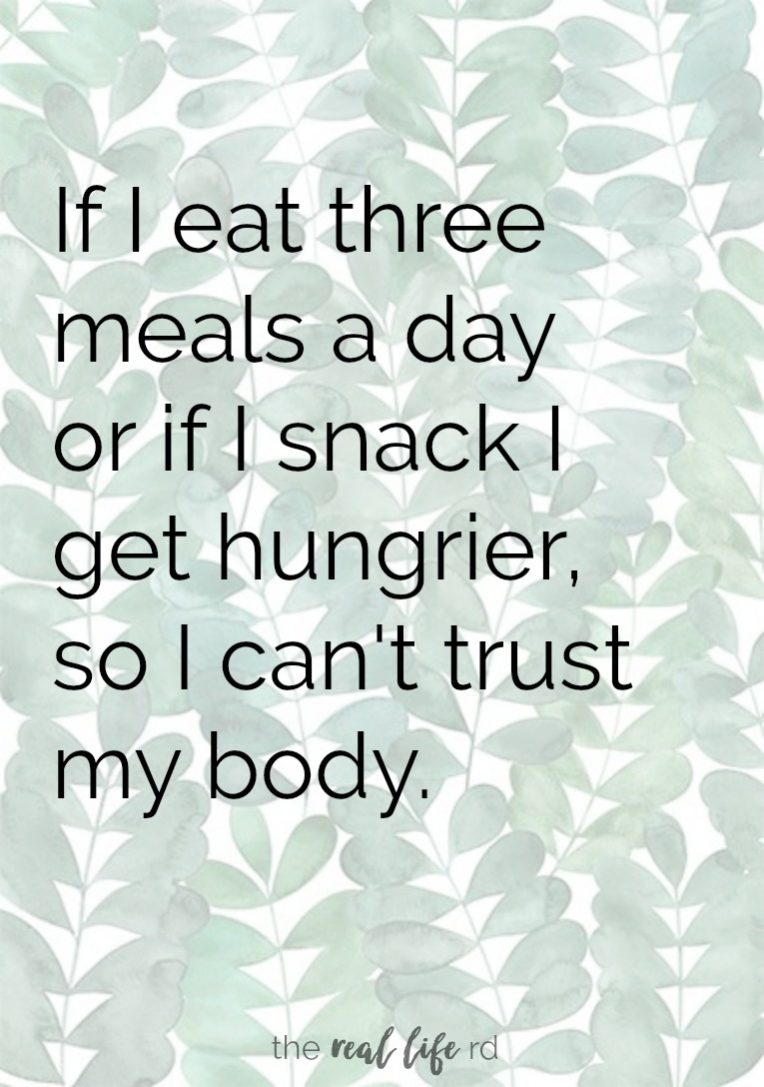 Almost always after you've been restricting food and you begin to eat rhythmically again or more often, you will experience increased hunger. Your body is not compensating as much anymore and holding onto every ounce of energy you give it. When you're ignoring hunger cues and starving your body, your body is super clever and it knows how to alter body systems to keep you alive. So it slows metabolism, slows your GI system, lowers body temperature among other things. When you begin eating in a normalized way again, it's like, "Hey she's feeding us! Let's utilize this energy and then ask for more!" This isn't your body betraying you, this is your body starting to trust YOU again and actually healing. You could reframe that with, "It's my mind that can't be trusted, my body has been there all along and it knows exactly how to manage and metabolize food."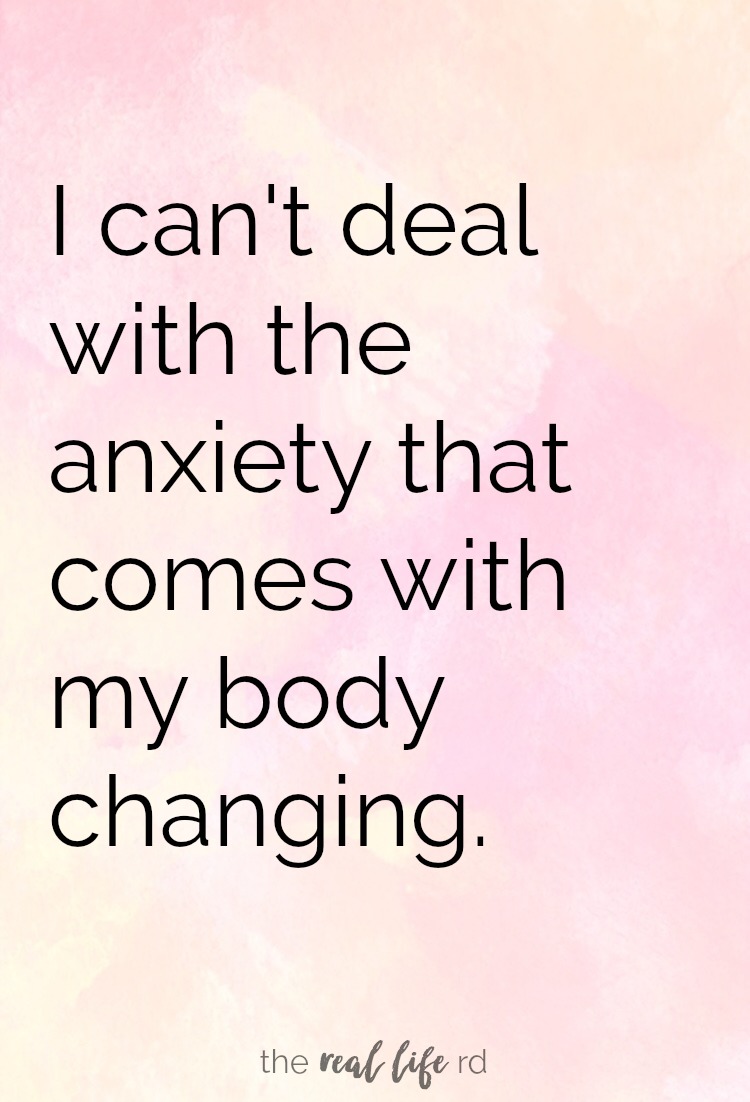 Maybe you can't deal with it all at once. And maybe you can't deal with the changes right now because you don't have the tools and support you need. That's okay. We all can do very little (if anything) alone in this world. But with the tools and support YOU CAN move through and survive the anxiety. Sometimes looking at the big picture can be really overwhelming…the idea of tolerating your potential natural body size can be paralyzing. Breaking it down and focusing on just today can be helpful. Can you tolerate your body just today. Can you root into your truest self and focus on living in line with your values? Eventually those values overshadow and become far more important to you than having a certain body size. This work is hard. So it's okay for this to feel extremely, frustratingly hard. You don't have to like or accept your body right now. And it's okay if you don't ever love your body…but can you take one tiny step today to be a caretaker of your body? Reframing that might look like, "If I choose to, I CAN deal with the anxiety because my life is worth it and I am valuable."
I hope this was helpful for you in strengthening your healthy, wise mind so your unhealthy mind becomes quieter and quieter. I would love to hear your thoughts in the comments and any unhealthy thoughts that you're struggling with that we can reframe in a future post!
I talk a lot about reframing thoughts and living in line with your values in my new online course on healing hormones – because stress can create a hormonal frat party. If you haven't yet and you'd like to sign up for my free mini email course on healing hormones you can do that here.