It was beyond awesome to not pack a suitcase this weekend.
Friday was a busy morning with three initial clients and two follow up clients all before noon. Then I spent the afternoon working on my inbox for a while and tried to respond to so many of your very kind thoughtful comments + emails on our move. Thank you thank you thank you. I'll keep you guys posted on details as they come!
By the time 6pm rolled around I shut my laptop and Nick and I walked along the water to City Vineyard for some drinks.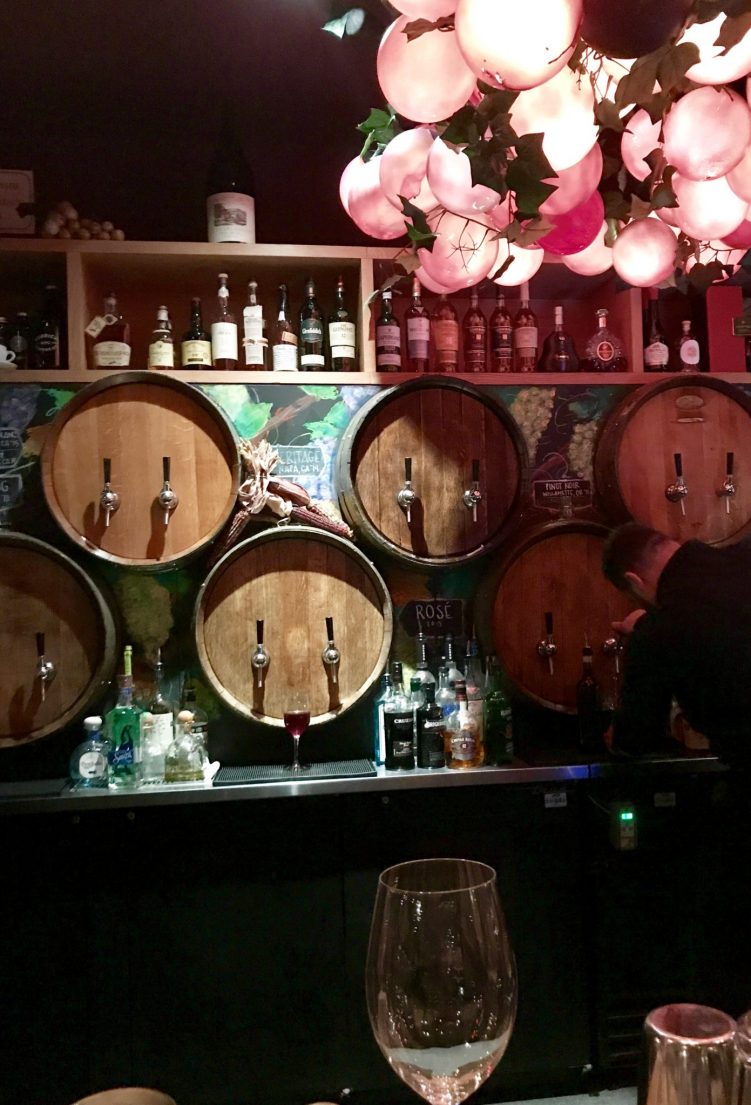 They don't grow the grapes in the city (obviously) but they do make all their own wine. We don't go often because it gets so crowded when it's warmer, but now that it's cooler it's much quieter with a lot less people. It was the perfect fall night to sit outside. We each had a couple glasses of their Syrah and loved it. Bold and juicy, but drinkable on its own without food.
We grabbed a thin crust pizza on the way home and spent the rest of the night watching an episode of This Is Us. Between the two of us, we ate the whole pizza. 1 slice of the meat lovers + 3 slices of the arugula tomato for me and the rest for Nick. The pizza is from Skinny Pizza and while I hate the name, the pizza is so good that I get over myself and eat it anyways.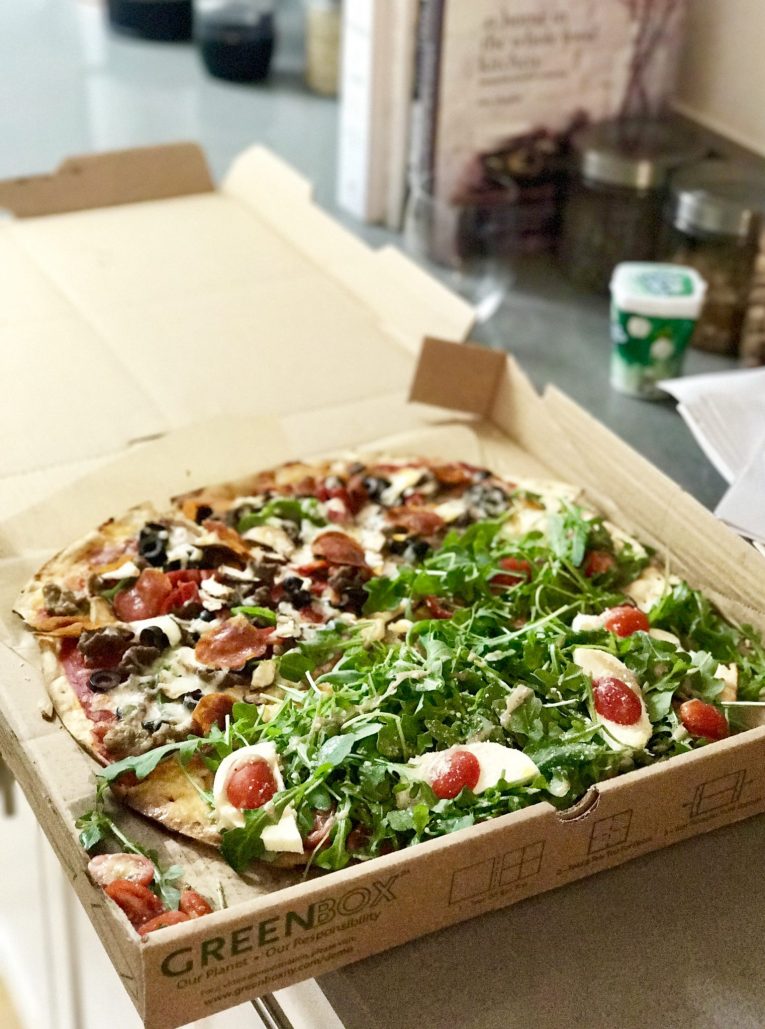 We were up and out the door pretty early on Saturday to shop for a car in New Jersey. The idea of a car feels sooooooo exciting and freeing! For now, we'll just have one car in Boston since we don't have any reason for two. And it makes financial sense. I ate avocado toast + banana on the ride into New Jersey.
We test drove a CR-V and really liked it. I know you guys do too based on on your instagram messages so that's good to know 🙂 I bought my first car at 23 and it was a Honda Civic so now I'm partial to Hondas. And I'm really into the sunroof.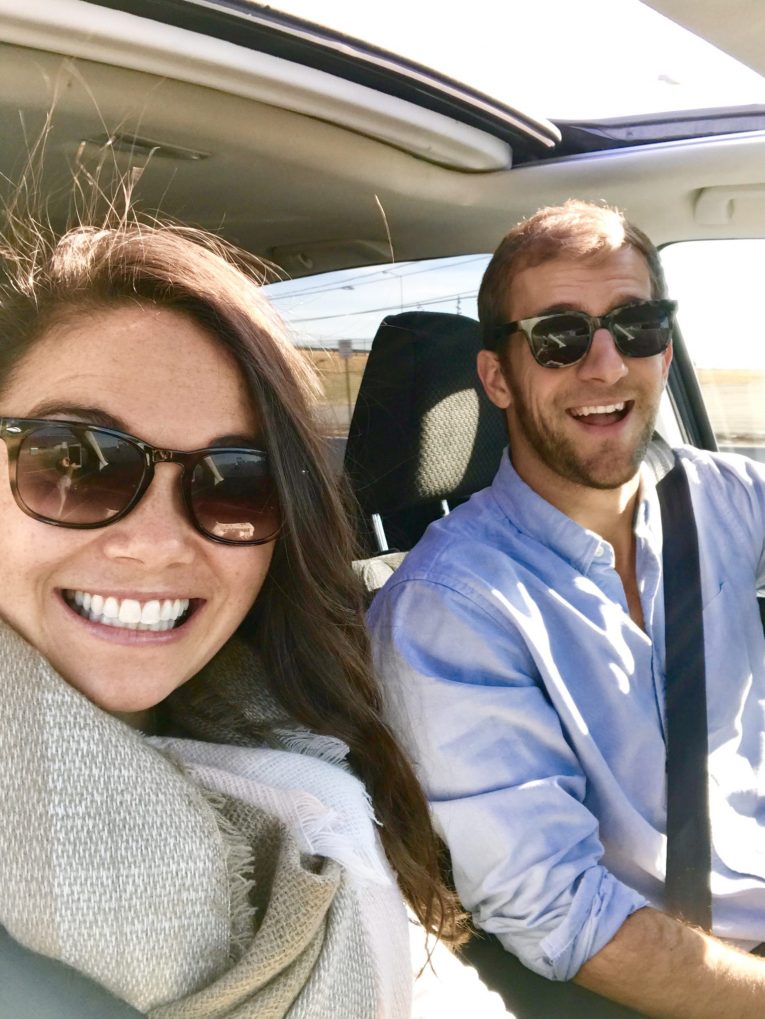 We drove several other cars but liked the CR-V best. I also never should have sat inside a Toyota Land Cruiser because now that's all I can dream about even though I know it's never happening. But still…it's a dreamy car and I can pretend I might own one someday.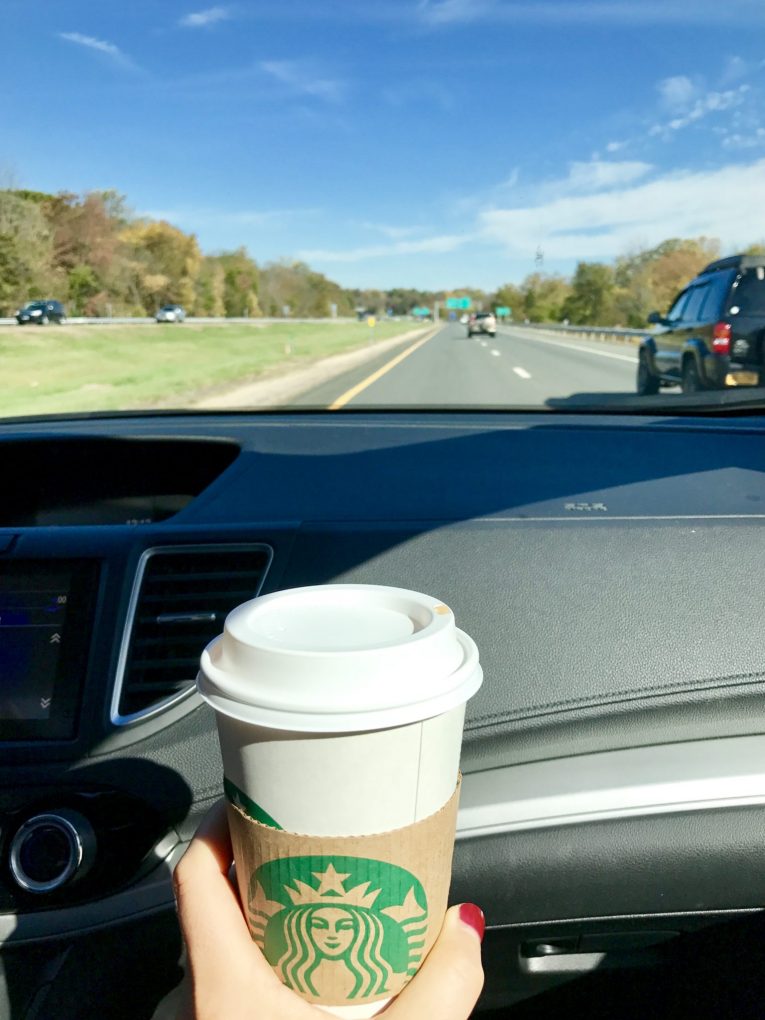 Then we headed to New Haven to spend the day with my good friend Jess and her husband Graham! Jess and I met during my first year in Charlottesville. She moved to New Haven last year after marrying her husband who just finished residency at Yale. I'm so glad they are only a 2 hour drive away from New York and from Boston. Having old friends within driving distance is so nice!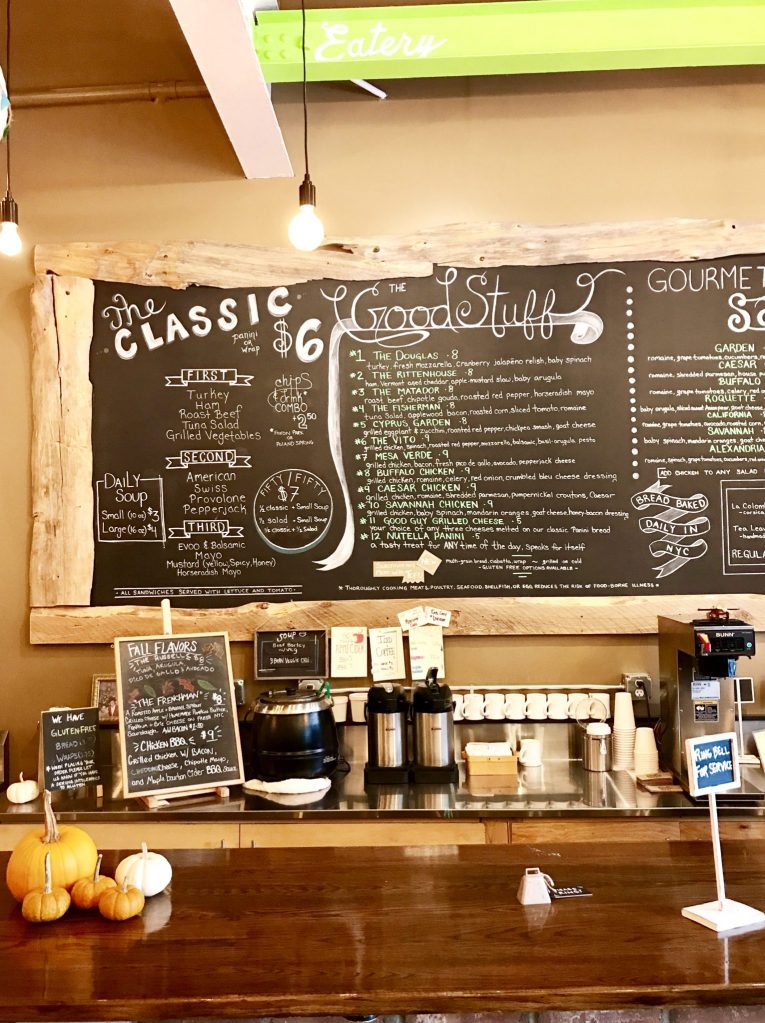 Our first stop was for lunch at the Eatery in Wallingford. I was in between the fall special sandwich (fontina + brussels + bacon + pumpkin butter) and the rittenhouse (ham + vermont cheddar + apple mustard slaw + baby arugula) and went with the rittenhouse. But I had total food envy when I bit into my first bite because the sandwich was….mehhh. So I ended up eating several bites of Nick's since he went with the seasonal and it was SO GOOD. Lesson learned.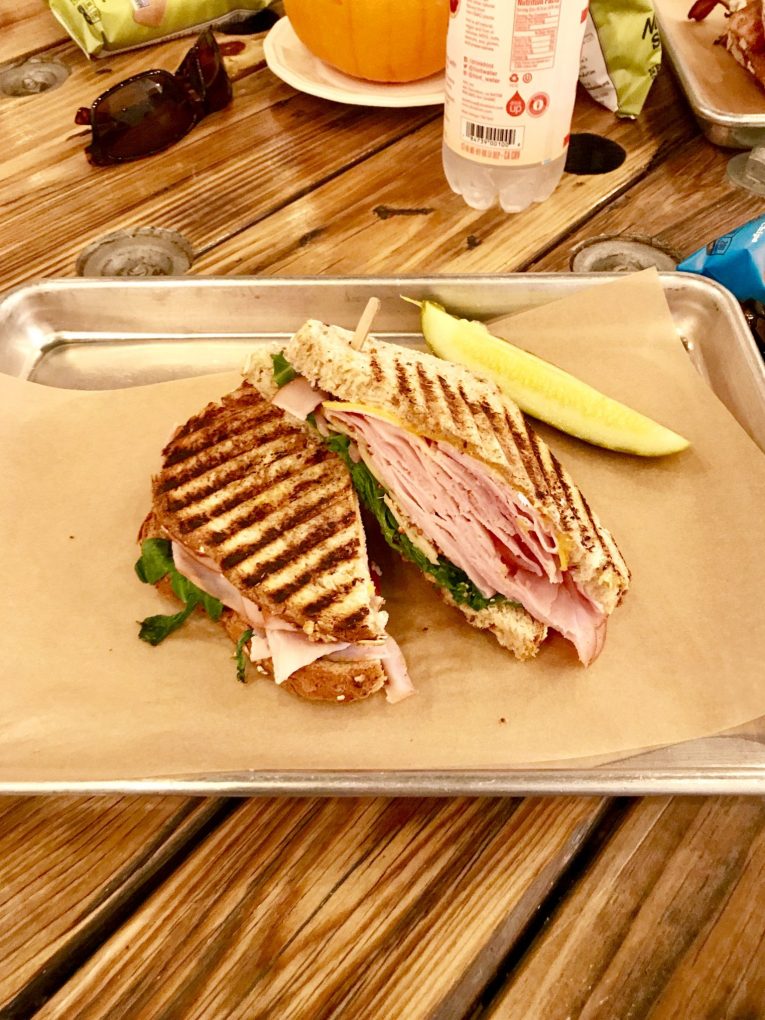 After lunch we headed to Gouveia vineyards. I had no idea Connecticut had vineyards, but apparently they do? The views were pretty! We sat outside and split a bottle of red wine that I'm totally forgetting the name of now..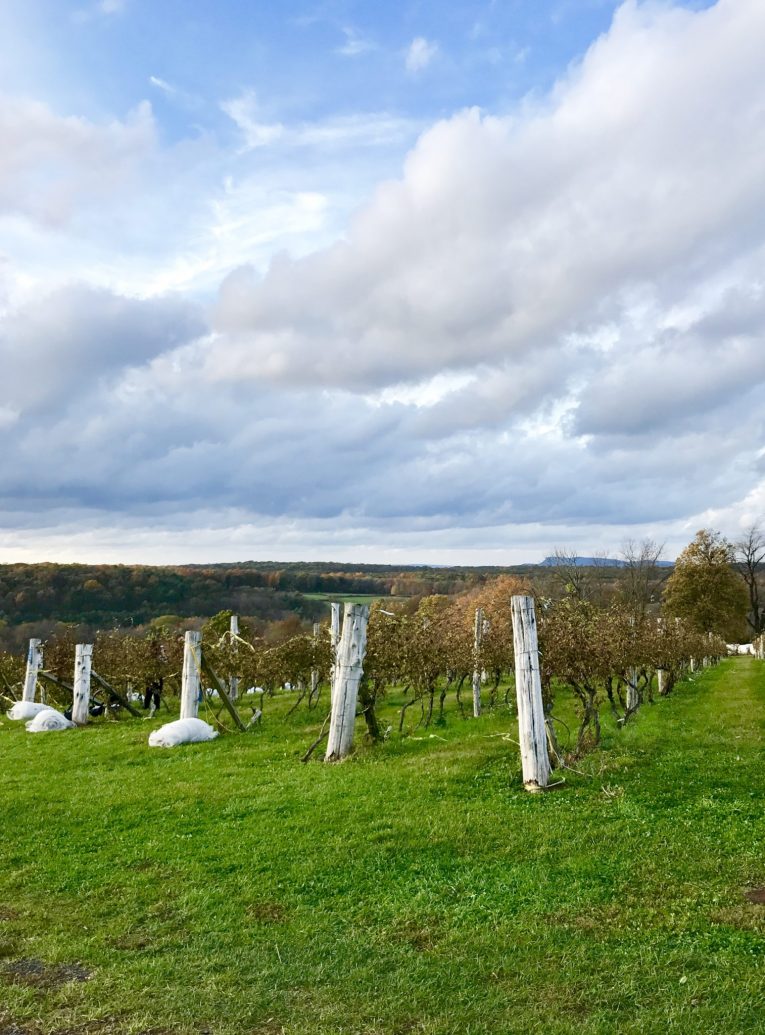 PSA –> this scarf from my fall capsule is the coziest thing ever. It's from target and I want three more in different colors. Also I wear this vest 5/7 days of the week and I don't care because it layers well with everything.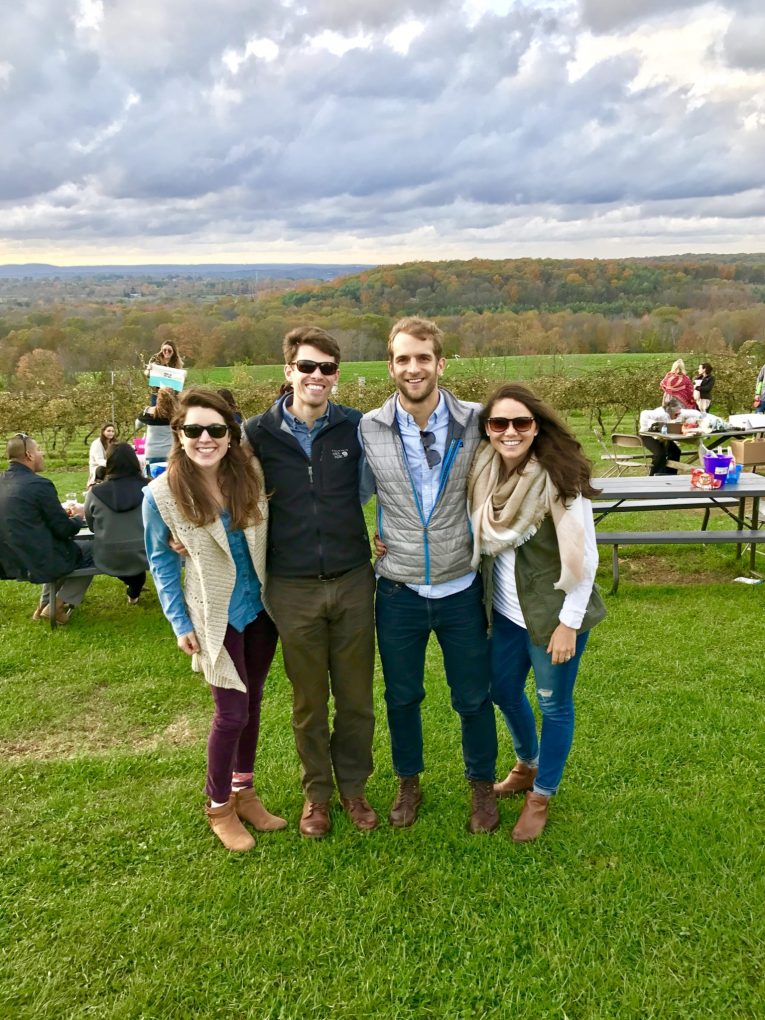 We had an hour or so to kill between the vineyard and our dinner reservations at 7pm so we strolled around downtown New Haven and the Yale campus. I think downtown New Haven is basically Yale? It was gorgeous! So different from Indiana University where I did my undergrad. I love seeing different college campuses. The kids that go to NYU have a totally different college experience than the kids that go to Yale or the kids, like me, that went to a midwestern massive university.
I always knew I would stay close to home so I didn't look far when it came to college. And I knew I wanted a bigger school with huge sports programs and tailgating and greek life and all that typical college stuff. Yes I was that annoying, sorority girl in college. Oh lawdy. And now that I'm older, I'm like there are so many schools to choose from!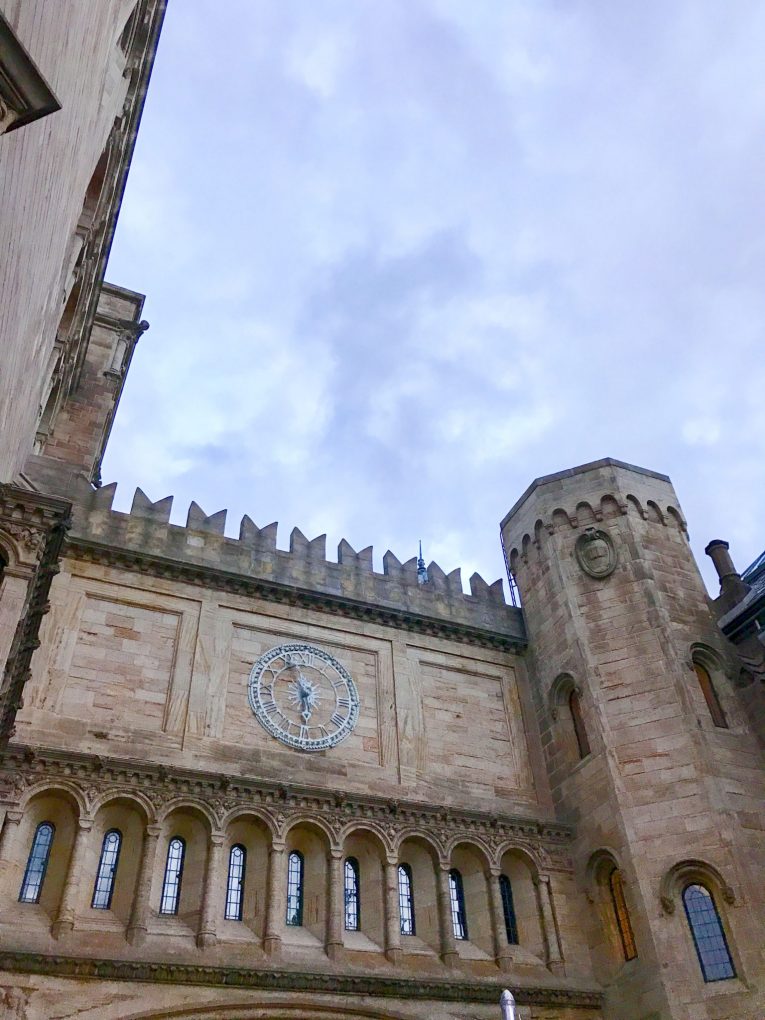 Anyways. We ate dinner at MidPoint – a Turkish restaurant – and it was incredible! We started with an assortment of dips + spreads. Lots of eggplant spreads, babaganoush, hummus, grape leaves, a roasted red pepper spread….all amazing. And the soft, pillowy pita was the perfect vehicle.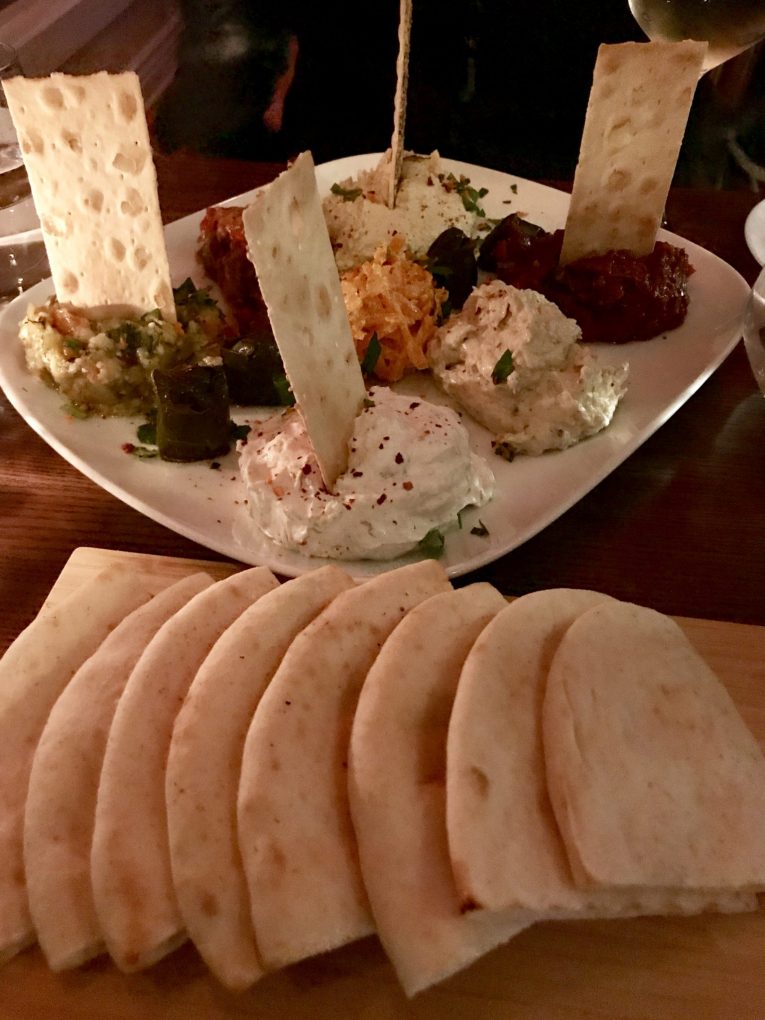 Nick and I split the halloumi salad and some sort of skewered lamb dish that had a fire roasted tomato and yogurt sauce. Both so good! I would order them again and again.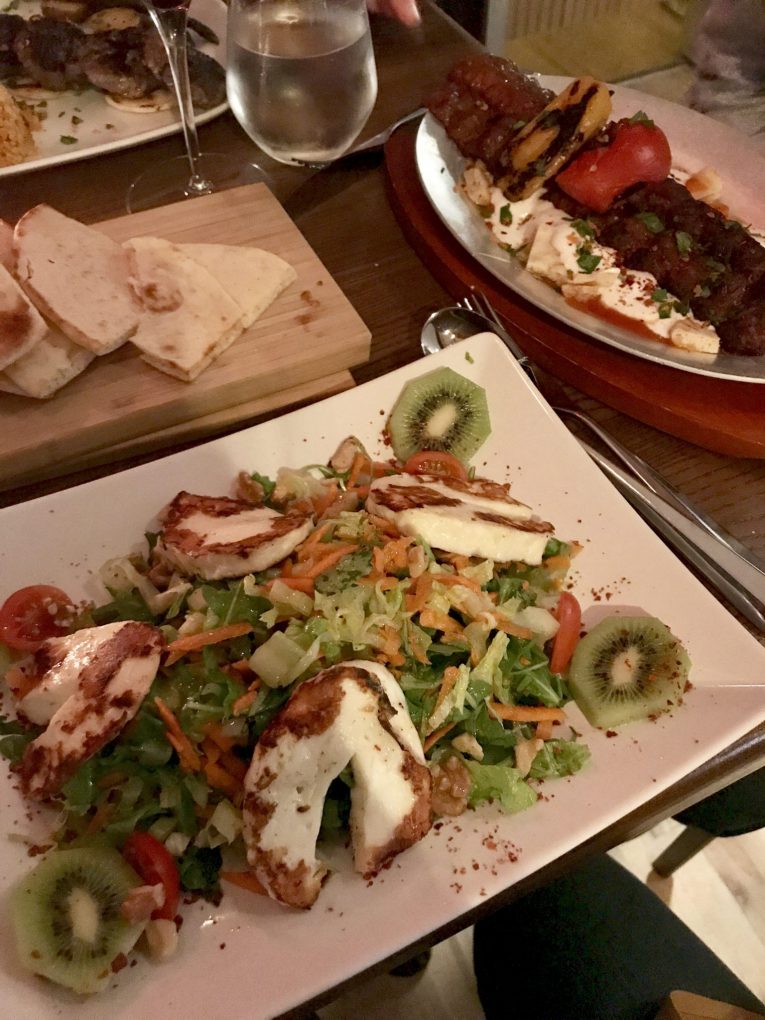 It was the perfect Saturday. We had gorgeous weather, spent time with close friends and saw all the New England fall foliage. We made it back home by 10:30 and went straight to bed.
It was a rainy, nasty Sunday and much of it was spent inside.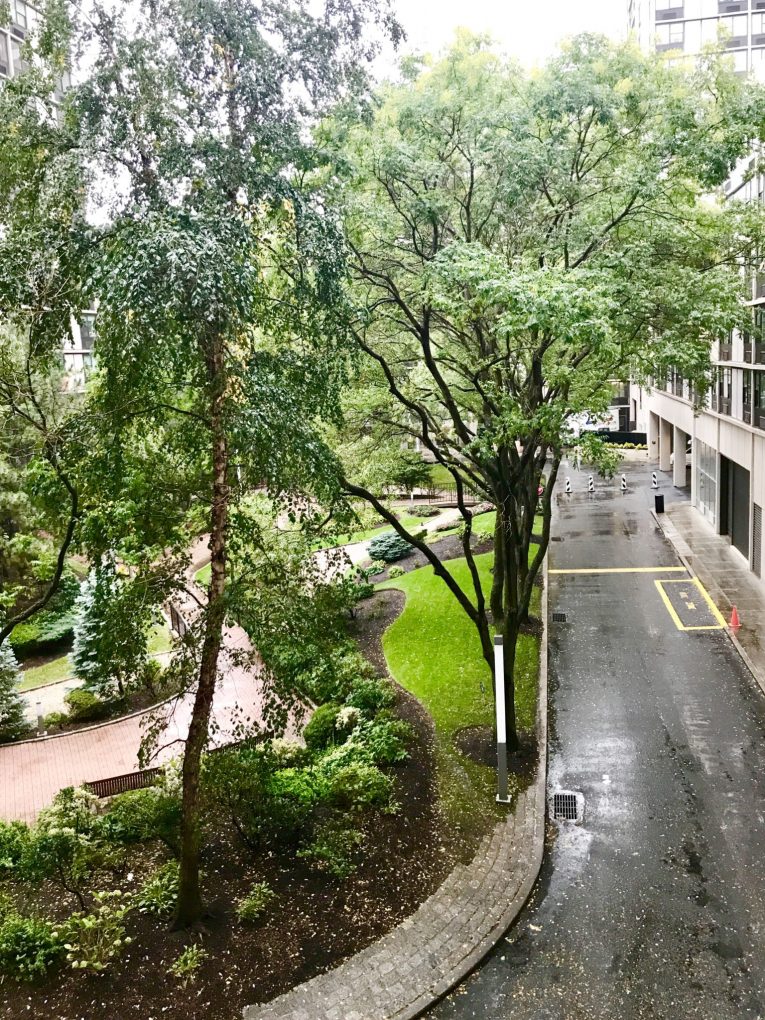 Breakfast was the same thing I had the day before – avocado toast + almond butter and banana. Plus two cups of coffee.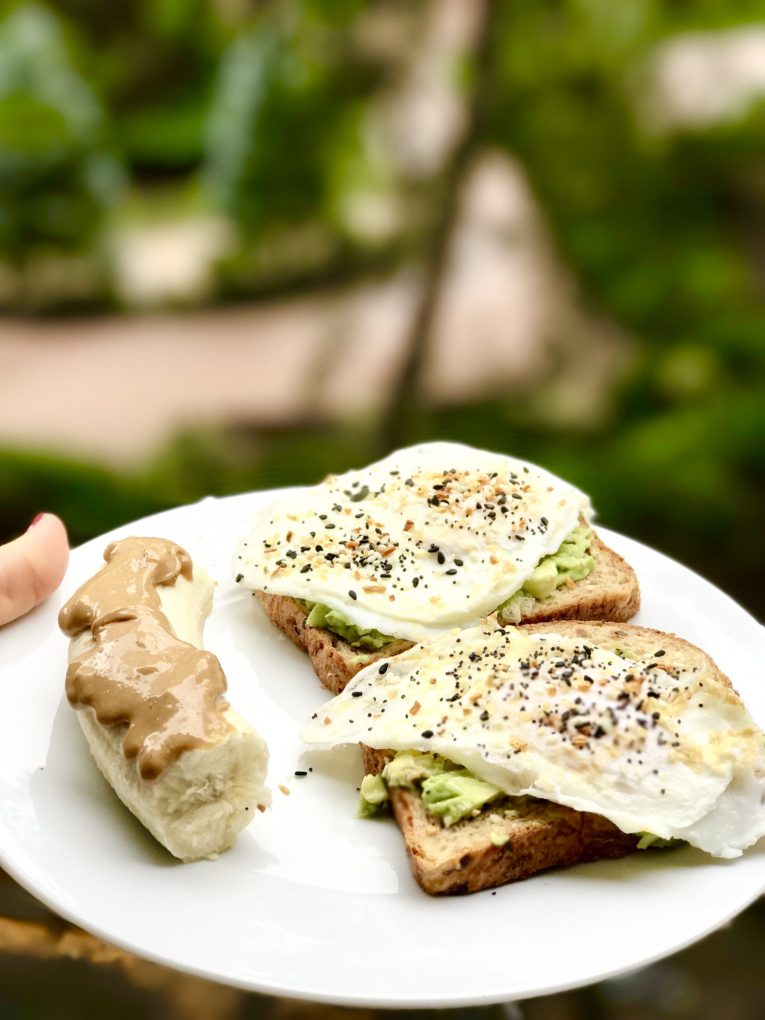 I spent the morning working on some business strategy + planning. Because really…most days I feel like I'm all over the place with where I want the blog and business to go.
Then my brain got tired so I flipped through some cookbooks for dinner inspiration.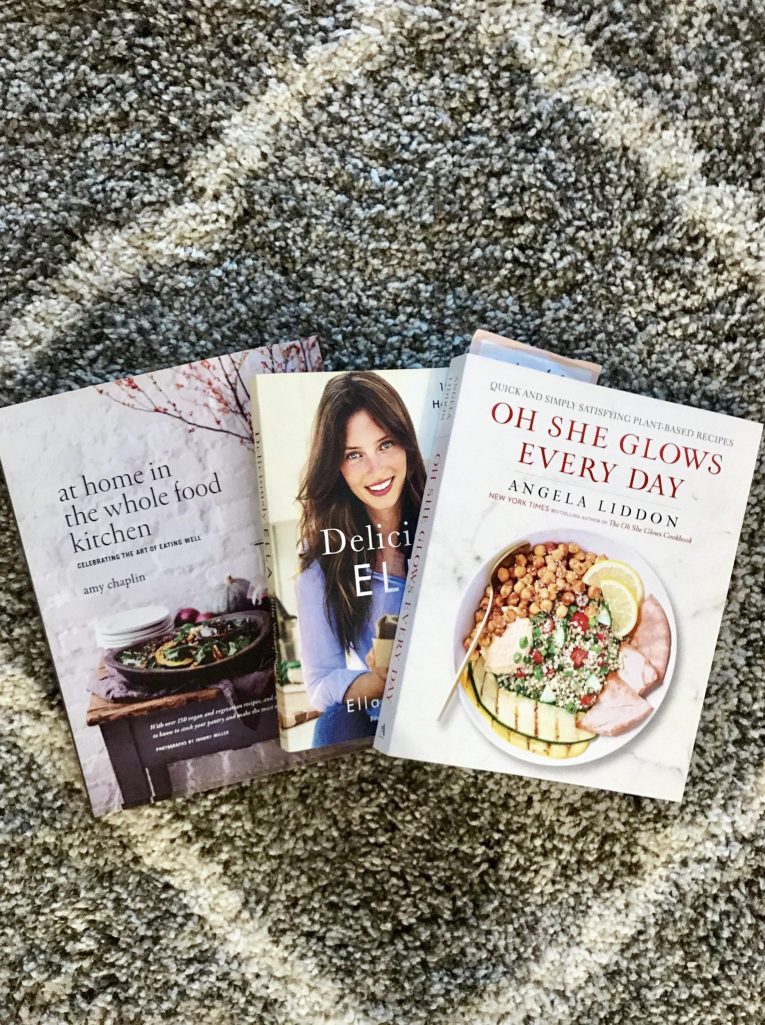 And decided on shepards pie. Now that we're likely moving (if all goes as planned) in less than a month I feel like we need to eat down our pantry and freezer.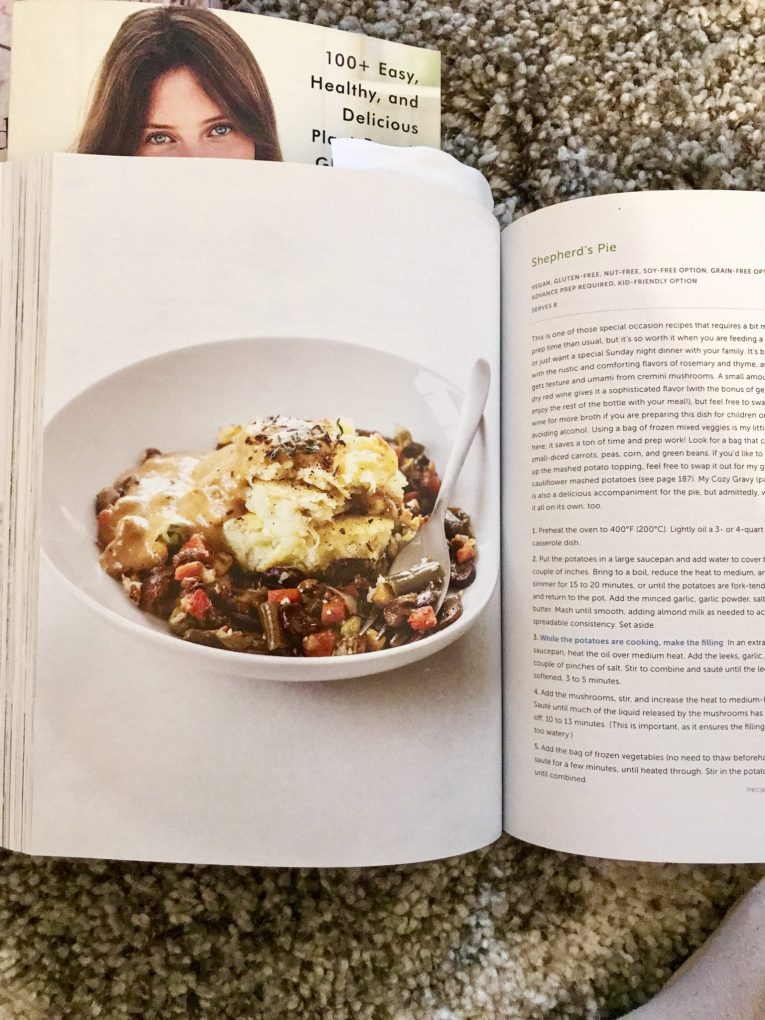 Then I spent the afternoon baking five dozen cookies and a loaf of banana bread. Both the oatmeal coconut chocolate chip and pumpkin cookies are from the Oh She Glows cookbook so I don't have a recipe link but, I can tell you they were awesome.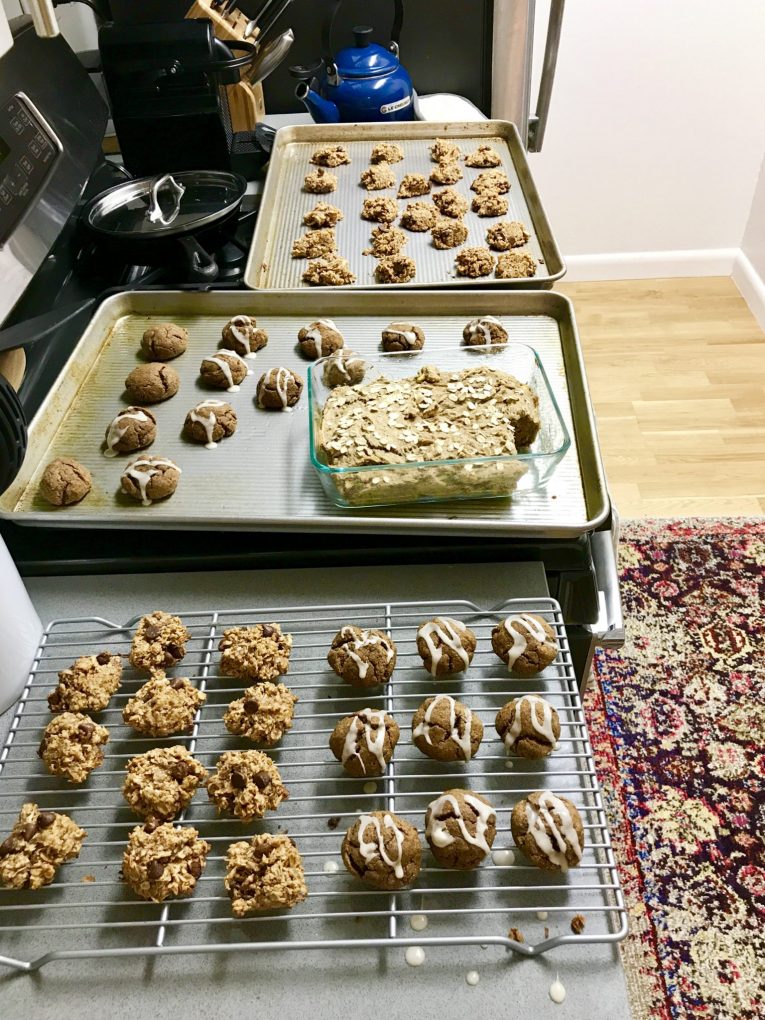 By the late afternoon, I was stir crazy and like I needed to get out of the apartment for a little bit after not wanting to leave all morning. So I went and read while sitting on a stationary bike to get the blood flowing. If you're a health practitioner interested in IE/HAES and eating disorders I highly recommend this book.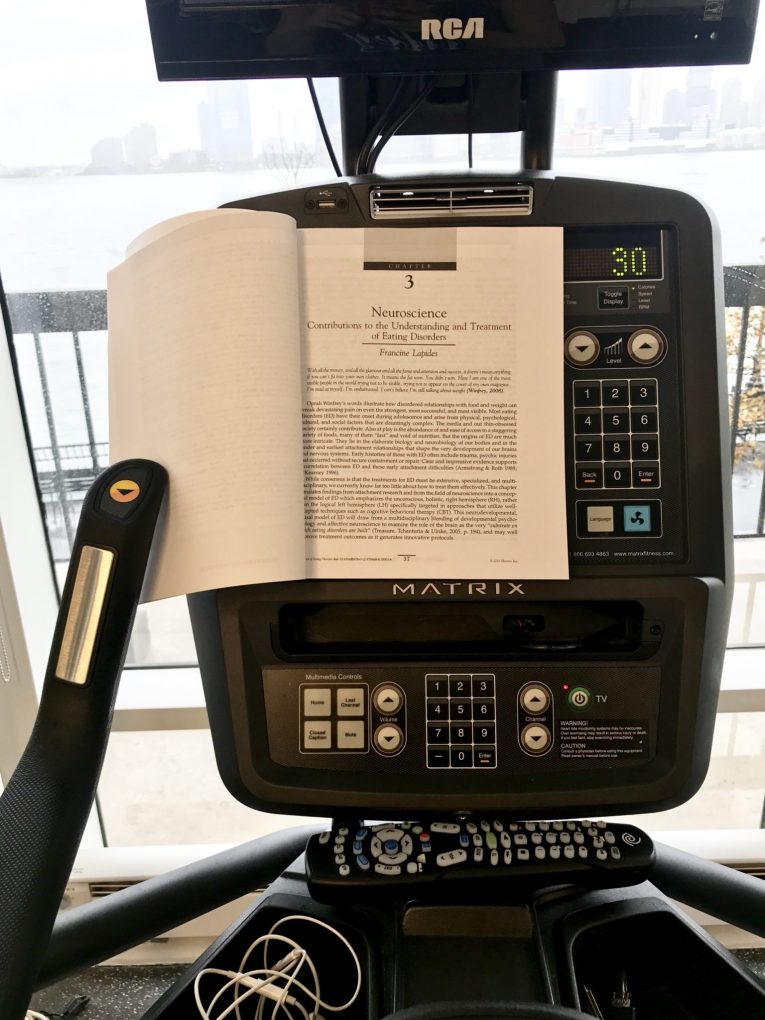 Cookie batter, a green smoothie and a bowl of popcorn made up lunch on Sunday.
Our grocery delivery was delayed because of the rain and the doorman in our building won't accept food deliveries. Because of that, I stayed back for the delivery and Nick went to church since he had to be there for volunteer stuff. A dumb reason to have to stay home…but it was either that or a lot of money wasted on groceries. Oh well.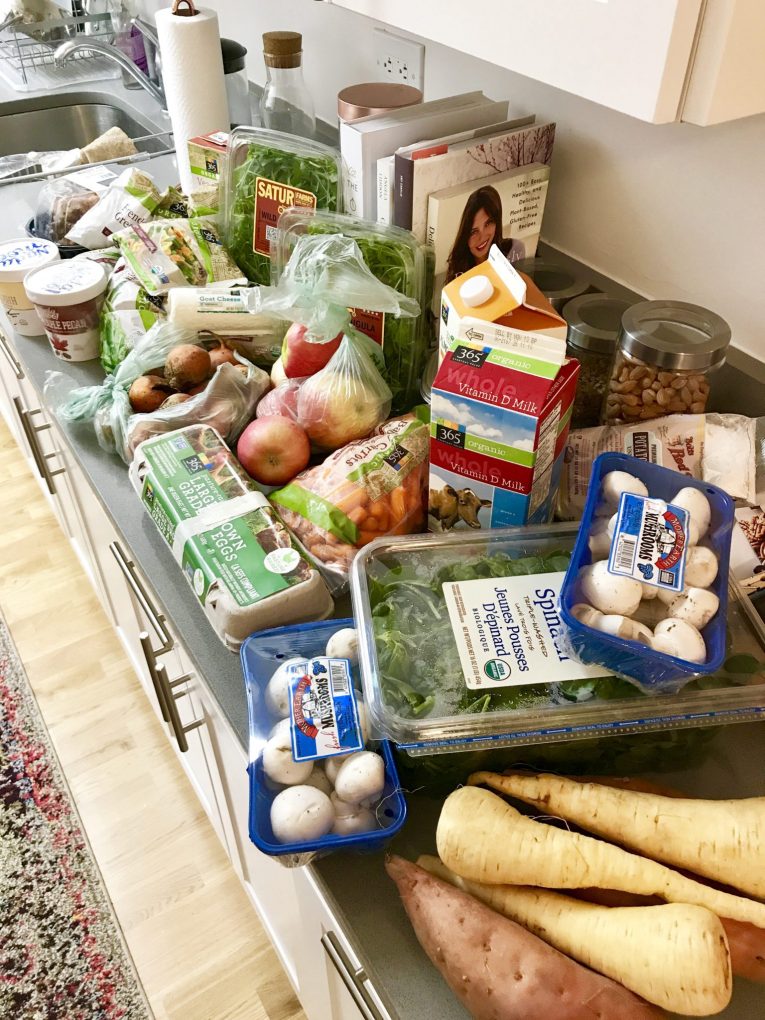 I prepped some veggies for lunches this week and we put together a quick dinner of leftover sausage, mashed potatoes and steamed kale. Random but tasty. For the potatoes I just chopped some russet potatoes, boiled them, and then mashed them + whole milk + butter with a fork in the pan.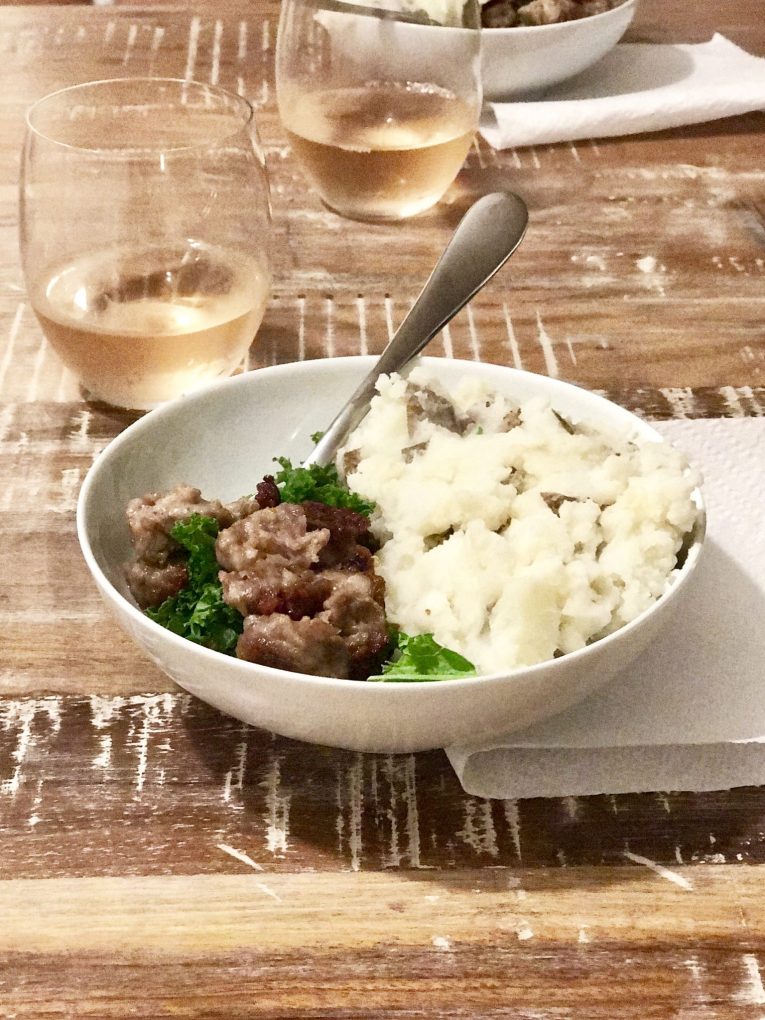 I plan to make the shepard's pie tomorrow since we're having a friend over for dinner and then we'll eat the leftovers all week long.
Bed time snack was a couple pumpkin cookies and maple pecan Nada Moo.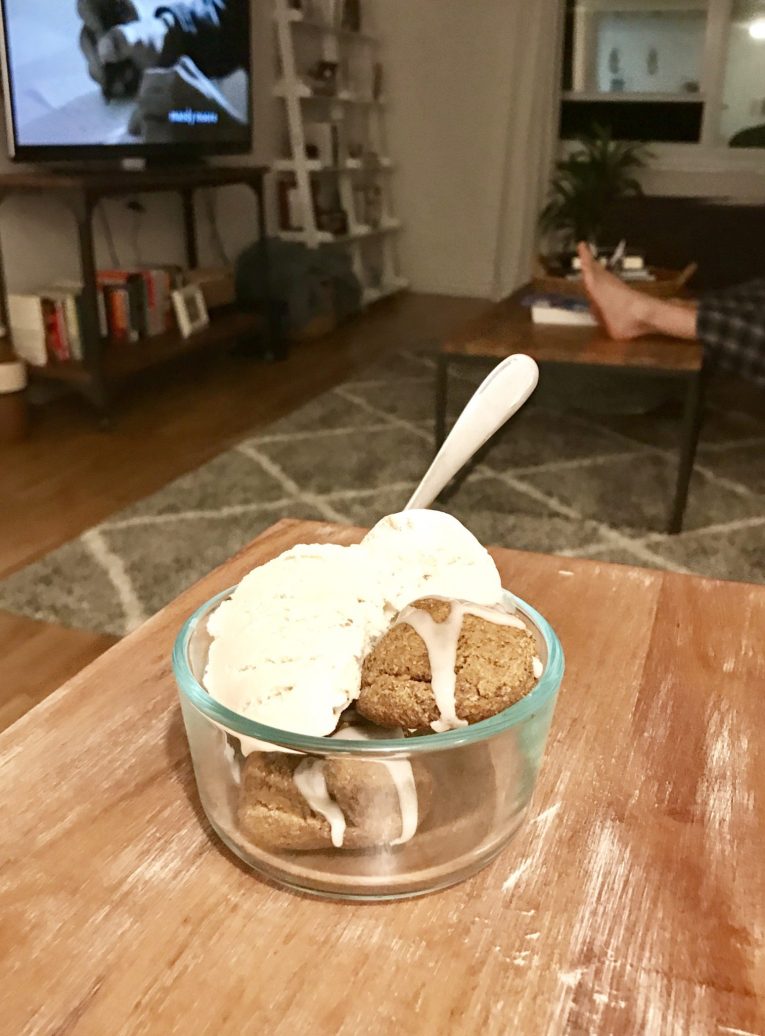 How was your weekend?
What recipes are inspiring you? Share in the comments!