I haven't done a recap of weekly eats in such a long time. So here we are! These meals and snacks are from the last couple of weeks vs. just this week. I try to recap things I haven't already posted to instagram or in other blog posts. I hope these posts inspire you to eat satisfying foods, disobey disordered eating thoughts and food rules, and continue on your intuitive eating journey. <3
To the eats!
BREAKFASTS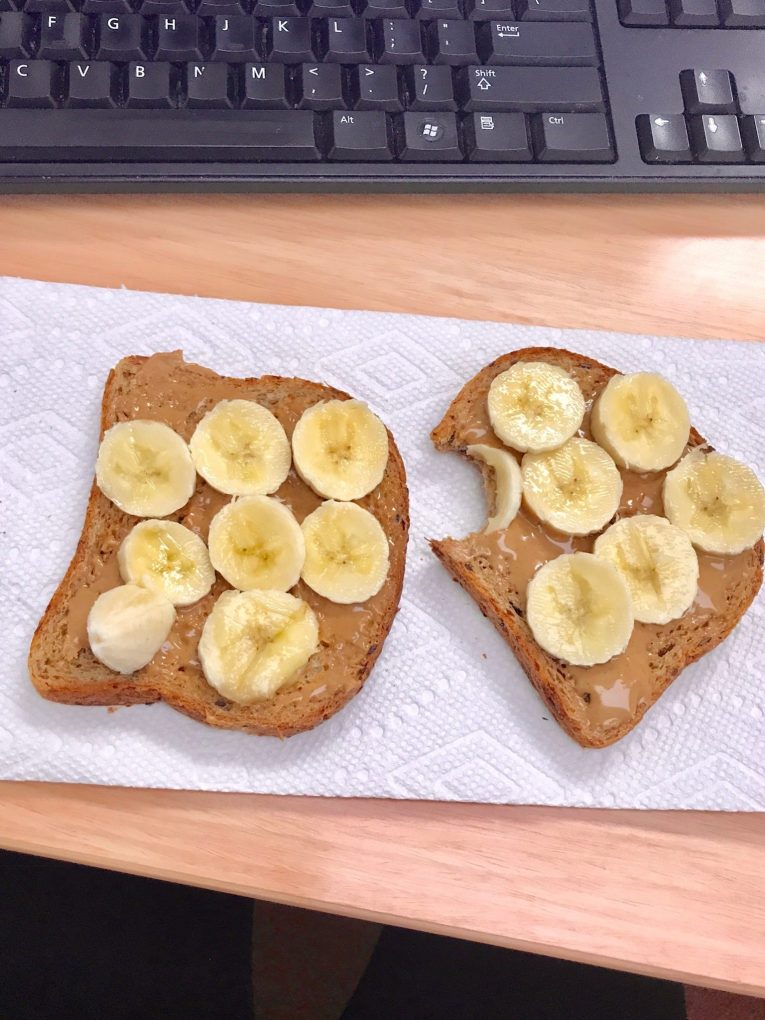 Mornings when I'm in a rush, I grab two slices of bread and a banana as I run out the door. When I get to work I slather on some pb and slice on the banana. I keep a jar of pb in my desk drawer for this very reason.
When I'm not rushing, breakfast is eaten at home and that almost always includes EGGS. Plus a bagel or toast. I like variety so this bagel was spread with 1/2 cream cheese + pumpkin butter and 1/2 almond butter + banana.
LUNCHES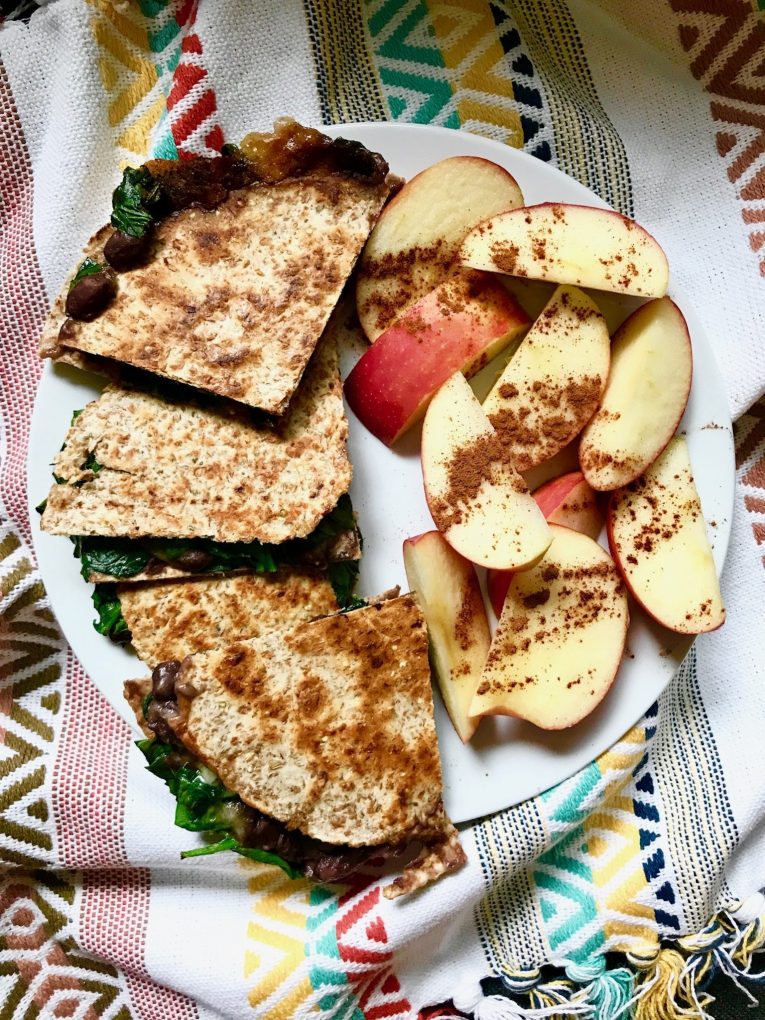 My favorite lunch this week when I'm working from home –> quesadilla made with black beans, spinach and sharp cheddar sandwiched between two Ezekiel tortillas and grilled with some butter on a skillet. Plus a honeycrisp with cinnamon.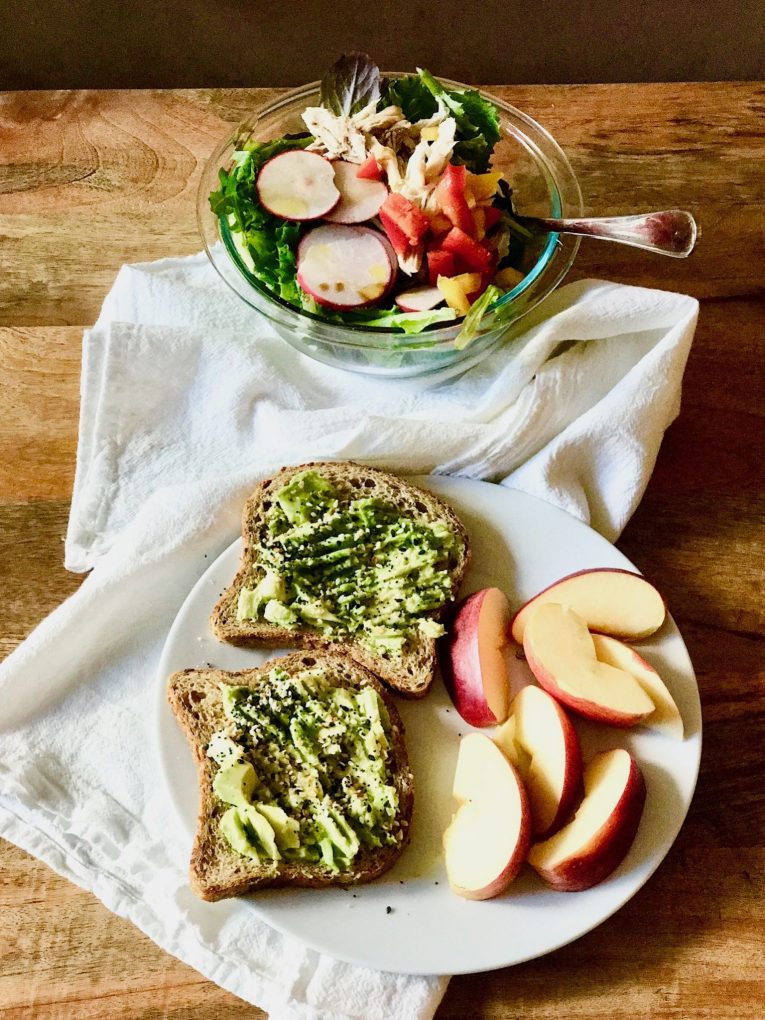 This was a "rummage the fridge" lunch from last Friday. The last of some chopped veggies and rotisserie chicken to make a salad + avocado toast with everything seasoning and a sliced apple.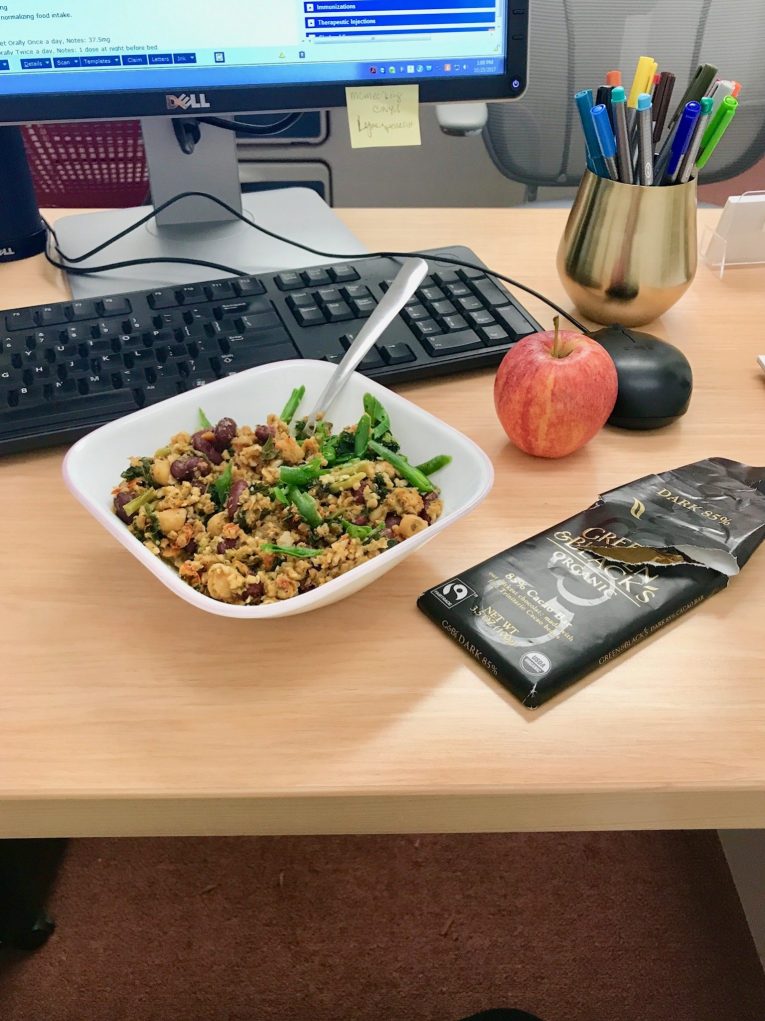 I didn't have time to pack lunch one day so I grabbed a baggie of frozen green beans and an apple on my way out the door. I knew I had a frozen kale + bean Grainful bowl at work in the freezer. I heated up the green beans and bowl and then threw a bunch of hot sauce on it and called it lunch. Not bad for not packing anything! Plus chocolate because I wasn't satisfied and knew the portion size of the entree was not enough to fill me up.
intuitive eating tip –> nutrition labels are all around us and we can't escape them hard as we try. Instead of using them in an objective way to control your food intake, you could reframe them in a new way so they could help you make a choice that supports your body's energy needs. For example, this bowl has 270 calories. That would NEVER fill me up for lunch. Instead of seeing that and interpreting that amount of food as a correct arbitrary "portion" size…I can say, "Ok I know that is not going to be enough food for me so I need to add some things to this meal so it's satiating and supports my body's needs."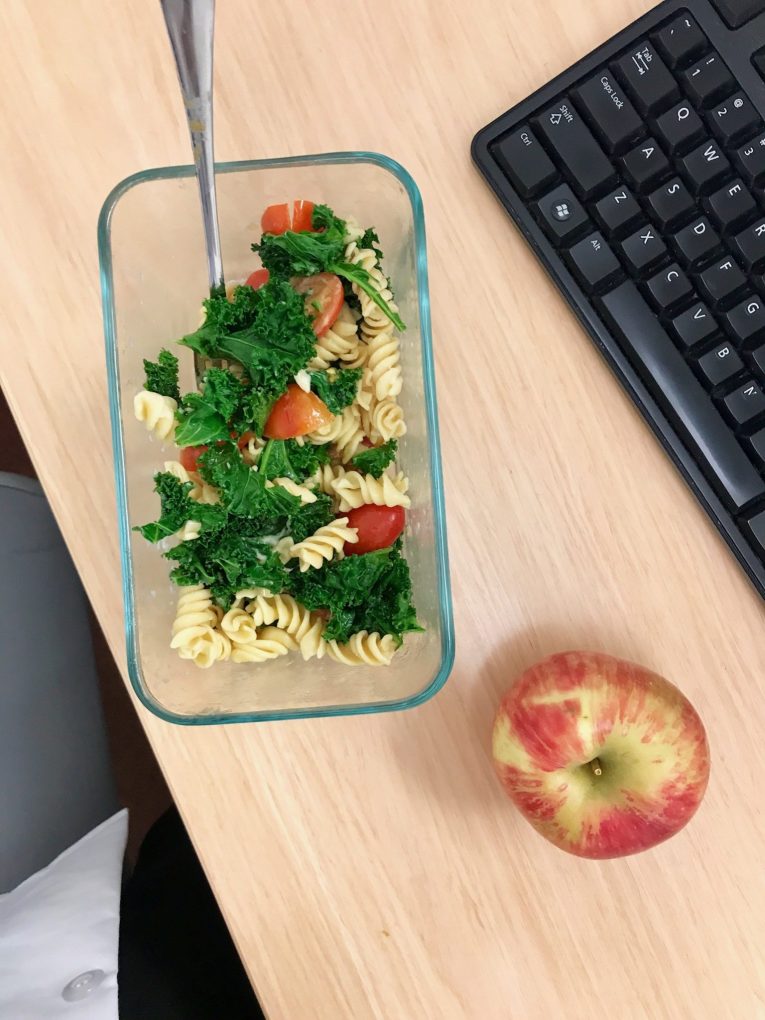 Rotini + kale + tomato + parmesan cheese + butter along with another apple. It's fall. I was still hungry after this meal though so quickly followed it up with a large handful of triscuts + peanut butter.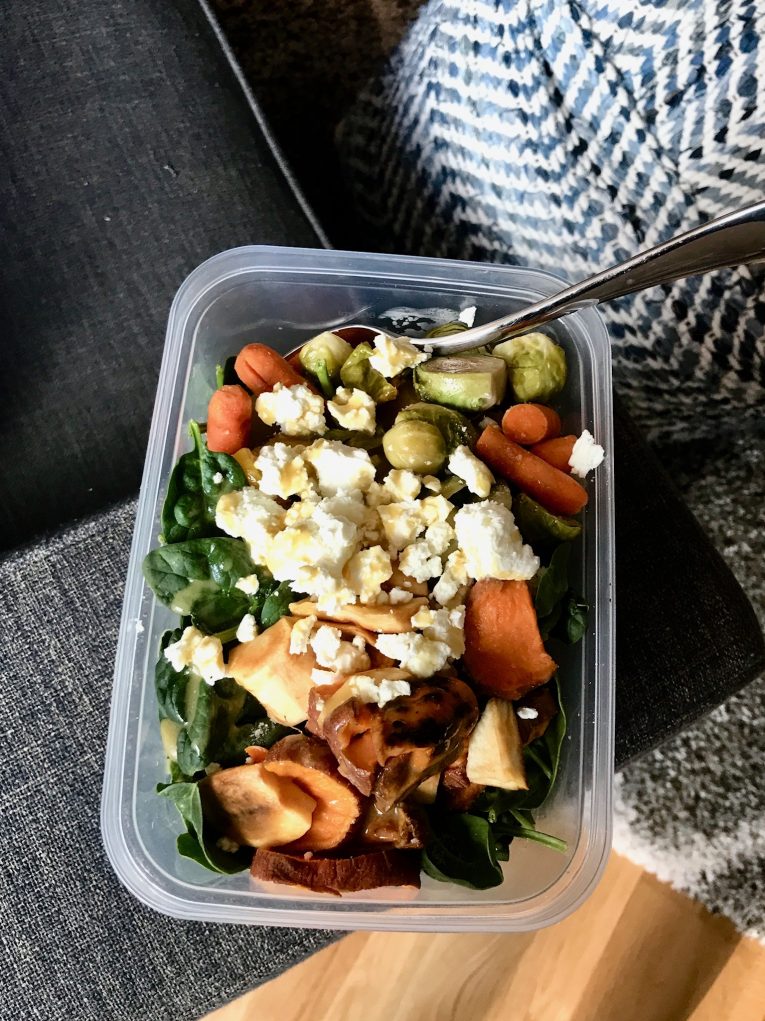 Roasted veggie salad with goat cheese. I roasted up parsnips, potatoes, carrots, brussels and beets, added some spinach, made a honey dijon dressing and crumbled on some goat cheese. This was super good too!
DINNERS
Blackened salmon tacos from Grey Dog on a dinner date with a my friend Amanda. They were fab but I wish there were four tacos because that would have been more filling.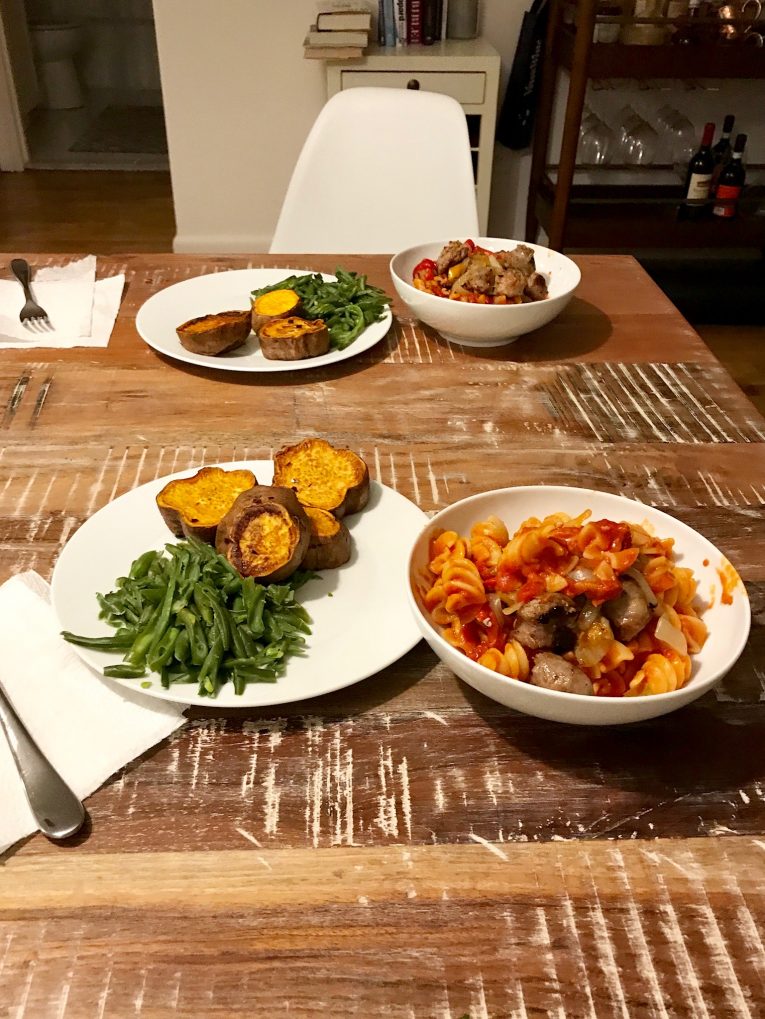 We've been in "let's try to clean out the freezer and pantry mode" since we hope to move at the end of the month, hence this random dinner…that was oddly tasty. Frozen green beans sautéed in butter + garlic, roasted sweet potatoes and pasta. To make the pasta we cooked up some sausage from the freezer, sautéed peppers and onions and added in a jar of spicy marinara. Then boiled up some fusilli (straight up white pasta that's been in the pantry for too long and mixed it with the sauce. I'm not a huge fan of noodles, I'd rather have ravioli or lasagna or gnocchi, but we're being resourceful over here so noodles it is 🙂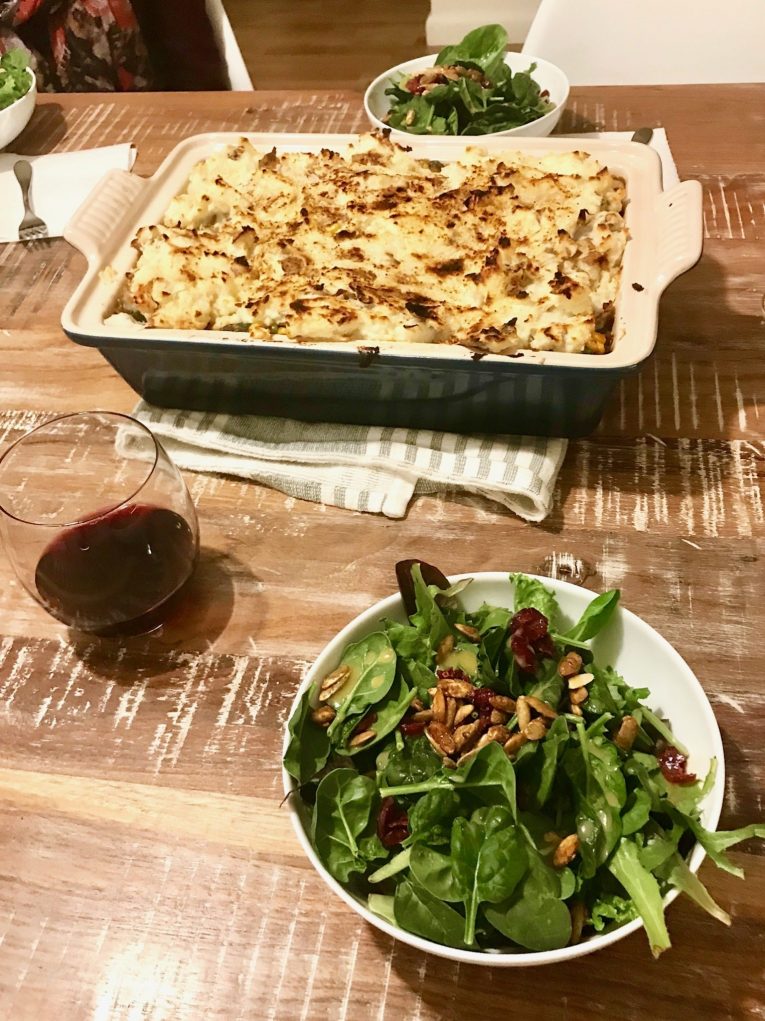 I made Oh She Glows shepherd's pie last week and it was hellzzz good. Plus red wine + spinach salad with cranberries and pumpkin seeds on the side.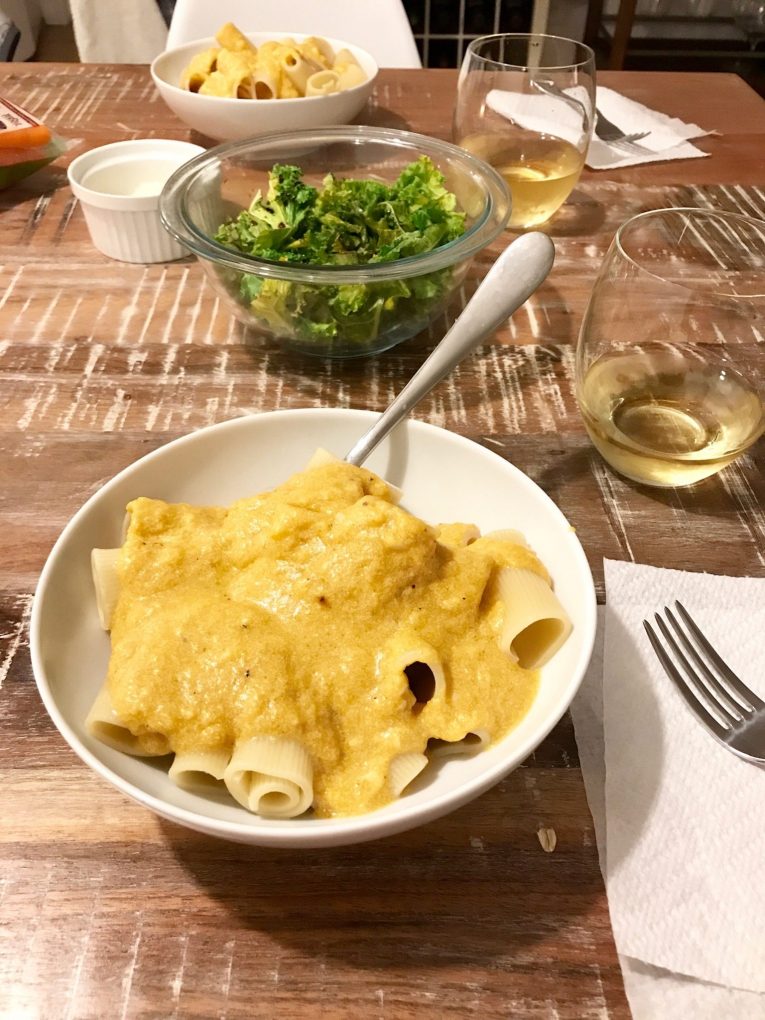 This week we made Pinch of Yum's pumpkin alfredo that I posted about last week and used up another box of pasta..this time rigatoni and it was amazing! We steamed some kale and drizzled it with olive oil for some green. Cozy fall food at it's best.
SNACKS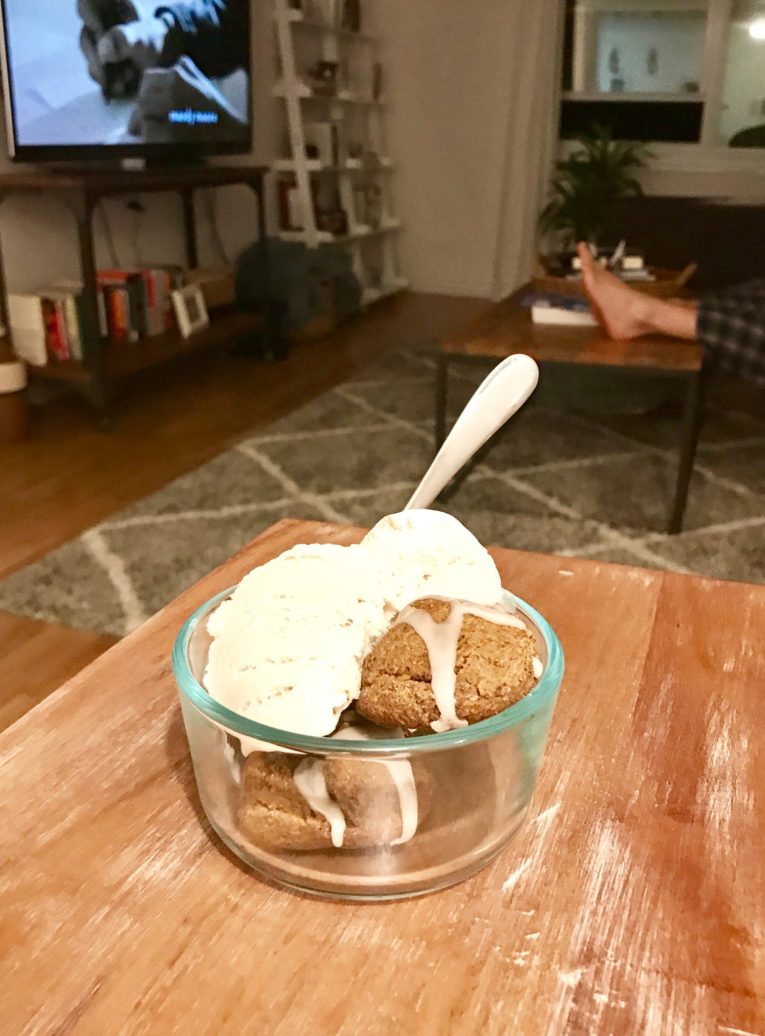 Pumpkin cookies + vanilla ice cream is my bedtime snack on repeat.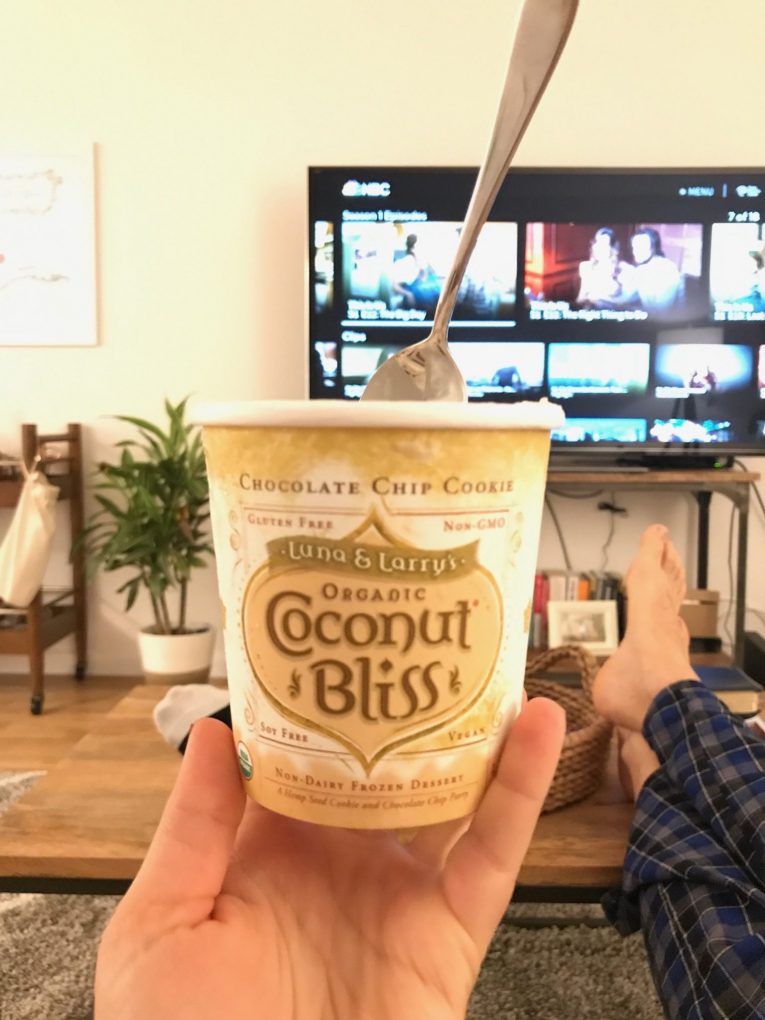 If I don't have cookies on hand (I know…sad) then it's ice cream straight from the jar. I buy whatever is on sale. Sometimes that's Coconut Bliss, sometimes Ciao Bella, sometimes Nada Moo, sometimes Talenti.. I know I could get a half gallon for probably the same price but there's something about pints of ice cream that I love. I've convinced myself they taste better. Which is maybe true and maybe not..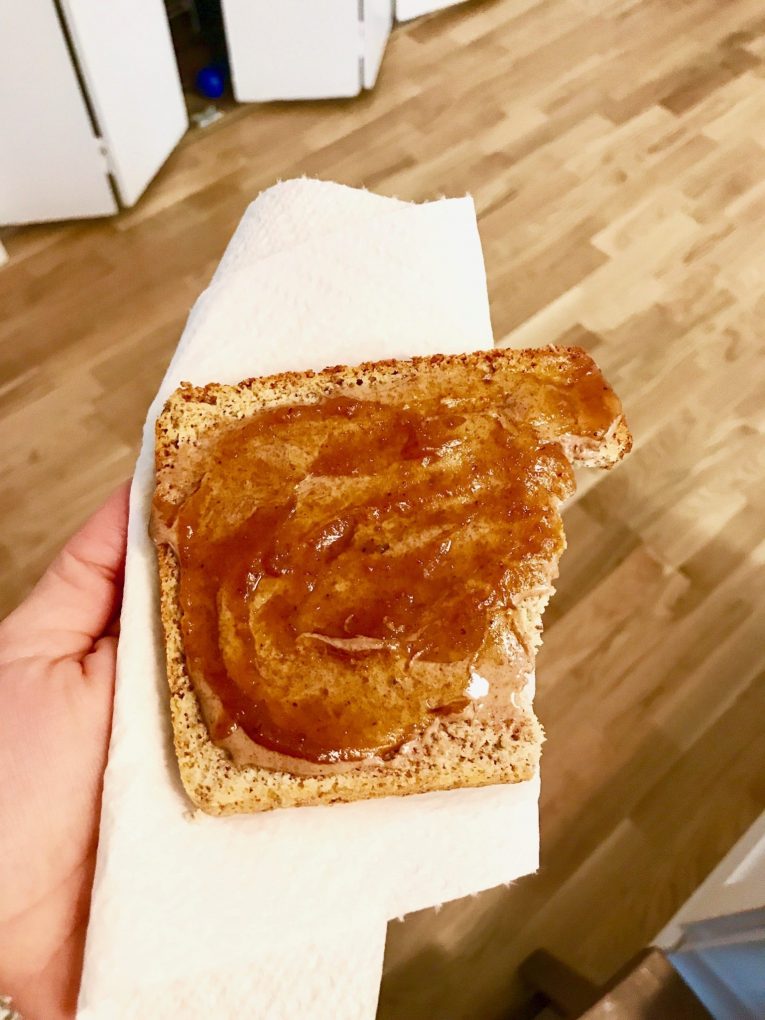 almond butter + pumpkin butter toast snack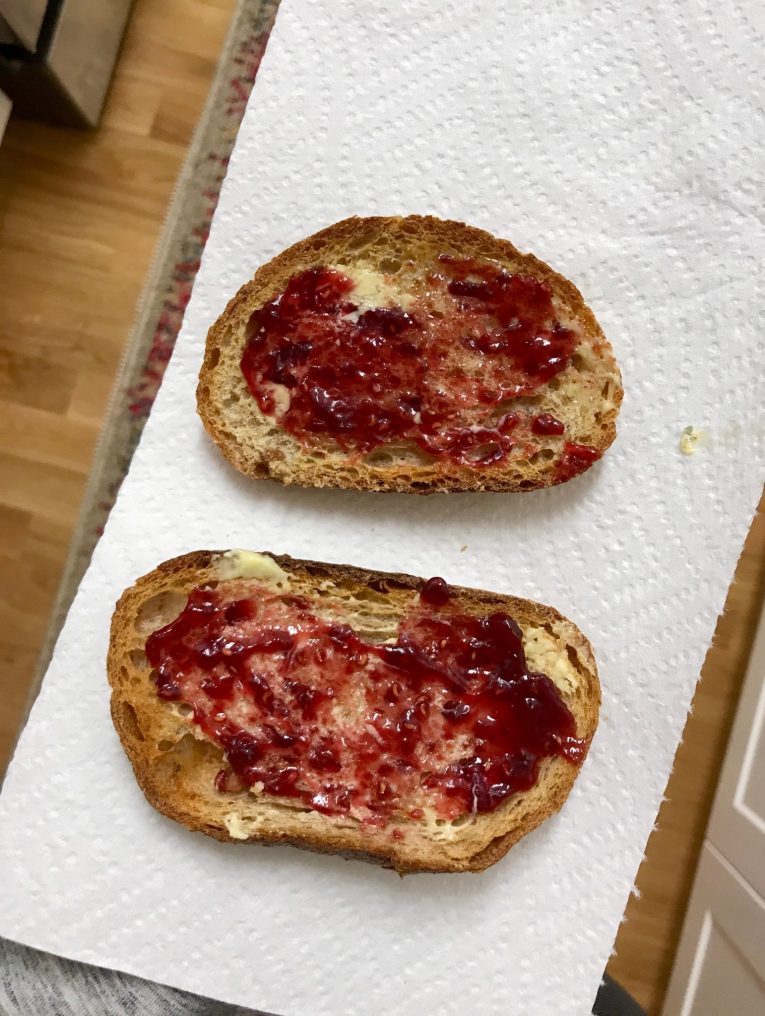 And more toast …this time with butter + jam. Lately I've been craving butter > nut butter most of the time. Butter on pancakes, oatmeal, toast….on EVERYTHING. So good.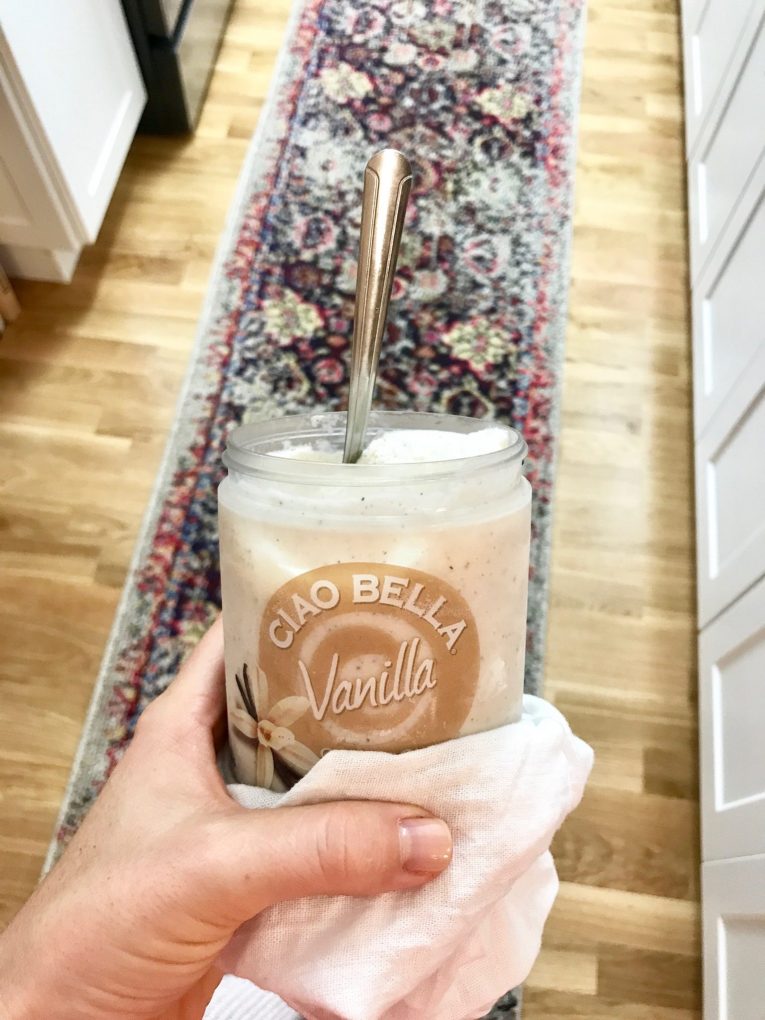 And more ice cream..
Have a tasty weekend!
We're having friends over for dinner tonight and then who knows about Saturday or Sunday. What are your weekend plans? Or share something tasty you've been eating in the comments!