The holidays use to be a stressful time for me around food. I love the holiday food scene. I love all the seasonal recipes, all the different food traditions, all the different flavors and textures and gatherings around food. I love it all.
Everyone's relationship to holiday food is different. For me, it wasn't so much of being afraid to eat these foods. It was the stress of feeling out of control around holiday food. Here's how it would go…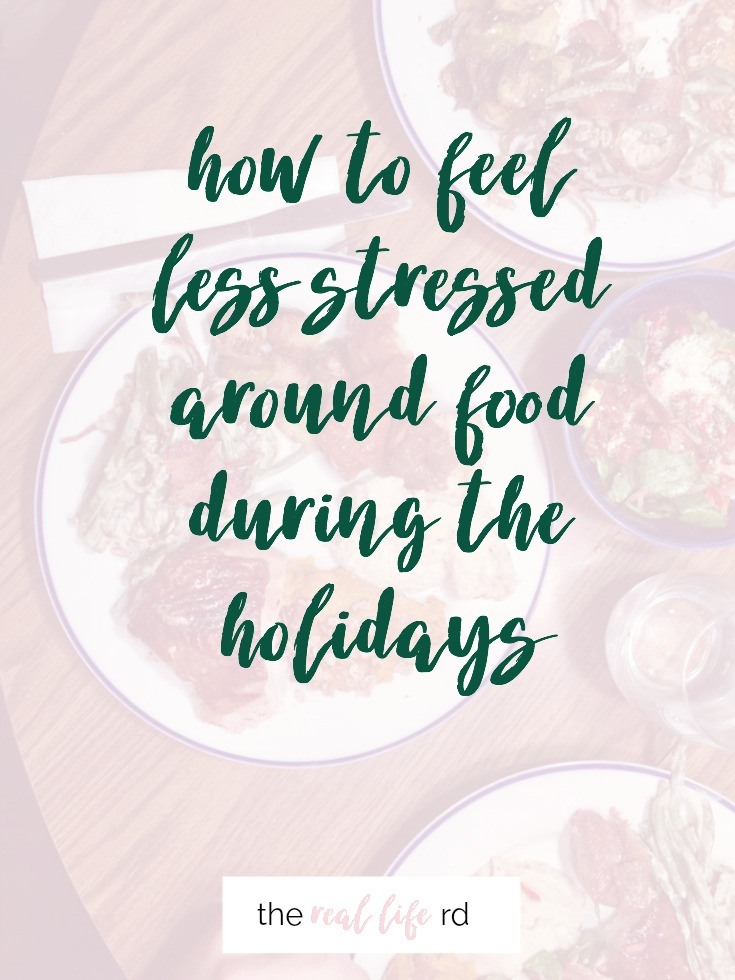 There would be so much delicious food surrounding me 24/7. I enjoyed eating these foods, but the food was more than just food. There was intense morality tied to these foods. If I was eating a cookie, thoughts such as "this isn't healthy, you shouldn't be eating it" would run through my mind. Sometimes the thought was, "make sure you run tomorrow so you can balance out this indulgent food you're eating." And then the all too common, "this food only comes around once a year so eat as much of it as you can…then you can get back to healthy eating in the new year because this food won't be around."
I've also experienced physical restriction with food so I understand that side of the coin too. But around the holidays, for me it was mainly about mental and emotional restriction from these highly palatable foods. While on the one hand I was giving myself permission to eat them, that permission was cloaked in judgment. And that led to unwrapping pandora's box when it came to navigating the holiday food scene.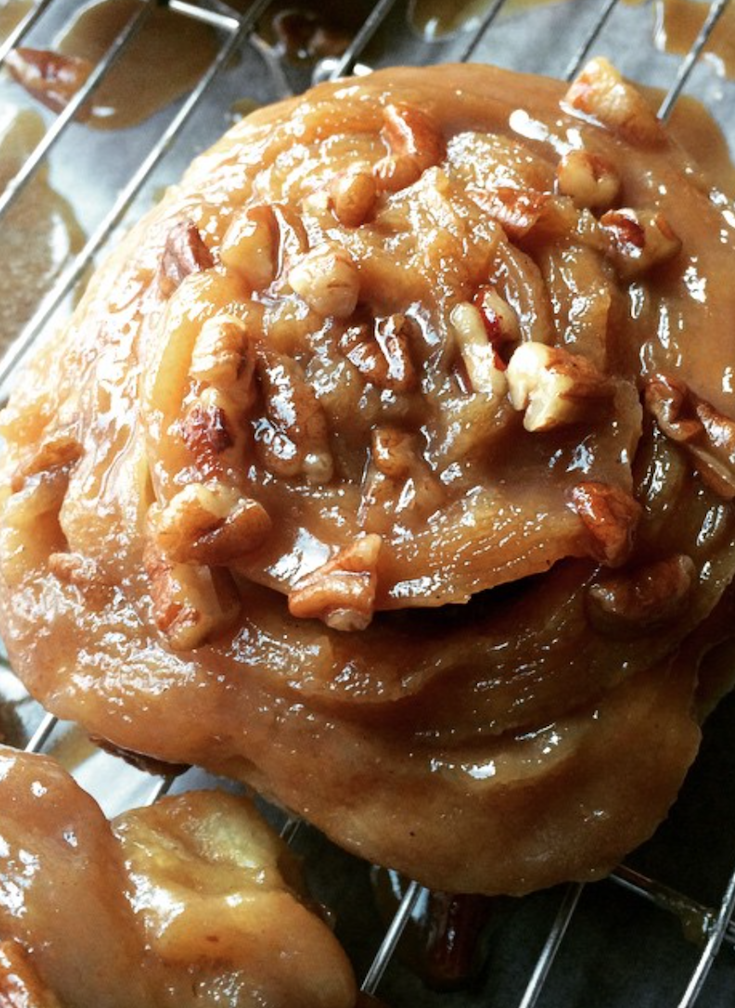 Because any form of restriction, be it physical (as in restricting calories) or mental/emotional restriction in which you tell yourself you can't have a particular food or you judge yourself for eating a particular food….this will always lead to feeling crazy around food. Because your body is smart and it's evolutionary survival mechanism in your brain will start firing when it senses restriction in any form. This drives you to eat because your body thinks its survival is threatened. This make perfect biological sense.
I know what it's like to feel stressed out around food during the holidays. I also know what it's like to feel stressed out about when you'll get that workout in. And thank God, I also have waded my way through to the other side and gotten to experience the sweet freedom and calm of feeling in control around food during the holidays. And that feeling of control has freed me up to be present, enjoy being with with family and friends and actually rest + relax during this season.
We are all on our own journeys. We won't instantly arrive at this peaceful utopia with food and our bodies tomorrow. That's okay. It's okay to be right where you are. Just like it's easy to compare your food and exercise habits with someone, it's also easy to compare where you are in your intuitive eating journey with where someone else is in their journey. You are paving your own path. So while I hope the words that follow help you enjoy the holidays with more freedom and less stress, know there is no expectation. Be where you are, and keep putting one foot in front of the other. No matter how tiny that step might be. Persistence over progress.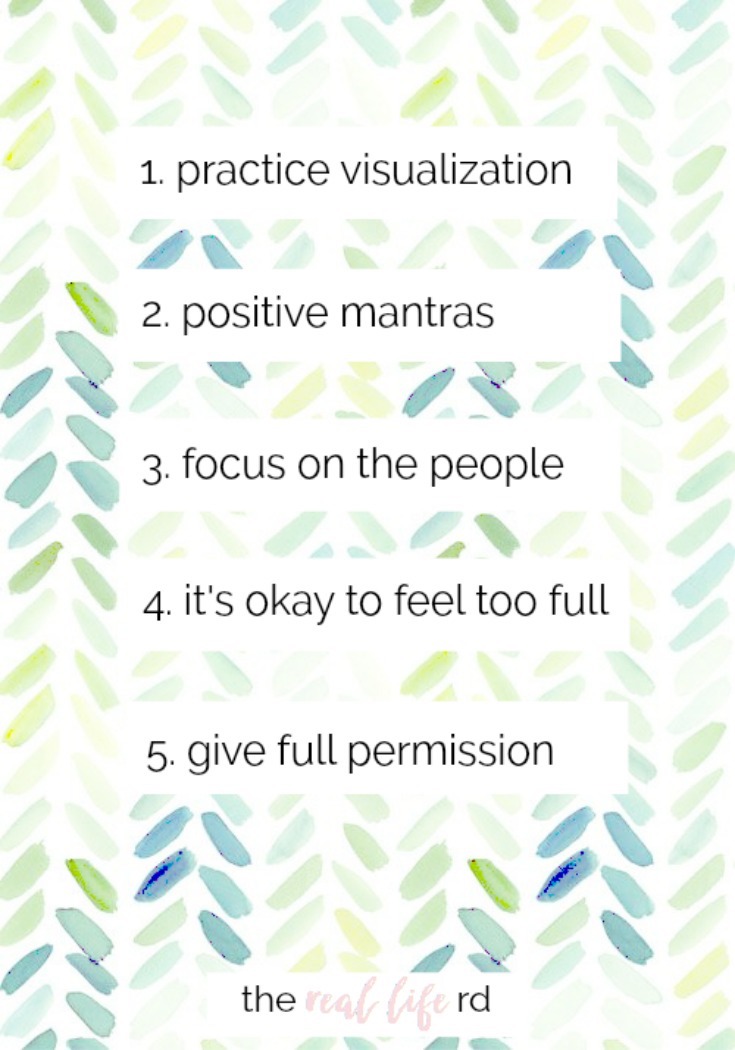 1. practice visualization 
What has been helpful for me in the past (and still now) is envisioning how I wanted to feel and act around food and my family + friends during the holidays. When I say that, I don't necessarily mean, "I want to feel calm and happy." I mean really think about how you'll feel and what thoughts will go through your mind. How will you engage in conversation? How will you taste and experience food? I envision myself feeling calm as I eat a piece of pie, putting down my plate in between bites because I'm in a meaningful conversation with my grandma and food is less important. I envision my belly and how it will feel after eating…how I'll feel satisfied and maybe slightly full, but happy and not sick. I envision waking up in the morning, calm and rested and not thinking about when I'll go on a run, but instead what my mom and I will spend the day doing. Go through this exercise with that much detail. Mental practice can be almost as effective, if not just as effective as real life experiences.
2. come up with three to five positive mantras 
Diet talk is rampant during the holidays. It's unavoidable. And while it is highly annoying and potentially triggering, we get to choose how we interact with diet culture during this season. Everything we read or hear is not truth. Every thought that goes through your mind is not a fact. You are not a sponge. Come up with some mantras you can repeat to yourself when a negative thought enters your mind. Can you observe that thought and decide how to respond instead of immediately believing it to be true? A simple saying that resonates with me is, "that does not serve me." So if someone talks about food being unhealthy or about how they ran to burn off calories or how they aren't eating certain foods this holiday season…I can say to myself, "that does not serve me" to redirect my mind to thoughts and things that help me live a better life. Another mantra I've found helpful is, "food is just food" because it helps me disconnect from the morality that so often gets tied to food. Whatever resonates with you, choose some mantras and write them down. Repeat them to yourself daily. Put up boundaries around what you choose to engage with.
3. focus your time and energy on people
Your mind can only focus on so many things at once. Sometimes it can be helpful to put your energy into engaging with the people around you. If you struggle with restricting food, conversation with others can be a healthy distraction so you are able to drown out the noise in your head and nourish yourself. Sometimes focusing on spending time with people and participating in conversation can be helpful in creating space so you can respond to food instead of react. Perhaps taking some pauses to talk gives you the space you need to realize when you're full or when you're satisfied or when your tastebuds are bored of a particular food. Engaging with people and conversation can also serve as a reminder that the holidays are not only about the food. There are much more important and meaningful things to focus your energy on.
4. realize it's okay to feel a little too full 
Intuitive eating is not an eat when you're hungry, stop when you're full philosophy. That's called a diet. There is so much more that goes into intuitive food choices. Sometimes we eat for an experience rather than physical hunger. And that is okay. That is healthy. The holidays are a perfect example of a time when we will sometimes eat for the experience and pleasure of foods instead of purely physical hunger. And while we try our best to listen to our bodies so we don't end up feeling physically sick, sometimes the experience and pleasure of food will cause us to overshoot our hunger. Feeling overly full is not the end of the world. It does not mean you instantly gained weight. It does not make you less valuable or worthy. It's a temporary sensation your body can manage with it's digestive system. Your body is well equipped to deal with fullness.
5. give yourself permission
This isn't a one and done thing. You might need to give yourself permission every day or at every meal or continually. Maybe that's a positive mantra you use…"I give myself permission to experience this food" or "I give myself permission to move my body out of freedom instead of fear."  Give yourself permission to eat foods without judgment. This is hard. Really, really, really hard. I hear you and I know. But keep doing it. Keep giving yourself permission to eat any and all foods in any and all amounts at any and all times. Over time it will click and it will take root in your heart and in your mind.
Be gentle with yourself. This isn't a race or a competition.
These are just a handful of tools that might be helpful for you. If you have other suggestions that have been helpful for you in navigating a peaceful relationship with food and your body during the holidays, please share in the comments!