Friday was quite the day!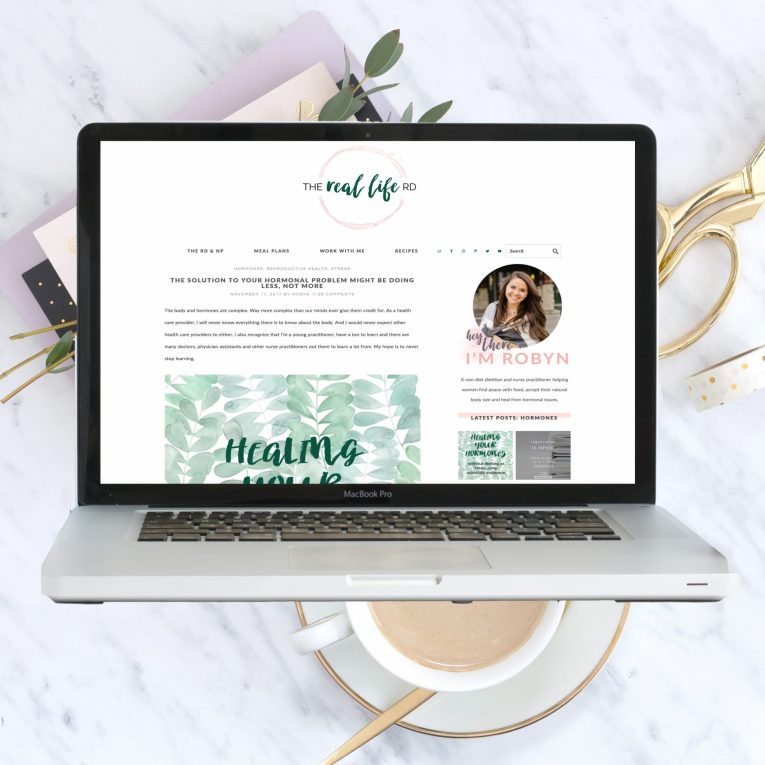 I've been slowly making my way through the rebranding process over the past couple months with the help of Morgan (that I met through Kylie) who recently started Levant Design Co. She was amazing in helping me capture the feel I was going for with the blog – clean, lots of white space and airy with a feminine feel. And she was so fun to work with! I highly recommend if you're ever in the market for branding. I then took that branding board to Shari over at Little Blue Deer Design and she was like a magician! Within 48 hours she had totally transformed my blog and super pleasant and efficient to work with – and affordable! I've had some not so positive experiences with blog design in the past, but this time around I want to shout to the rooftops how smooth my experience with both Morgan and Shari was. So that was most of Friday…getting everything ironed out and set up with the blog.
And it feels so fresh and new now! My mind feels clearer because the blog is so much more organized, functional and cleaned up. I hope you guys like it too 🙂
By the time 6pm rolled around Nick and I found ourselves still staring at computer screens. And I quickly realized it was Friday and work time was over. So I rummaged the pantry to make the most random cheese plate ever.
I'm trying to clean out the pantry and so the randomness of this board included sharp cheddar, graham crackers, jam (actually a good combo) pretzels and mustard, cheese crackers and pecorino and some honey pecans. Random but still tasty.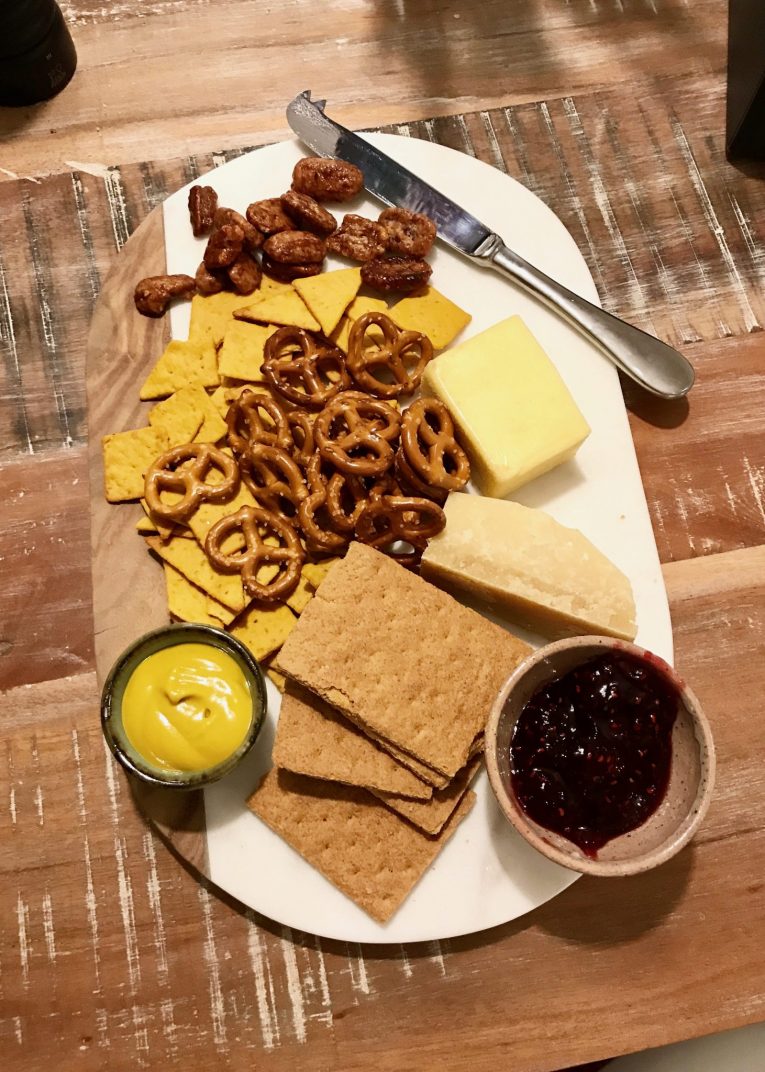 We had originally planned to head to Boston to look for an apartment this weekend…but Wednesday night we nixed the idea (updates on the move coming later this week..) so we didn't have many plans going into the weekend. While snacking on cheese, we bought tickets to a jazz club and decided to have a date night in the West Village.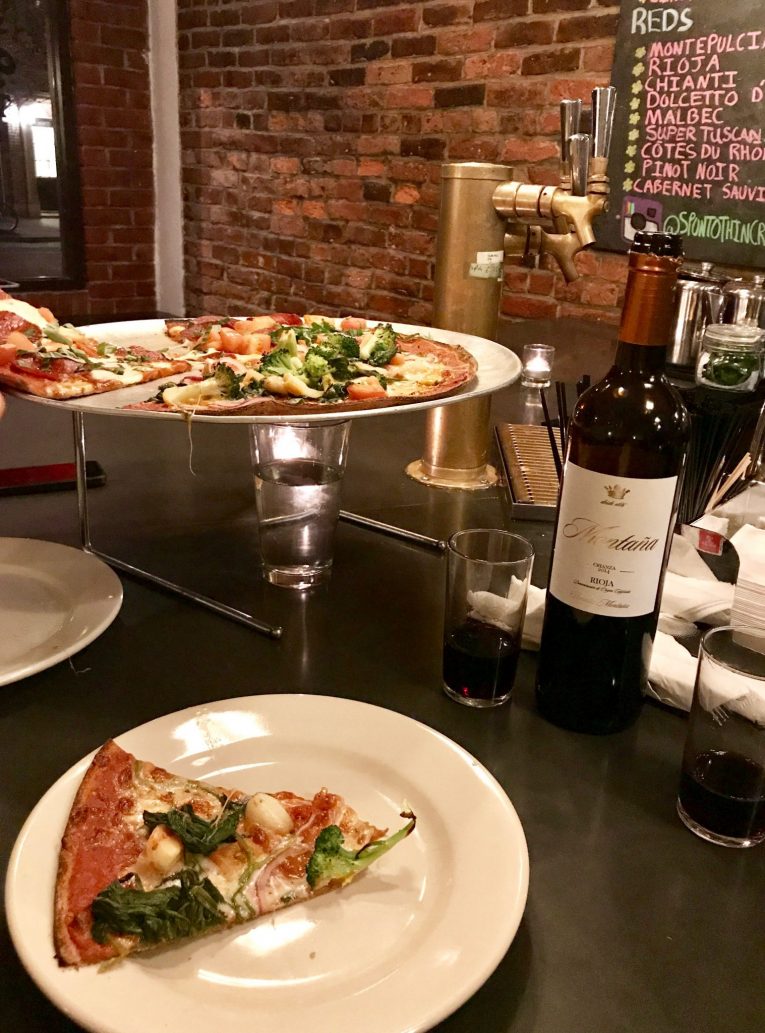 We biked up to Spunto, one of our favorite pizza places, and cozied up at the bar. We ordered some wine and split a large pizza – half veggie and half veggie + pepperoni.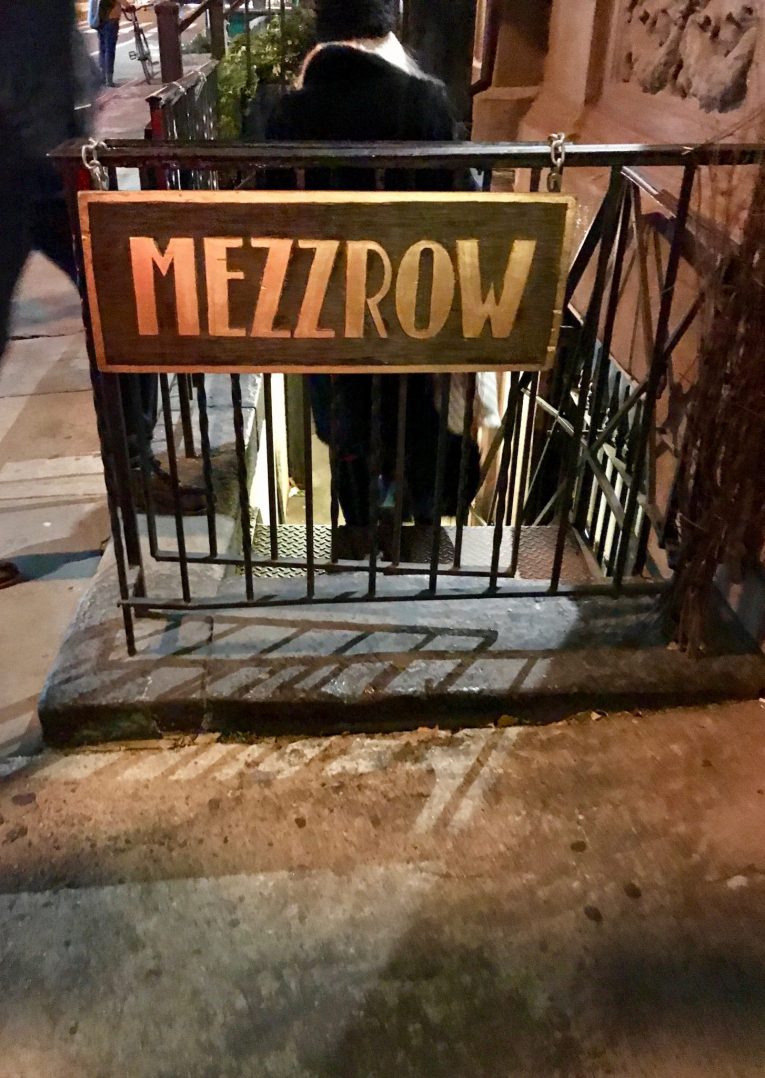 After dinner we walked over to Mezzrow, which is really cozy and intimate jazz club that almost feels like a speakeasy. We ordered a whiskey – on the rocks for me and neat for Nick – and settled in.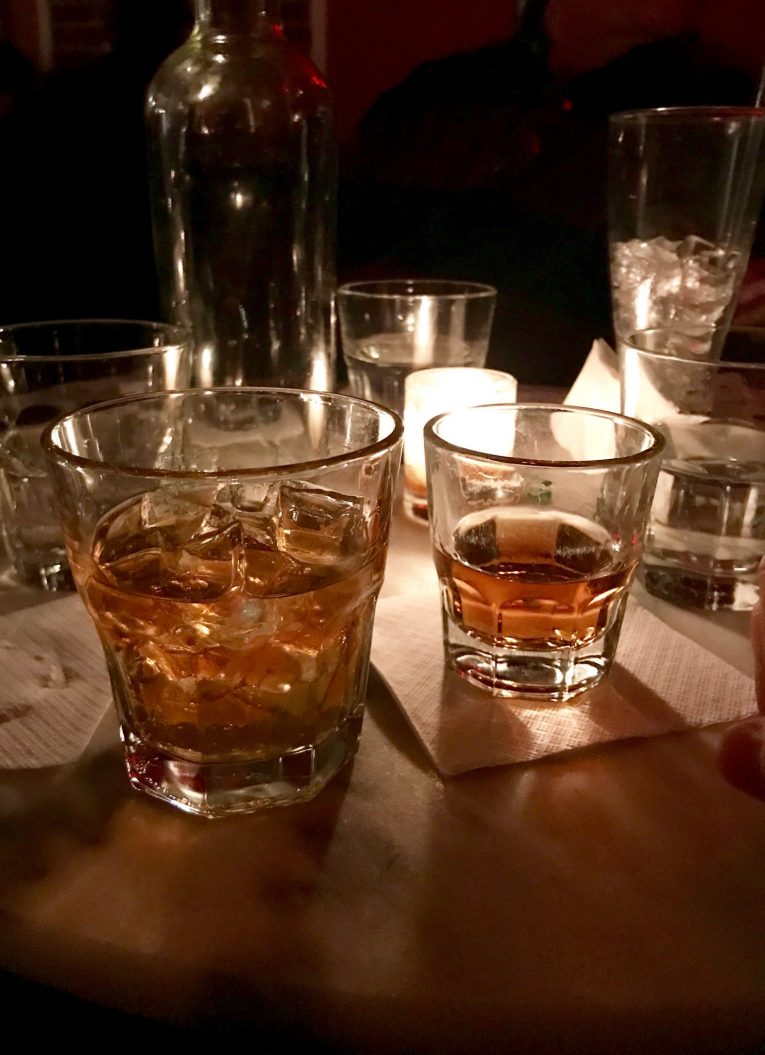 I don't really know that much about jazz and have never paid to go listen to jazz, but it was so relaxing and fun. If you want a low key night in New York, highly recommend this place!
We taxied home, ate ice cream + cookies and headed to bed. Usually three drinks (spaced out over time) is my limit for still feeling good when I wake up…but my body was not having it Saturday morning despite feeling totally fine when I went to bed Friday night. Blahhh.
I've had peppier Saturday mornings…
Lesson learned, don't end the night with whiskey. But the show must go on! Nick made coffee, I made breakfast and prepped for a Nutshell client. English muffin with cream cheese and everything seasoning on one side, jam on the other plus scrambled eggs with spinach.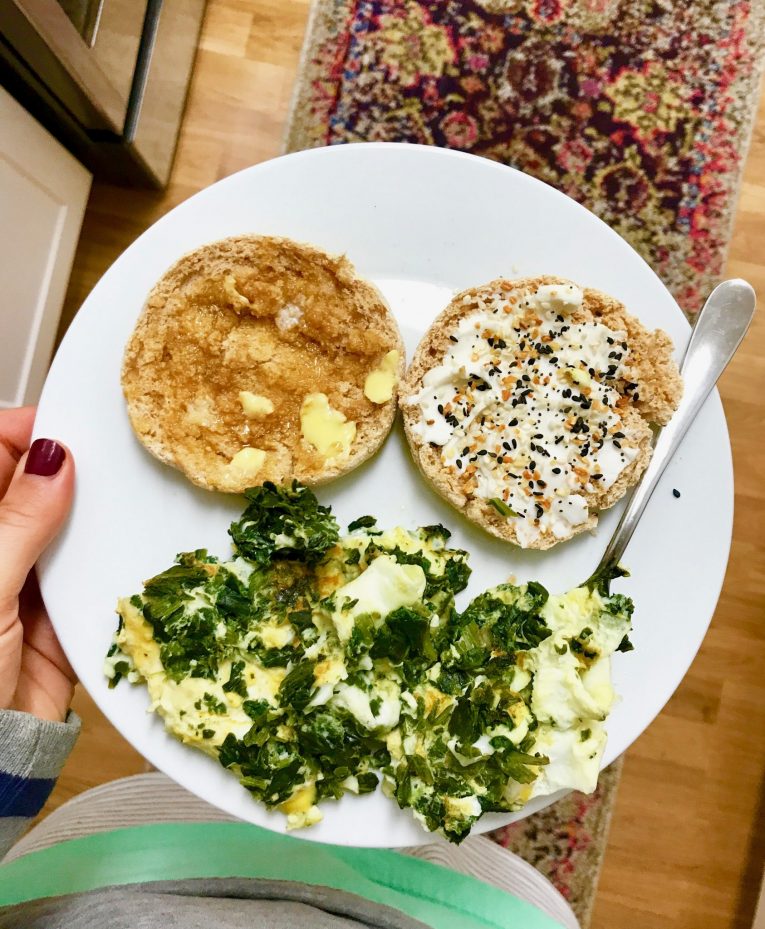 After my client call, I went on an hour walk and listened to a new audio book, Dance Stand Run. By the time I got back from the walk I was feeling much better. Breakfast + coffee + fresh air ….whole new woman.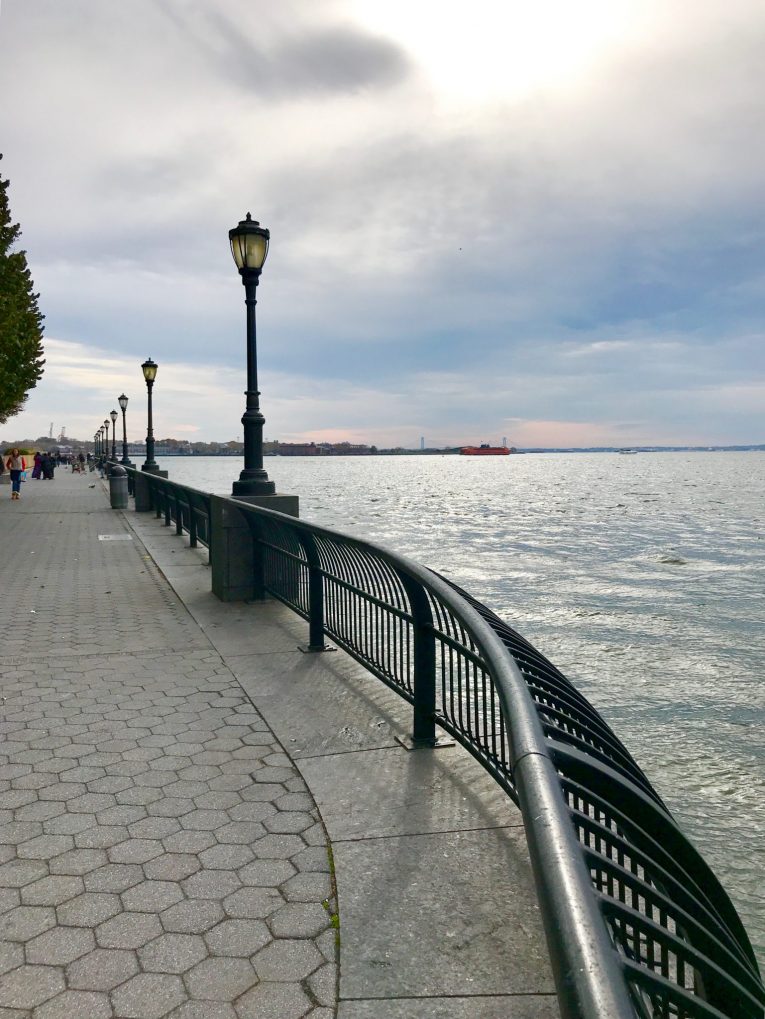 Saturday afternoon was rainy and cold so I hunkered down inside and watched several episodes of Grey's while going through old blog posts. Ohhhh my. Five years later and so much has changed. I'm archiving a lot of 2012 to 2013 posts since I was sipping the "clean eating and kale saves the world" kool aid and that is the antithesis of my message now. I'm going back through my older posts that are still relevant and cleaning up some of the language so they align more with intuitive eating and health at every size. There's still some diet language in a lot of those older posts even when I'm writing about eating more and decreasing stress. So anyways, a very tedious process but one that is so important as this space continues to grow. I never want someone to read a post from 2017 and then a post from 2014 and feel confused. All that to say, I've been on my own journey both personally and professionally too!
Lunch Saturday was a green smoothie + popcorn + banana bread with nutella + a whole milk vanilla latte. Weekend lunches usually look like this.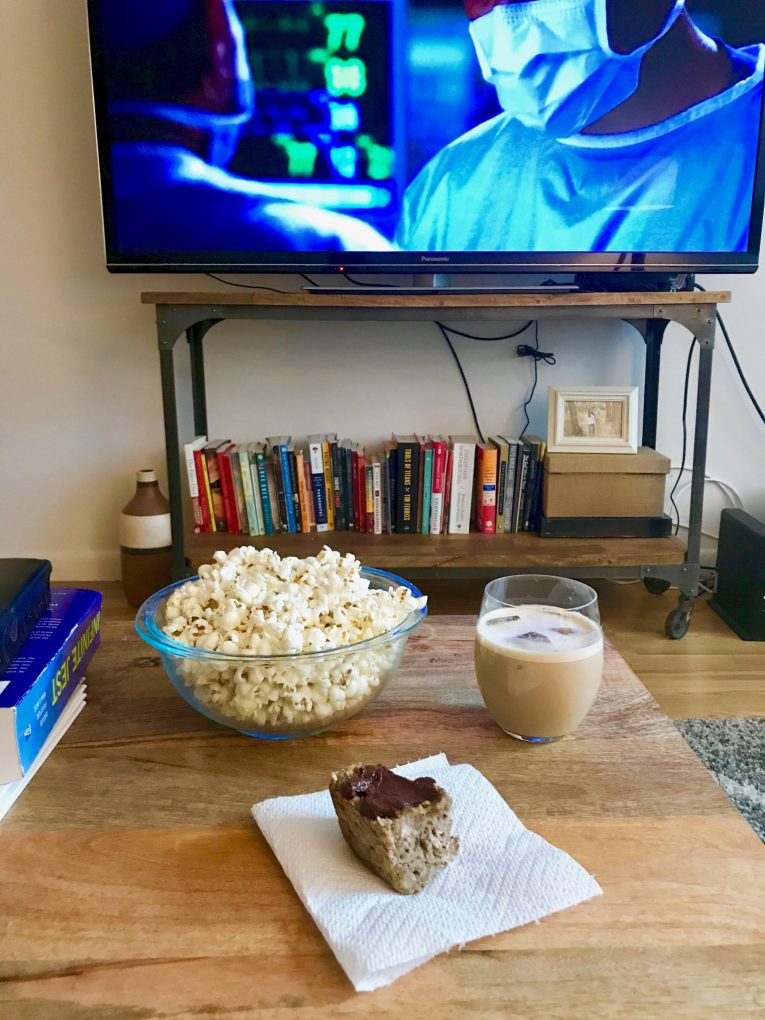 Nick and I had Saturday night dinner plans with friends but then life happened, unexpected stuff came up that became a priority and we cancelled plans. Instead, we spent the night at home and grabbed dinner at Hudson Eats which is basically a huge food court with lots of fast casual restaurants. I ordered sweet potato fries from Unami Burger and then got a bowl from Dig Inn that was chicken, brussels and cauliflower over greens and farro.
Sunday was a new day. We slept in and spent the morning reading. I snacked on a banana and pb and later on made pumpkin pancakes with scrambled eggs for brunch. The exact same ones as we made a few weekends ago. Topped with pb + banana and butter.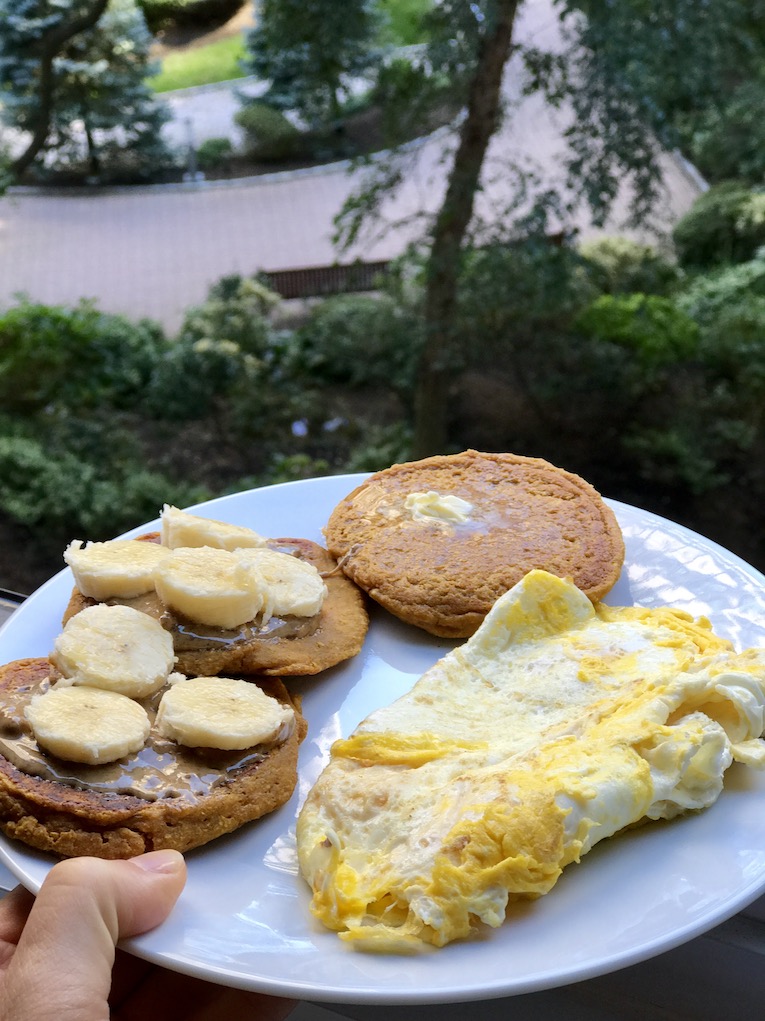 I wrote and sent out this week's email newsletter and then Nick and I went on a 3 mile jog for some fresh air. I will miss running along with west side highway so I'm trying to soak up as much of it as I can.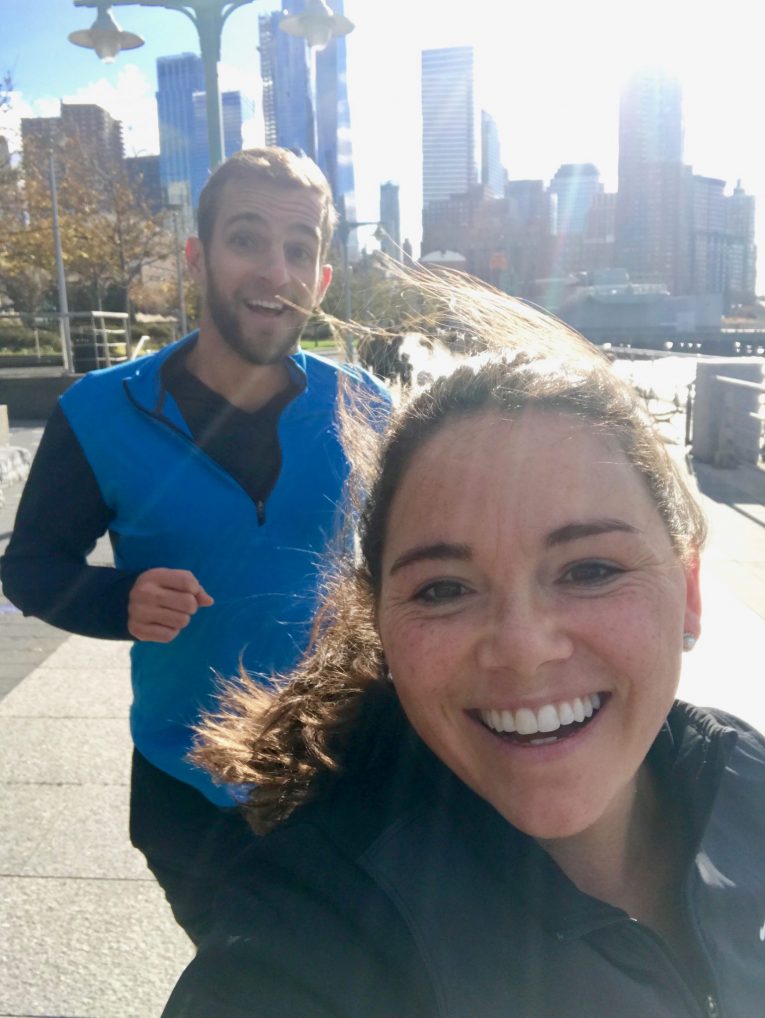 On the way home, I stopped into Whole Foods and grabbed a few groceries for the week.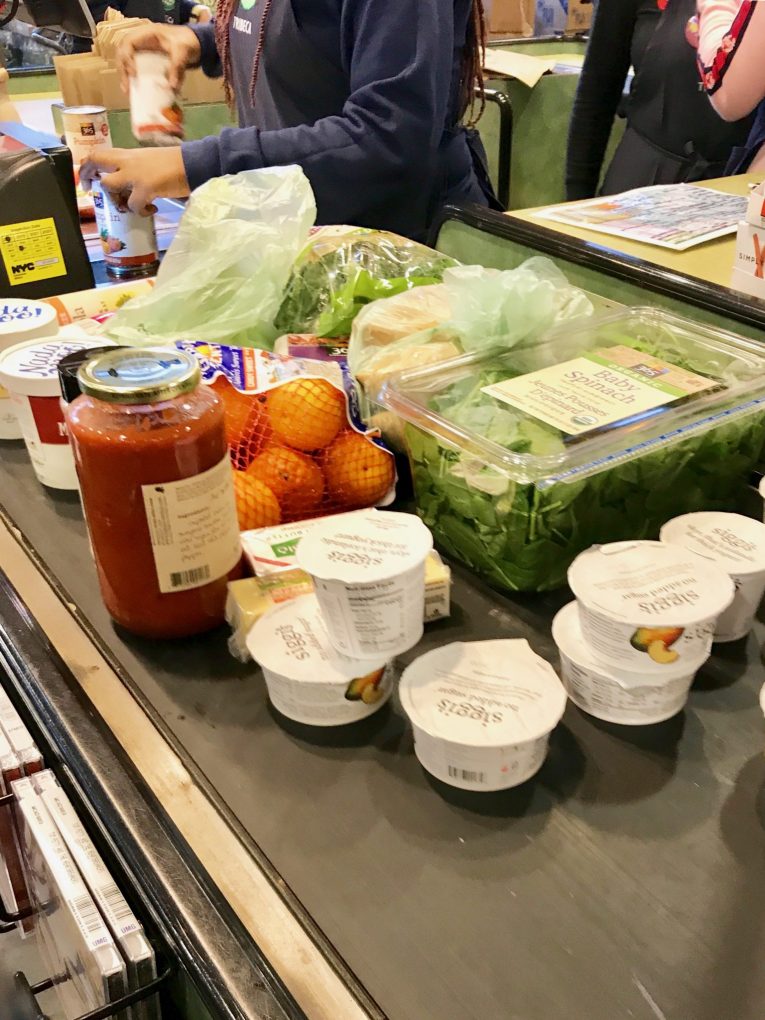 Talked to a couple of girlfriends in the afternoon. Ate the same lunch as yesterday – smoothie, popcorn and the last piece of banana bread. We looked at apartments in Boston and found one we really really like. So we spent a good bit of the afternoon calling the broker and talking through that. I'm in this weird place where I'm really excited about the move, but it doesn't quite feel real yet since nothing in our New York life has changed that drastically. Maybe when we start packing this week things will feel real..
Later on I baked this loaf of pumpkin bread from one of my favorite cookbooks, At Home In The Whole Food Kitchen. My friend gave it to me as a wedding gift and I use it weekly.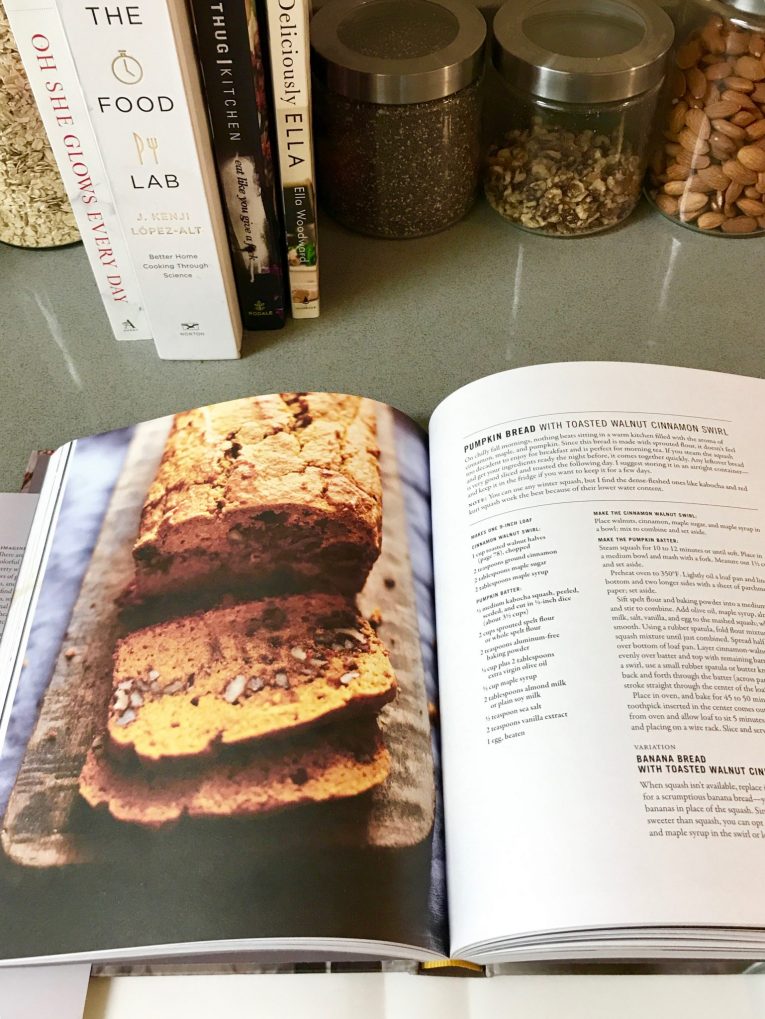 I took a slice to eat as we ran out the door to bike up to church. The cinnamon sugar walnut swirl is what makes this bread! I'll now be swirling cinnamon sugar into every loaf of quick bread I make.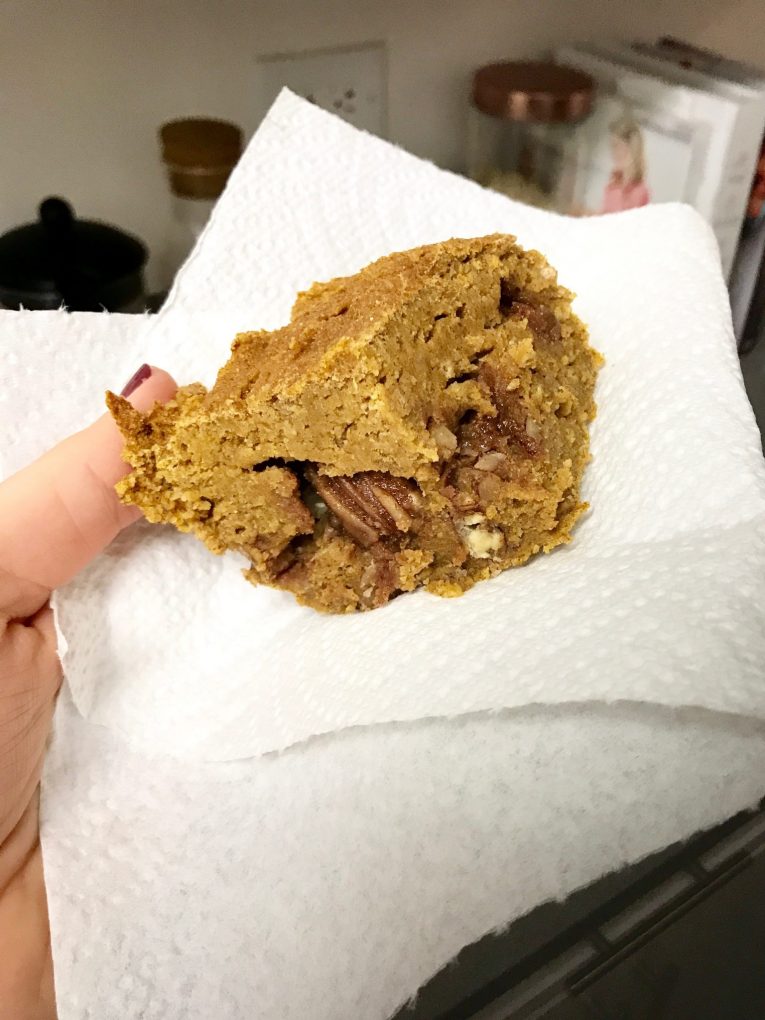 Sunday evening wrapped up with a simple and random dinner of black beans with melted pepper jack + green beans + roasted white sweet potatoes.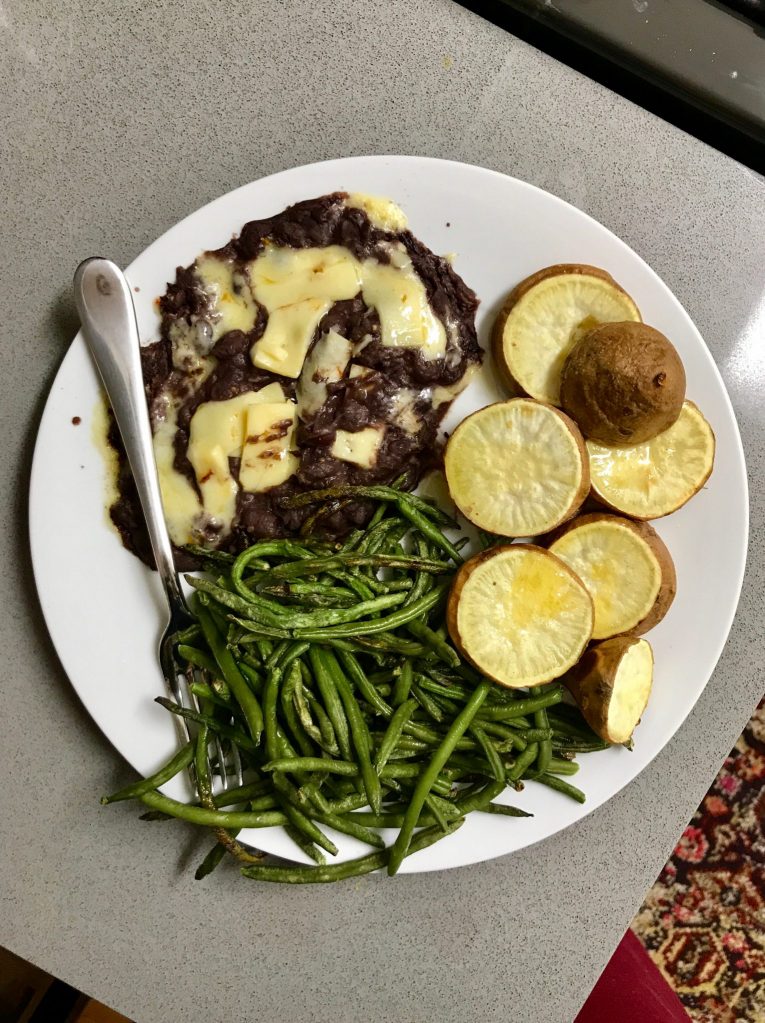 After dinner, I made some granola while chatting with a friend on the phone. Planned out Monday. Ate a cookie out of the freezer. And tucked into bed early.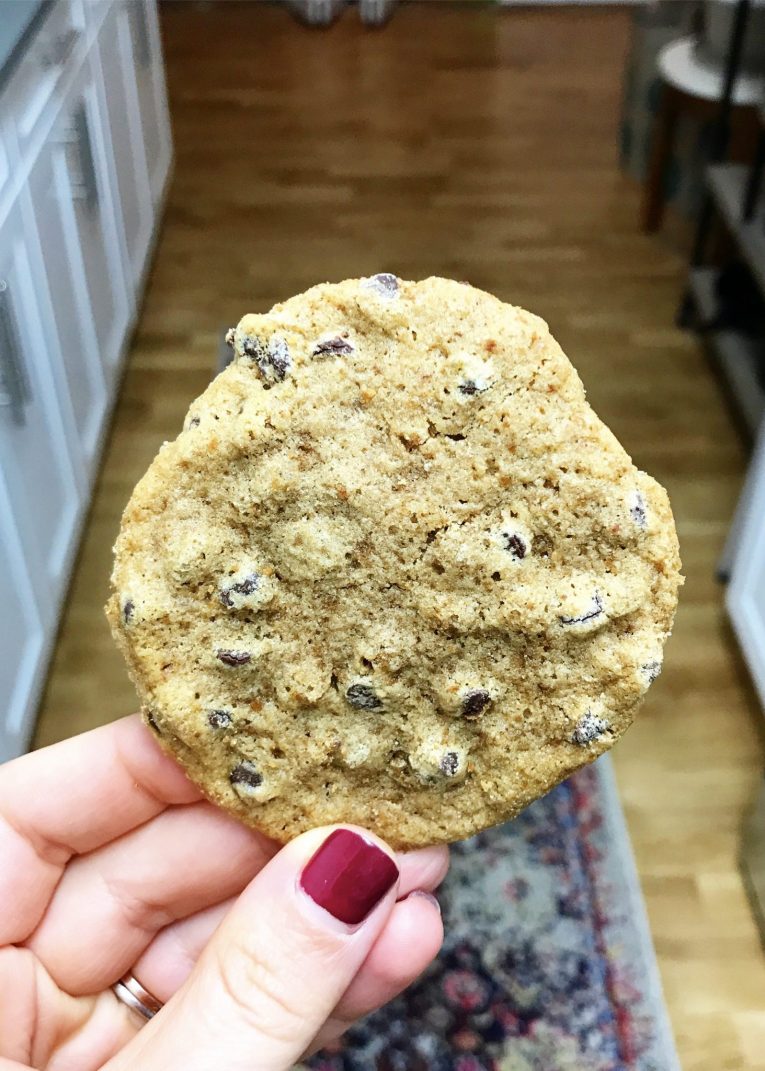 How was your weekend? Any new recipes you made? Share in the comments!