We flew into Atlanta last night and it's SO WARM here. Just what I needed when spring is nowhere in sight up in Boston….does spring even exist in the Northeast? Idk. We're here for a wedding so it should be a fun weekend. And I get to see Cody for the first time in over a year (what??) and one of my best friends from New York. That makes me really happy.
With all the weekly eats posts I write, I upload all the food photos I've happened to take over the past week or two. If you want more satisfying meal ideas you can check out Instagram too since I try not to include anything I've already posted in these recaps. I hope these posts inspire you to eat satisfying food. Whether that's cooking or ordering takeout or heating up a frozen meal. Intuitive eating can look a lot of different ways depending on your own body's needs, financial resources, lifestyle, food security etc. Ok let's round up some tasty meals and snacks!
Breakfasts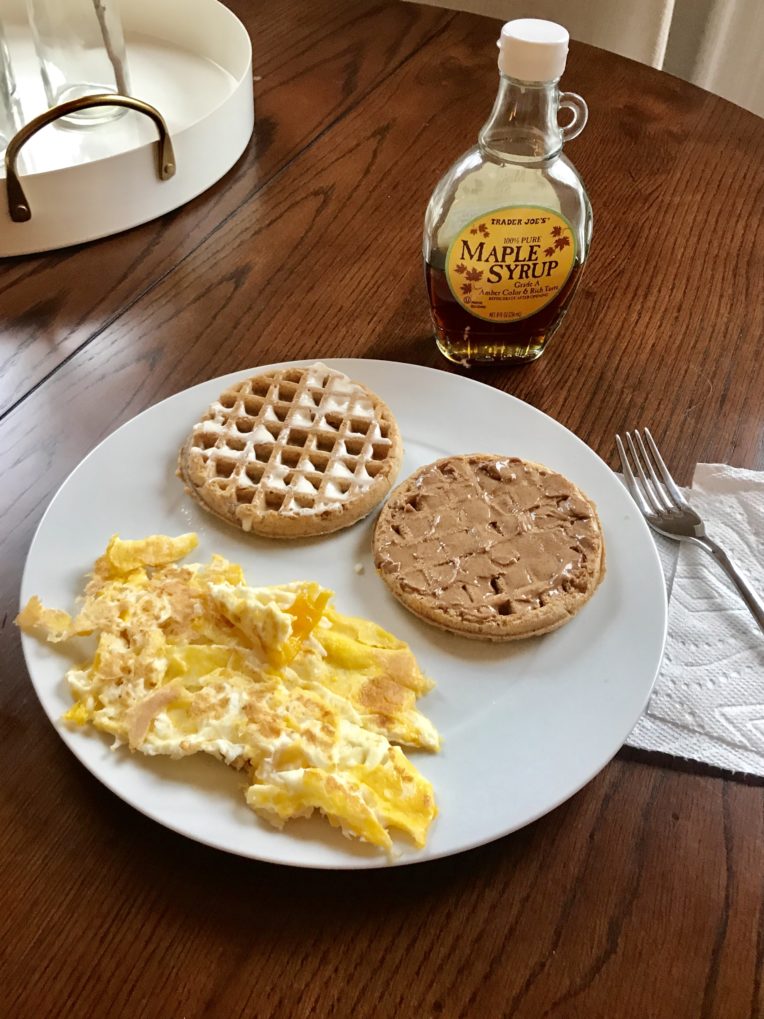 I ran errands in the suburbs after a bridal shower on Saturday (that was in the suburbs) and found a Wegmans!!! So I spontaneously meal planned in about 10 minutes and grocery shopped for the week at Wegmans where I picked up some frozen waffles and other goodies that I didn't need…but really, I needed them. Things like chocolate pudding and two half gallons of Breyers and stuff like that… So breakfast some days has been toasted waffles, half with butter and half with almond butter with some scrambled eggs.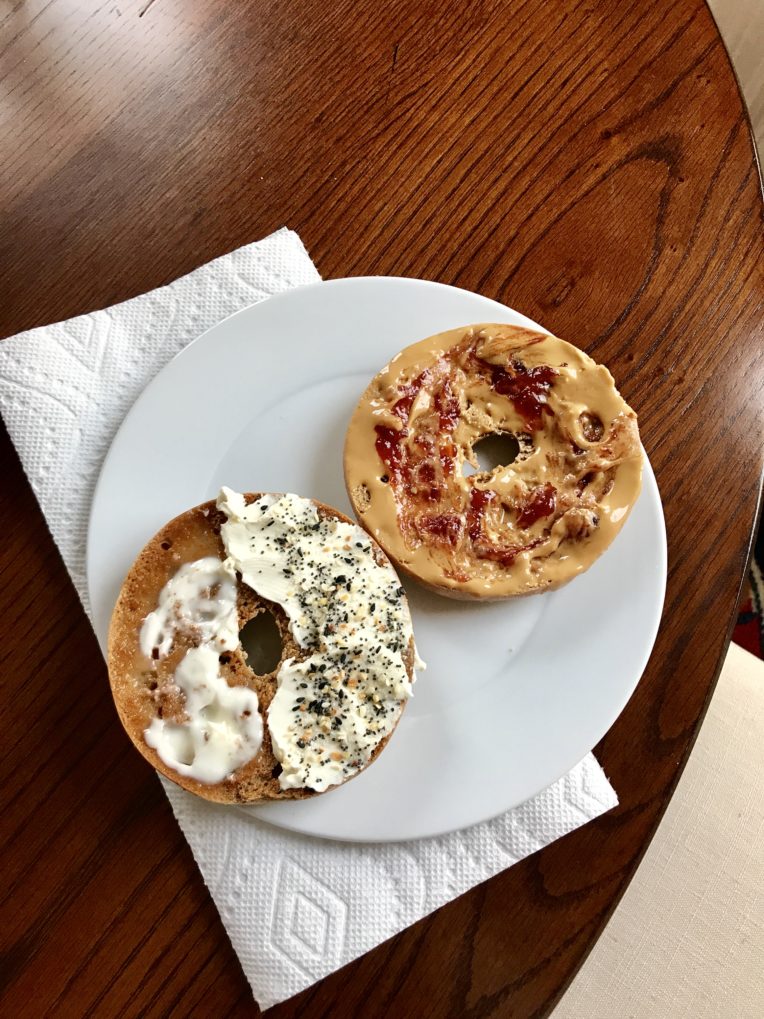 Another morning I was really craving a bagel and we didn't have any…usually I'd make due with toast but I was like nope, it's worth it to walk 0.2 miles to Render Coffee and pick up a bagel. And then naturally I wanted various toppings. Nick was like, "You realize there are four toppings on that bagel?" And I was like…"yea, what?" 1/4 butter, 1/4 cream cheese + everything seasoning and the other half with pb and jam. The savory side was my favorite.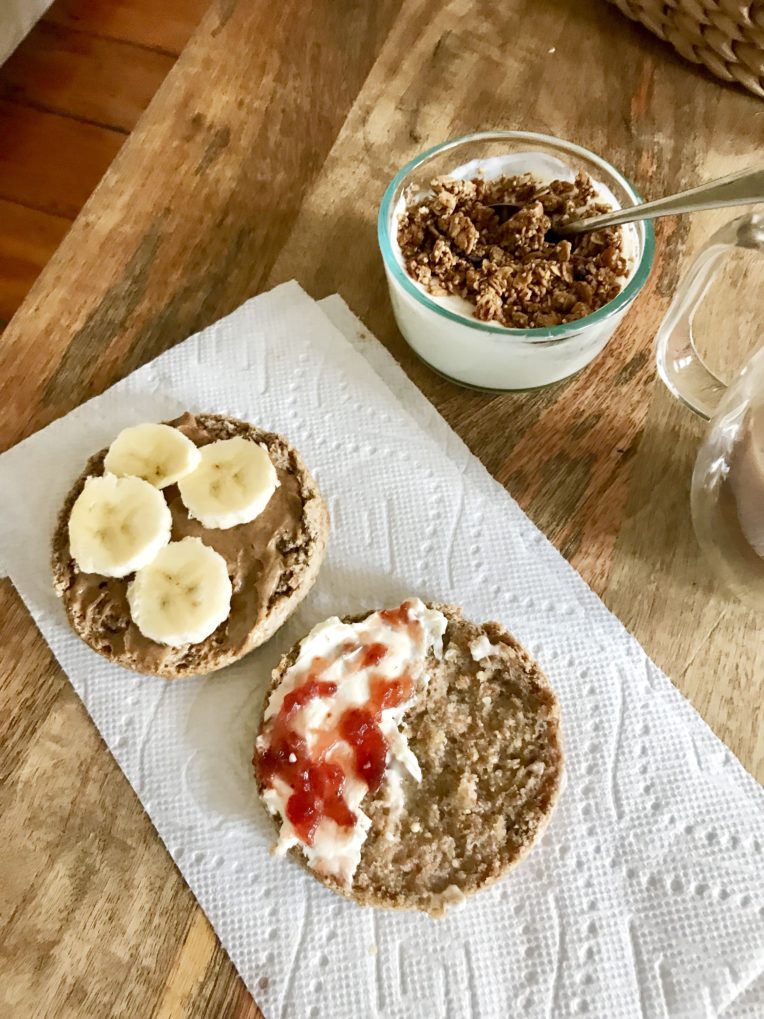 English muffin with again, multiple toppings, because my tastebuds like variety! 1/2 with pb + banana and the other half with 1/2 cream cheese + jam and 1/2 butter. Plus whole milk greek yogurt (Fage is my favorite because it's insanely thick and creamy) with Purely Elizabeth granola —> favorite granola ever by far, even better than homemade and I can't believe I'm typing that.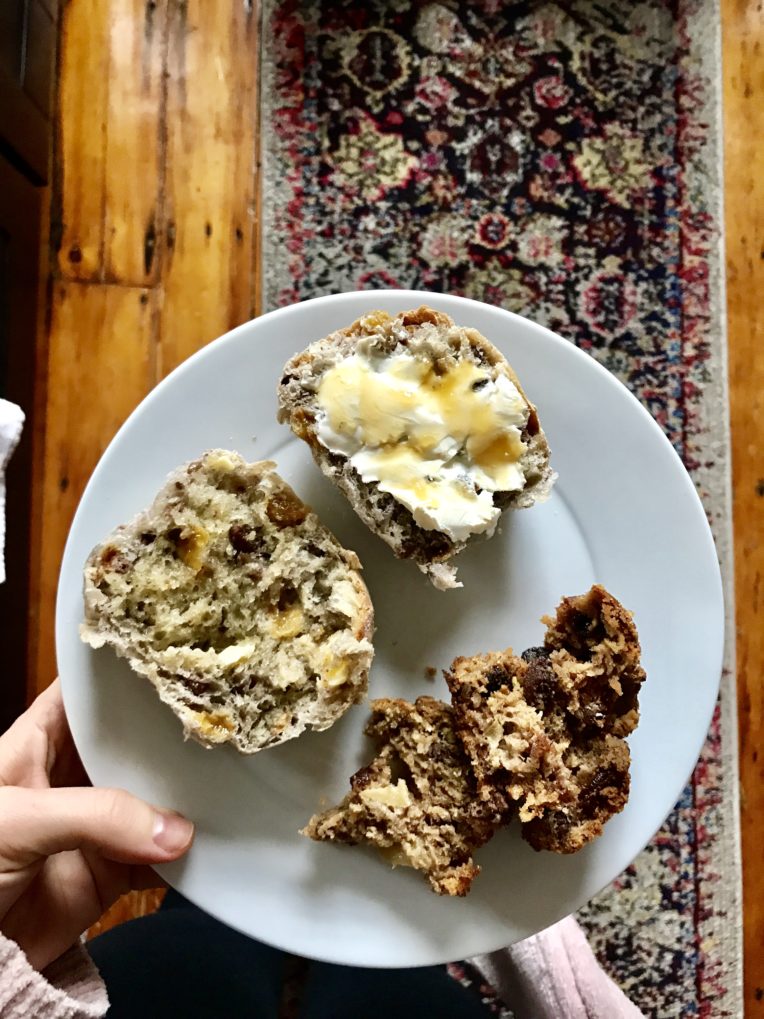 I picked up some baked goods from Flour on my walk home from yoga one morning and had that for breakfast. A raisin pecan roll with butter on one half and cream cheese on the other and 1/2 of a morning glory muffin. I shared the other half with Nick, reluctantly 🙂
Lunches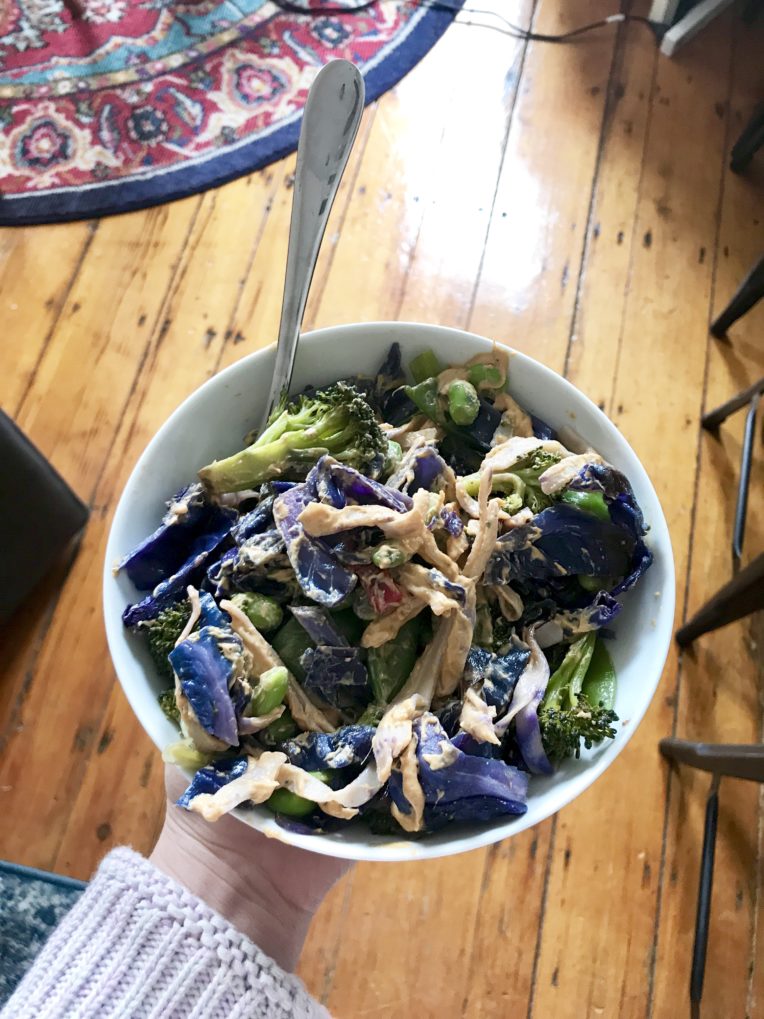 I made peanut noodles last week for lunch and then was not good at mixing in the noodles so by the end of the week we had a high veggie to noodle ratio. Which was fine, but not enough carbs so I supplemented this lunch with a handful of crackers for the latter half of the week. All I did was roast broccoli and some purple cabbage (just thickly slice before roasting) with avocado oil at 350 degrees for like 20ish minutes. Then boiled up some pad thai noodles (you could use whatever noodle you like) and tossed the noodles, veggies and a bag of defrosted shelled edamame with this peanut sauce recipe. If you're eating this as leftovers, keep the sauce separate until you eat it so the noodles don't absorb all the sauce and get soggy. You can eat this hot or cold!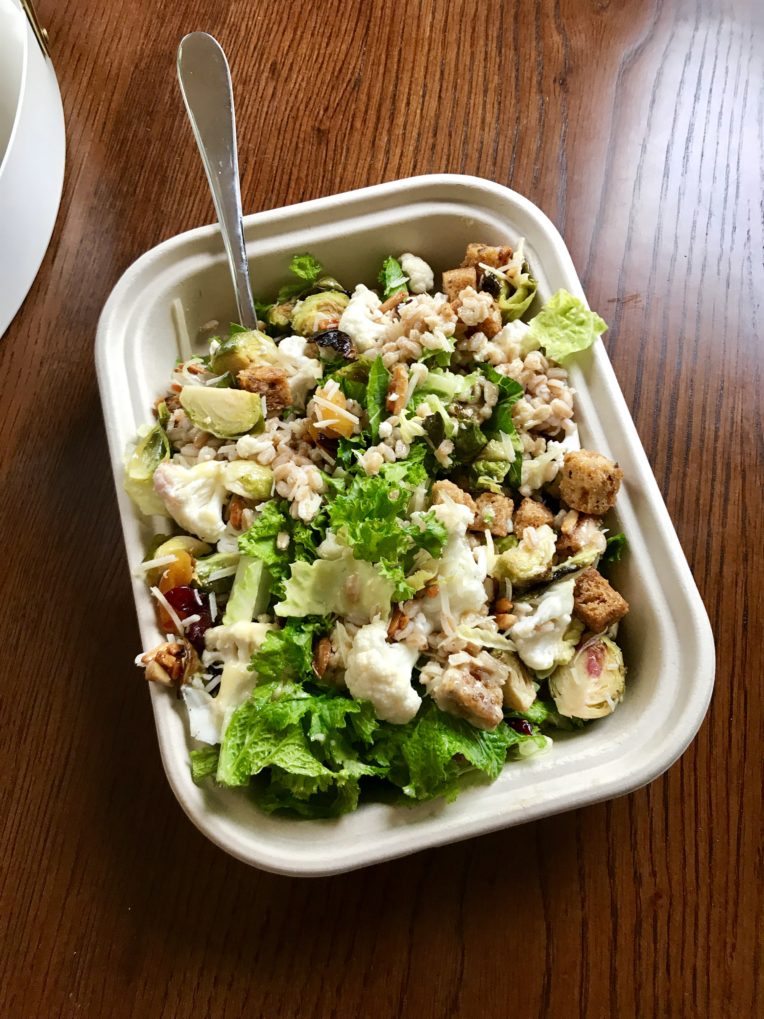 Flour's farro and greens salad for lunch one day, my favorite salad from there. It had dried fruit and roasted brussels + cauliflower and toasted almonds and shredded cheese. I also <3 farro so much.
I'm calling this lunch because I had a popover + jam and butter and a Perfect Bar for breakfast before we drove up to Portsmouth, NH two weekends ago and then we ate at a coffee shop right when we got there for an early lunch…brunch? Profile was the coffee shop I think. Anyways, this egg + sharp cheddar + bacon sandwich hit the spot.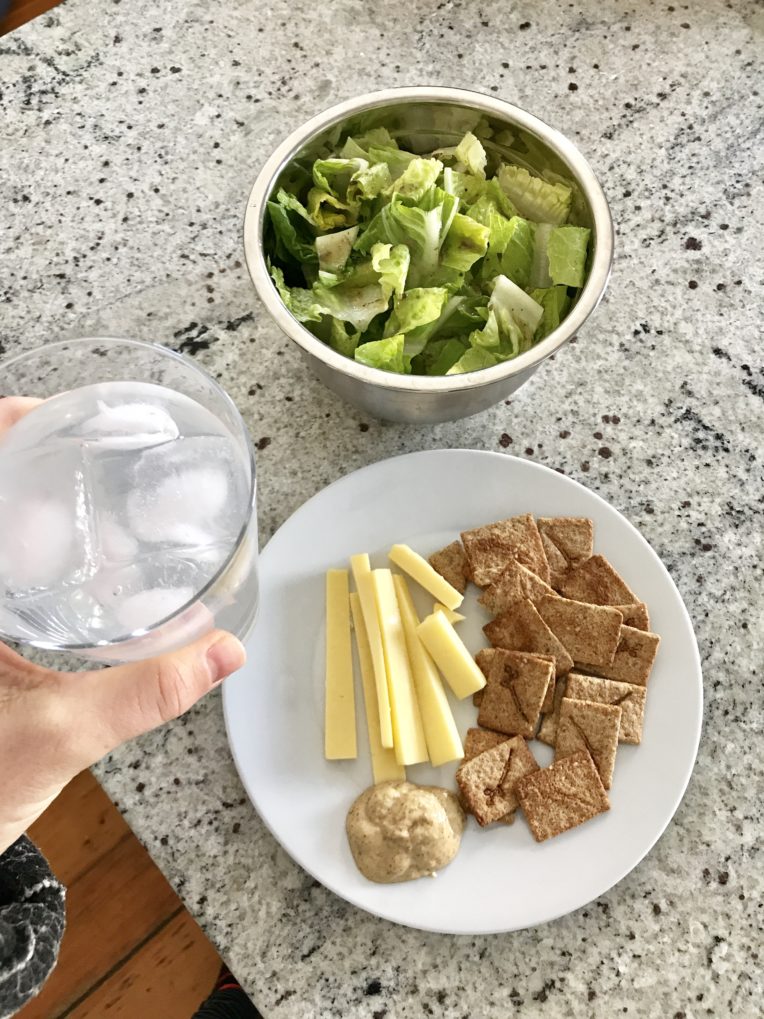 Our fridge was getting bare before we flew out to Atlanta, so I made a simple lunch of romaine + italian dressing, cheddar cheese + crackers with stone ground mustard because it's a bomb combo.
Dinners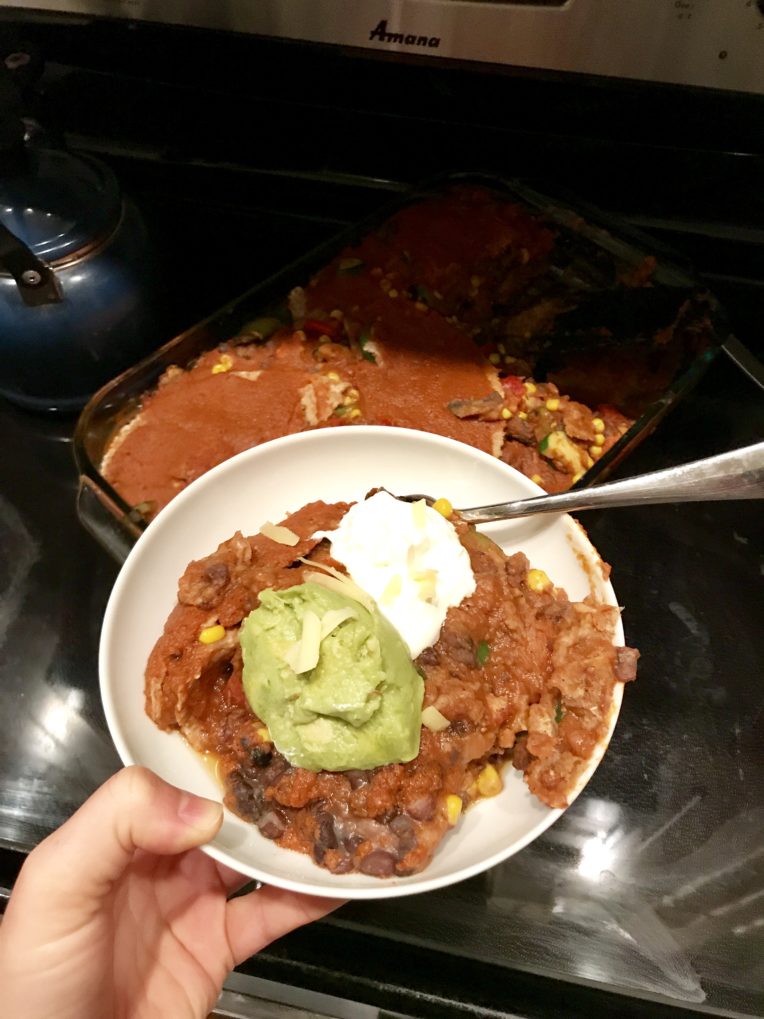 Last week I made enchilada lasagna. Read this post for the "recipe" – it's not really a recipe, but a method. Topping with guac and sour cream is highly recommended. And as you can see, I snapped this photo before Nick finished grating the cheese on top.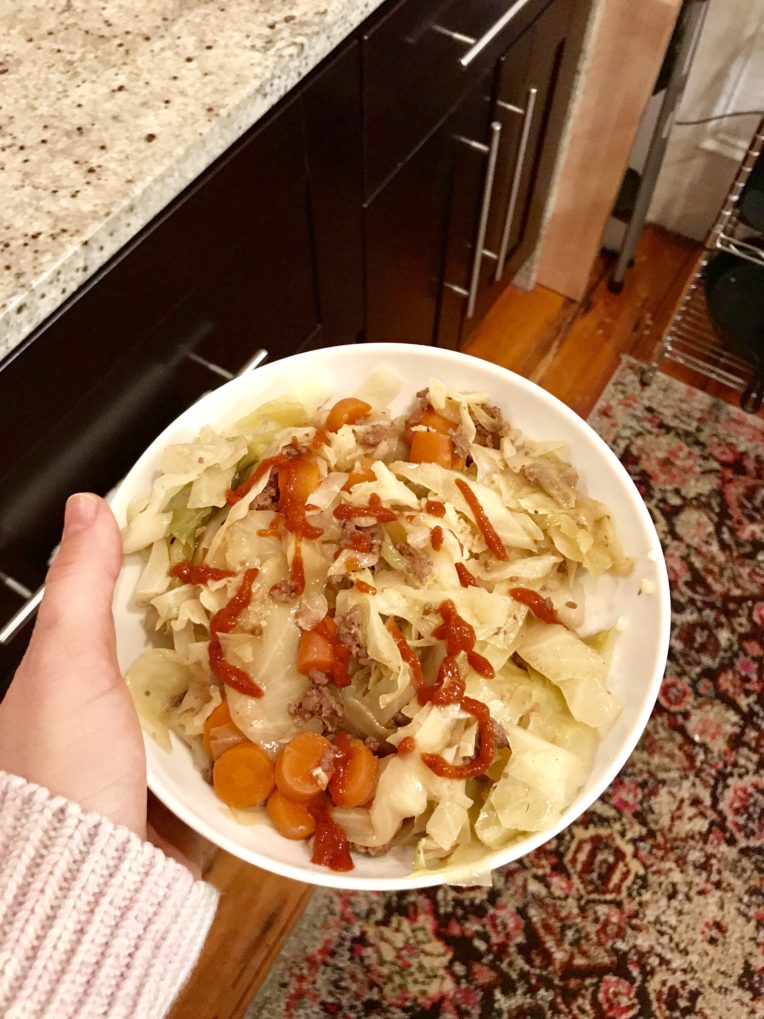 And I made "egg roll in a bowl" for dinners this week that we ate over cooked millet. This recipe is marketed as paleo but guess what..you get to modify it however you want! I used soy sauce, beef instead of pork because that's what the store had and we served it over millet because I'm a firm believer that a meal isn't complete without all the macronutrients and this one was missing a carb source. And I also added extra sriracha.
Snacks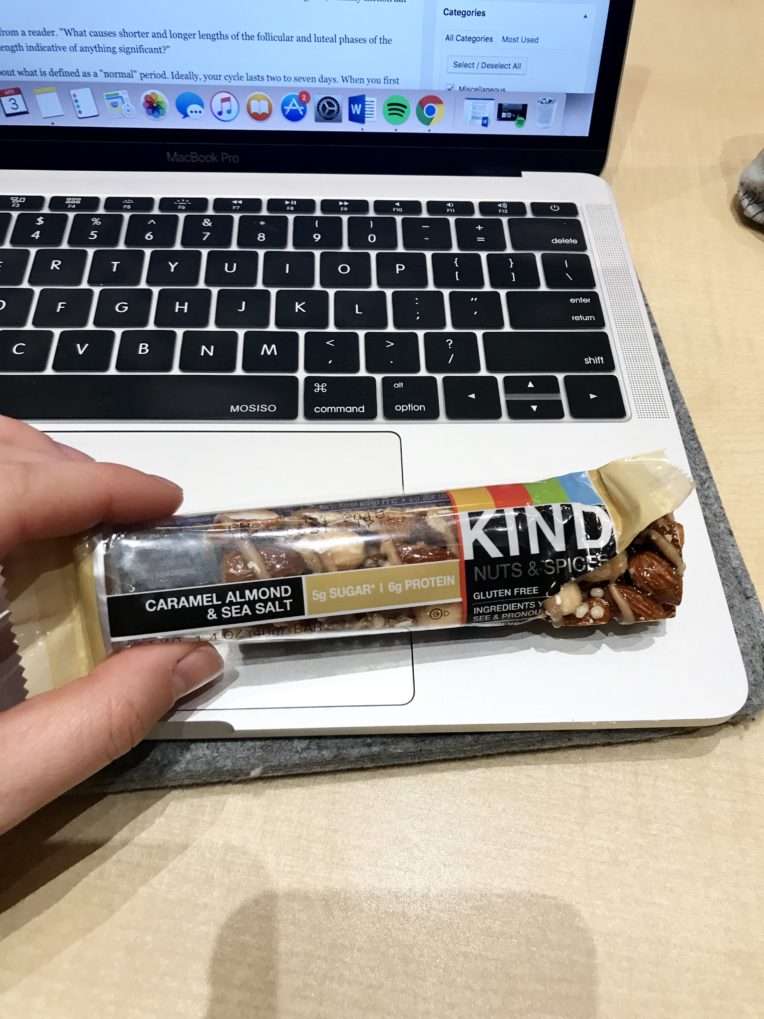 KIND bar at the library while writing this post. I like this flavor a lot.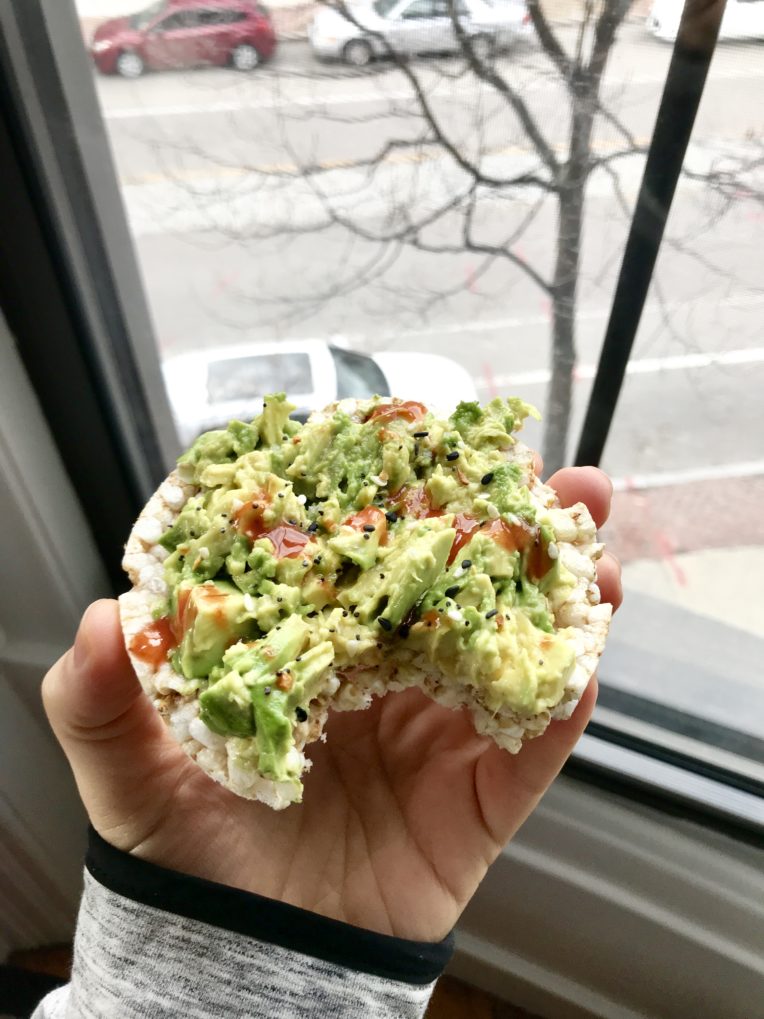 Also really loving avocado mashed on a rice cake for crunch with everything but the bagel seasoning from Trader Joe's. Plus hot sauce.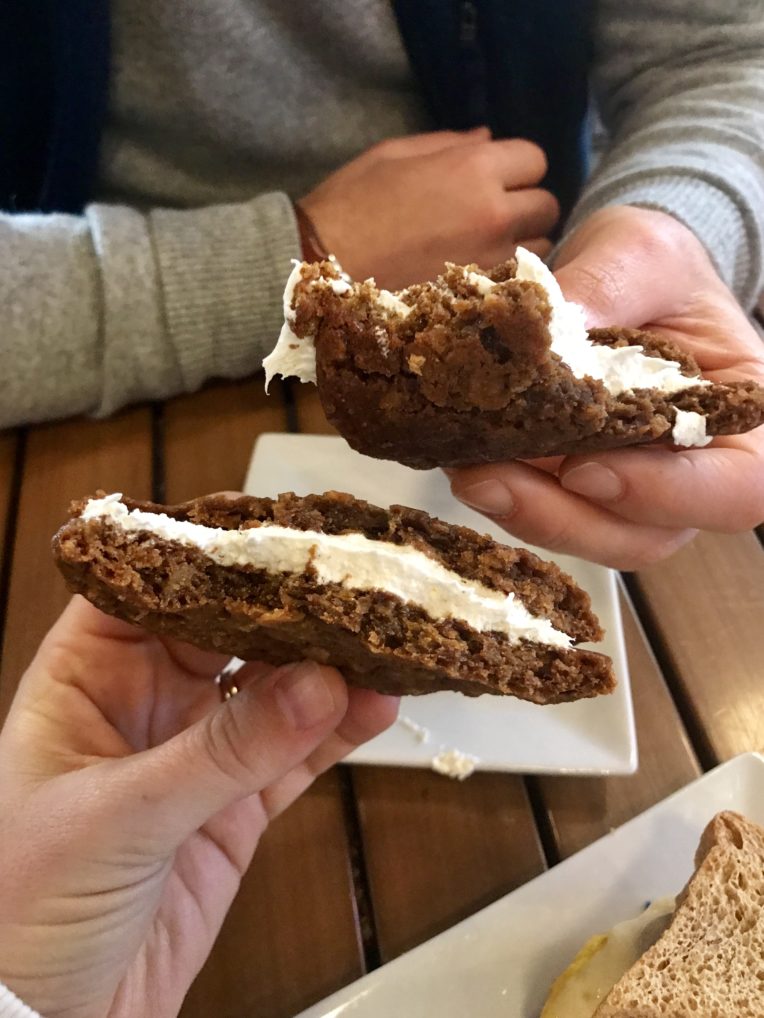 Nick and I shared this homemade oatmeal cream pie that was the size of my face as an afternoon snack while in Portsmouth and YOU GUYS I can't even articulate how heavenly this was. This was one of those food experiences where I was like, "I am so happy that I don't feel crazy and anxious and stressed around baked goods anymore."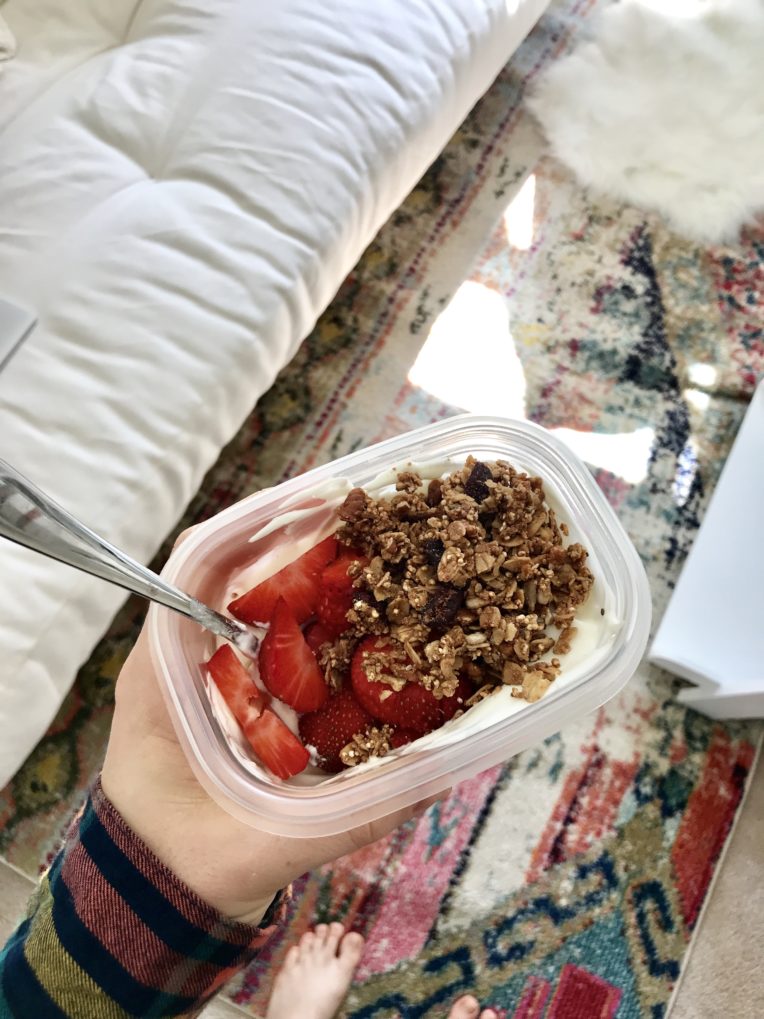 More greek yogurt + granola….this time with strawberries too because they were on mega sale. But they aren't that sweet yet because they aren't in season so I probably won't buy them again until late spring/summer.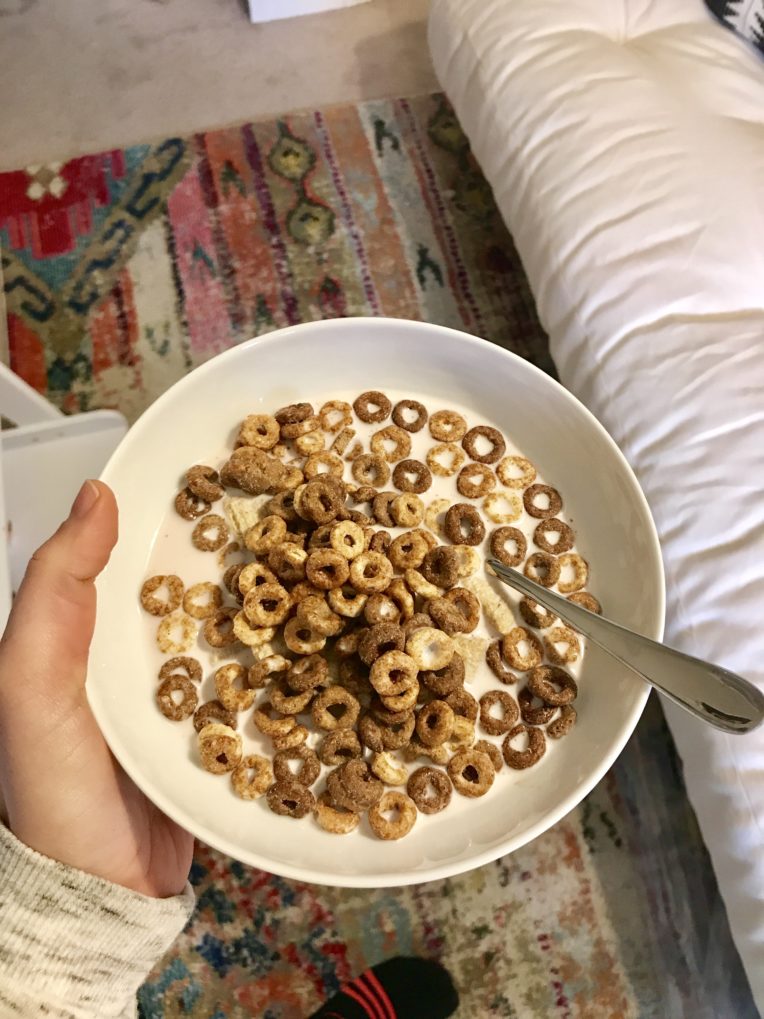 And a bowl of cereal…shredded wheat mixed with peanut butter Cheerios which are so dang good. Why have one cereal when you can mix two together?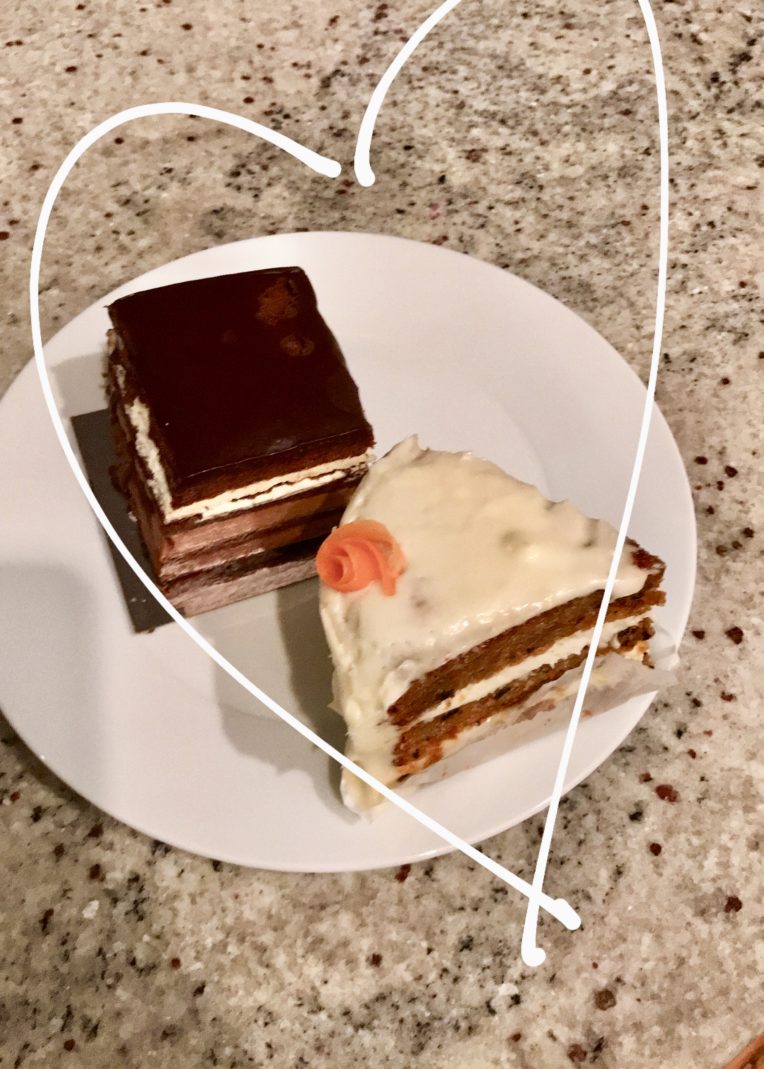 For my birthday a couple Friday's ago I bought carrot cake from (you guessed it) Flour and then a friend brought me this chocolate cake from Flour later in the day so Nick and I licked this plate clean when we got home from dinner that night. The chocolate might have been my favorite…the texture was almost like Little Debbie swiss cake rolls. Remember those?!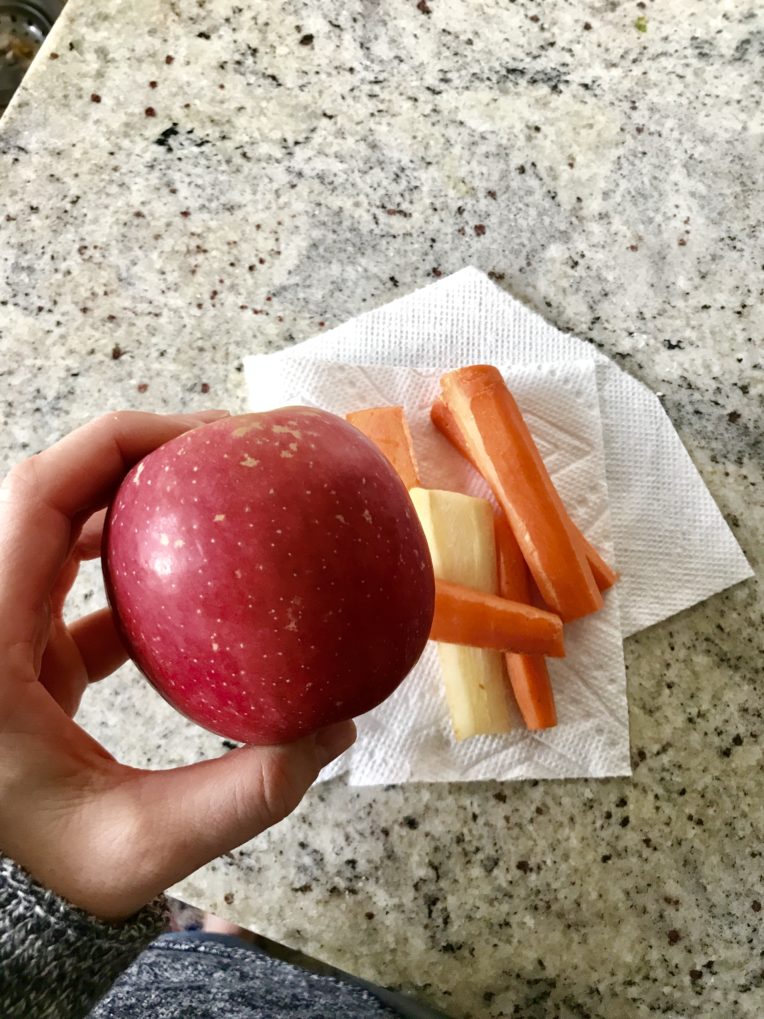 Apple and carrots for when I'm not that hungry, but know I should eat something. Tastes refreshing.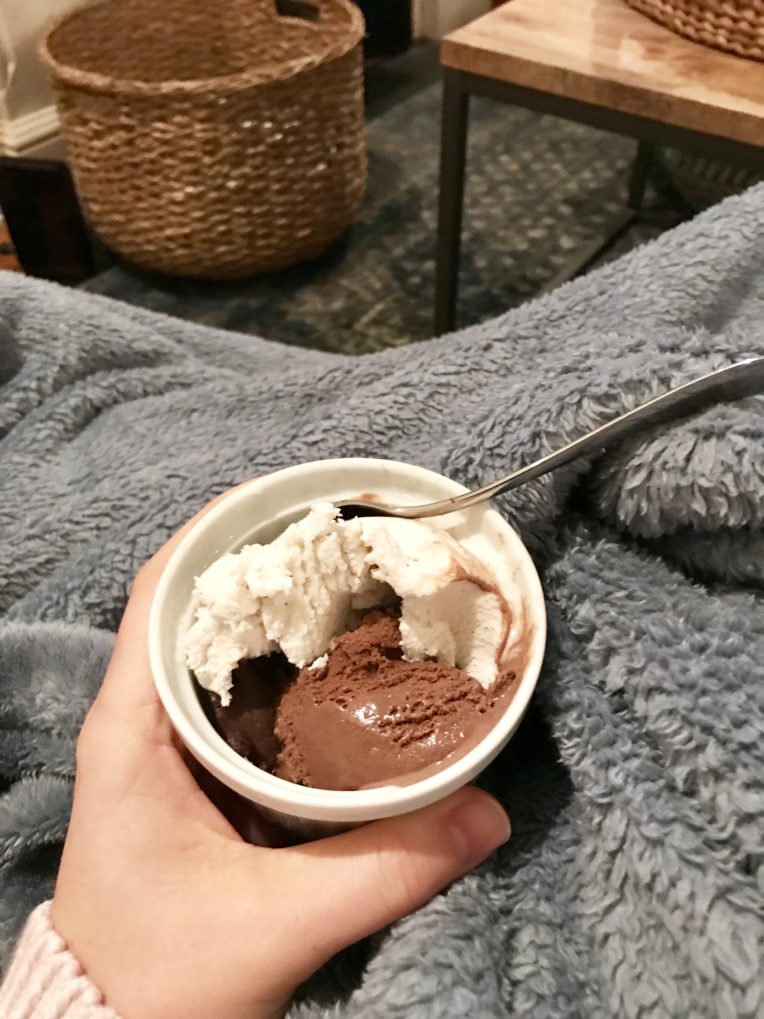 And as always, an ice cream night cap. Breyers was 2/$7 at Wegmans so I picked up one chocolate and one vanilla…because we really needed it. Now we just need some cones..that sounds perfect so I can dream of the summer that feels like it will never be here.
Have a restful, tasty and fabulous weekend!