Nick is traveling for work this week which usually means I don't cook that much and meals look more like they did when I was always cooking for one. For me, it's just easier to buy things at the store that I can throw together quickly instead of planning out a dinner recipe. And even though I wasn't eating anything particularly exciting, these meals still did the trick of satisfying my hunger + tastebuds. So if you're cooking for one, I hope these meal/snack ideas are helpful for you – and share your ideas in the comments!
Breakfasts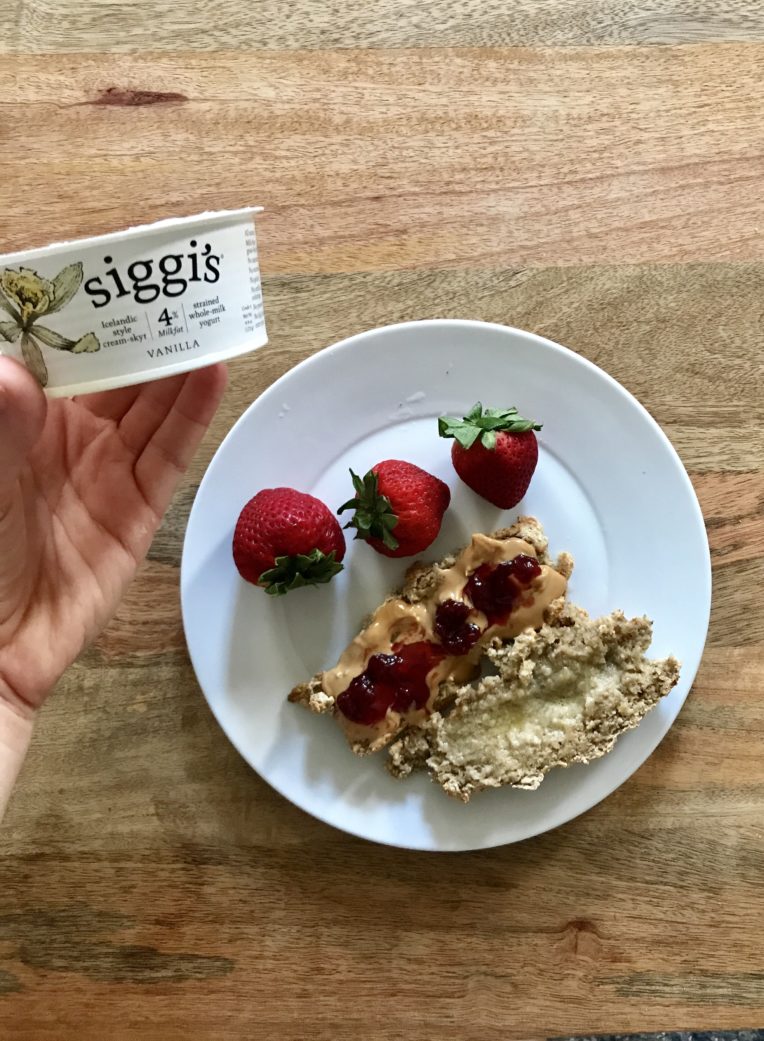 I made a loaf of banana bread this week to eat for breakfast and snacks. It's this recipe from a long, long time ago. This recipe is as basic as it gets – it's flour, bananas, eggs and leavening and I love it because it's so versatile. Kind of like a banana sweetened whole grain bread vs a muffin. The bread doesn't look like anything special coming out of the oven, but if you like dense and doughy, slightly sweet banana bread…I think you'll enjoy this. If I want something more savory I spread on butter, if I want something more sweet I spread on nutella or jam.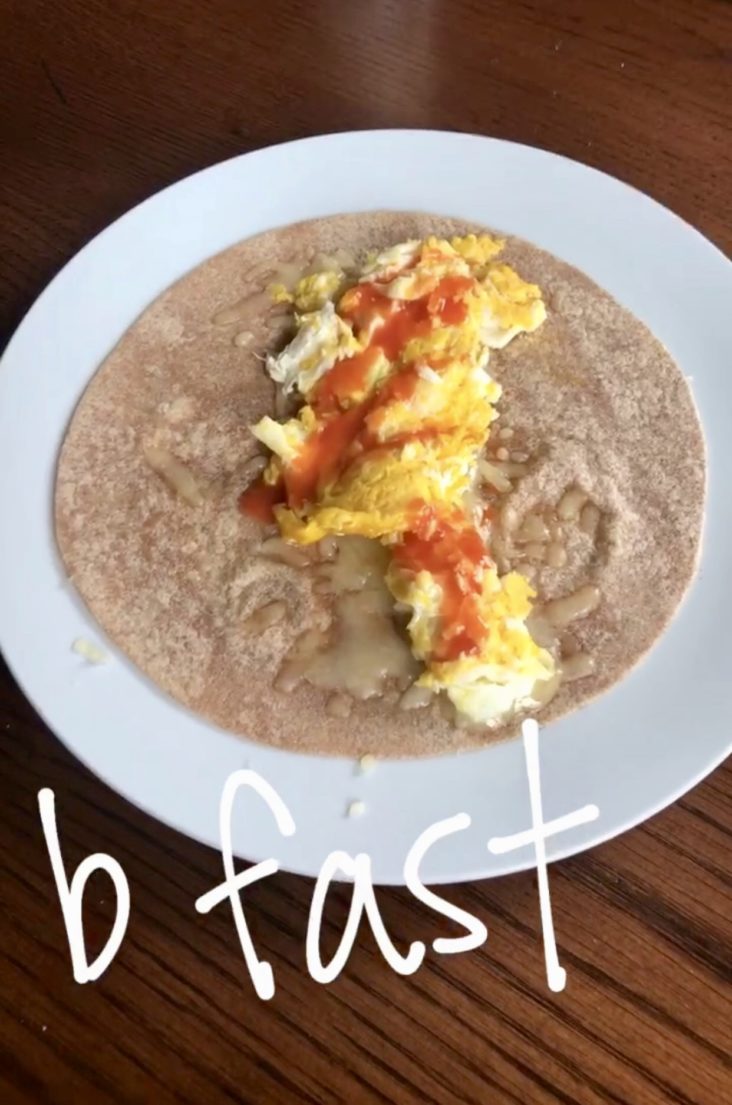 This is a terrible photo but if I'm in the mood for savory, I'm still making a breakfast burrito or breakfast tacos like I did last week. I went through a toast phase for a while, but then my tastebuds got bored and now I'm into tortillas. I just buy the 365 wheat tortillas, scramble up 2-3 eggs depending on my hunger and sprinkle on cheddar cheese + hot sauce. Usually there's some fruit eaten in there somewhere too.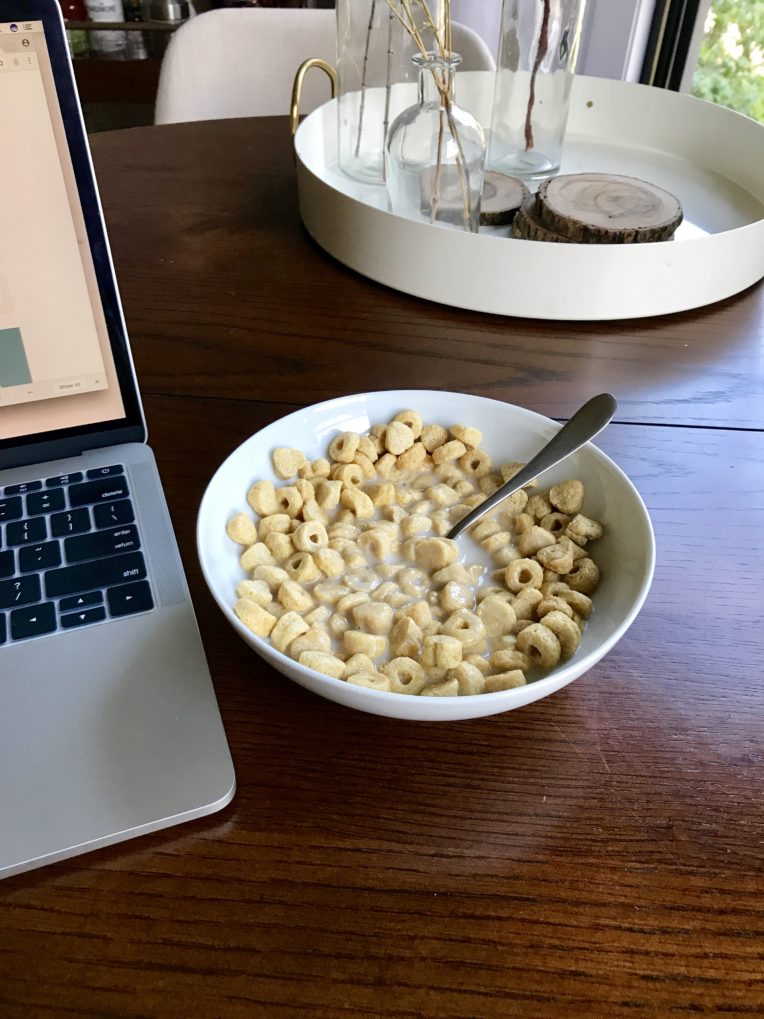 Since the weather has gotten warmer, I've been craving cold breakfasts on those mornings. When I have early client calls this makes breakfast easier as well. This was Kashi cereal and before a client session I ate a carton of yogurt + a banana and pb to round out this breakfast. Carbs + protein + fat.
Lunches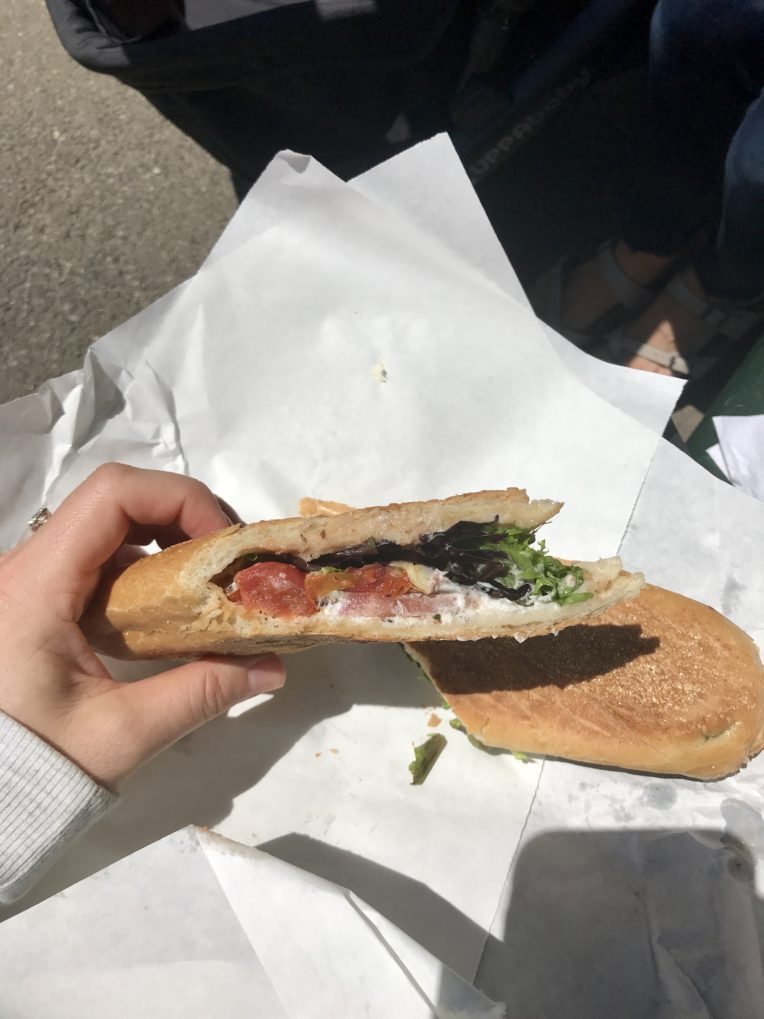 Lunches for me are really hard to plan for because sometimes nothing strikes me at the grocery store and some weeks I'm just lazy and don't want to spend time chopping up salad ingredients or preparing something else. This was one of those lazier weeks. Some days I ate the same lunch as last week – salad plus pasta – and on the other days I either ate the pita pizzas below or was eating lunch out with a friend.
Let me tell you about this sandwich though! My friend Amanda told me I had to go to Blunch because their sandwiches were really good so we planned for a lunch date this week. There were so many choices I could have chosen like ten sandwiches, but I went with the Provencal – fresh Vermont goat cheese, oven roasted tomatoes, fresh tomatoes, kalamata olive spread, artichoke hearts, basil cashew pesto, and mixed greens all pressed hot in a fresh, crusty baguette. I also ordered one of their sea salt brownies, but after eating the sandwich I was too full for the brownie so had a bite and saved the rest for a snack. I will be back for this sandwich and all the other varieties as well – highly recommend Blunch if you're in Boston! Also it's the most adorable, tiny shop with the friendliest staff.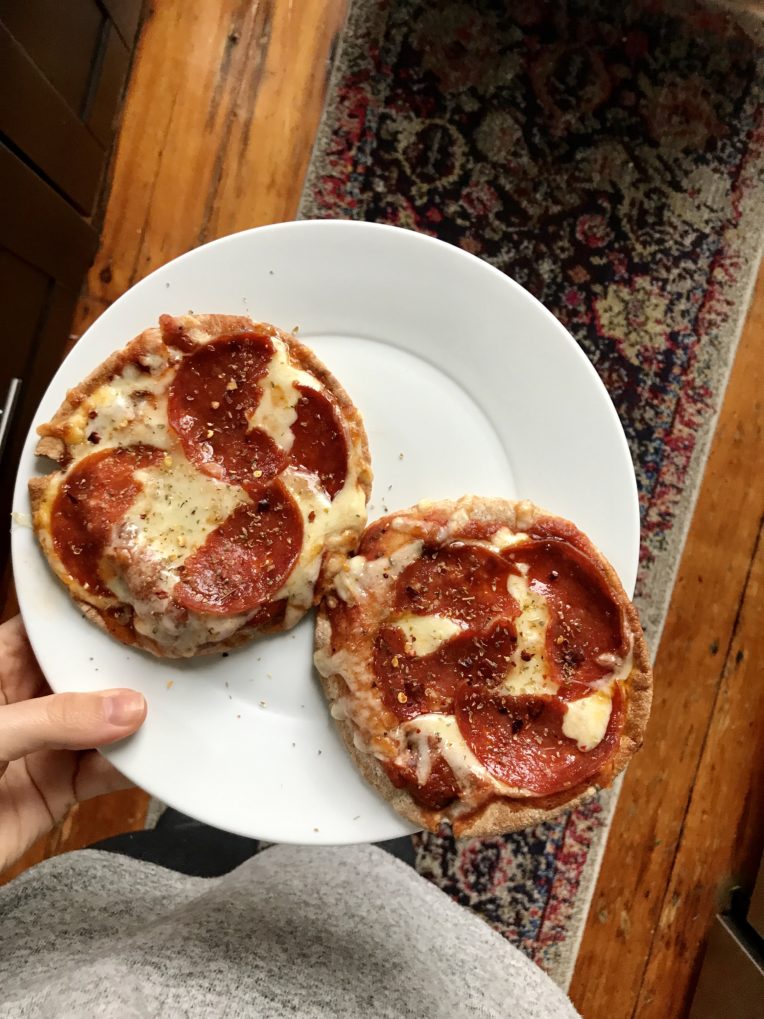 Unlike the excitement of that sandwich, other days I broiled up some pita pizzas. I just buy the smaller wheat pitas from TJs and add marinara, mozzarella and pepperoni and sprinkle on crushed red pepper and italian seasoning. Broil till it's crispy. I ate this with some mixed greens + olive oil and balsamic.
Dinners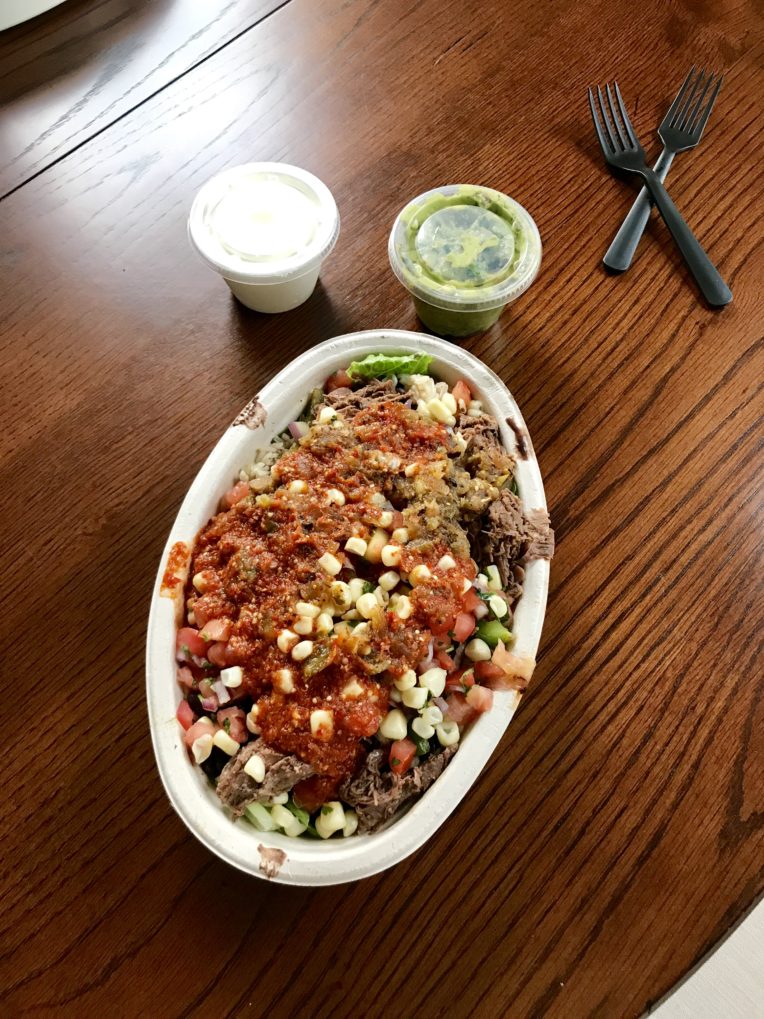 Don't you love when the Chipotle person is so heavily generous with what he's adding to your burrito bowl? The nice guy that was helping me on Monday filled this bowl to the brim with barbacoa, fajita veggies, corn, pico, all the salsas, brown rice, and lettuce. Plus guac and sour cream on the side just in case I had leftovers because I don't like how sour cream and guac tastes leftover in my bowl. Didn't matter though because there were zero leftovers.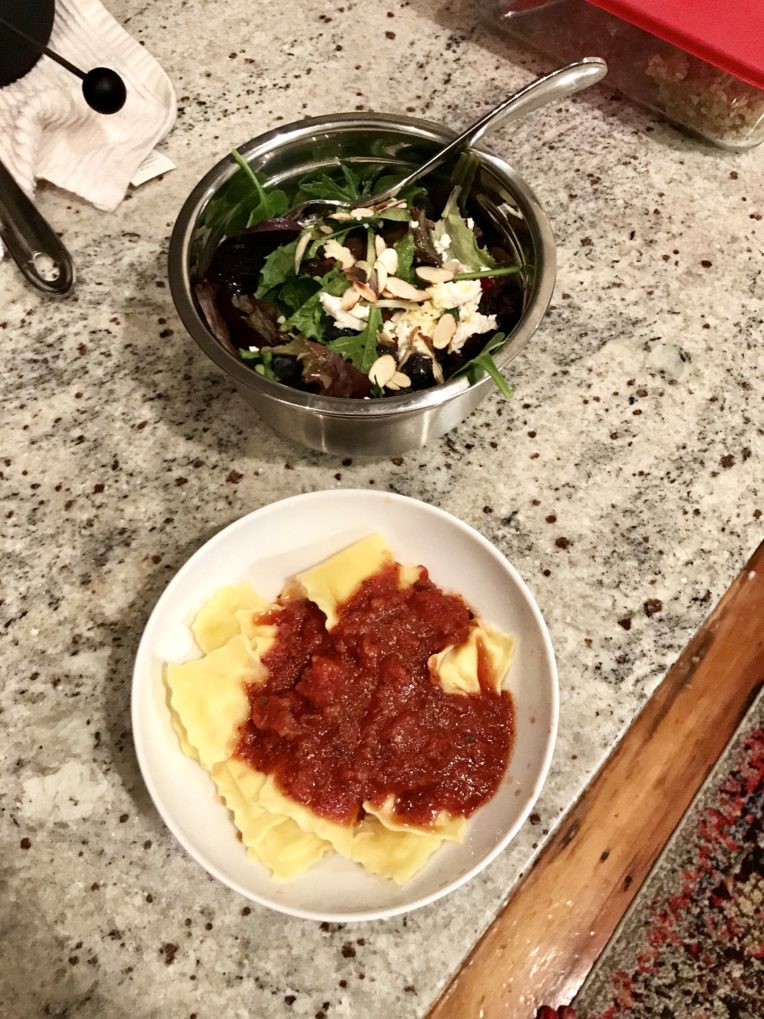 Another night was frozen ravioli I boiled up, added marinara too and ate with a salad. Still crushing on that salad my mom made a few weeks ago when we were home so much so that I'm trying to recreate it all the time. Mixed greens + blueberries + goat cheese + almonds + honey dijon vinaigrette.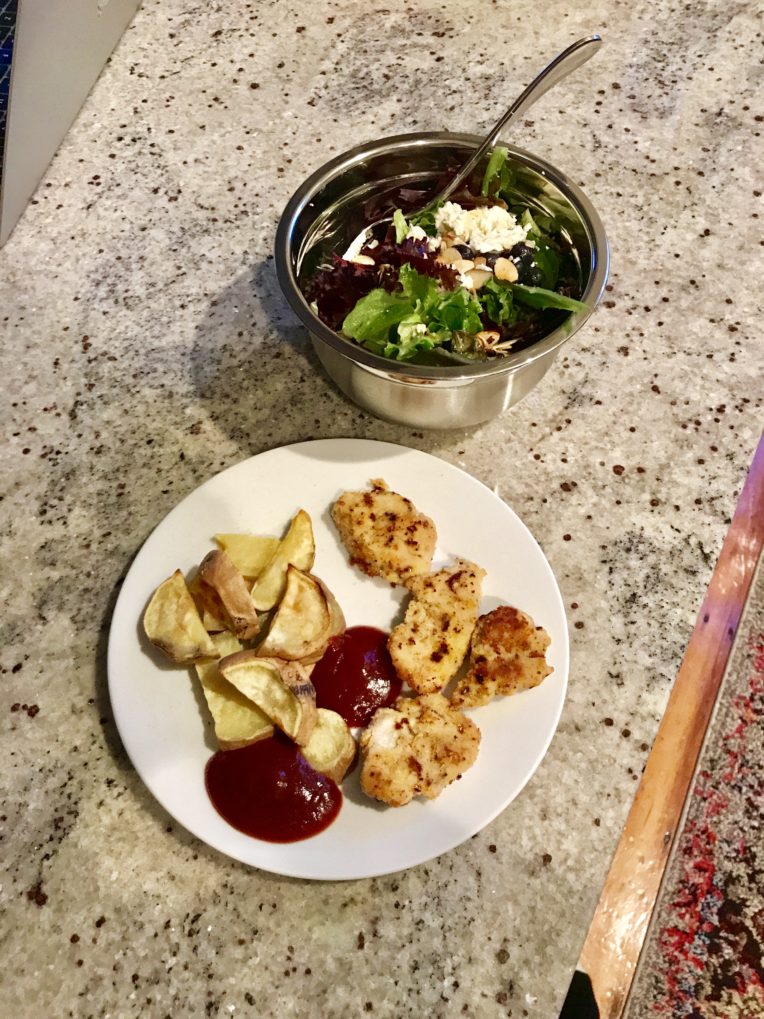 I did cook a little bit this week when I made some homemade chicken nuggets with a chicken breast we had in the freezer. A craving hit and I used the ingredients we had on hand to make them, but I wouldn't make the recipe again. I only had almond flour and coconut flour and not panko so I got a recipe off Pinterest – I just tried to find the recipe again to link to it but I can't remember which one it was. Don't worry, I didn't think they were great. Next time I'm at the store I'm going to pick up panko and make this recipe which looks tastier. I ate the nuggets with roasted potatoes and the same mixed greens salad.
Snacks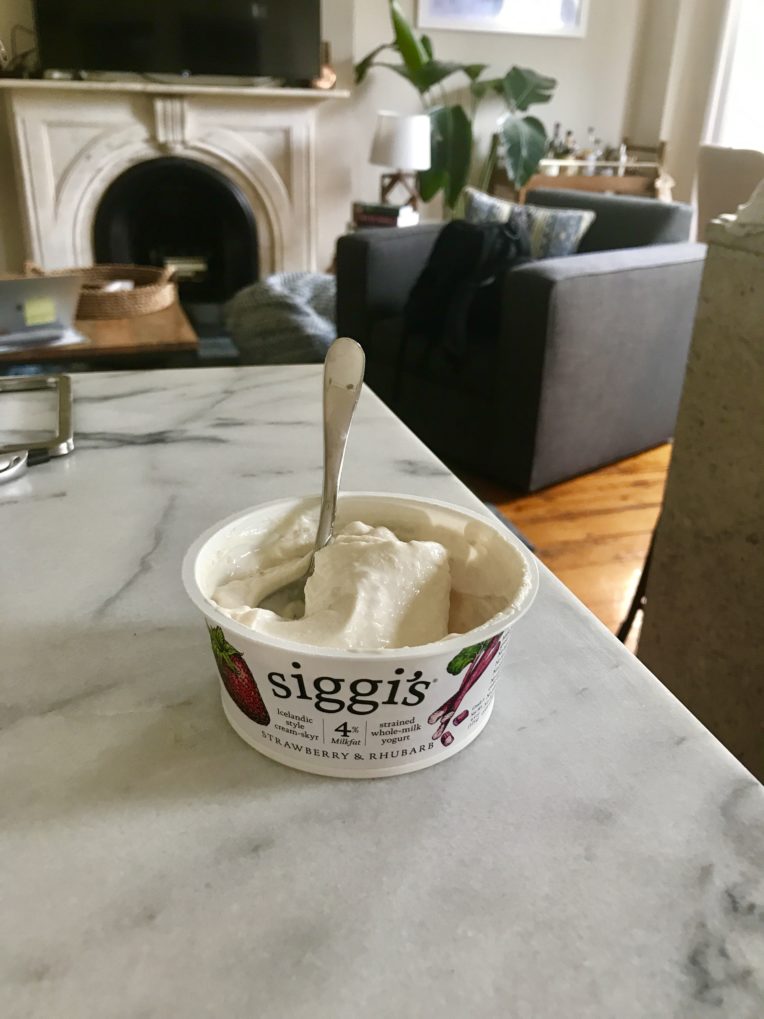 Siggi's was on sale this week which I was happy about because I <3 their 4% yogurt so much.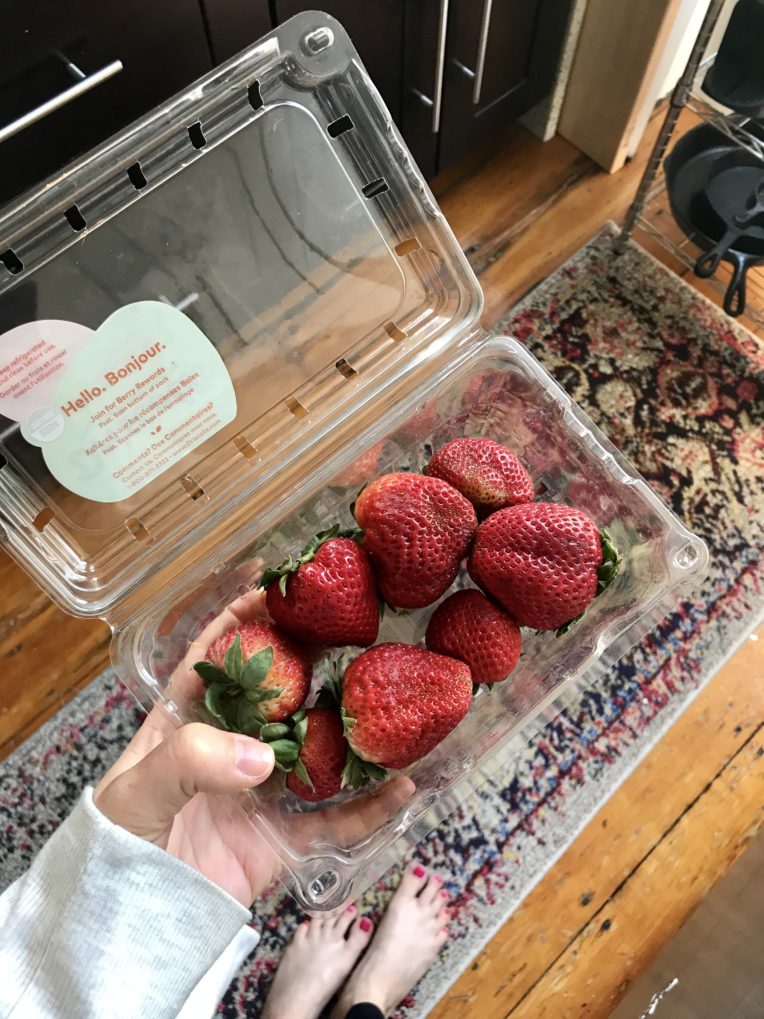 And so were strawberries. I could easily eat one of these a day so maybe I'll buy more than a carton at the store next week. Summeerrrr!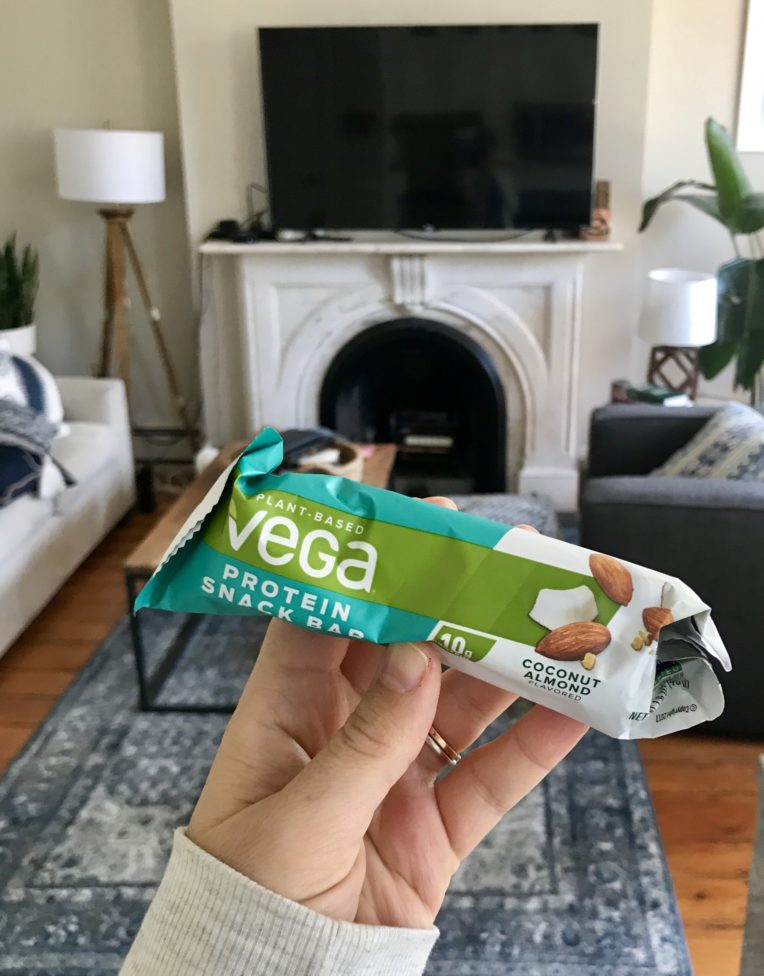 These bars are handy if I need a hearty snack, except they don't hold me over as long as I thought they would. But they are tasty!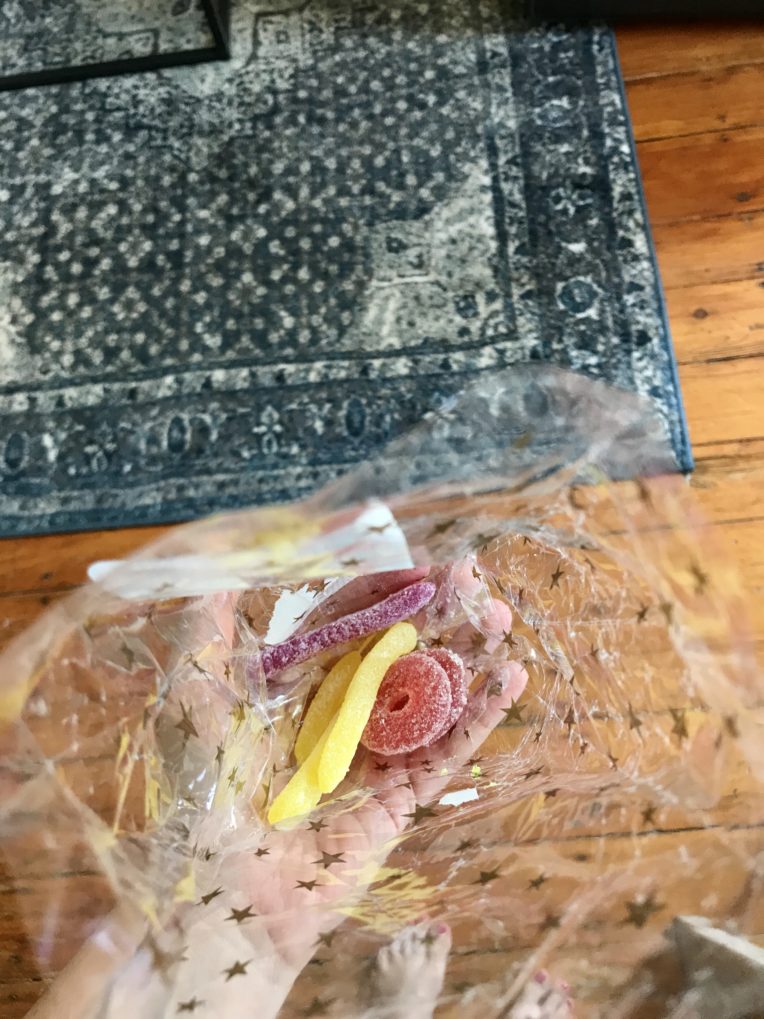 I discovered the bulk candy bins when I was at the grocery store and now I'm in the habit of buying a small bag each week and I really like this habit. With the weather warming up, my body craves sweet but not richer sweet things like I crave more in the colder months. So some pieces of sour candy have been satisfying.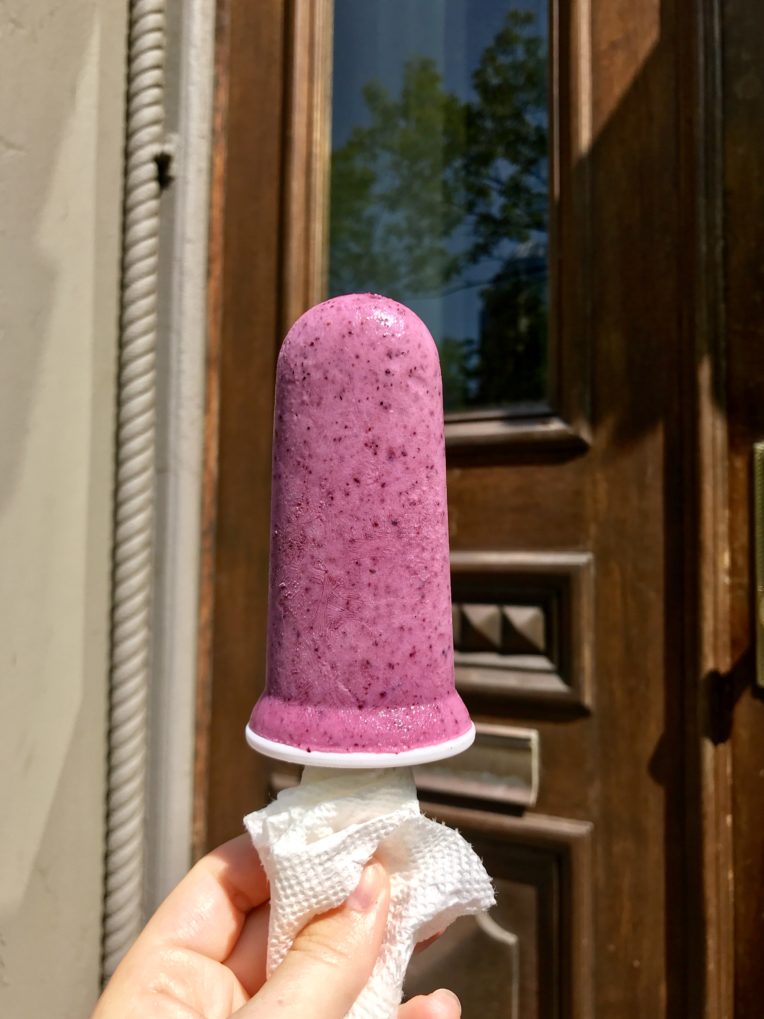 And carrying on with fruity sweet things, I made these greek yogurt pops this week and these will now be in regular rotation. If you want to make them too, I shared on Instagram yesterday so check that out. The possibilities are endless! I used this silicone mold which is a little pricier, but whenever I've used the plastic molds the popsicles never come out – maybe that's just me though?
Happy Memorial Day weekend! I hope it's restful and full of really good food and really good people. 🙂