We kicked off the weekend with a talk about the ethics around physician assisted suicide. Cheers 🙂
Nick heard of the talk being put on by the Veritas Forum at Harvard's med school and it sounded interesting. If I'm totally honest, before this talk I would have only been able to form a really ignorant opinion on this. After the talk I feel like I sway on the same side, but I am way more informed. I thought a really interesting point the first physician that spoke made was that there is a lot of energy put into this debate, but in Oregon where physician assisted suicide is legal, only 3 out of 1000 people (0.003%) choose this option. And he went on to mention how perhaps, while this is important, shouldn't we be investing all this energy into improving palliative care which needs loads of improvement in this country.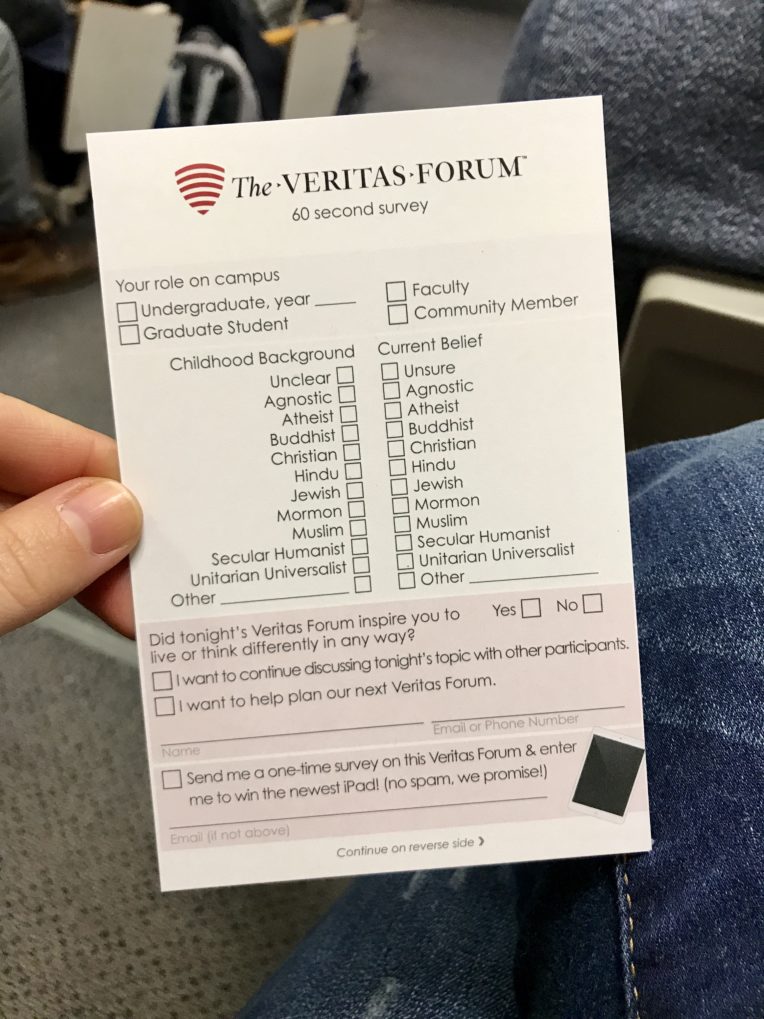 Sooo it was an interesting and thought provoking way to stay the weekend. And then I met up with Jessi and Kara for wine and pizza at Prarie Fire.
None of us have "co-workers" so I always find it refreshing to hang with others RDs who do a similar realm of private practice. It was a great night, we laughed a lot and the pizza was fab. We split a couple – sausage with fennel and a kale white sauce pizza plus brussels and sautéed greens.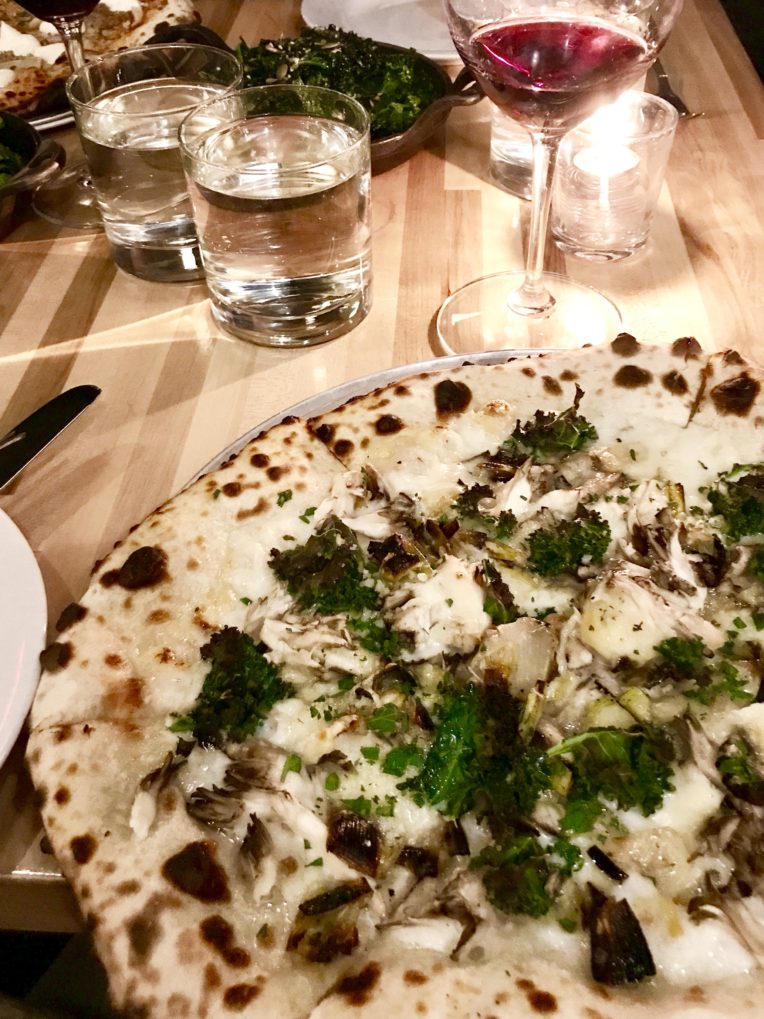 I was wiped by the time I got home and fell into bed.
Saturday morning I scanned through Pinterest for some recipe inspiration and drank a couple cups of coffee with whole milk.
Breakfast was blueberry oatmeal (rolled oats + almond milk + chia seeds + pinch of sea salt + chopped dates) with pb on top.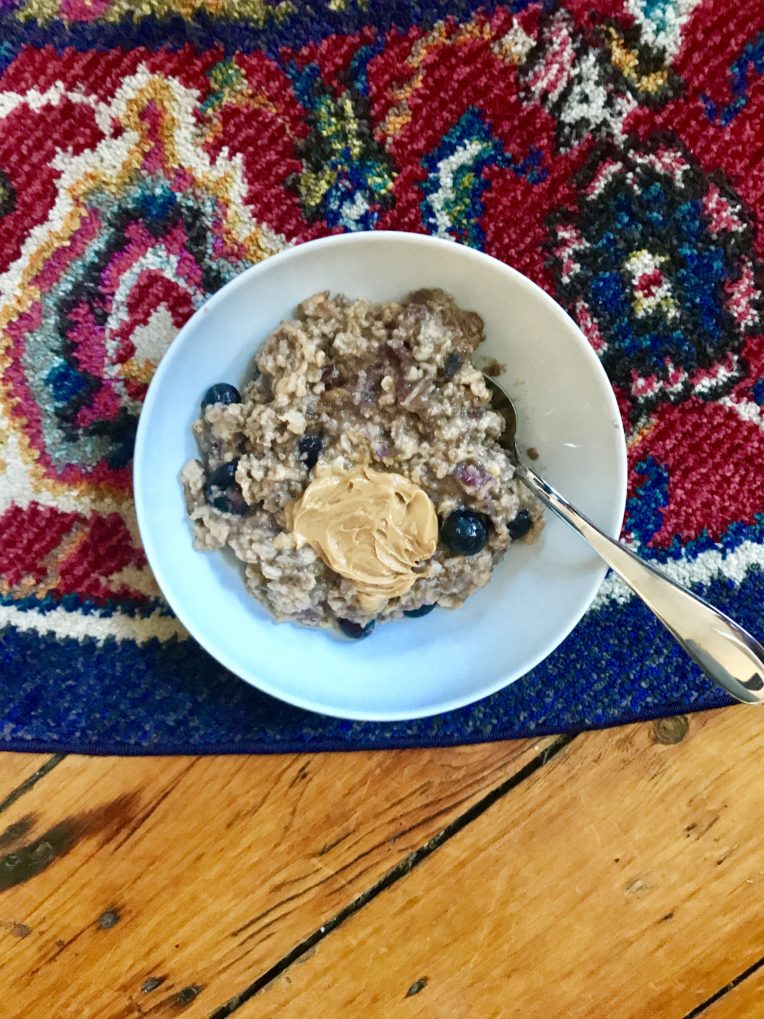 And then I met the Heartbreakers running group again after a semi fail last weekend with finding the group. And this time it went so much smoother. I found my pace group and ended up making friends with a couple girls on the run which was so fun! I almost didn't go because I was in a, "this is going to be awkward because I don't know anyone" mood, but I'm so glad I pulled on the big girl pants and went. Now I have two new running friends and one lives two blocks away from me. Win!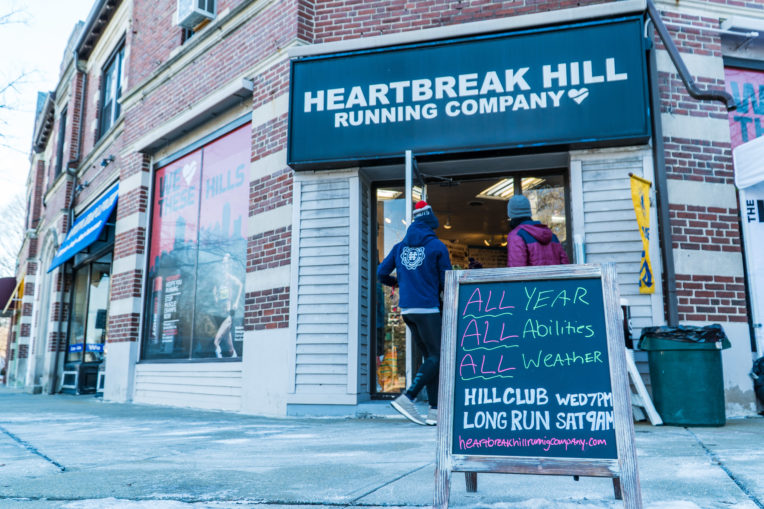 It was COLD. But the sun was out and there were 100 other people out there which made it fun. I forgot how much I missed having a running community. If anyone reading goes to these Saturday runs let's be friends 🙂
Afterward I swung by the grocery and picked up this week's groceries in record speed. Using this loose meal planning guide, we're having creamy golden lentil soup for lunch and chicken enchiladas for dinner – I'm making this one up in my head but using this 5 minute sauce recipe that I've made before and it's insanely easy.
By the time I got home I was pretty hungry so I made a smoothie (frozen blueberries and mango, frozen spinach, almond milk and vanilla vega) to drink while making avocado toast. THIS BREAKFAST was everything I was craving. Avocado toast is the most basic and trending breakfast ever….but over the past few weeks I've been having a long moment with it. It's all in the bread. Iggy's bread. Plus a high ratio of avocado to toast with lots of everything seasoning and extra sea salt.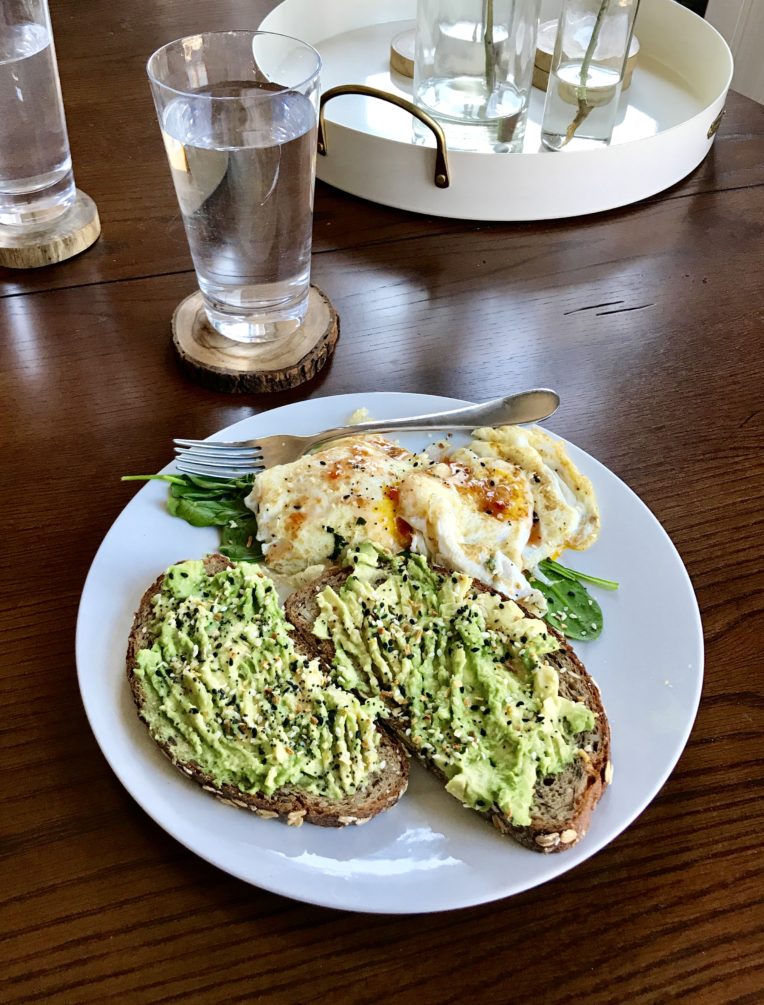 I saw a client in the afternoon that was rescheduled from Friday and then took a "I'm resting my eyes" nap. I spent the rest of the afternoon redoing my resume and applying to a couple jobs.
And then we met friends out for drinks at Wink & Nod. Super cool place that feels like a speakeasy and has an awesome cocktail menu. I don't remember the name of what I ordered ….the waitress told me it was a cool spin on a Manhattan and I went with it.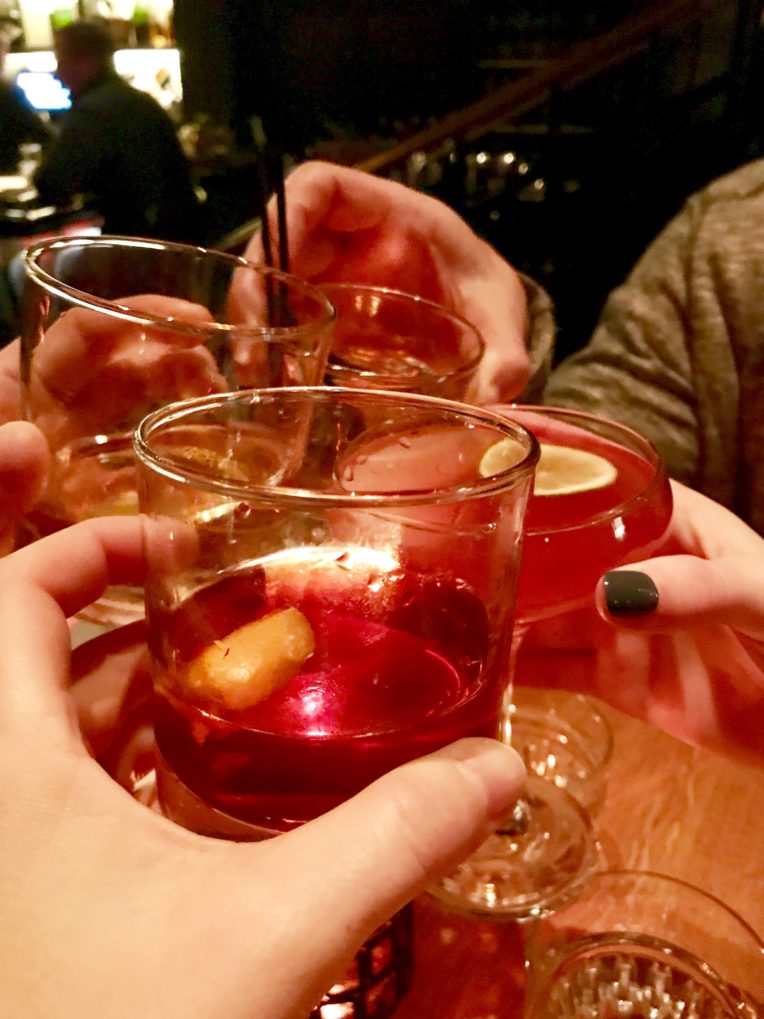 We were debating dinner options and then Phil threw out the idea of ordering in Giacomo's since there was no way we would get a table on a Friday night. Loved this idea! I'm realizing more and more I do like to be out and about but I lean more on the homebody side. I love to have people over instead of going out almost always. I ordered the pumpkin ravioli with asparagus in a prosciutto cream sauce and it was incredible. Nick's chicken parm that I stole a few bites of was also awesome. We paired it with a lighter barbera which I didn't love (shocking as I usually love everything) …it was too light for me since I was eating a creamy ravioli.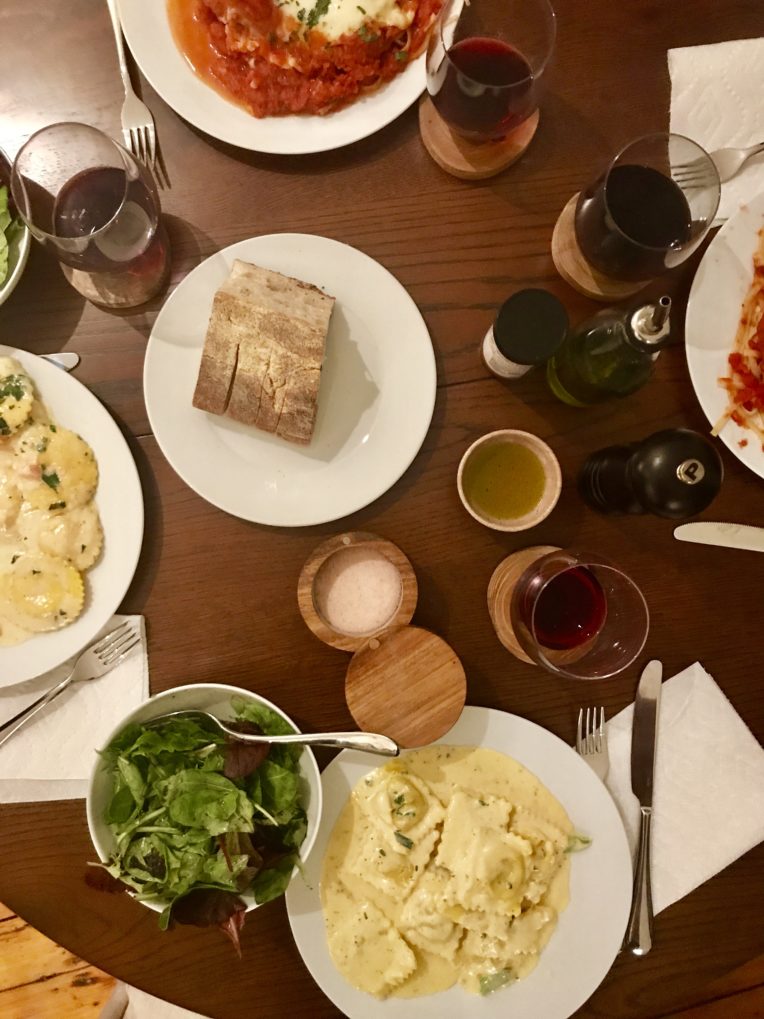 We ate ice cream and strawberry crumble bars for a nightcap and again crashed hard into bed.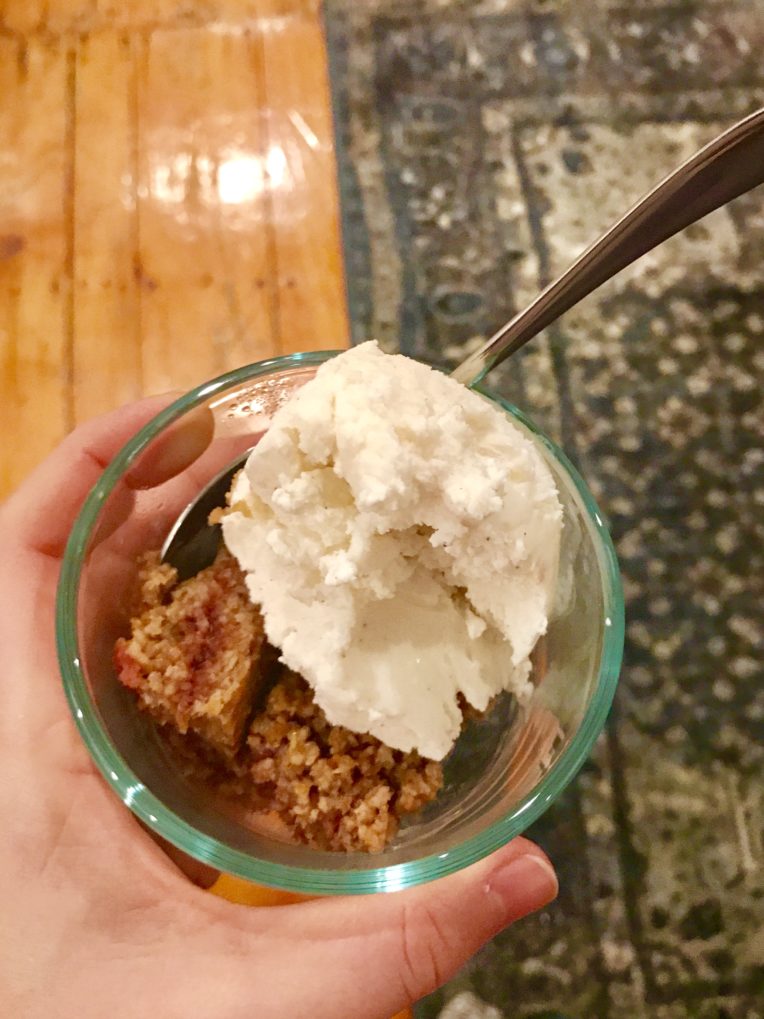 Sunday morning I read some of Simi's book while drinking coffee. I'm almost done and loving this book so much. 1) it's funny 2) it's so relatable and 3) I love nothing more than an honest, vulnerable soul.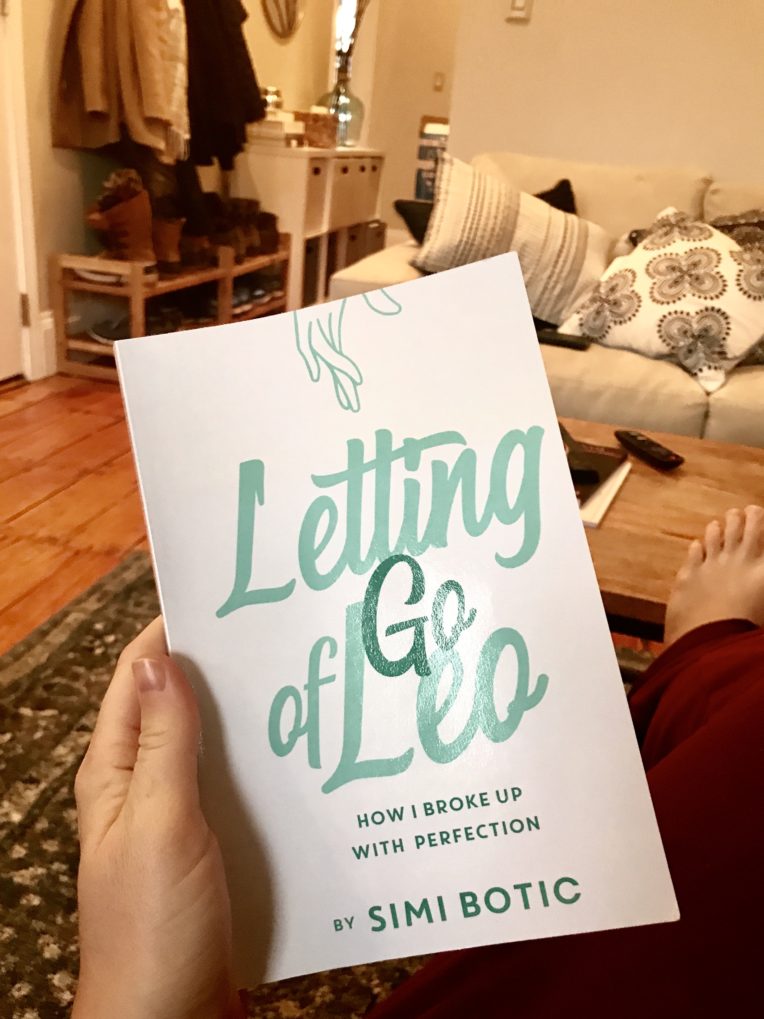 Breakfast was chocolate chip pumpkin pancakes. This recipe is my go to because I love a dense, hearty, oatmeal-y pancake so much. Also skippy natural pb with honey is the JAM.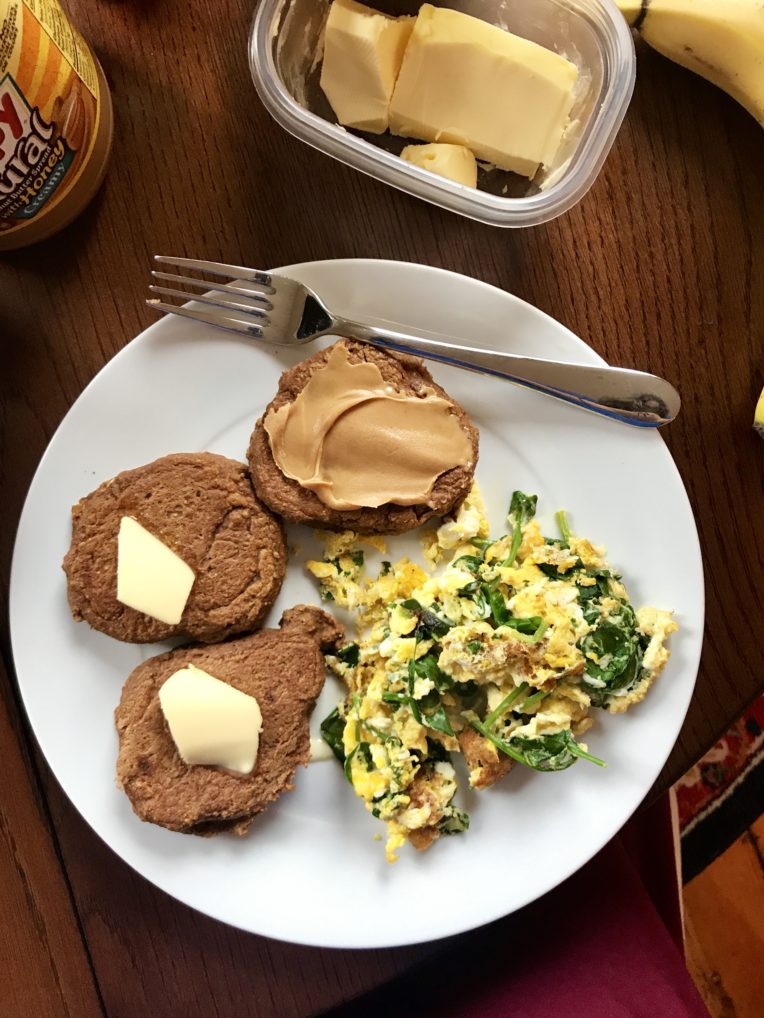 We continued with church dating and checked out Renewal church this weekend. It's a smaller church plant and the people there were incredibly nice. On the walk home I spotted Blackbird Doughnuts.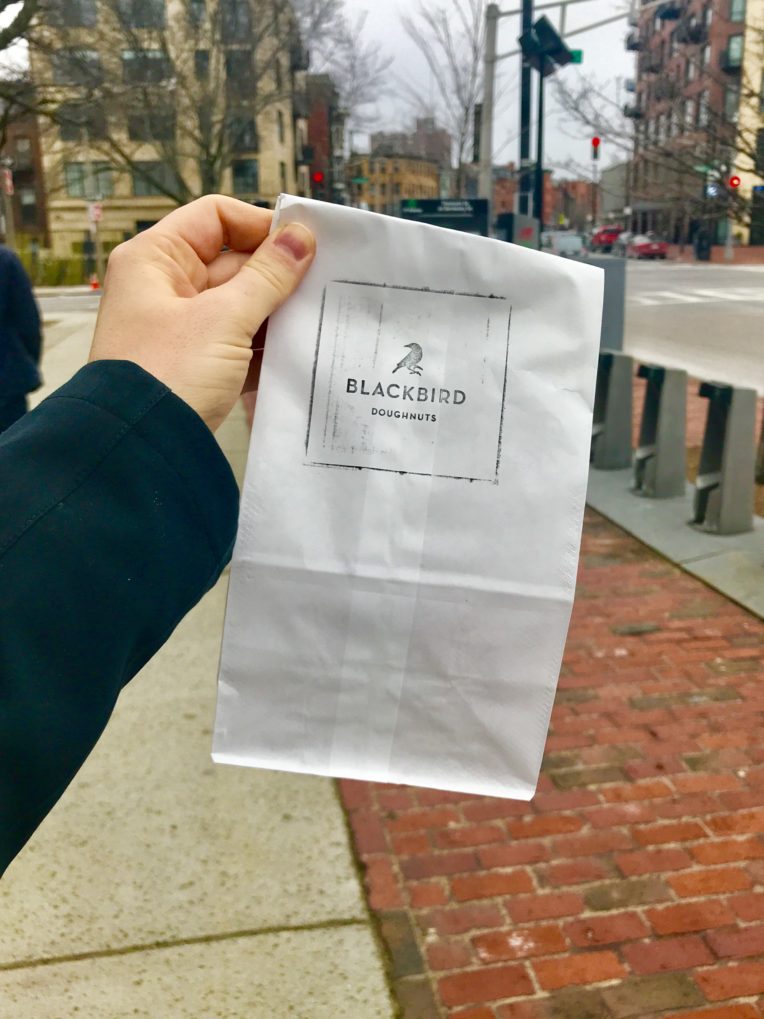 So we beelined across the street and stood in line for 15 minutes because you guys have raved about these doughnuts to me. There were only a couple flavors left since it was noon on Super Bowl Sunday – I really wanted a classic glazed but guava was the next best option and I think this was better! It tasted like a strawberry cake. I'm not a cake doughnut fan, but yeast doughnuts <3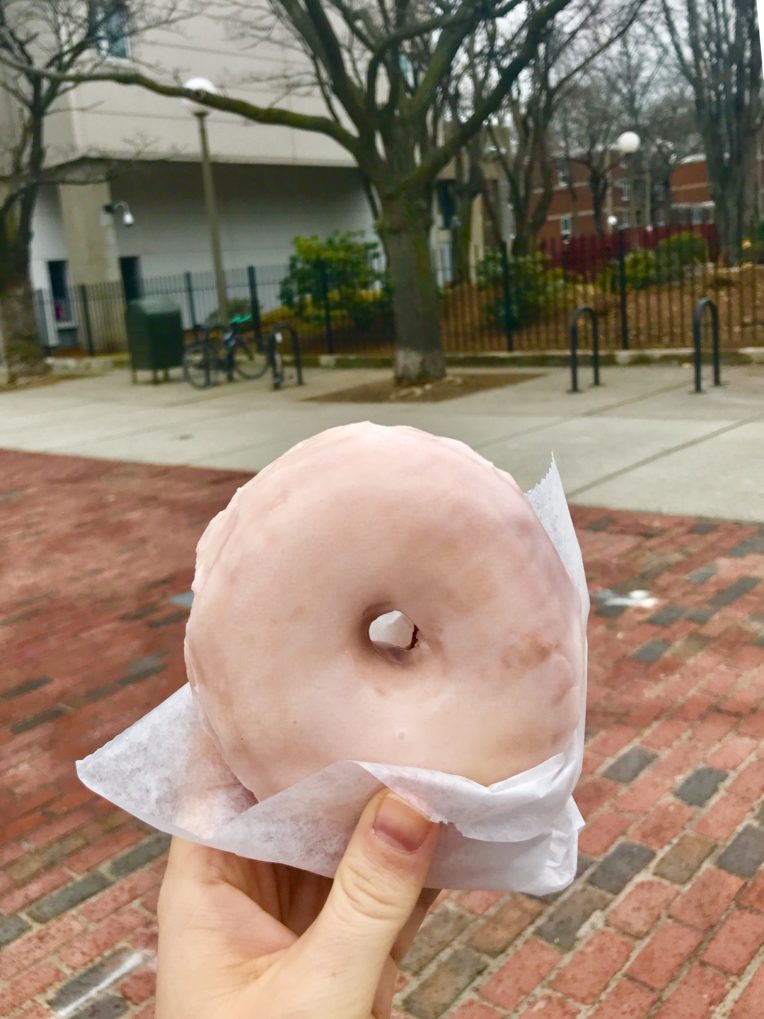 The rest of the afternoon was spent cleaning the apartment, Nick hung some window shades and I went to the gym to ride the bike for a bit, stretch, foam roll and sit in the sauna.
I made a 5 layer bean dip with refried beans mixed with taco seasoning, guac, salsa, cheese and olives (not 7 layer dip because I left off the lettuce and fresh tomatoes) and we headed over to a friend's to watch the Super Bowl.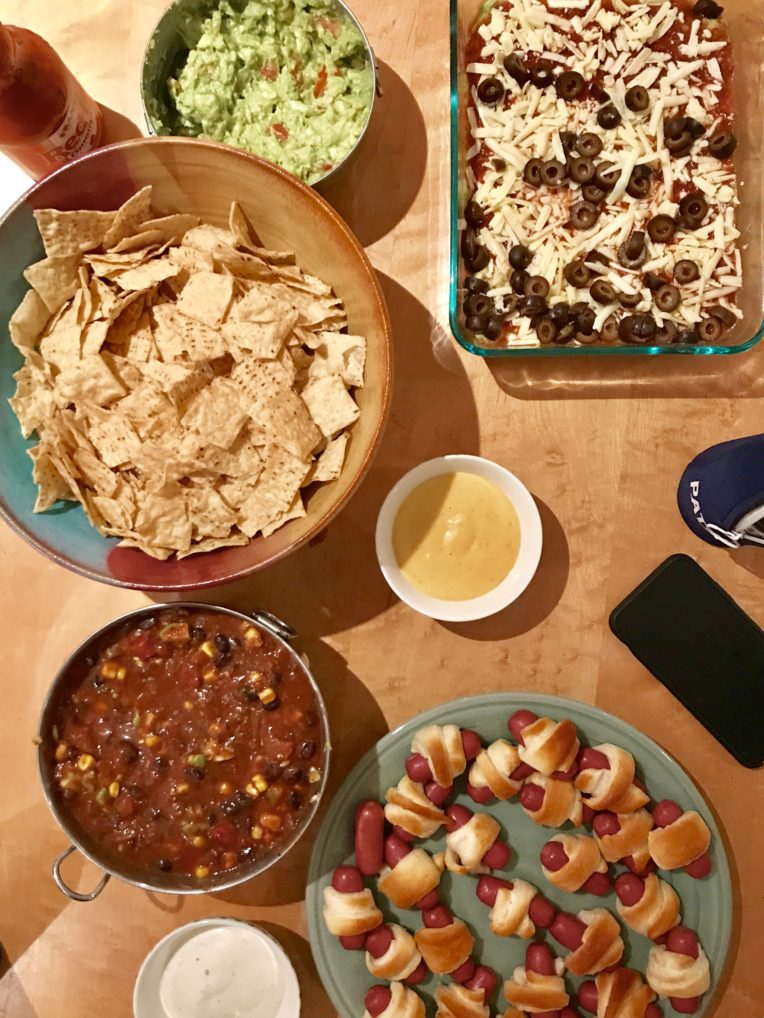 Living here, I was obligated to be team Patriots. Our friends are die hard fans so it was an intense scene in the living room and tragic when the Patriots turned over the ball late in the 4th quarter. I came mainly there for the snacks + halftime show and emotional support. Dinner was several pigs in a blanket, bean dip, guac and buffalo chicken dip which was insane. I actually nixed getting a bowl of chili because the buffalo chicken dip was satisfying me way more than the idea of chili.
A fun, but busy weekend so I'm taking Monday morning a little slower before I have clients later this morning and afternoon. Hope you had a great weekend too! If you were also watching the Super Bowl for the snacks, share the best thing you ate in the comments. Or your favorite part of the weekend!