It was a great weekend with Momma Coale. Lots of good food, lots of exploring Boston, and lots of rest. It was good.
I saw clients Friday morning, crammed in all the things I needed to finish by 11:30 and then we kicked off the weekend! After having leftovers from the night before for lunch – salmon, broccoli and roasted potatoes – we started the afternoon with a trip to Flour for coffee + baked goods.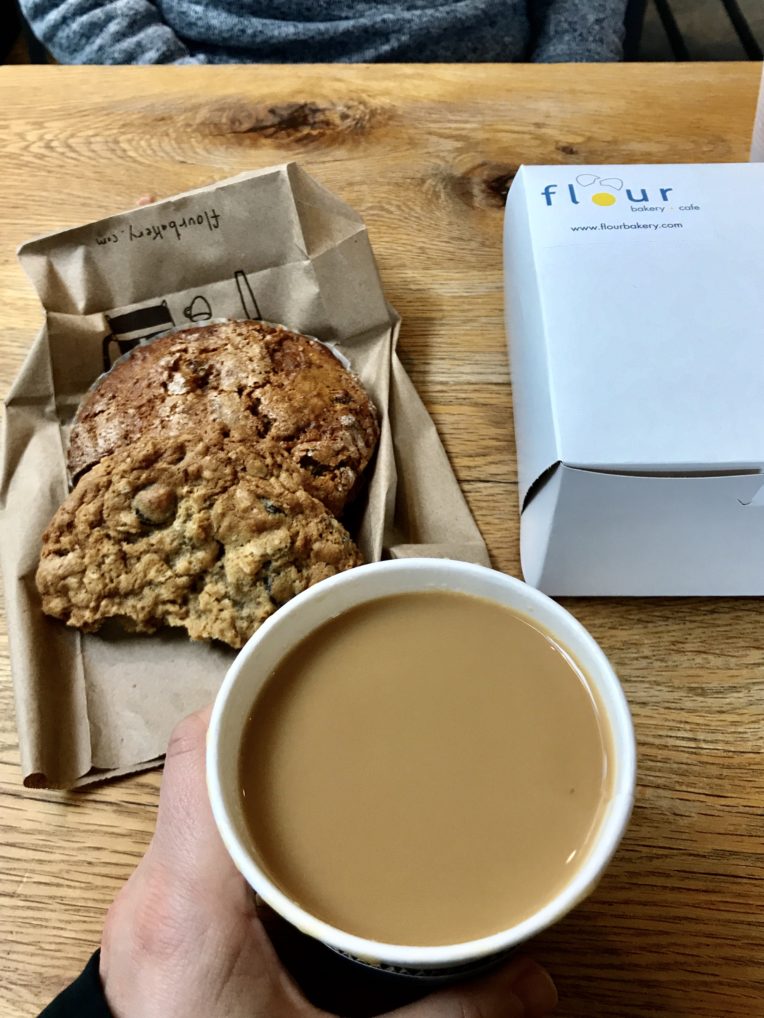 We shared the carrot ginger muffin and oatmeal raisin cookie. The muffin was perfect. If you like lots of things in your muffins – shredded carrots, golden raisins, hunks of ginger, walnuts – you'll love this!
And then we shopped around on Newberry Street. I found a pair of jeans at Anthropologie that fit so well and were 80% off. I was pumped when I found them. Anthro is one of those stores I like to walk around in (and just smell – omggg that place sells amazing) and pretend I'm buying all the lovely clothing. So finding jeans for under $30 felt like the jackpot.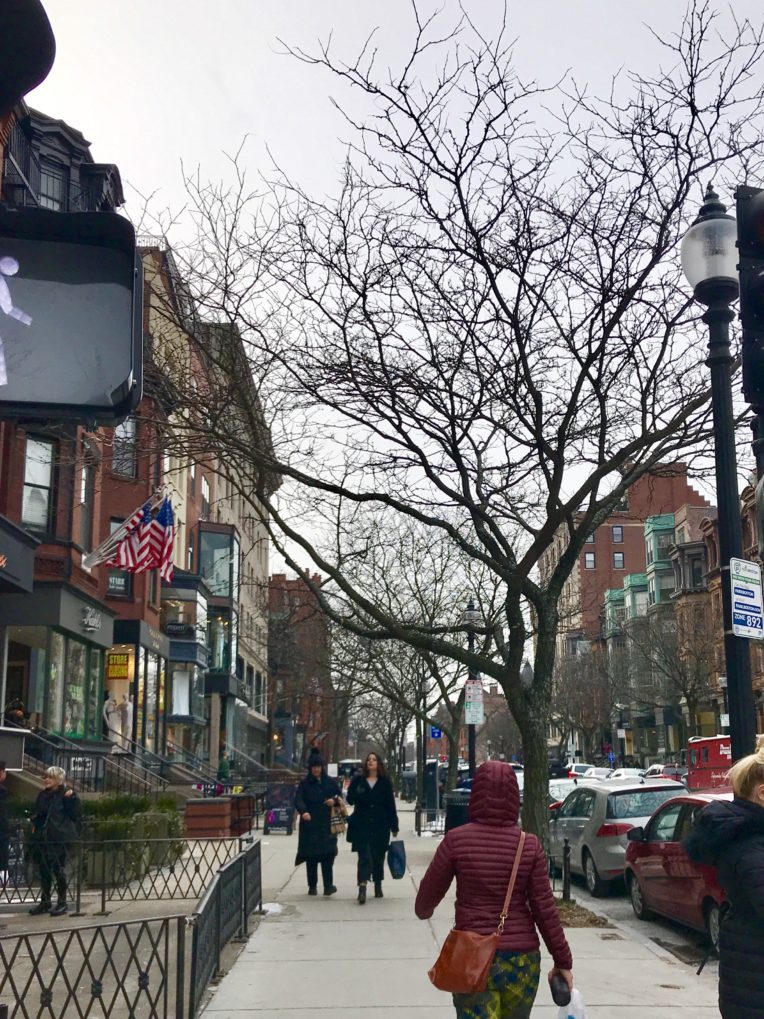 Along the way we got manicures at one of the nail salons and then strolled around Beacon Street and Commonwealth looking at all the beautiful brownstones before making our way back through Boston Common and to Urban Grape for a tasting.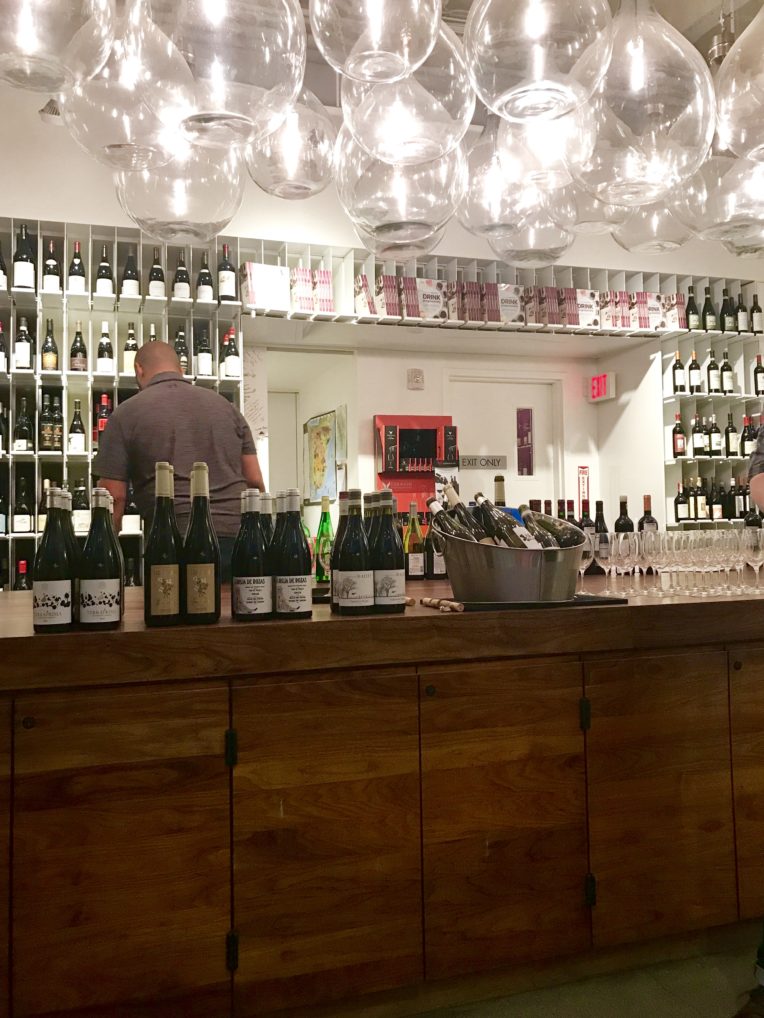 After that, we made our way to Barcelona to snag an early table. I learned fast that if you come after 6:30pm you'll have to a wait a while, but we got there around 5:30 and were sat right away. We started with wine and their DELICIOUS BREAD. It was hot and steamy and chewy and I died. Fresh bread + olive oil is my happy place.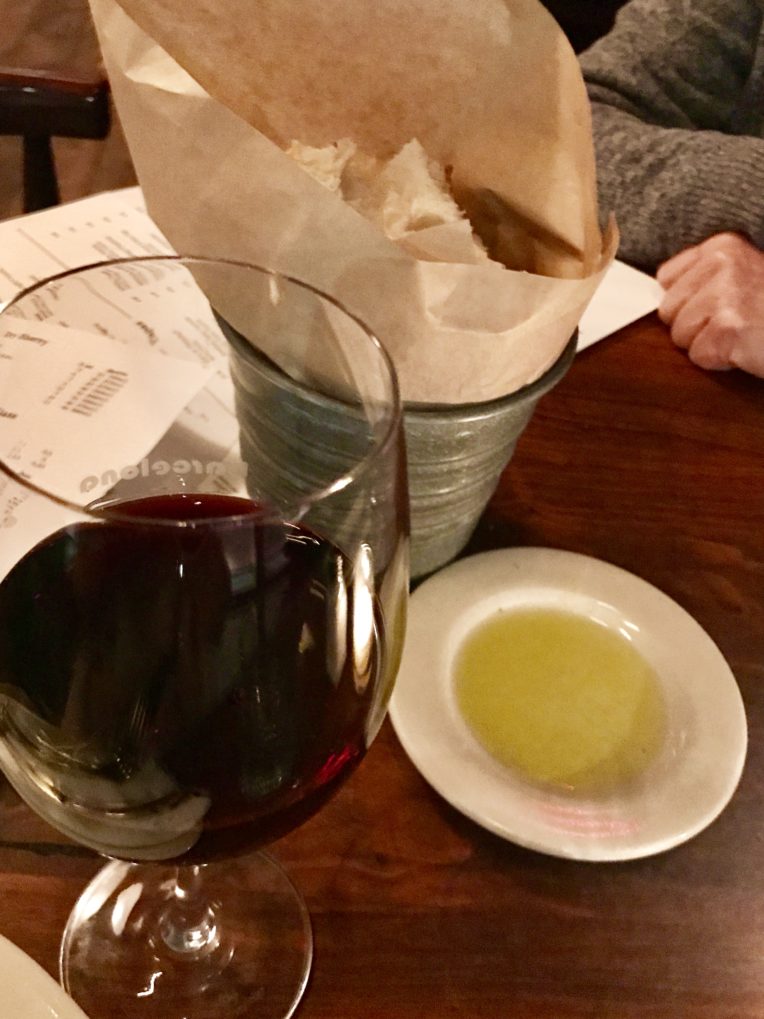 We also shared the raw goat's milk cheese before ordering some small plates that I forgot to snap a picture of.
We shared the roasted carrots with ricotta, hanger steak with truffle sauce which was incredible..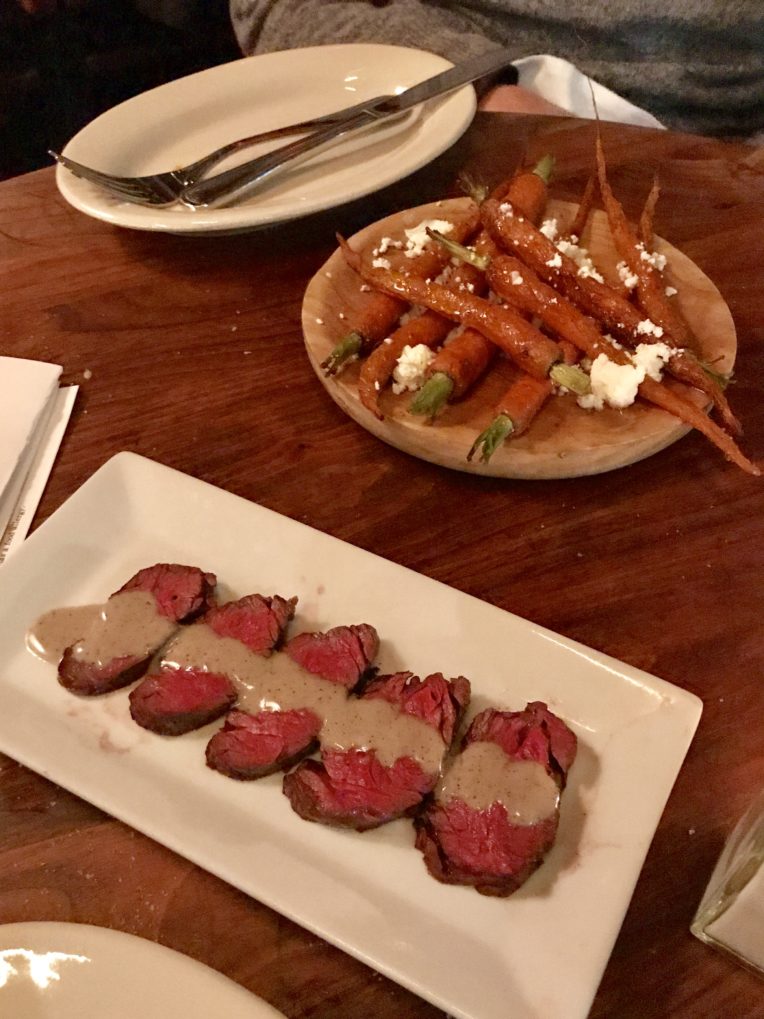 Fried brussel sprouts (also incredible) and the bravas…which are always good. I've never met a papas bravas I didn't like. I should try to make these at home for breakfast on the weekend.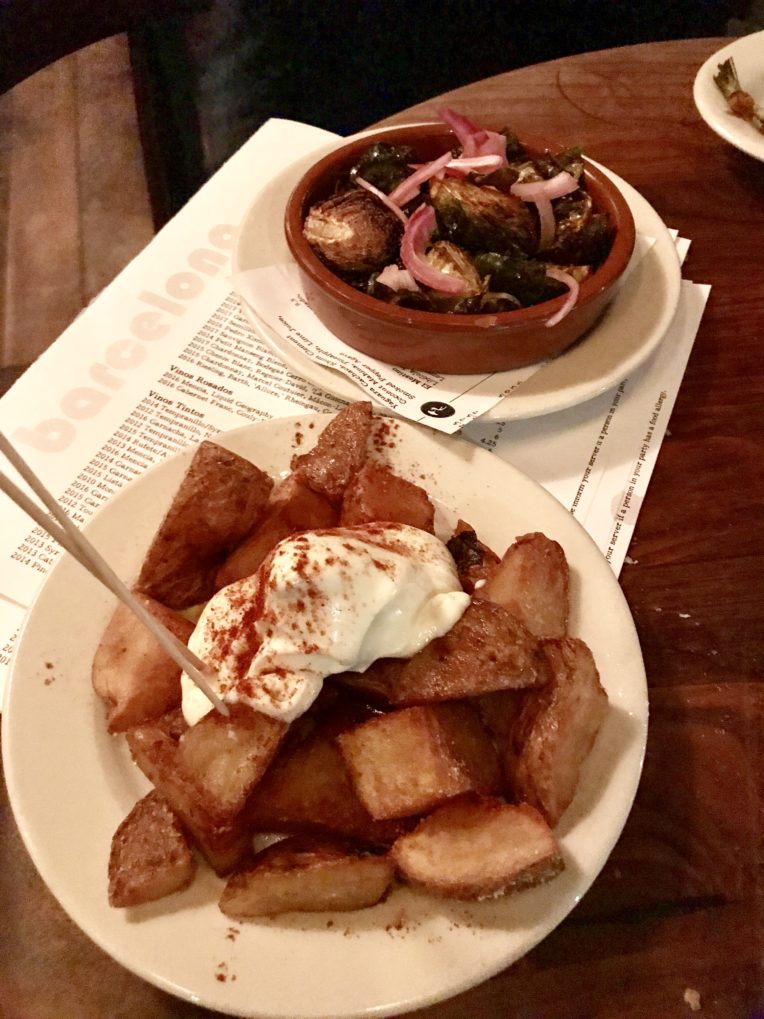 We were home before 8 so we could watch the Olympic opening ceremonies. I prefer the summer Olympics since I love watching the gymnastics and running, but still love watching the ice skating and snowboarding. The talent!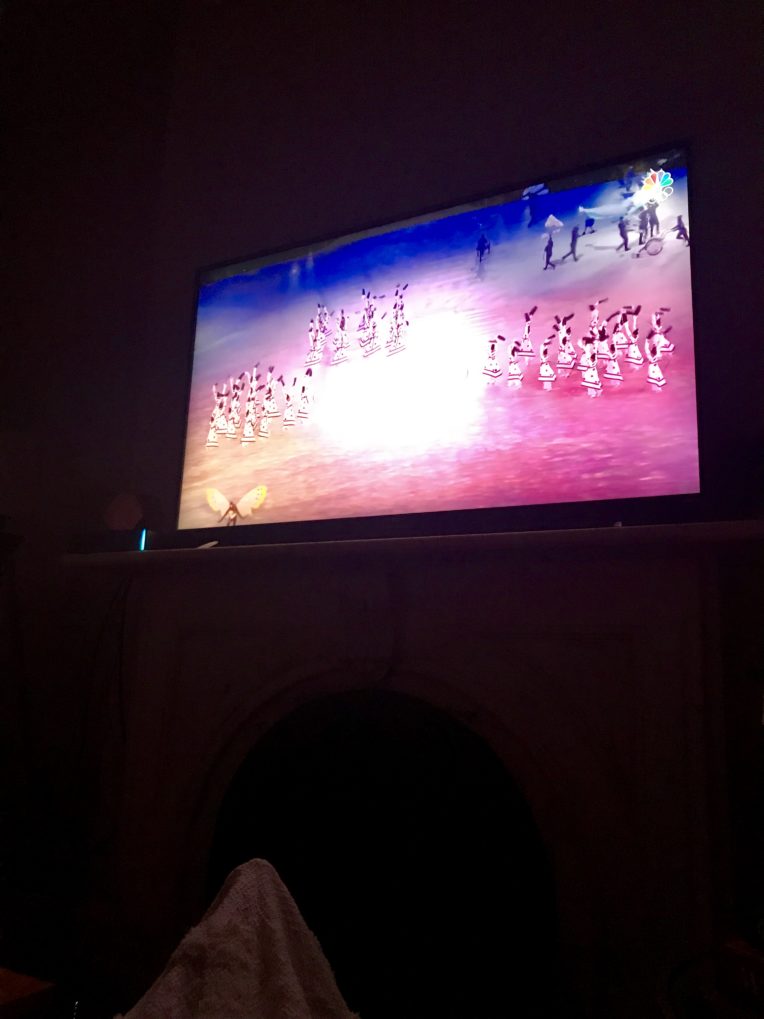 Dessert was a cupcake from Flour we had picked up when eating muffins + cookies that afternoon. I got the hummingbird cupcake which reminded me of a banana bread cake with cream cheese frosting. I ate about 1/2…felt a little overly full but it was too good… and saved the rest for Saturday night.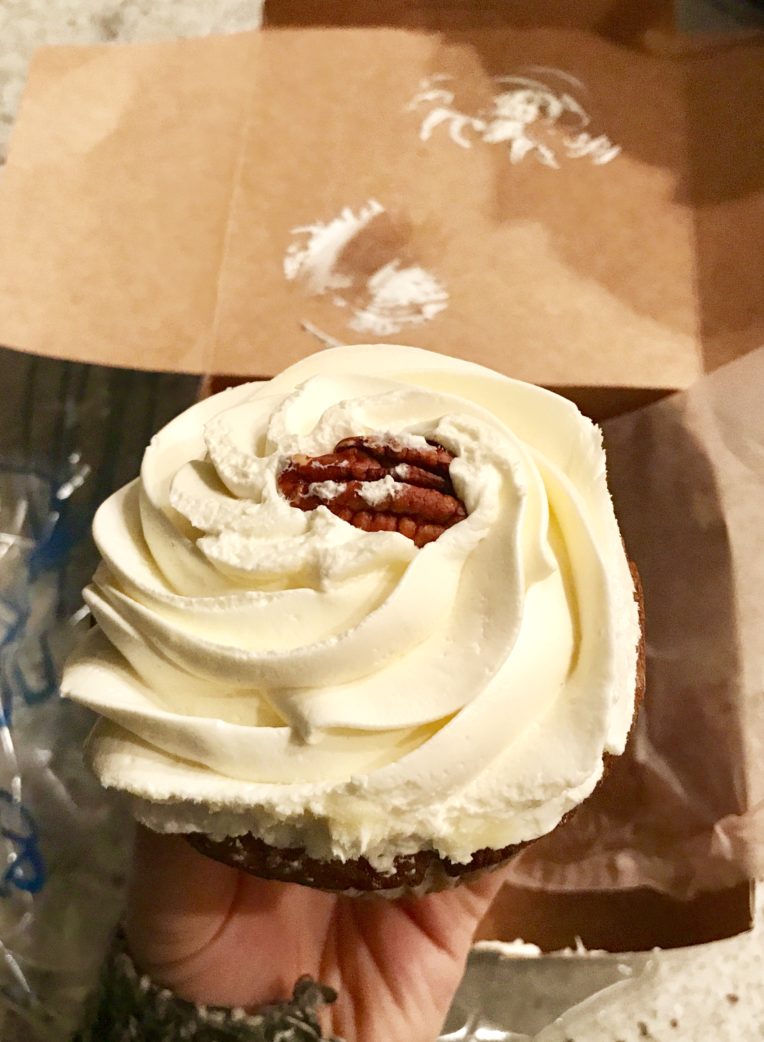 Saturday morning started with coffee + pumpkin oatmeal with peanut butter before I went to a spin class. I rarely enjoy cycle, I just prefer other types of movement but this instructor is awesome.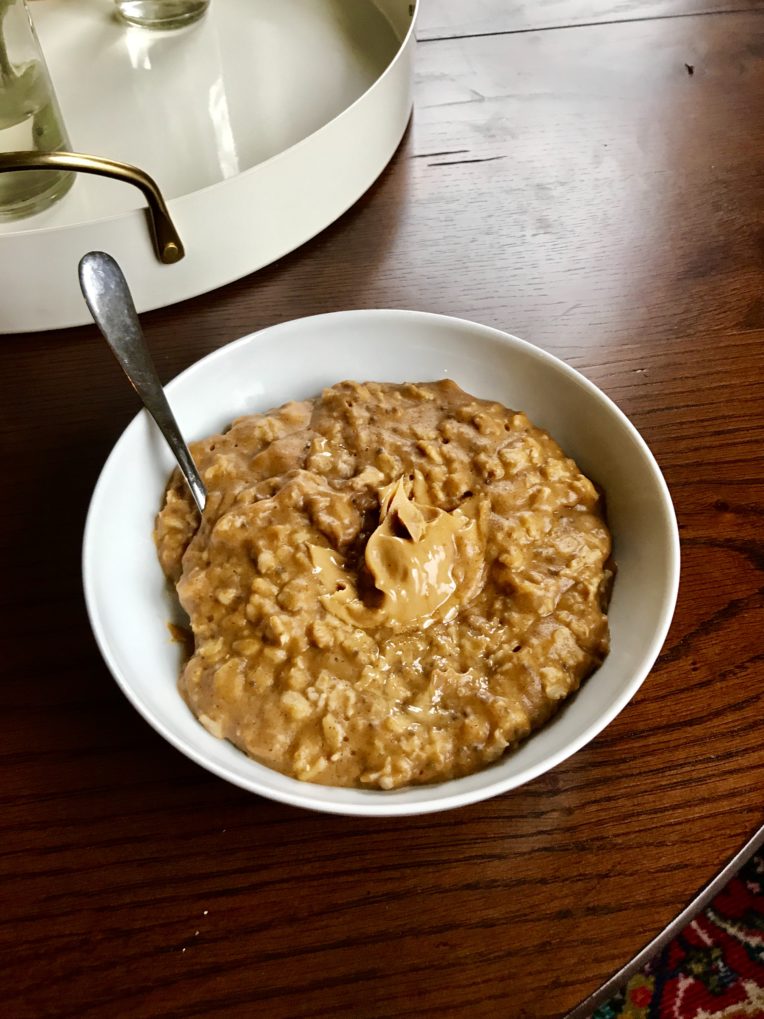 Came home. Showered. And we headed out for the day. First stop…Tatte for lunch! I was so indecisive with what I wanted because it all sounded SO GOOD. I had heard rave reviews for the avocado tartine so went with that. Does anyone else get overwhelmed when everything sounds good? Then I realized, I could eat at Tatte anytime and just ordered lol.
Sliced avocado, arugula, dill, radish, fried eggs on housemade sourdough bread. It was warm out (in the 50s!) so we ate outside. The arugula has a lemon-y dressing which was so fab and refreshing and the toast was buttered and so crusty. Solid choice.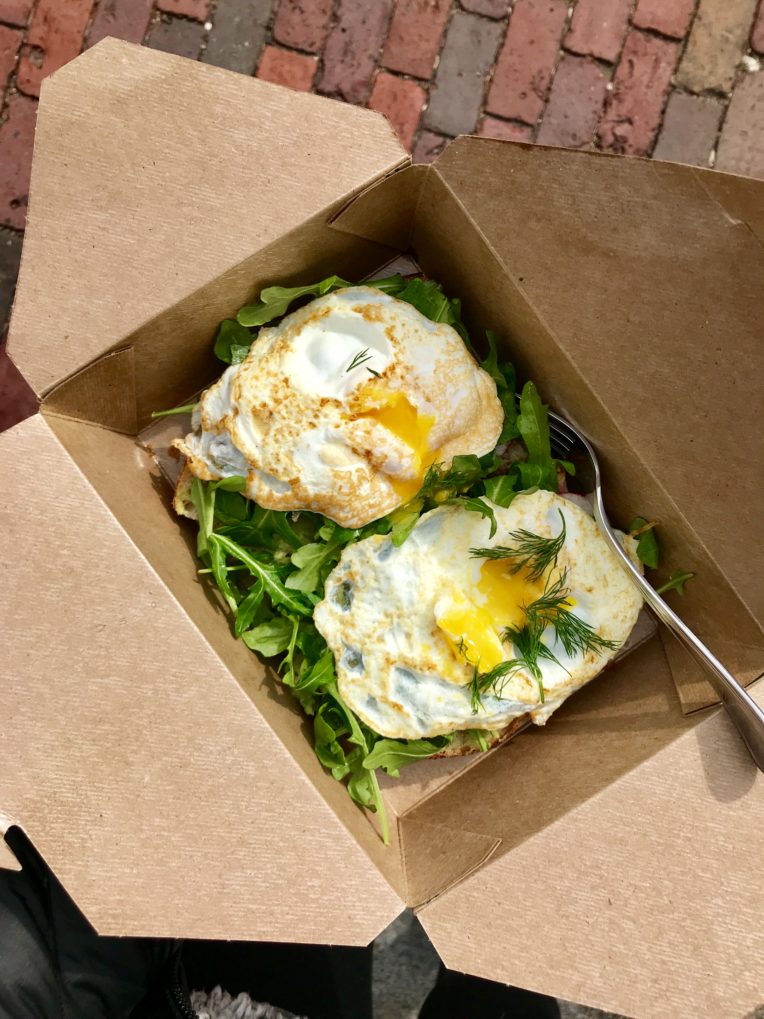 We walked about Beacon Hill and found this adorable door front. This just looks cheery.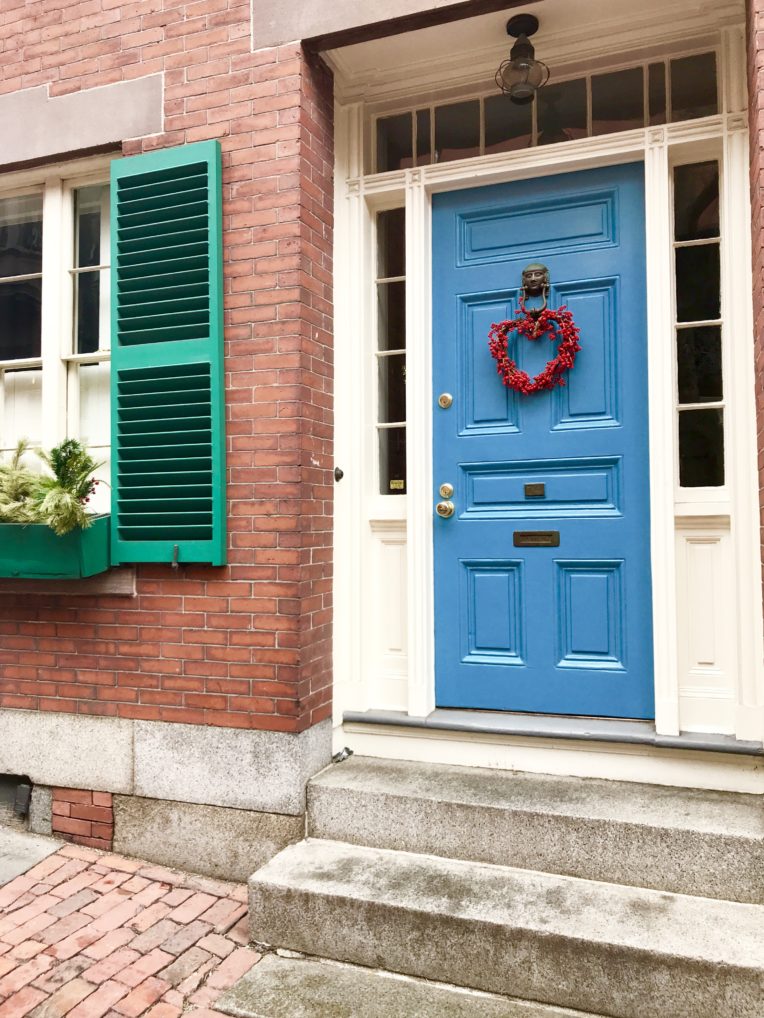 Snacked on a sugar cookie from Tatte but upon first bite I realized this cookie was CRUNCHY. Team chewy 100% and I think a lot of you guys are too 🙂  I gave the cookie to my mom because it was doing nothing for my tastebuds and ate a granola bar instead. I need Tatte baked good redemption.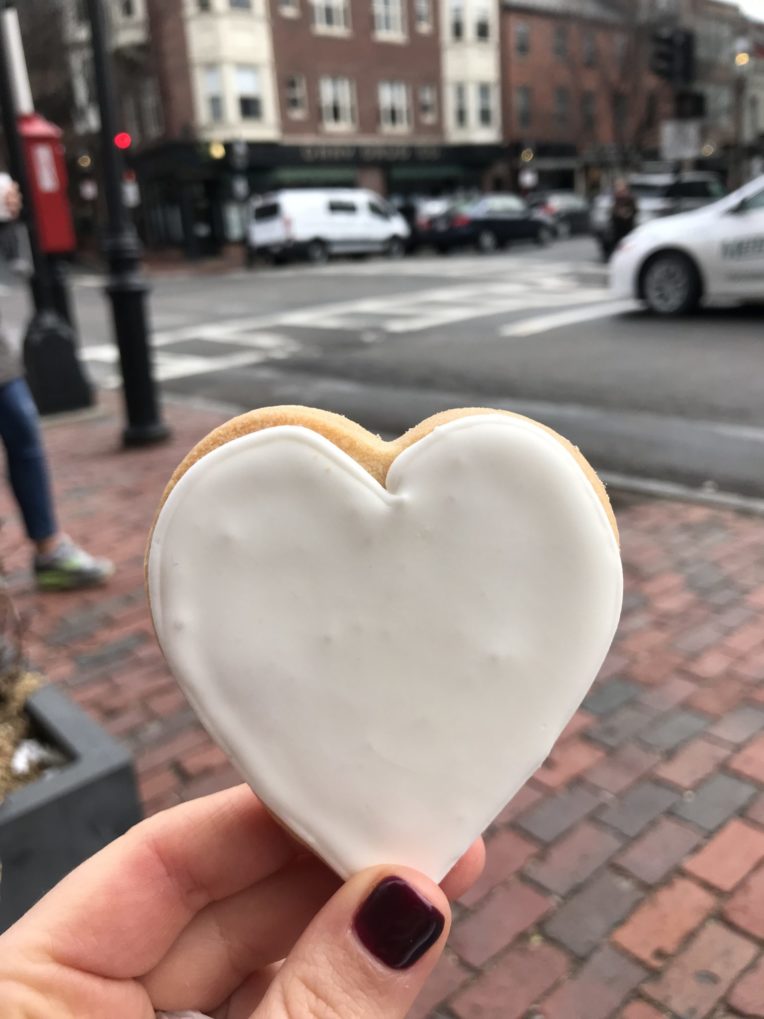 Then we started the Freedom Trail. This is probably the #1 tourist thing to do, but it was warm and Momma Coale was into it and I am a tourist in this new city right now. I knew Boston was full of tons of history but I don't think I realized JUST how much. Several of the buildings on the Freedom Trail were ones I've walked by before. Including Park Street church Nick and I tried out a few weeks ago.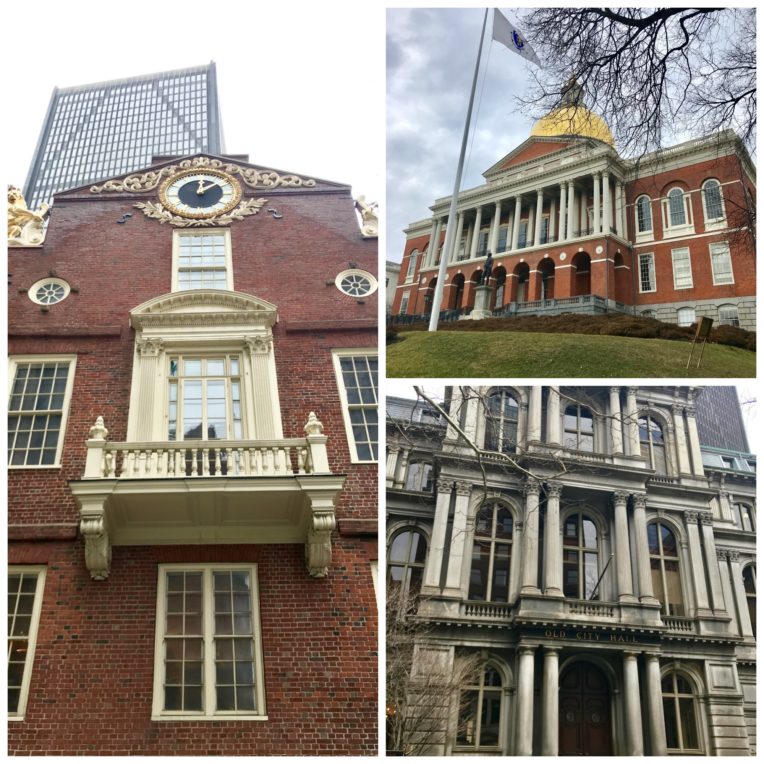 It was fun to explore Boston with my mom too since I haven't been to a lot of the neighborhoods. Including Paul Revere's house and statue in the North End.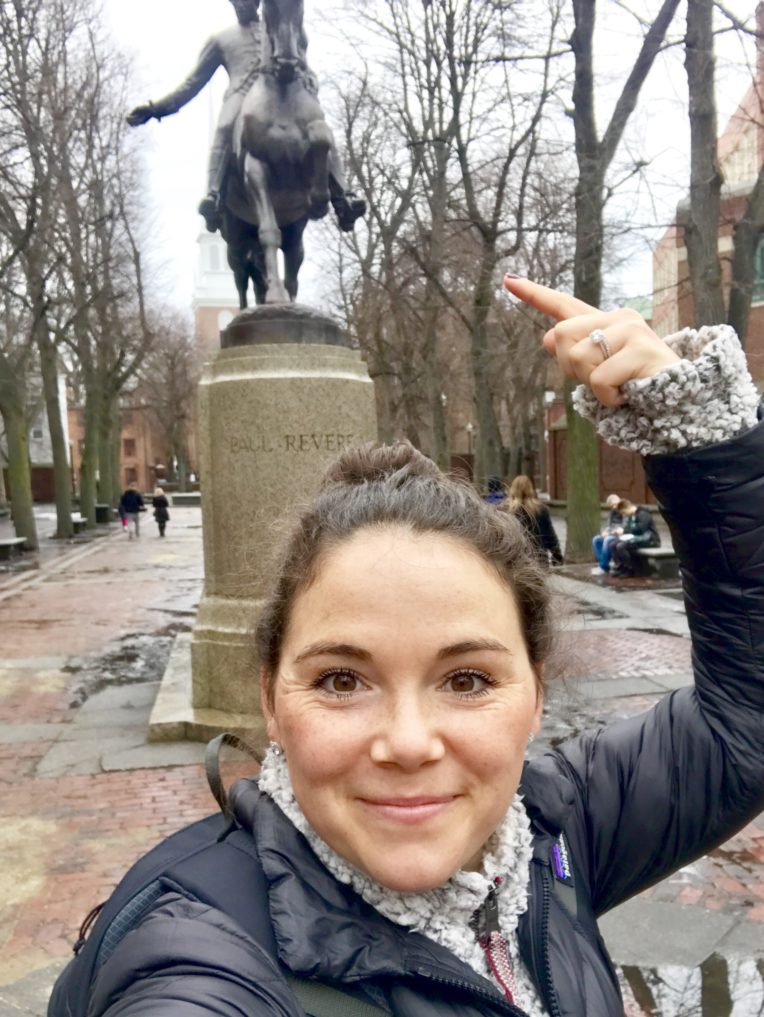 And Charlestown where the Freedom Trail ends at Bunker Hill.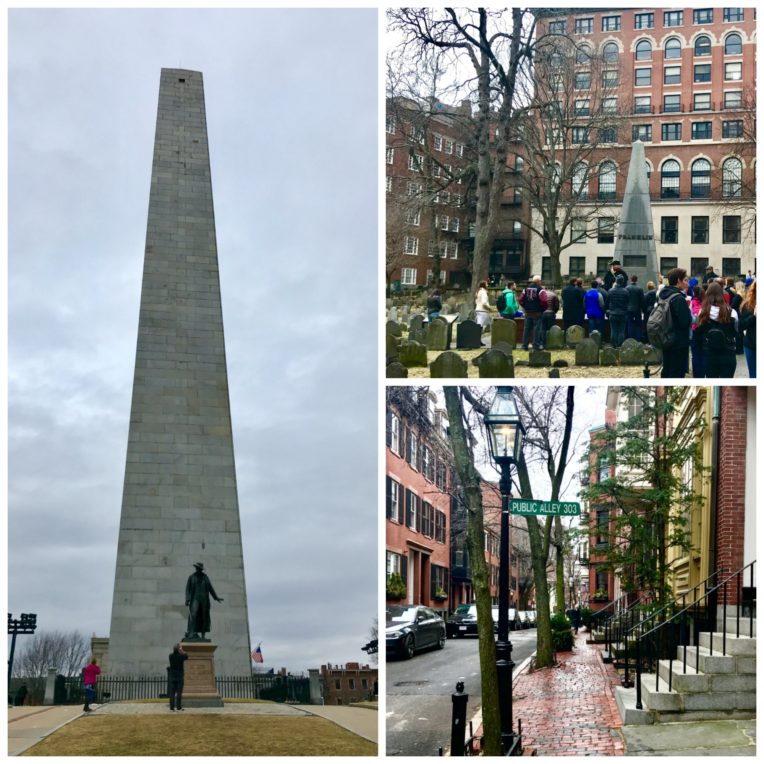 Charlestown is a little secluded from central Boston where a lot of the main stuff is, but I was in love with this adorable neighborhood.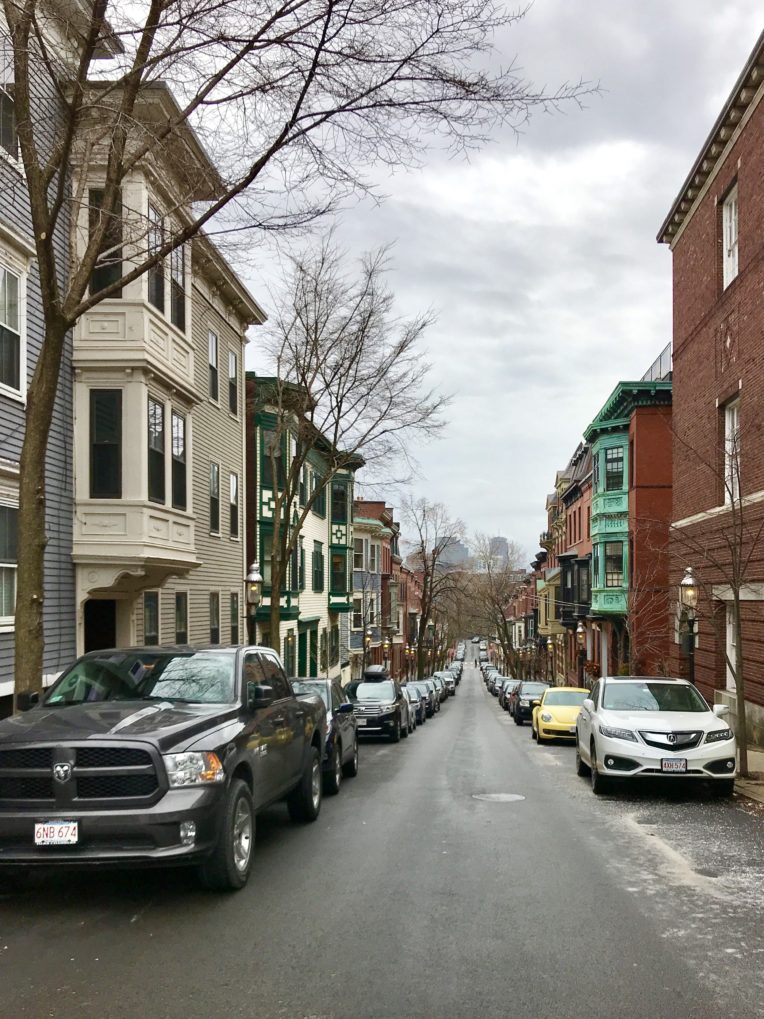 It was cloudy but balmy and not too cold and a great way to see so much of Boston.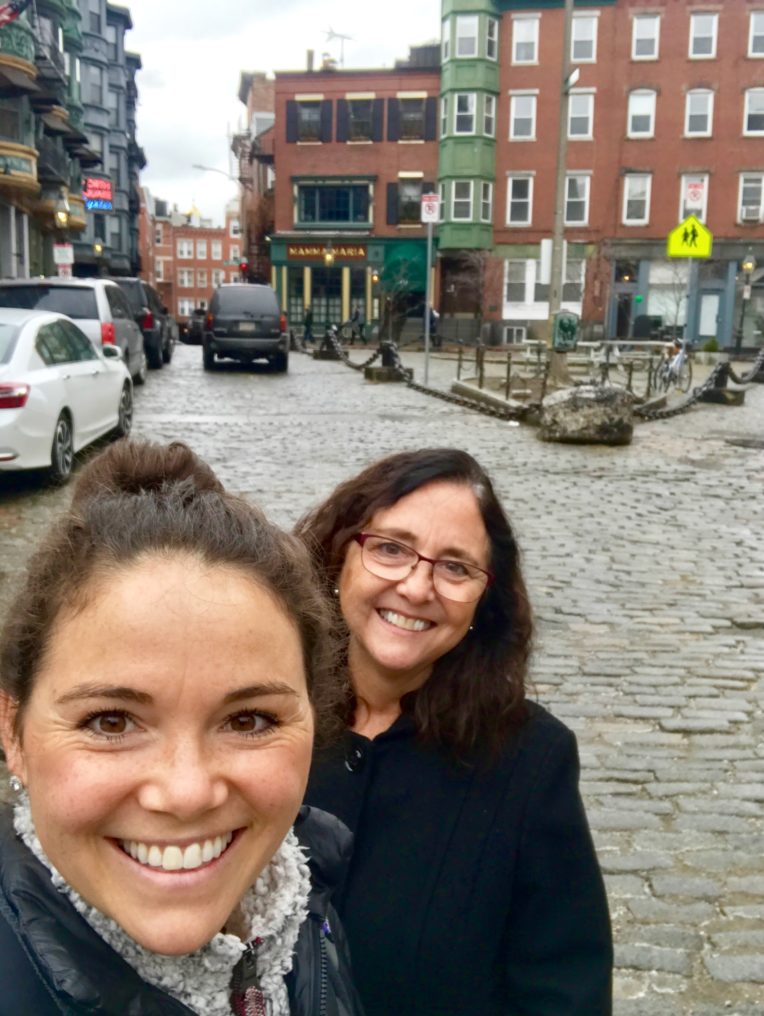 After being out all day we decided a low key evening at home watching the Olympics and eating nachos sounded awesome. Not gonna lie…these nachos were pretty epic. We bought salsa, guac, cheese, green onions, tomatoes, black beans and corn chips at Trader Joe's…baked the chips and beans at 375 for 10 minutes and then topped with everything.
Plus margaritas I was in charge of. Because you can't have nachos without a marg.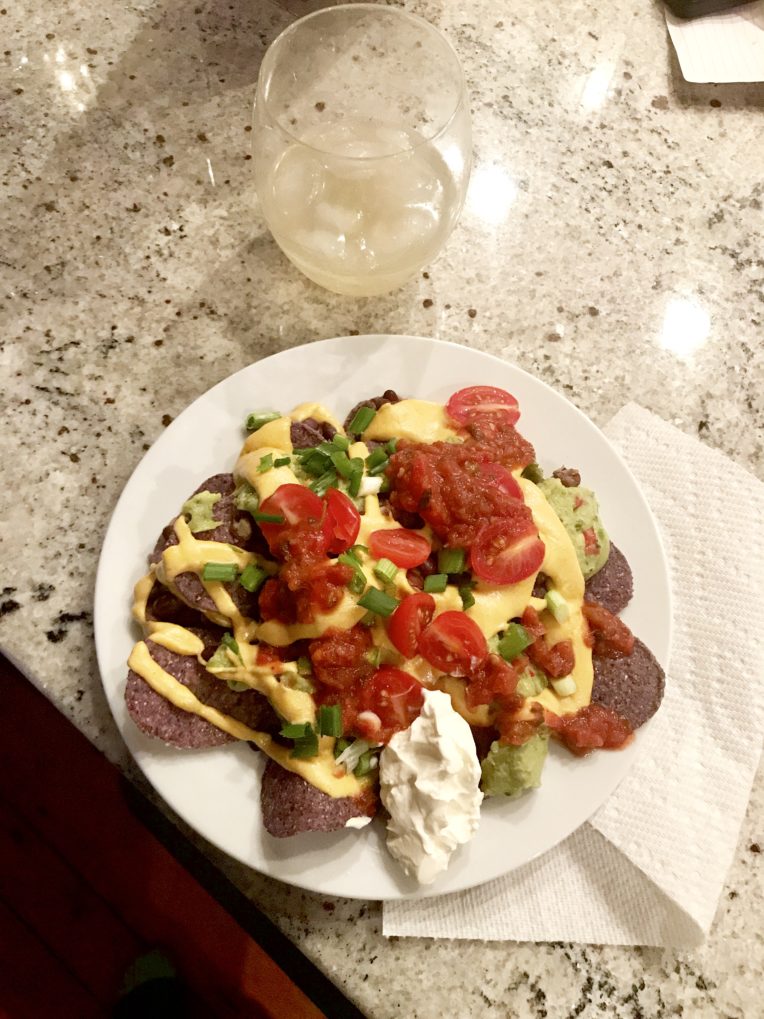 I ate the other half of last night's cupcake and crashed by 10pm.
Sunday, I reallyyyy wanted a good stretch after all the walking Saturday so after coffee + reading in the morning I ate a piece of chocolate chip banana bread with cashew butter and walked to yoga.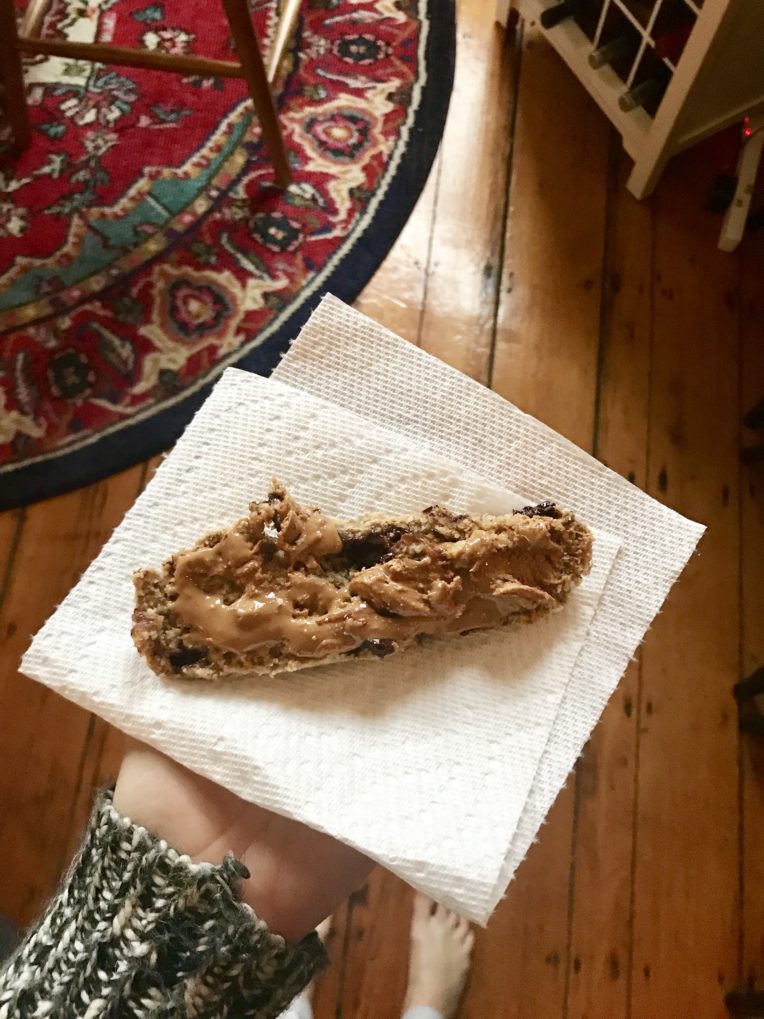 It was bendy and calming and just what I needed.
We checked out Reunion church after a lot of you guys recommended it. Both my mom and I really enjoyed it. The sermon resonated with me a lot yesterday.
We originally had plans for the afternoon but then it was cold and rainy and wet and Momma Coale voted we have a cozy day inside and I wasn't going to argue. We ate leftover nachos for lunch.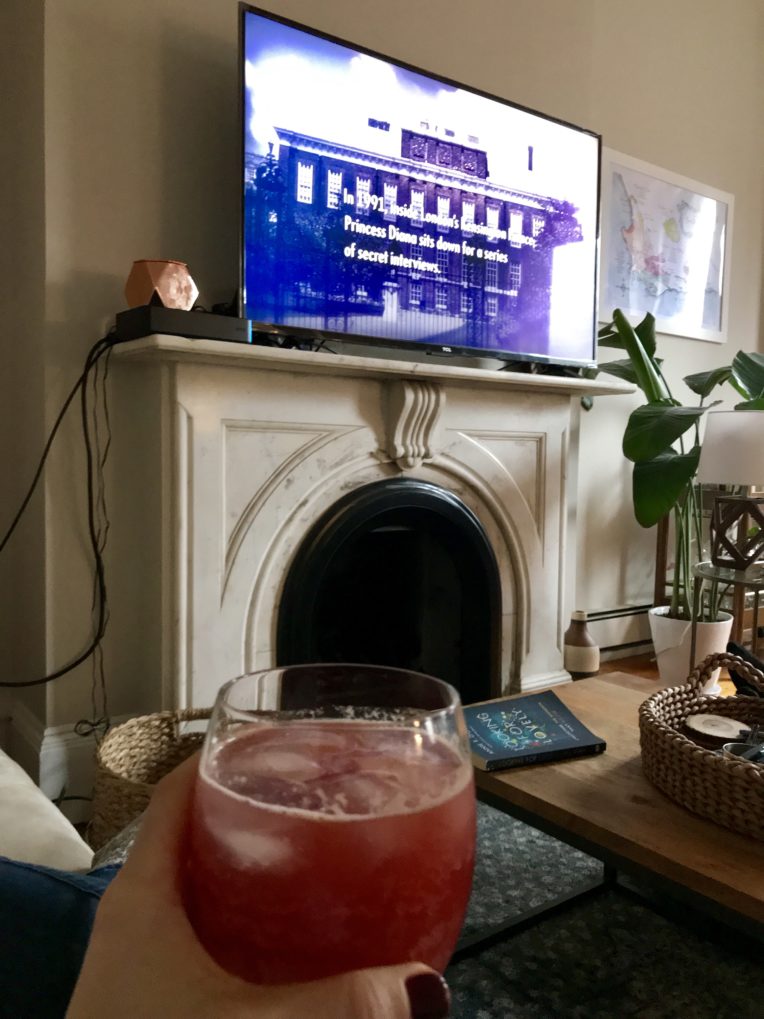 And watched a documentary on Netflix about Princess Diana. Drank some kombucha out of a wine glass because that feels more fun.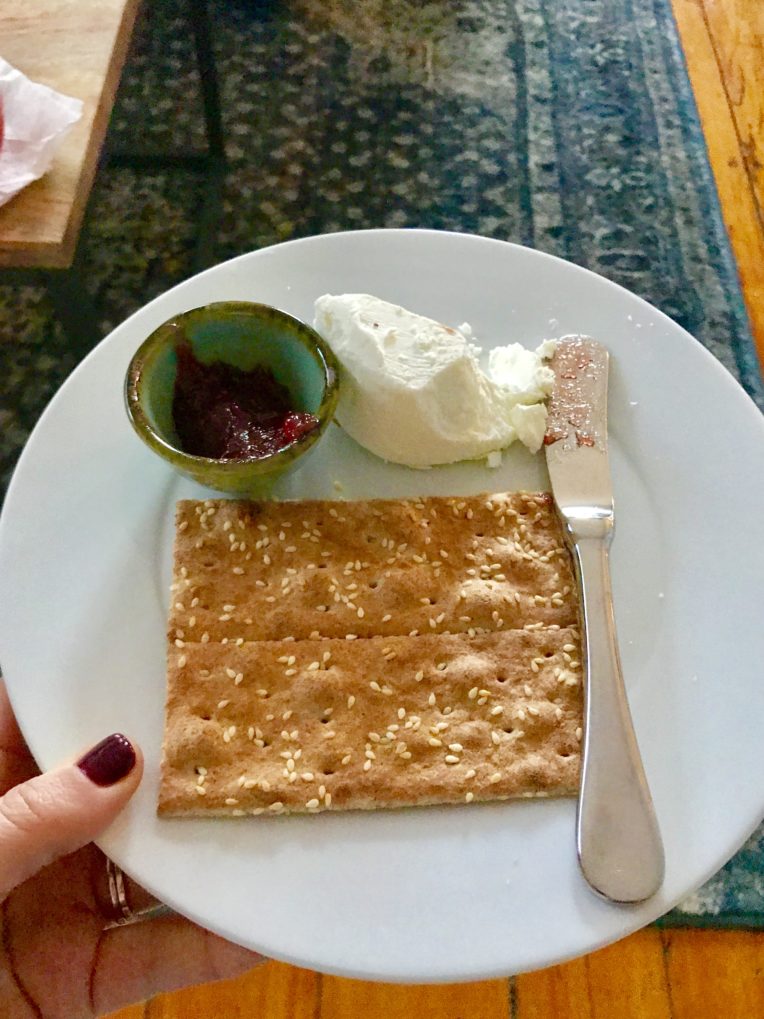 And snacked on crackers + cheese + jam.
Because it was just blahhhhh out we voted for dinner in because my mom wanted to cook for us. Again, HOW CAN I SAY NO? I tried. She insisted. Love that woman.
I picked up Nick from the airport while Momma Coale cooked up a feast.
Meatballs, salad, pasta and bread with olive oil.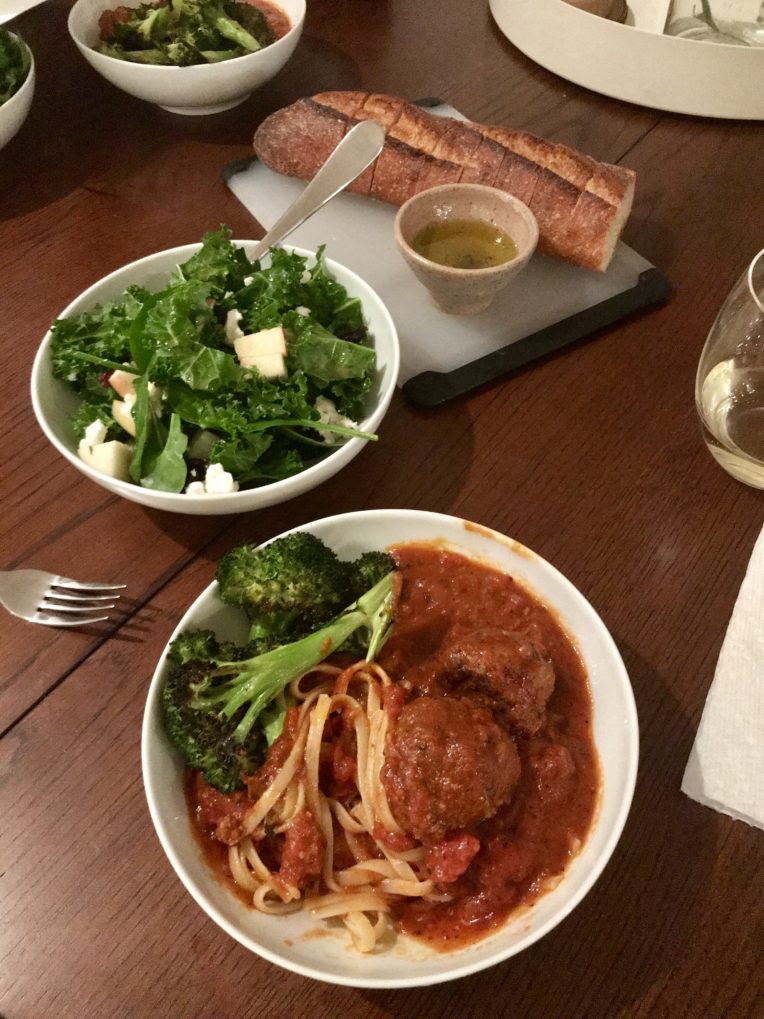 Oatmeal raisin cookies and vanilla ice cream while Olympic watching capped off the weekend.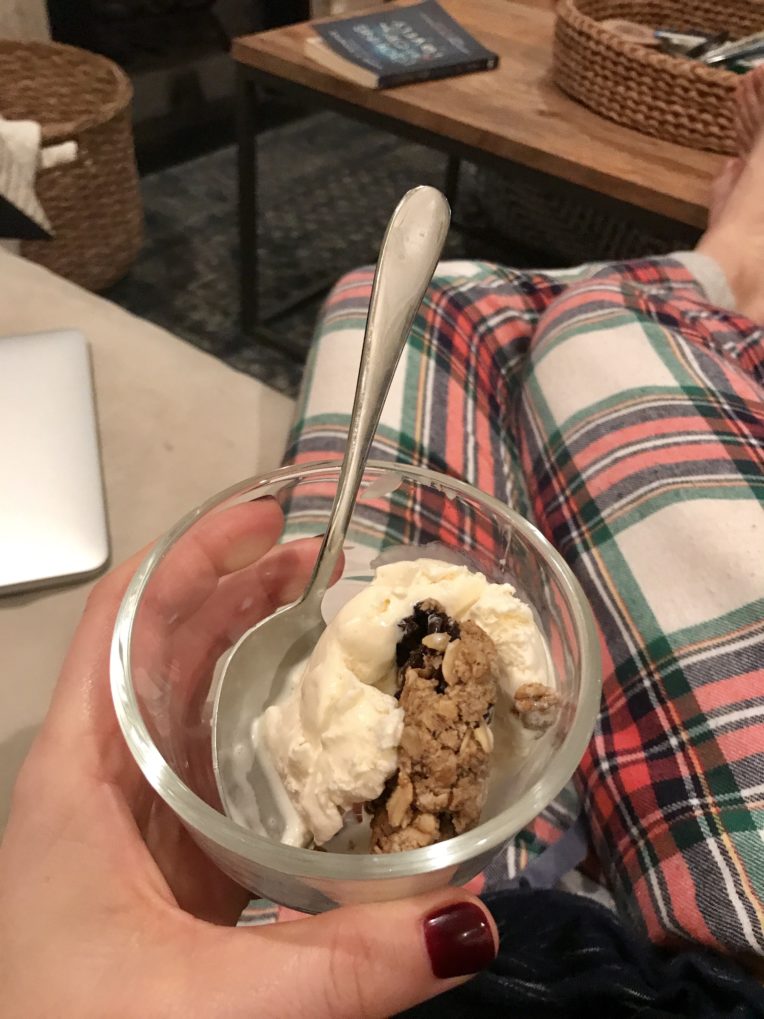 Feeling really thankful to have her here this weekend. <3
Whether you had a low key restful weekend or an adventurous one, I'd love to hear in the comments!