We left off in last week's post talking about reasons your cycle could be longer due to delayed ovulation or not ovulating at all. We focused on talking about the follicular phase. This is part 2 of that post where you can also read about what a "normal" period looks like. In this post we're switching gears and talking about the luteal phase.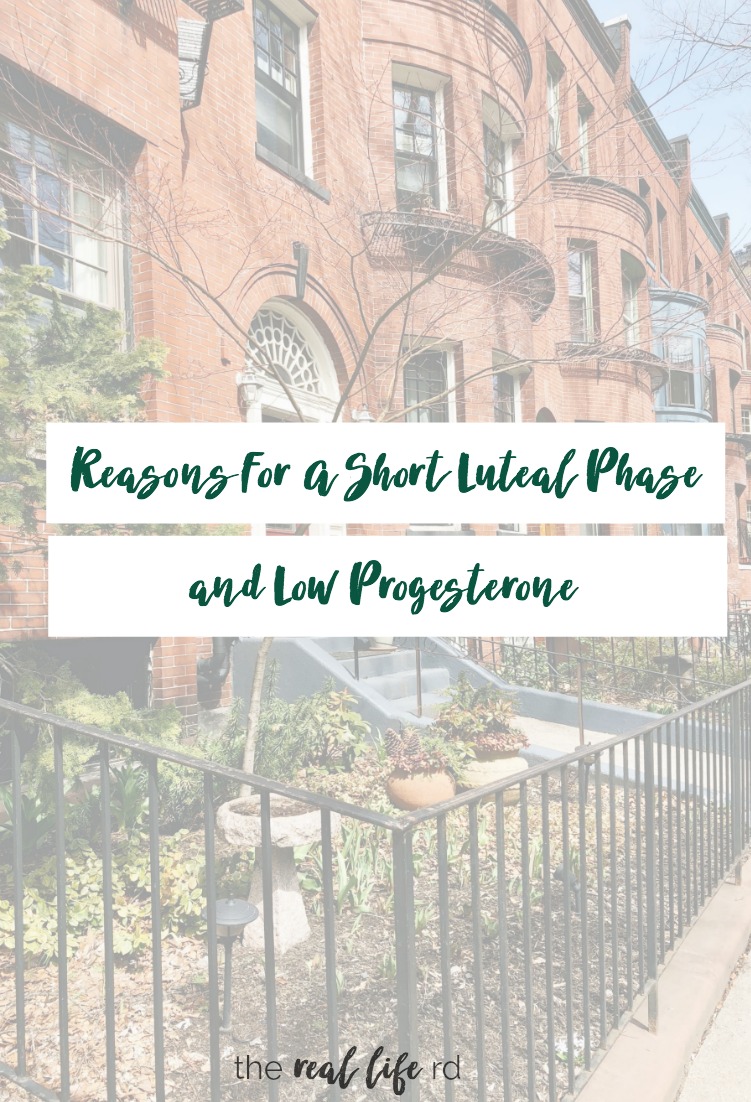 To back up a bit, let's do a quick recap. The first day of your menstrual period marks the beginning of your follicular phase. This is when a follicle in one of your ovaries gets ready to release and egg – which is what we call ovulation. After ovulation, that is when you enter into the luteal phase. This phase typically lasts 12-16 days. During the luteal phase your body is getting ready for a potential pregnancy. To do so, the follicle in your ovary that contained the egg that was released becomes the corpus luteum. And this corpus luteum releases the hormone progesterone – progesterone thickens the lining of your uterus so the fertilized egg can implant.
If fertilization of the egg does not occur (which is the more common route) the follicle still becomes the corpus luteum and the corpus luteum still produces progesterone in order to prepare your uterine lining for implantation of a fertilized egg – your uterine lining is made into a nice, fluffy bed for the fertilized egg to implant. If fertilization doesn't occur, then the corpus luteum stops producing progesterone at the end of your luteal phase (day 12-16ish) and therefore progesterone drops and menstruation occurs. This is then day 1 of your cycle when you start bleeding and thus begins the follicular phase all over again.
Ok so now that we have that sorted out, let's talk about what can make the luteal phase shorter than normal. If you have a shorter luteal phase you can potentially have a shorter cycle which is less than 21 days. But keep in mind that changes in cycle length are usually related to changes in length of the follicular phase like we talked about in this previous post.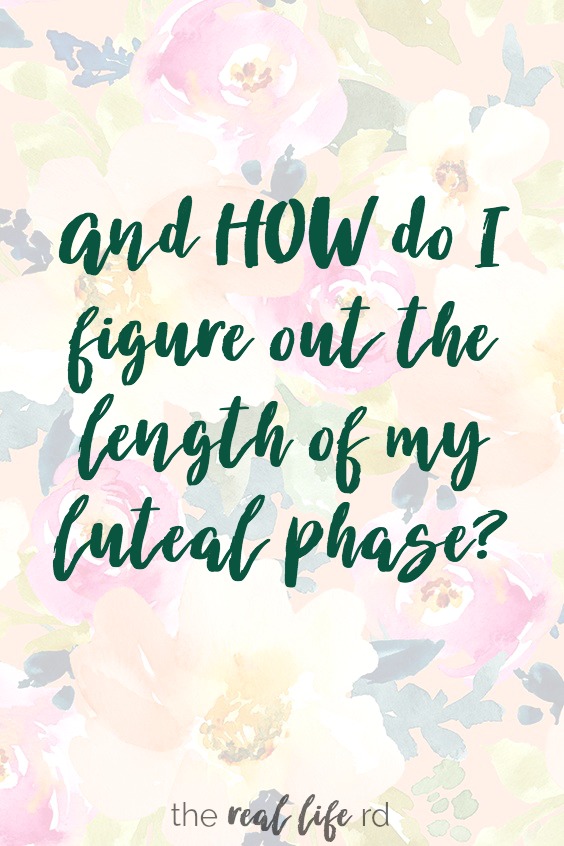 The luteal phase starts with ovulation and ends with menstruation. And thankfully, the luteal phase can tell you a lot about your fertility. Keep in mind that in order to know the length of your luteal phase, you would have to not be taking hormonal birth control or other mediations that can affect your cycle (read more about that here) and you either would have to monitor your cervical mucus and/or basal body temperature or you could use ovulation sticks that you pee on like a pregnancy test. If you want to get to know your body and your cycle, I'd encourage you to learn to monitor your cervical mucus…even if you're just monitoring loosely. I promise being able to notice your cervical mucus changes when you wipe with toiler paper after going to the bathroom can be so empowering and informative as a woman. You can read more about how to do that here.
Once you get comfy with noticing when you're ovulating, then you can count the days until you bleed and that's how you know the length of your luteal phase. As mentioned above, 12-16ish days is considered normal and anything less than that (11 or fewer days) is considered abnormal. Depending on who you talk to, they might say 10 days or less. The problem with having a shorter luteal phase is that, according to research, this suggests that two etiologies could be at play…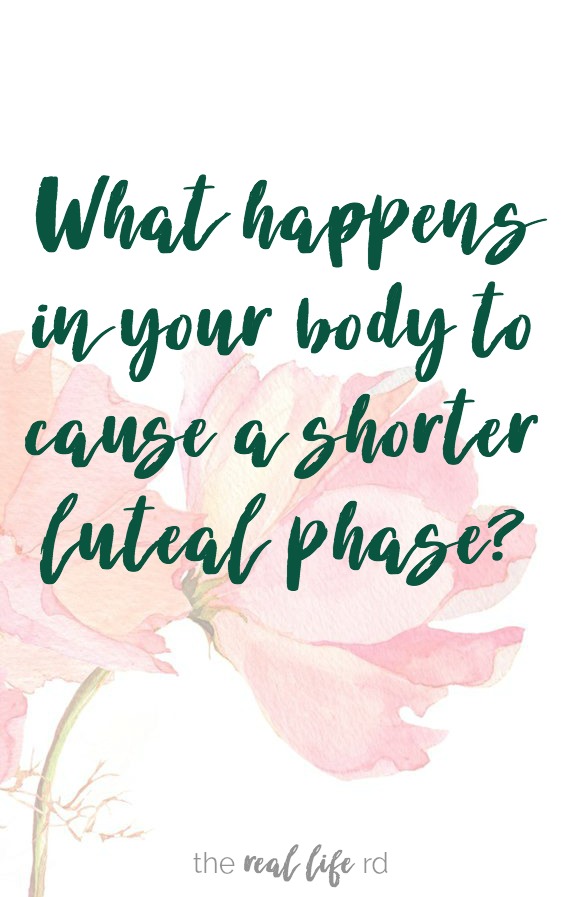 1) The developed corpus luteum doesn't produce enough progesterone, so levels drop earlier and you menstruate sooner. These low levels of progesterone also make it difficult (and pretty much impossible) for your body to sustain a pregnancy because the corpus luteum isn't producing the amount of progesterone needed to do so.
2) Your uterine lining – also called your endometrium – doesn't respond like it should to progesterone. If the endometrium doesn't respond to the progesterone like it should, that means it doesn't thicken and turn into that nice, fluffy bed and therefore the fertilized egg can't implant into your uterine lining.
The main takeaway point here is that a shorter luteal phase has to do with insufficient progesterone levels.
Symptoms of low progesterone, potentially causing a shorter luteal phase
spotting in between periods
fatigue
irritability
low sex drive
mood swings
infertility/trouble conceiving
headaches
Take these symptoms with a grain of salt because these are relatively vague and many many things (including common and benign things) can cause some of these symptoms. If you have a short luteal phase or you notice some of these symptoms keep reading below.
Some things to look into when thinking about what could cause a shorter luteal phase include:
excessive exercise for your body
STRESS (cortisol inhibits progesterone)
nutrition (always plays a role in everything – especially eating enough)
high prolactin levels inhibit ovulation and progesterone production
PCOS (which can cause anovulation and therefore insufficient progesterone)
under or over active thyroid
Deep breaths. If any of this is resonating I hope you are feeling informed and therefore empowered versus overwhelmed. Having a shorter luteal phase and/or low progesterone is not the end of the world at all and there is so much that can be done. You can read more about how the causes listed below affect your hormones here.
So we know that shorter luteal phases and therefore insufficient progesterone can affect your fertility, but what are the effects if you aren't trying to get pregnant?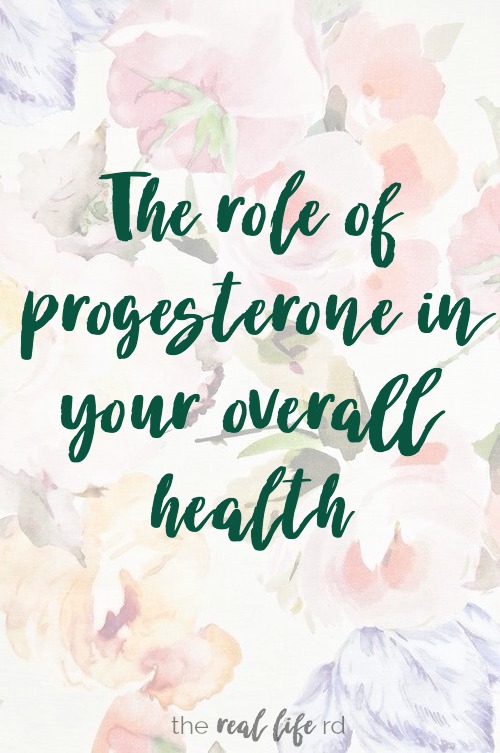 Progesterone plays a big role in your overall health! Here a few of those roles…
Bone Health. I've written in length about estrogen's role in bone health, but progesterone certainly plays a role too. Although the research on estrogen and bone health is FAR MORE abundant, there is research discussing the significant impact progesterone has in building bones.
Sleep. Progesterone helps us to fall asleep quickly, stay asleep and sleep soundly. And sleep has a profound impaction not only our hormones but our overall health.
Protects against cancers. You need progesterone to balance out estrogen so estrogen doesn't overstimulate breast and uterine tissue which can lead to breast and endometrial cancer.
Libido. While there is must more research on the role of estrogen and women's sex drive, progesterone also seems to play a role.
This post is in no way all encompassing or comprehensive, so I always encourage you to talk with your health care provider. But I hope the above is informative and empowering as you learn how to best care for yourself. Your doctor can draw a simple blood test to assess your progesterone levels and then partner with you to help improve your health.
And lastly, if any of this resonates with you I also really encourage you to get the help you need from a health care practitioner you trust. Whether that's us at Real Life Women's Health, someone I can refer you to or a health care practitioner in your local area. Although these don't take the place of a health care provider, you can start taking steps today to better care for yourself with my free mini email course on healing hormones and you can also check out my online course on healing hormones and getting a regular period back.