I've come to realize over the past couple years that I'm an extroverted introvert. I do enjoy being around people, socializing and forming friendships with several people…but I also need pockets of alone time or I end up depleted and friendships feel like obligations. I've also labeled myself as a social homebody because that's the best way I can describe my ideal social life. I do like to be out and about sometimes, but I'd almost always prefer to have friends over for dinner or drinks or happy hour. I like being in my own home. People in my close circle know I'm the first person to say, "yea dinner plans sound great this week, want to come over and I'll cook?" I always invite first because that means I get to socialize at home. I love it.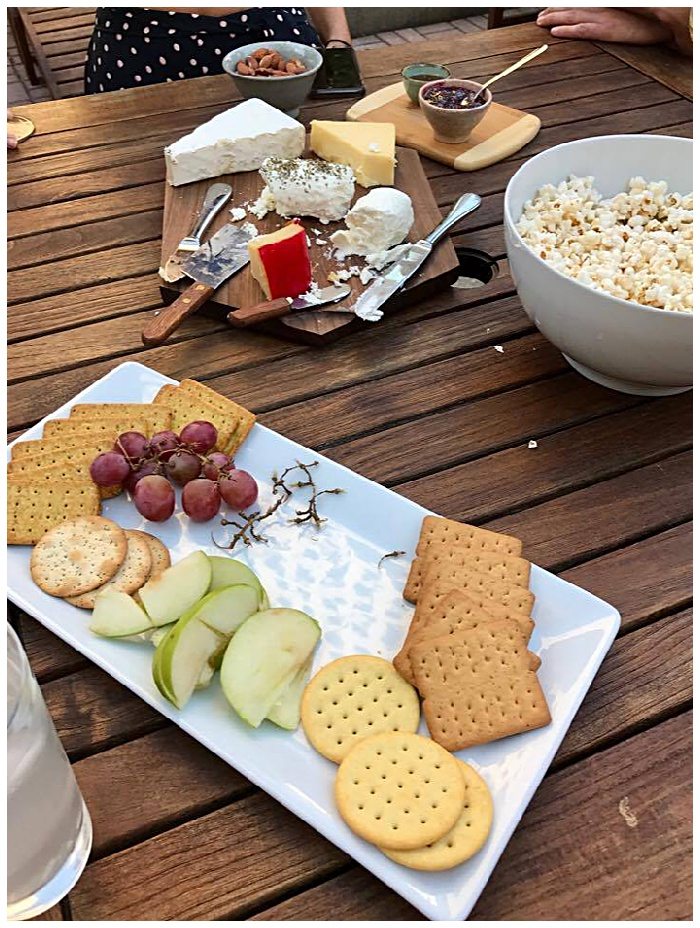 Nick loves to host people too, so when we got married we were excited about the idea that we could now host together. And when I say host together I mean Nick is cooking and I'm making cocktails or pouring wine and keeping conversation flowing. Sometimes we are cooking for people and that takes some planning, but really most of the time it's more like…"hey do you want to come over for happy hour tonight? Bring a bottle of wine and we'll pull together some stuff for snacks."
It's not complicated at all. Because if it was, I wouldn't love doing it. There are people that make hosting really creative and put together and there are those that just appear like you know what you're doing. I'm one of the latter. I fully believe that all you need is a cutting board or a white platter and you can make any array of snacks look like it took hours when really it took 5 minutes. I've shared a lot of our cheeseboards in weekend recap posts and on Instagram and the complexity of them doesn't go beyond throwing cheese, honey and jam on a board with crackers. Maybe some fruit or veg + store bought hummus is involved. And sometimes, it gets even simpler than that. Sometimes I'm just rummaging our cabinets for pretzels or chips + salsa or popcorn or anything we have on hand. We usually have some sort of snack on hand. And we always have popcorn on hand. We usually have kernels that we can pop on the stove or if we want even less fuss, we have some microwave popcorn.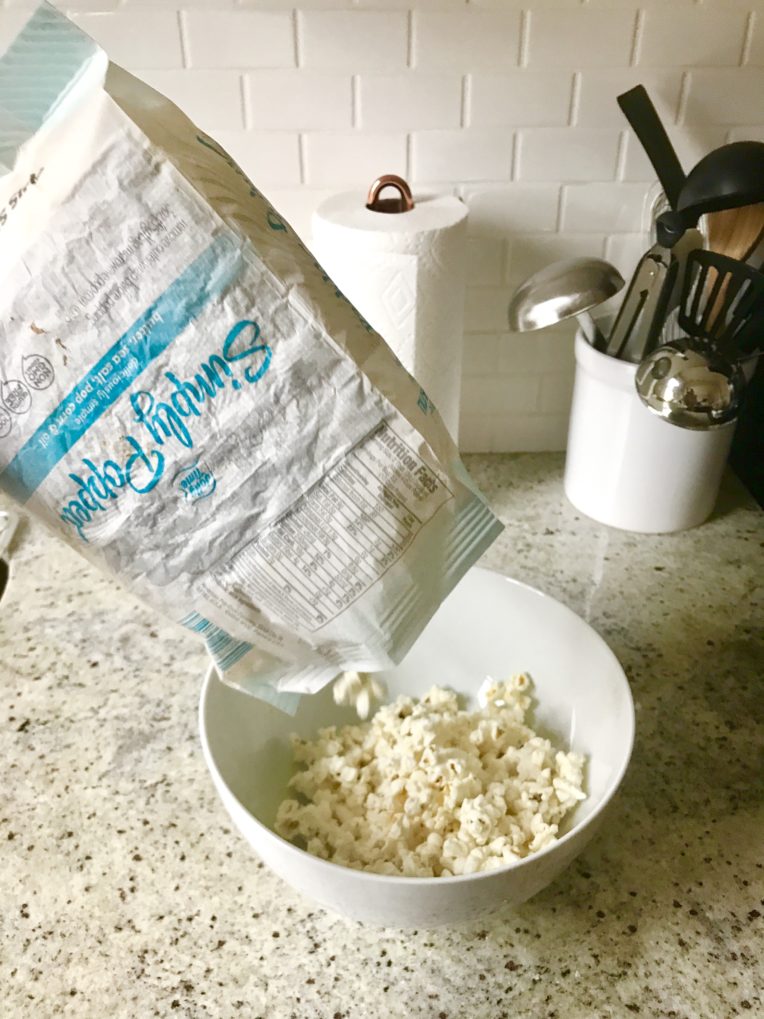 Lately, I've been loving Jolly Time Simply Popped because it tastes buttery and fresh and pops up hot and steamy instead of burning. Burnt popcorn is an instant buzzkill. I also find that it tastes the same as when I pop it on the stove because it's made with the same simple ingredients – butter, sea salt, popcorn and salt – but with the convenient easy clean up you get with microwave popcorn. And since Nick struggles with knowing how to not burn stove top popcorn (bless that man) microwave popcorn is his go to when he's snacking or having some guys over to drink beer and watch basketball.
No matter what is on the table, food brings people together. I talk about the emotional and relational part of food a lot with clients because I can't talk about health without talking about relationships. And obsessive and/or controlling thoughts about food heavily impacts the degree to which we can engage in relationships and be present in our lives. You can be eating the most healthy, greenest meals that are organic and local and grain free and gmo free and all those things….but if that is at the expense of your social and relational health, it's not healthy at all. Food is a connection point. It brings people together. If you think about some of your most cherished memories – some of them or most of them or all of them – involve food. Whether it's sharing a coffee and a muffin at a bakery, enjoying that really delicious dinner, cooking with somebody I love, a holiday tradition, eating popcorn on the couch with Nick or having friends over for a summer happy hour…there is almost always food involved in a memory. It's the people that are the most important, but it's food that helps connect us.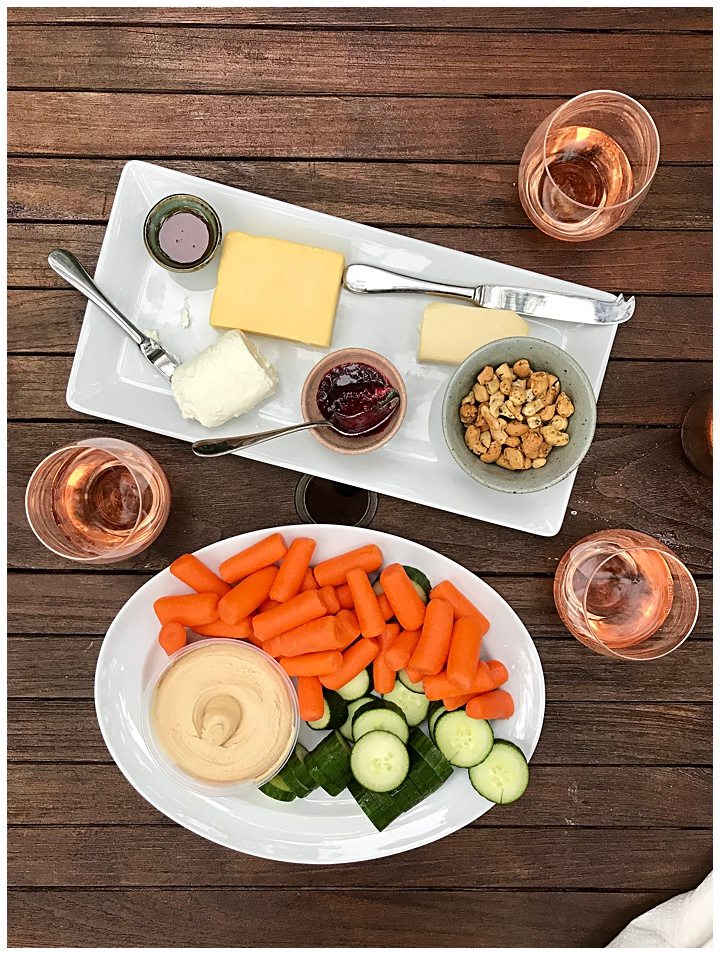 I think we have to get really honest with ourselves when it comes deciding if our food choices that we make for the sake of physical health neglect other really important aspects of our health that in turn actually impact our physical health. What I've learned over the past almost seven years in healthcare is that nutrition + exercise are a part of our overall, long term health but our emotional and mental health are really important too. Because when I'm truly living in line with my values, I'm focused on yes, feeding my body both satisfying and nourishing foods…but also cultivating meaningful relationships, loving my friends and my family well and taking care of my mental and emotional health.
Happy hours with a chilly bottle of rosé (hello, spring!) and a charcuterie board or sharing popcorn with friends while watching a movie or playing cards are perfect illustrations of wellness and what it means to be truly healthy…getting together with people you love and sharing food is one of the healthiest things I can think of. And because our mental and emotional health is affected by how we manage stress and care for ourselves…sometimes I'm not popping popcorn on the stovetop and instead I'm throwing a bag in the microwave, saving myself from washing a dish, and serving it straight out of the bag.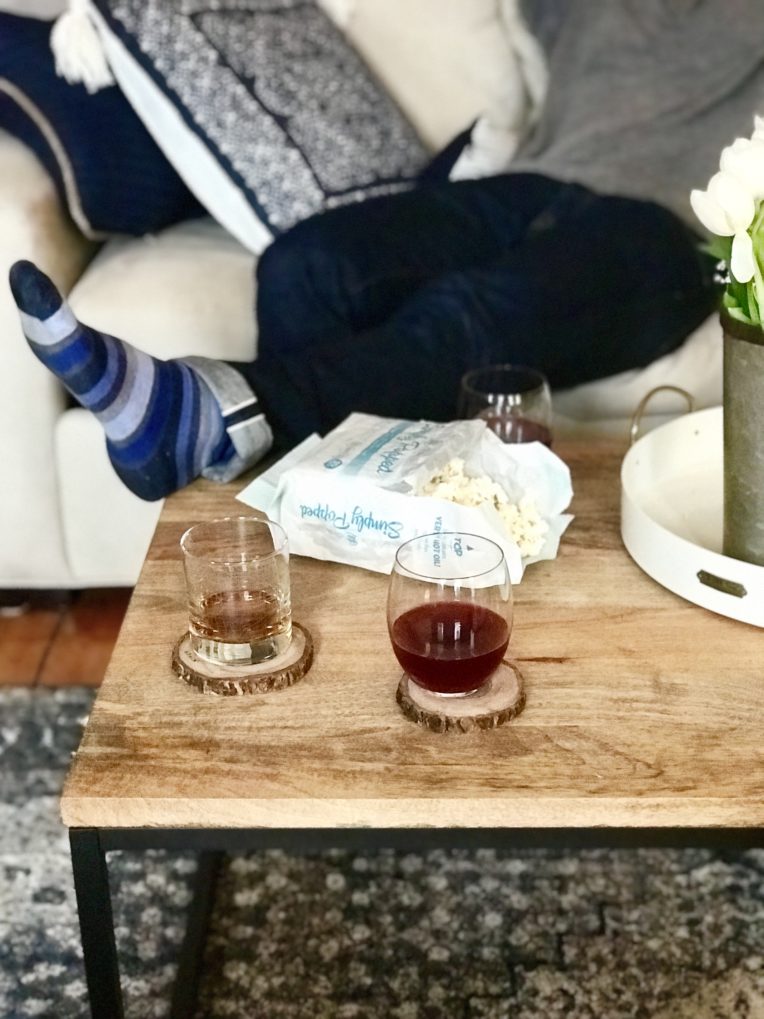 Learning to own my social homebody self was hard. I actually resisted it for a long time. I'M NOT A HOMEBODY. But I actually am. Even though I love urban living and being in a city where I can walk everywhere and people are all around, when it comes to socializing…I love nothing more than being with my closest people in my home. Sometimes that's around the dinner table, but most of the time hosting others is simple and uncomplicated. No matter what the food situation, investing in relationships and spending time with people keeps me healthy. Because it's the people that really matter and the food is what helps connect us.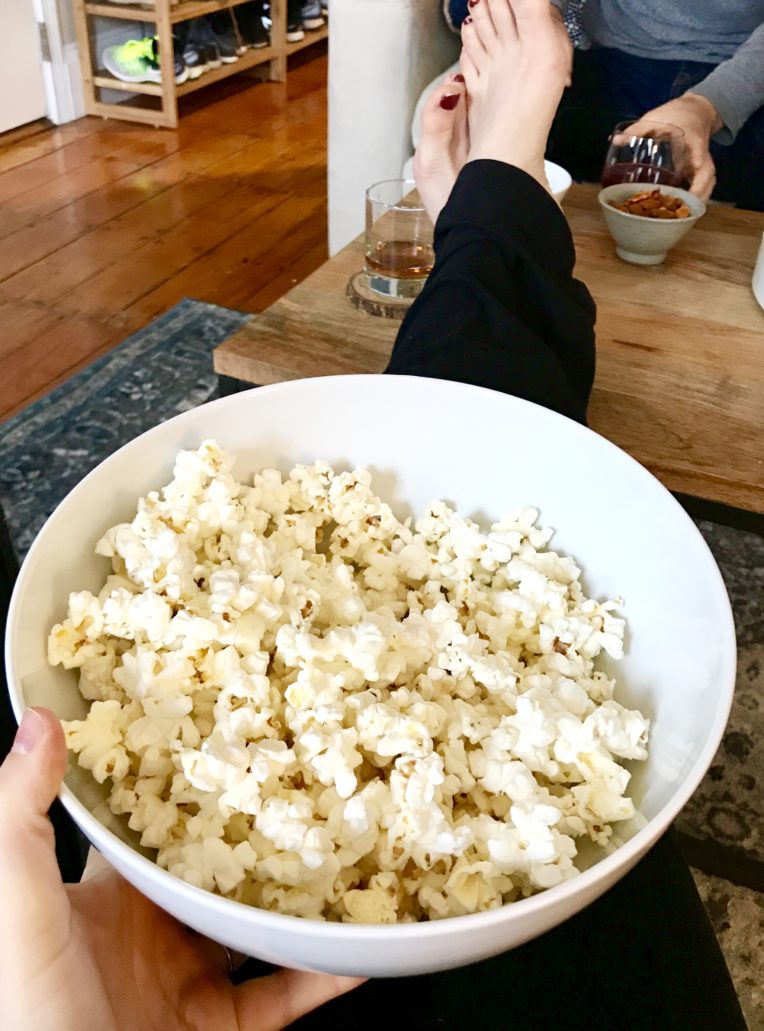 This post is sponsored by JOLLY TIME Pop Corn. I rarely do sponsored posts, but when it's a brand I use and really love I want to share it with you all.