As a reminder, these posts certainly don't illustrate what you should be eating, everyone is different. Rather, I hope these daily eats posts help as you navigate learning to nourish yourself based on internal vs external cues.
In the beginning of your intuitive eating journey, it can feel like you're hyper focusing on food choices. And it can feel really murky and grey – like you're walking around in a dark room. If that sounds familiar, you're in a good place 
 As you learn new skills and learn your body more, the decision making shifts and becomes more subconscious and intuitive. Wherever you are, even if you're wrestling with the idea of intuitive eating, know that you are right where you need to be.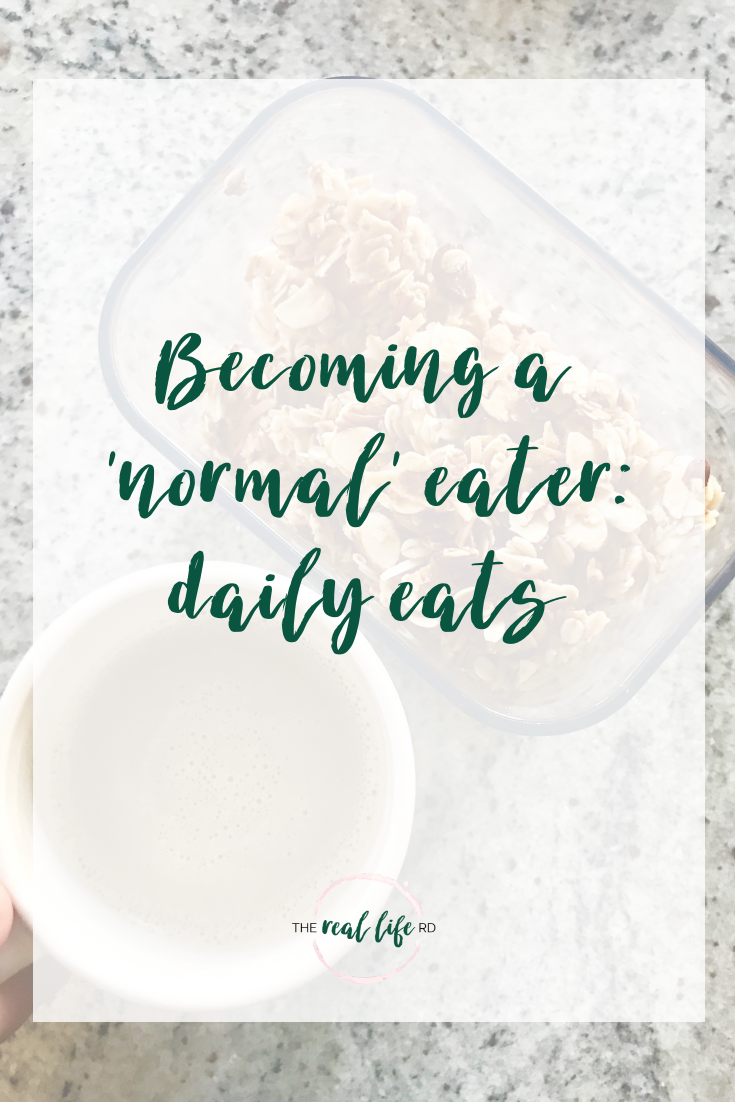 It is HOTTTTTTT. In the 90s, which feels like we're melting up here, and so we are barely turning on the oven or stove this week.
If you haven't heard me enthusiastically monologue about this granola here is the short version: you need to make this recipe today. Like right now. It's buttery and perfectly sweet and comes out in these large chunks that are like an oversized granola bar ideal for repeatedly shoveling into your mouth. I nix the dried fruit in the recipe because that messes with the buttery, coconut-y vibe, but if that's your jam, make the recipe as written!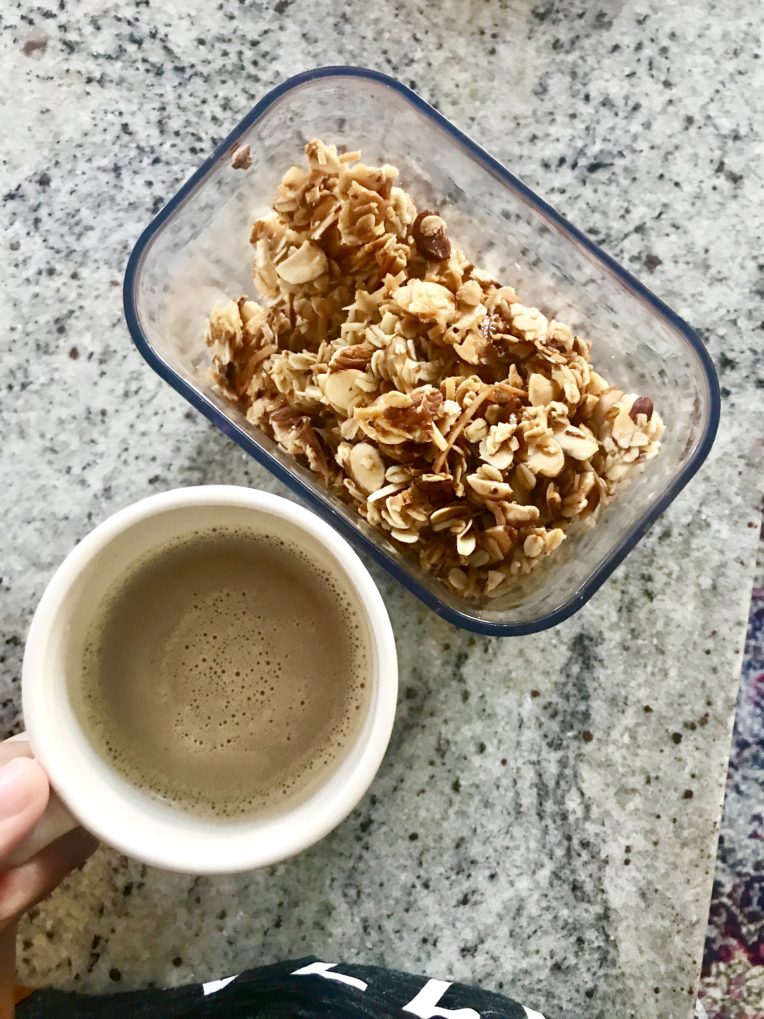 In the morning, I snack on handfuls of this stuff along with a cup (or two) of coffee with my current favorite df creamer before breakfast since I wake up early around 5:30 or 6 to work and don't eat breakfast until 7:3o or 8ish most days.
I made a batch of baked oatmeal so we could just reheat in the microwave all week instead of turning on the stove for oatmeal (I know you can make big batches of oatmeal, but I reallyyyyyy prefer it fresh for ultimate creaminess) or the broiler for toast. I used this recipe I found because it was super simple and added in a few handfuls of shredded coconut. If Cal wasn't eating it too, I would have absolutely added two hefty handfuls of semi-sweet chocolate chips.
For staying power, I added extra banana and a lot of almond butter. You could also eat this with scrambled eggs for some protein (I was too lazy for that) or some greek yogurt like Nick did. I just went with extra almond butter.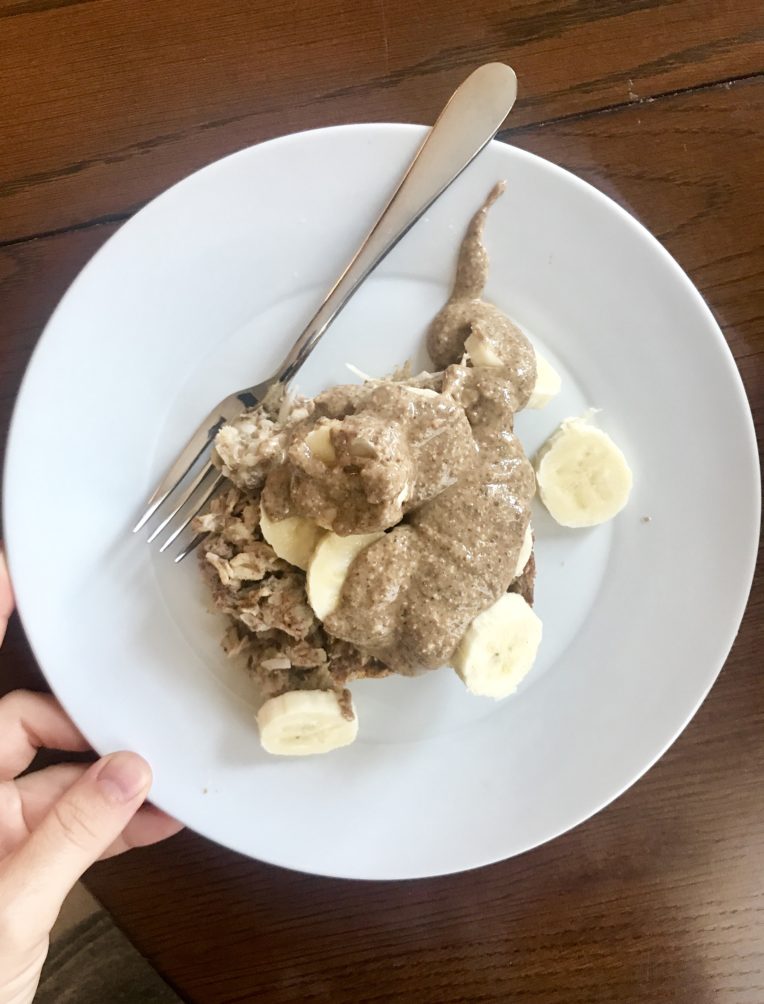 I usually eat a morning snack, but instead I ate lunch at 11:30 since we were going to be out and about all afternoon.
I couldn't decide what the heck to prep for lunches this week and then came across these peanut noodles over at POY when I was looking for a dinner recipe. Boiling noodles was the only cooking involved. Done. I switched the recipe up a bit by using spinach instead of red cabbage (less chopping) and added in shredded carrots and scallions. Instead of soba noodles I used TJs yellow lentil spaghetti because it is GOOD and the most perfect texture – not mushy or starchy or any other grossness. I always have some of this pasta on hand because one of my go to quick lunches or dinners is the pasta + sauteéd greens + olive oil and sea salt. I used this pasta for this recipe because it has a good amount of protein in it already from the lentils, which means I didn't add the chicken in the recipe which saved me time and $$$.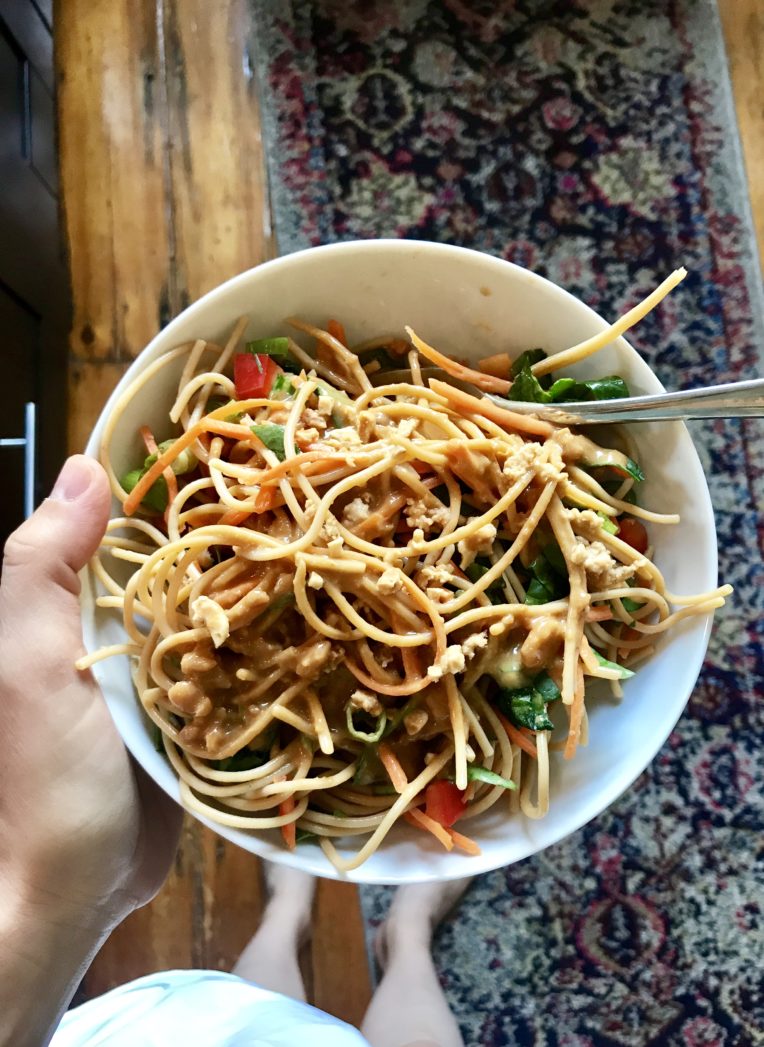 THE PEANUT SAUCE IS DREAMY. Make a double batch if you make this recipe.
Along with the noodles, we snacked on cherries – they've been on sale for the past couple weeks and they are the most ruby red, juicy sweet cherries. And now I want to make a cherry pie. And then because I didn't feel quite satisfied I dipped a date in pb. That did the trick.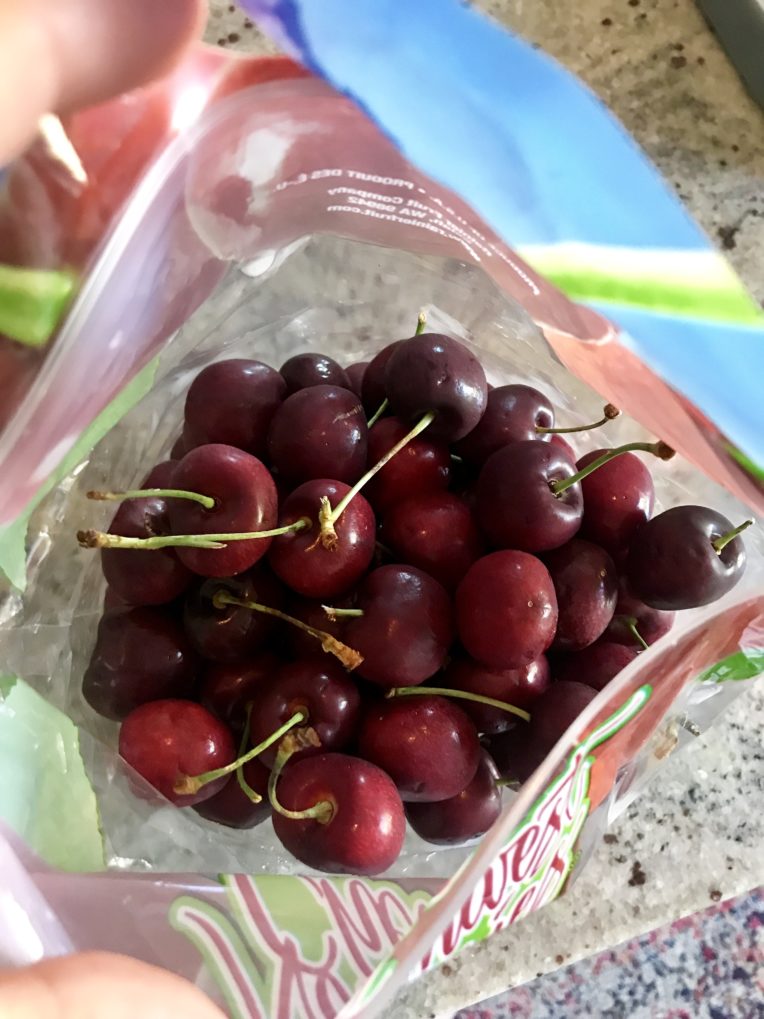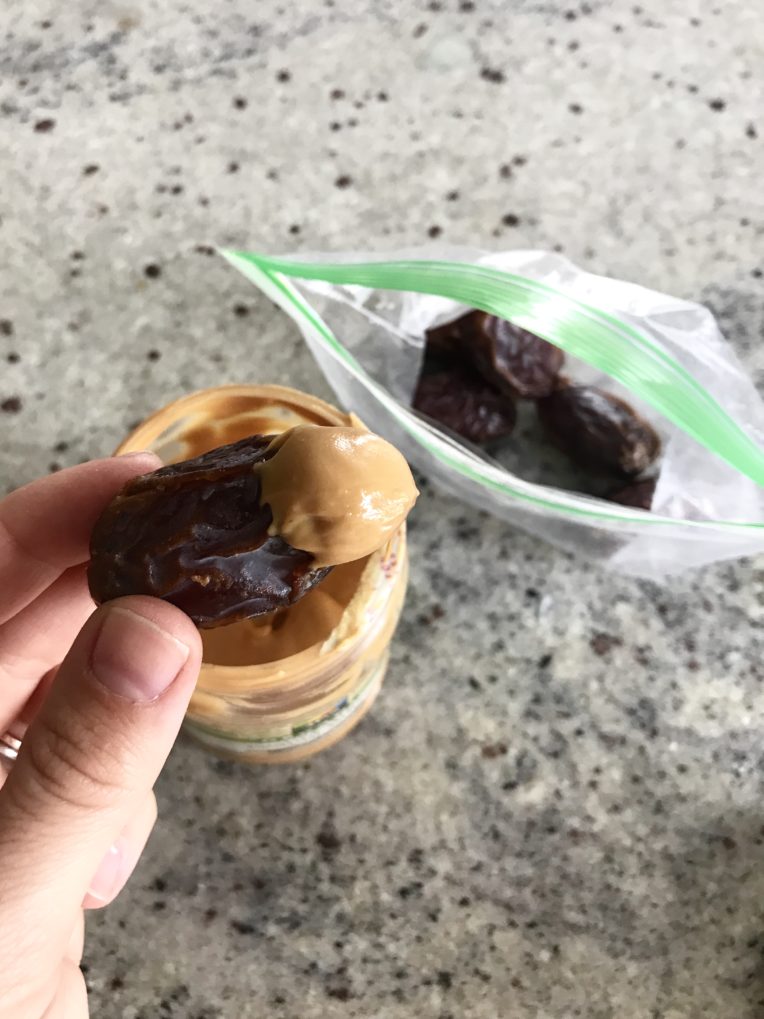 Afternoon snack situation –> I've started this new thing where around 3:30pm-ish at the tail end of Cal's long afternoon nap when I've *hopefully* checked off the most important work & life tasks for the day (most important ones, definitely not everything) I'll make some sort of drink – iced decaf coffee, kombucha, iced tea, etc – and grab a baked good I have on hand and go read on the couch for 20-30 minutes. Sometimes I fall asleep at the very end for 5 or 10 minutes before he wakes up. And what I'm learning is that I need this time to stop and chill out and rest and just be. I also realize I'm in a season of life (and my work allows for it) where I have the luxury to do this at 3:30pm most days. Even if you're not (and you're like, yea sounds great lady, but that's not my reality)… maybe even finding a pocket on the weekends or during a lunch break would be good? Or if you hate that idea, ignore it and keep reading…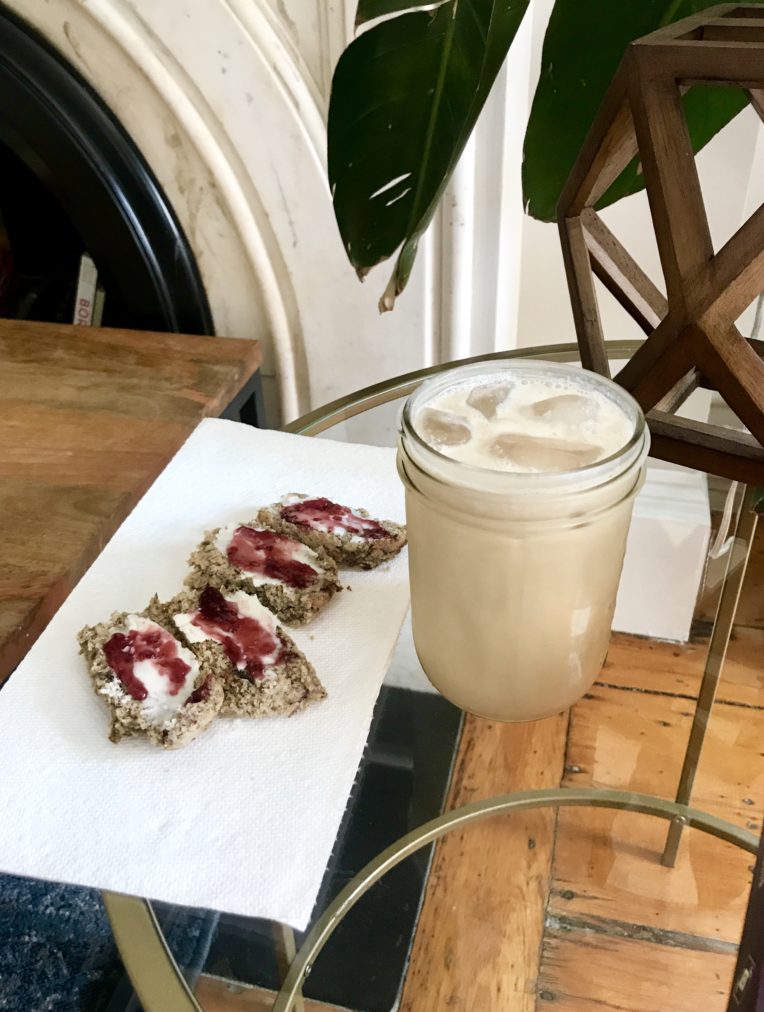 I attempted a homemade iced chai latte using this recipe (so frigging easy, promise) and ate a couple slabs of banana bread with coconut butter & jam.
Before dinner snacking included some pretzels with Kite Hill cream cheese. I hate that this stuff is so pricey because it's actually the best tasting and least weird df cream cheese I've had. I swallowed the price tag and threw one in my grocery cart this week.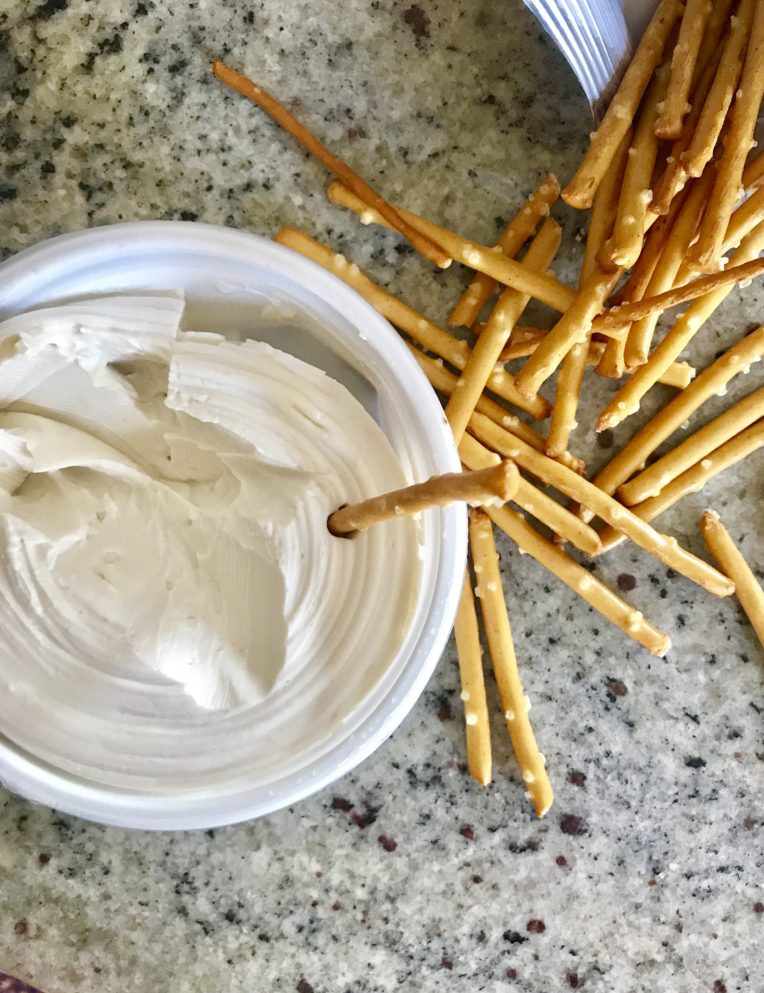 We never really eat salads for dinner, but this week it's hot and this recipe SCREAMED summer. And now it's one of my favorite salads I've ever had. The salty bacon, sweet strawberries + corn and the salad dressing….the salad dressing…the salad dressing. It's insane. We don't have a grill so I just baked the chicken and while that baked and the oven was already on I threw in some corn muffins because we needed a carb with this dinner and that is what I had ingredients for in my pantry.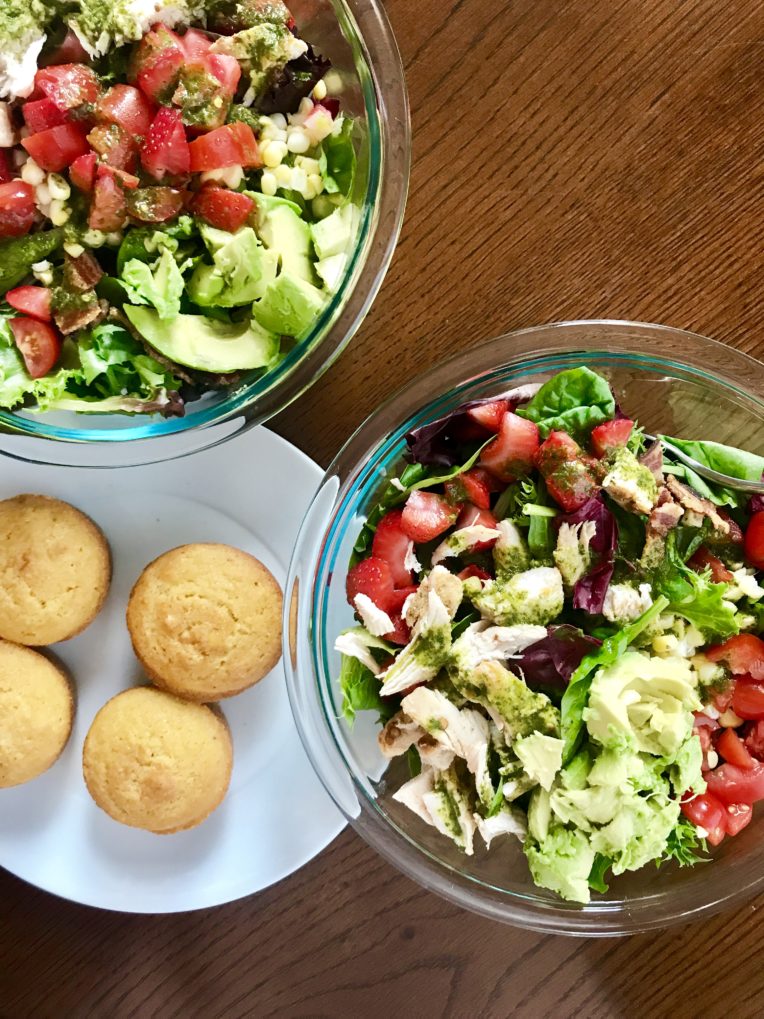 Night time snack situation: warm brownies with vanilla coconut milk ice cream. Every night, without fail I eat this. Maybe I swap a brownie for a cookie or unwrap a couple ice cream sandwiches if they were on sale that week. But ice cream, always.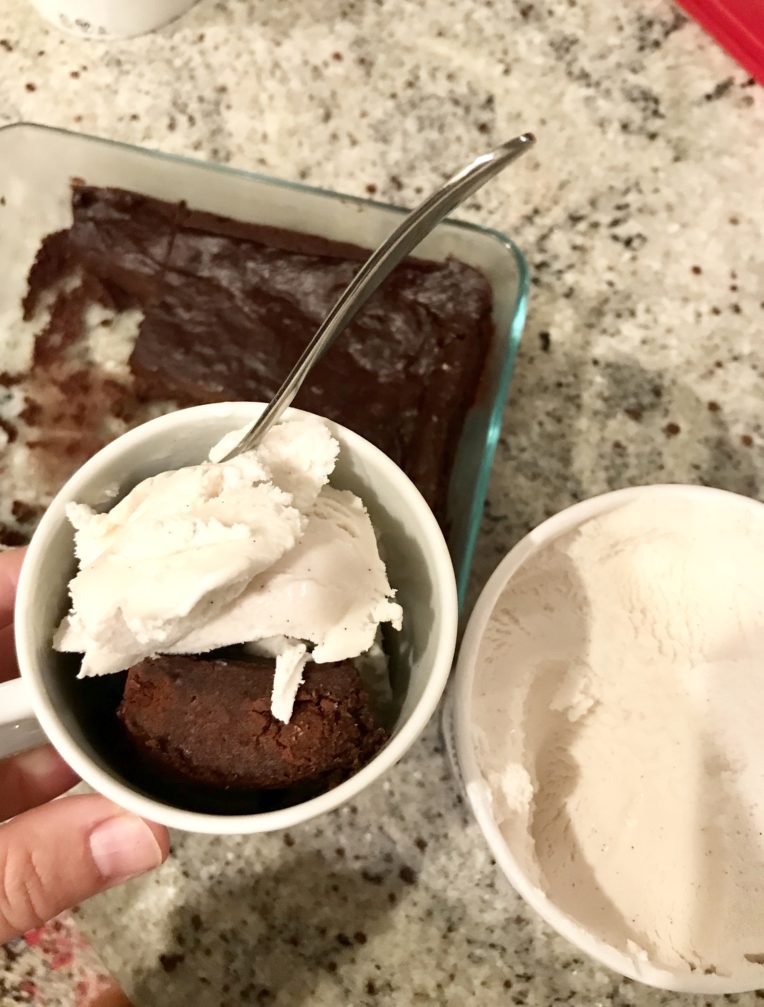 I've been off social media for the past five days. I almost forgot I wanted to take a break for the last 5 days of every month like I shared with you in my newsletter last month. But I remembered on Saturday morning as I, without thinking, tapped on the IG app on my phone. It has been weird and eye opening to be off all social media for a mere 5 days, but freeing and so awesome. I'll share more thoughts later. I like this little boundary I have in place so I think I'll roll with it for next month.
Have a great week and share with me what you're eating in the comments!