From the comments, you really enjoy these types of posts so I'll keep them coming! I feel like I can't emphasize this enough…these posts don't illustrate what you should eat, everyone is different. Rather, I hope reading through the thoughts/factors that go into a food decision help you in your own intuitive eating journey as you navigate learning to nourish yourself based on internal vs external cues.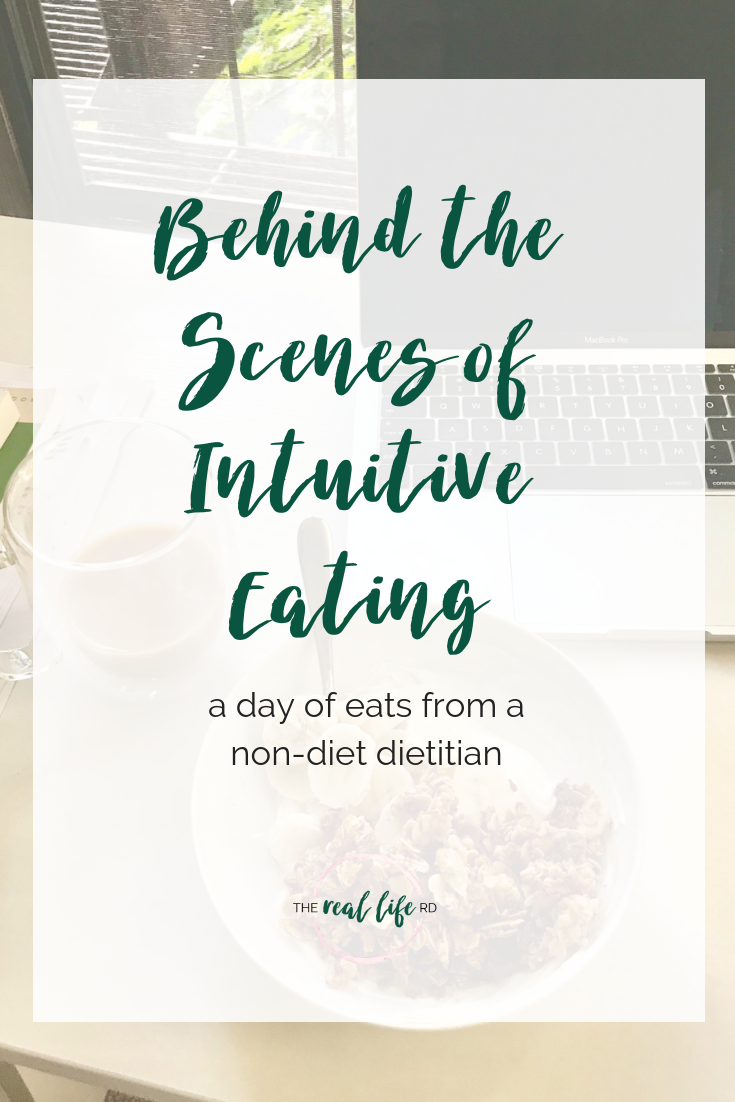 When I write these posts, I have to really think about what was going through my head/body at the time. In the beginning of your intuitive eating journey, it can feel like you're hyper focusing on food choices. And it can feel really murky and grey – like you're walking around in a dark room. As you learn new skills and learn your body more, the decision making shifts and becomes more subconscious and intuitive. I'm in that subconscious space, so writing these is interesting because I'm like…."oh, that's what I was thinking." Wherever you are, even if you're not totally sold on the idea of intuitive eating, know that you are right where you need to be.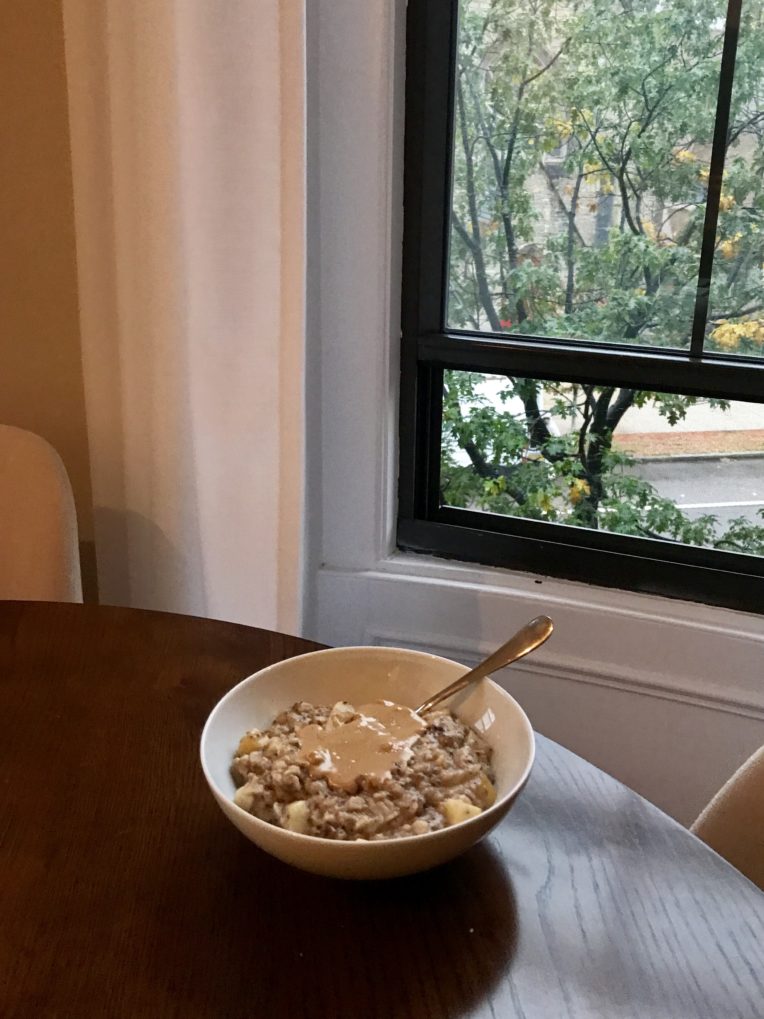 Breakfast | I've been on an apple cinnamon oatmeal kick lately. I went through a period where I didn't crave hot oatmeal for years, but over the past few weeks it's circled back. It's chilly in the mornings and hot oatmeal sounds comforting – which I'm into because oatmeal is quick, easy and cheap. I don't like mushy banana in my oatmeal so chopped apple works with my texture/tastebud preference. Sometimes if I don't want the "thickness" of nut butter (if that even makes sense) I top the bowl with butter + brown sugar. Kind of like apple crisp in oatmeal form. This day I was craving salty peanut butter so went with that. I know that in order for a bowl of oatmeal to keep me full longer than 2 hours it needs a lot of nut butter so I make sure there is a good amount. I can't eat hot oatmeal all in one sitting or it makes me feel a bit nauseous, so I'll usually eat it over the span of 30 minutes or so even I need to go back and heat it up.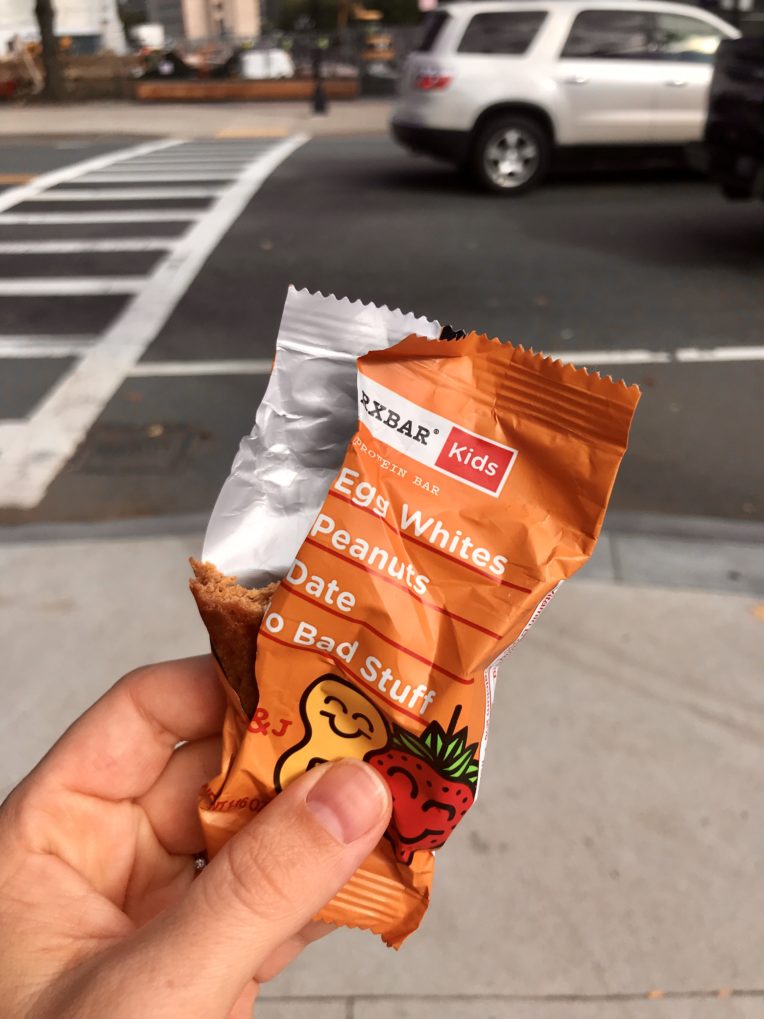 Snack | Thinking back, I was in a rush to get out the door to a session with a local client and threw this bar in my bag so not much thought went into this snack choice except convenience. I know some people don't like Rx bars because they can stick to your teeth, but I actually really like the chewy texture. I like these smaller bars for when I know I'm going to be eating a meal in 1-2 hours, they hold me over just enough without killing my appetite. I will say though, I could do without the "no bad stuff" messaging on that package…especially for kids!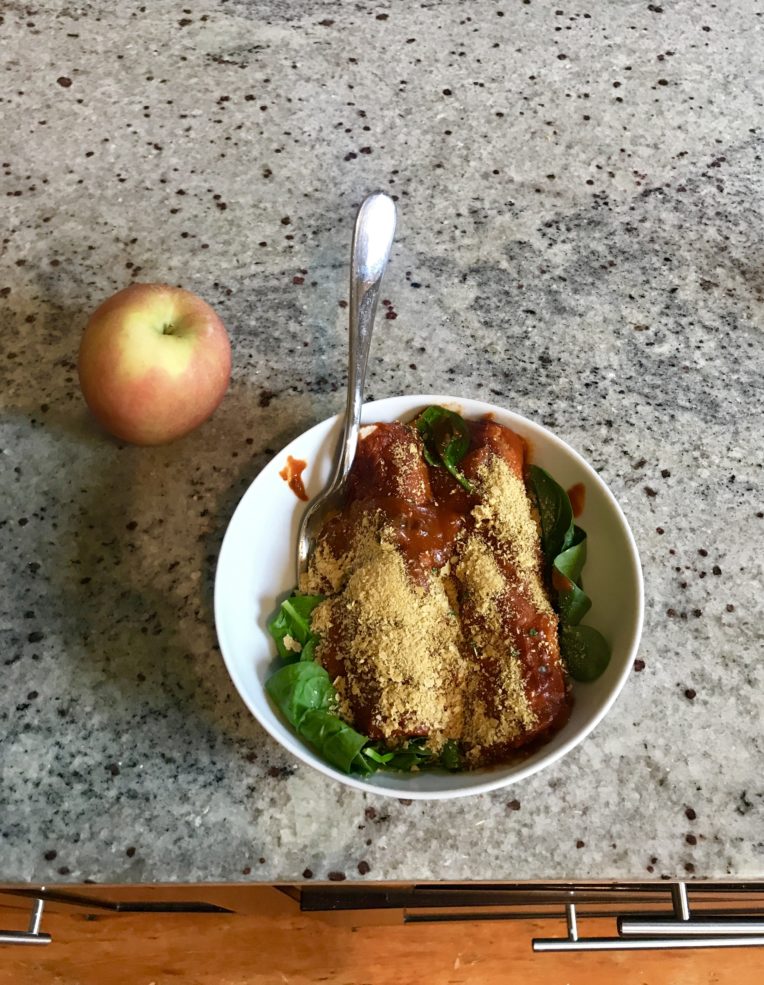 Lunch | Trader Joe's frozen black bean and corn enchiladas. I'm going to go out on a limb here and say this might be my favorite frozen meal. They are SO GOOD. It's all in the sauce and the chewiness of the tortillas. I don't think I can make better enchiladas from scratch. Am I delusional? Maybe. But probably not. They are that good. This meal was quick + easy and tasty. After that client session earlier, I went to the gym and did the stationary bike + lots of stretching + my exercises for my chest/back so when I got home I didn't want to bother with cooking and I didn't have anything prepped for lunches. I always have a frozen meal or two on hand and some things in the pantry (pasta, a box of mac and cheese, can of soup etc) for times like these.
There's not a ton of protein in the enchiladas so I added some nutritional yeast for a protein boost. That's where mind knowledge comes in and you can use nutrition labels in an objective way to help you make food decisions that are best for your body. Shredded cheddar would have been even better here, but our fridge was void of cheese. WTH, I know. I heated up the enchiladas in the microwave. Then zapped some spinach for about 20 seconds in a bowl until it wilted a bit to add some veggies to the meal. Veggies = vitamins and minerals NOT satiation.
I have a few clients right now where we are really working through and unpacking the belief that vegetables = volume = satiation. Vegetables are low in energy and macronutrients. They are high in vitamins, minerals and fiber. Does fiber add to satiation? Sure. But your body needs energy (aka calories) and carbs, protein and fats to feel satiated + satisfied and for the appetite lightbulb in your brain to go off. Volume does not mean fullness. Diet culture makes you believe that. You can eat all the vegetables you want, but that doesn't mean you're going to be full and satisfied. That means you're probably going to feel bloated and gassy, but still have an appetite. If this resonates with you, do an experiment. Eat a meal that's lower in volume, but contains carbs, protein fat and enough energy and see if it fills you up. Often there is a fear that, "I won't be full unless I eat x vegetables or x volume." Is that actually true or is that something you've come to believe because of diet culture? Report back in the comments!
Also, I added the apple because I could eat 6 apples a day if my GI system didn't rebel against that. Six apples = way too much fiber. But I am on a two apple a day kick because they are so juicy and crisp right now.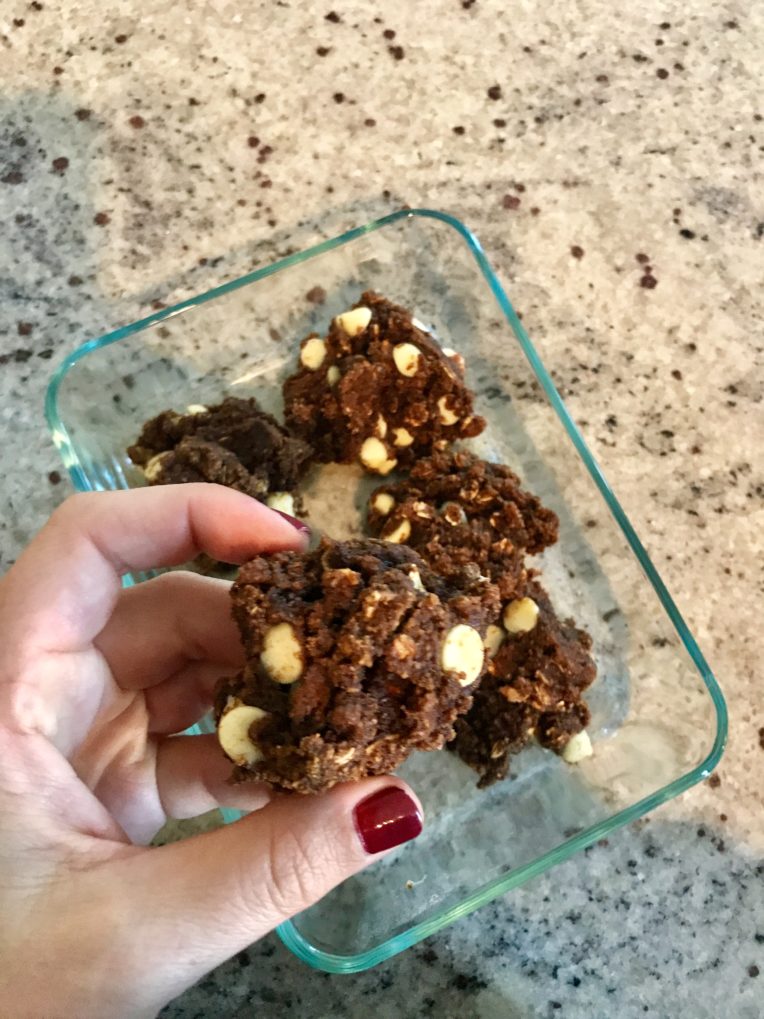 Snack | As I expected, I wasn't totally satisfied after lunch since it was lower in calories (from noticing the nutrition label and using that in an empowering, objective way) than I usually eat. So after a client call, I ate a couple pumpkin white chocolate chip cookies. They are delicious and always satisfy. I ate 4 one day and that resulted in a belly ache. Curiosity over judgement helps us become more skillful, mindful eaters. So now I stick to 2 or 3 and if 20 minutes later my stomach feels good and I want another, I have full permission. But that hasn't happened yet.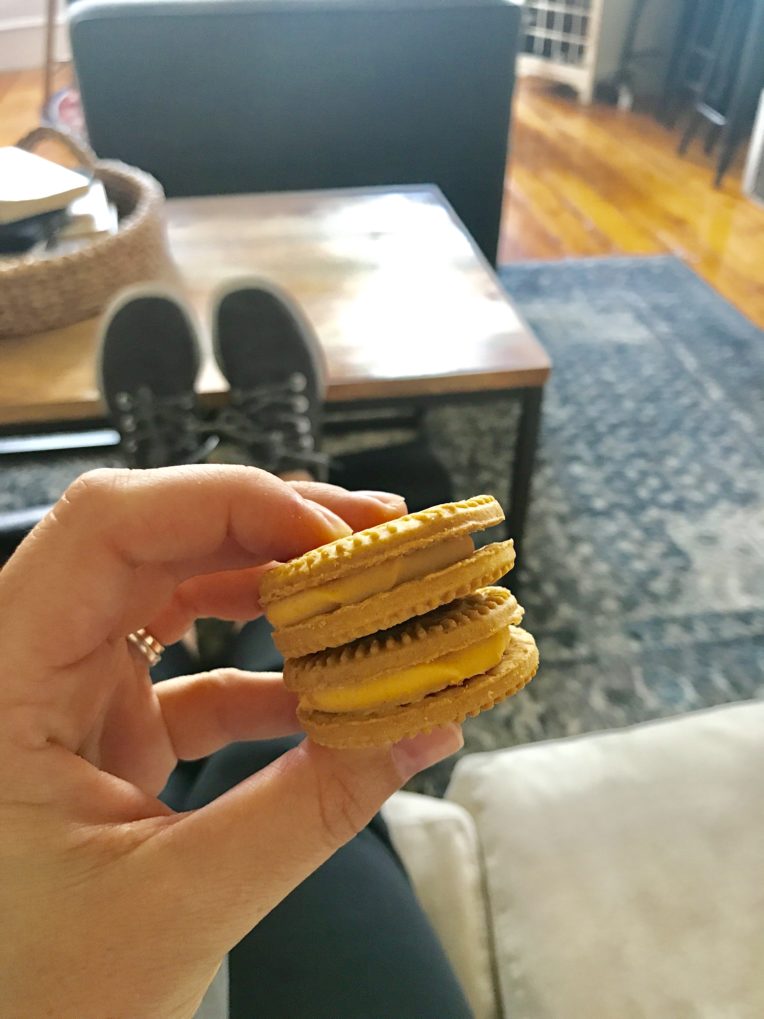 Snack | I go back and forth between only wanting savory/salty snacks and then getting on a sweets/baked goods kick. The past week or so has been all about the sweet things. Before I left for an appointment, I grabbed a couple pumpkin joe joe's from Trader Joe's – not because I was hungry, but because I wanted something sweet and I am never not in the mood for icing.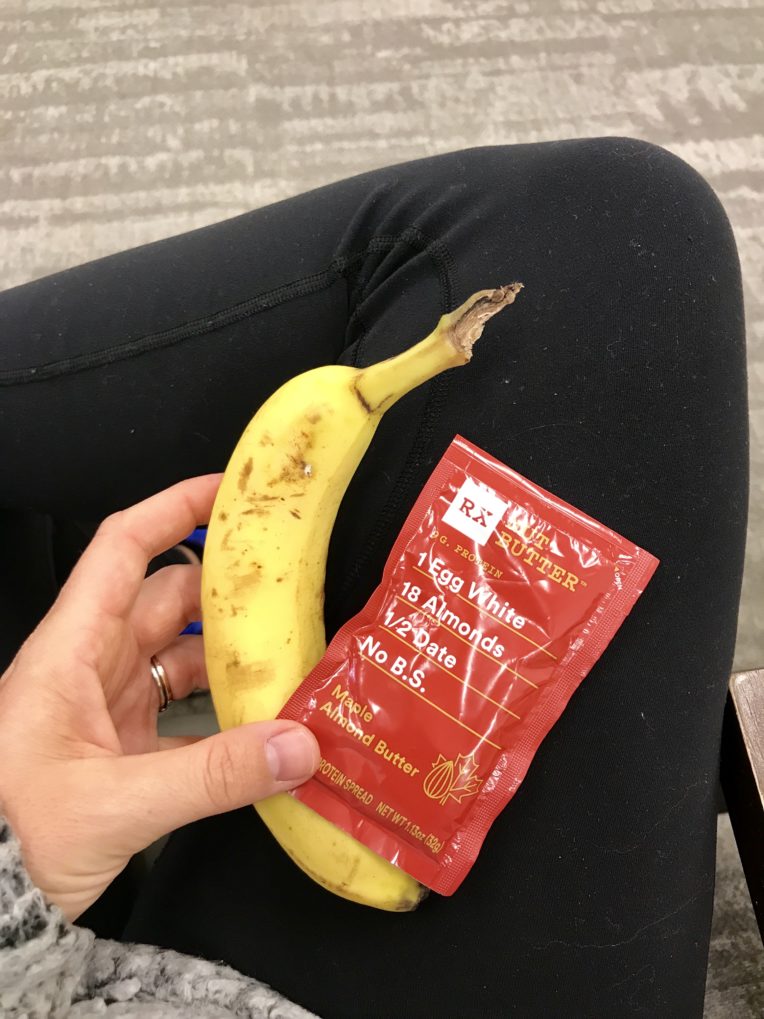 Went to the doctor and then wrapped up some work at a local coffee shop. I snapped this photo in the doctor's office because I knew I'd eat this at some point and I did – in the coffee shop before heading home for the day.
Snack | I needed something that would hold me over for a couple hours which for me means a snack with all the macronutrients, emphasis on the fats. Banana = carbs. Nut butter = fat + protein. Rx bar sent me these packets and they taste amazing. Plain old regular almond butter and peanut butter also have a good bit of protein in them. While I really enjoy these packets (the maple flavor is on POINT) I think there's enough naturally occurring protein in nut butter without needing to add egg white protein. But nonetheless – tasty!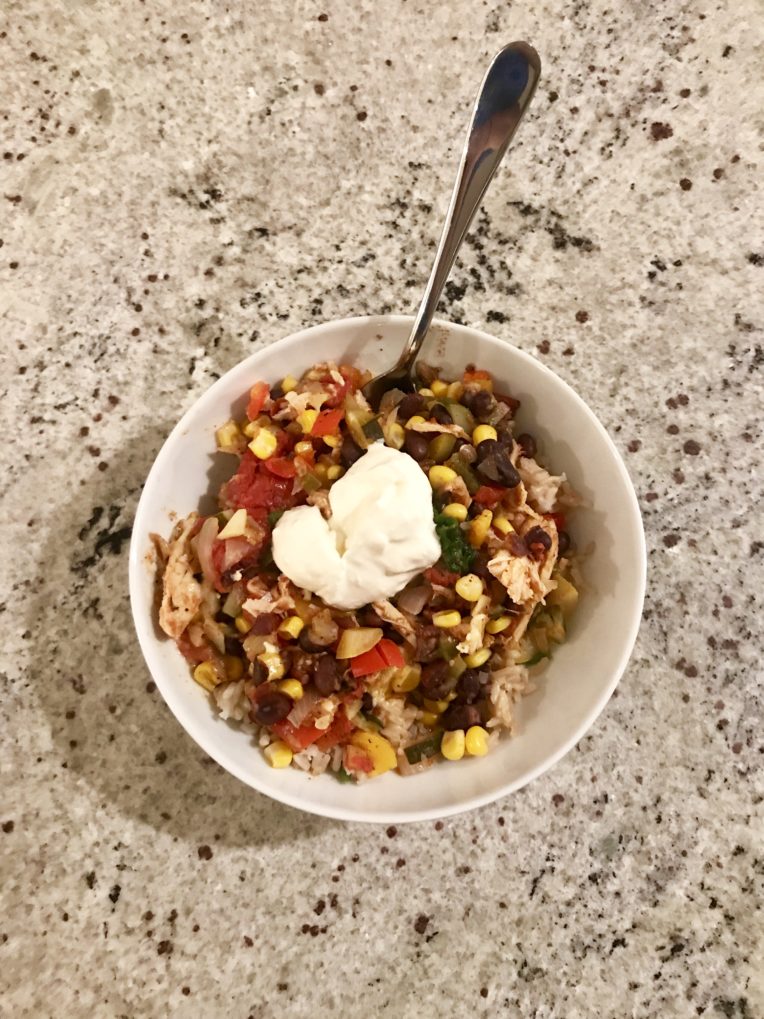 Dinner | We're trying to clean out our freezer since there has been a handful of frozen meals in there for a while. When I cook, I often double the recipe and freeze half. This was a mexican chicken bake I made a few months ago (basically shredded chicken, sautéed peppers + onions, corn, black beans, a packet of taco seasoning and a can of tomatoes that I baked for 20ish minutes @ 375 and then topped with cheddar and baked for 10 more minute) We eat it with tortilla chips or with brown rice. Topped with sour cream + guac when I have it on hand.
Really, I had zero craving for this meal. I would have rather picked something up from Dig Inn or Cava. But it was what we had and required zero cooking so that was dinner. In the beginning of my IE journey, I ate out more so I could satisfy cravings as frequently as possible. Now, years later, I know not every meal has to be exciting or 100% satisfying and that's ok. Another meal or snack is right around the corner.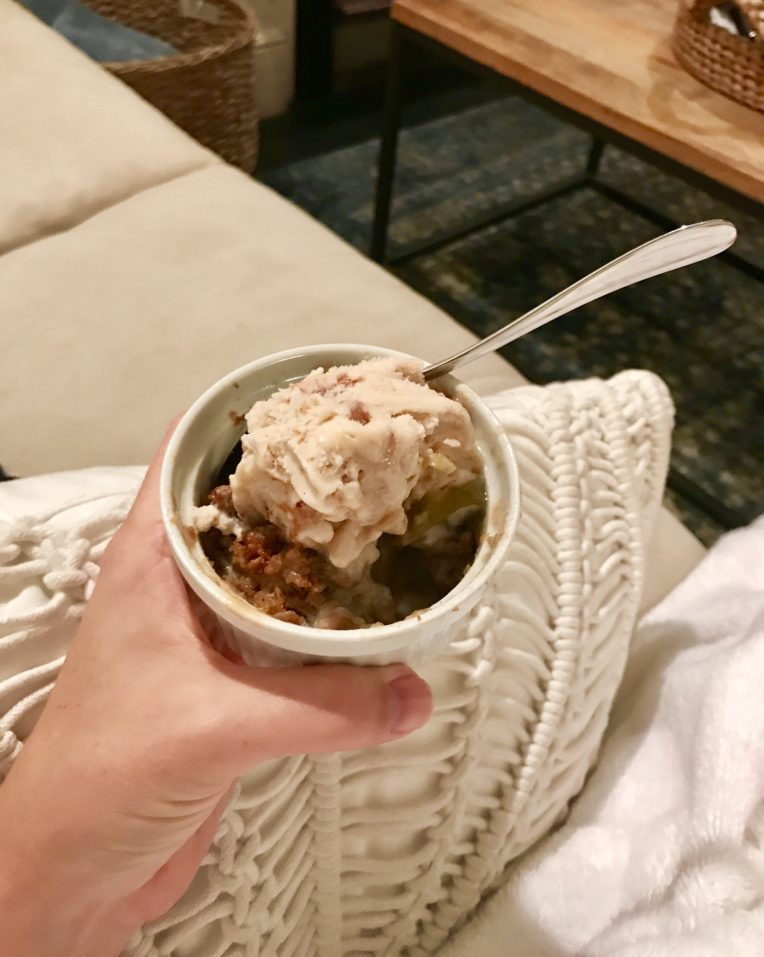 Night Snack | Like this apple crisp with vanilla caramel gelato that was 100% satisifying and everything I was craving. Was I "hungry" for this? No. But I was craving it and this is what gave me the "satisfaction factor" they talk about in IE….especially since dinner was mehhh.
I'd love to hear your thoughts in the comments! Where are you in your IE journey? What's something you're learning?
Also, if you're feeling alone, stuck, frustrated or confused with intuitive eating – you are so not alone! Our virtual Intuitive Eating support group might be just what you need. The next one begins January 15th – right in time for you to have a supportive community of women during the vulnerable diet-driven New Year! We are offering the group at our lowest price – read more here!