Hello there and happy Friday! It's Hannah here, one of the RLRD interns. I'm writing to you from a sunny window seat at a coffee shop pretty early in the morning. The sky's got this vibrant pink color to it. It's gorgeous. And I love watching the sun explode over the big apartment buildings.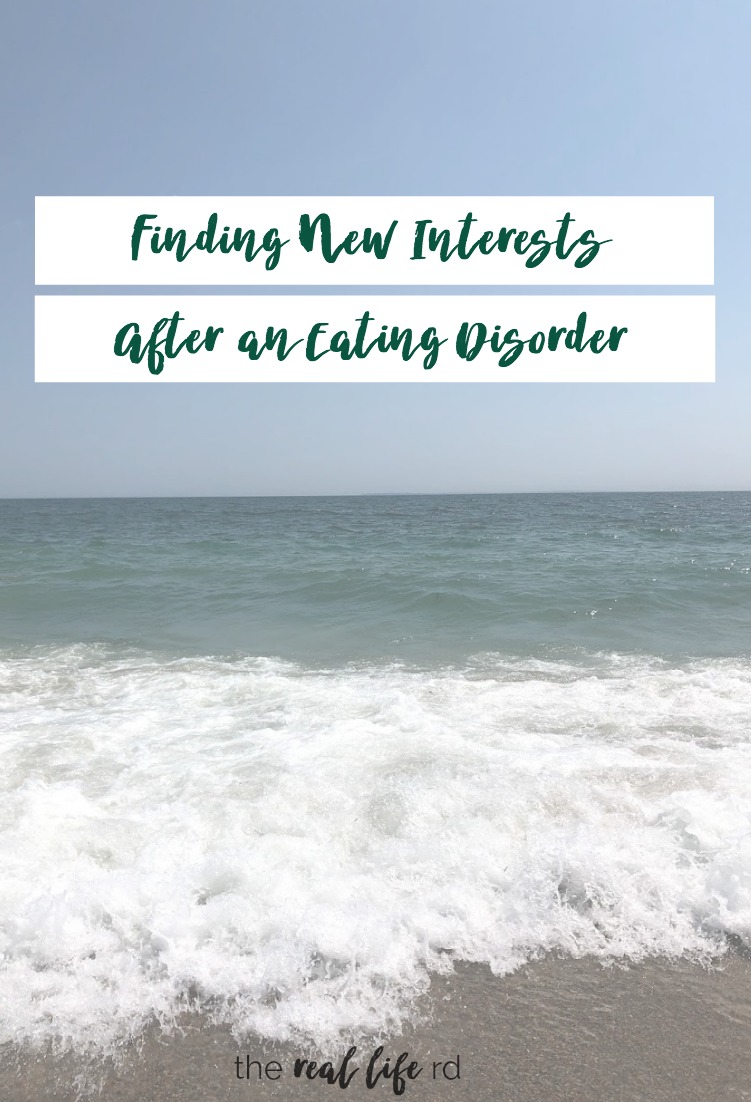 I was in a phase of staying up late during the school year to study and was getting up a little later in the mornings. I'm realizing now that I'll always function best as an early riser. It's the best…as long as I can get to bed at a decent hour and rest up! This habit of waking up earlier, well before having to commute to work, has been a really enjoyable mini life season for me. I say "mini" because I don't know how long it'll last, given the extracurriculars and leadership commitments that will be back in full force now that the start of the fall semester is here. I'm savoring it and enjoying it while I can. Any other morning people over here?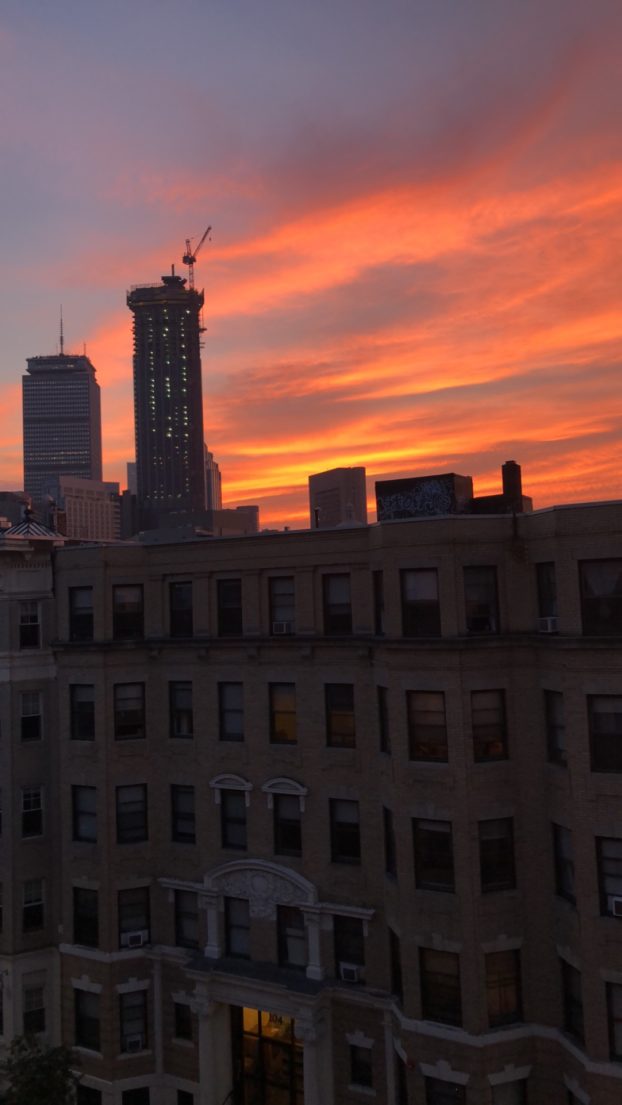 What sparked this habit – aside from simply loving the quiet, sunny early morning aura – was a desire to find some time in the work week to delve into hobbies and interests that I've discovered I really enjoy. This year has been a big year for that. My trajectory, over the years, has kind of gone like this: struggled with disordered eating → controlling my food and exercise became my main hobby for quite some time → realized my disordered eating patterns, wanted to change them and heal.
My predominant hobbies became:
Delving into a ton of knowledge about HAES and IE (books, podcasts, articles, blogs, Instagram accounts that focused on these two tenants)

Practicing becoming an intuitive eater. After a long time, I feel so much better around food and fitness that I don't need to read so much about IE to help myself anymore because I feel healed and have developed a solid relationship to food and my body.
When 2018 came around, I felt ready to incorporate new activities and interests into my days after getting to a place that feels far removed from my all-consuming disordered eating and exercise patterns of the past. BUT, I really didn't know what to DO at first. All I'd done for the past multiple years was control my food, then learn how to let go of controlling my weight and my body and food…and now, when I wasn't at work or studying for school, I didn't know what I was interested in aside from Health At Every Size, nutrition, cooking, or working out…
I was kind of at a loss. As a busy college gal, I don't have much free time. Because of this, I realized that when I did have some downtime, I wanted to start spending it intentionally. I wanted to find hobbies and interests that interested me and pursue those. Hobbies are FUN, and I used to have many of them before the eating disorder took over pretty much all of my time. So, I went exploring to fill my bits of free time with things that interest me (things that, likely, had nothing to do with nutrition/food).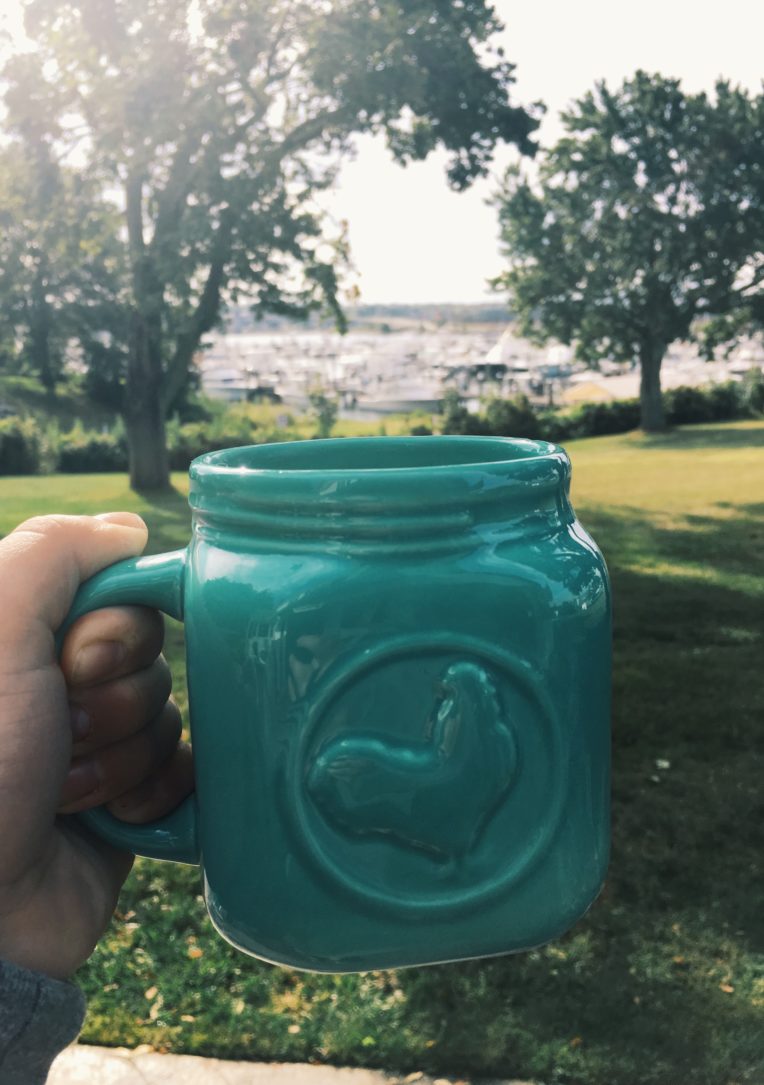 Now that I've found hobbies that I enjoy, I want to share some of these with you in hopes of showing you what finding new interests can look like after/during ED recovery and on the path to intuitive eating. Of course, we will have different interests, but maybe some of these hobbies, books, and podcasts will pique your interest in the way they did mine.
PODCASTS
The first "interest" I looked to was podcasts. I've always loved listening to podcast episodes and subscribing to weekly shows. It's one of my favorite things to do! In my eating disorder days, my podcast library was filled with paleo podcasts and nutrition shows that focused on diet culture and nutritional minutiae. As I moved away from the diet mentality, my Apple podcast feed was saturated with material that I'd benefitted from (hugely, hugely benefited from) in the recent past.
Some of my favorite IE podcasts:
I was subscribed to shows such as Food Psych, Body Kindness, the BodyLove Project, Nutrition Matters, etc — intuitive eating and Health At Every Size podcasts led by absolutely fantastic, brilliant IE dietitians. Honestly, some of those Food Psych and Nutrition Matters episodes changed my life and helped me to reject diet culture in profound ways.
These were shows that helped me so much in my own recovery. I often recommend them to friends and followers! As I grew to be more of an intuitive eater and learned to release disordered eating patterns, I did not feel so inclined to listen to these podcasts anymore. I still listen to some episodes, maybe once or twice a month, but I'm not as into them as I once was – and that's okay. It's okay if this happens for you too – now or in the future! This means that we have grown and changed, and that we more brain space think about other things.
I started asking my friends (who were not in the food/nutrition world) for podcast recommendations and tried a bunch of different ones that centered around topics like politics, tech, crime, business, storytelling, and life advice. Here are some of my favorites! (PS: I listen to podcasts in both the purple Apple podcasts app on my iPhone, and on my Spotify app. Sometimes Spotify has better streaming quality than Apple podcasts. Kinda depends on the day).
Some of my favorite podcasts outside of IE:
Reply All: a tech podcast about the internet! I find the hosts to be quirky, funny, and so intriguing. The Long Distance episode is my favorite. I've listened to it multiple times. It makes me laugh!
Dear Sugars: Cheryl Strayed and her co-host read anonymous letters and offer words of wisdom and advice for their listeners.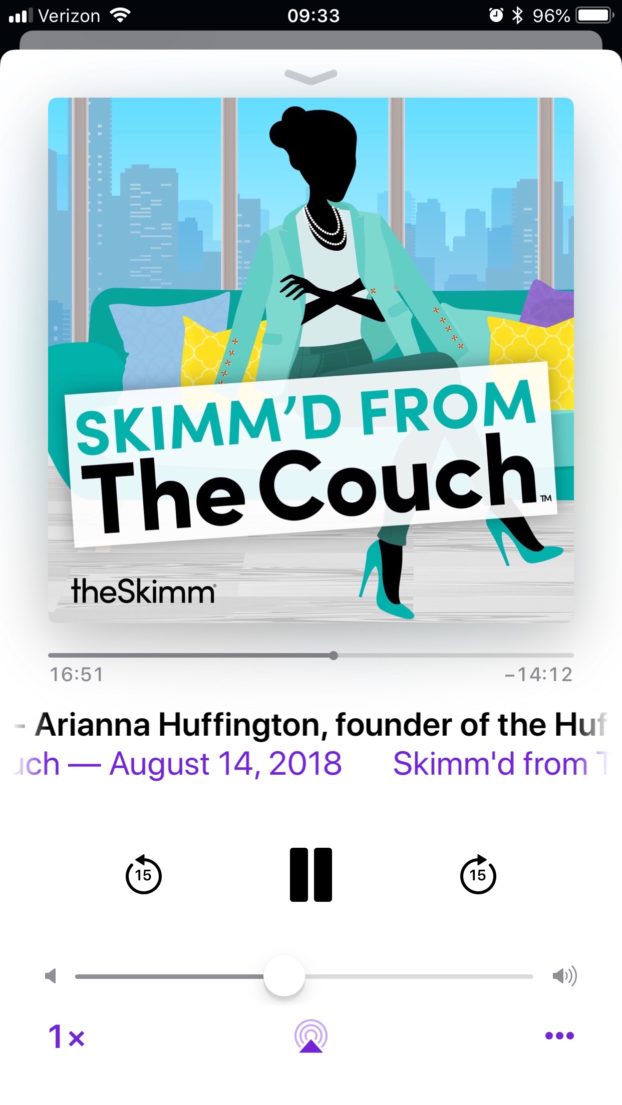 Skimm-ed from the Couch: the co-founders of the Skimm interview female entrepreneurs and bosses. Inspiring stuff!
Up First and The Daily: I like to listen to either one or both of these on my commute to work M-F. I find them to be great ways to hear the news in a comprehensive, efficient way. Without knowing what's going on in the world, which can be easy to do while working in a hospital bubble, I feel out of touch. So I like to stay up to date!
Pod Save America: a deeper dive into what's currently going on in politics. I enjoy their conversations.
Serial: especially season one! Sooo good!!
How I Built This: I'm obsessed with this show. I find it fascinating to learn who the people are behind some of the world's most popular brands + companies and how they got their start.
TED Radio Hour: Guy Raz is such a good host. The show picks a topic and basically combines a few captivating TED talks that discuss that specific topic. It always makes me think, and I learn something new every episode.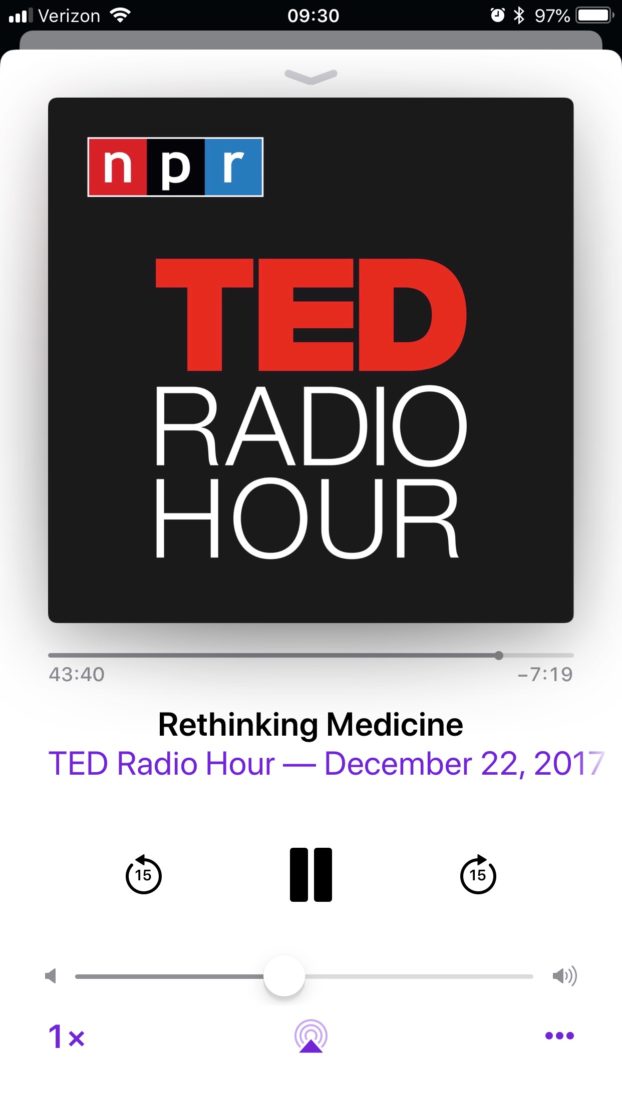 This American Life: a storytelling podcast hosted by Ira Glass. I think this is one of the most well-produced podcasts because even if I know absolutely nothing about the topic, the host and his storytellers/interviewees always grab my attention and keep me hooked.
The Moth: this is a storytelling podcast too, but each episode is LIVE!
Oprah's SuperSoul Conversations: I really appreciate the way Oprah interviews people and the conversations that she has with some really cool humans.
I think that NPR does an excellent job with podcast production + quality, so I think I may try out some episodes of Hidden Brain and Invisibilia next. If you have any podcast recommendations, I'd love to hear them!
BOOKS
This summer, I started diving back into reading. I didn't feel like I had much time to read for pleasure during the school year because I was reading, studying, and writing so much for my courses. But this summer, being surrounded by friends & roommates who also loved to read for fun, I picked up this hobby again. I used to read so many books – mysteries, thrillers, poetry books, summer-y beach reads…you name it. I read and loved it all. During my IE journey / ED recovery days I read a lot as well, but all of the books I read were IE and HAES focused. I'm so glad I read these books – they were educational, transformative, and incredibly helpful for me. But now, I want to branch out and read a wider variety.
I reactivated my Goodreads account as a way to share what books I was reading. This allowed the app to recommend books that I may enjoy based on the books I had finished. If you're into reading, I recommend this site! Here's my page on Goodreads. I also got a Kindle when it was on super sale and registered for a virtual Boston Public Library card. Now I can download books for free via the BPL!
Some of my favorite books recently have been:
Unbroken by Laura Hillenbrand: I just finished this book. It's a true WWII story, and I've never read about so much resilience and mental strength. It's honest, compassionate, and enthralling.
Before We Were Yours by Lisa Wingate: historical fiction, based on the true orphan/kidnapping of children situation in the south. It was filled with drama and heart and the power of familial love. Really, really good book.
Something in the Water by Catherine Steadman: a thriller/mystery that takes place in the UK and in the tropics of Bora Bora. This one kept me on my toes – I couldn't put it down.
Labor of Love by Cara Muhlhahn: I'm currently reading this memoir written by a midwife. I really love memoirs and I find obstetrics and midwifery to be fascinating.
OTHER HOBBIES
Another hobby that I've found I really enjoy is watercoloring – on blank pages and purely for fun. Not for perfection or production. I even enjoy listening to music/podcasts/audiobooks while I'm painting! Spending quality time with my friends and family while we play cards (something we love doing together) is another hobby I really enjoy. Whether it's Go Fish, Black Jack, What Do You Meme, or Phase 10, it's always a blast. And simple too.
The last one I'll include in this post is watching TV. I've never been a big TV person, and I didn't have Netflix account until recently! I've found that sometimes resting on the couch and watching something (even if it's just for an hour) is really freaking NICE. Some of my favorite shows to watch are: Scandal, Grey's Anatomy, Private Practice, The Mindy Project, Parks & Rec, The Office, Life in Pieces, and Revenge.
I'd love to know: what are hobbies that you've enjoyed in the past, hobbies you do now and enjoy, or interests that you're hoping to explore in the future?
Thank you for reading!! Lots and lots of love to you.