Hello RLRD readers! Connie again with some more real life examples of the gentle nutrition aspect of intuitive eating + some fun things I'm loving to put a smile on your face. If you missed this first post on gentle nutrition, you can check it out here!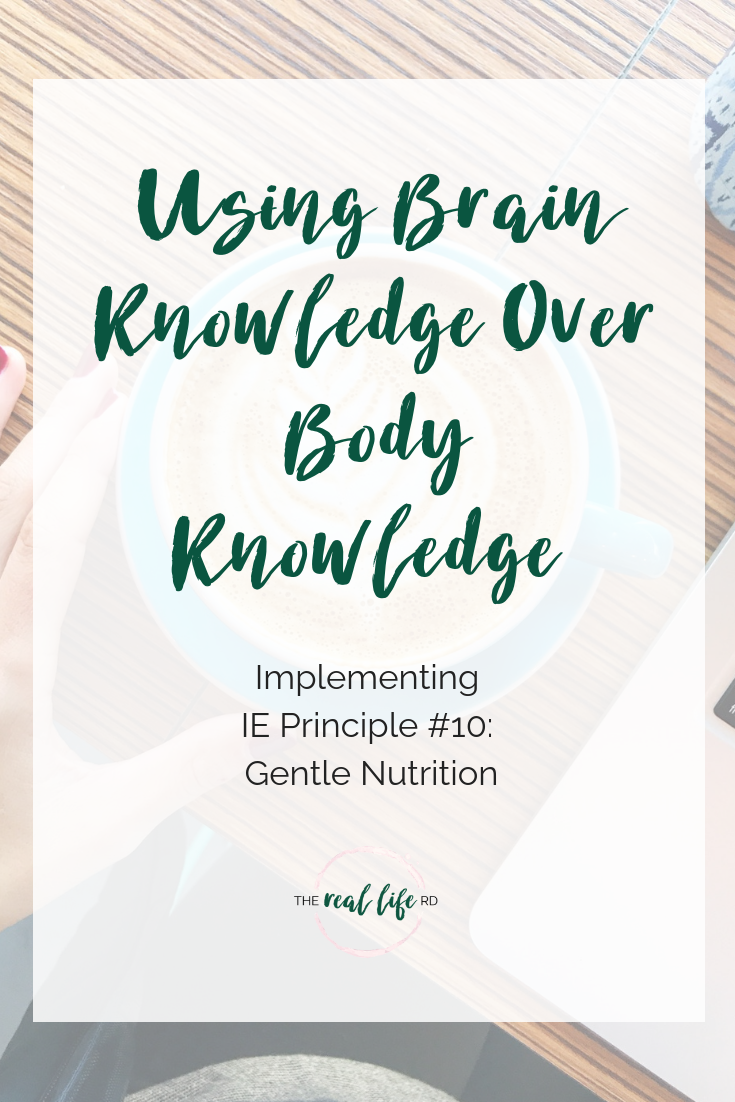 I recently got a DM from a follower responding to an instagram story about eating breakfast even when I wasn't hungry. She asked me to elaborate a bit and so I thought that would make a great blog topic – so here we are! Currently, I am 1/3 of the way through my clinical internship at Kaiser Los Angeles Medical Center, a 500 bed hospital that houses some pretty sick people. There are 8 RDs working on any given day to cover the bases. My days have never been more full, time has never flown so fast, and most days I am completely overwhelmed thinking about my patients that I forget about myself. My hunger cues these days feel like a loss of focus on what I'm doing rather than a tangible tummy grumbling since my stomach is rather tense all day which has messed with the hunger cues I've been use to. I have to plan my eating a little differently so that I can be well nourished. A lot of the time that means eating out of brain knowledge rather than body knowledge.
So what's the difference between brain knowledge and body knowledge?
Body knowledge is stuff like hunger and fullness cues, cravings, and asking yourself what sounds good in the moment.
Brain knowledge is stuff like…did I get a balance of nutrients at x meal? do I think this will be enough or not enough food? I have to plan a few hours ahead…what will be satisfying and sustain me at this next meal?
I don't really have the opportunity right now to stop and ask myself, "hmm, what really sounds good right now?" and then go make it. I am really in a place where I eat what is provided (Kaiser feeds the RDs lunch – how cool is that?!) and just move on. I do a quick brain check, by asking, "Are there carbs, protein, and fat in this meal?" "Fiber?" "Ok now where's my sweet something after my meal to keep me satisfied?"
As long as those bases are covered I just mooooove on. For example, I really wasn't feeling a hot dog on Tuesday but that's what was prepared and it really did the job. I grabbed a pear too and the office always has something sweet lying around. I also wasn't too hungry when I had a mini break for this meal, but I knew that if I waited too long for my body to tell me what I really wanted when I really wanted it, then I would be stuck in a patients room or charting and just have no time to stop which would lead me to a place of primal hunger. That gnawing uncomfortable I'm TOO hungry feeling that is unpleasant and leads to chaotic eating and indigestion. So I ate before I was as hungry as I usually am before meals because that's what worked logistically.
Similarly, I wake up at 5 am every day to get emails done and review notes because once I get home at 6pm my brain is totally mush. I'm done. I have to leave the house by 6:40 am for Kaiser and sometimes I'm just not ready for food at 6am, BUT I know if I don't eat I won't have an opportunity for a full meal until lunch. That would leave me unfocused for my patients and for the critical thinking this internship requires all day long. I would rather eat out of self care and feel a little blah from eating when I wasn't really ready for food than be so hungry I can barely carry on a conversation let alone calculate a tube feed for a patient because I'm so hungry.
I have to use my head knowledge and think about the day's logistics, rather than just "listening to my body". I know many people associate intuitive eating with "listening to your body" and while that certainly is a big component, it is much more than that. Sometimes our bodies can't be trusted to tell us things. If we are in an active eating disorder we can't trust our own hunger and fullness cues because our body has been so used to receiving an inappropriate amount of food or become so accustomed to unhealthy behaviors for so long it looses its ability to tell you what it's feeling in an accurate way. We have to rely on brain knowledge. We also often can't trust our bodies under high stress situations. The natural stress response is to shut down the digestive system to divert blood flow and energy to those body systems that need it most like your heart and lungs. In other words, we can not be fully attuned to our bodies so we must rely on our own head knowledge or a trained professional who will teach us some head knowledge to help us navigate these murky waters and know how to nourish our bodies when body signals are confusing and/or unreliable. That's okay! And part of the process.
I hope that shines a little light on combining brain + body knowledge. My point with all of this is that intuitive eating carries us through all the stages in our lives, we might just have to use different tools during different times. That may be a meal plan to help us eat adequate, balanced meals when we are beginning eating disorder recovery or learning about what makes a balanced plate with all the food groups (fun food included!) in a first time nutrition education class. That might mean packing foods you predict to be satisfying and filling in the morning before leaving for work because you know you have a busy day and eating is essential to having optional cognitive function despite your stressed out tummy in the morning.
Now that we have that covered I wanted to share some fun non-nutrition things I'm loving because we always need some work life balance, right?
This video. It pumps ME UP. I have been watching this since high school when my campus minister showed it to us before leading a retreat.
Stitch Fix. I have been using this service for a long time now. It was one of the things that helped me embrace my natural body size because it allowed for me to try on things in the comfort of my own house without the stress of the dressing rooms. You can pick your price and your style and how often it comes. I just think it's a fun treat and might be a great present for someone?! Also, if you're interested here is a post I wrote on shopping for your new body.
Buying myself coffee. I have been purchasing a hot latte to study on the weekends or a cold brew if I can get a second away from my internship during the day and it has become a small little self care tool for me lately. Sometimes I get too in my head and physically removing myself from the current situation helps me process. If I'm having a stressful day at my internship, I can get down on myself for not knowing things or for feeling like I don't know an answer I should know – so much so that it works me up to almost tears. At that point I'm like ok, coffee time Connie! I take the 5 minute walk to the nice coffee kiosk or the Peet's counter in the lobby and give myself 10 minutes of peace. I used to hate spending money on coffee but for now, 2 dollars of ice coffee for some calm? I'm in!
What are some things you have been loving? Have you been using your brain knowledge in your intuitive eating journey? Share in the comments!