The past couple days at FNCE have been full full full.
I'm still in Chicago this morning before my flight out at 4pm, but I'm spending the day with my in-laws and trying to rest up a bit before heading back to work tomorrow.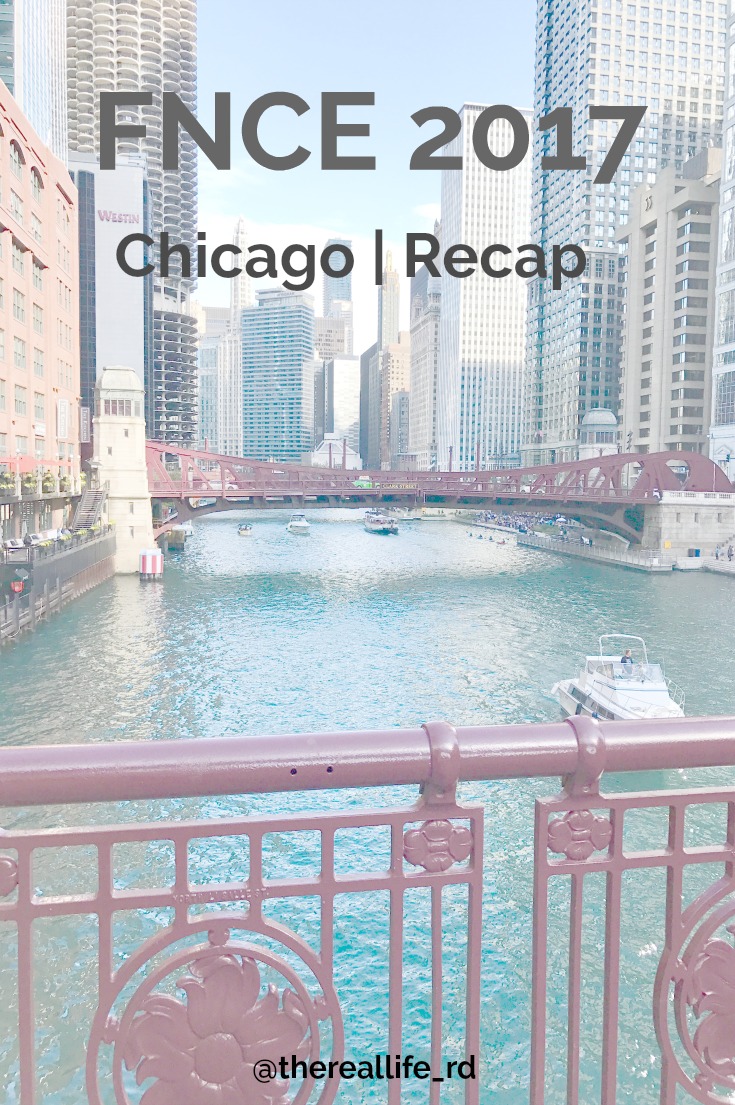 Backing up, I flew into Chicago Friday night around 10pm. By the time I made it to Sabrina + Josh's house (Nick's sister and her husband) I was falling asleep on my suitcase. I chatted with them for a bit and then headed straight to bed.
Saturday morning I woke up and did some blog work for a bit before heading out on a long walk. It was so nice and breezy out! Sabrina made chocolate chip pancakes for breakfast so I ate a couple of those along with some yogurt + granola for breakfast but forgot to take a picture.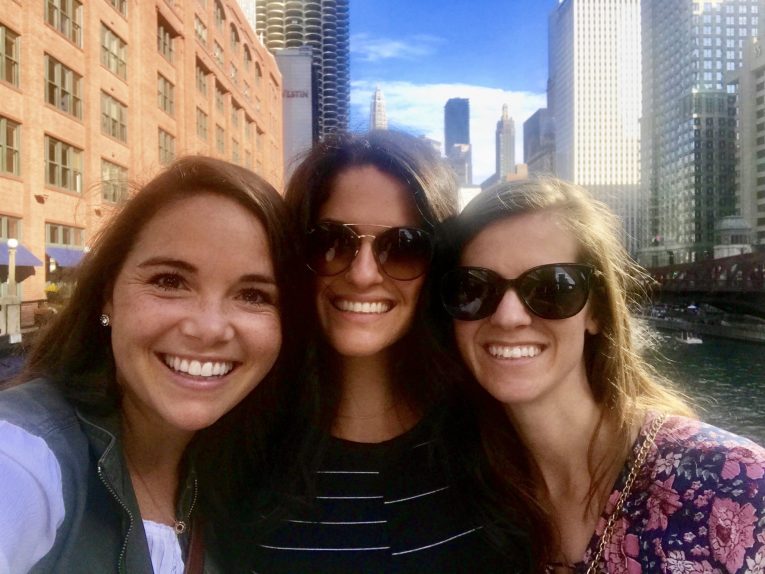 I showered and then headed into the city for the conference. Alexis, Meme and I met up before heading to a Siggi's brunch event. Ellie Krieger, Jaclyn London and Siggi himself spoke on entrepreneurship. As I listened, I was knee deep in the new chocolate 9% yogurt. If you can find this in stores near you, PICK IT UP.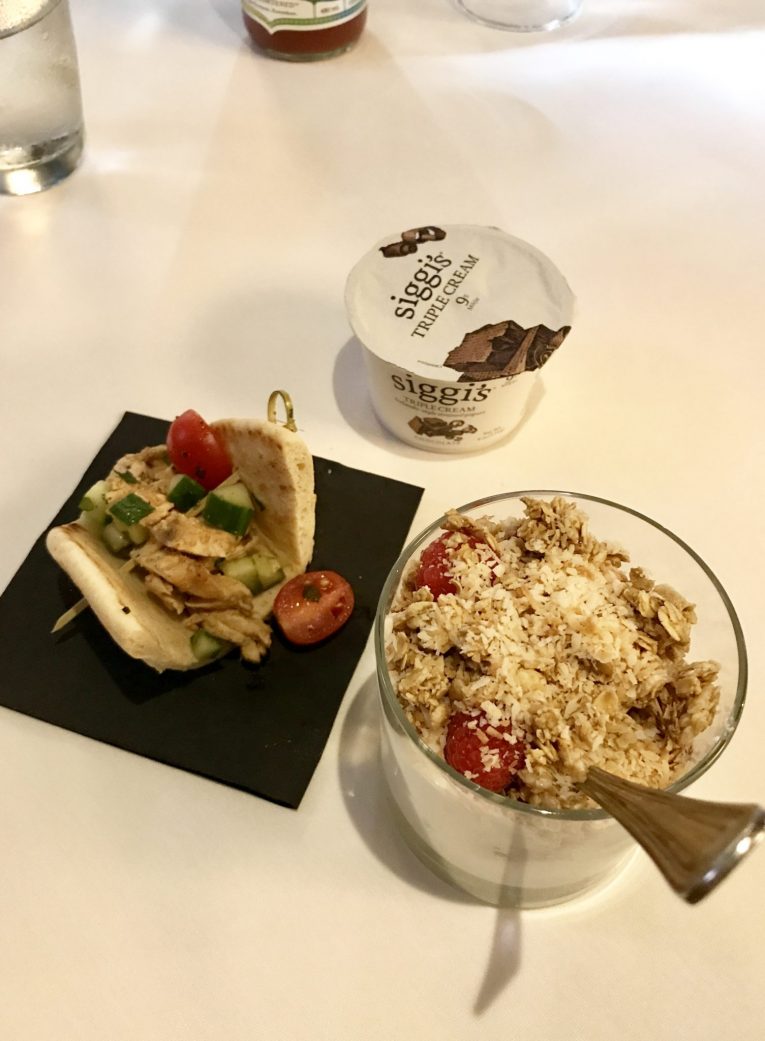 Afterward we met up with Kara and Rachael and headed to the Riverwalk to grab a glass of wine. It was in the 70s and gorgeous on Saturday.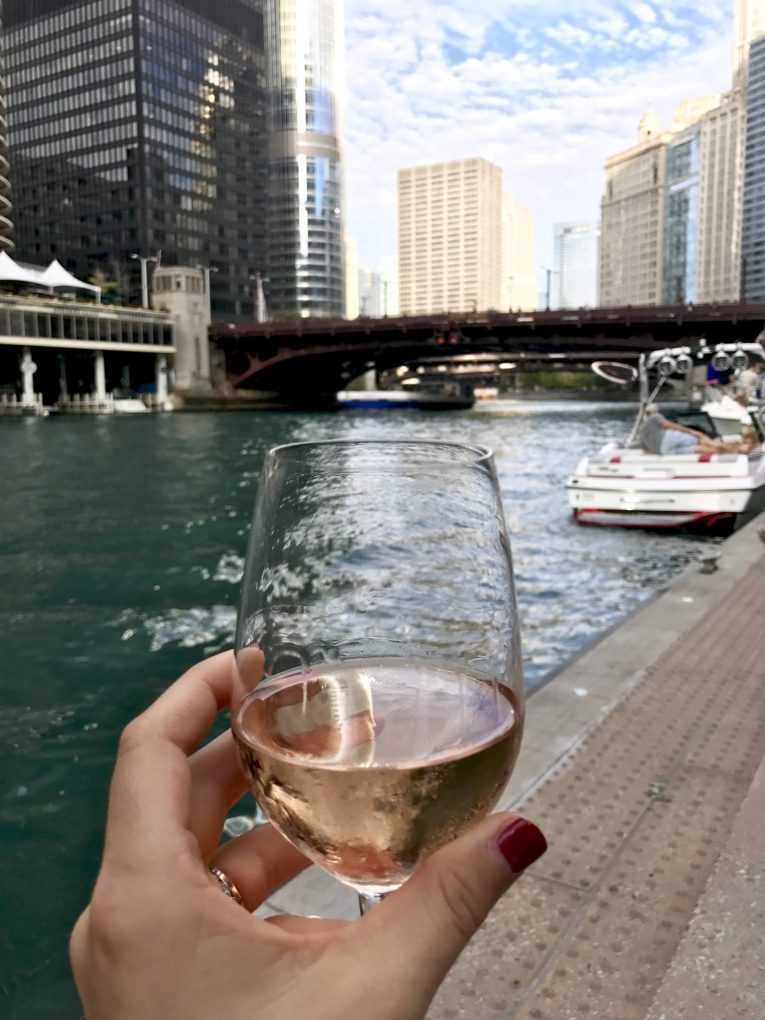 We sat around catching up and chatting about life, blogs, business and everything else. I hadn't seen Meme or Kara since last year so it was fun to see them again too. I hate how long you go sometimes without seeing people.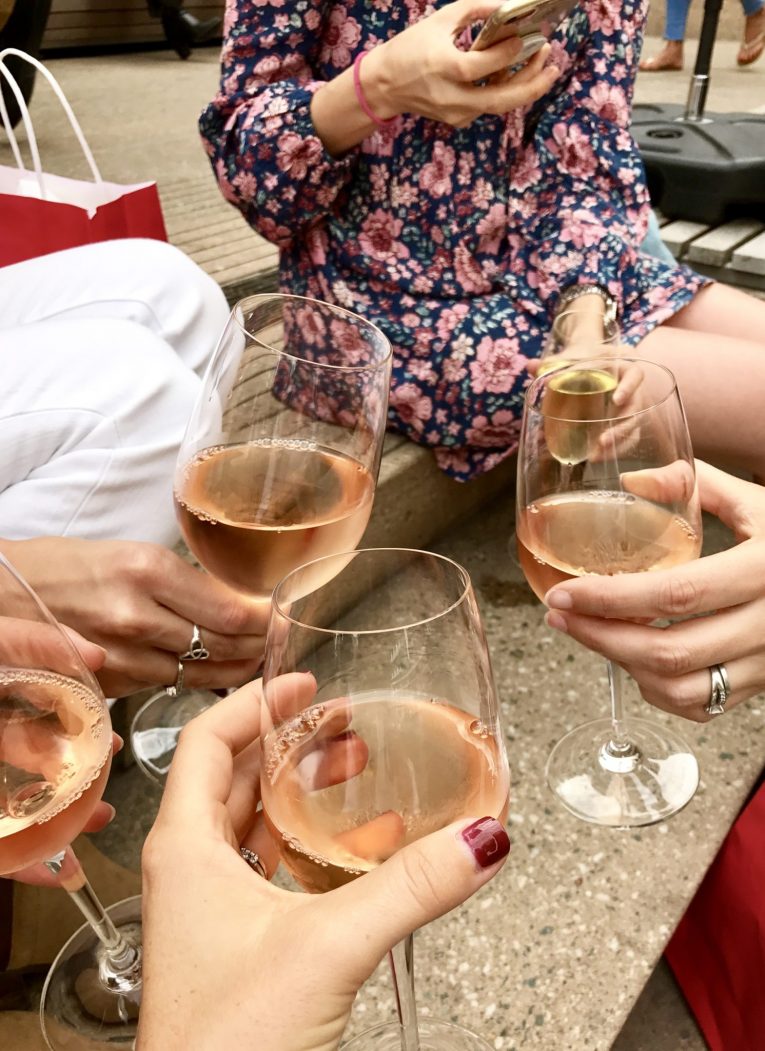 And then a group of dietetic interns saw us and came over to say hi so we chatted with them for a bit. I didn't go to FNCE for the first time until 3 years ago, but I so wish I would have gone earlier and been able to meet older dietitians who were pursuing the same career path I desired. Some mentorship would have been so helpful! All that to say, I really enjoy talking to aspiring RDs.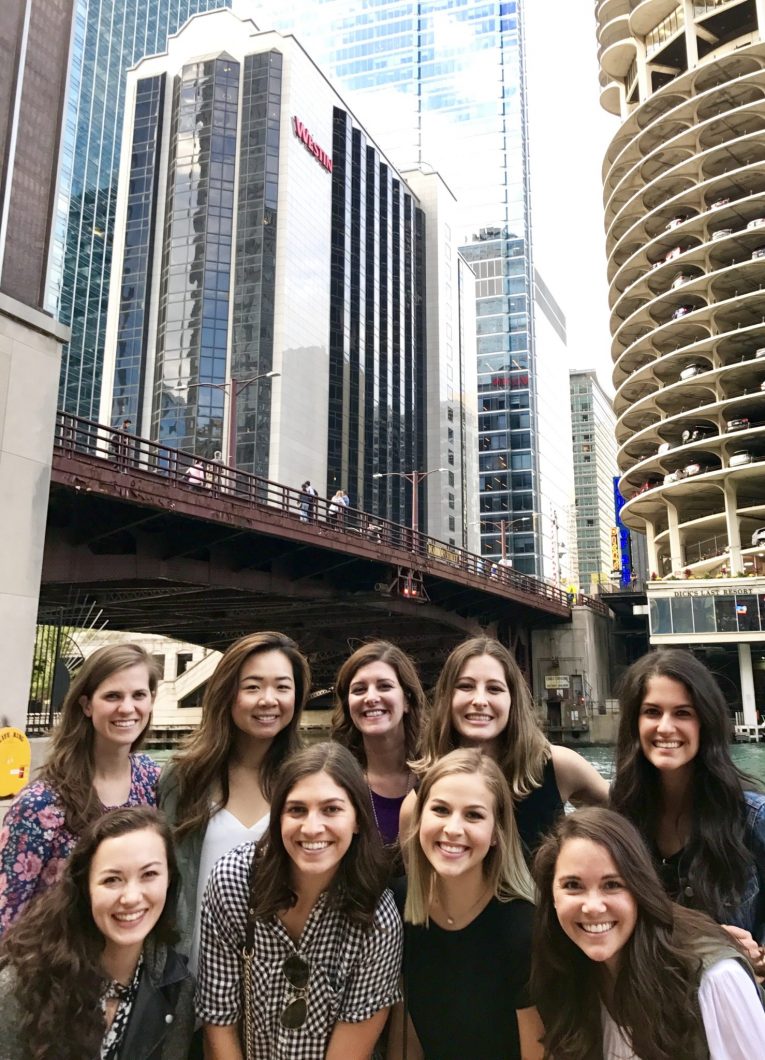 Afterward, I was suppose to make it to the Unilever Agent of Change champagne toast event but because of logistical issues with getting over to the conference center and back on time, I had to skip out. I was honored to be in the first class of Agent's three years ago and it's been really fun + exciting to see other RDs be a part of the program too. This year, Rachael, Kara and Kylie were chosen as Agents!
Saturday night, I had dinner plans with my good friend Mary Ann who lives in Chicago. We've known each other for 15+ years and she was in my wedding so I wanted to make sure we got some quality time. I headed to her place for wine and then we went to dinner at Fig and Olive.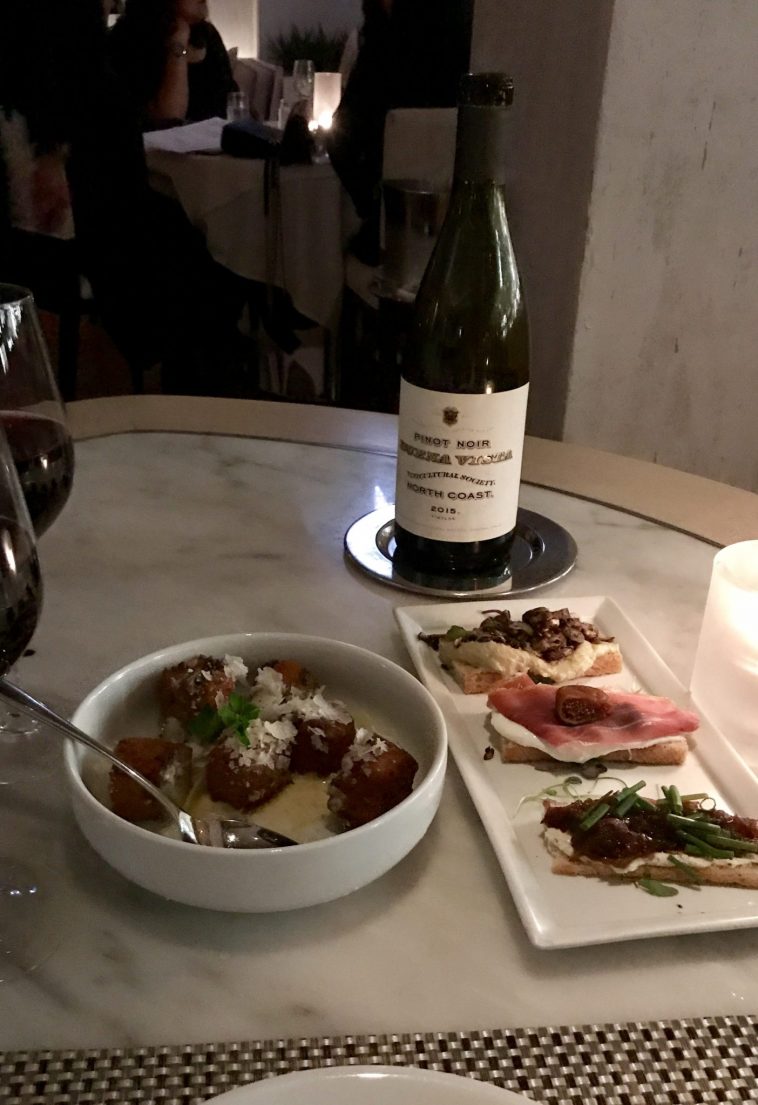 We started with mushroom croquettes and a trio of crostini. The caramelized onion and goat cheese was my favorite. And the croquettes were fab!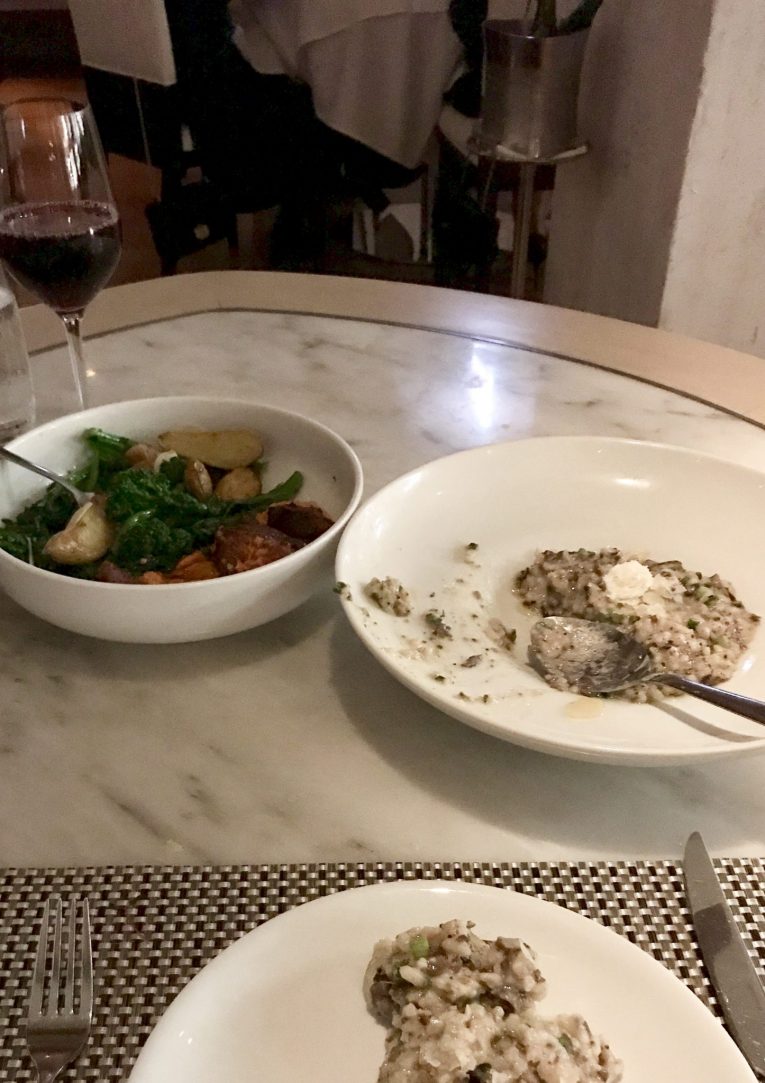 We split the truffle risotto and hanger steak for entrees. YOU GUYS. Everything about these two dishes was on point. The risotto was creamy truffle heaven and the steak was so tender.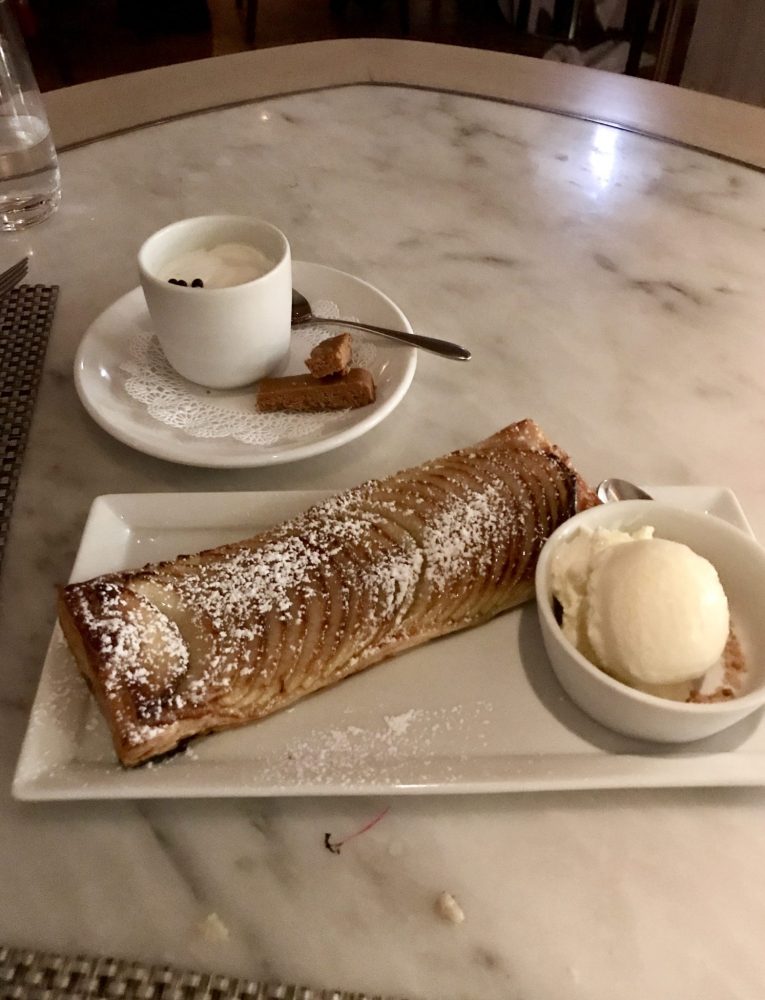 We didn't plan on dessert, but our waitress insisted she give us dessert on the house since our entrees took a while to come out. Um, I will never turn down that offer. We went with the apple strudel and dark chocolate mousse. I liked the apple best. It was light and flaky and perfect with the ice cream.
Sunday morning we woke up and walked to get bagels.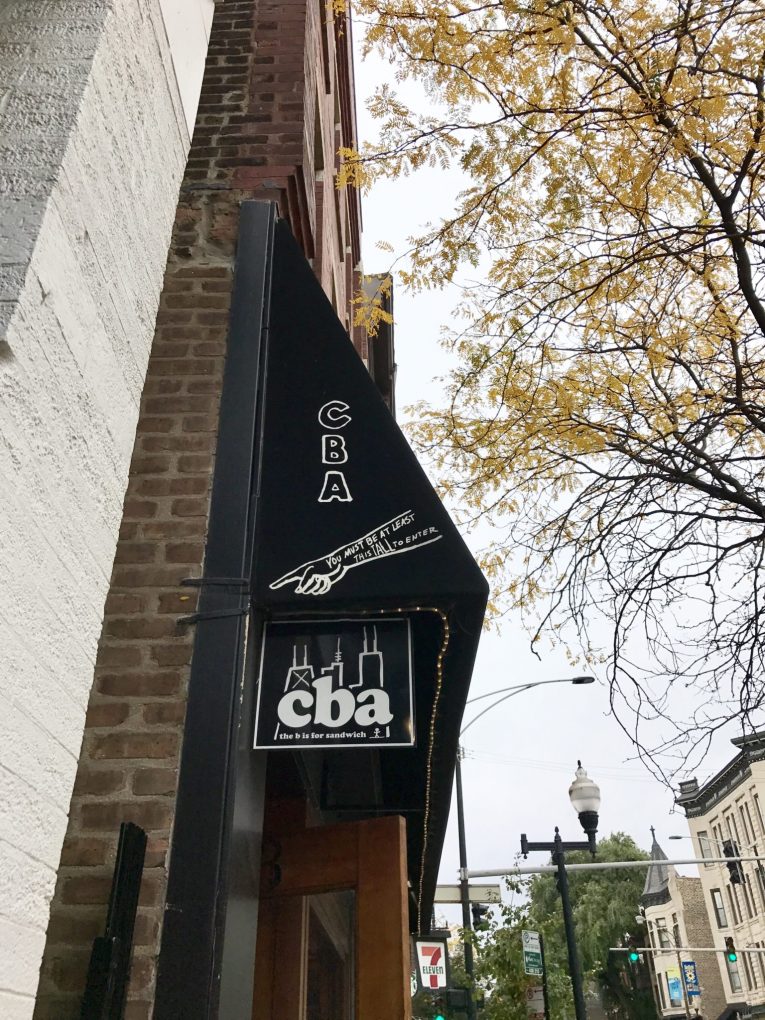 I don't know if this is a typical Chicago bagel, but it was so different than New York bagels. One, they were a bit smaller which I can appreciate since NY bagels can get a bit aggressive. And they steam the bagels so they were insanely doughy and chewy and delicious. They were super tasty. I went with egg + avocado + tomato.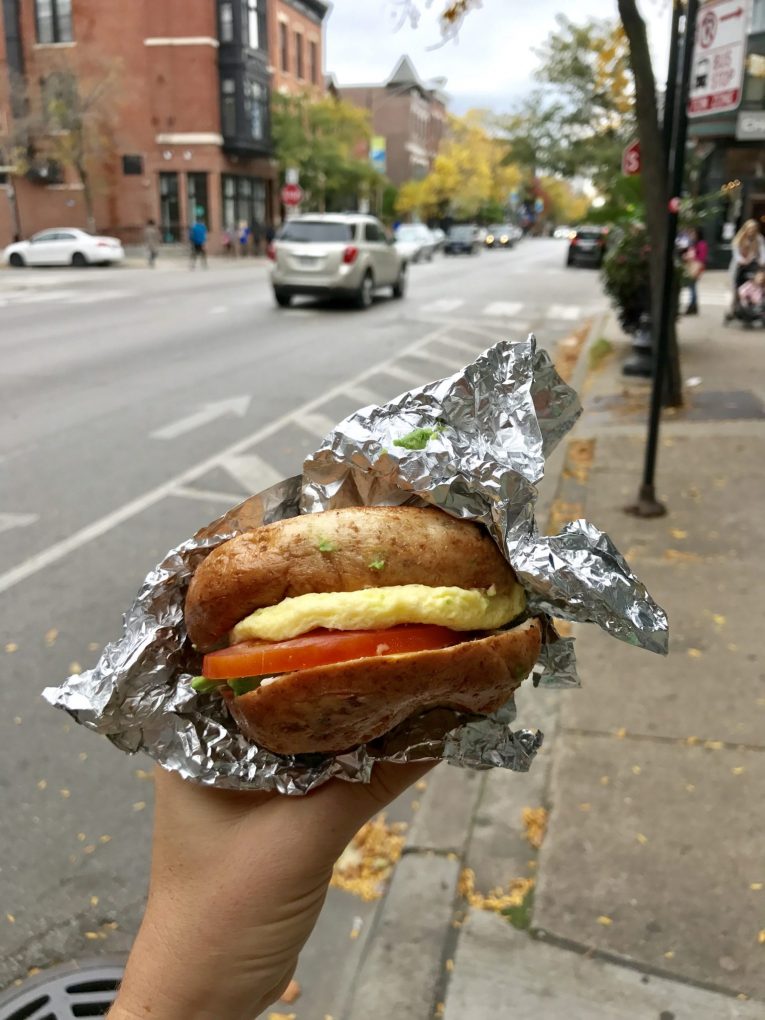 I got ready for the day and then headed to the conference for a lunch with Simple Mills. I knew it was going to be a day filled with a lot of food so I was trying to pace myself. I snacked on some crackers + cheese plus a cookie. Alexis had partnered with Simple Mills so we watched her be a bossy lady.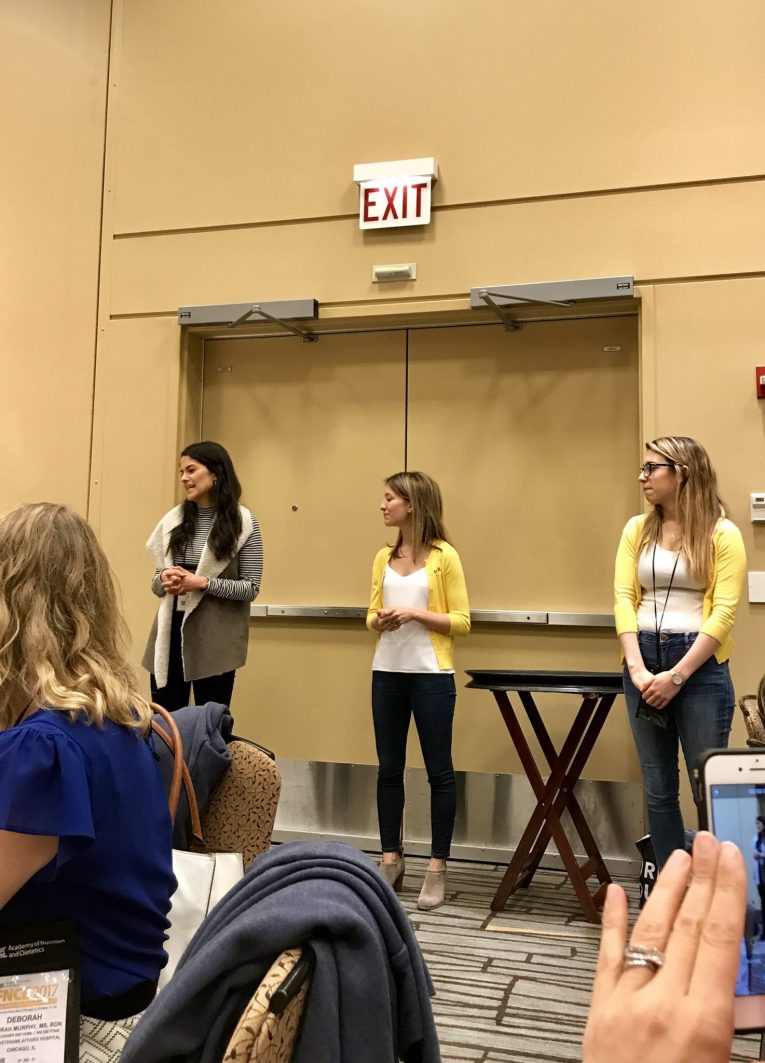 I got to catch up with an RD I went to undergrad with that I hadn't seen in years which was so fun. And I got to meet so many readers – I love meeting you guys in person! Like Emilie from Emilie Eats.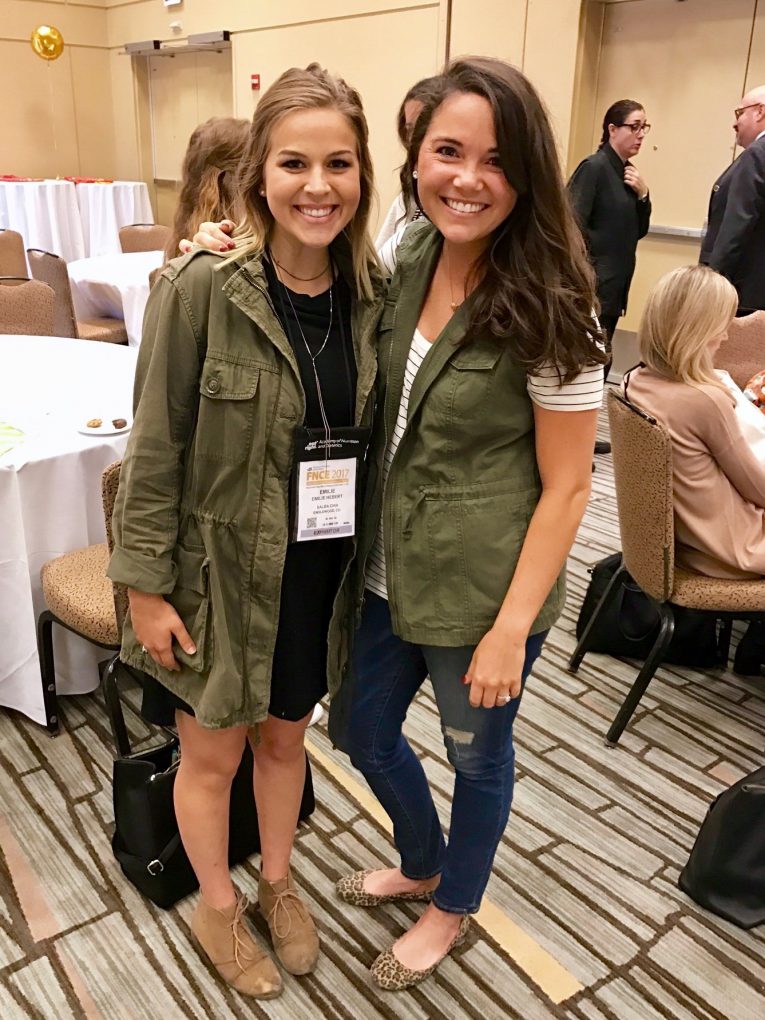 This year at FNCE, I didn't actually make it to any of the sessions. For the past couple years I feel like the days get so busy with networking and PR events that I've focused my time on that. I love meeting + learning from so many RDs in the field and I've found that to be really valuable.
After lunch I met up with some of my college friends for brunch at Somerset.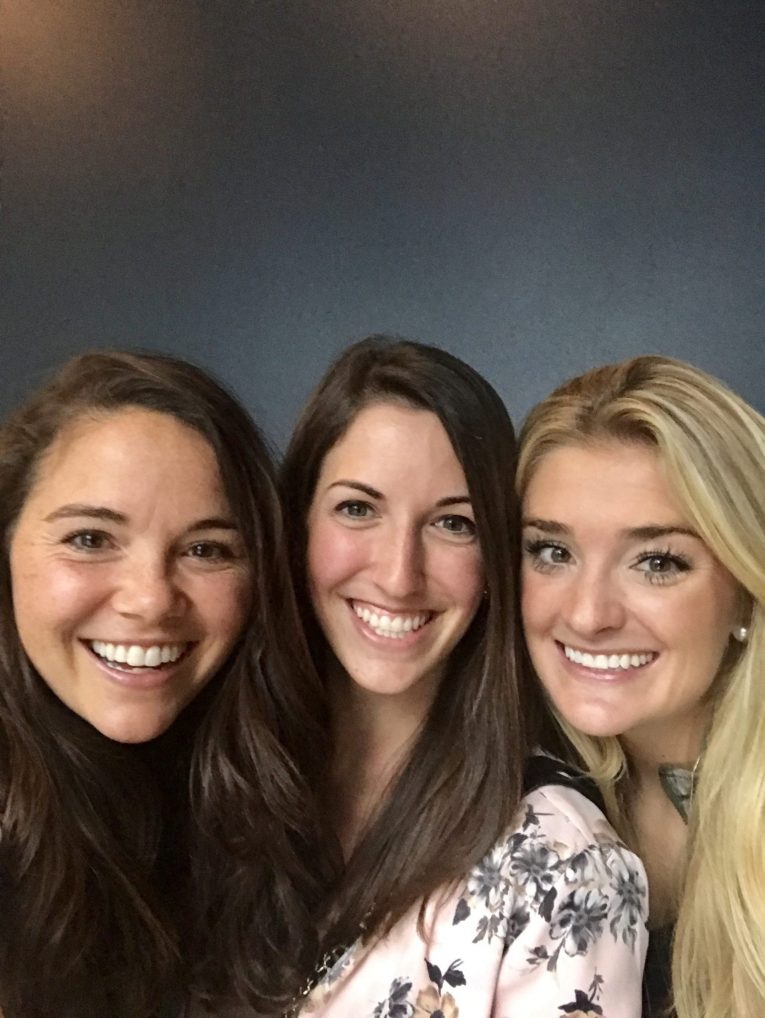 It had been way too long since I've seen Marcy + Sammy. We've had a lot of college friends get married this year but with everything going on and weddings galore I've had to miss a lot of college weddings. Which sucks, but I guess you can't be everywhere all the time.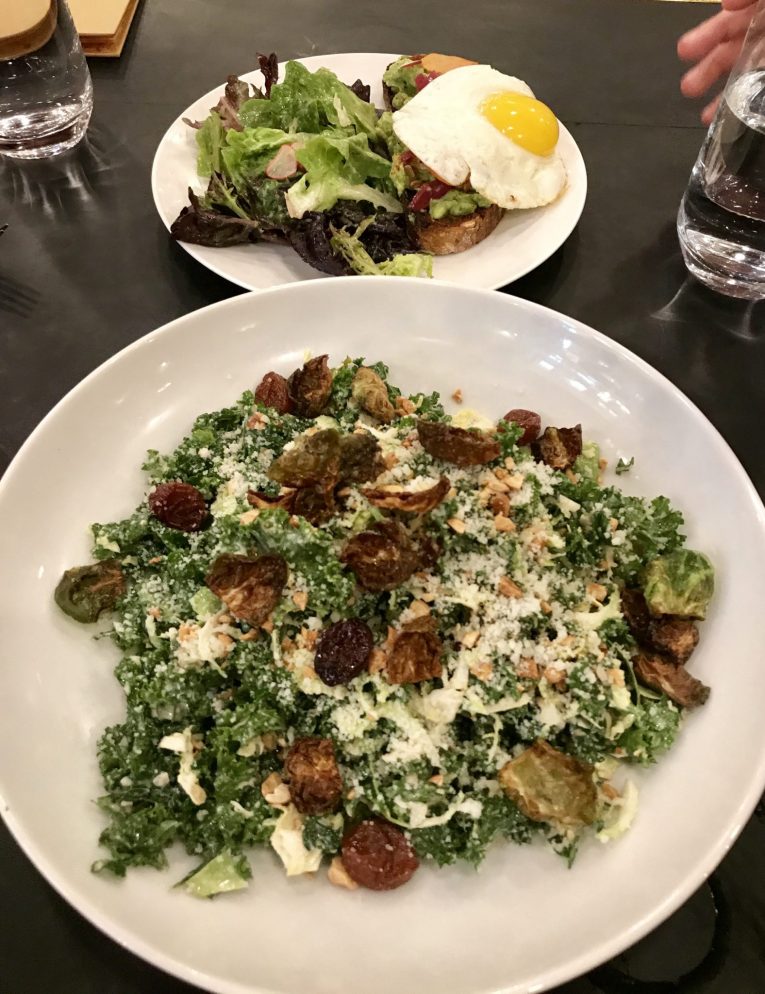 I ordered a tequila pineapple cocktail which was bubbly and refreshing, and then we split three entrees. A shaved brussel sprout salad with kale and pecorino (which was amazing!), avocado toast and the fried chicken sandwich that was also crispy perfection.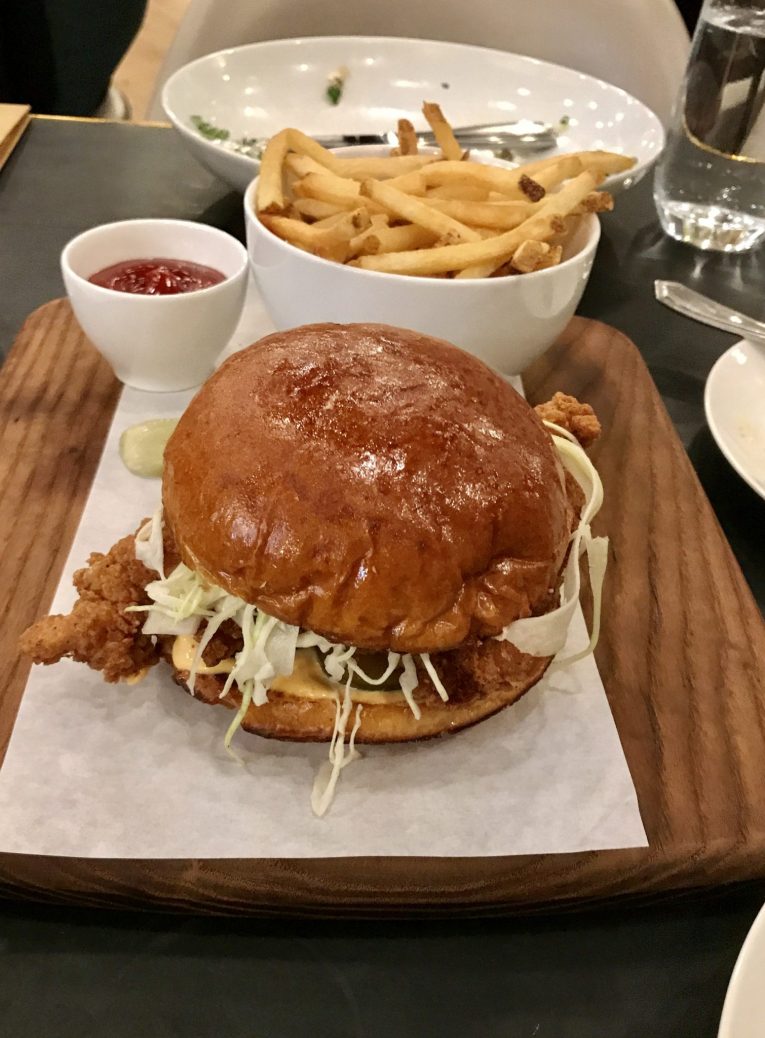 I went back to Mary Ann's to change clothes before heading to a cocktail hour with FoodMinds (a PR company) around 4pm. We talked strategy and working with brands and all that jazz.
In all honesty, I can get really overwhelmed when people start talking about all this branding strategy. I think because 1) I'm not a businesswoman so it doesn't come naturally for me and 2) I'm not sure if I really want to focus a lot of my time on that side of things – not that it's not worthwhile, but I'm not sure if it's the best fit for my mission. Alexis and I had a long talk about this which is always helpful and reassuring. I say all that because I think whatever you do for a career, it can be easy to get pulled in a direction that in the moment seems like a great idea because a lot of people are doing it and there's great opportunity – but it might not be what's best for you.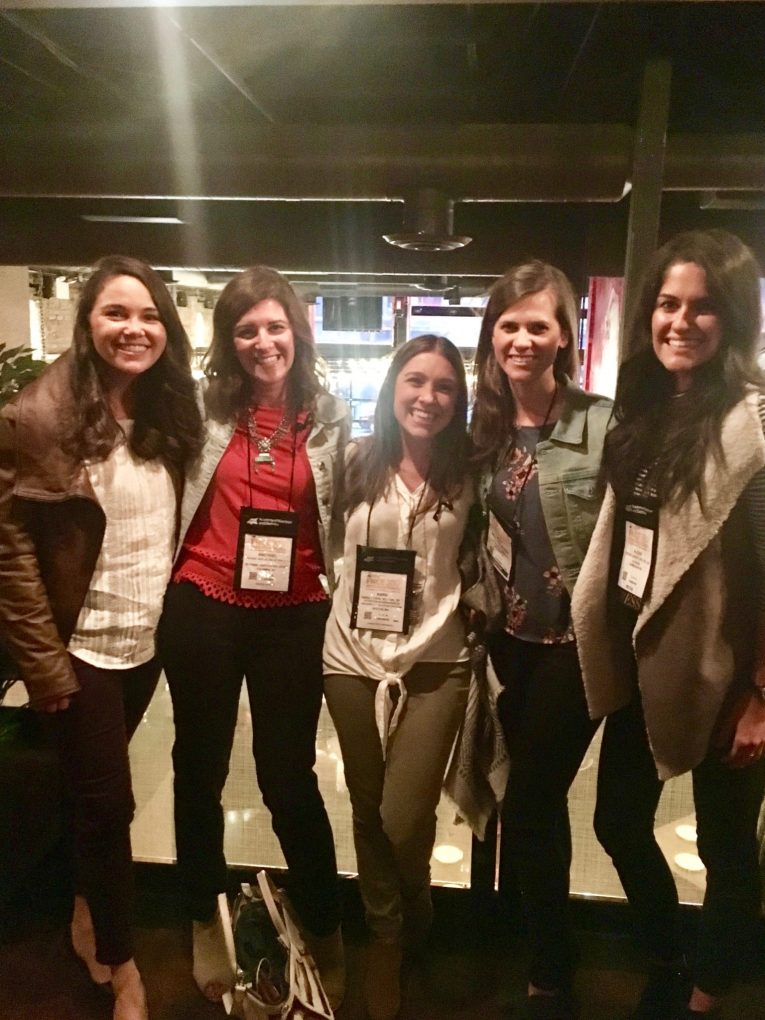 By the time 7pm rolled around I was wiped. But we had one more event to go to. A dinner with the American Pecan Council. Alexis and I headed to dinner together while the other girls went to other events.
I was feeling tired and worn out, but when I walked into this gorgeous space I knew it was going to be good.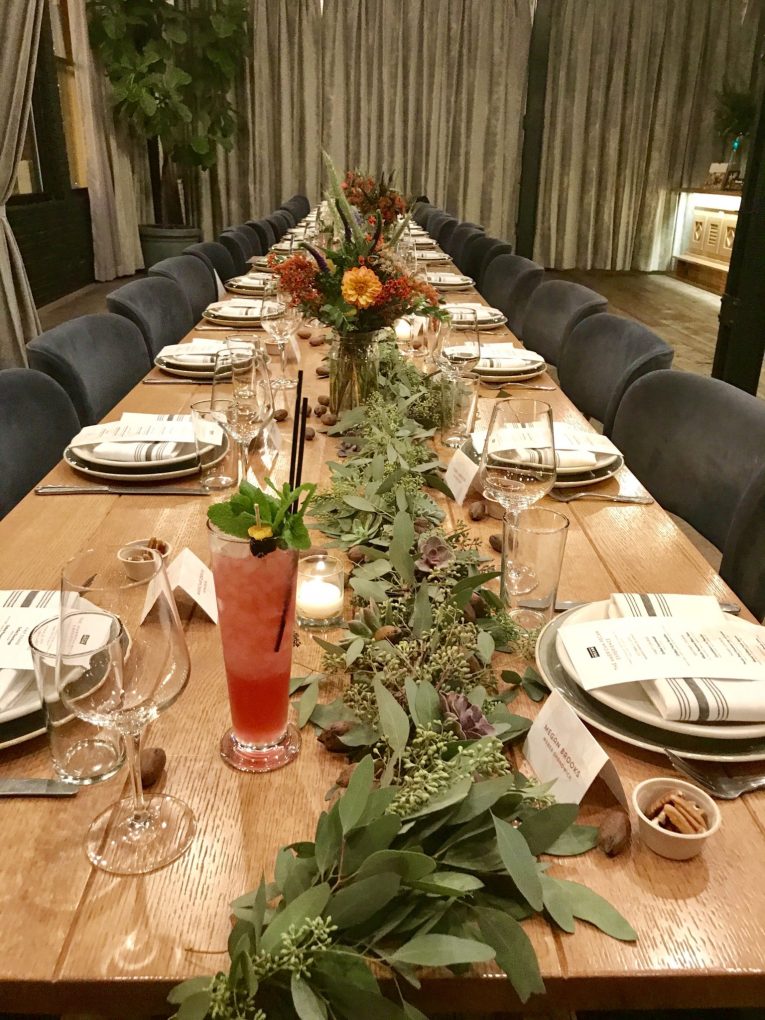 We were welcomed with their signature pecan cocktail and oysters. And then we sat down to a four course dinner.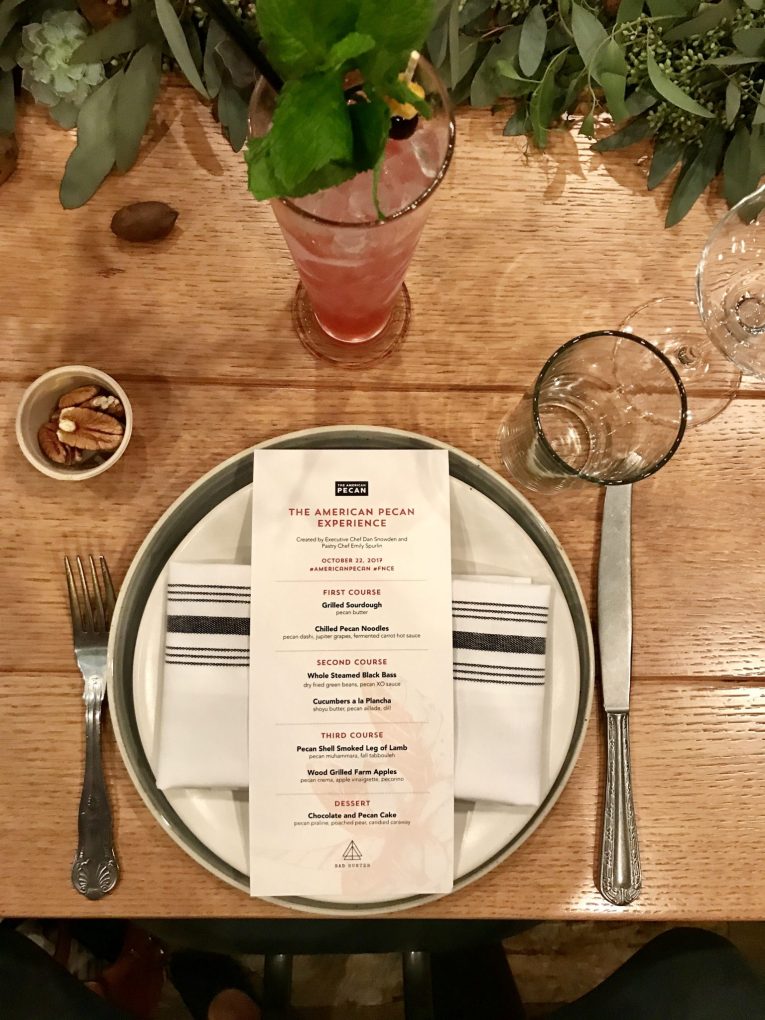 We started with grilled sourdough and pecan butter and I DIED.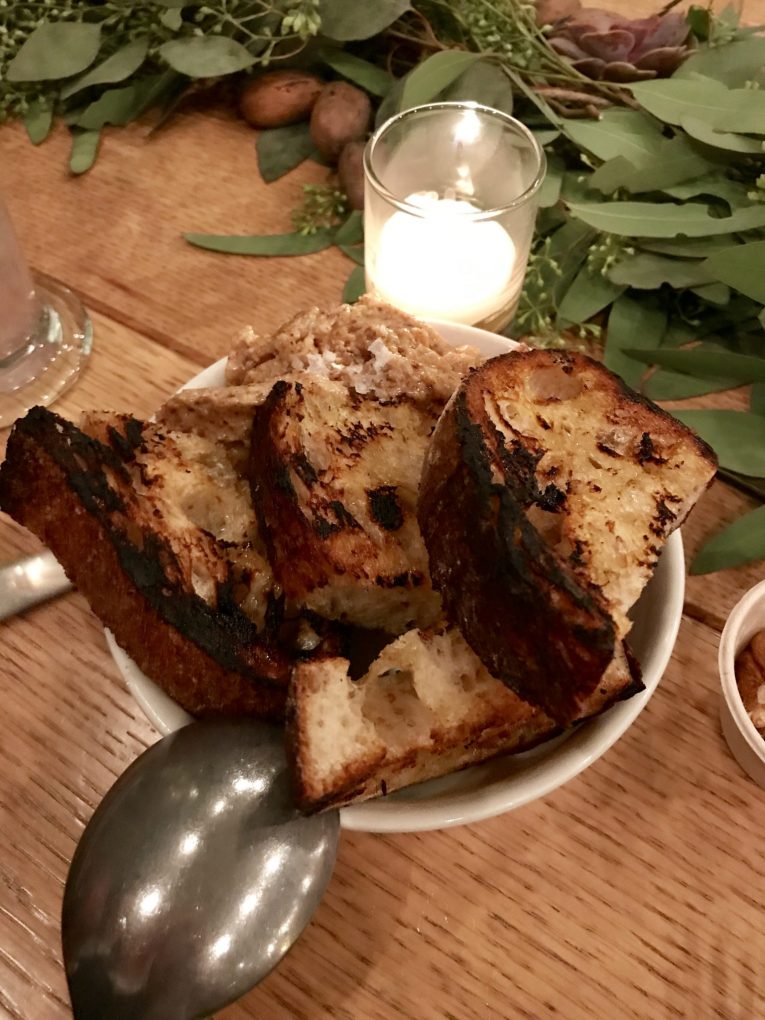 Alexis was at the other end of the table and our text exchange went like this…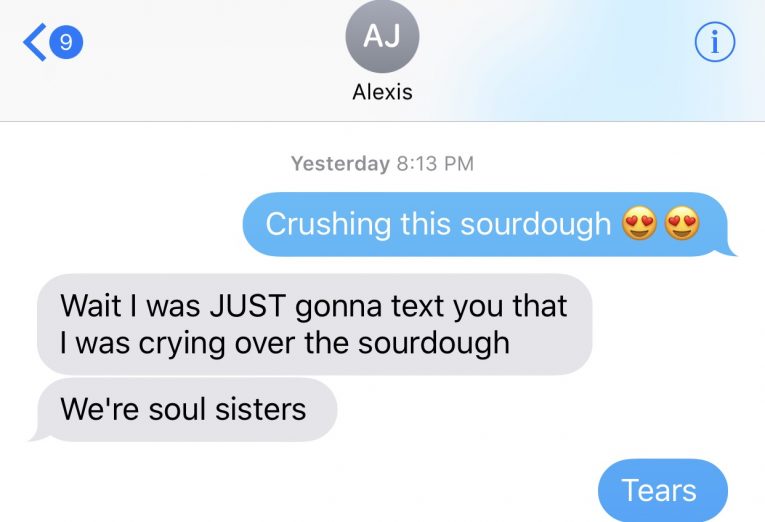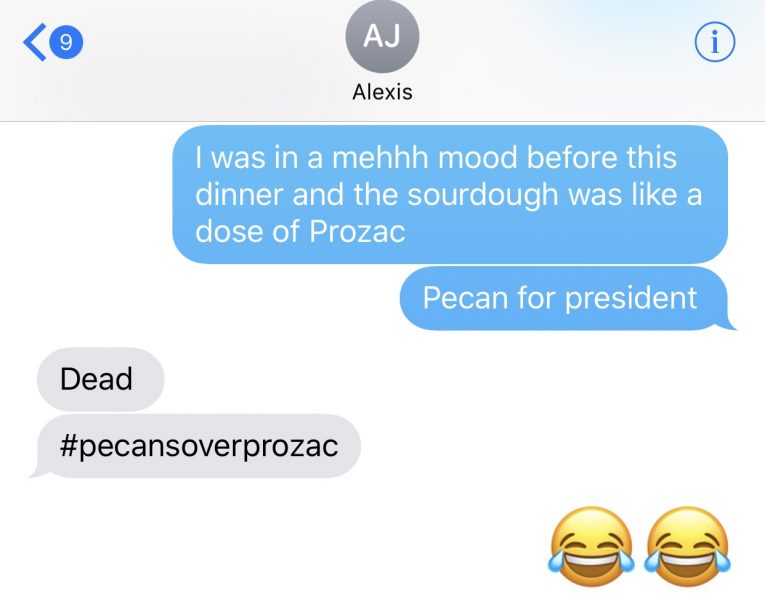 We also had a soba noodle dish that was good, but the bread won by a long shot.
The second course was sea bass with dry fried green beans and a warm cucumber dish with shoyu butter. I had never had cucumbers as a warm dish and now that I have…I feel like I'm a changed woman.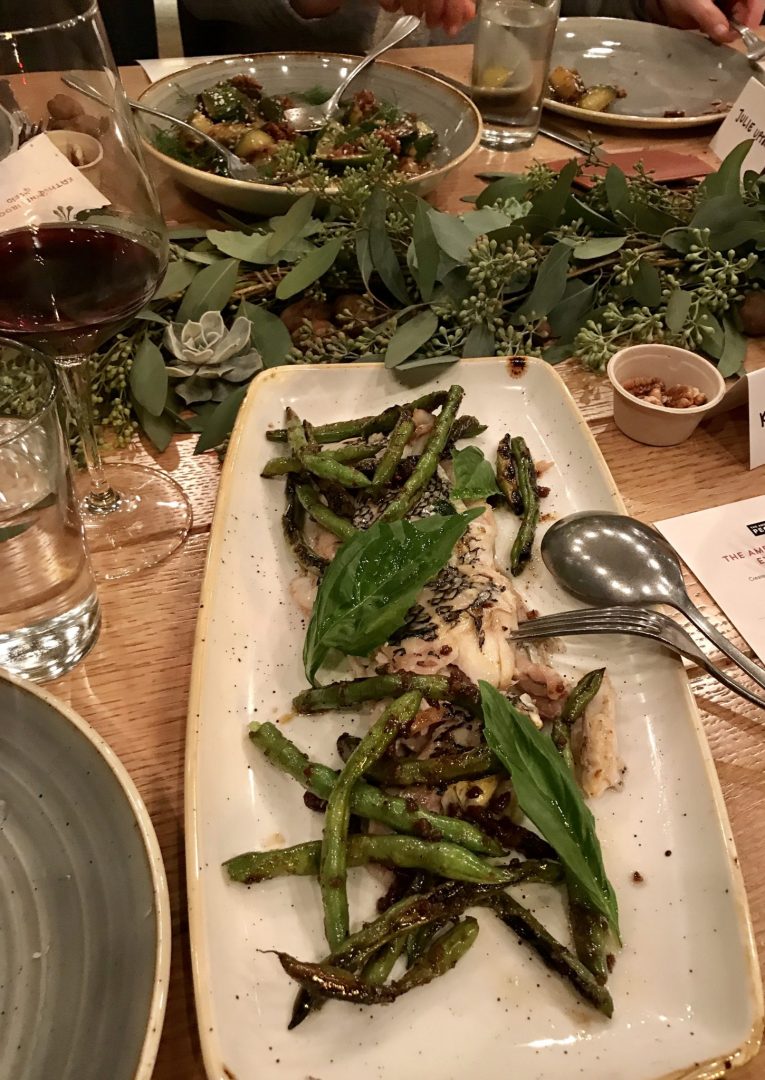 The fourth course was lamb with with a spicy pecan sauce and fall tabbouleh. I really never eat lamb so wasn't sure I'd like this but again…it totally blew me away. The lamb wasn't heavy at all and paired with the spicy sauce and grain mixture it was perfect. On the side were wood grilled apples with a pecan crema that was different and fabulous.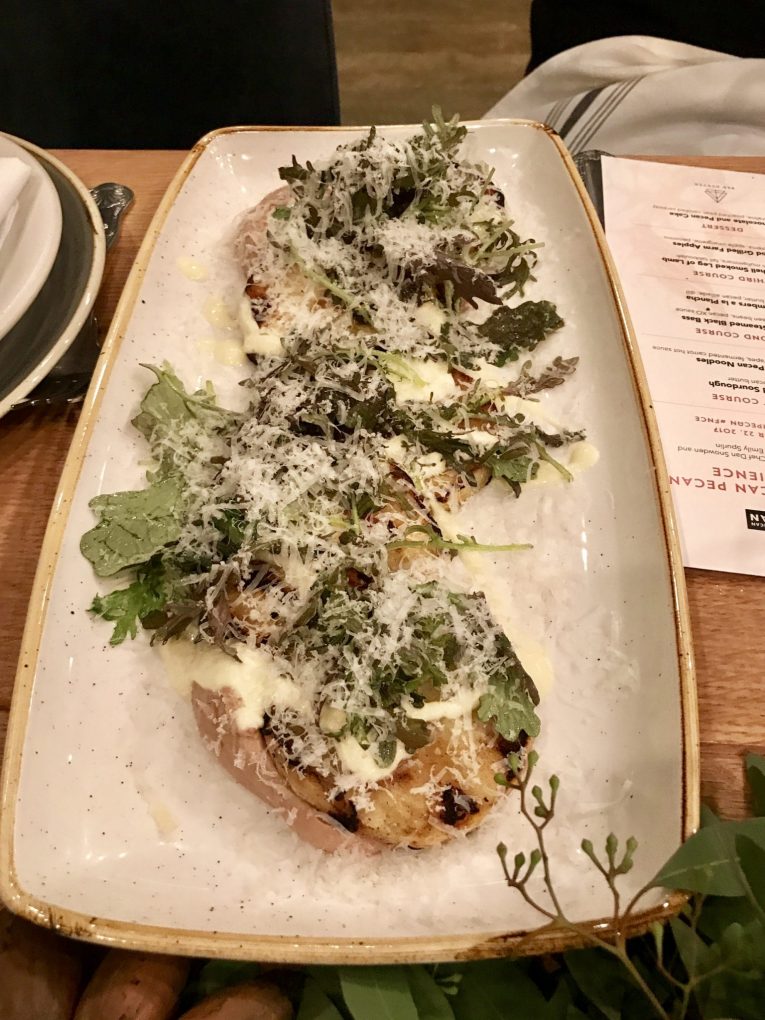 A couple 6th generation pecan farmers spoke at the dinner and I loved hearing them talk about pecans (they are America's only native nut!) and their passion behind what they do.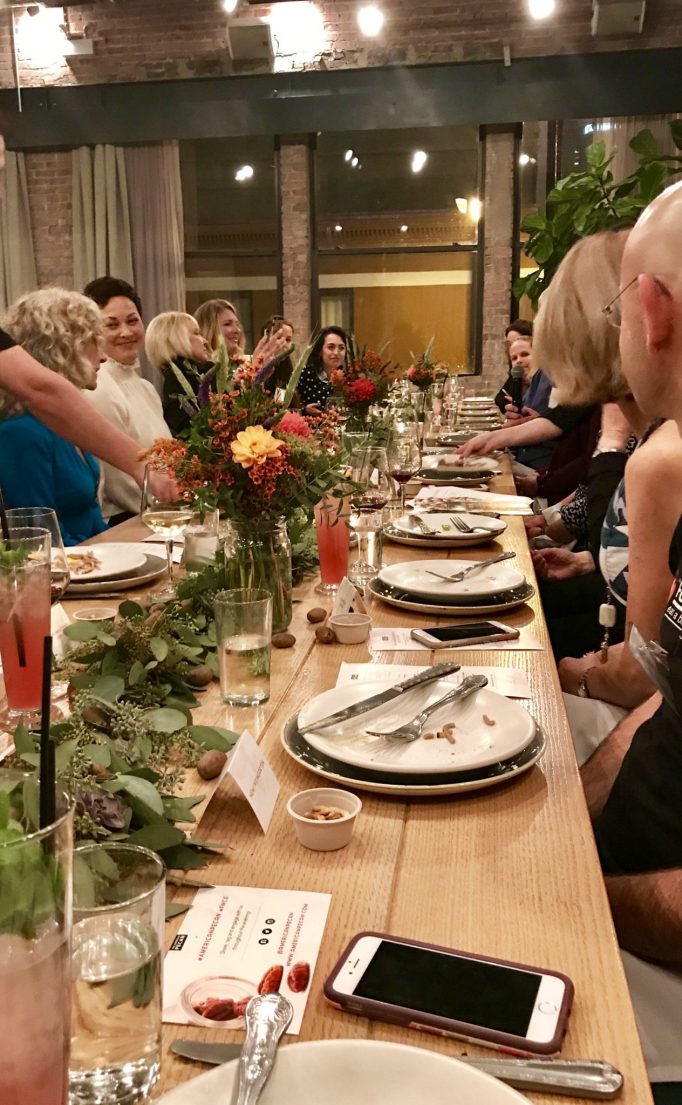 Side note –> When I saw Ellie Krieger was at this smaller dinner I knew it would be fab. I also sat next to Sally of Real Mom Nutrition and she was fabulous as well. The tagline of her blog is "a no-judgement zone about feeding a family" and I think that's awesome.
Lastly was dessert. This cake was as incredible as it looks. It was a thick brownie like base with a whipped cream "frosting" with poached pears and sugared pecans. DEAD.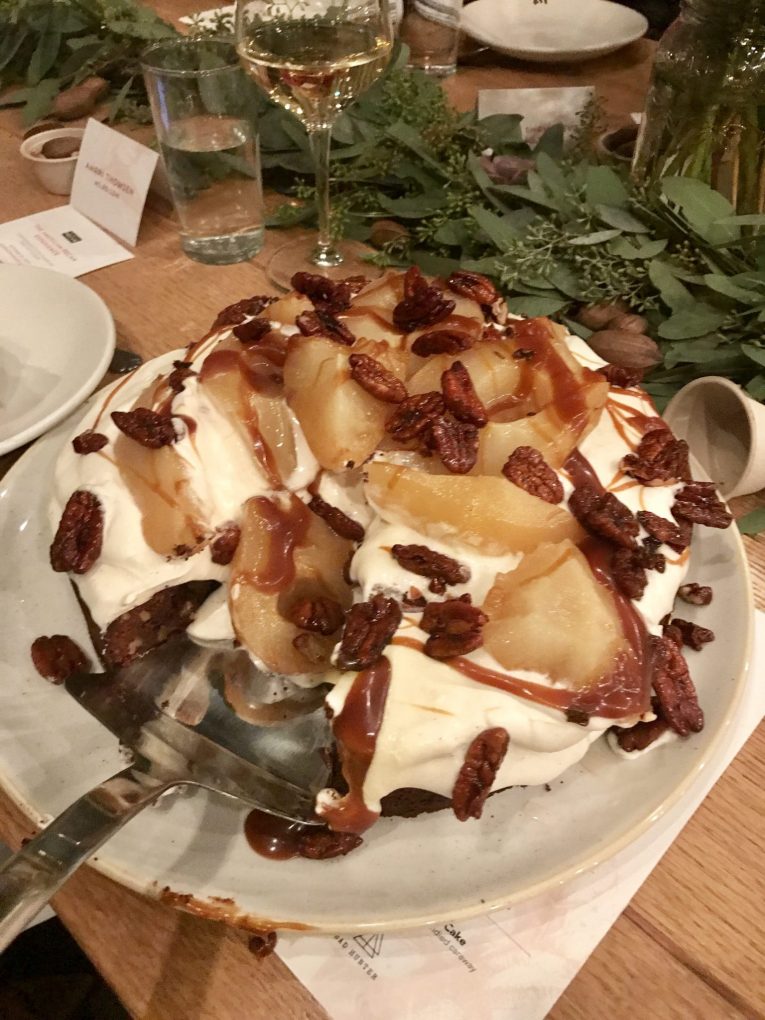 We left full and happy. I dropped Alexis off where she was staying and drove back to Tinley Park last night.
It was a quick FNCE this year (the conference goes through Tuesday) and I'm missing some really good events this evening but work and life calls. Until next year!
I hope you guys had a great weekend too. Share what you did in the comments!