This weekend was full of unexpectedness. But also seeing a lot of friends which was fun and good and worth it.
My friend Brittany was in Boston this weekend for a trip with her roommate that she now lives with in Dallas. History lesson: Britt and I were roommates in New York and she quickly became like a sister. She now is doing Teach For America in Dallas. She flew in late Thursday night, so Friday after I spent the morning seeing Nutshell clients we met up for a late lunch and spent the rest of the day together. It was so good to spend time with a close friend!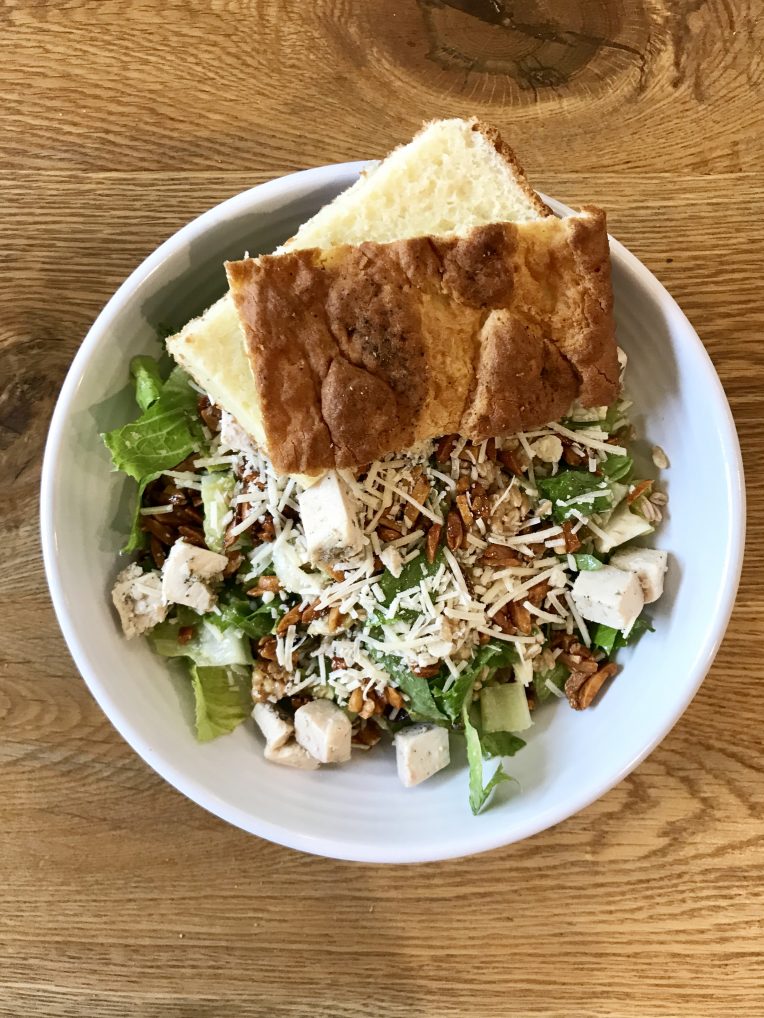 We lunched at Flour and I ordered the farro and chicken salad with almonds and cranberries and it was fantastic and HUGE. I usually never leave salad in my bowl, but I got 75% through this and was full. I've been here several times, but will be back for this salad alone in addition to the zillion incredible baked goods.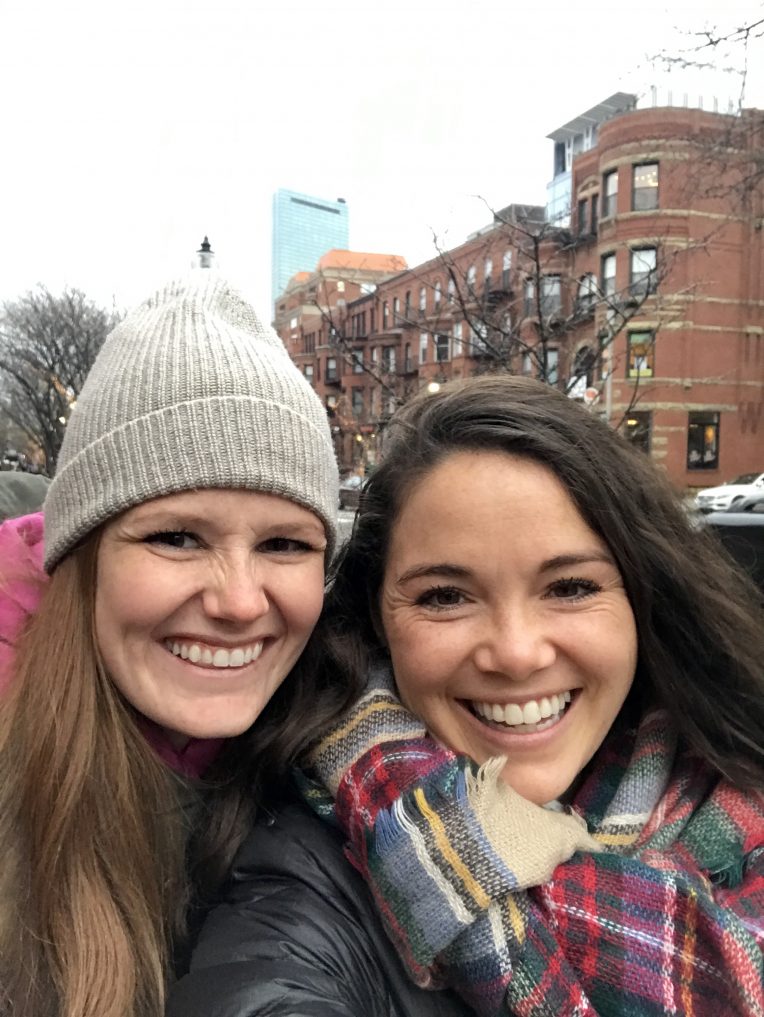 We spent the afternoon strolling Newberry Street. I was looking for a good pair of gloves and a hat but didn't find anything I really liked.
And then we walked over to Warby Parker and I got a new pair of glasses which I'm impatiently waiting for now. I love them! A lot of you ask where my clear glasses are from – they're from Warby. All the glasses I have are from Warby Parker and I love them. Couldn't recommend them enough.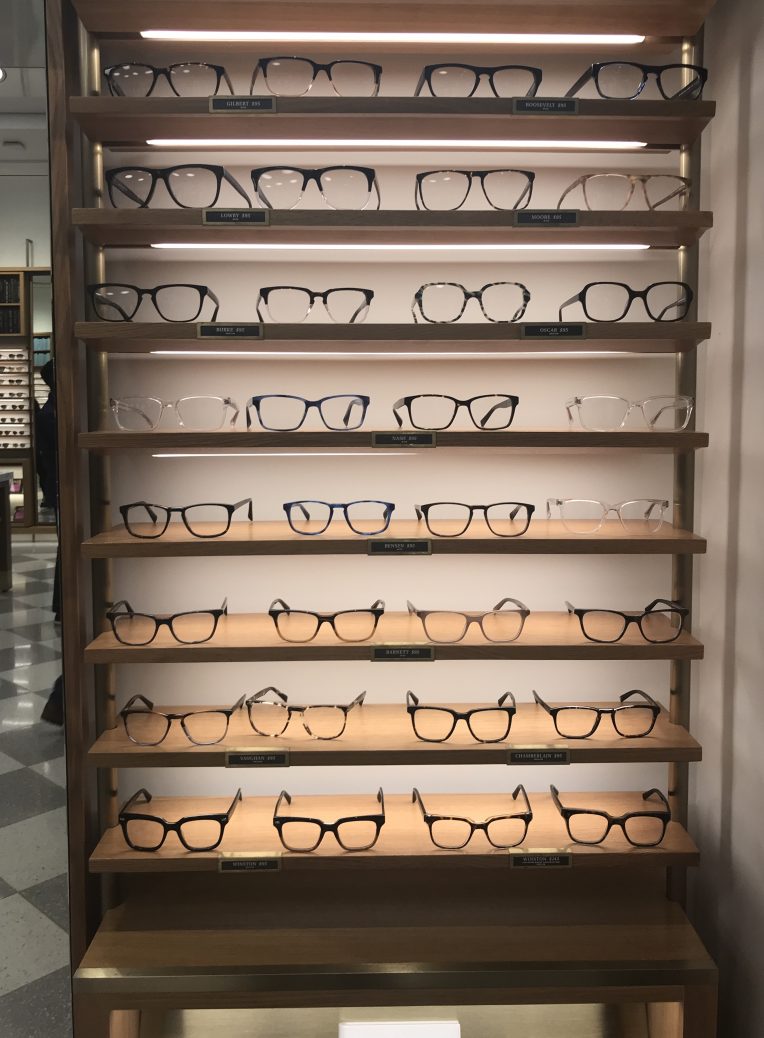 We walked and walked all over Boston, over to Beacon Hill and back and finally landed at Five Horses.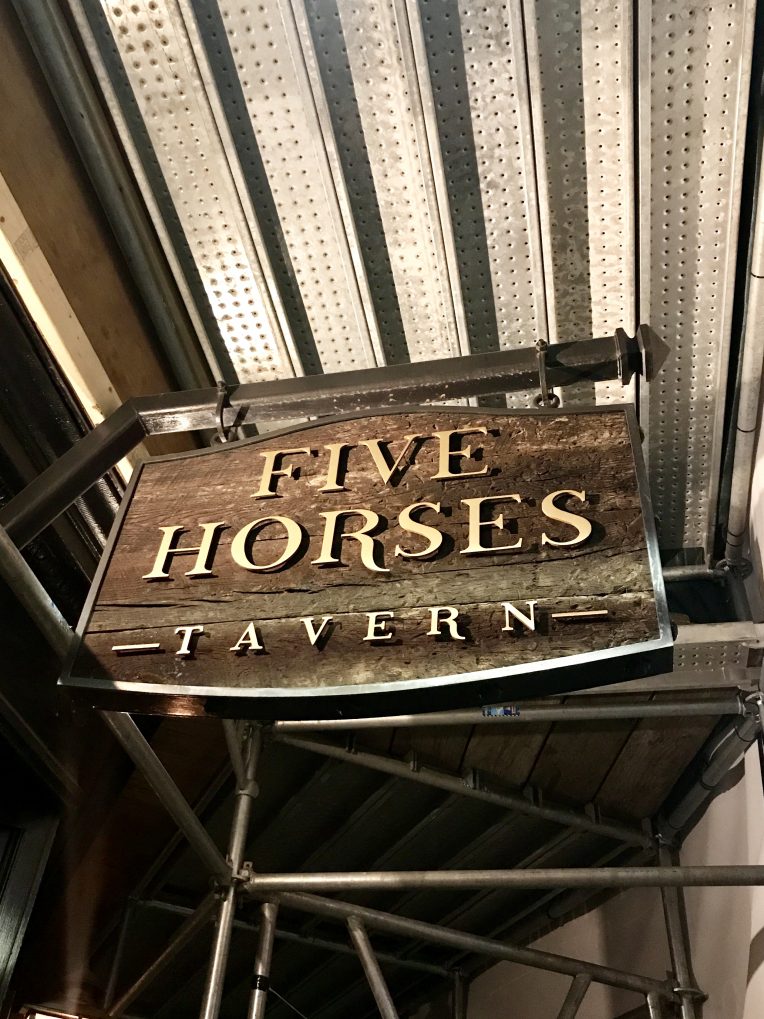 Nick and Britt's cousin met us for dinner. I went with the steak and cheese burrito bowl and was super disappointed. We've been here a few times and it's always such a good experience but this was not very good. The best way I can describe it is sloppy. I wish there was melted cheese and not like a creamy cheese sauce. Everything else I've had there is always super good so I'm going to just forget about this experience…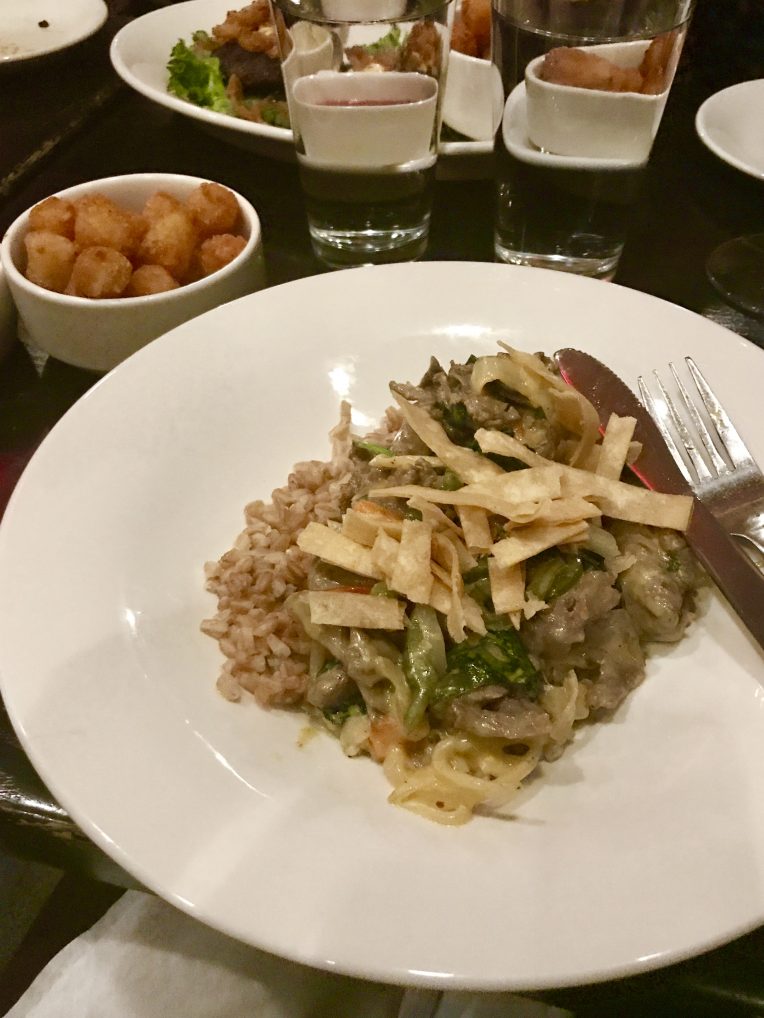 I ate 1/3 of it and all my tater tots and then we ate ice cream when we got home so all was right in the hunger + satisfaction world.
Saturday morning we left early from Boston to make the 4 hour drive to New York for a going away party and then to attend another going away party for another family.
It was supposed to snow, so we left around 7am.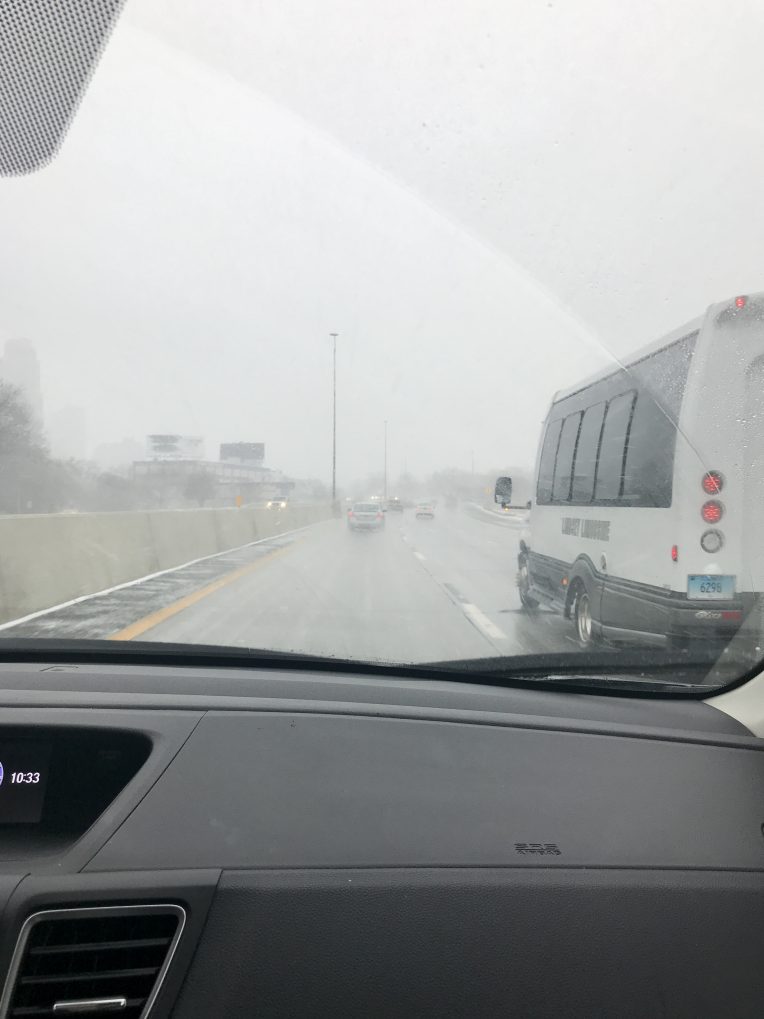 We stopped at Panera for breakfast sandwiches. Egg + cheese on whole grain for me. And then I had a few bites of pumpkin pie bagel with cream cheese. Yes, I ordered both because I knew the egg + cheese would be more satisfying and make me feel physically better during the 4 hour drive….but I also was craving sweet and love Panera's seasonal bagels. Did anyone else live off cinnamon crunch bagels and broccoli cheddar bread bowls in high school?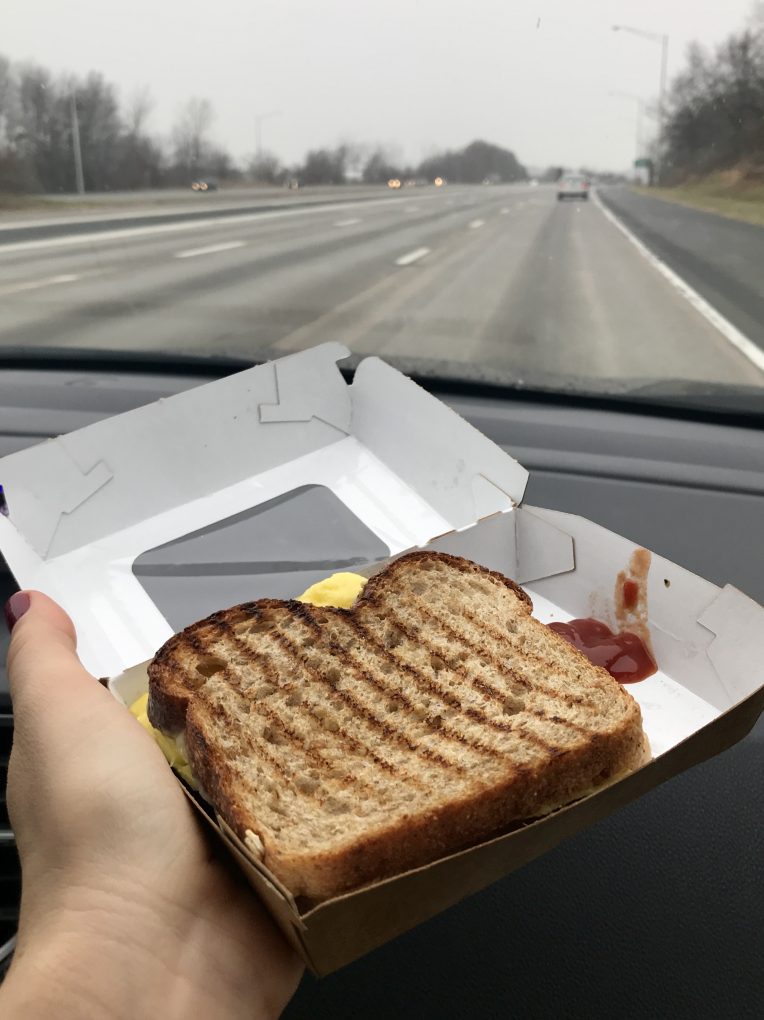 We made it to New York smoothly and with only the beginnings of snow on the ground. Before we went to Flatiron Hall for our joint going away party we had with another friend moving to Boston (selfishly I'm so so so happy about this) we had a hearty lunch at Mulberry & Vine since I knew we'd be having a few drinks throughout the day.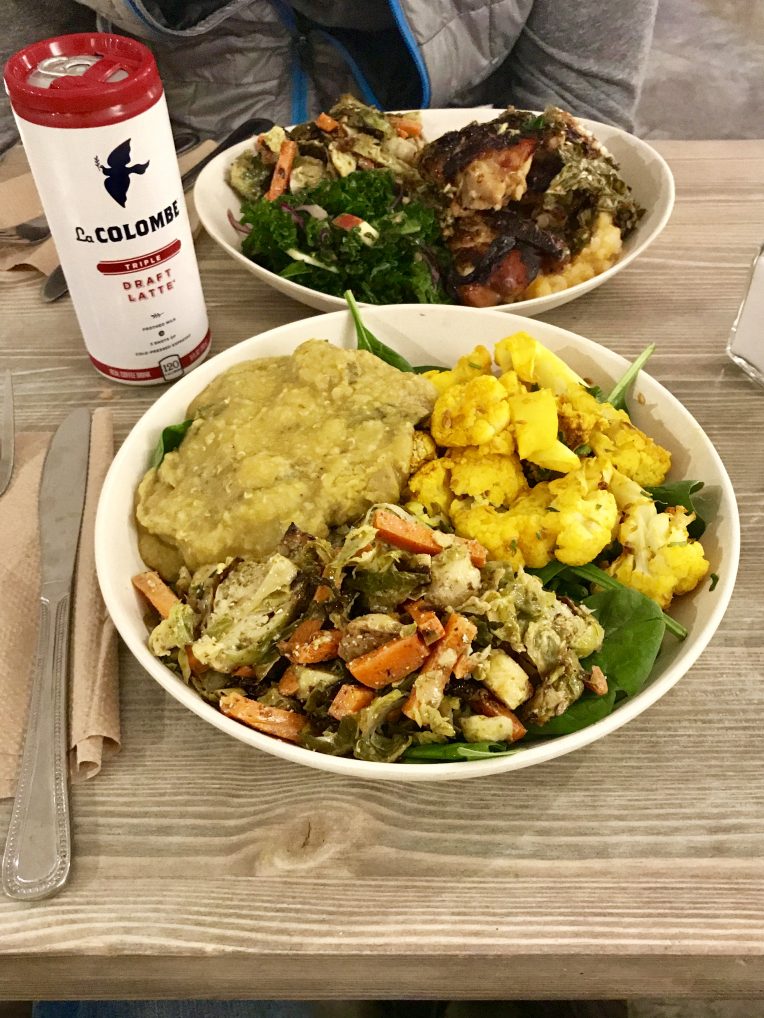 I got a plate with roasted cauliflower, a brussel sprout salad and green lentil dal. Plus a draft latte because I needed a boost before we socialized for 8 hours.
2008 Robyn would have eaten a salad with just veggies because she was going to drink alcohol and needed to compensate for calories. 2017 Robyn knows that eating actually helps her be more mindful around alcohol and feel physically better.
Seeing all our closest friends in one place was so good. We stayed at Flatiron Hall for over 4 hours being with friends and hanging out. I had a couple glasses of Chardonnay.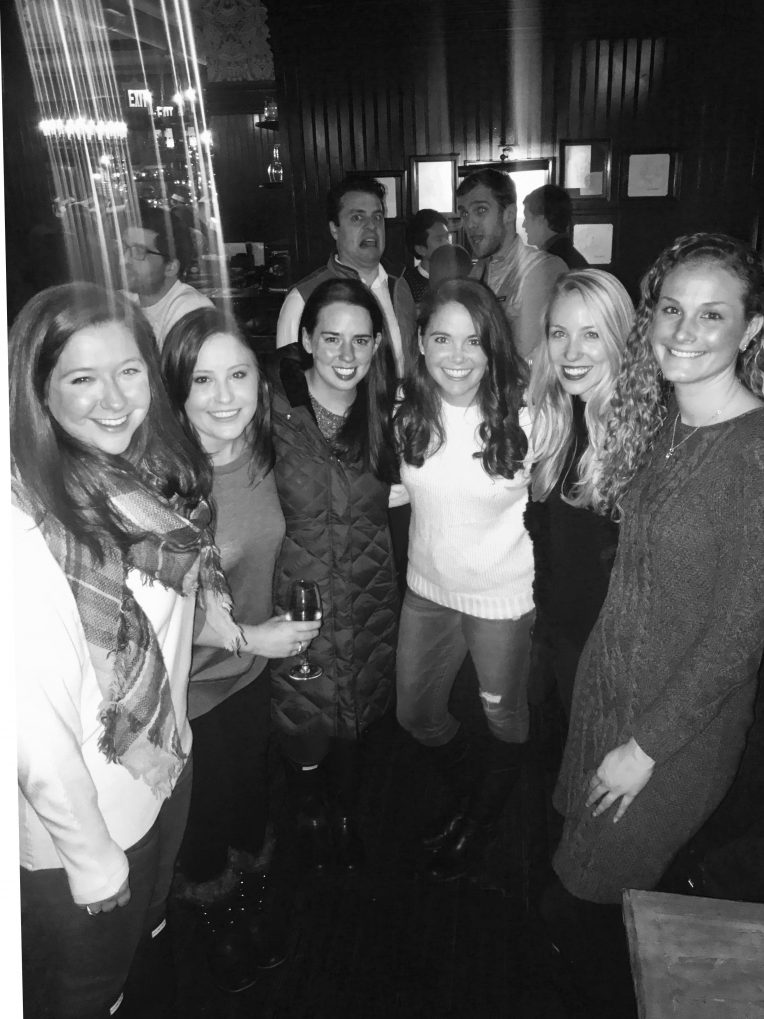 New York was always about the people. I'll definitely miss all our people very very much. I think I invited over 20 people to come stay with us in Boston soooo….. sleepovers all the time in 2018.
Afterward Nick and I grabbed a super quick dinner at Tacombi. Guac + chips and we split these four tacos –> chorizo, sweet potato and black bean, chicken and carnitas. I was very hungry so everything tasted amazing.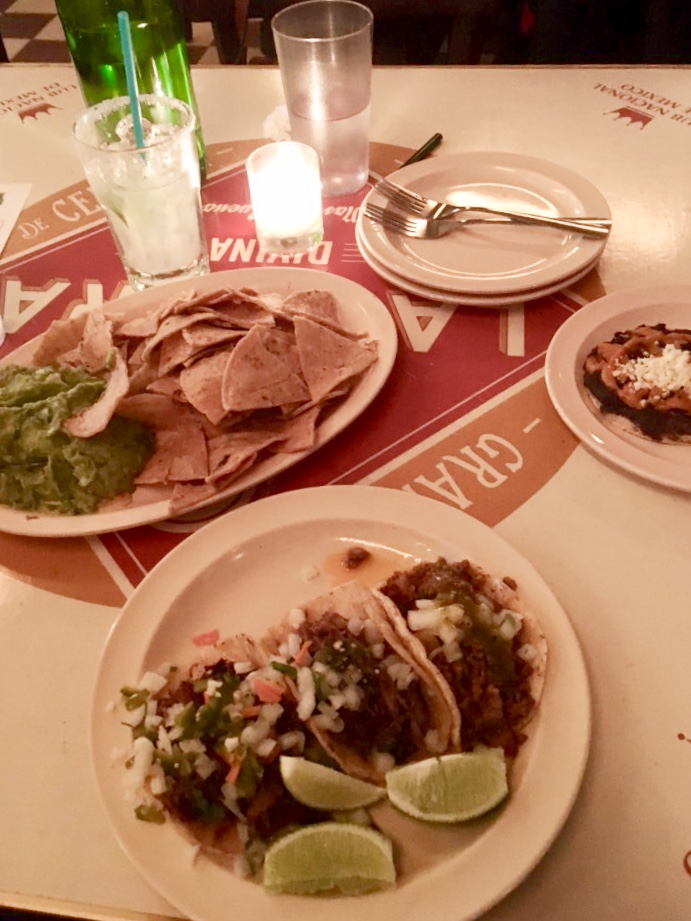 And then we walked over to Penny Farthing for a going away party for the Robbins family. David and Meg (and their four kiddos) have been a huge part of our life in New York.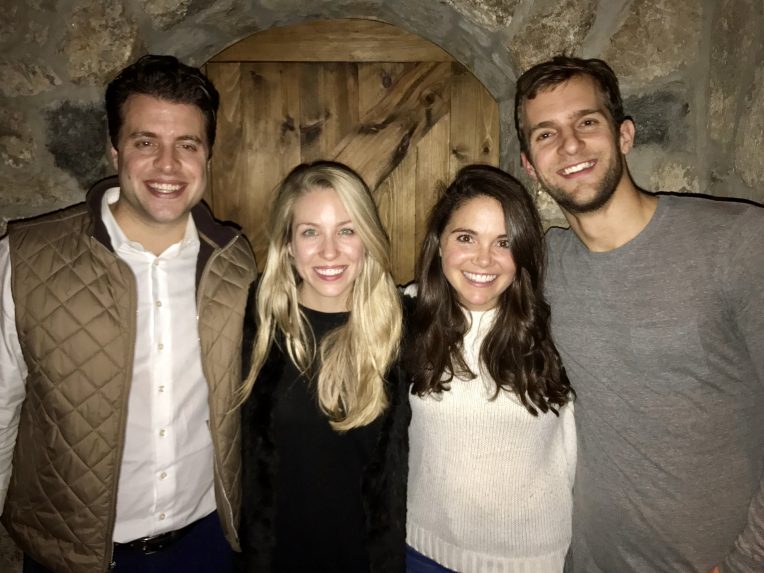 David married us (and also Trey + Nicole) and the two of them have walked us through a lot of hard decisions and conversations during engagement and these first months of marriage. I could never put into words how much they mean to us. They are moving out of the city to Little Rock to take on a new role leading up Family Life. We are so excited for them and what's ahead.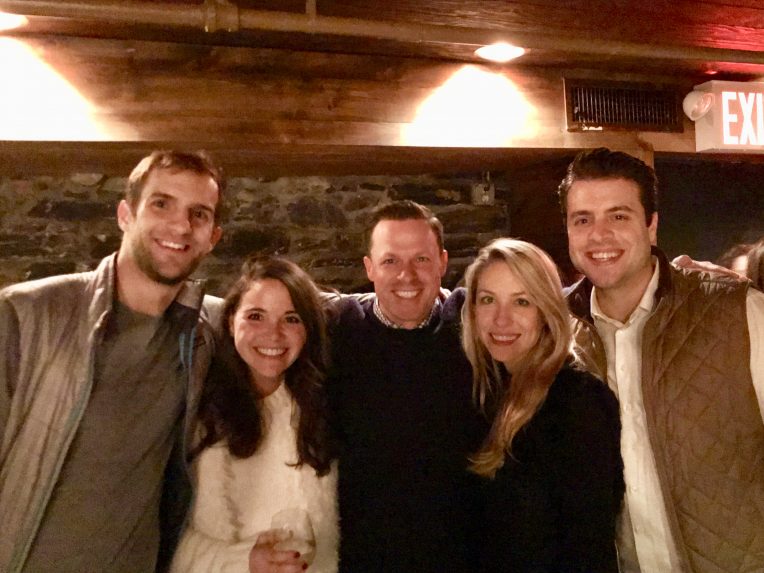 At 9:30pm I made the executive decision to Nick that we needed to head home because I wanted to be in bed by 11ish….
Because Sunday I drove from New York to Indianapolis. Yes, I drove our car home.
Long story in about three sentences. We planned to park our car at a friend's house right outside Boston while we were gone in the Midwest for 3 weeks over the holidays. Well, since it was going to snow in Boston you can't do that because of street cleaning so it was going to be $300 to park our car in covered parking. Um, no. That's the cost of a car payment. We hadn't bought our tickets back to Boston yet from home and we were going to need a car to drive from Indy to Columbus (we're visiting my brother this weekend) and Indy to Chicago to see Nick's family. My mom loans us her car each year, and even though she always says it's not a big deal and insists…I know it's an inconvenience. I had a cheap one way ticket from New York to Indy for tonight. Forfeiting that ticket was way cheaper than paying $300 to park our car. So I drove the 10 hours home yesterday by myself. Woof. Nick has to work in New Jersey all week so he will fly in Thursday night.
I left a 7:30am and then stopped for breakfast once I got out of the city.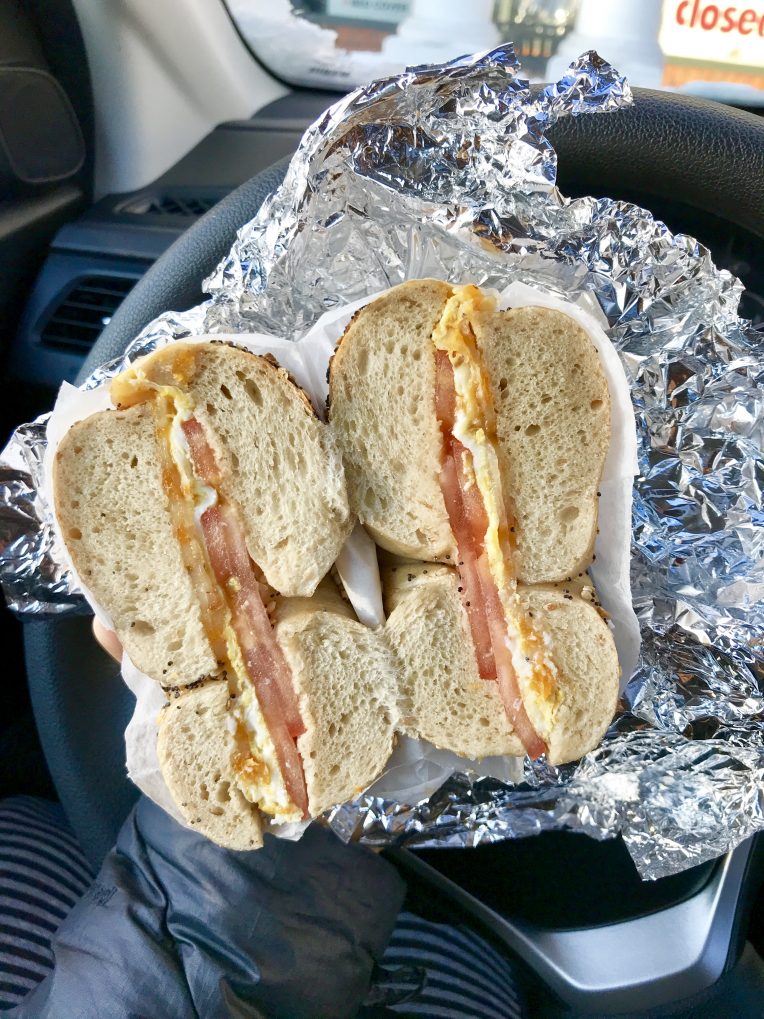 Coffee and an egg + pepper jack cheese + tomato everything bagel the size of my head. Plus a banana.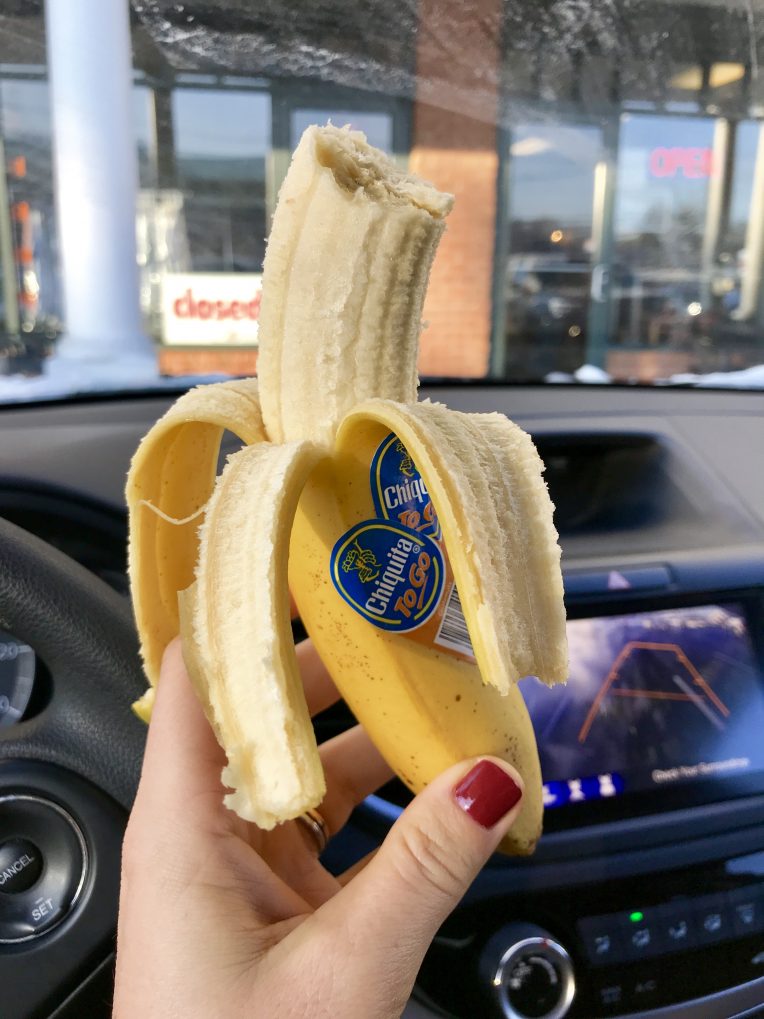 The first 4 hours were the hardest because Pennsylvania was nothing but sticks. Around noonish I stopped for an iced coffee and picked up some popcorn to munch on and my mojo came back.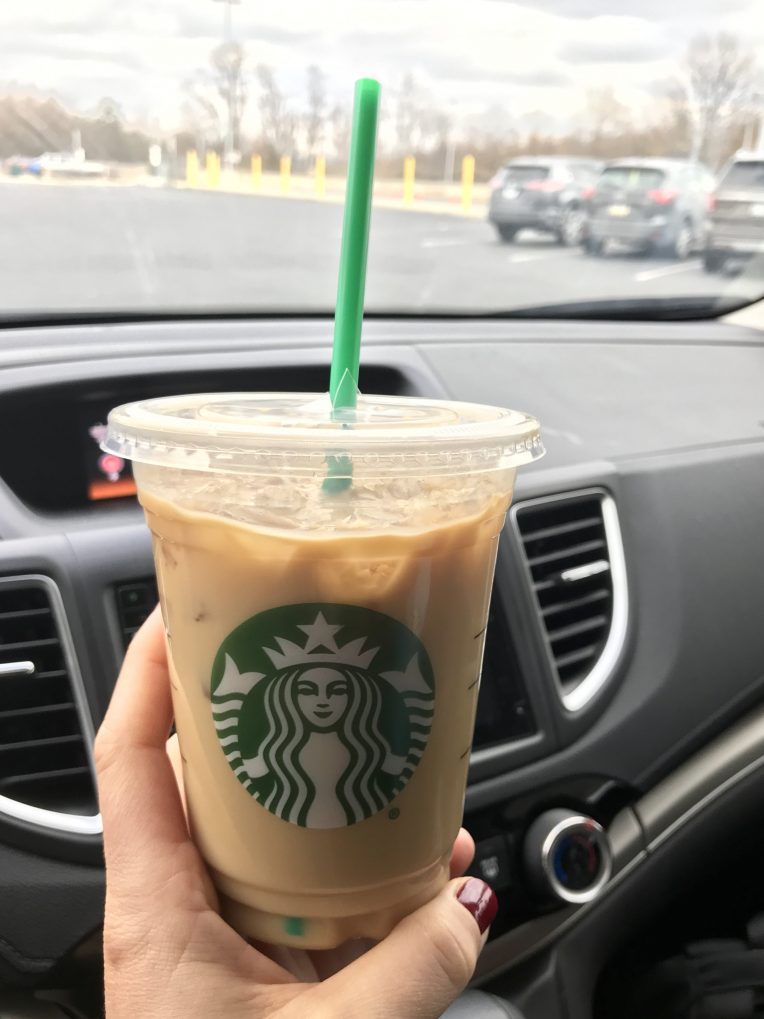 Lunch was two bags of this popcorn.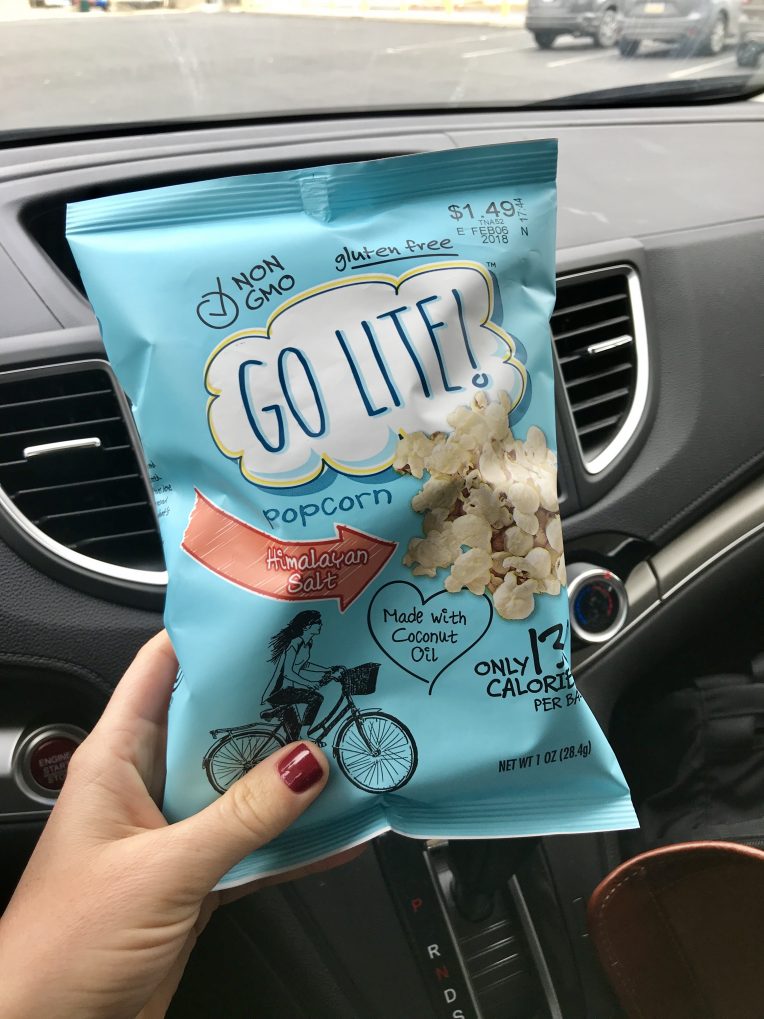 Plus a Perfect Bar. I didn't want to stop to eat somewhere and snacks were the easiest thing to eat while driving.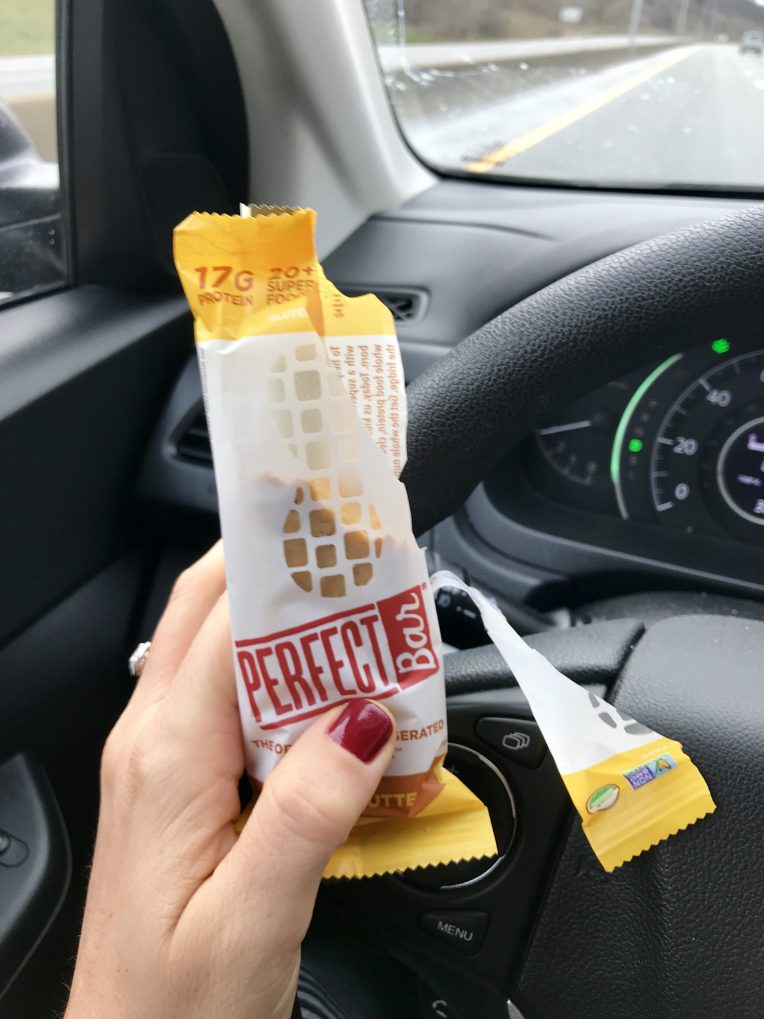 I listened to a lot of How I Built This podcasts, a lot of music and talked to five or six friends which made the last 7 hours go by pretty quickly.
Drank a kombucha and watched the sunset in Ohio which was beautiful.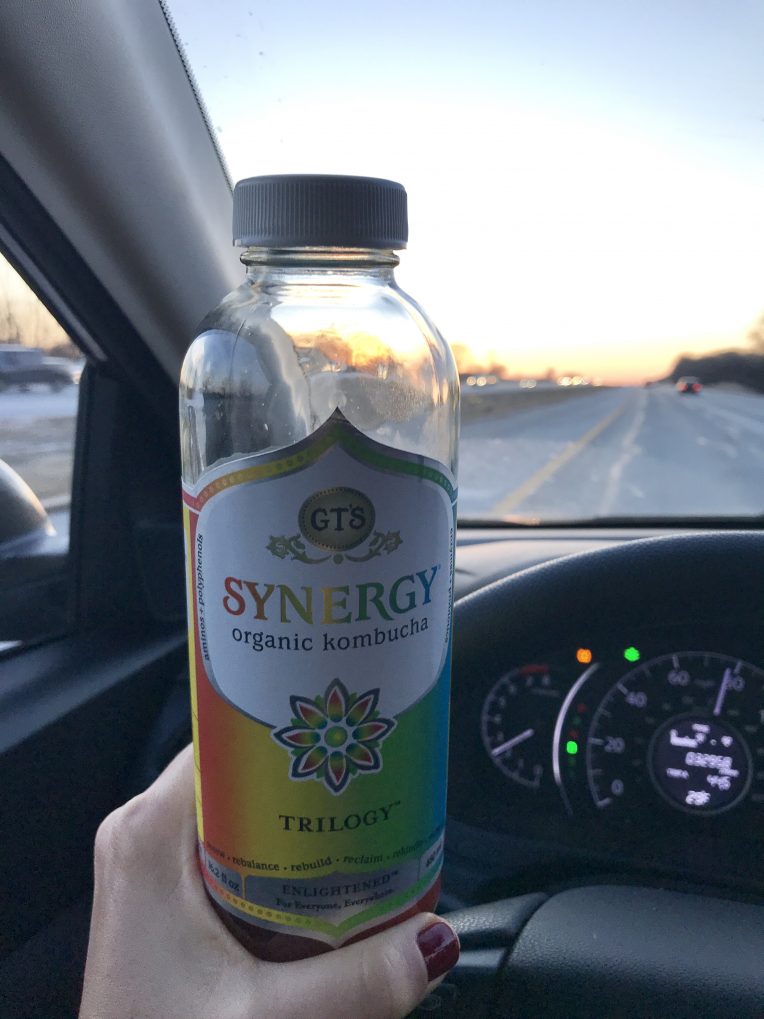 And about 11 hours later, I made it home around 7pm. Driving is always so tiring, I think because you have to concentrate the whole time?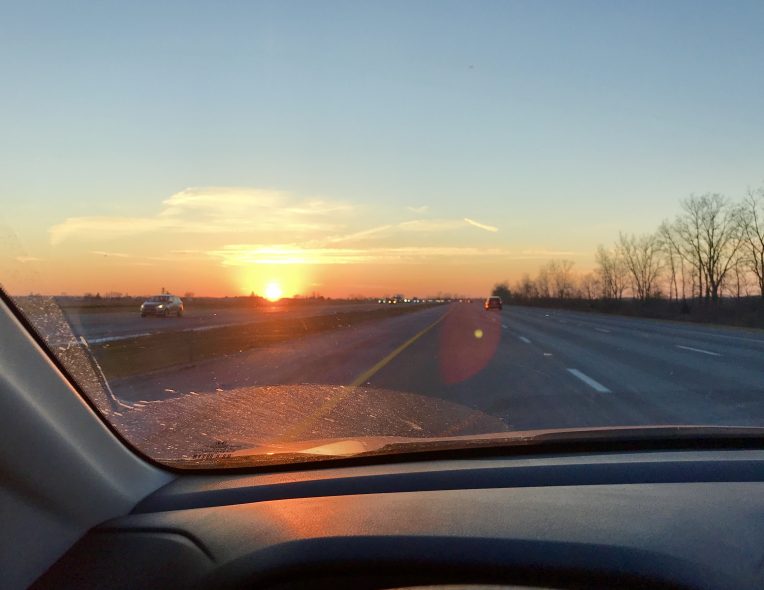 By the time I got home all I wanted was vegetables and Momma Coale's cooking!
Dinner was broccoli, beef stew (that looks like vom but was super tasty) and some homemade focaccia.
Then we laid by the fire.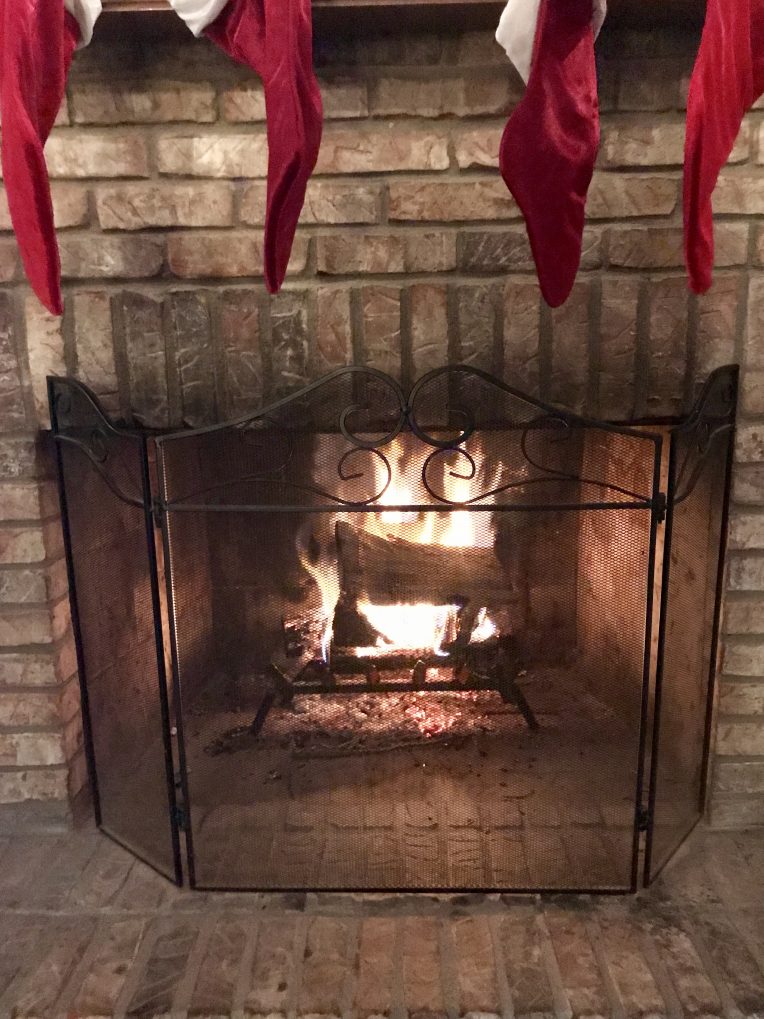 And ate ice cream. And then I went to bed by 9:30pm.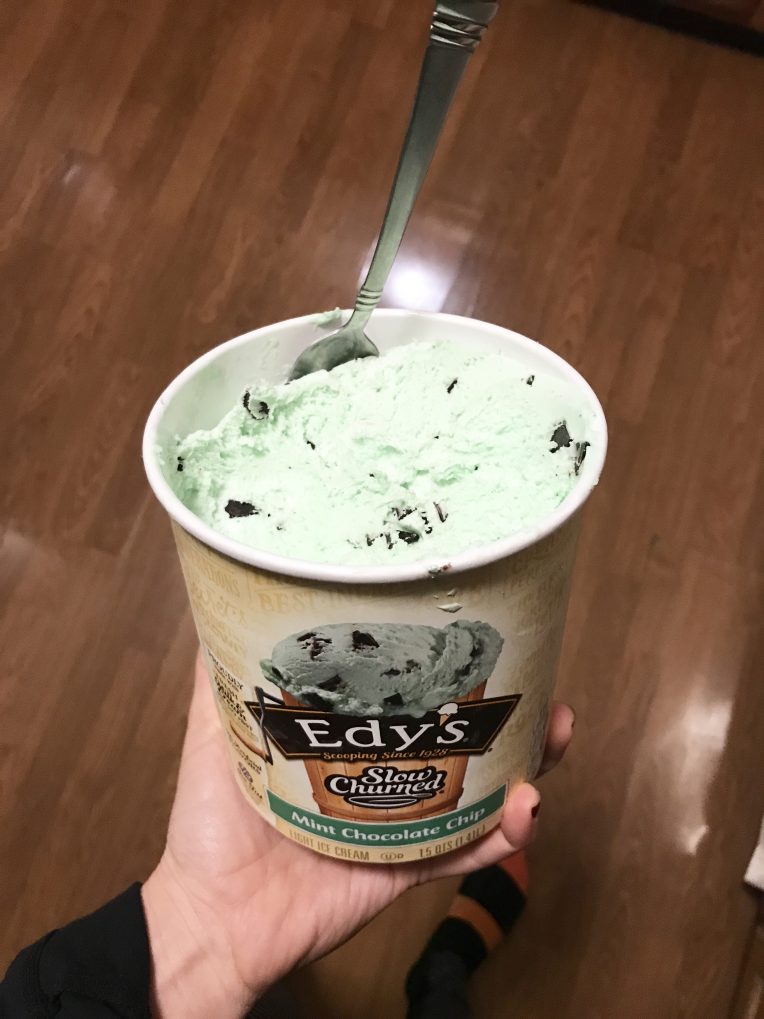 I'm working all this week, but I'm also excited to slow down and rest while I'm at home. It feels so good to be at home.
How was your weekend? Did it snow where you are? I heard Atlanta got 10 inches!