The movers come at 9:30am on Thursday. So we spent a lot of Saturday and Sunday packing. I feel like it was two weeks ago I told my boss that we were thinking about a move to Boston and that was three months ago. Where did time go?
With everything going on, I'll give a few highlights of our weekend instead of the usual recap and then give you guys a life update on where we are with the move. I shared some of this in last week's newsletter (you can sign up in the side bar if you'd like –>) and then realized I hadn't shared much on the blog.
Friday late afternoon we headed over to a friend's apartment for Thanksgiving round two. It's hard to find couple friends where I feel close to the girl and Nick to the guy where you can be open and honest and vulnerable and get along really well. So we will miss these friends so much!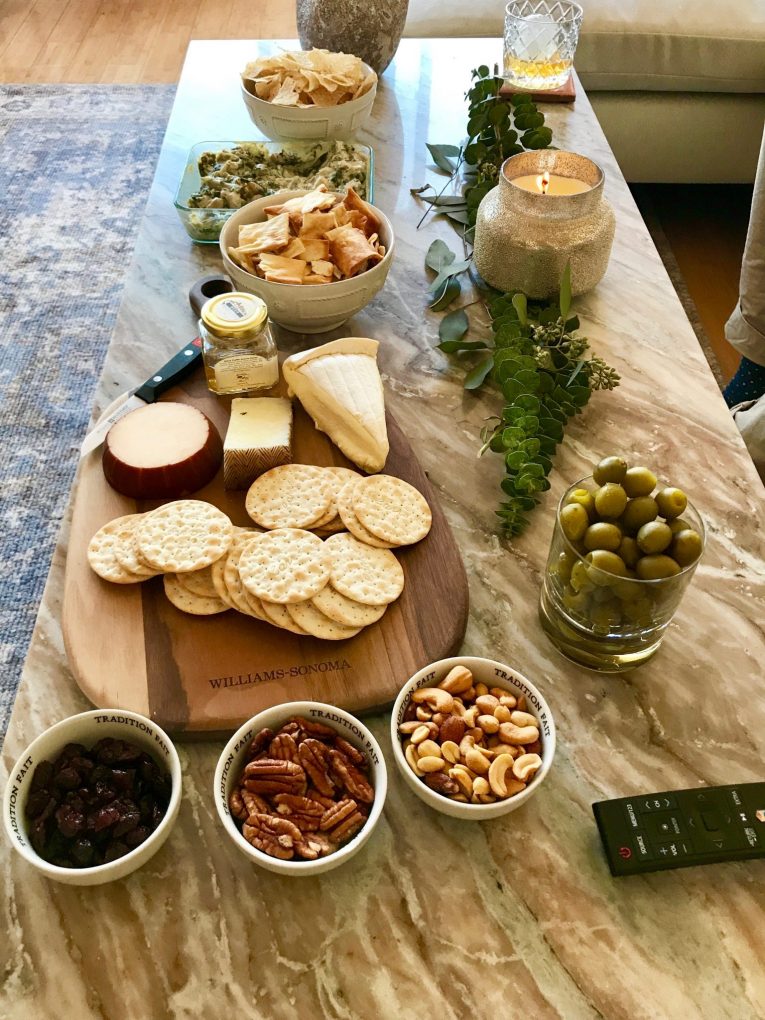 We snacked on cheese + crackers and a second batch of spinach and artichoke dip we made the day before.
The boys carved the turkey and then we ate! Turkey + cranberry sauce with green bean casserole, sweet potato casserole and broccoli salad.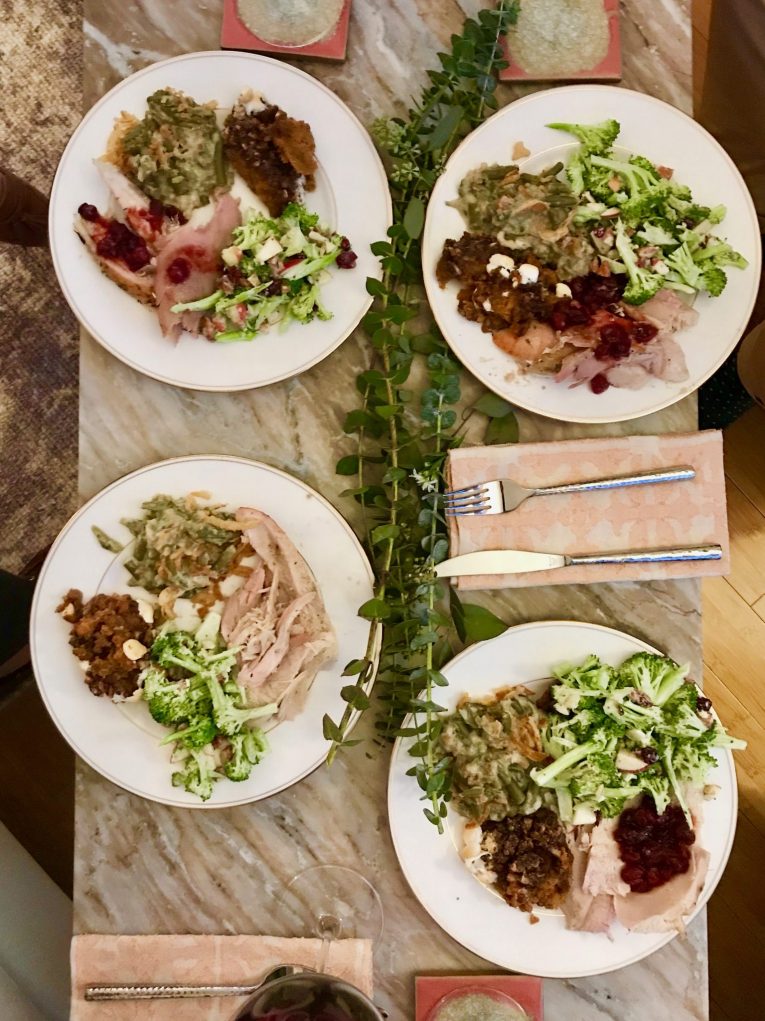 Afterward we went on a walk and then watched the Amanda Knox documentary  on Netflix (I know….such a light Thanksgiving flick..) while eating ice cream + pumpkin pie.
Saturday morning I threw together breakfast for us. Yogurt with banana and granola and leftover pumpkin streusel bread with butter and almond butter.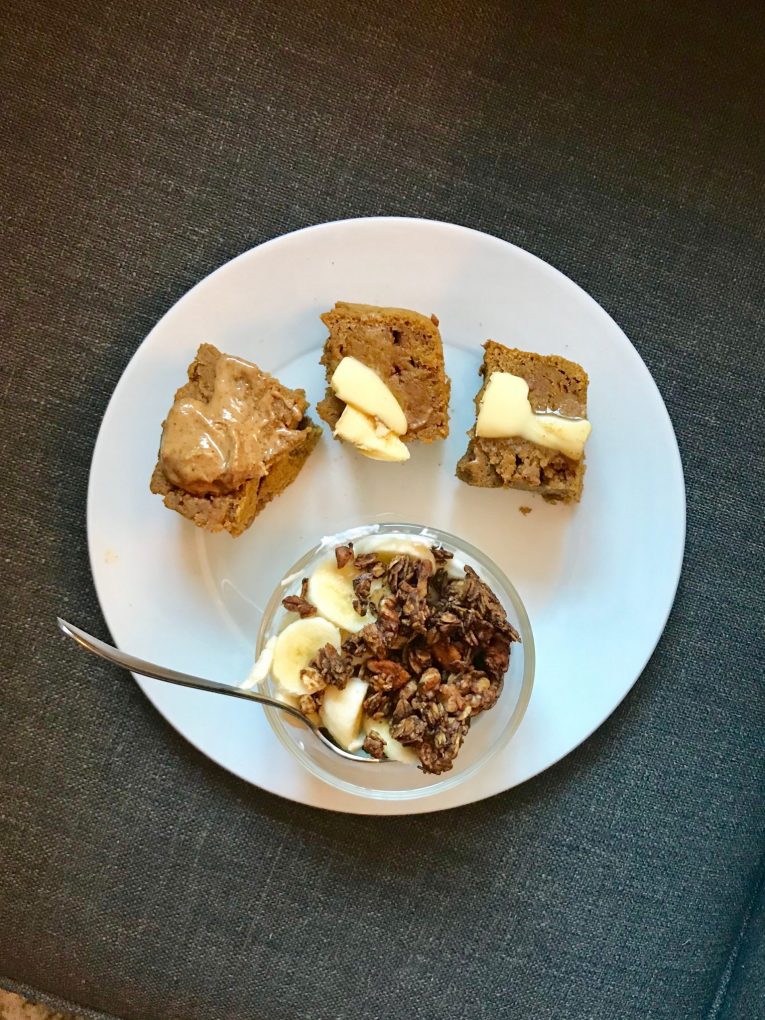 And then we packed for most of the afternoon. In between I worked on some blog stuff. We ate thanksgiving leftovers for lunch.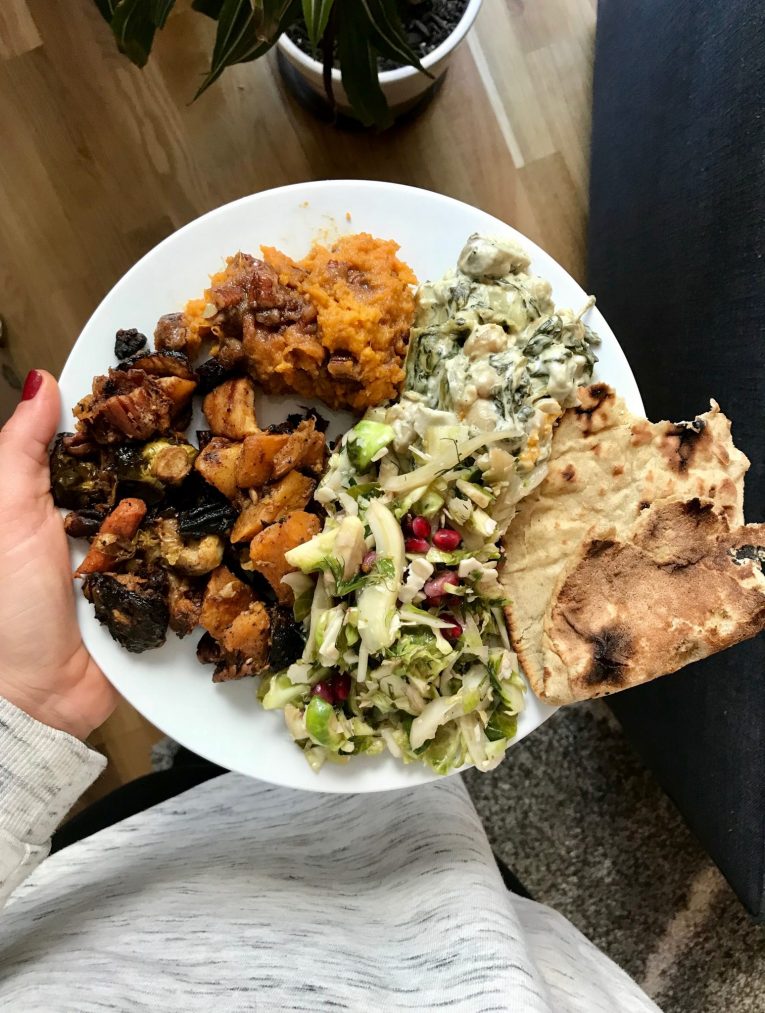 And around 5 we took a break and went on a walk along the river for some fresh air and movement. I want to soak up as much time along the Hudson as possible because I know I will miss the sunsets, living on the water, and being able to see the Statue of Liberty in the distance.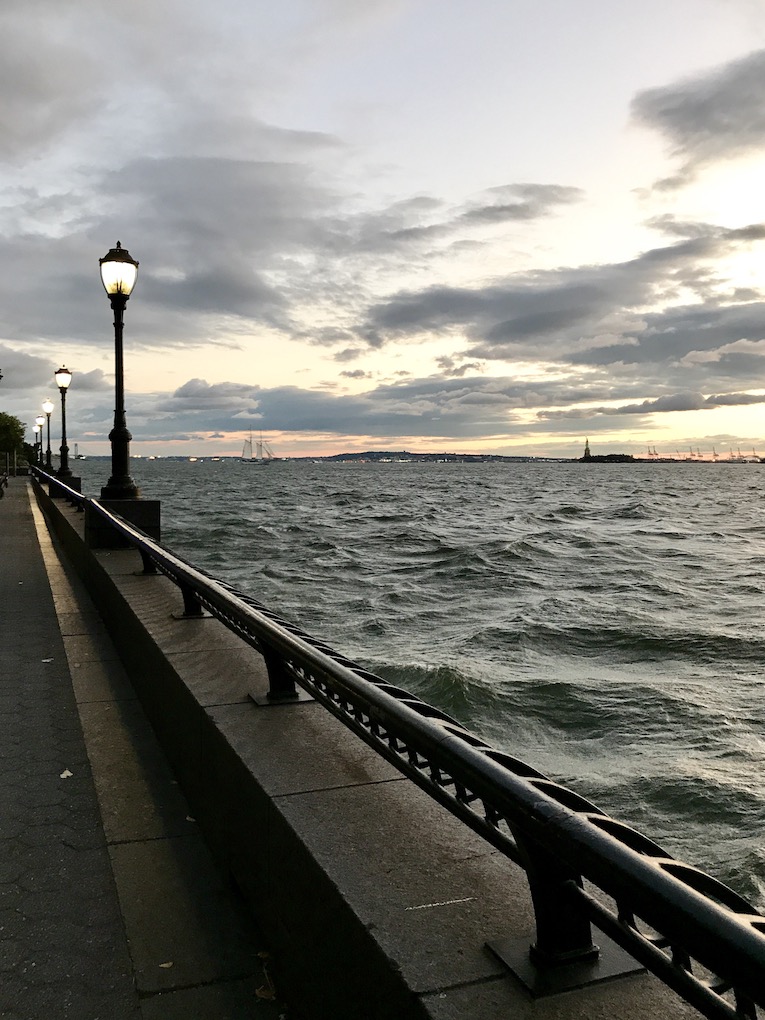 We came back and snacked on a cheese board and Nick made some margaritas.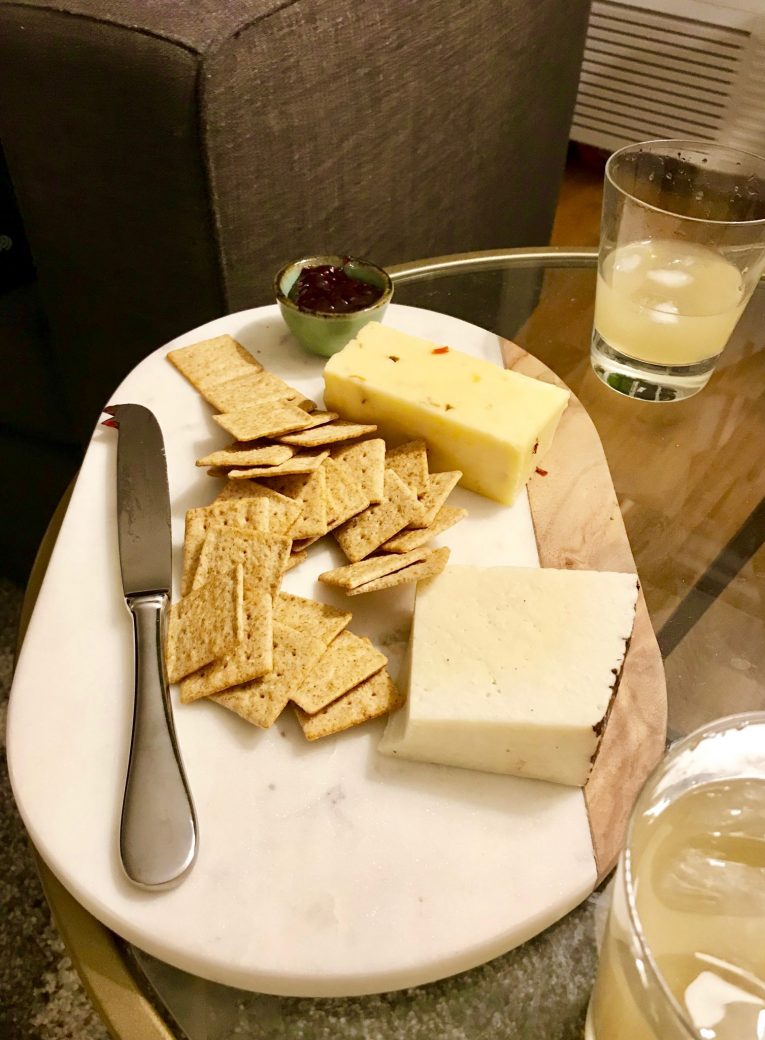 And then we met friends for dinner at 1803 in Tribeca – this really cool and fun Cajun/Creole restaurant. I took zero photos but we ordered crab cakes to share as an app and then Nick and I shared jambalaya and the pulled pork bbq sandwich. The jambalaya was fab! The inside is vibrant and feels like you're in the French Quarter.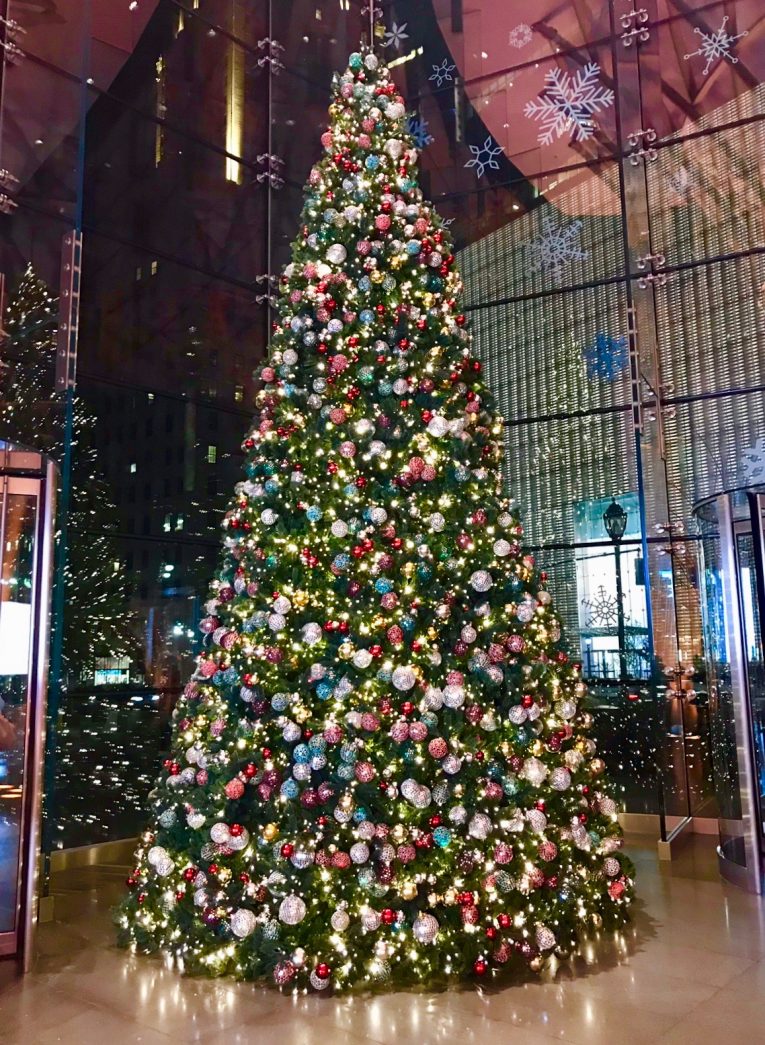 We strolled home and around our neighborhood a bit looking at the Christmas decorations. I'm hoping to have an hour or so to walk around midtown and see all the lights on 5th Avenue before we leave. That is something I will brave the crowds to do.
Sunday we ate pancakes for breakfast, leftovers for lunch, packed some more and then went to church in the evening. We had a box of pasta and jar of marinara sauce to use up, so I bought some ground beef at the grocery on the way home and dinner was thrown together in about 15 minutes. Browned the beef, added jar of sauce, boiled up pasta and threw spinach on a plate with honey pecans + balsamic dressing.
Since our plates are packed up, we are now eating meals off paper plates. Fancy.
Job Update
I wrapped up work at my nurse practitioner job two weeks ago. In some ways it feels like I just started that job and in other ways it feels like I've been there forever. I learned so much in that position. I went into the job with a much greater understanding of the psychological and food side of eating disorders, but less knowledge about the medical complications. I left feeling confident in my understanding of the pathophysiology of eating disorders and how to best assess and create a plan of care around those medical issues. So that feels kind of cool and like I saw a lot of growth in that job.
As far as a new NP job goes, I'll start a job in January or February after the holidays. I've had a couple calls about potential job opportunities over the past week or so, but I haven't put a lot of time/effort into finding a job yet with everything we have going on. We will be going home for 3 weeks to Indiana and Illinois for the holidays since it might be the last time for a while that we will be able to be home for that long so I knew I didn't want to start a job until after the new year. I could do Nutshell Nutrition full time (I don't because I want the hands on clinical nursing experience and like the variety it brings) so I feel grateful that I have the flexibility to not have to find a new job asap. I want to take some time to think through things, process this past first year of my NP career and figure out what hours and type of work would be the best fit. I've had two jobs this past year, and while nursing is different than, let's say finance, where it's not uncommon to move from job to job, I do want to find a position where I feel rooted and invested.
Apartment Update
We subleased our apartment two weeks ago, thank goodness. But we haven't found an apartment in Boston yet. Long story short, we won't be renting in Boston until January 1. We will be staying with a friend in Boston until December 9th and all of our stuff will be in storage. After thinking it through, it made little financial sense to rush into renting an apartment by December 1st when really, we were only going to be in Boston for 8 days. Then we come back to New York the weekend of December 9th for a joint going away party with another friend who is also moving to Boston. Then we go home for 3 weeks for the holidays. Yes, we are moving and then having a going away party. But it felt way too rushed to squeeze all that in before we left. And the goodbye on Thursday feels less intense since we will be back in a couple weeks.
Nick is going remote with his current job and I will be working remote doing just Nutshell for the next couple months so this was the last time in a while we could go home for a long time for the holidays. Our plan is to find an apartment next week when we get up and settled into Boston. I'm so excited about finding a new home! I'm still working, seeing clients all week (except Thursday) and have some new clients that are local to Boston scheduled for next week. I love getting to meet clients in person. 🙂
Nutshell Nutrition Update
Lastly, a quick Nutshell Nutrition update –> Cody is back from maternity leave! And she's taking new clients. She had a sweet baby boy back in the beginning of August and took a few months off to be with her new family. But she's excited to be back and working with clients again. I am still taking a few more new clients to wrap up 2017, but Cody has some more flexibility in her schedule if you'd like to end 2017 or begin 2018 with a journey towards peace with food and your natural body size. She'll also be posting more on the blog in the upcoming months so you guys can get to know her a little better too.
And that's that. I'll be sharing more on insta stories if you want to follow along and will also be back Wednesday with a post.
Have a great week!