I haven't done a weekly eats roundup in SO LONG. With all the moving from place to place I've simply forgotten to snap pictures of most of what I've eaten. And what I have snapped, I've put on the blog or instagram. But this week I was a little more intentional about remembering to document so here we are!
Before we jump into the eats, as you move into the holidays this weekend and into the New Year next week, the diet talk surrounding you might get noisier and food might become more stressful.
If you're in need of some ways to navigate diet talk, here's a post on 5 Steps to Cope With Diet Talk.
If you're finding yourself anxious around or wanting to control food, here's some tools for How To Feel Less Stressed Around Food During the Holidays
And if you're looking for some positive affirmations and community, follow the #ieholidaychallenge on instagram. I'm sharing your photos of how you're embracing and enjoying the holidays in my stories. I know from direct messages that you guys are encouraging each other!
Ok to the food!
BREAKFASTS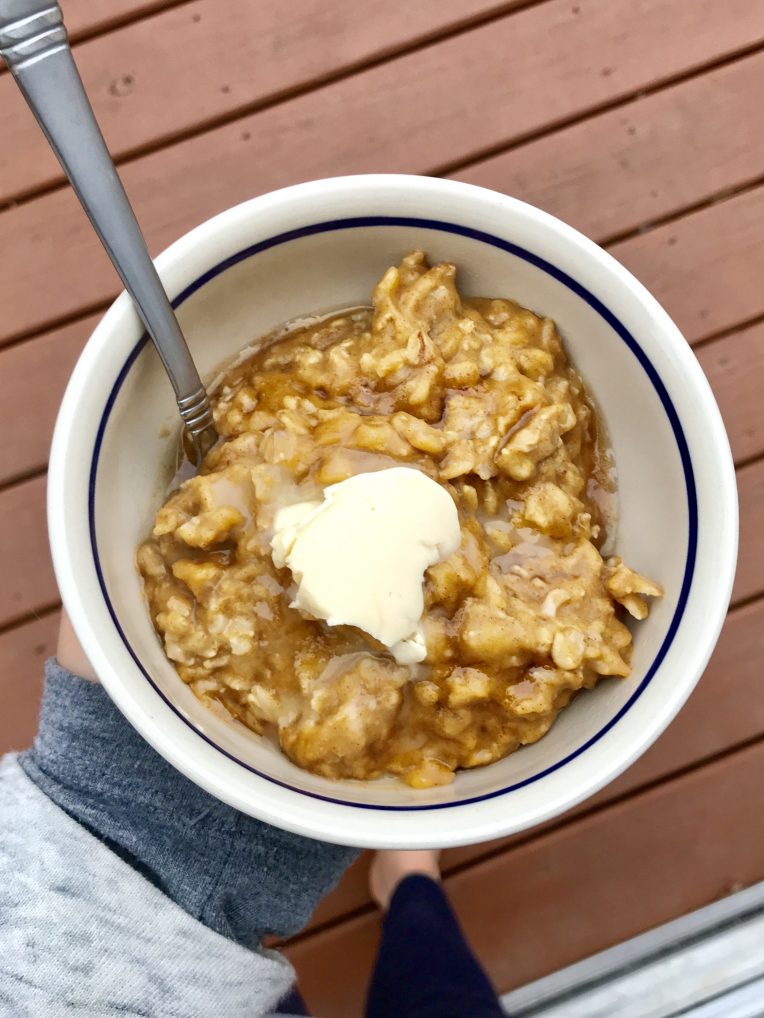 I shared this pumpkin oatmeal recipe topped with maple syrup and butter a couple days ago on instagram. It's been my go to when I'm in the mood for a sweet over savory breakfast.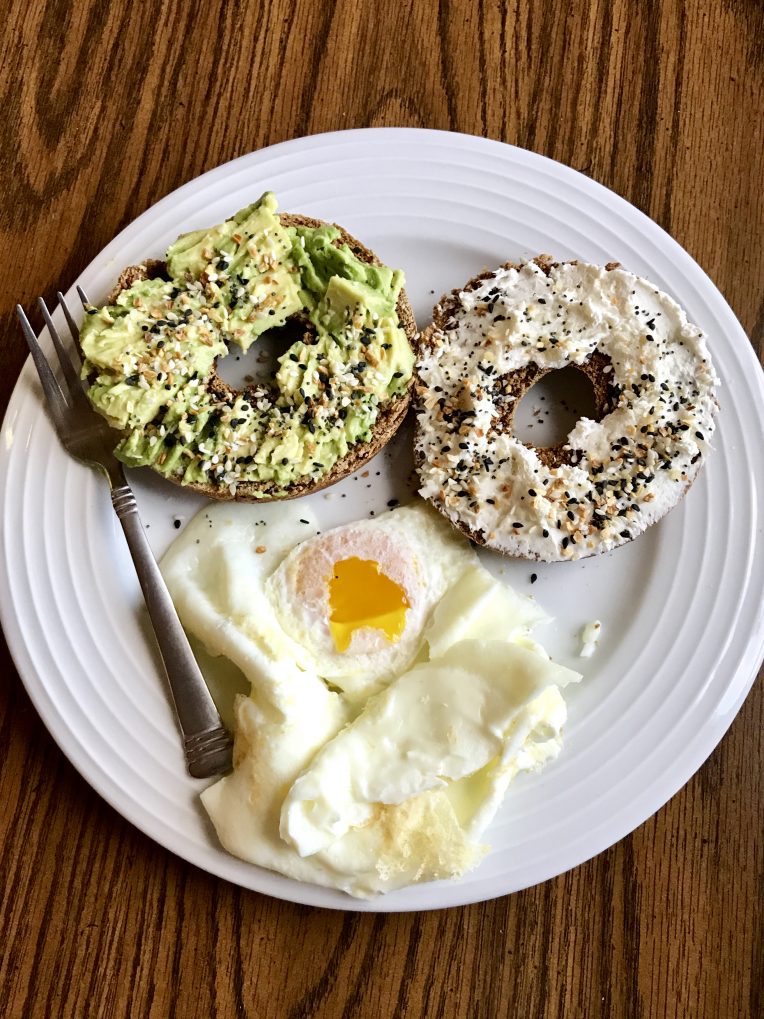 Savory breakfasts have been bagels – half with avocado and everything seasoning and half with cream cheese and everything seasoning. Plus fried eggs. I think these were TJs whole wheat bagels Momma Coale bought. I switch between these bagels and plain everything bagels with butter.
LUNCHES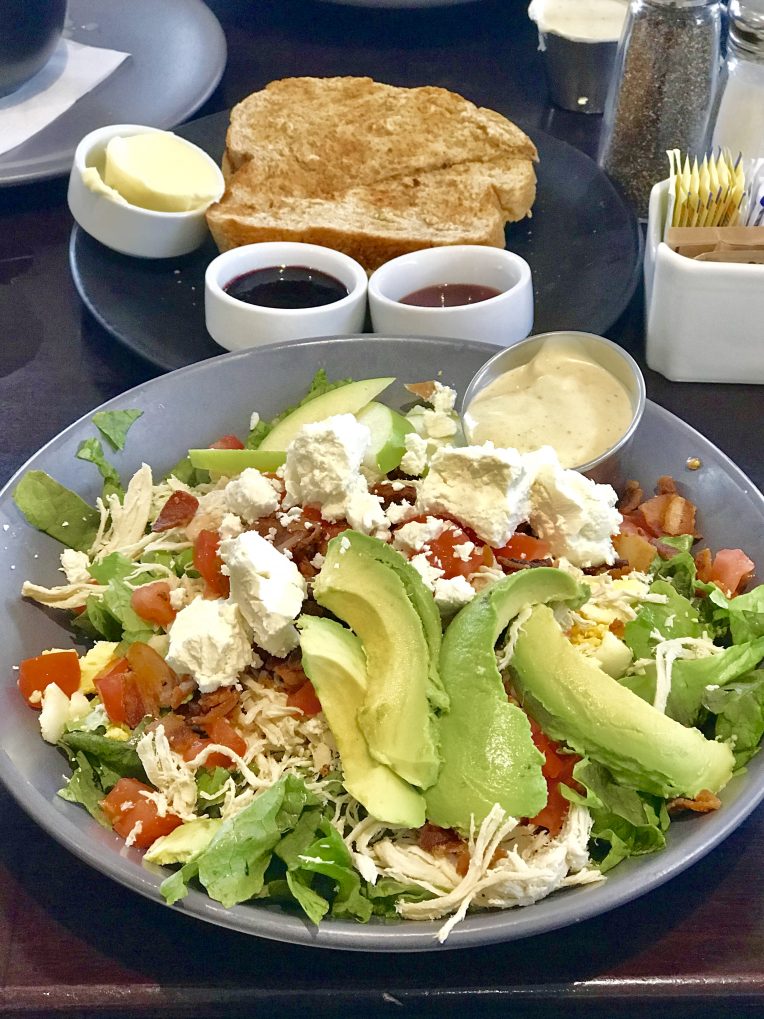 This green goddess salad from Cafe Patachou I had on Tuesday when I was out to lunch with my momma was EPIC. Actually, 90% of their food is epic. This had mixed greens, hard boiled egg, bacon, tomato, goat cheese, avocado, chicken and green goddess dressing. I also ordered a side of toast because although this salad is epic…it was mainly fat and protein and little carbohydrate. When I think about "balanced" meals that satiate and satisfy, they include carbs, proteins and fats.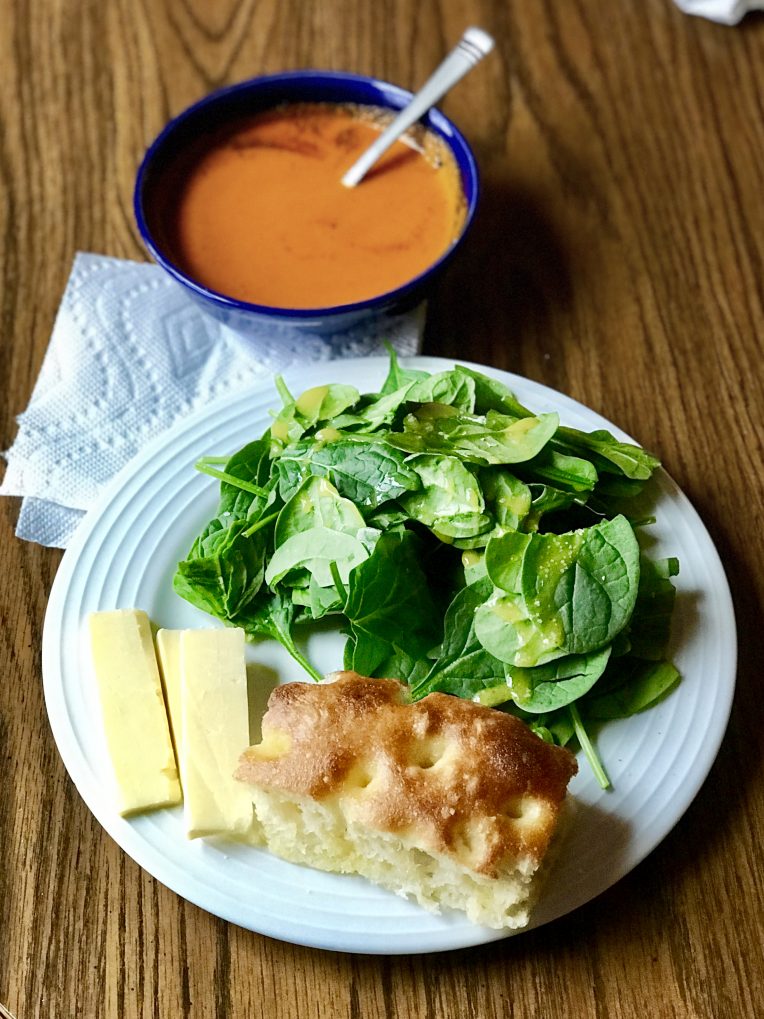 Lunches a couple days this week have been TJs boxed creamy tomato and red pepper soup, some sharp cheddar cheese, leftover homemade focaccia and spinach dressed in honey mustard. This took about 3 minutes to throw together.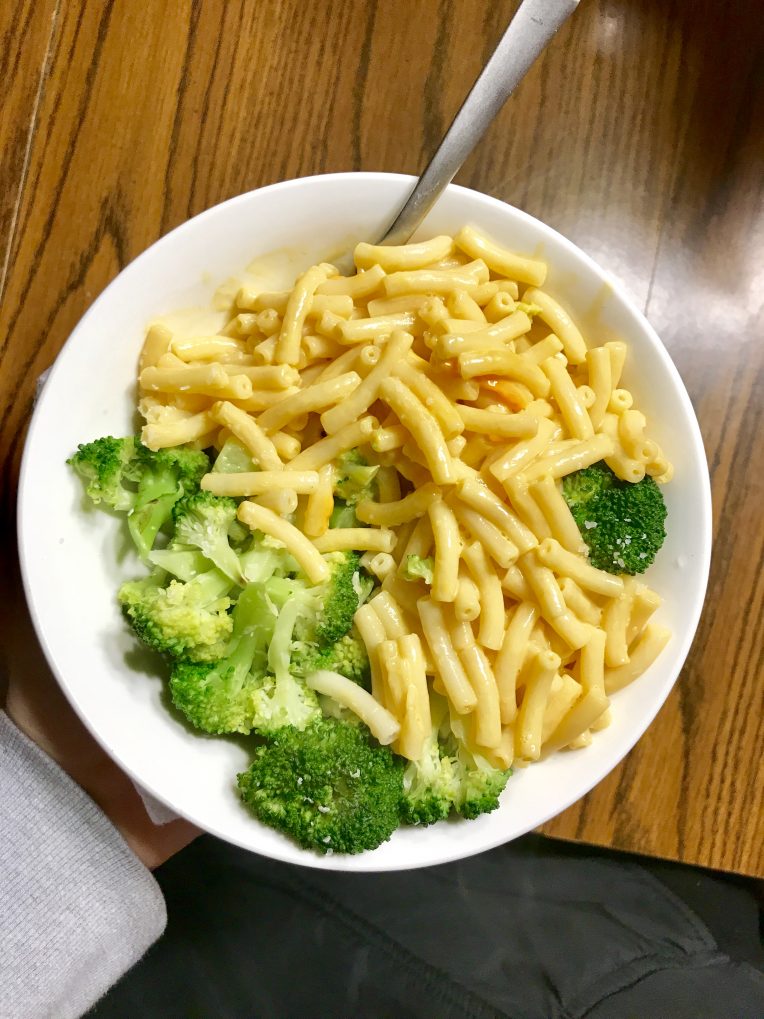 My mom was sick last week so instead of cooking what we planned, I pulled out a box of Annie's mac and cheese (bought at Kroger for $1…win) and made that with some steamed broccoli. Easiest dinner ever. And cheap. And then I ate the leftovers for lunch the next day. I'll be doing this again.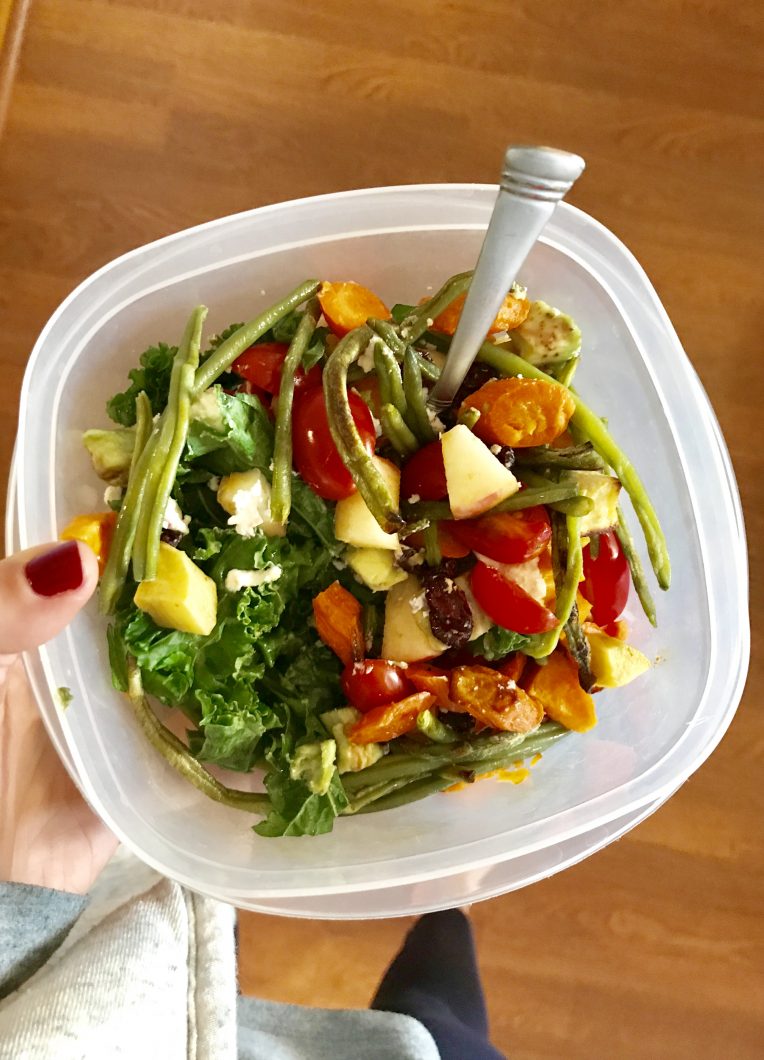 My mom made this fab kale salad one day for lunch. And the whole time I was eating it I was like… "THIS IS SO GOOD, WHAT IS IN IT??" Roasted carrots and green beans, tomato, avocado, apple, cranberries, honey roasted almonds, and goat cheese dressed with olive oil and sea salt. BOMB. I ate some kettle chips and an apple with this.
DINNERS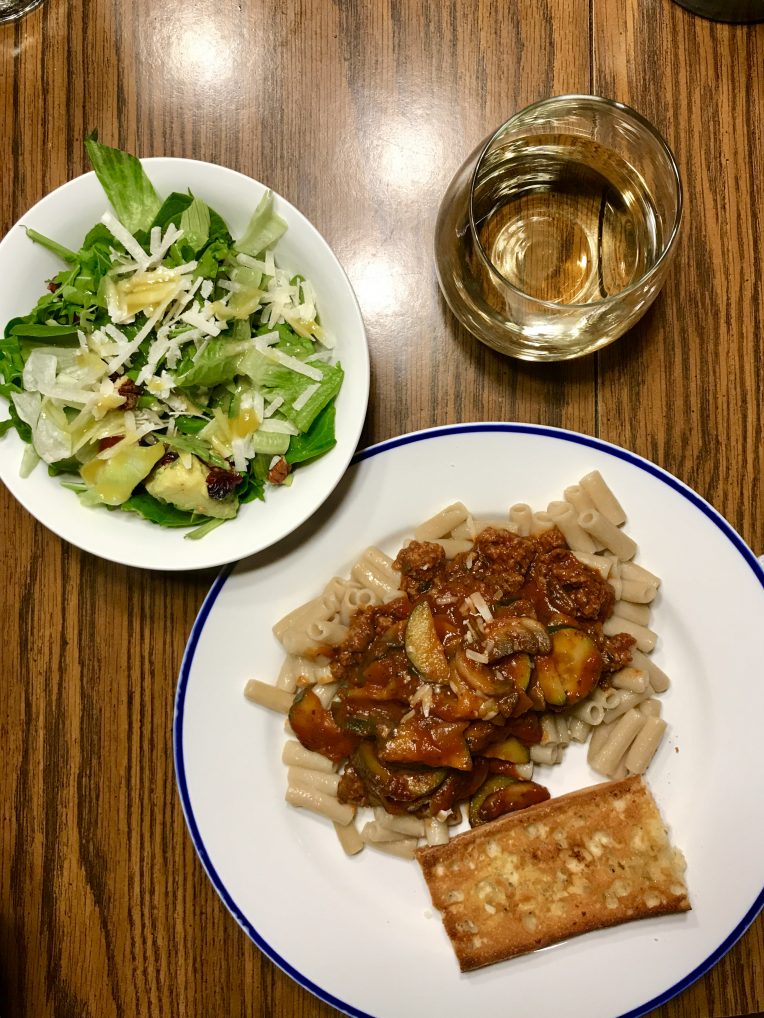 Momma Coale (again…she feeds me well when I'm home) made pasta with homemade sauce that had ground beef and sautéed zucchini and mushrooms. Plus garlic bread and salad – romaine, spinach, cranberries, avocado and parmesan. And chardonnay.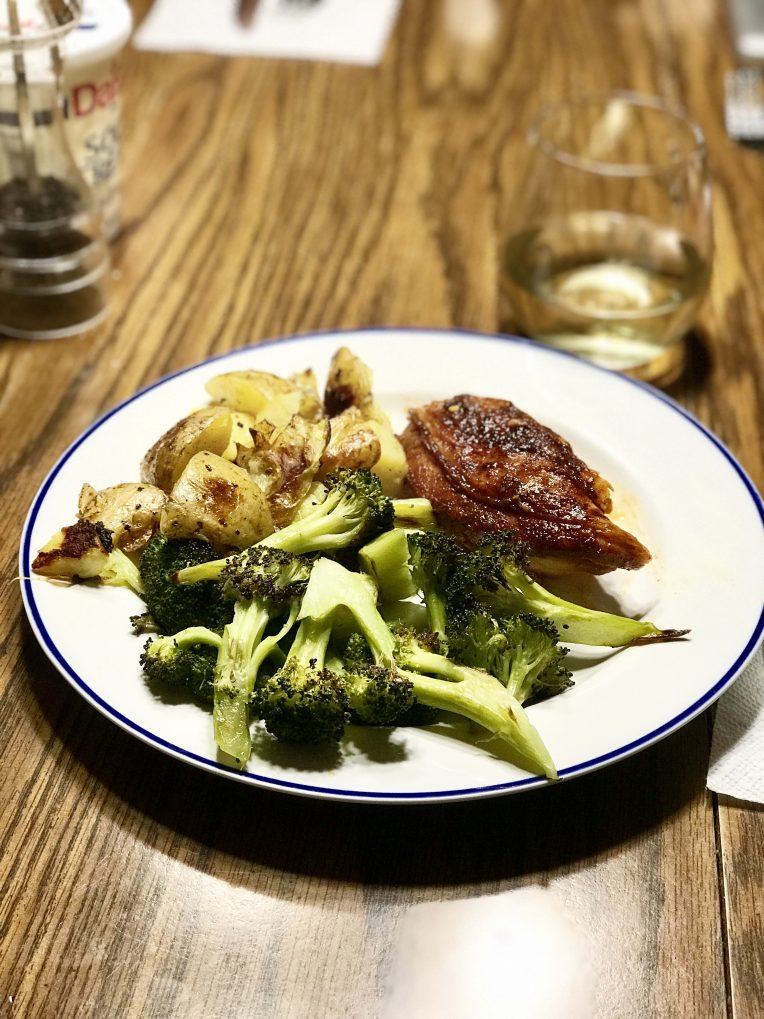 One night my brother made this amazing dry rub bbq chicken. Momma Coale made olive oil sea salt potatoes and roasted broccoli and Nick picked out the wine. I had a later client call so I put myself on dish duty 🙂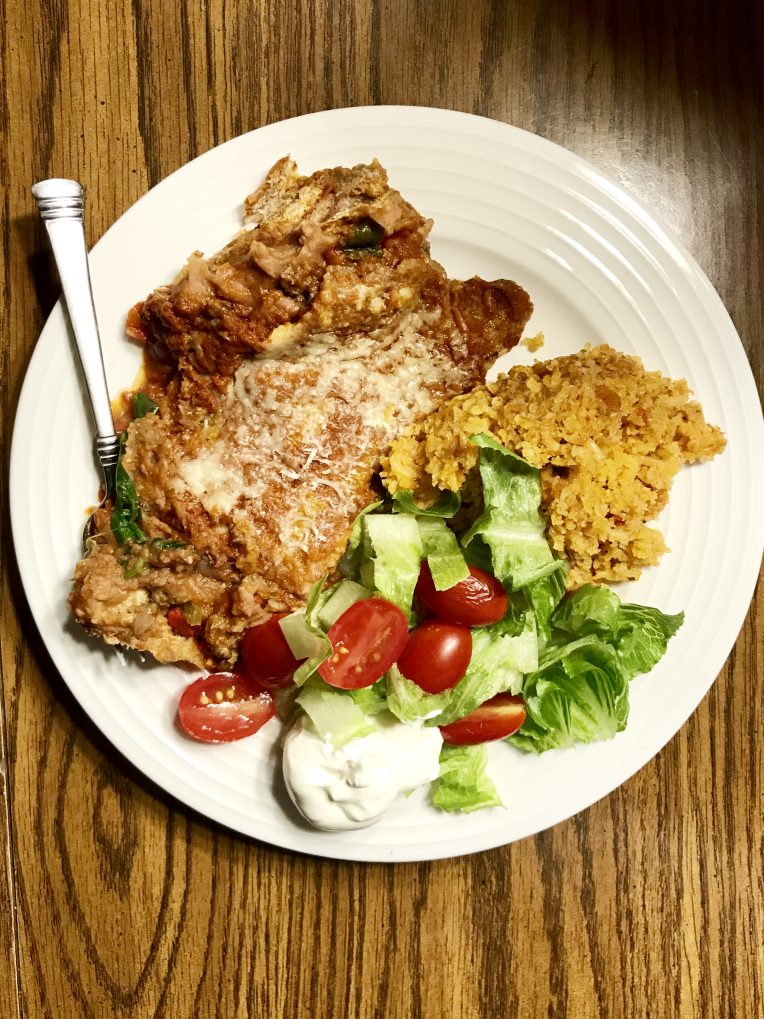 This was my favorite dinner this week. Beef and bean enchiladas with homemade mexican rice. The enchiladas are a beef mixture my brother made (beef and chilis and spices) plus refried beans, spinach, sauce and cheese. We just layer it like a lasagna instead of rolling up the tortillas because it's easier. My brother also made the rice and it was amazing. This was short grain white rice toasted first in oil and then you cook the rice and mix in salsa at the end. It was so fluffy!
SNACKS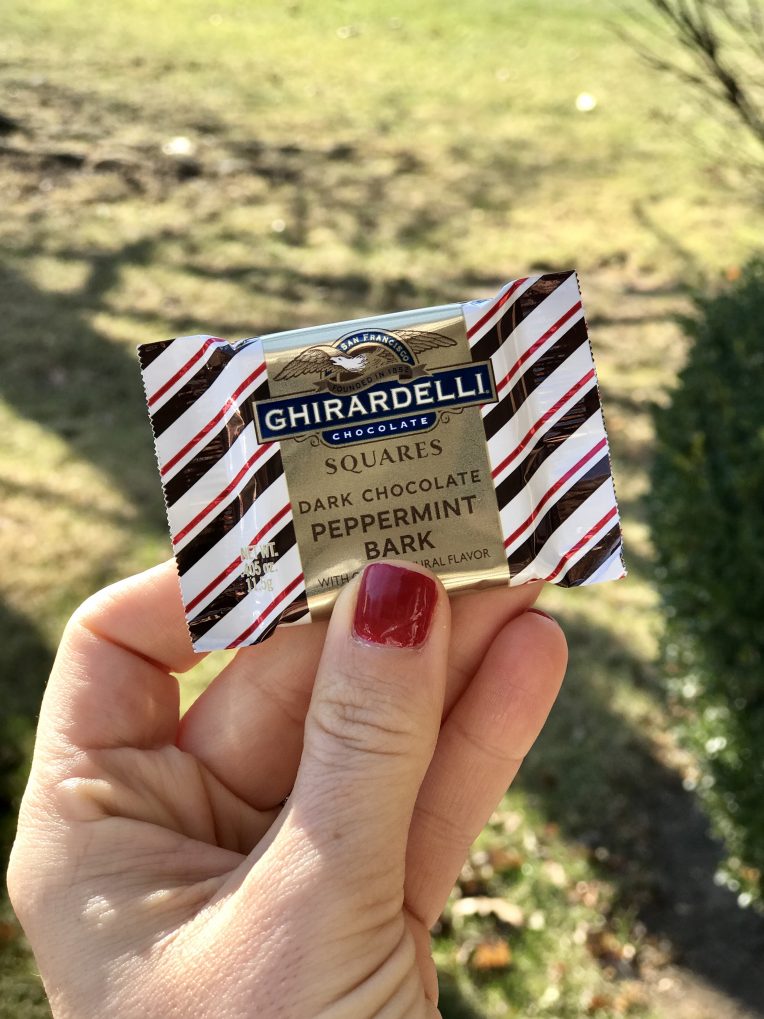 Say no more. I need to build up an off season stash.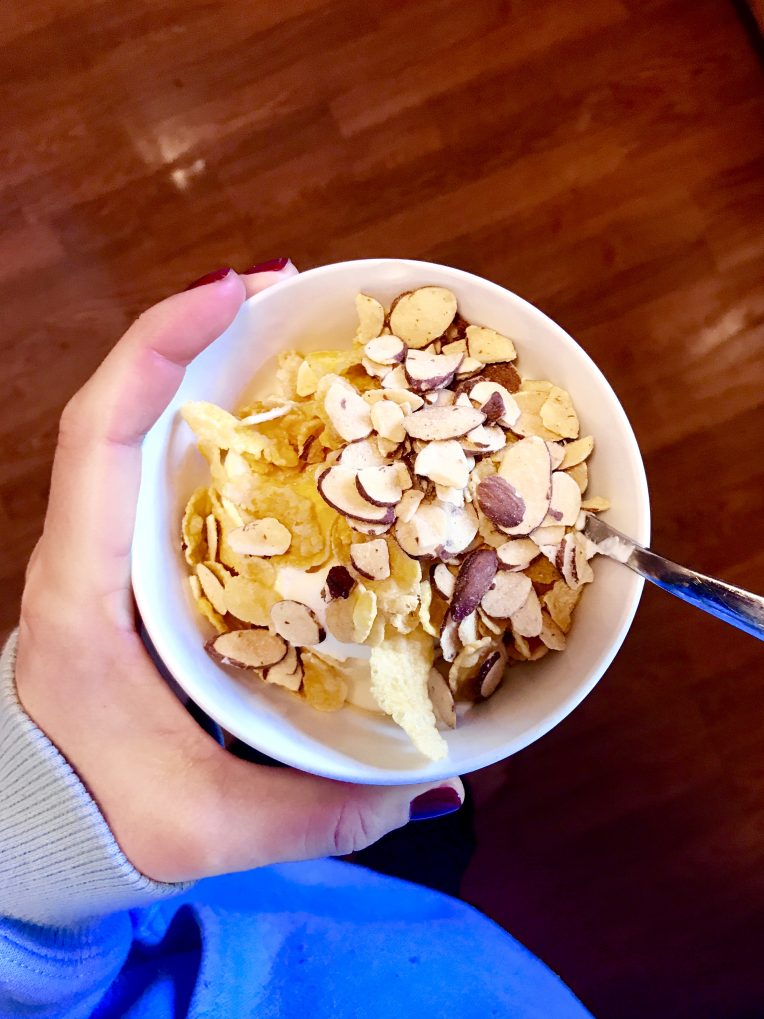 What I'm digging on my yogurt (whole milk greek is my fav) instead of granola lately…flakey cereal and honey roasted almonds. We ran out of granola and I wanted something crunchy + sweet on top so I mixed corn flakes and the almonds my mom had and boom…new satisfying snack was born.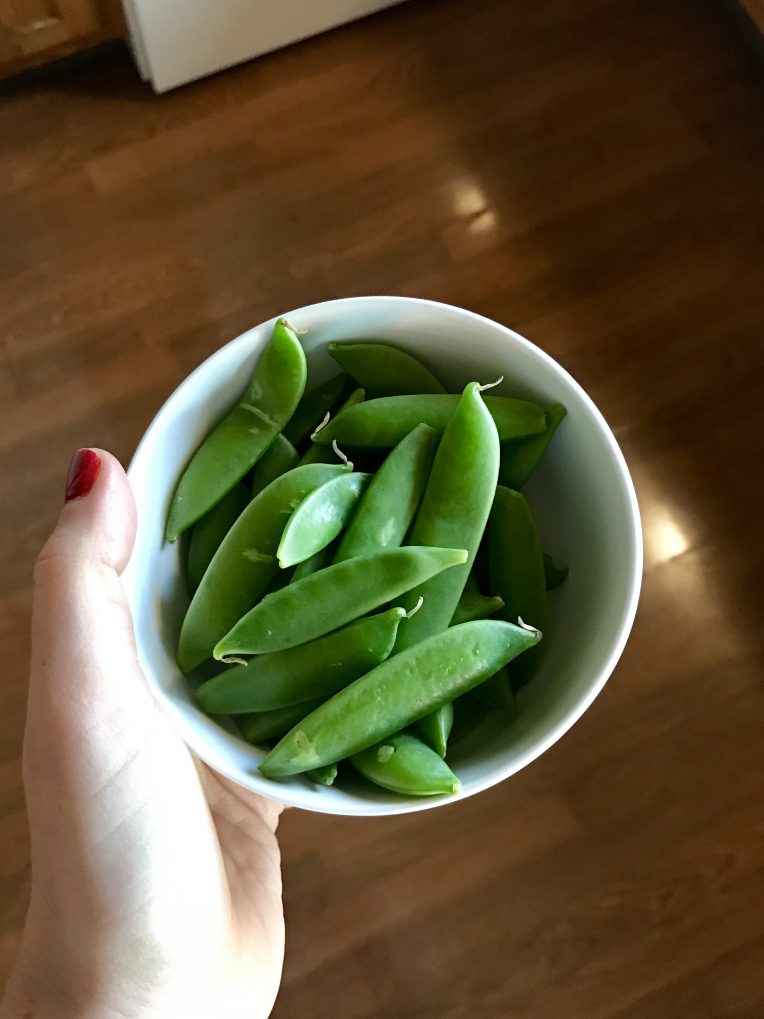 We bought a huggeeeee (literally like 4 lbs) bag of sugar snap peas and I've been snacking on them in the afternoon. I very much do not like snacking on plain raw veggies during the winter, but sugar snap peas I can get into because they're crunchy and sweet but not as crunchy as carrots. So they don't feel as raw. But they are refreshing. Am I making any sense here?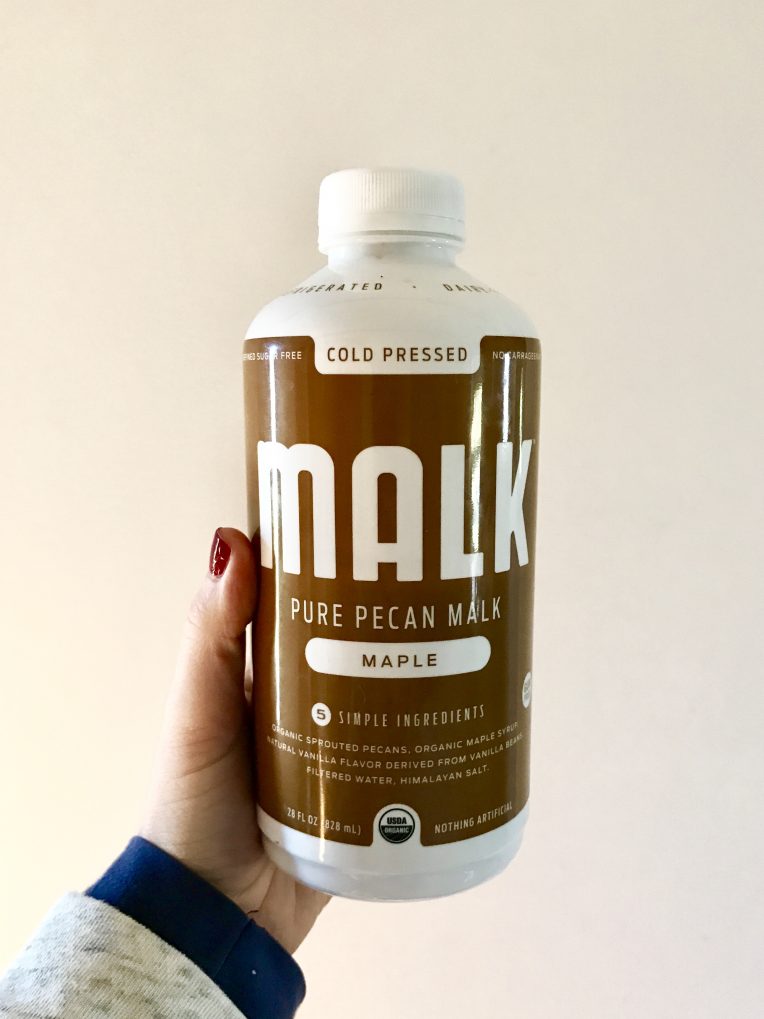 This milk. Oh lawdy. I equate almost all almond milk to water. I buy this almond milk for smoothies because it's inexpensive, but it has almost zero nutritional value. THIS almond milk is like 5x the price, but is actually satisfying because it has an actual serving of nuts per cup in it that make the 'milk' thick and creamy and full of satiating fats. And the maple syrup makes it slightly sweet and that much tastier. I've been cooking oatmeal in eat, pouring it over cereal, and for snacks drinking it straight from a glass. I found this on sale for like for $2.50 but it usually goes for $7, so I'm savoring every last drop because I'll probably never buy it at $7.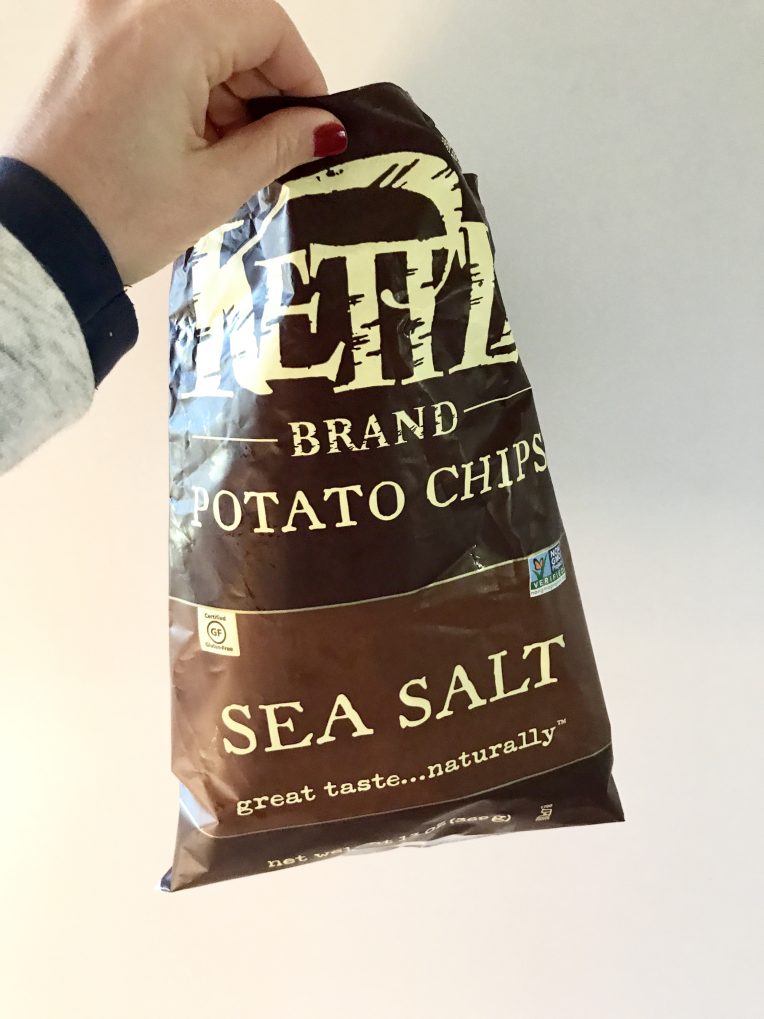 Crunchy. Salty. Tasty. Yep. These are my savory afternoon snack of choice.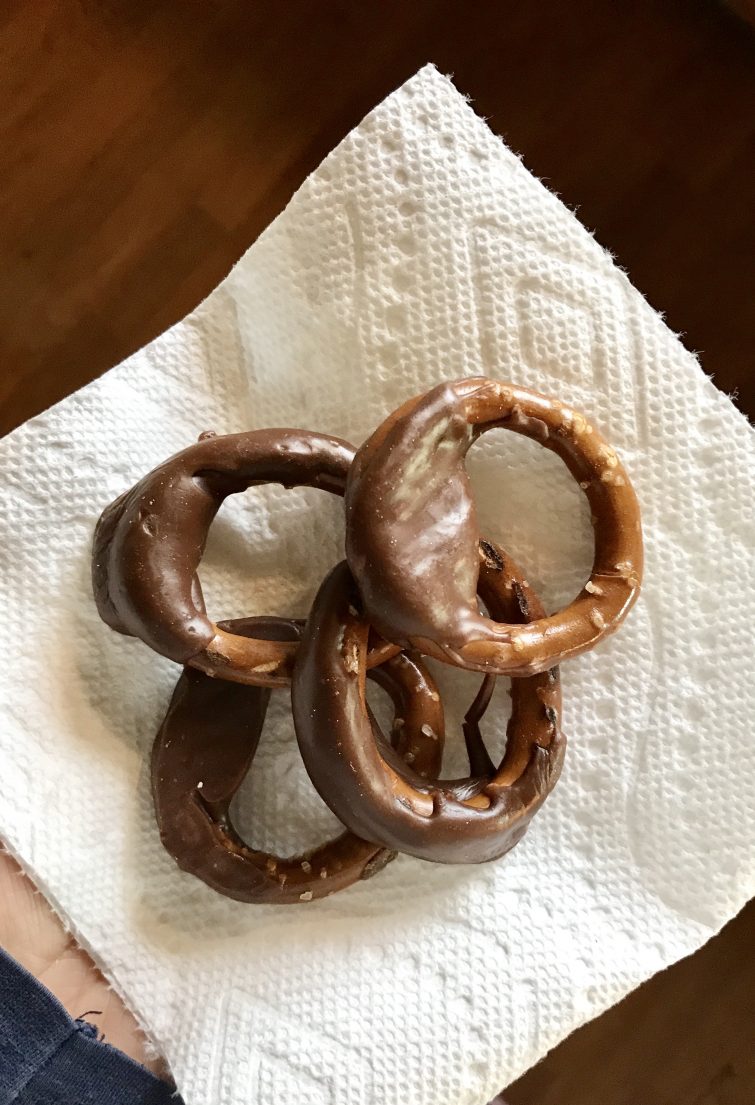 Momma Coale made chocolate covered pretzels and they are perfect with a cup of coffee in the afternoon while I'm writing blog content.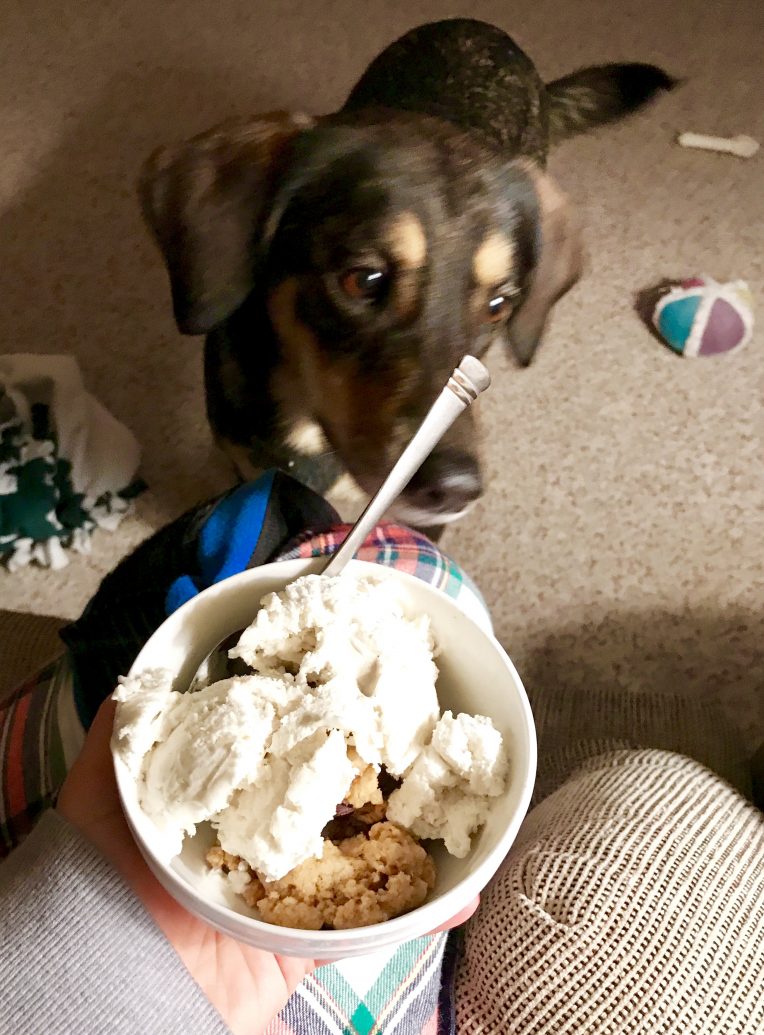 The ice cream bedtime snack routine continues. This week I've alternated between Edy's vanilla with peanut butter chocolate chip cookies on the bottom.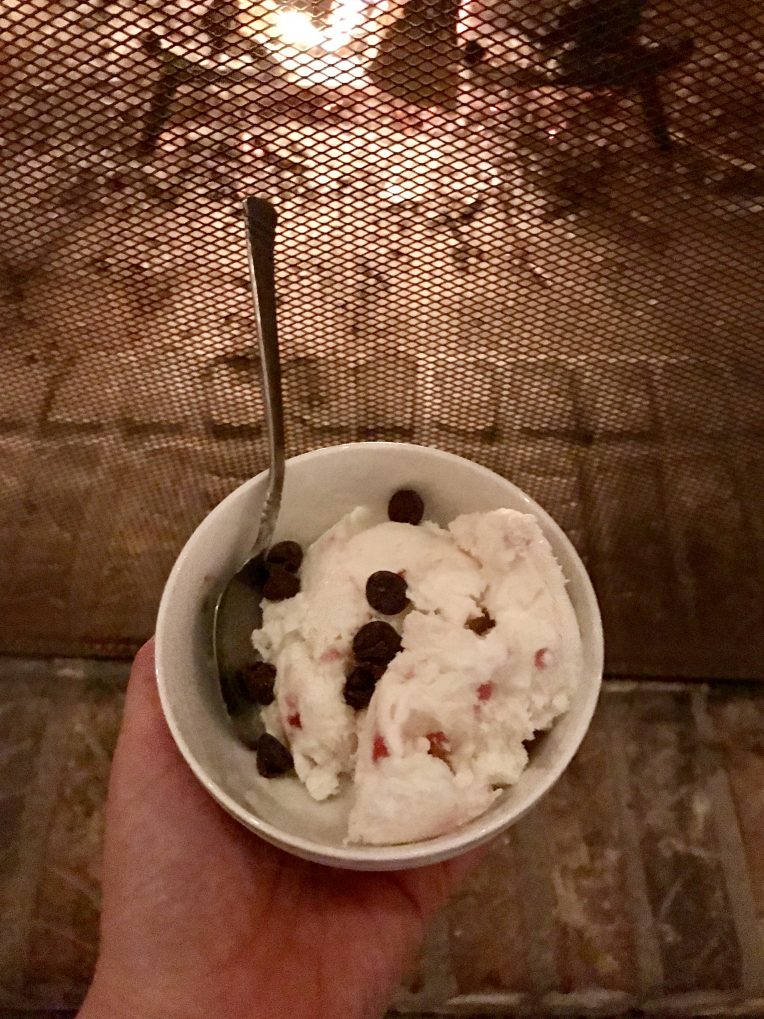 And Edy's peppermint with chocolate chips. Depends on what mood I'm in. Always eaten by the fire.
I <3 home.
Share delish foods you've eaten in the comments!