THANK YOU so so much for your incredibly kind and supportive comments on Monday's post and the emails and Instagram messages you sent. I couldn't even begin to articulate how much your support and loyalty to this space means. And I loved hearing how much you enjoy the "deeper" content posts on women's health topics and intuitive eating – those are my favorite to write. I'll still be sharing snippets of life here and there as well and will still do some "weekly eats" posts to recap random times I did pull out my phone to snap a pic. But I've felt such peace, relief and rest even in this first week of bopping off social media around 6pm and not feeling like I need to take a picture of what I eat. It sounds so simple, but the effects are more than simple. So thank YOU. I hope you feel the freedom to also draw boundaries in your own life 🙂
So onto the weekly eats! Whenever I do this it's a dump of whatever is on my camera roll from the past couple weeks.
Breakfasts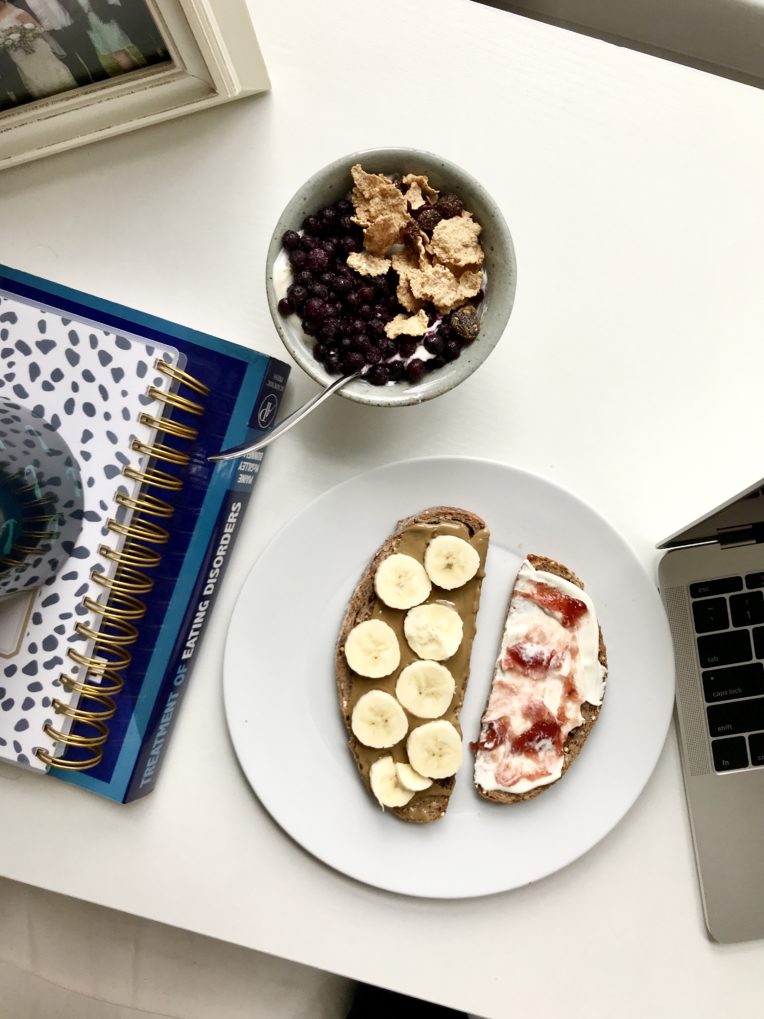 I picked up this loaf of sprouted grain raisin bread because it was on sale for $3 and was like, ok I'll try it. I have a strong affection (read: obsession) with Iggy's bread because it's chewy and crusty and not dense …aka it's freaking delicious. So I think I've now ruined it for all other bread. I slathered sunbutter + banana on one half, cream cheese + jam on another and ate the toast with whole milk greek yogurt + blueberries + raisin bran cereal for some crunch.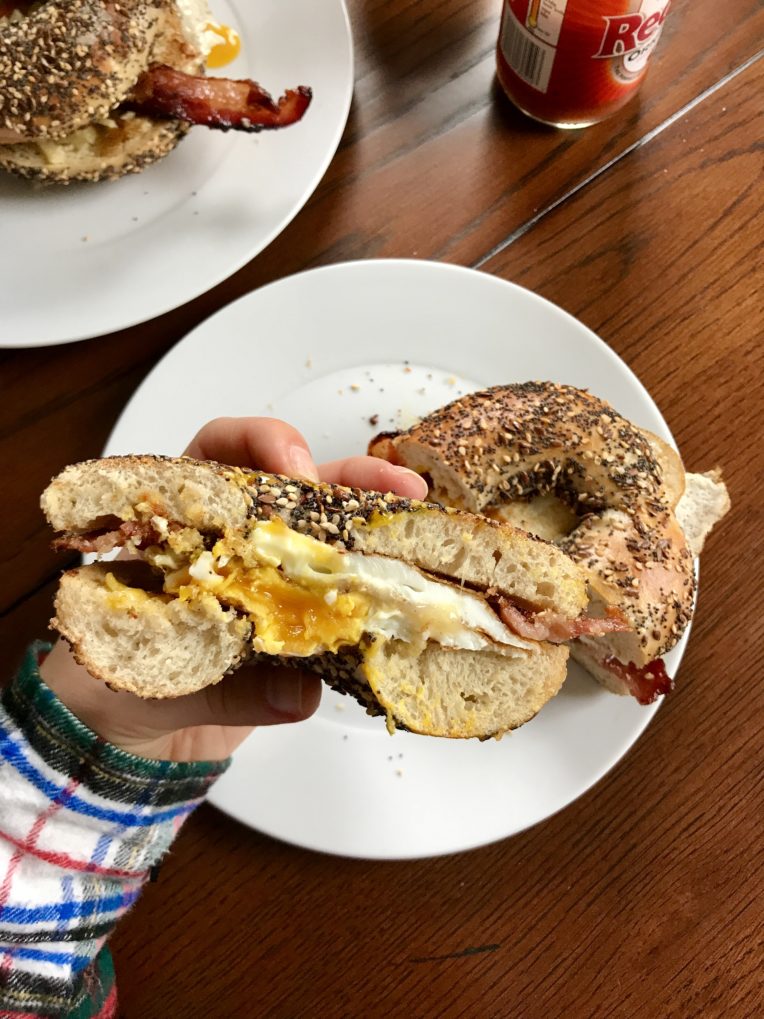 Nick and I have been making bacon, egg and cheese bagels at home on the weekend and they are AWESOME. The key…really good bagels and bacon. Whole Foods sells Iggy's bagels for $1 in the bakery section so if you live in Boston go get some. I prefer fried eggs because of the runny yolks, crispy bacon (never limp bacon…that sounds and tastes gross) and sharp, sharp cheddar.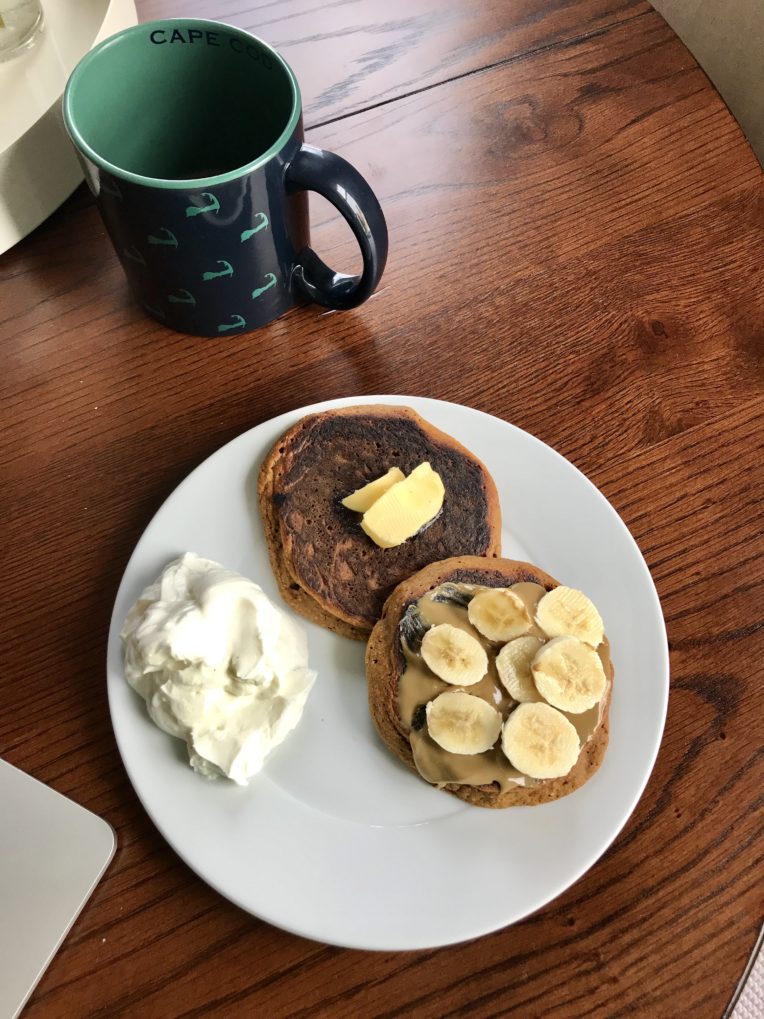 Leftover pumpkin oatmeal blender pancakes one morning with the rest of the container of whole milk greek yogurt. Maple syrup was used for dipping – added right after I snapped this. I think there may have been some chocolate chips tucked inside these…but I forget. Highly recommend adding chocolate chips to this recipe, after blending!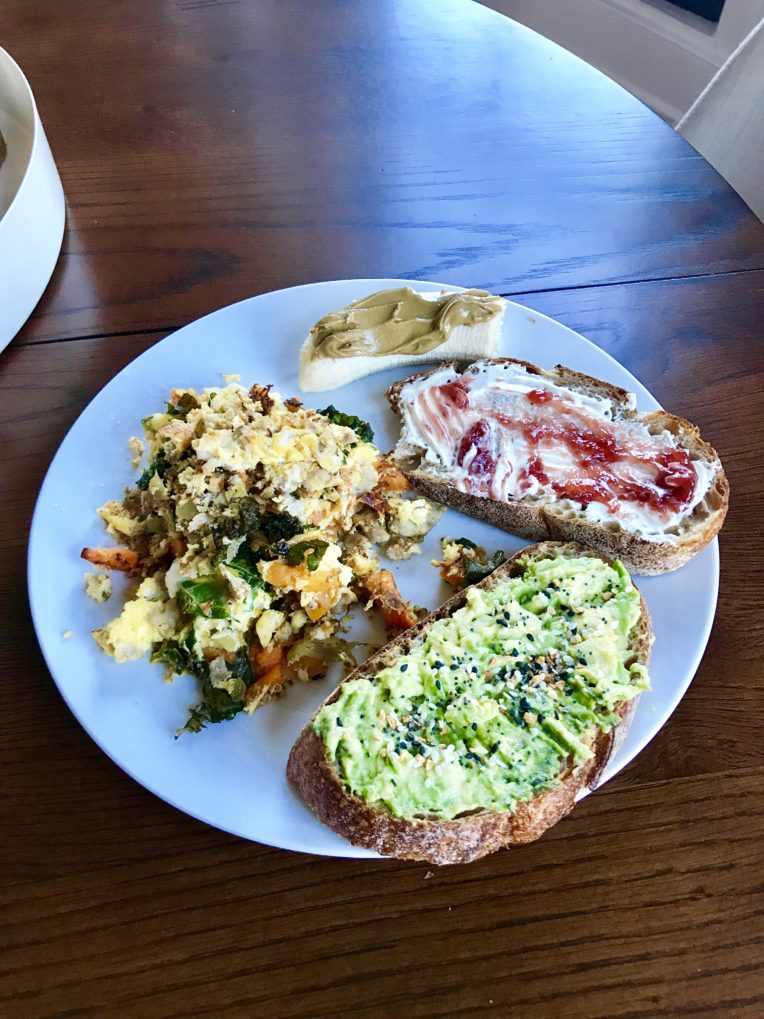 Last week I ate leftover kale + sausage + sweet potato egg casserole from our brunch party paired with non other than Iggy's toast with avocado + everything seasoning and cream cheese + strawberry jam and half banana with sunbutter. Side note –> you will almost always see me eating 1/2 banana because I can't stomach a full banana + nutbutter ….my taste buds are like blahhhhhh if I eat more than half. Maybe it's a texture thing?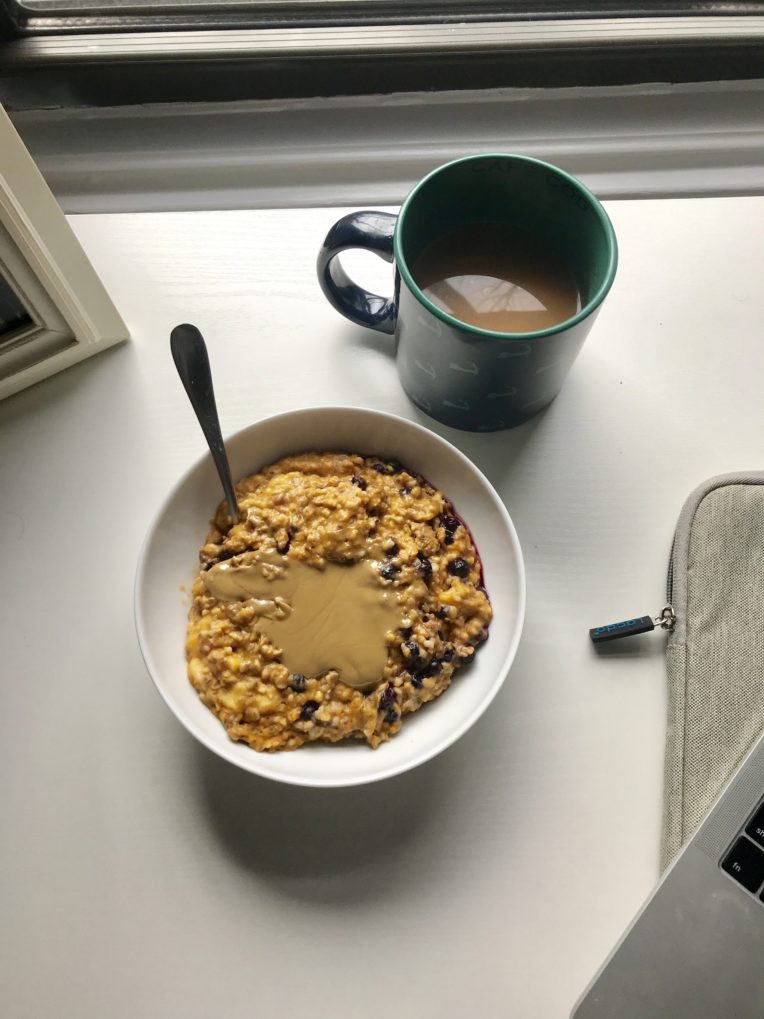 Lastly, good ole pumpkin oatmeal with blueberries and banana stirred in and topped with melty sunbutter. Plus coffee and a side of snowstorm because March apparently is the month of snow up here.
Lunches
This week for lunch I planned spinach salad (pretty much the only cold salad I'll eat all winter) with hummus + TJs pita for lunch. Plus some bell pepper that was on it's last leg.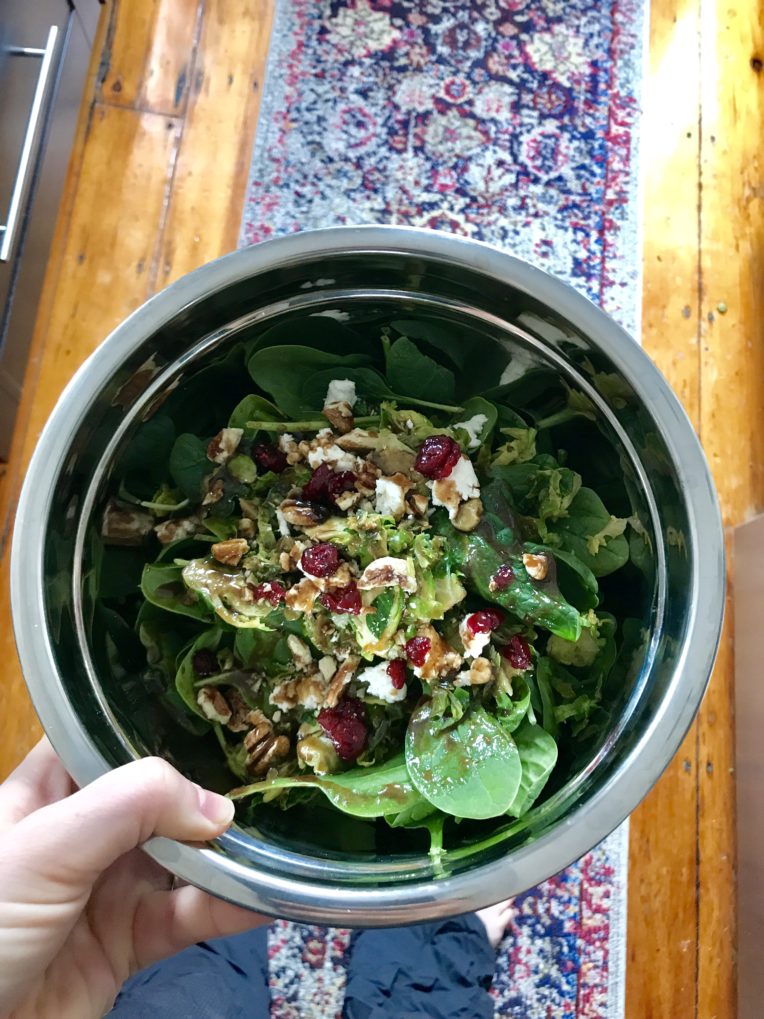 For the salad I bought bagged shaved brussel sprouts and sautéed them in avocado oil, sea salt and pepper until they were soft and tender. Then made this easy + simple balsamic vinaigrette. When lunch time rolls around I put some baby spinach in a bowl (that was way too big for the salad portion I ate lol but there were no clean dishes) add the brussel sprouts (cold from the fridge) and top with walnuts, goat cheese, cranberries and the dressing.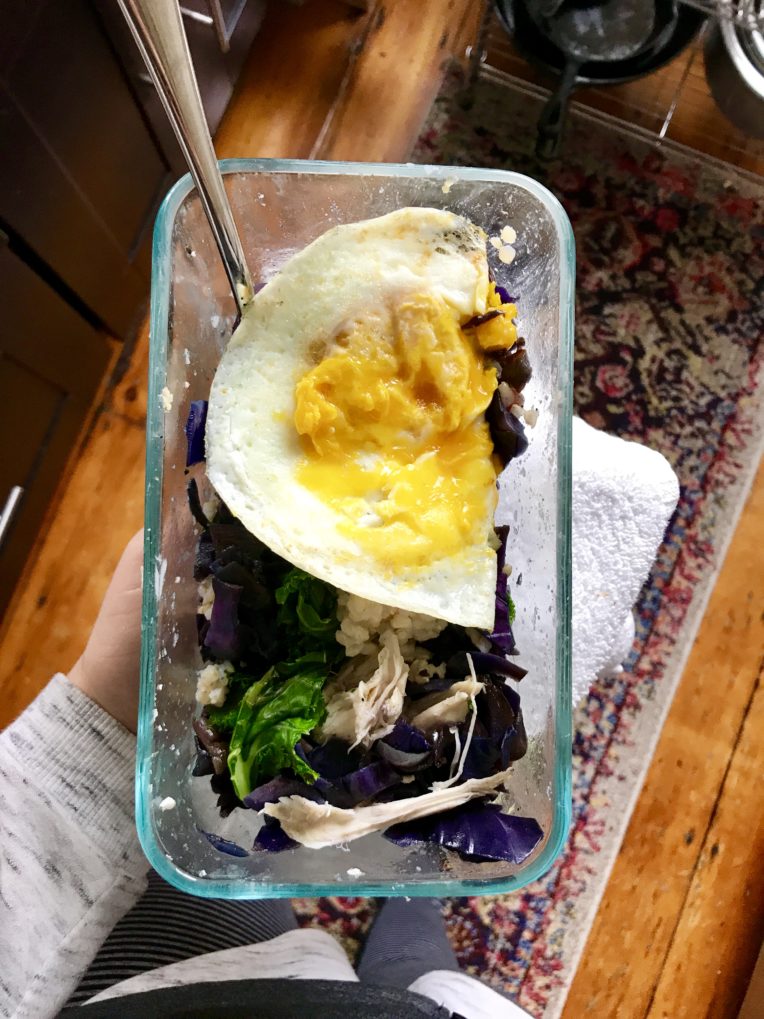 Another day I ate a pyrex full of leftovers. Sautéed red cabbage, kale, brown rice that's on the bottom and the last of some rotisserie chicken. Topped with a fried egg and s + p. I think I ate some dark chocolate after this.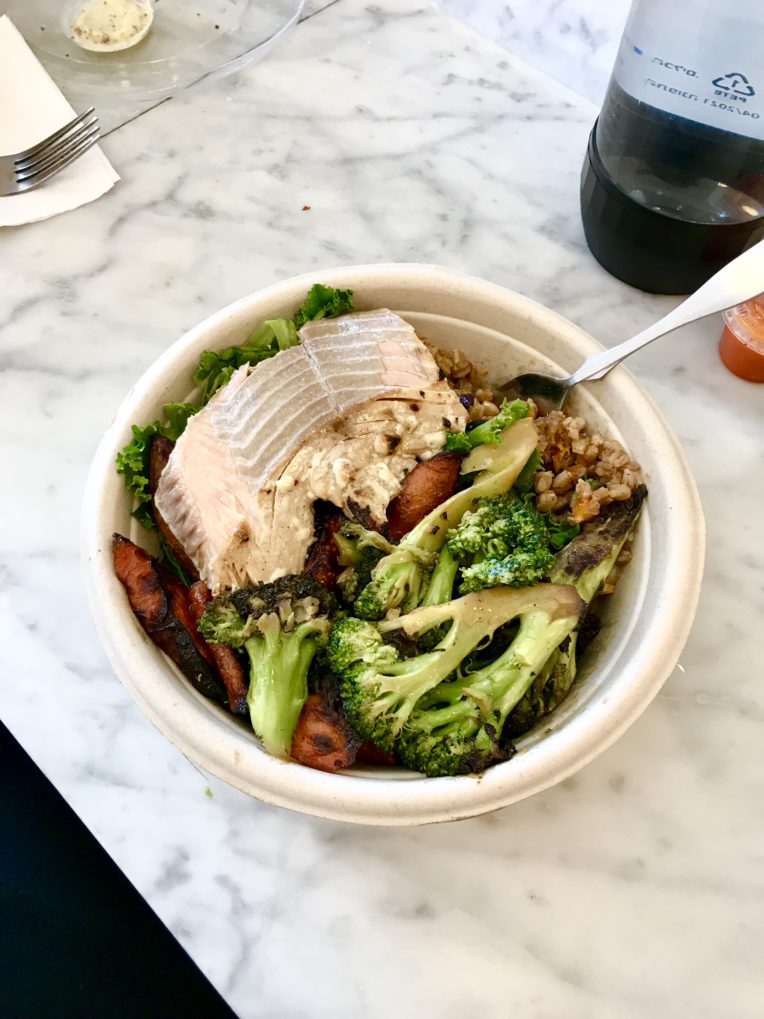 I had lunch with a reader/dietitian last week at Dig Inn. I haven't had Dig Inn forever (we use to go all the time in New York) and forgot how good it is – think of like a chipotle style fast causal with food more like Whole Foods hot bar. I went with farro + greens for a base, salmon for my protein and roasted broccoli and carrots for sides. I was still hungry after this when I got back to the library to do work so ate some dark chocolate. Sometimes I'm full after 75% of this…the body is dynamic like that and I don't know why I get full off less or more of the same meal, but I do know that my body knows what it needs. Just in case you're like many of my clients and get confused/worried when a meal that usually fills you up doesn't fill you up sometimes – it's okay, your body is doing it's thing that it knows how to do really well 🙂
Dinners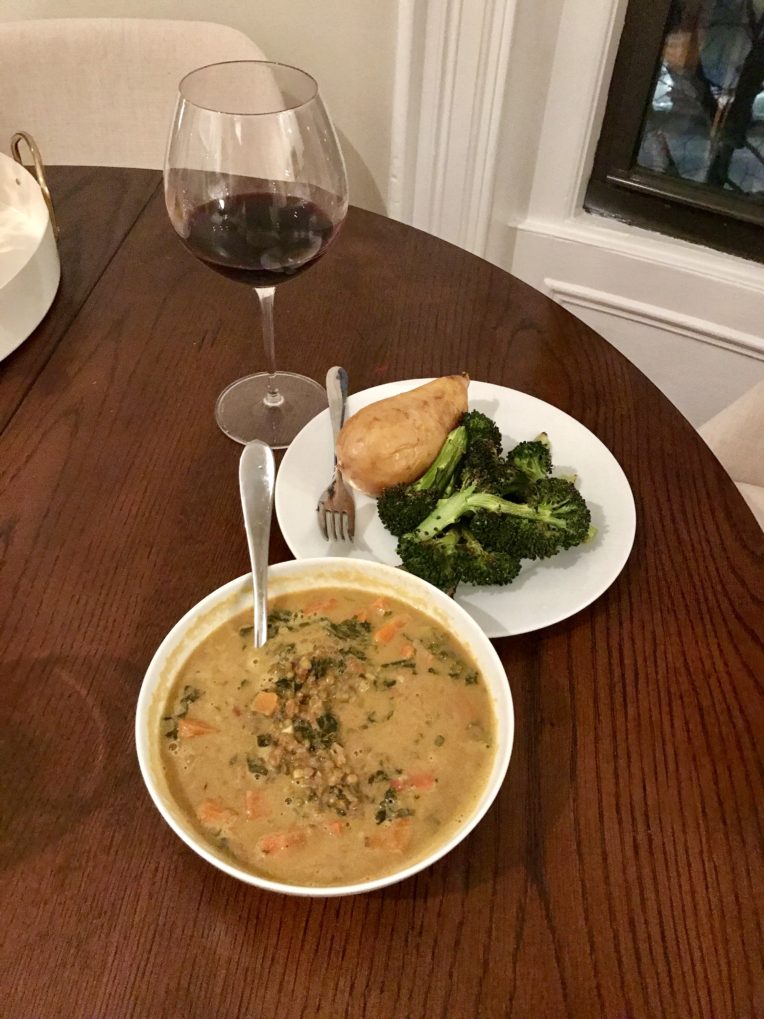 When I cook dinners, I almost always double the recipe and freeze half. It's makes meal planning + intuitive eating easy and doable. This week we are eating creamy lentil soup with baked potatoes + butter and roasted broccoli.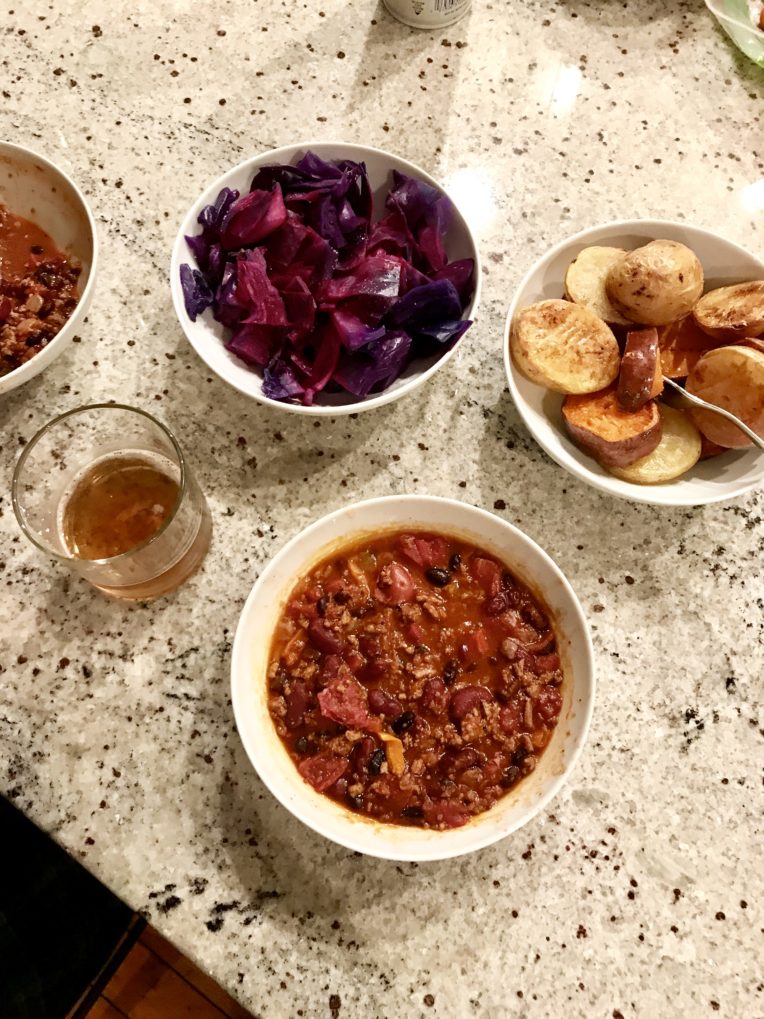 And the other week we ate chili with sautéed red cabbage and roasted Yukon gold potatoes. I actually really wanted some corn bread but I didn't have the ingredients on hand. Next time. Also I don't have a good corn bread recipe so if you do, share in the comments!
Snacks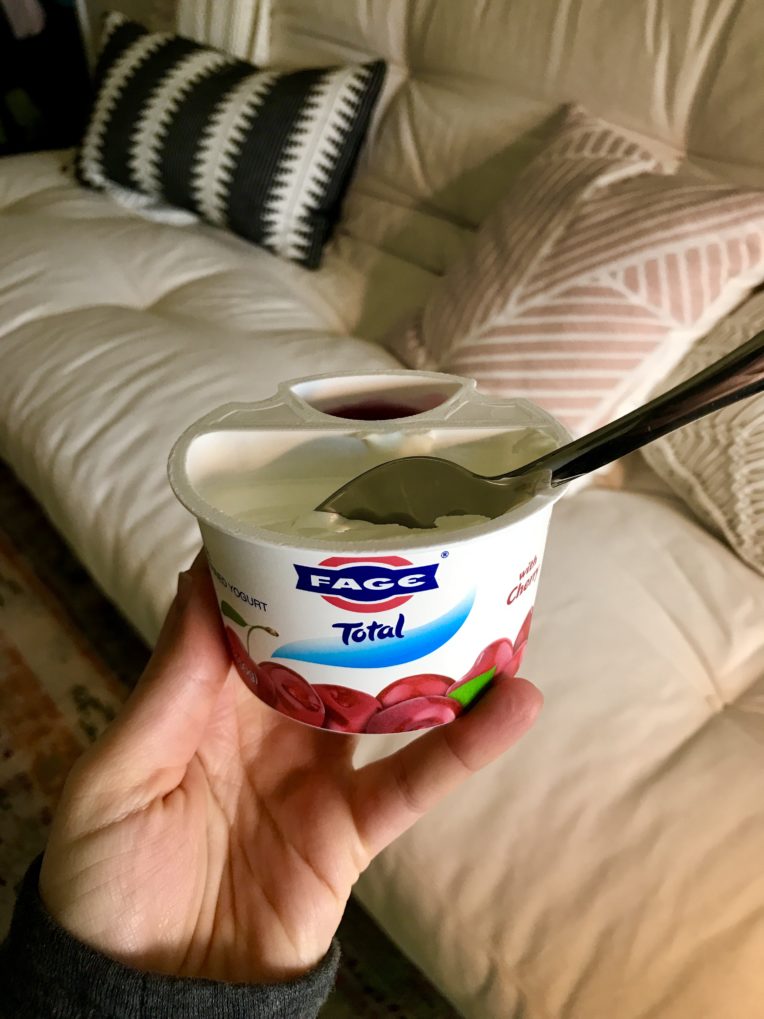 These were 10 for $10 this week at the grocery so I picked up a lot. I always try to get full fat dairy since there's some studies that suggest whole milk diary decreases the risk of anovulatory cycles. Plus it tastes SO MUCH BETTER.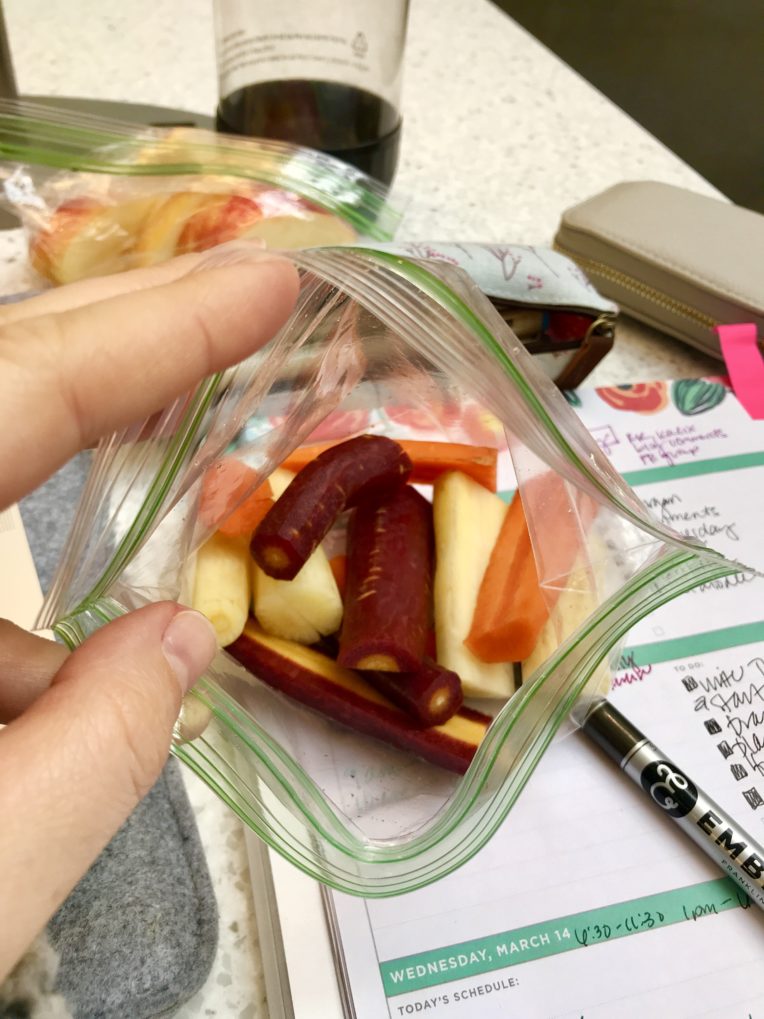 At the library I snacked on some pretty multicolored carrots that were on sale + an apple.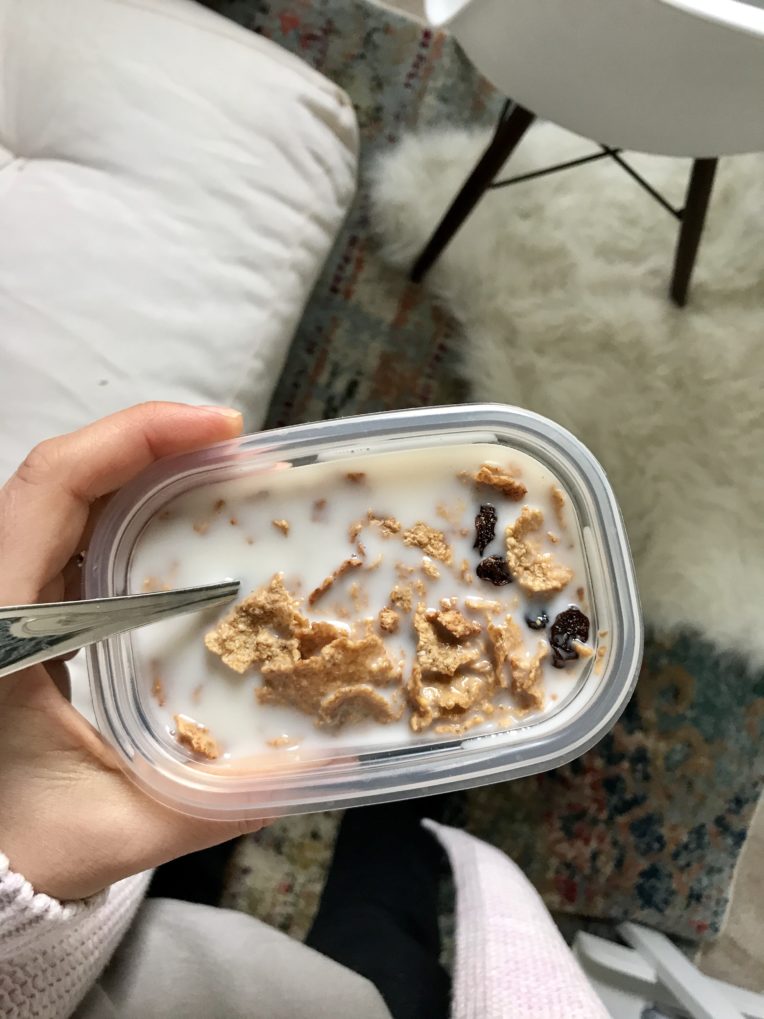 Also ate bowls of raisin bran out of tupperware because again, minimal clean dishes problem. I actually hated raisin bran as a kid and teenager (Fruity Pebbles and Cookie Crisp FTW) but as an adult I love it. I also hated raisins as a kid so there's that.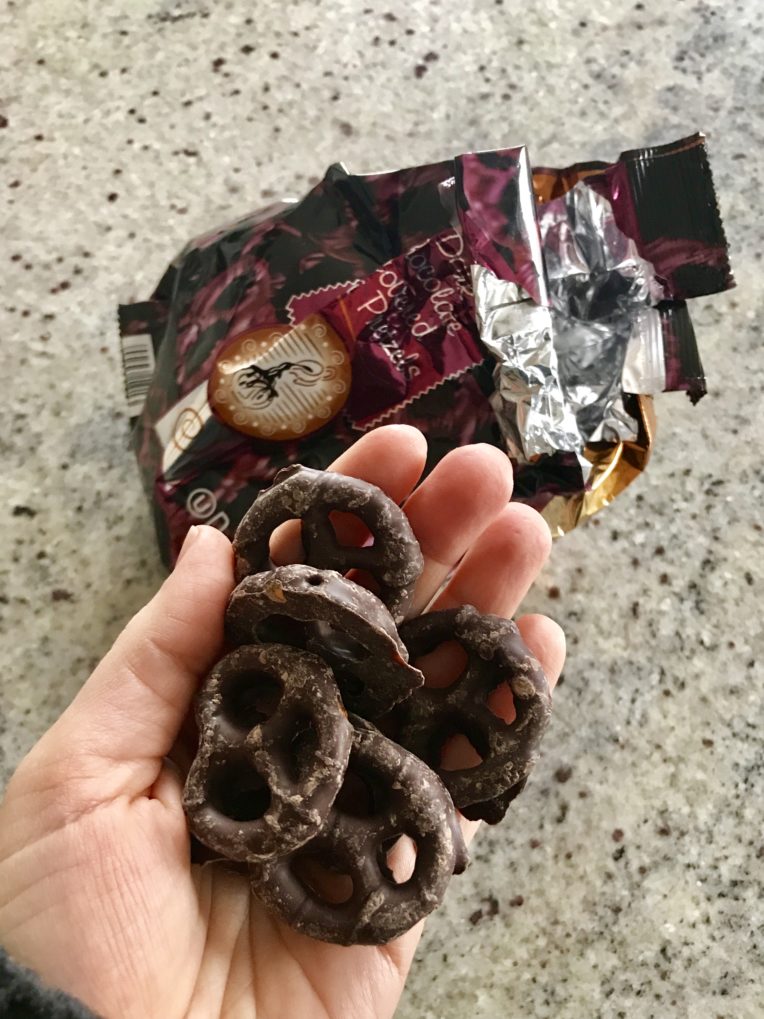 These x lots of handfuls. I've had the dark chocolate pretzel slims from TJs but these are better. Salty + sweet at its finest.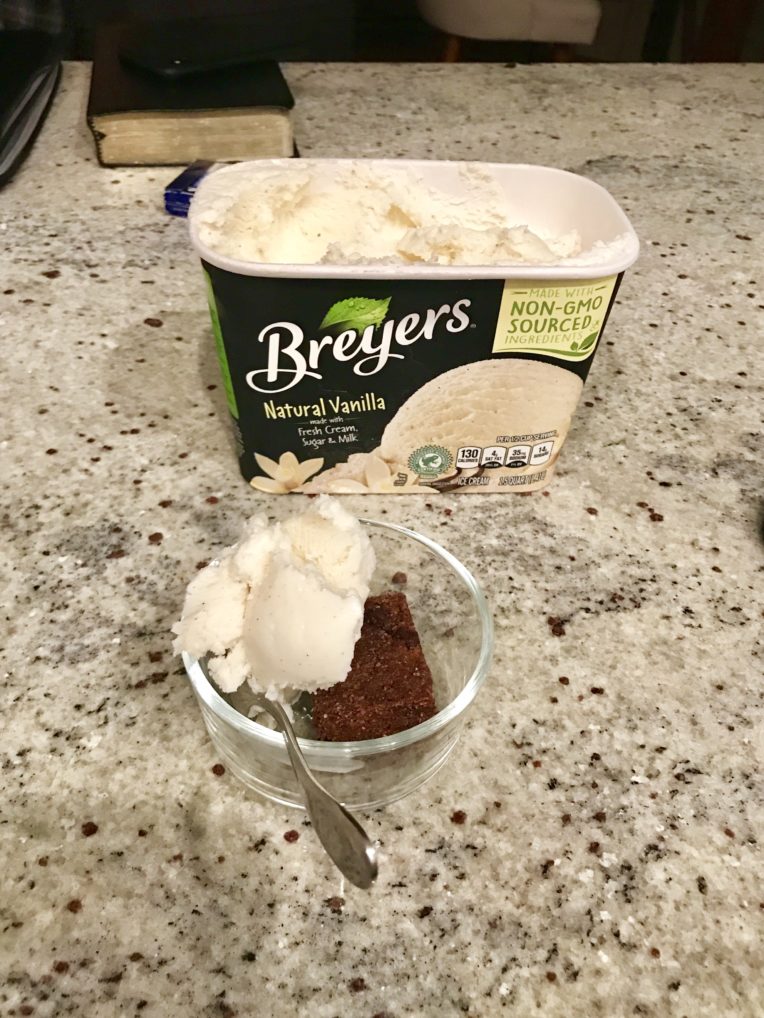 And ice cream + my double chocolate chip cookie dough bars for a bedtime snack.
I hope you have a wonderful, fabulous weekend!
Also I shared this in my newsletter this week, but wanted to let you guys know that I listened to your requests and made the body image module of my hormones e-course as separate course to purchase. In this course I'll walk you through tools, strategies and resources that will help you tolerate your body and then eventually accept your body. The goal is to learn to be a caregiver for your body instead of fighting against your natural body size – you can read more about it here. 🙂