I spent Friday and Saturday at the MEDA conference and it was such an awesome learning + networking experience. Jessi asked me if I was going months ago, but it took me until a day before to finally finalize going both Friday and Saturday and I'm so so so so so glad I did!
MEDA stands for multi-service eating disorder association, meaning there were physicians, therapists, dietitians, nurses, nurse practitioners and other clinicians at the conference. I really loved being able to learn from and talk with people from so many different fields, yet all of us specialized in eating disorders. And meeting Paige and Haley in person was so fun! By the end of our 48 hours together it felt like I had known these new friends for years.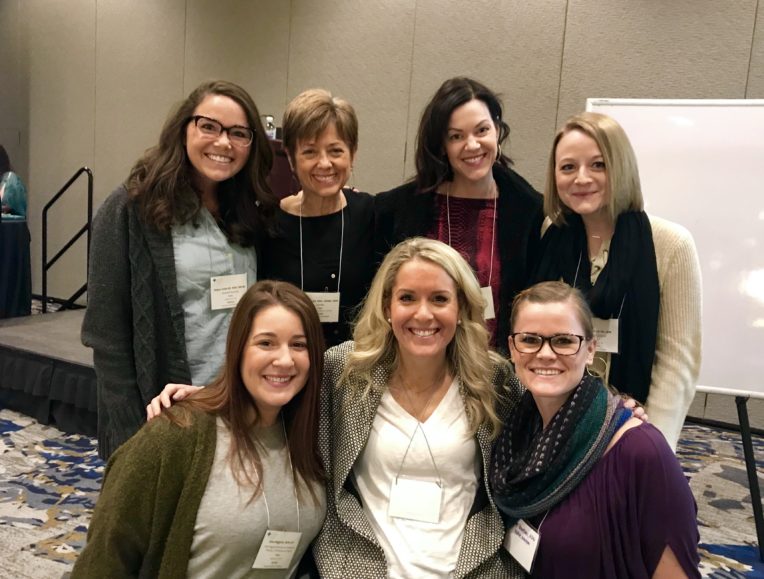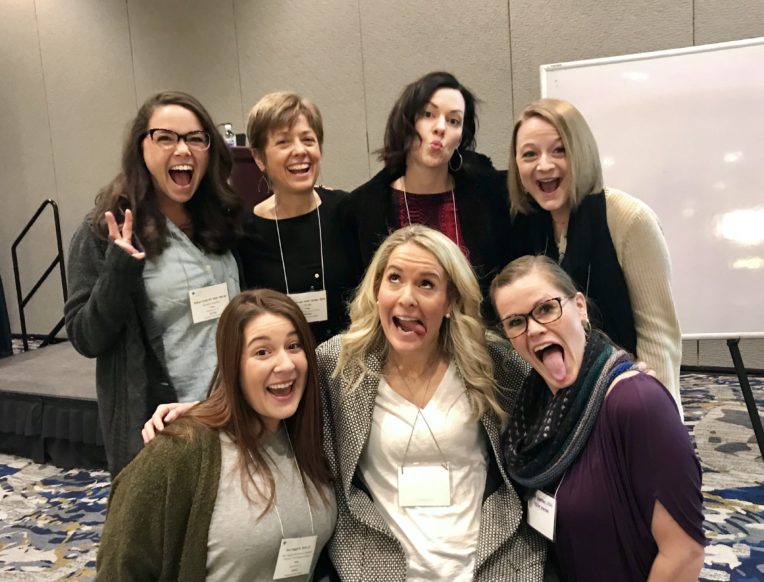 Something really unexpected that the conference did for me was really solidify what matters to me when it comes to this work and my life. I feel like I've been in this transitional season over the past several months and have slowly, but surely, began to shape and form the vision I want for my career. But even more so over the past month or so I feel like I've began to get really, really clear on what I do and don't want to focus on when it comes to business and career. I'm somebody who can get really clear and then I see a shiny object or I get distracted with "shoulds" and before I know it I've crossed over 4 lanes on the freeway.
This weekend helped me find my lane again and even more so, solidly that yes…THIS is my lane. Nick had been gone traveling for work all week so Friday after the conference wrapped up I came home to spend some much needed time with him – we walked over to Urban Grape to pick up a bottle of wine and then onto B.Good for burgers + fries. I was craving sweet potato fries and also wanted to veg out on the couch so this was our quickest option. Last minute I went with the chicken sandwich with spicy slaw and avocado. It was the best meal ever, but pretty good for affordable takeout. We'll be back.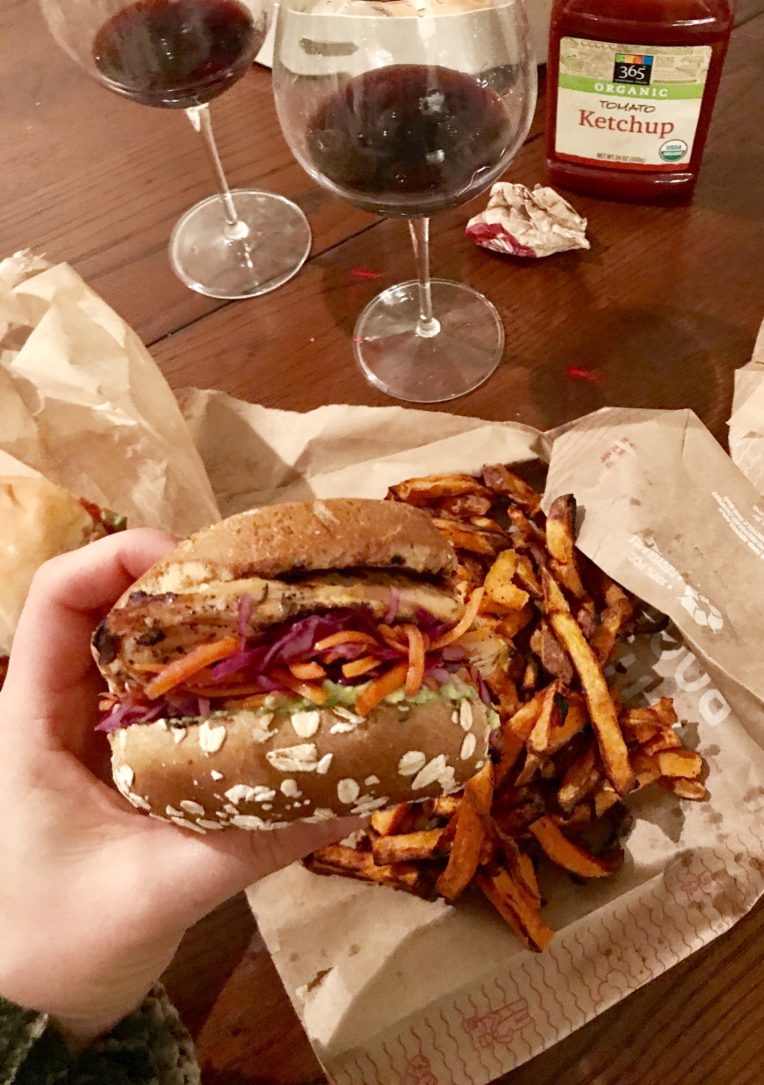 Saturday morning I answered email since I neglected my inbox Friday – I usually don't answer email on Saturday, but I did a little in the morning to respond to anything that needed attention. And then I went on a morning jog along the Charles River. It was cold but in a way that leaves you refreshed. Does anyone know what I'm talking about?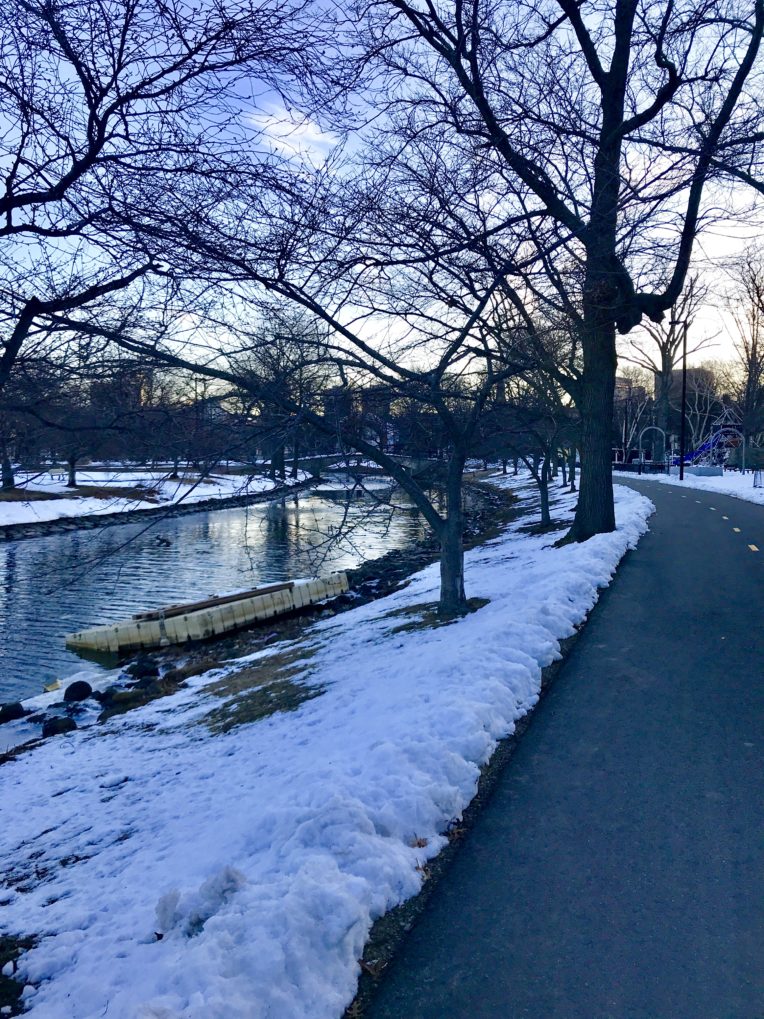 And then I made a green smoothie and took this toast with me to eat on my way to the conference. Avocado and everything seasoning on one half, sun butter + banana on the other.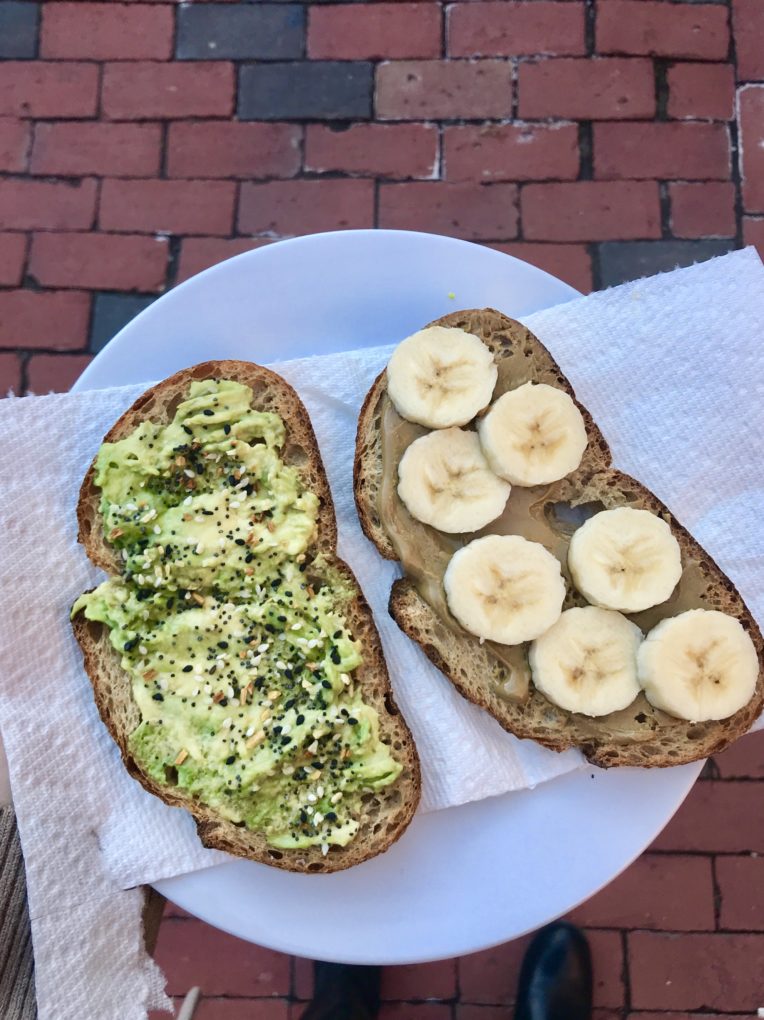 I learned a lot and I also felt like I was affirmed in things I already incorporate into my practice. Especially when it comes to counseling, sometimes when I'm working with a client we get creative and are figuring out things together because xyz thing didn't work and then we try something else etc etc. It was reallyyyyy reassuring when I realized, "oh, these things they are teaching me right now…I'm already doing." and that boosts my confidence and also helps me to refine that part of my practice even more. I loved loved loved the talk Dr. Gaudiani gave on palliative approaches and end of life care in adults with eating disorders. I've been fangirling her hard since I discovered her about a year ago and could listen to her teach for hours on end. Also Ragen Chastain gave such a powerful talk on eating disorder recovery and size acceptance – if you ever get a chance to hear her speak I highly recommend! She's incredibly influential.
Saturday after the conference, sadly Paige had to hop a flight so we missed her, but Jessie, Haley and I headed to Barcelona for wine + tapas and sat there for 3 hours. A great wrap on the conference. I told them this at dinner, but it's conferences like this and being around people that do the same work you do that make me feel insanely grateful to get to do this work and be involved in this community. And you guys reading this are included in those people that allow me to do this work so thank YOU.
Sunday I ate a smaller-ish pancake for breakfast to save room for brunch after church. These were leftover blender pancakes with nut butter and banana + maple syrup I added to the plate after this photo because soggy syrup pancakes are no good.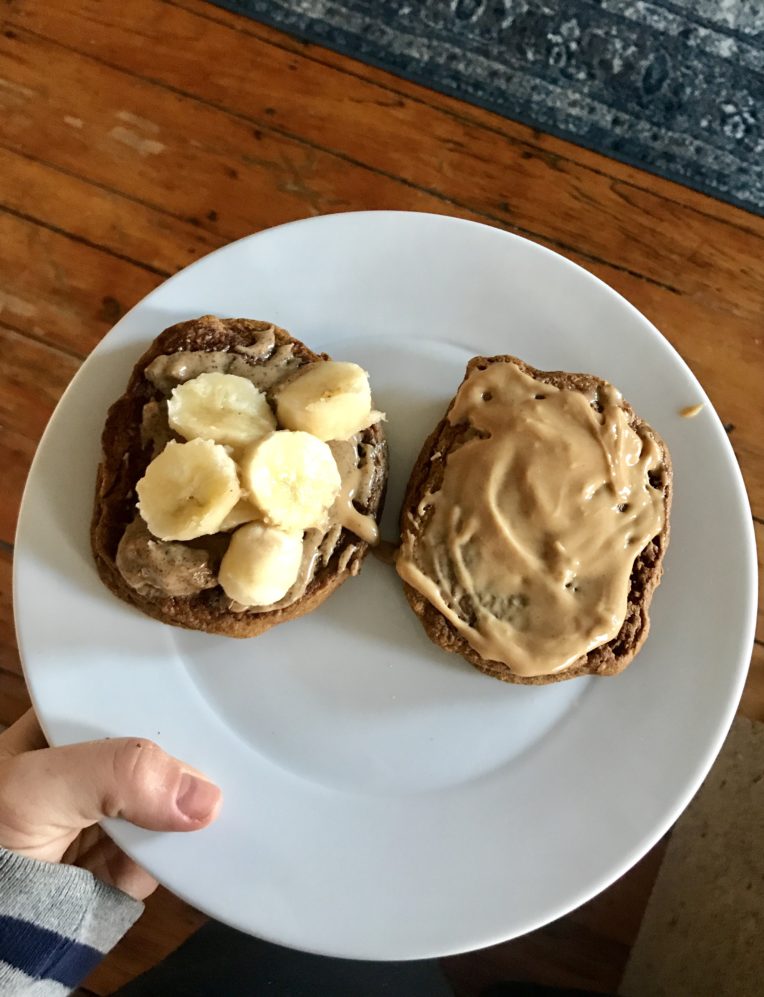 We've gone back to Mosaic church a couple times and are hopeful that maybeee our church dating days are coming to a close. Afterward we got brunch with our new-ish friends Brian and Amanda and their baby boy Luke at Cinquecento. I ordered the cheesy polenta with mushrooms and poached eggs. It was cheesy and fab. Plus a "sugar donut" I shared with Nick that tasted more like a fried cake and was also fab.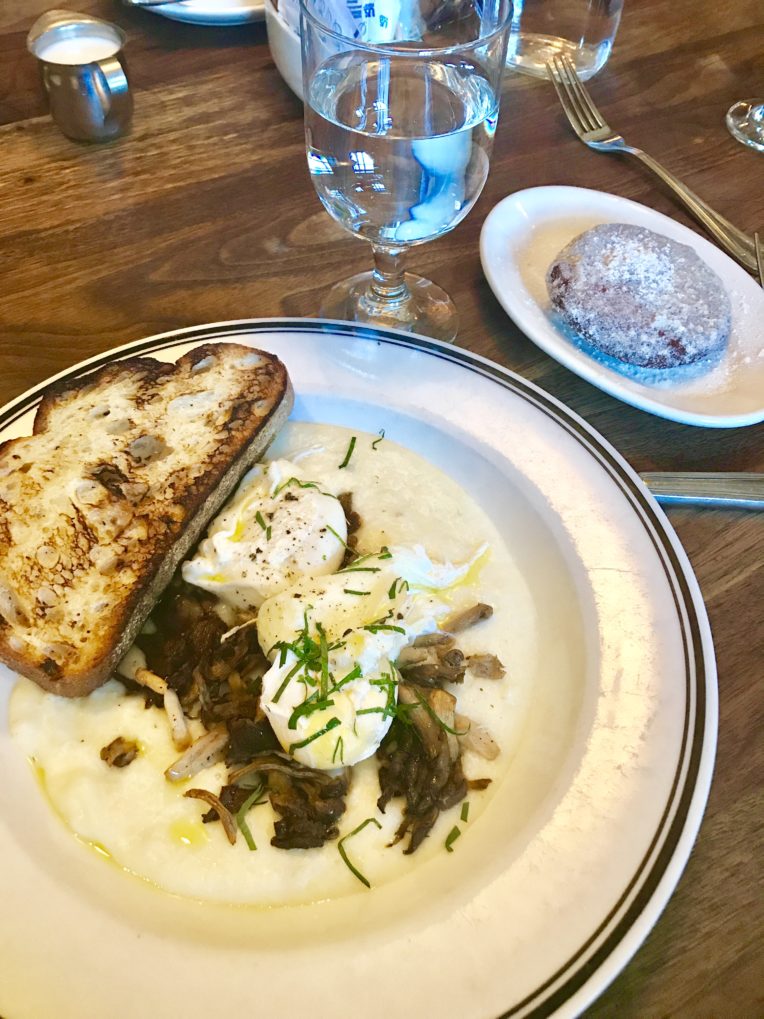 The rest of the day included grocery shopping, eating popcorn and watching UNC lose…bad (that was rough, especially for Nick) and eating leftovers for dinner. I didn't take a picture of dinner…
Which ties into my thoughts lately on this blog and career and how that fits with my life. A month or so ago I was jogging and had this thought that doesn't sound like an "a-ha" moment, but it was. I realized I didn't like writing weekend recap posts and I was resenting it. But what kept me writing them was that you all really enjoy them and I didn't want to disappoint anyone. I really REALLY appreciate and love you guys. But then I realized this wasn't healthy for me anymore. My brain was never shutting off. All weekend I would be thinking about what pictures I needed to make sure I was taking. I was annoyed at having to take out my phone at dinner or when Nick and I sat down to eat so I could have that photo for the recap. And then all day Sunday I would be thinking about having to write the weekend recap post. It would just hang over me and as a result, I never felt like I was truly shut off from work throughout the week because work bled into the weekend and then Monday was here.
I've experienced the same thing with social media. Which is why I'm posting less actual IG pictures and you don't see me on it much over the weekend anymore. I've been writing this blog for almost six years – the first 2 1/2 years are archived since I was in a different place personally and professionally when I began and that content doesn't align with where I am now – but six years feel like a long time to me. And although I don't plan to quit writing in this place anytime soon, I think how I go about writing and how I engage with social media is changing. I have a love/hate with social media and I think a lot of people, including maybe you, also do too.
I feel like over the past year I've been in this push and pull with defining who I want to be as a professional and where I want to draw the line with work and life. Is there a balance? What does that even MEAN? So I feel like this has been a work in progress that I'm finally starting to feel clarity on in these beginning months of 2018. I don't have the answer for what work life balance means. And I also think the capacity to which you work and the rhythms of how you work change as life seasons change.
I feel really thankful to make my own hours, my own rules and my own income with the blog and private practice. I never in a million trillion years thought this business would grow to what it has….much of that being over the past year, with the previous five years paving the way for this past year of growth. I also feel really thankful that my soul freaking bleeds for this work. That might sound dramatic, but I feel like that's the best way I can describe it. So all that say, I can work 14 hours a day doing this work if I let myself…a major thing that helps me not to do that is relationships. Friendships and my family and my husband. So that's good.
I don't think that what I'm feeling is burn out because I've definitely had that. Hi, nursing school. But rather I think that I want less distraction and I want to either be 100% present in my life or 100% present in my work (which is my life too but you get what I'm saying..) So now that I'm just word vomiting and external processing as I write…here's what I think that means for me.
My number one focus is being a really good practitioner and continuing to develop my skills and knowledge. That's what I care about most – caring for my clients and patients, staying on top of the research, growing in my nursing + counseling skills, and creating content that educates and empowers women. And if that's my number one, I can do that and also draw firm boundaries with social media and the blog because when those bleed too much into my life, my mind doesn't have time to reset.
So a lot of words later I think what I'm saying is that I won't be writing weekend recap posts anymore and you won't see me on social media in the evenings or on the weekends unless for some reason it feels natural and I want to engage. What you can expect though is to still see lifestyle content in addition to the intuitive eating, women's health, hormonal health and food content. So I will still share snippets of my life and other things and still monologue about life stuff on Instagram stories sometimes for those of you that enjoying listening (I love you btw 🙂 …but I'm craving more privacy instead of recapping events or days in my life.
If I'm honest with you and myself, my fear is that if I retreat back with sharing my personal life I won't be meeting expectations. So as the blog shifts slightly I hope you will stick around. And if I'm not on social media in the evenings or weekends, know that I'll be back on Monday morning. 🙂
Now your turn…setting boundaries and holding to them is HARD STUFF. Are there areas in your life that you feel like need some boundaries? What might you do differently if there ____ didn't hold you back? I'd love to hear it in the comments! <3