We all go through seasons of personal growth, some more intense than others. And many of us go through seasons of professional growth, some more intense than others. We are always learning and nobody knows everything so I don't think it's fair to expect other people to know about the things we know and visa versa. When I began my career as a dietitian in the summer of 2012 I hadn't even heard of Intuitive Eating (IE) or Health At Every Size (HAES). And I wouldn't hear about these paradigms for about 2 more years. I practiced the best way I knew how given what I had learned.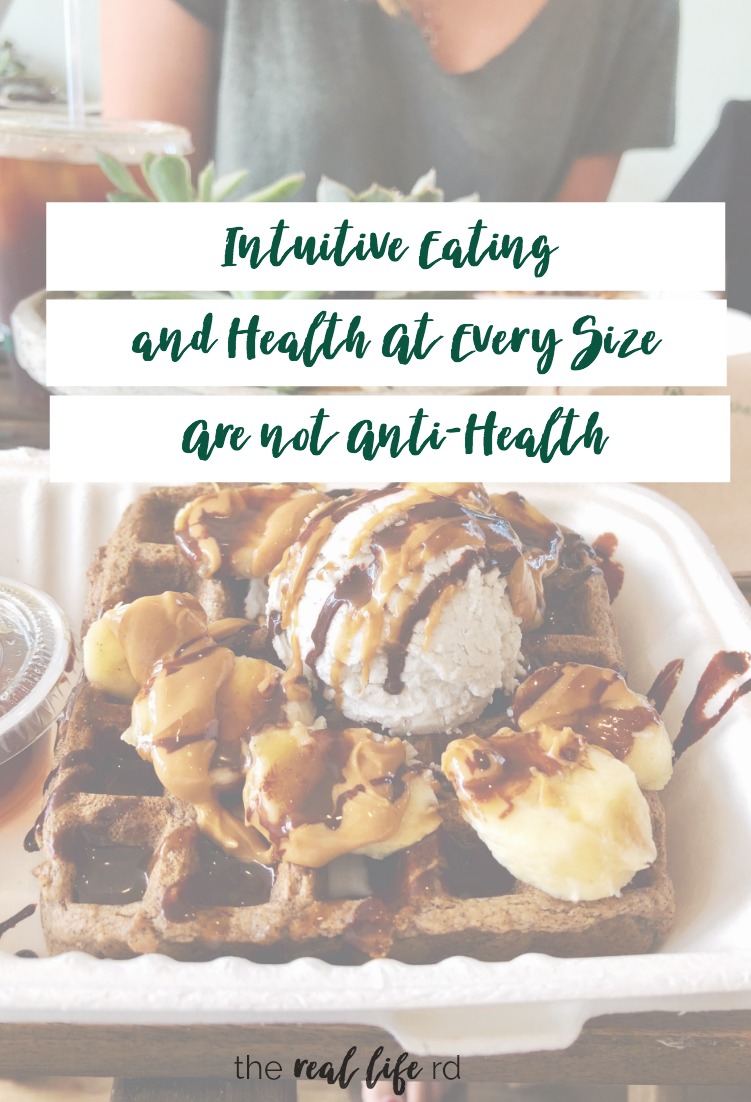 I wasn't trained as a dietitian with an HAES/IE framework and I wasn't trained as a nurse or nurse practitioner with an IE/HAES framework. I haven't been to medical school, but I think it's pretty safe to say doctors aren't trained with a IE/HAES framework either. So although I really wish I had known about these concepts, I think it's unrealistic to expect health professionals, or anyone in general, to "know" these concepts. But I do think it's realistic for us to be able to engage in open, honest and vulnerable conversations so we can educate ourselves, learn different perspectives, and shift gears when necessary so we can provide the best, most effective and ethical care possible. I think sometimes the HAES/IE movement can be clapping its hands at its own audience and while that isn't a bad thing, I do hope the conversation can continue to be opened up and remain open to everyone in a way that facilitates healthy dialogue.
When I began my career as an RD, among other things I helped people with, I helped people lose weight through dieting. It didn't "look" like dieting, but in essence it was. The goal was improved health by way of weight loss. I had every good intention to really help people live healthier lives. I think there are many clinicians out there recommending weight loss with really good intentions because they care about people. But similar to my story, they haven't been exposed to IE/HAES. Shaming anyone who recommends weight loss doesn't help the problem, it doesn't create a safe environment to learn and grow. But I do think it's frustrating when there are really black and white claims made about the necessity of weight loss to improve health outcomes when one hasn't actually sat down and truly educated themselves on both sides of the coin – dieting and pursuing weight loss vs HAES. These concepts (IE and HAES) take time and patience to dig through, wrestle with, and get really clear on. It took me a really long time to get super familiar with the two paradigms and the research behind them. And I by no means know even a fraction of what I hope to know in 5, 10, 20 years. We are all always learning.
When I read or hear others say, "Intuitive eating and Health At Every Size are just an excuse for people to eat whatever they want and do whatever they want." I get really frustrated because that's a really poorly informed statement. That person(s) hasn't actually educated themselves on IE/HAES, yet there is a pretty strong opinion being shared. I love when people are passionately opinionated! But it's important to be as informed as we possibly can so we can share educated opinions.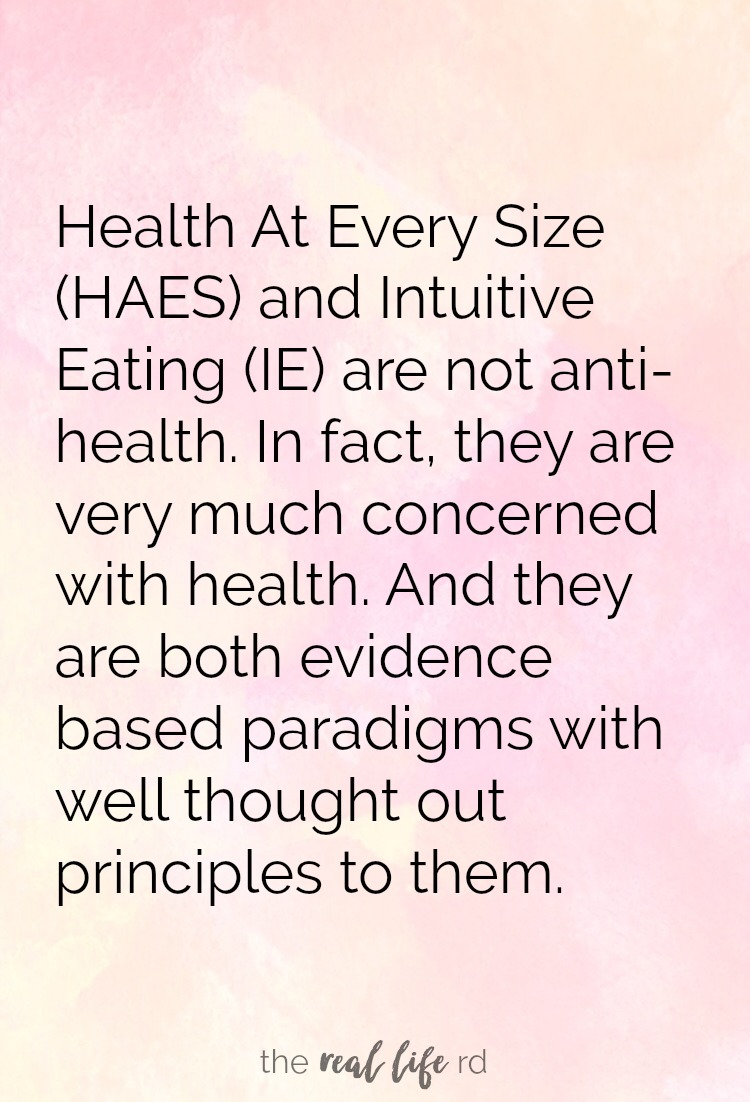 Health At Every Size (HAES) and Intuitive Eating (IE) are not anti-health. In fact, they are very much concerned with health. And they are both evidence based paradigms with well thought out principles to them. While HAES and IE are very concerned with health – both of these paradigms acknowledge the reality that health is so much more than food/exercise/weight and are based on research that shows 1) diets don't work and 2) a person's body size/weight is not a direct reflection of their health. A weight centric view of health is a very narrow minded and simplistic view of health.
Intuitive Eating is not about eating whatever you want whenever you want. Trust me, none of us would feel physically well if we did. And Health At Every Size is not saying anyone is healthy at any size, rather it's saying people can be healthy at a wide variety of body weights and sizes. There is no one body size or body fat percentage that will protect a person from getting an illness, chronic disease or dying. And there is no health issue that only happen to people living in larger bodies. While there are certainly associations between higher (and lower) body weights and certain diseases and symptoms – that doesn't mean someone's weight is CAUSING that disease/symptom.
The problem with prescribing weight loss is that we simply don't know how to help people do that in an effective, sustainable way. Literally, we have zero research out there that provides evidence on how to lose weight AND keep it off for more than 3-5 years. If there was research, that would be an entirely different story. For the 5ish% of people who do lose weight while dieting and keep it off past 5 years, they typically have developed disordered eating/exercise habits in order to do so. Beyond the evidence, you've probably seen this play out in real life either with yourself or other people in your life. When the body experiences a negative energy balance 1) metabolism decreases and slows to compensate 2) the appetite hormone, ghrelin, is increased and 3) the reward response to food is heightened. So now this person is burning less energy throughout the day and is more driven to eat. This is one of the main reasons diets don't work and why it takes extreme behaviors to keep weight off that was lost while dieting. No willpower can overcome the body's brilliant survival mechanisms.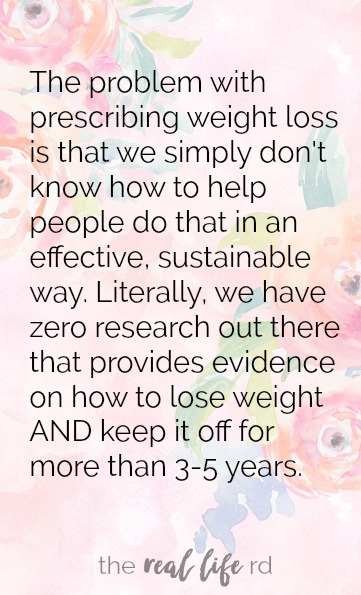 What dieting does lead to is weight regain. Dieting also can cause low self esteem and self efficacy, eating disorders, depression and anxiety, food obsession and other harmful psychological and physical effects. We would never routinely prescribe a medication to people that only worked in 5% of people long term and likely led to negative side effects. We would never recommend someone get in a car if they only had a 5% chance of not being injured when riding. We would never perform surgery on someone if there was a 5% success rate. So why do we continue to do this for dieting?
Weight loss is an outcome, not a change someone can make. And weight is not something we have full control over. We all have genetics and are faced with different environmental factors. The difference between a weight centric view of health and a weight neutral view of health is that the weight neutral view focuses on health behaviors vs numbers. It's the behaviors that help someone get healthier, not the number itself.
HAES is not anti weight loss. If someone begins…
honoring hunger and fullness cues
eating foods that are satisfying and nourishing and make them feel physically and emotionally well
moving their body in a way that is enjoyable aka exercising in a way they actually enjoy doing
caring for their mental/emotional health
…and they lose weight, that isn't seen as "bad" by the HAES world. It just is. Weight is a neutral outcome as a result of health promoting behavior change. What's applauded isn't weight loss at the expense of one's mental, emotional, spiritual or physical health. Rather what's applauded is someone feeling empowered and improving their health – their mood, blood pressure, cholesterol levels, blood sugar etc. The research has shown those things are improved independent of weight loss. I think that's encouraging!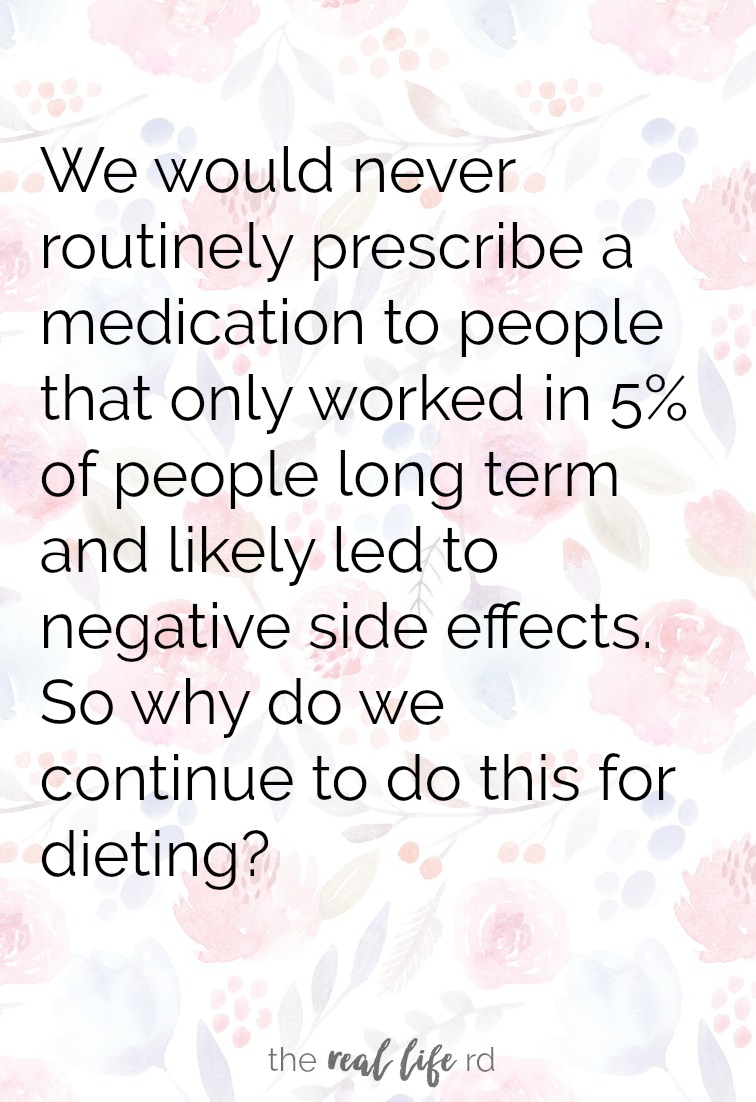 Using a HAES framework, a person diagnosed with high cholesterol in a larger sized body would be given the same advice as the person diagnosed who is in a "normal" size body. For example: eat fruits and vegetables, move your body, get good sleep, manage stress etc. Those are things someone can change and will actually lead to better health.
Pursuing weight loss and pursuing health are not interchangeable. People will do very unhealthy things to achieve weight loss because society says, "you're not trying hard enough." when really our bodies work against weight loss with the mechanisms described above. Ignoring your hunger cues, doing daily high intensity workouts, going to the gym instead of getting 8 hours of sleep, not eating carbs even though you feel lightheaded – these are not healthy things. These are behaviors to manipulate body size, not to pursue health.
Our culture applauds weight loss at any extent. Somebody could be struggling with depression and lose weight and there's a high likelihood they will be complimented on their weight loss. Somebody could be recovering from an illness or diet mentality/years of yo-yo dieting and there's a high likelihood their weight gain will be seen as if it were a bad thing. A body getting smaller is not an universal sign that people are doing well and a body getting bigger doesn't mean somebody is not doing well.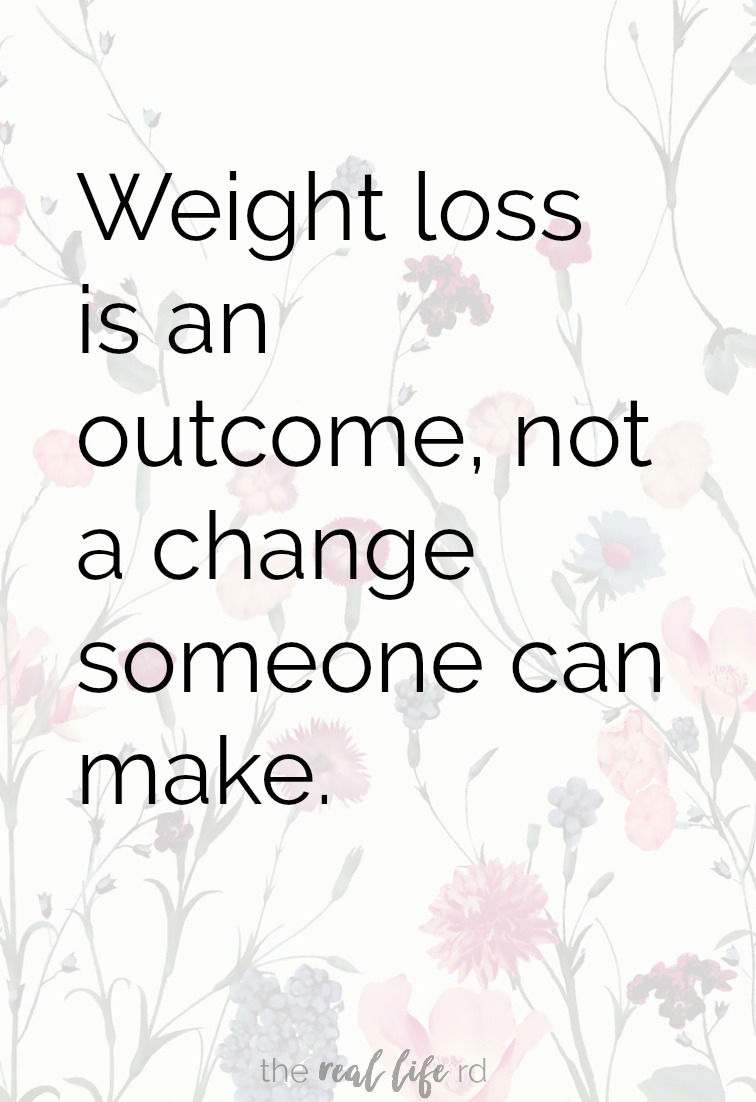 Pretty much everything we've been doing to "help" people get thinner and lose weight for the past five to six decades hasn't worked. The prevalence of "obesity" is worsening. These efforts aren't working and instead are likely making people less emotionally, mentally and physically healthy. Even if after really digging into the weight-centric vs weight-neutral research someone truly does believe "obesity" and all larger bodies are the cause of disease and symptoms, it makes no sense to continue approaching the "problem" in the same counterproductive way.
HAES and IE do not support the misinformed assumption, "Consume nutrient poor foods because that what is most palatable and don't worry about being active." That makes zero sense. Exercise is good for us. Eating fruits and vegetables and whole foods are good for our bodies too. But we don't have to go to extremes with food and exercise to get healthier. Engaging in restrictive eating and exercising as a way to burn calories never leads to a healthy place (physically, mentally or emotionally) in the long run. HAES and IE are a different way to approach the health issues our society faces in a way that actually promotes health and that actually helps people get healthier. Dieting (which is any set of rules to guide a person's eating) and a weight centric approach hasn't worked for the past 50+ years, so it's not going to start working tomorrow.
If you're new to HAES and/or IE or feel like you're not quite understanding the research and concepts, I totally get it!! We are all always learning and I was there once too. Here's a post I wrote that includes many, many resources that will help you in your learning and Christy Harrison also shared lots of resources in this post. It took me months to really grasp these concepts and I asked a lot of questions. So I would love to hear you thoughts and/or questions in the comments!