It suddenly went from the 50s and 60s to the 20s and 30s in New York which has made me want to cozy up inside instead of trek around the city. It gets way colder than that in the winter, but for right now, it feels freaking cold.
So Friday night we stayed warm inside the apartment. My friend Amanda came over for happy hour after work and we drank some wine and caught up on life. And then later on we had our friends Nate + Caroline over for dinner. We hadn't seen them since their wedding in Switzerland so it was good to catch up and hear about life since the wedding. We snacked on these tasty honey and balsamic tomato ricotta toasts Caroline made.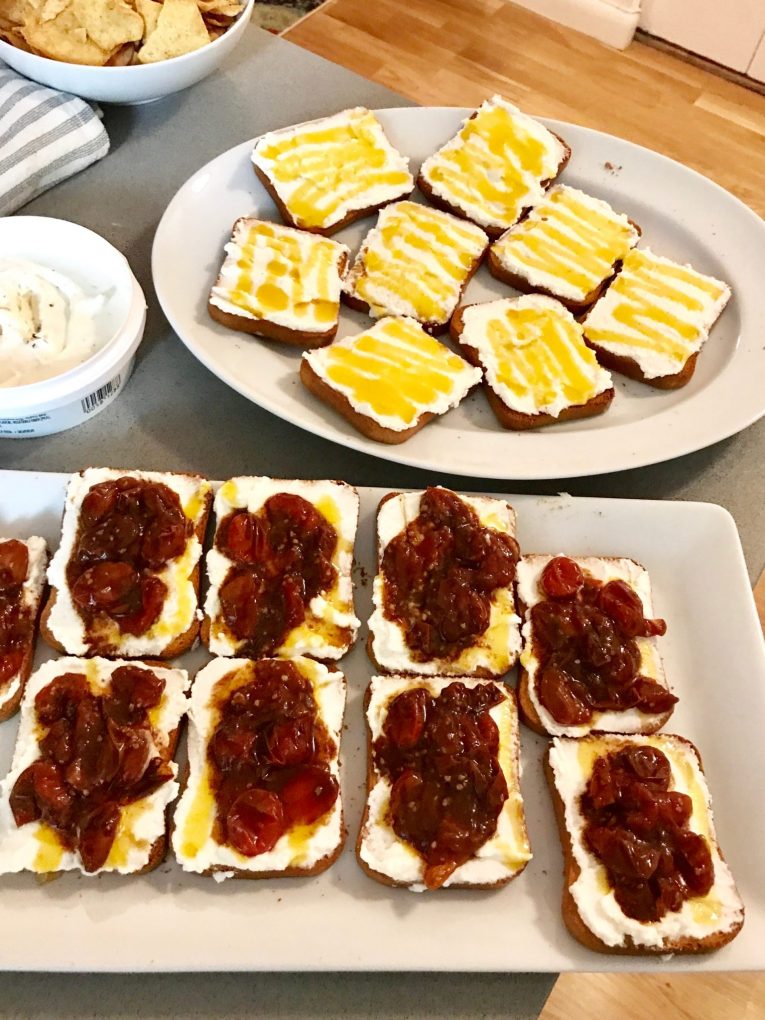 Nick made chicken bacon and corn chowder in the crockpot. Which tasted delicious but we made the rookie mistake of adding the half and half in the beginning. After six hours in the crock pot the protein in the half and half had curdled….
It still tasted delicious but the visual appeal was meh. Thankfully everyone still ate it. We also made an arugula salad with fennel and pecorino with a lemon honey vinaigrette. Plus bread + butter. And paired it with a Chardonnay we brought back from South Africa.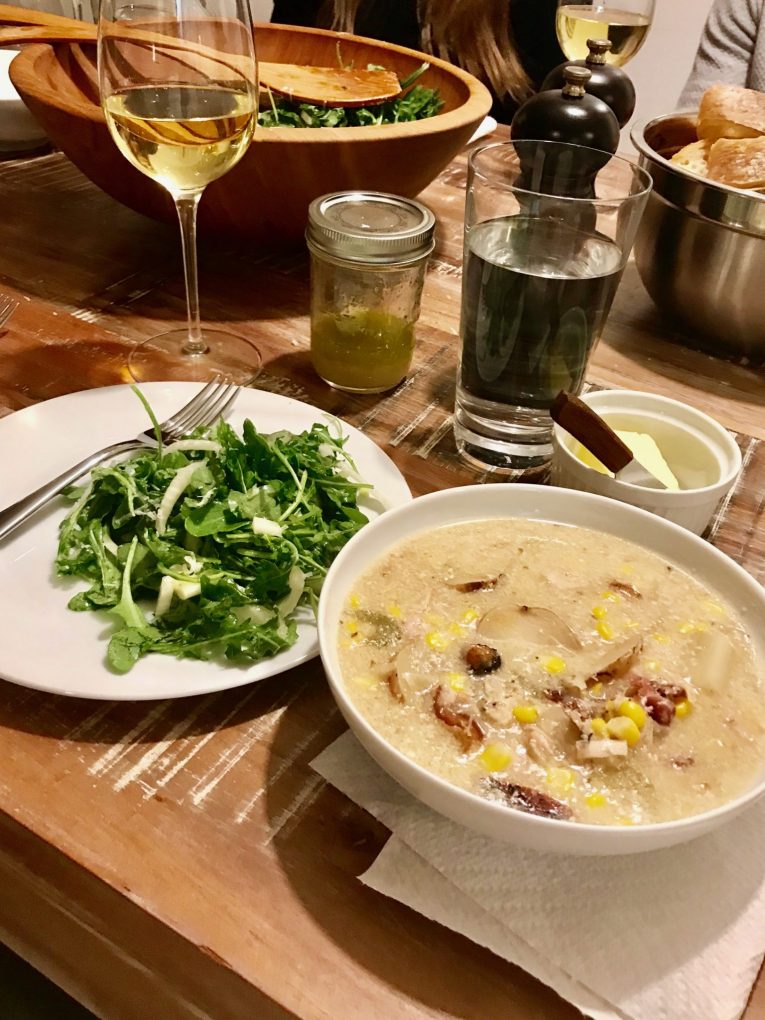 We ate apple crisp for dessert with vanilla Talenti that was fab. I used butter vs coconut oil in the streusel topping (because I feel like crisp = butter) and I think that made it even better. I forgot to snap a photo so imagine it looked half as pretty but just as delicious as this.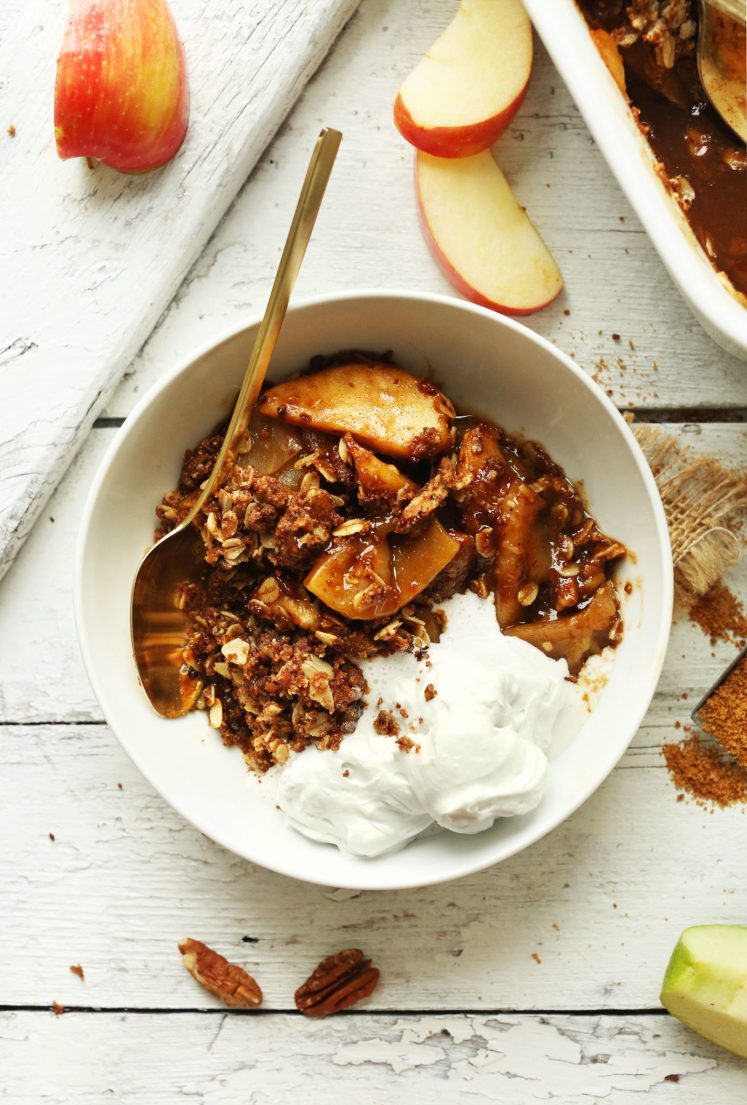 Saturday morning I woke up, read and drank coffee and then prepped for a client while Nick made breakfast.
Bacon + fried eggs on English muffins. The only thing missing was cheese which we realized we forgot to add after eating…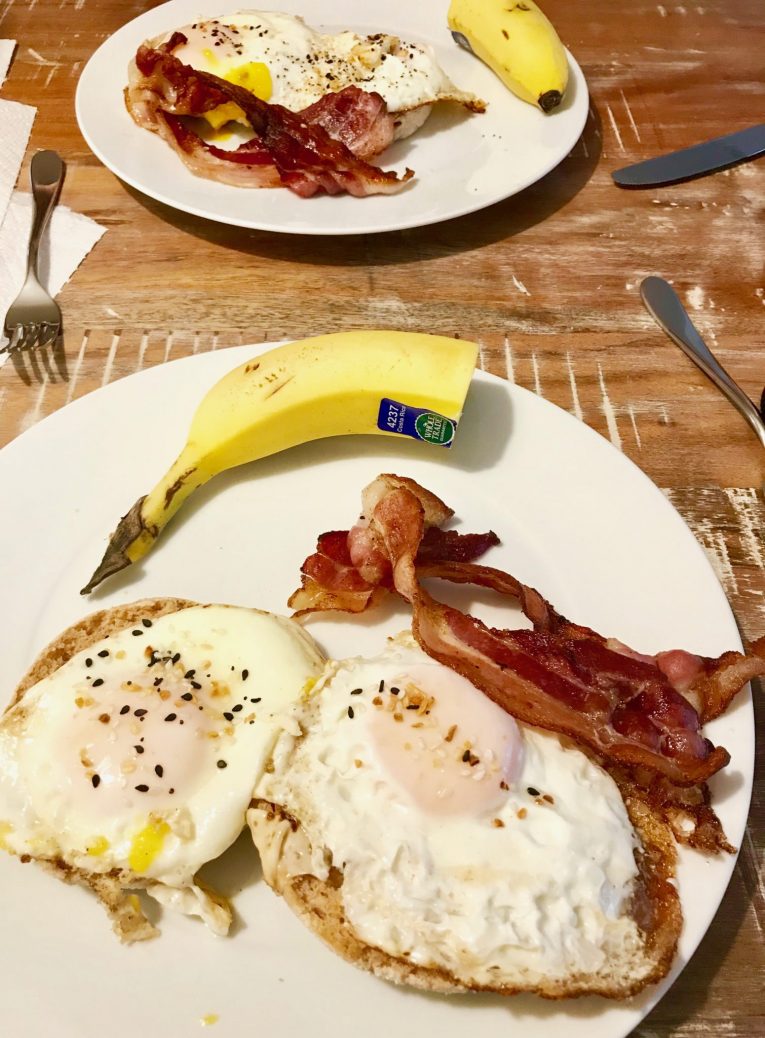 And then I had a new client I was meeting in person at 9am. More than 90% of our clients are at a distance and I'm always doing video sessions so it's fun once and a while to meet in person.
Nick was out hanging with a couple guy friends in the afternoon. After I finished up the client session, I came home and laid around for most of the afternoon. All of a sudden I became really tired. I think the week caught up with me and body was just like STOP.
I watched a 9/11 documentary (although it's incredibly sad, I find these kind of documents interesting…) and rested on the couch for a while. I tried to nap but couldn't which was annoying. So I started looking online for ideas on my winter capsule wardrobe.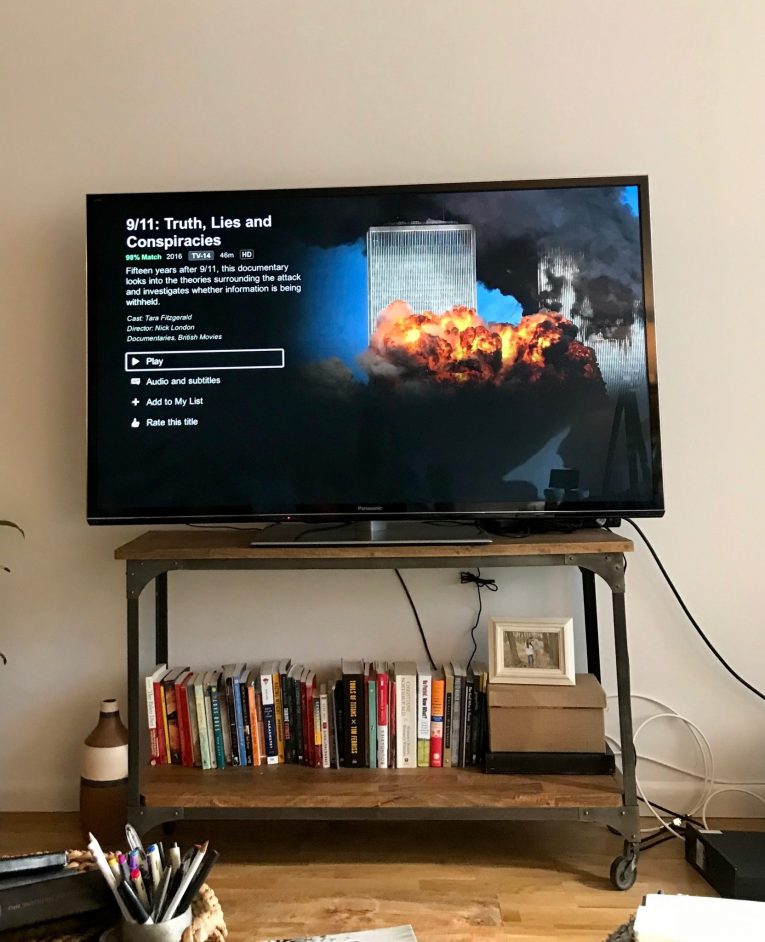 Lunch was super random. Leftover arugula salad and a chickpea pancake with butter. You're going to see some random food on here over the next few weeks as we clean out the pantry. But we used up the chickpea flour floating around in our pantry this week by making these pancakes (which are basically beans in pancake form) for lunch.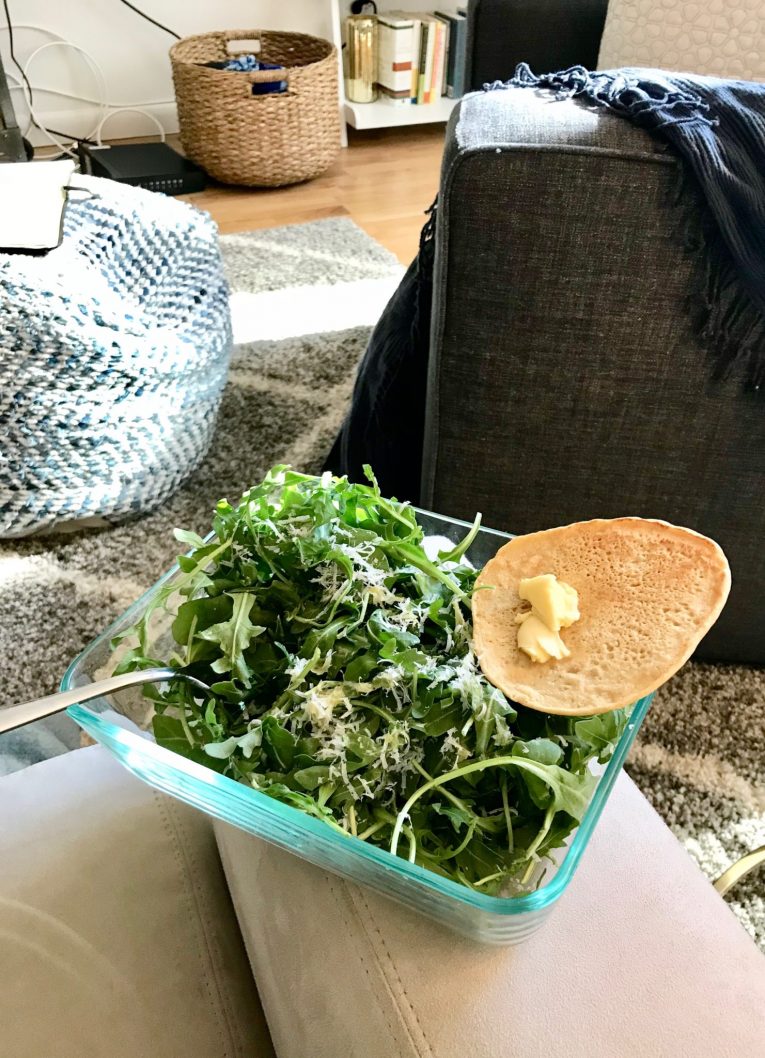 And I ate some popcorn later on.
We met up with friends for happy hour around 5 at the Spaniard in the West Village. We will miss both of these couple friends so much when we leave New York. We've grown even closer to them over the past 8 months or so and I really hope we can find friendship like this in Boston.
I went with the rosemary Manhattan, which was delicious. I wasn't in an adventurous mood and know I can never go wrong with a Manhattan. For round two I ordered what Nick got the first time around which was this lemony whiskey cocktail that was refreshing and also delicious.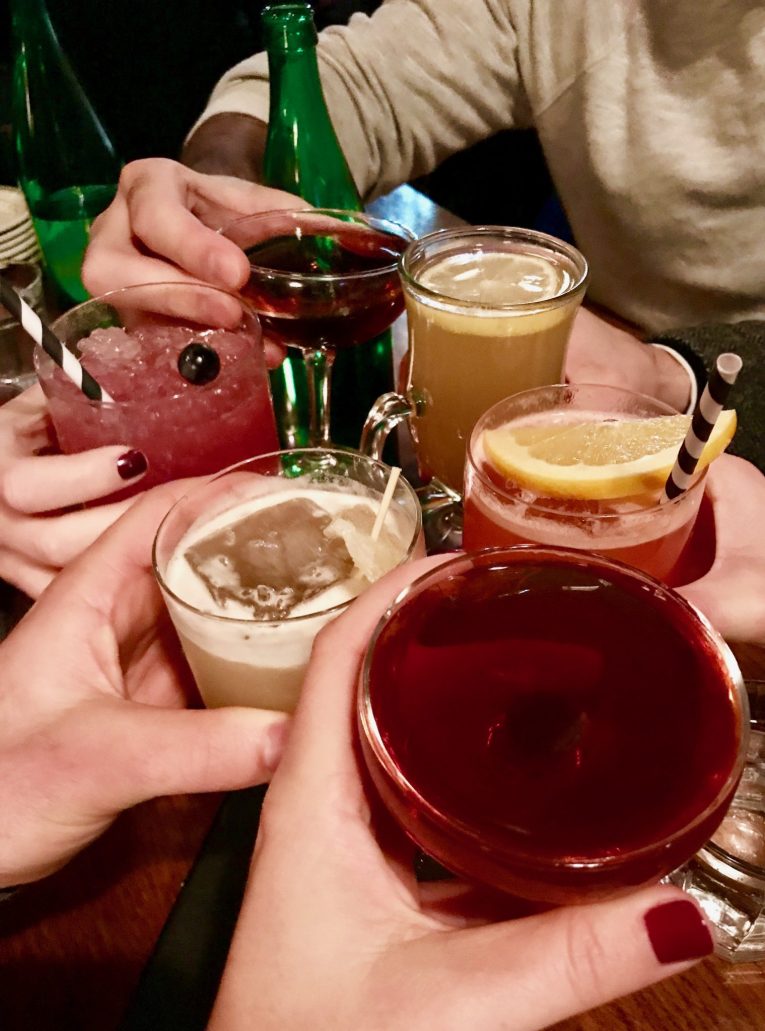 We ordered a few apps to share. Spinach artichoke baked oysters, spicy duck wings and crudités with pesto. I'm not a fan of oysters at all, but if they're breaded and filled with spinach and cheese I can get into them.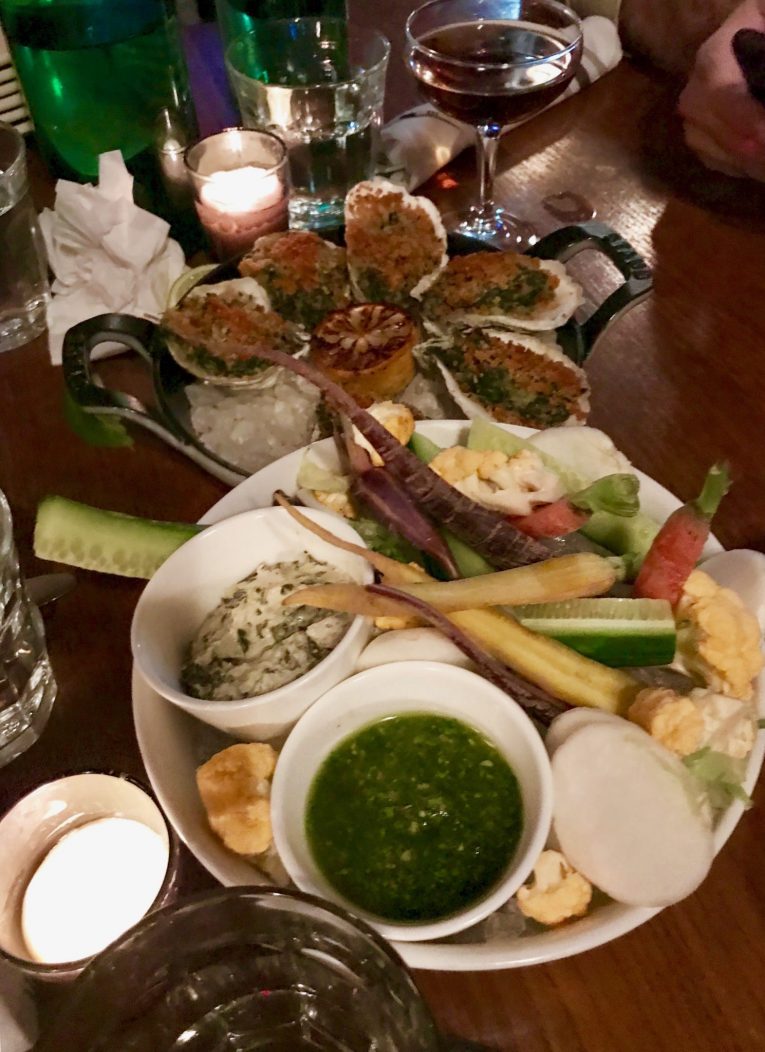 Almost four hours later we said goodbye and headed home for takeout + a movie. I told you it was cold and that means all I want is my cozy apartment and blankets..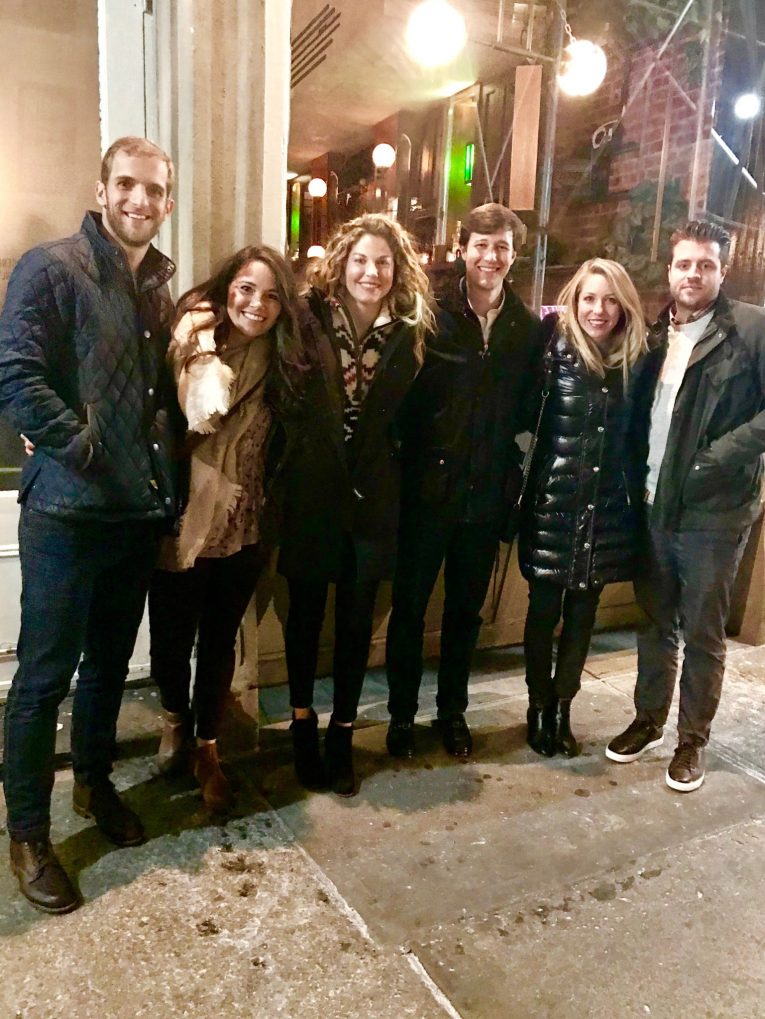 Apparently I watched a lot of dark movies on Saturday because we watched Zero Dark Thirty. It's about the CIAs decade long search for Osama Bin Laden and I HIGHLY RECOMMEND. I never watch movies longer than 90 minutes and this was almost three hours and I couldn't look away.
On a lighter note…we ate veggie pizza for dinner.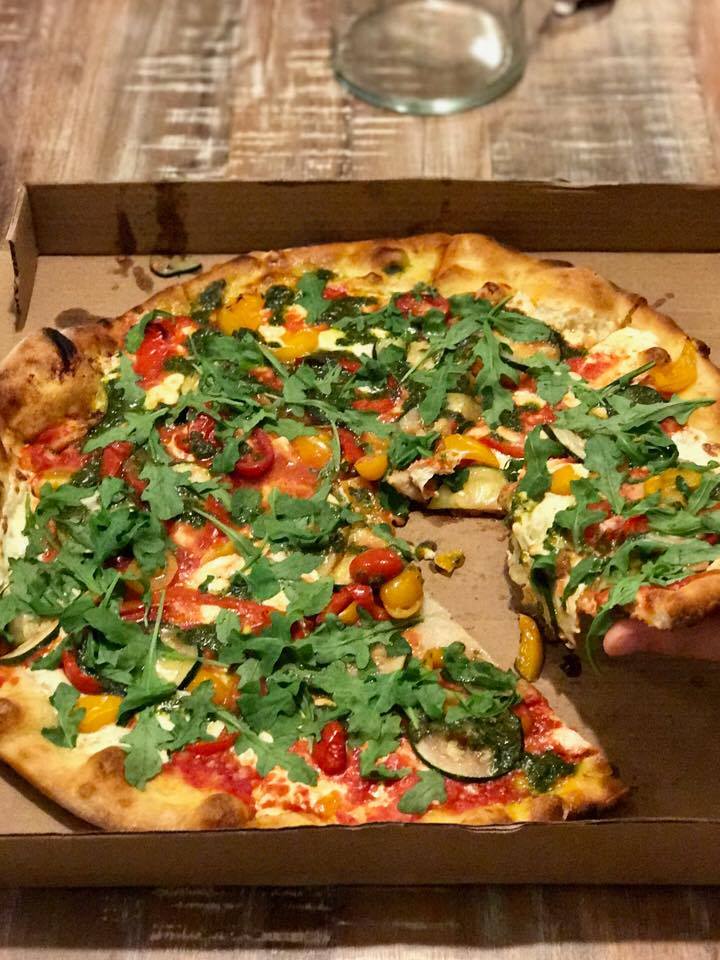 Sunday morning I slept in until almost 9am which was glorious. Drank coffee and read this book. I started it a long time ago and never finished so now I'm re-reading. Brene Brown talks about joy + gratitude in this YouTube video and about actually practicing gratitude instead of just thinking about it. Something I'm trying to work on because it's easier to not be grateful than to be grateful.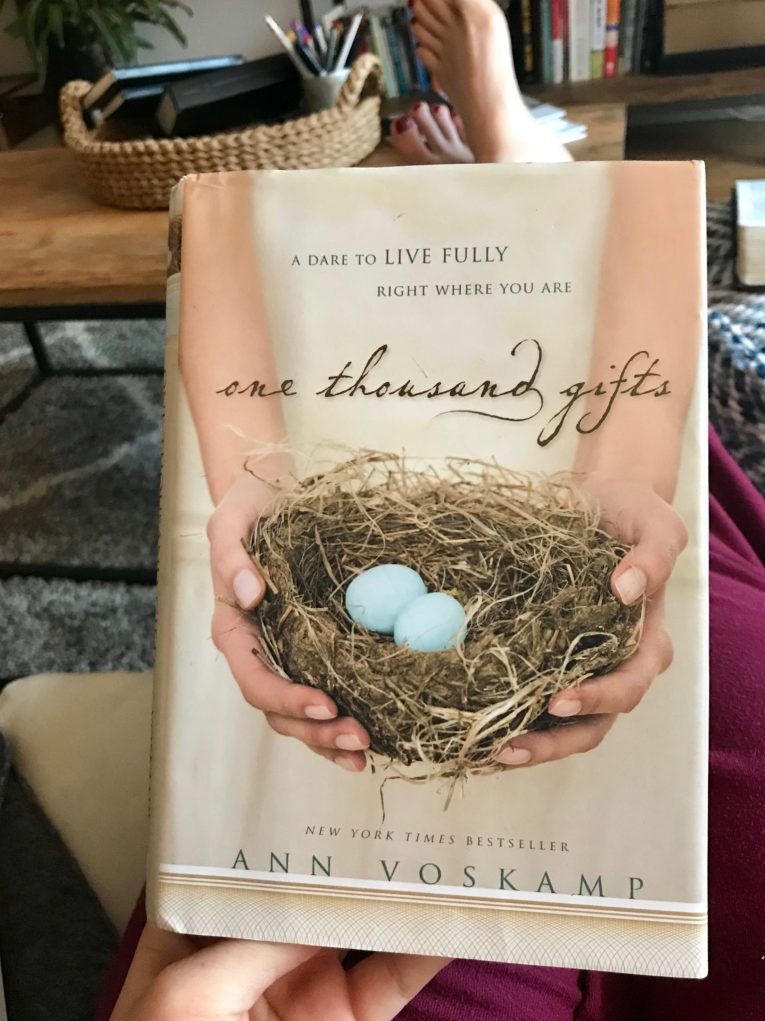 Breakfast was more bacon and eggs! This time scrambled eggs with spinach and cheddar + toast with butter and jam.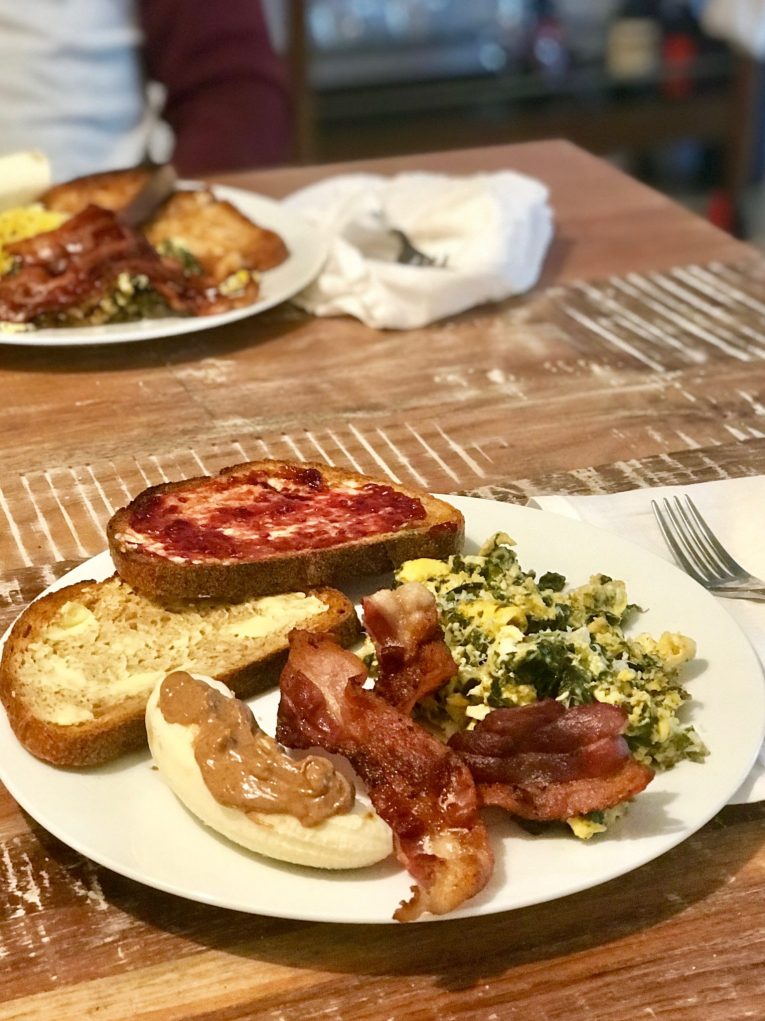 I baked Sunday afternoon. First up was banana bread –> this is one of my favorite recipes because it's basically flour + bananas and perfect as a vehicle for any spread. Butter, pb & j, nutella, cream cheese…anything you fancy.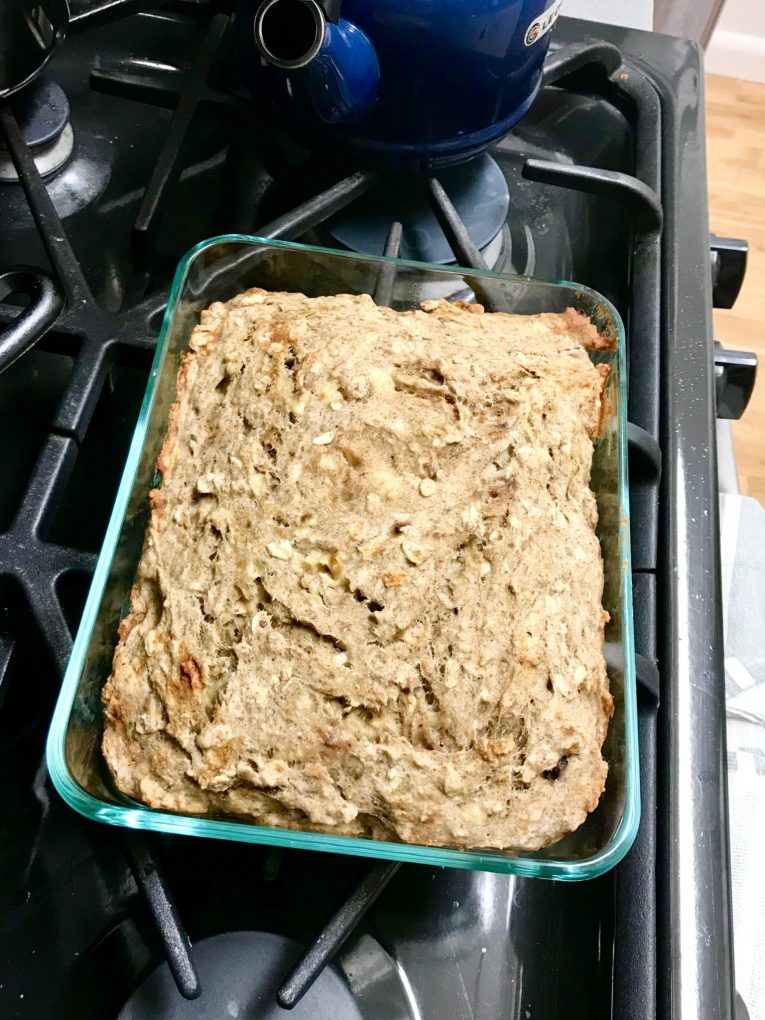 And then I was in the mood for classic chocolate chip cookies. But half way into measuring out the ingredients I realized we don't have a hand mixer, so instead I used a whisk which I think made for flat cookies. But they still tasted delicious and now I have three dozen chocolate chip cookies in my freezer. Not a bad thing.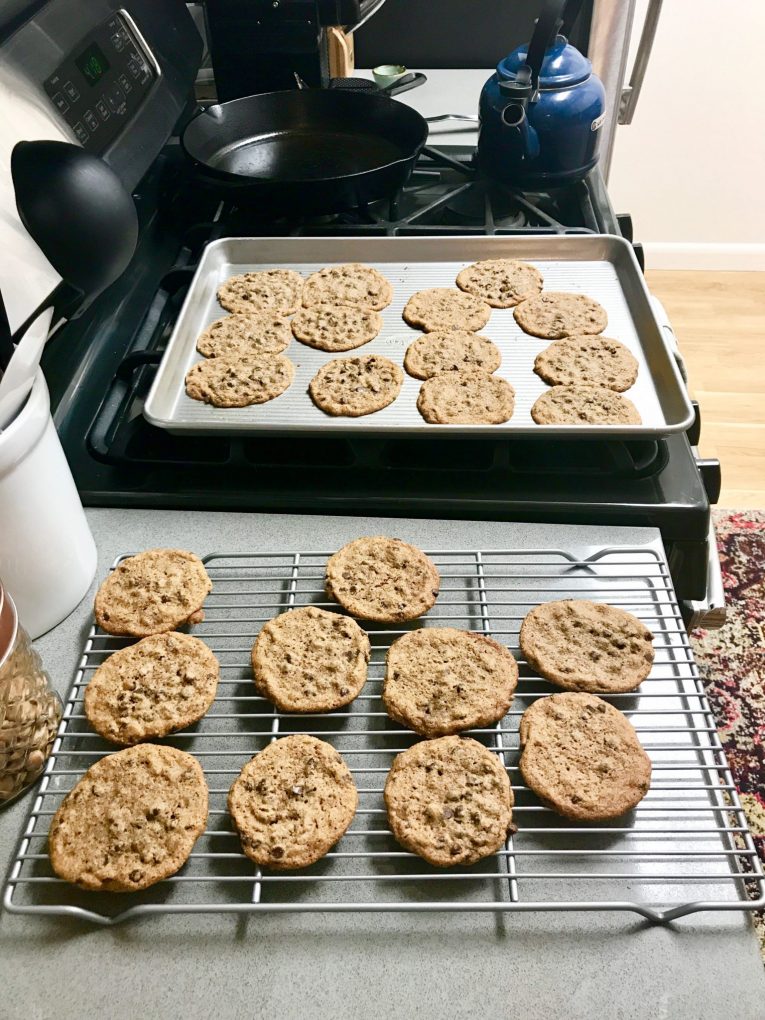 We ate a bigger breakfast on the later side, so I snacked throughout the afternoon on a couple cookies and piece of banana bread with nutella.
I debated moving my body because 1) I wanted to and knew it would feel good but 2) I was being lazy and didn't want to change out of my pjs. I eventually decided that my body would feel best actually changing out of my pjs and moving around. Although I have lots of Sundays where I don't change out of my pjs and don't move my body and that's okay too.
I headed down to our apartment gym and warmed up on the elliptical for a few minutes and then made up my own weight circuit. Afterward I felt good and was glad I changed.
I showered, made a quick smoothie (same one from last weekend) to take with me and headed to church. Nick had to be somewhere before and left earlier than me. I talked to a friend on the bike ride up to church. The sermon was on Matthew 6:18-34 and all about having faith and not having anxiety which was very fitting with all the change happening with our move.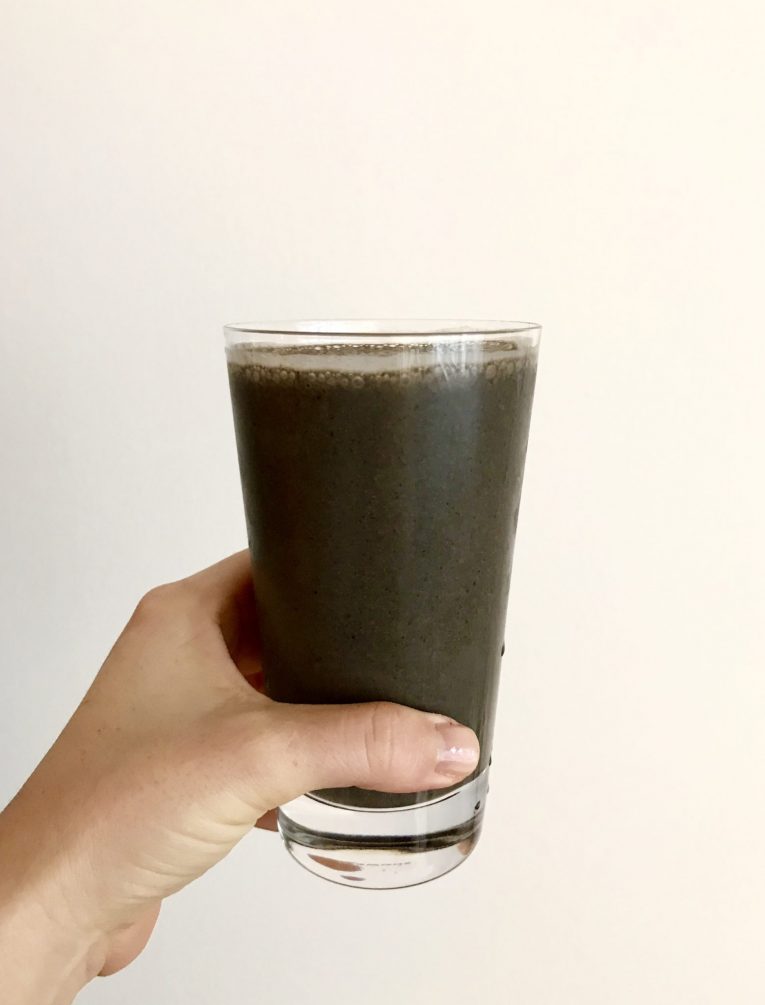 Dinner was salmon + potatoes + green beans. But it was the tiniest salmon portion because we only had one filet in the freezer.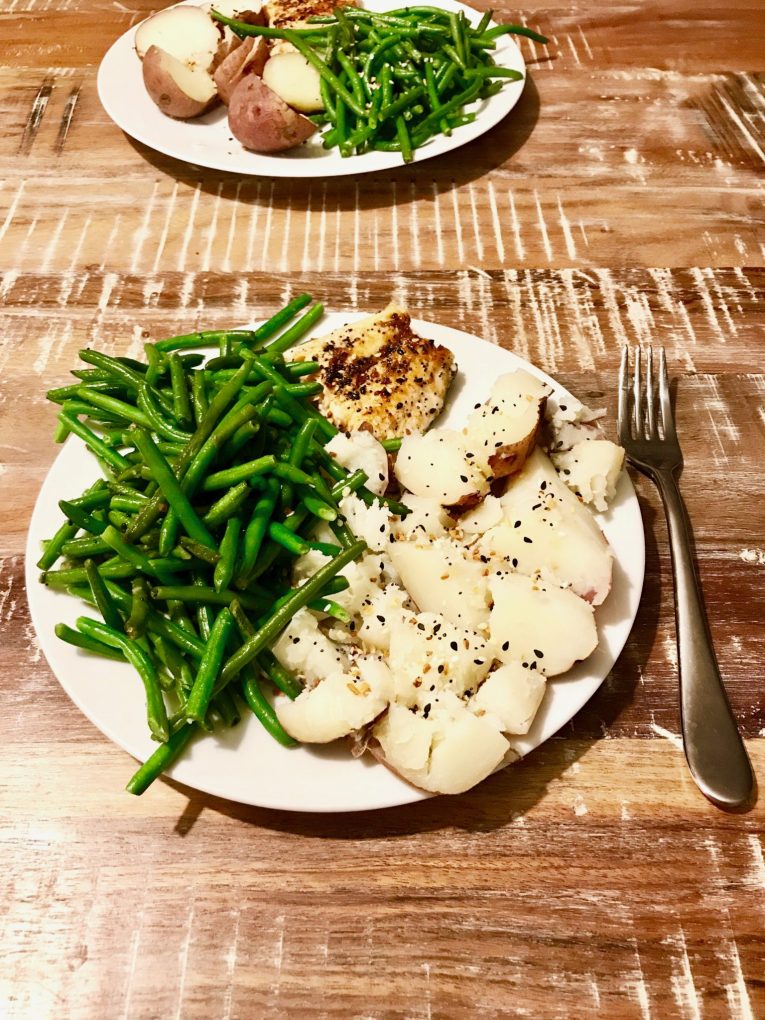 But that was fine by me because that just meant I had extra room for apple crisp + ice cream.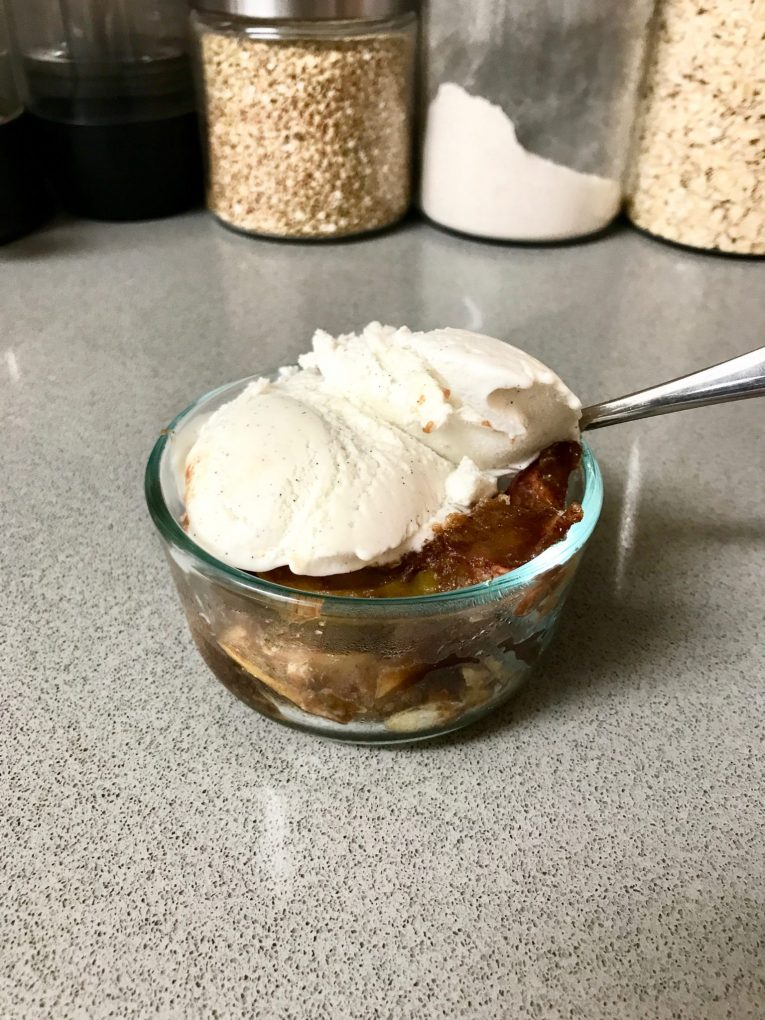 For the first time in a long time I tossed and turned last night for a while and couldn't fall asleep. I'm getting a later start today after sleeping in this morning…hence a later post this morning 🙂
Hope you had a great weekend too. Share what you did in the comments or link to a recipe you made!